"To a person accustomed to and appreciating the advantages of the city, but who prefers a life in the country for consideration of health, pleasure or profit, the ideal location for a home is found in a pleasant country neighborhood within a few minutes ride of the city."
- Glendale Improvement Association, 1904
Built in 1902—when architecture was transitioning from Victorian elements leftover from the 19th century and into Craftsman styles—the Victorian Transitional-style Harris House is now a grand old home on an unusually big 9029-square-foot lot.
From East Wilson Avenue (formerly West Third Street, when the city's east-west streets were numbered instead of named), you can admire the horizontal wood siding behind the old-growth trees, the steeply-pitched gabled roofs with bands of overlapping sawtooth shingles hovering over a brick foundation.
It's a rare example of its kind in Glendale, where the style wasn't as popular as it was in other areas (like, reportedly, Pomona).
It was erected four years before the City of Glendale was incorporated, when Glendale was merely a subdivision tract of the former Rancho San Rafael—and more or less part of Los Angeles.
Along with the Goode House, a Queen Anne-Eastlake Victorian from 1892 located down the road, the 3,446 square-foot Harris Residence was one of the first homes to be built in Glendale.
And in 2014, it was added to the Glendale Register of Historic Resources—mostly for its architecture.
But there's some fascinating human history that occurred under those 12-foot ceilings of this single-family residence, which was once used as a boarding house for women in the 1940s.
And if you believe in such things, it appears as though the energy of some of those humans still hasn't left the Harris House.
Maybe it's because widows had a habit of inhabiting the house—starting with Harriet Harris, the original owner after whom the house has been named. It was her home until 1917.
There are some gaps in the information about all of the prior owners, though it's known that between 1921 and 1942, it was Anna M. McCrea and her daughter Catherine who lived in the house.
In 1981, Eileen Mary Davitian (Manus)—not a widow—bought the house and, in 2013, sold it with her husband John to the current owner.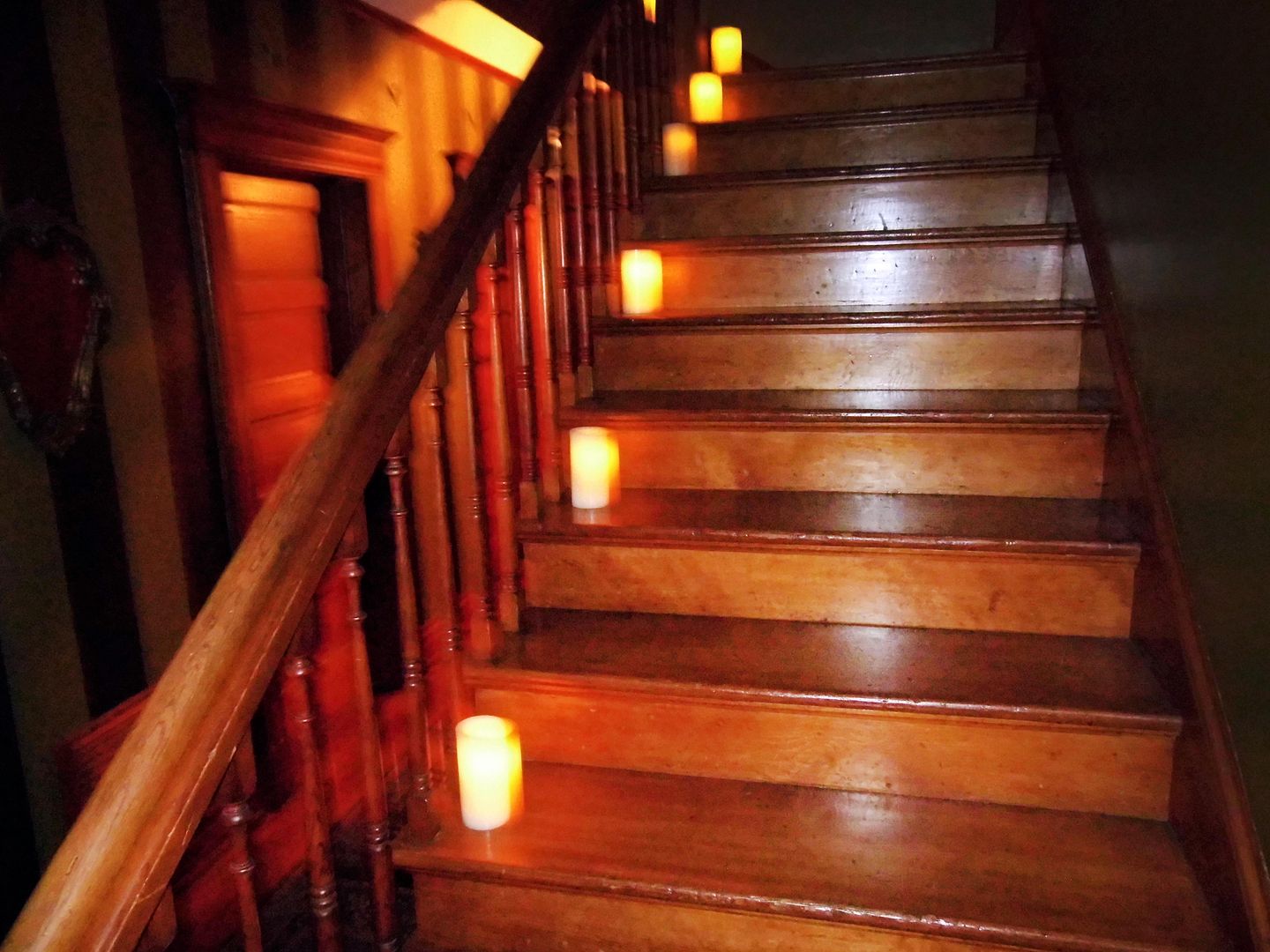 I didn't know anything about the prior or current residents of the Harris House when I entered into its
"hall of doors" from the front...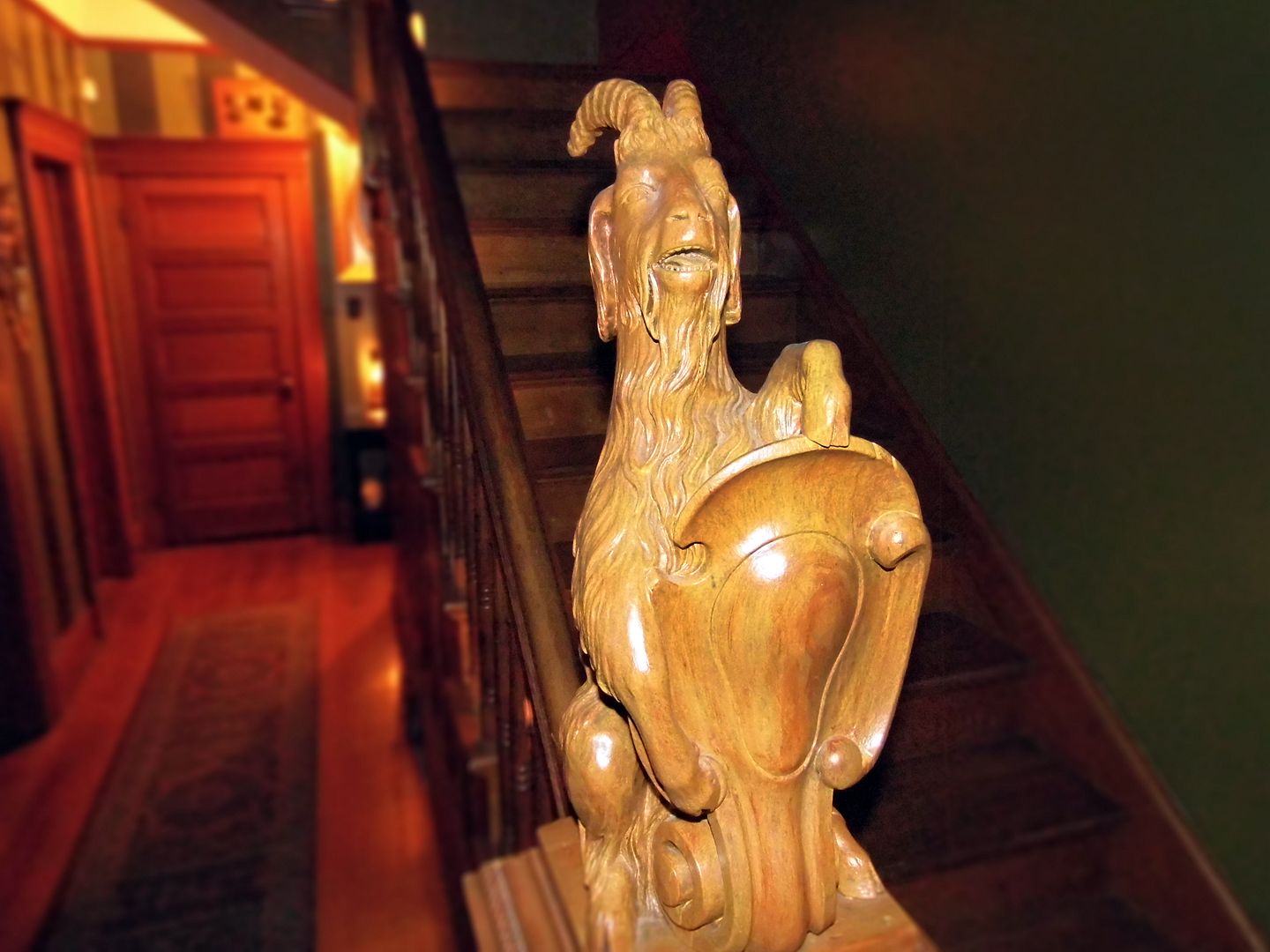 ...or when I admired the carved goat finial for the newel post of the staircase leading up to the second floor (who I immediately named "
Black Phillip
").
I didn't know who Aunt Laura was, or how she'd painted the recently restored self-portrait that hangs in the back of the entryway.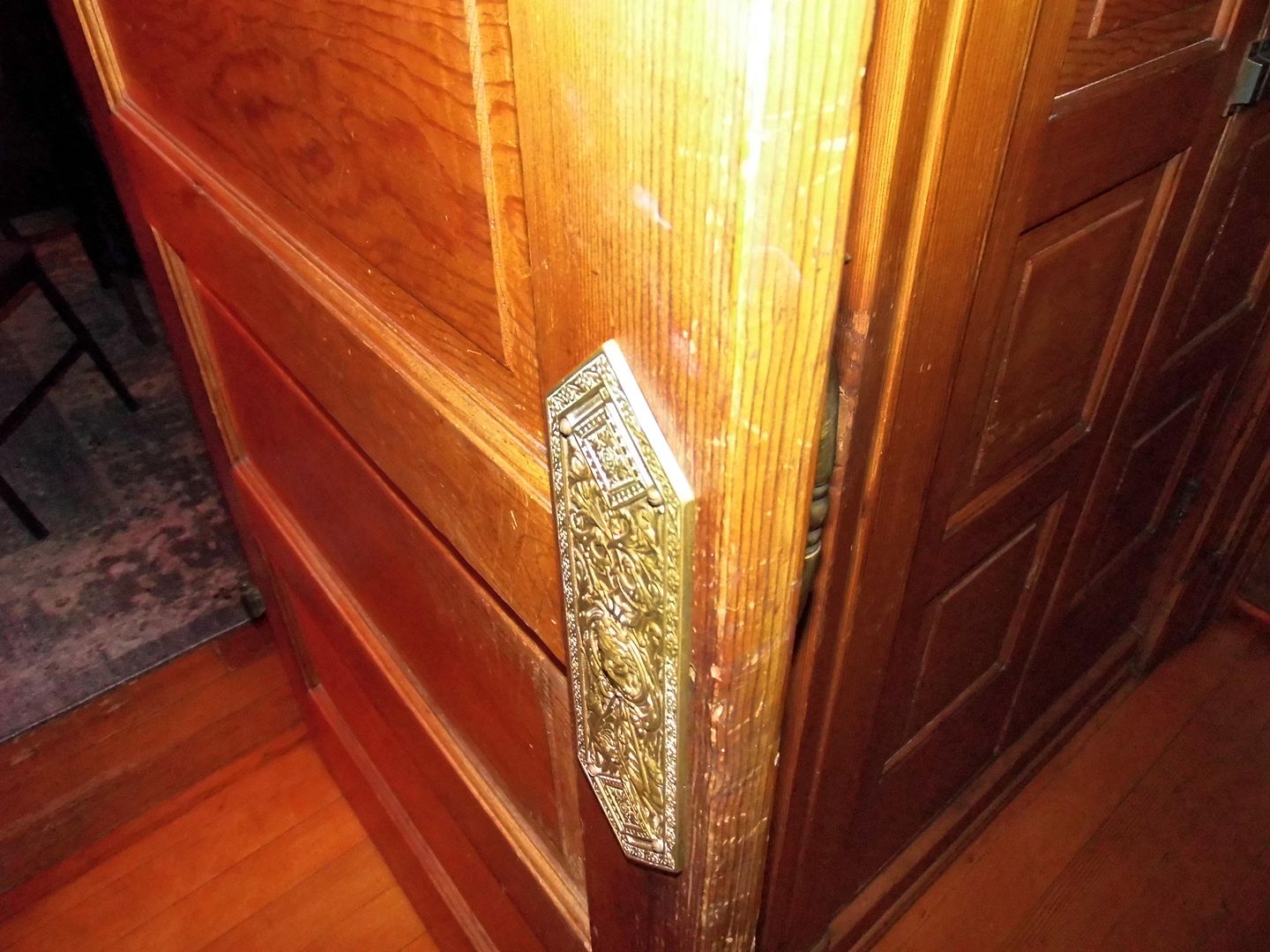 I'd gotten into the Historic Harris House—now also a horror film location—by buying a ticket to a seance and paranormal hunt hosted by Bizarre Los Angeles.
But I had no intention on meeting any ghosts while sitting within the circle in the dining room, at a centuries-old circular antique table with huge dog feet.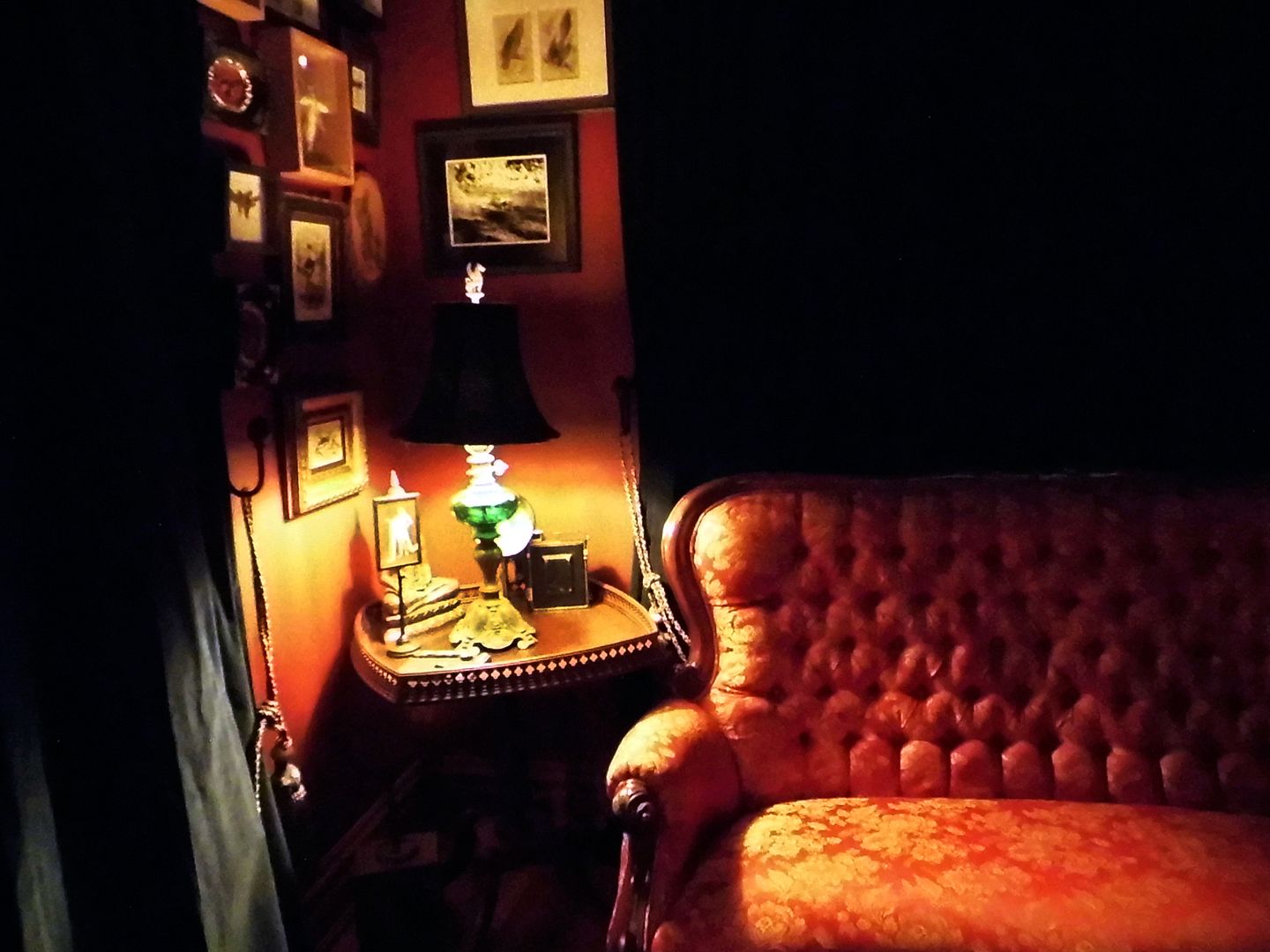 Some say they felt more than one presence in the front parlor, including blasts of cold air.
Some say they even saw figures lurking around the rear parlor, their faces reflected in mirrors and glass cases.
Maybe I was too busy looking at the house itself...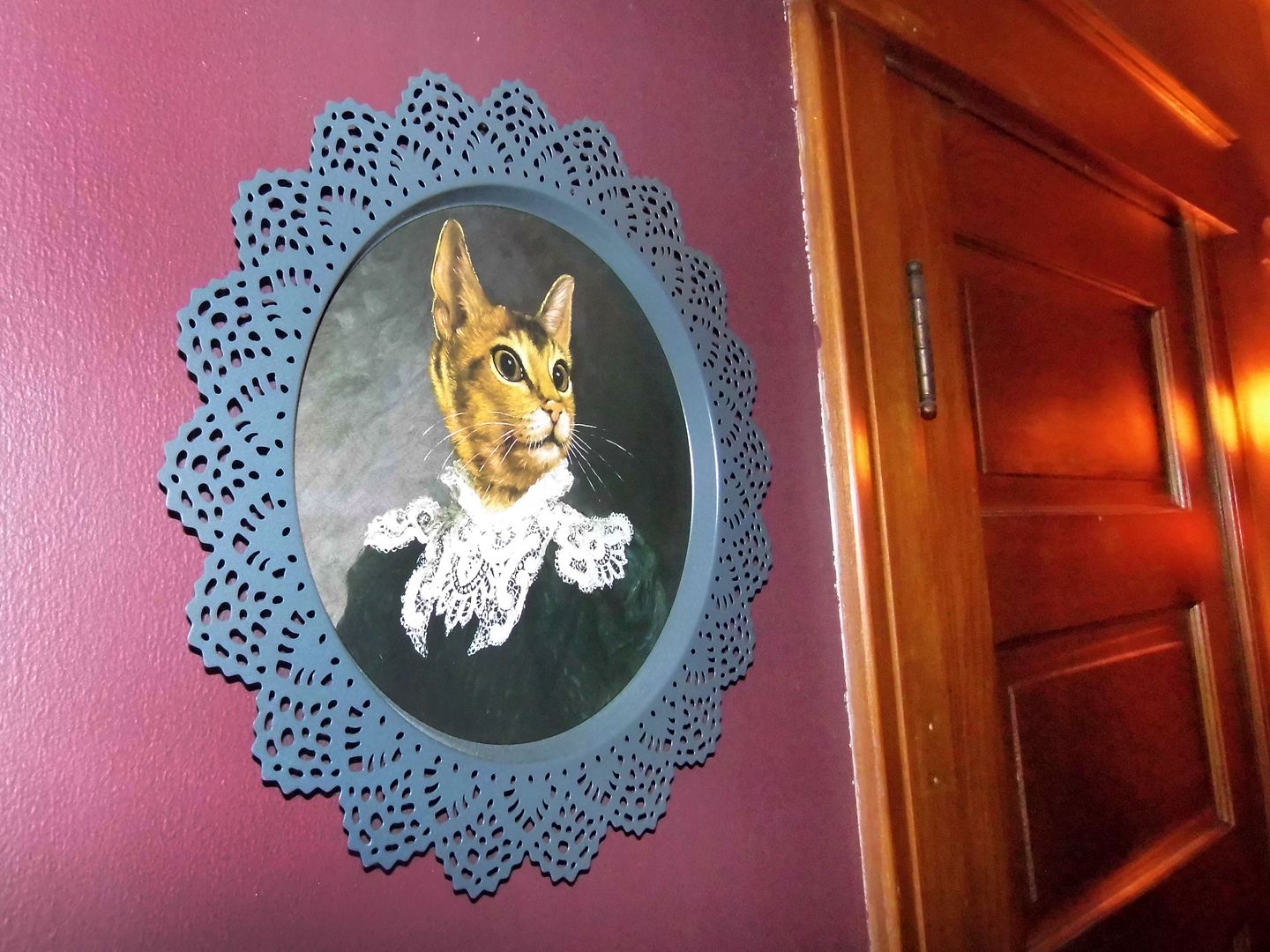 ...and the current owner's unusual decor of taxidermied animals and cat portraiture.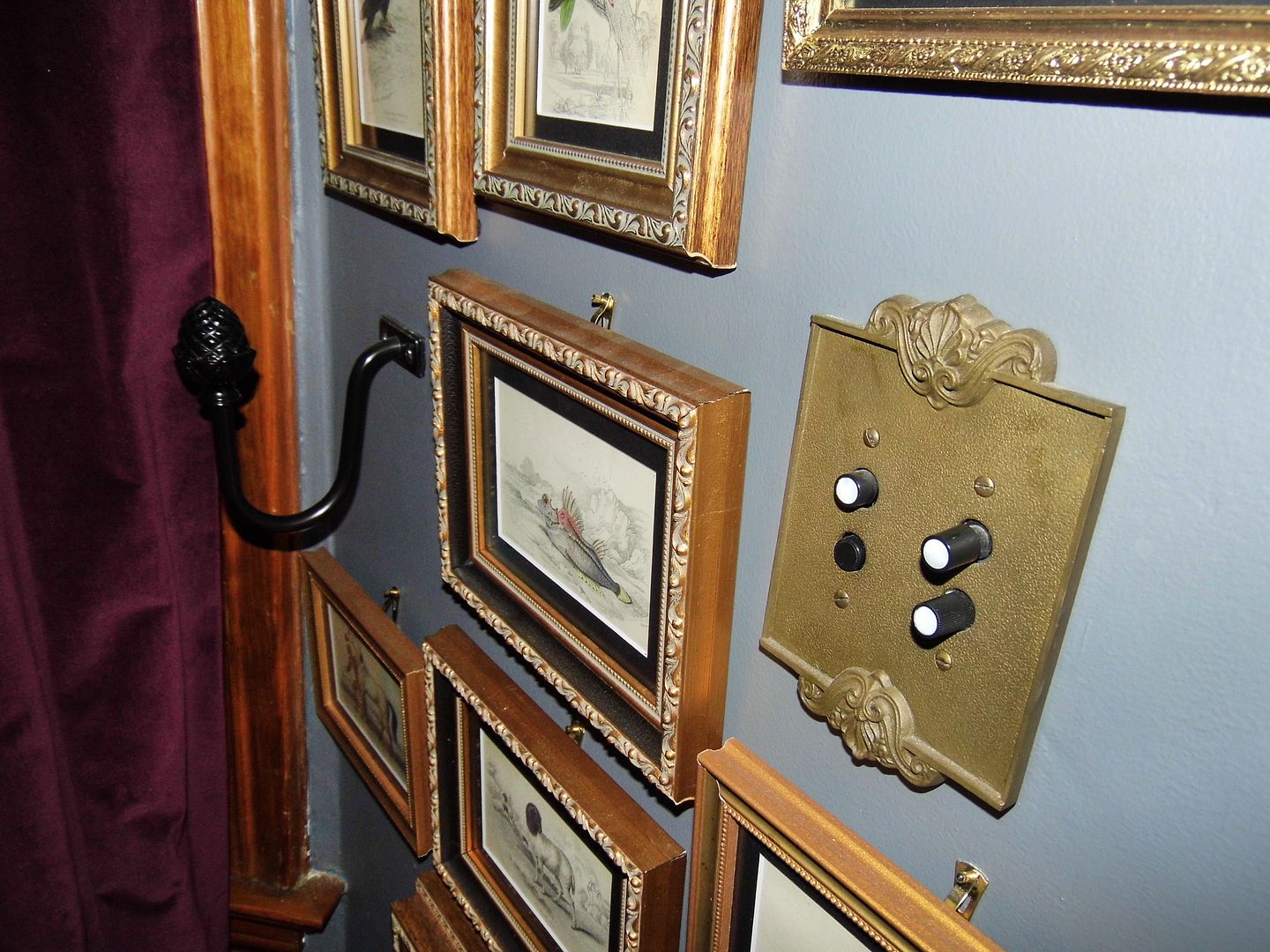 I didn;t encounter any
new
ghosts there. But I always kind of feel like I've got a presence with me, somebody from beyond whispering in my ear.
Sometimes I feel the flat of someone's hand pressing up against the middle of my back while I'm ying on my side in bed. Our medium said to me, "That's how they try to get in."
So, I think I've just got no vacancy. I'm fully booked—and already haunted enough.
Related Posts:
That Which Haunts Me
These Terrors of the Night
These Creatures of the Night