There's a reason why the silent film-era residence in "The Oaks" enclave in Los Feliz designed by Lloyd Wright is
still
known as the Samuel-Novarro house.
Despite the fact that
far
more famous celebrities have called it home since—not the least of which are Leonard Bernstein and Jerome Robbins (who rented it while working on
On the Town
in the early 1940s), Diane Keaton (who owned it 1988-1996), and Christina Ricci (who owned it in 2005 and sold it the next year).
But it's its
two
namesakes—Louis Samuel and his movie star boss, Mexican heartthrob Ramón Novarro—who put the Mayan Revival-style residence on the map.
And it was the controversy and change of ownership between them that
kept
it on the map.
Talent agent Louis Samuel had become the right-hand man of the swashbuckling silent film star—a second cousin of the Mexican actress Dolores del Río, and the de facto "Latin lover" successor to Rudolph Valentino, who'd become the first Latin American actor to reach such heights of stardom in silent movies.
Samuel's
exact
duties have become fuzzy over time. But whether he managed Novarro's business or simply assisted Novarro in all matters personal and professional, he was in the star's inner circle.
Novarro helped commission architect Lloyd Wright (son of Frank Lloyd Wright) to build the home for Samuel in 1928. He didn't, however, pay for the house.
At least, he didn't intend to.
But in 1930, Novarro caught onto Samuel's scheme. His trusted companion had been siphoning money out of the film star's earnings and using it to pay the mortgage on his fancy house in an exclusive neighborhood.
Anyone else would've pressed charges—under different circumstances.
But the embezzler couldn't pay the money back anyway, as most of it had been lost in the 1929 stock market crash.
Combine that with the fact taht Novarro was closeted—and although he'd
refused to marry a woman
to hide his homosexuality, he had no intention on drawing public attention to his private affairs.
So, he struck a secret deal to take back the house—which was all Samuel had as collateral.
He lived there until the late 1930s.
It wasn't until 1968—when he was murdered by two brothers posing as gay hustlers—that his sexuality was finally exposed.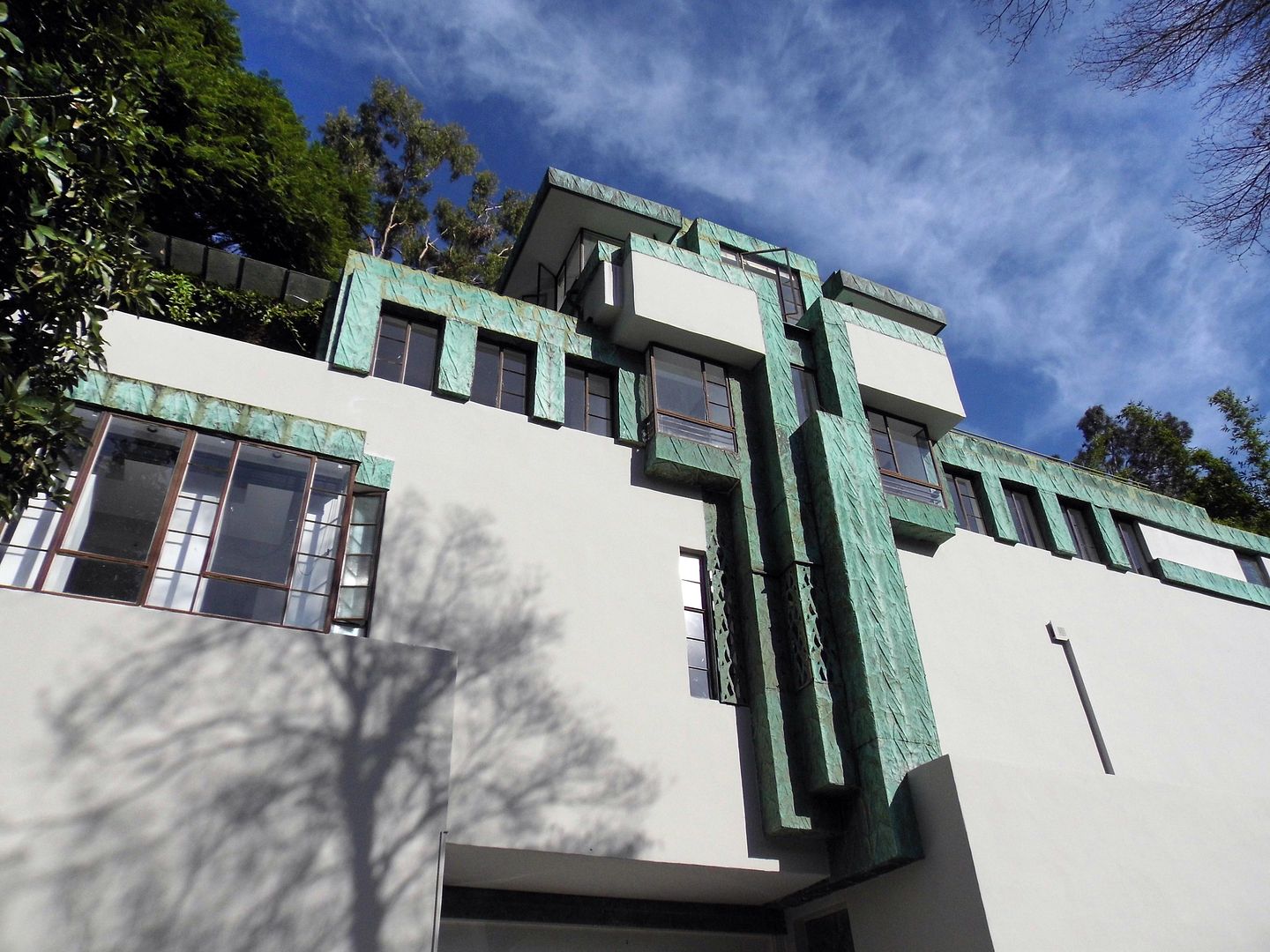 The Samuel-Novarro House has since been designated Los Angeles Historic-Cultural Monument #130.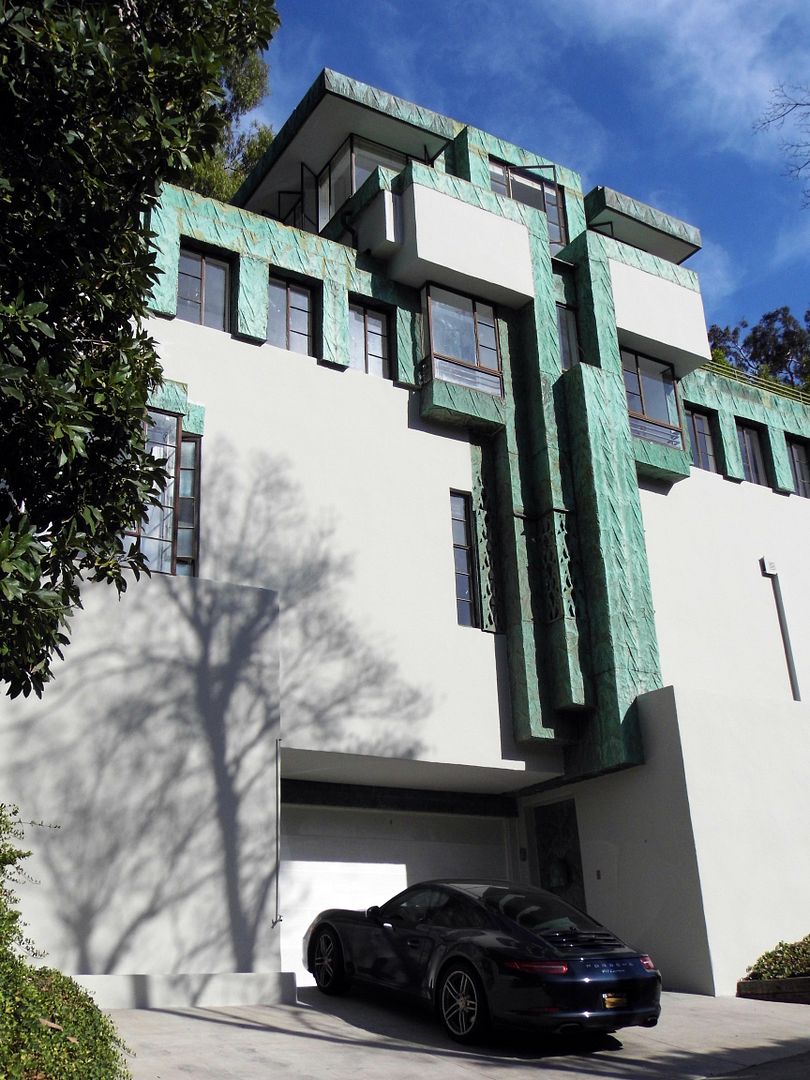 You don't have to know its backstory to appreciate the Art Deco hillside manor.
But it helps.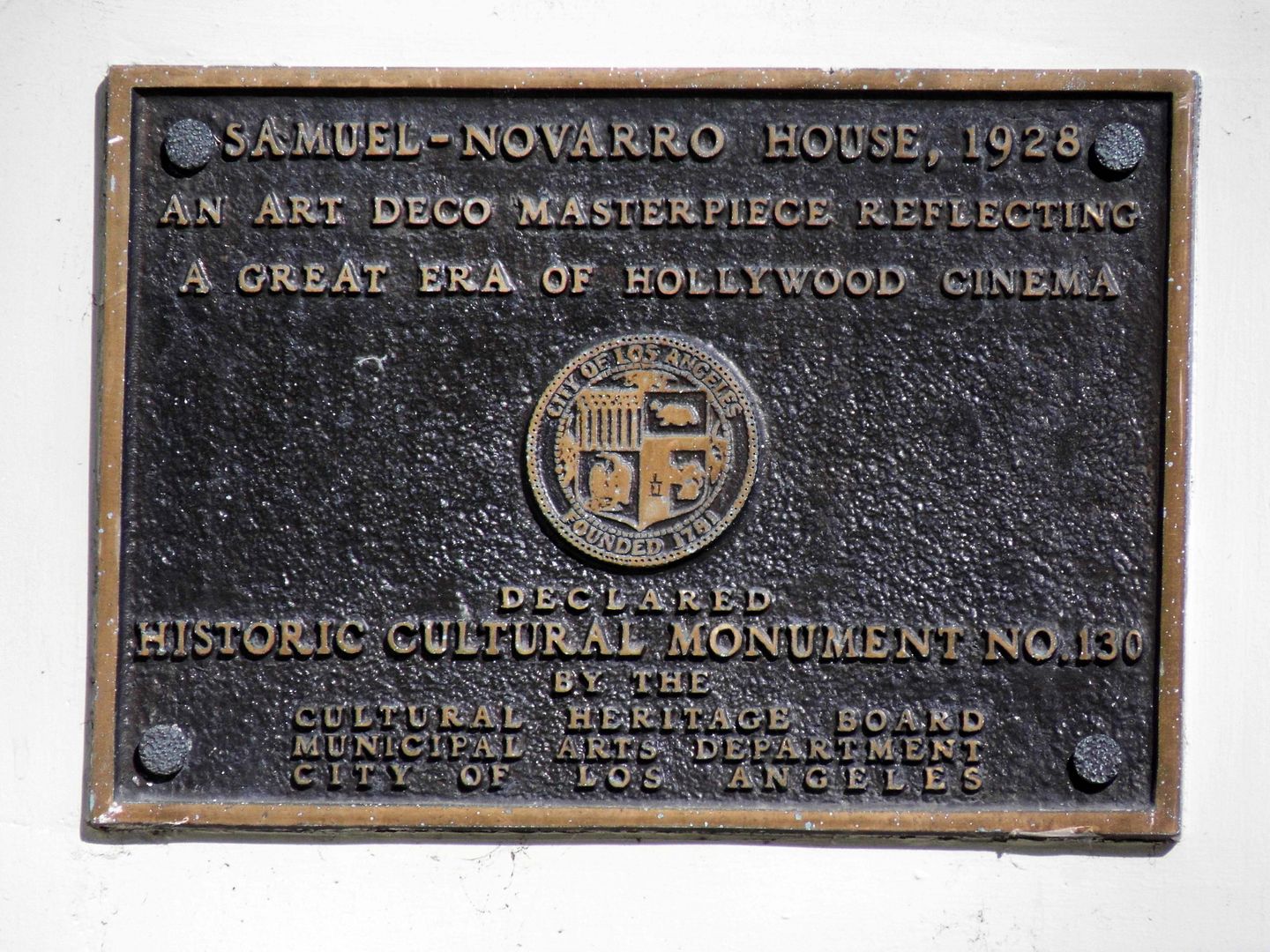 It may have been a "great era of Hollywood cinema" for some, but not everything was as it seemed back then.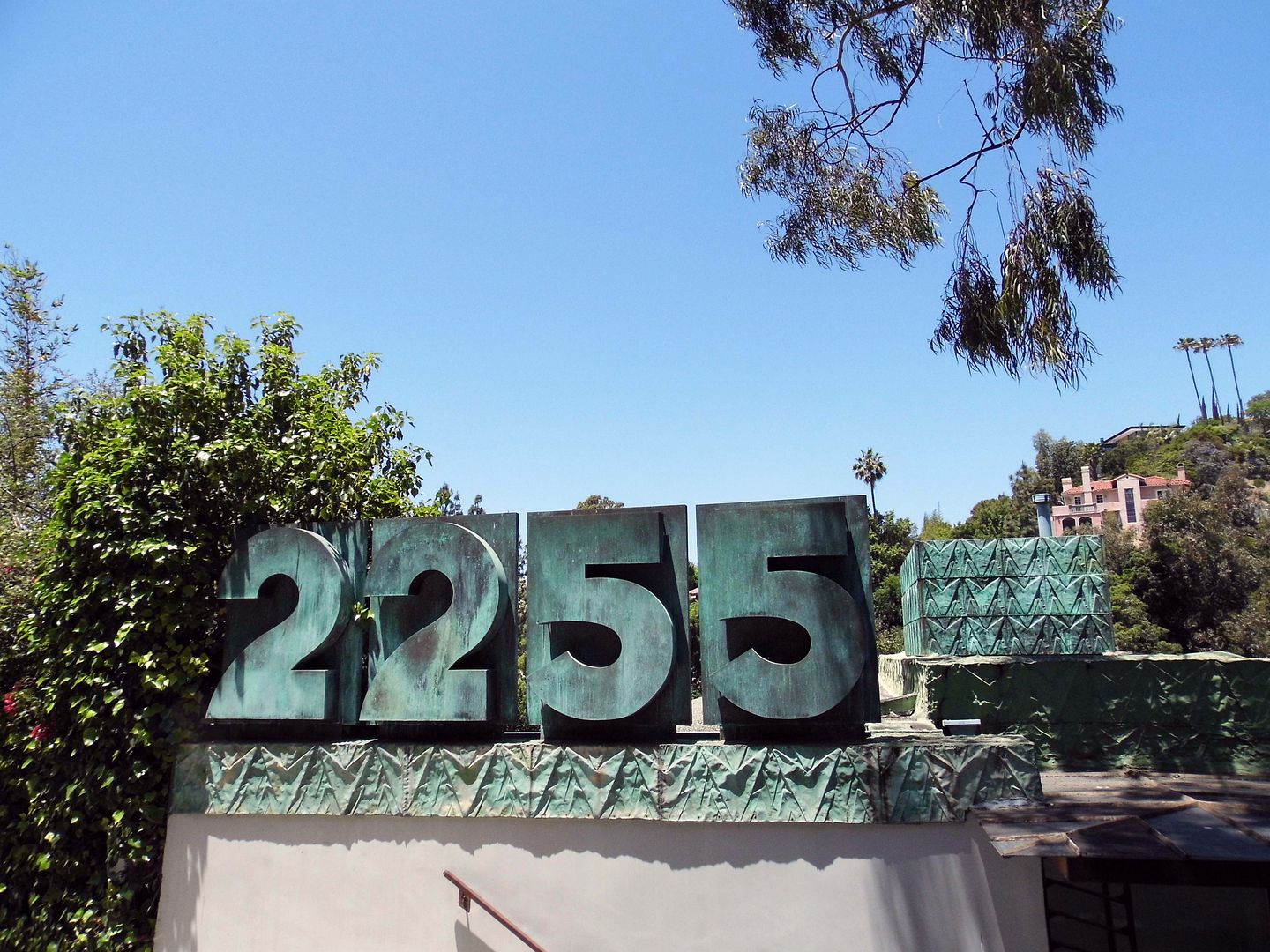 Nevertheless, the home is a feather in Lloyd Wright's cap...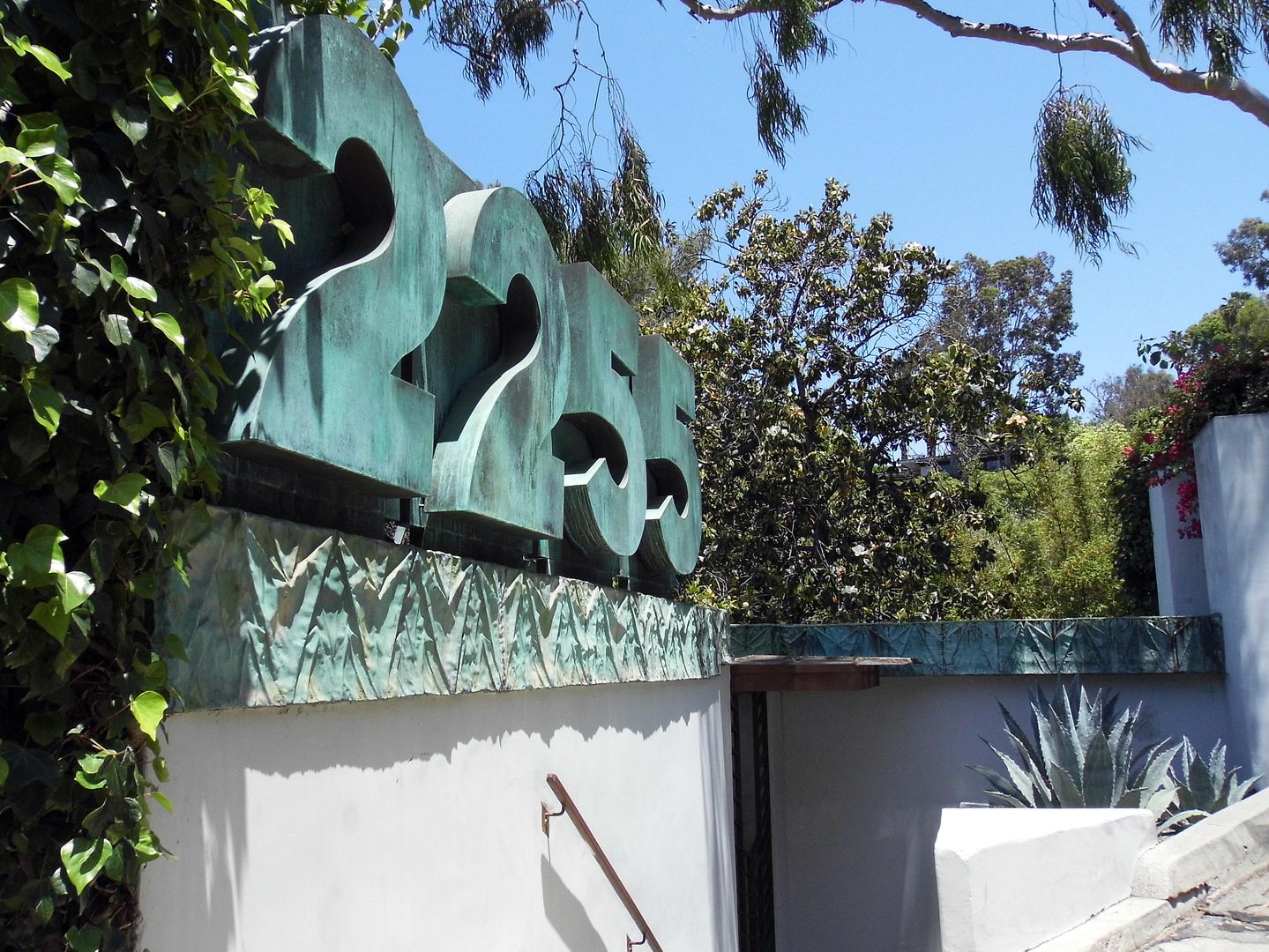 ...a distinctive landmark on both Verde Oak Drive and Valley Oak Drive below it.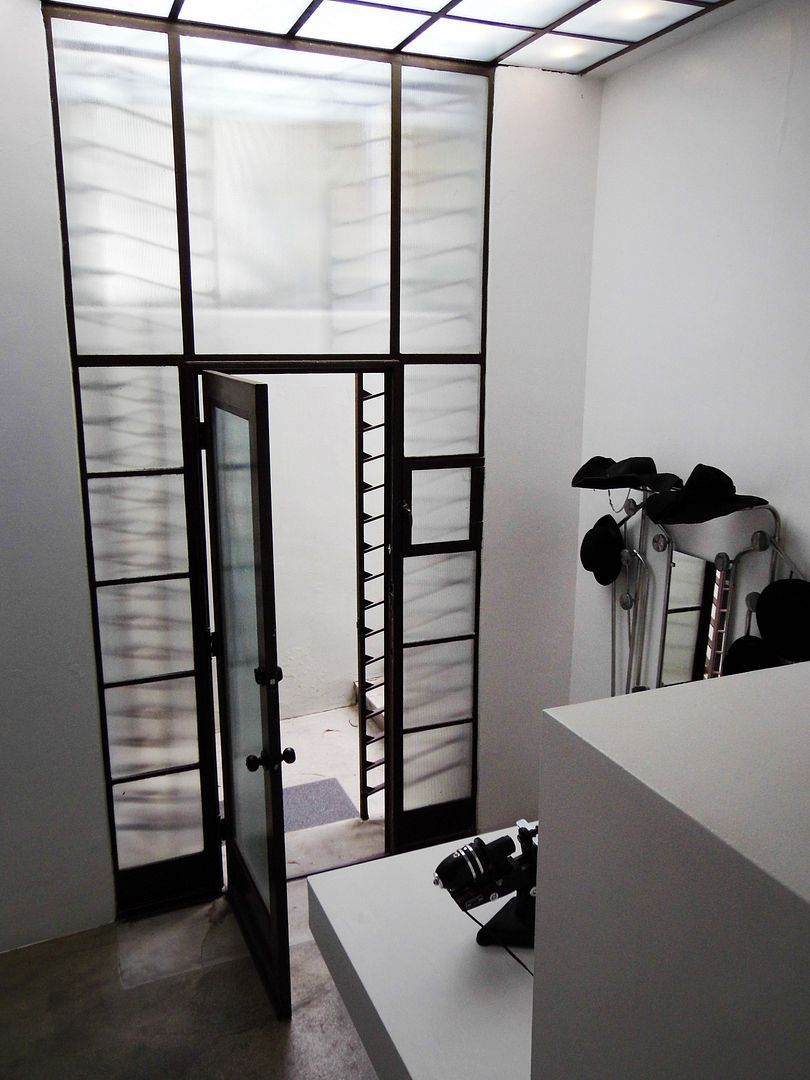 From the frosted glass entryway...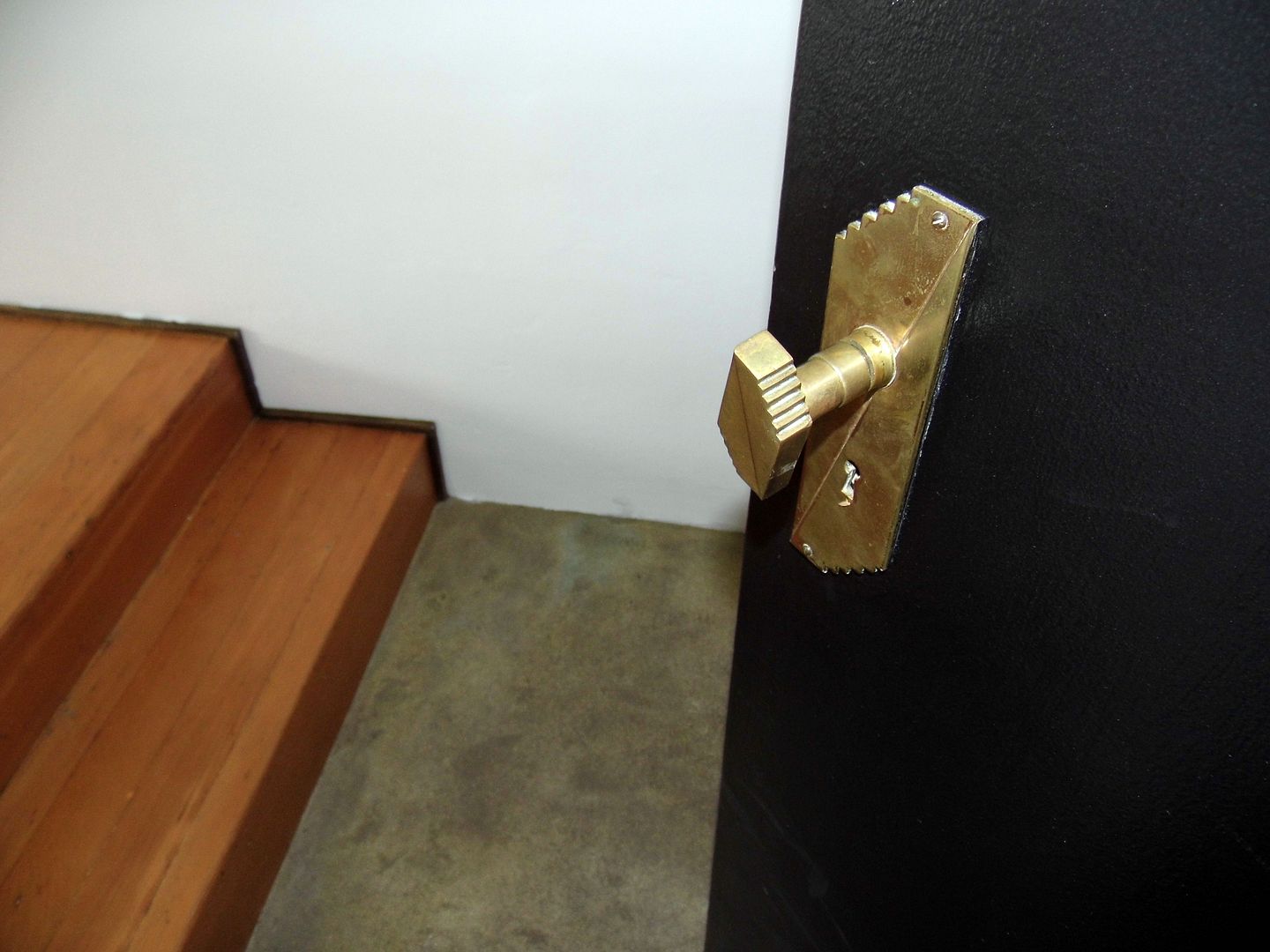 ...you walk across both concrete and hardwood floors...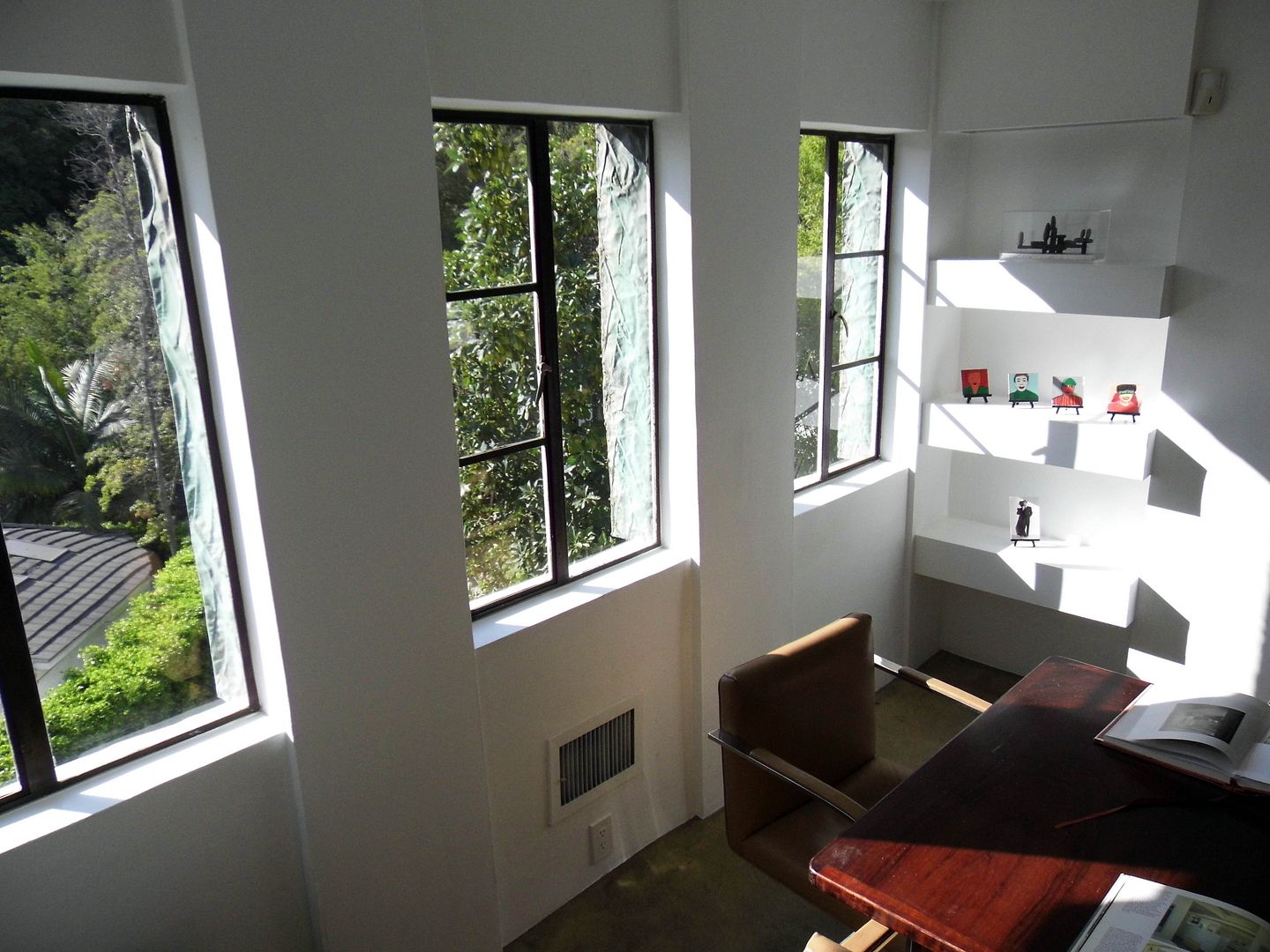 ...to the horizontal rows of casement windows (flanked by built-in shelving) to take in the canyon view.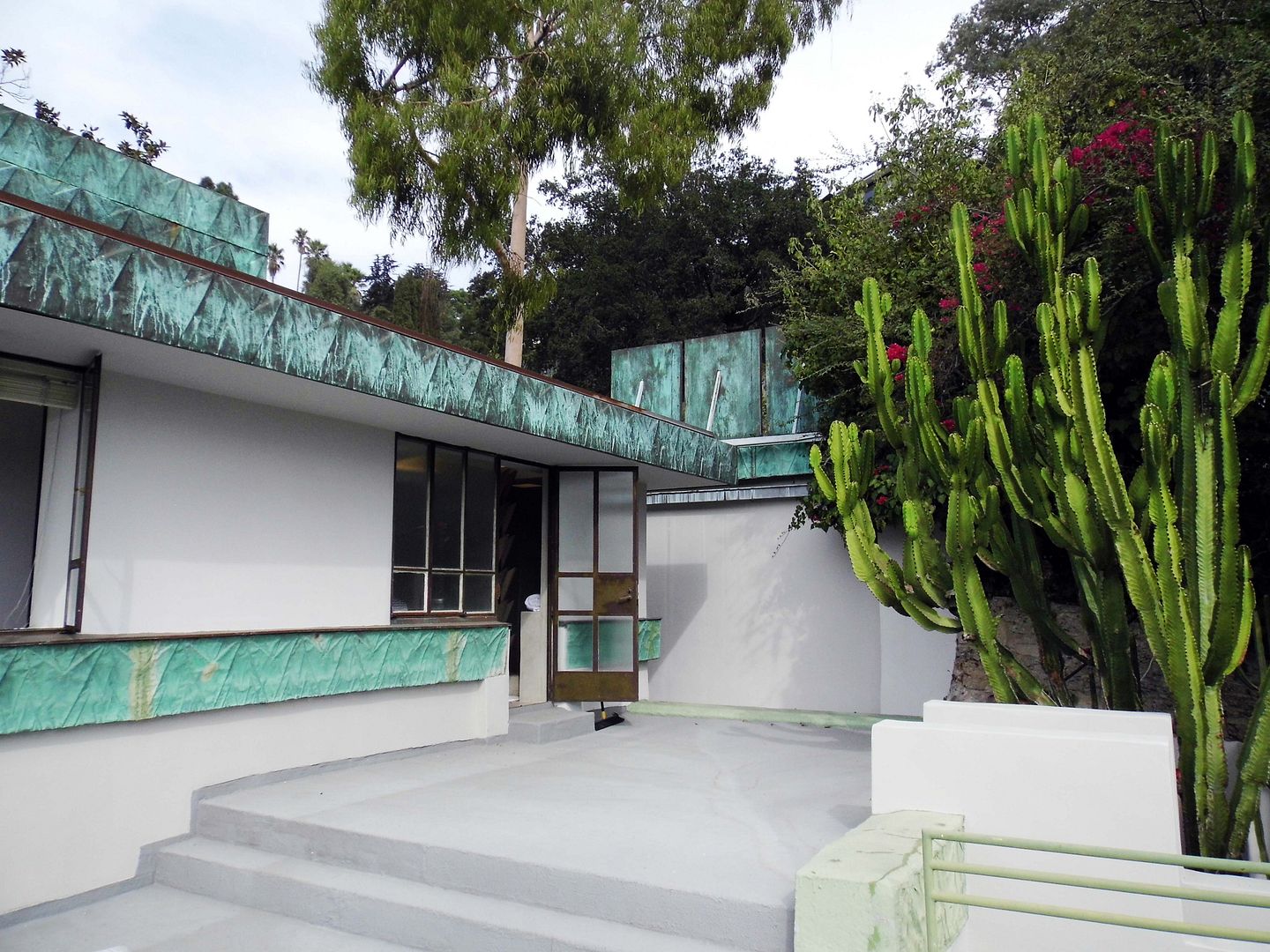 Although there are plenty of rooms throughout its almost 2700 square feet...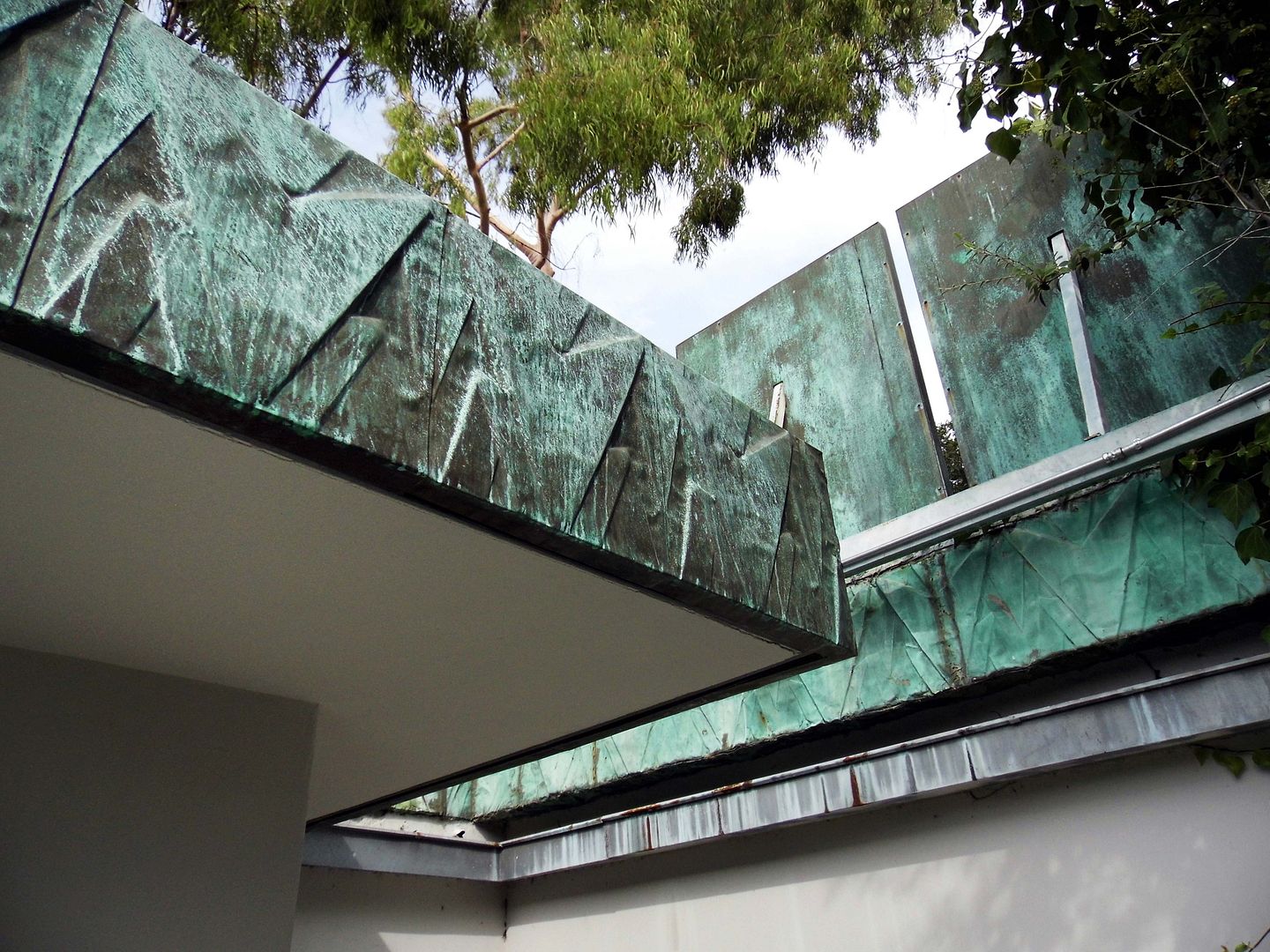 ...it was the exterior, with its oxidized copper siding (somewhat enhanced by paint), that really intrigued me.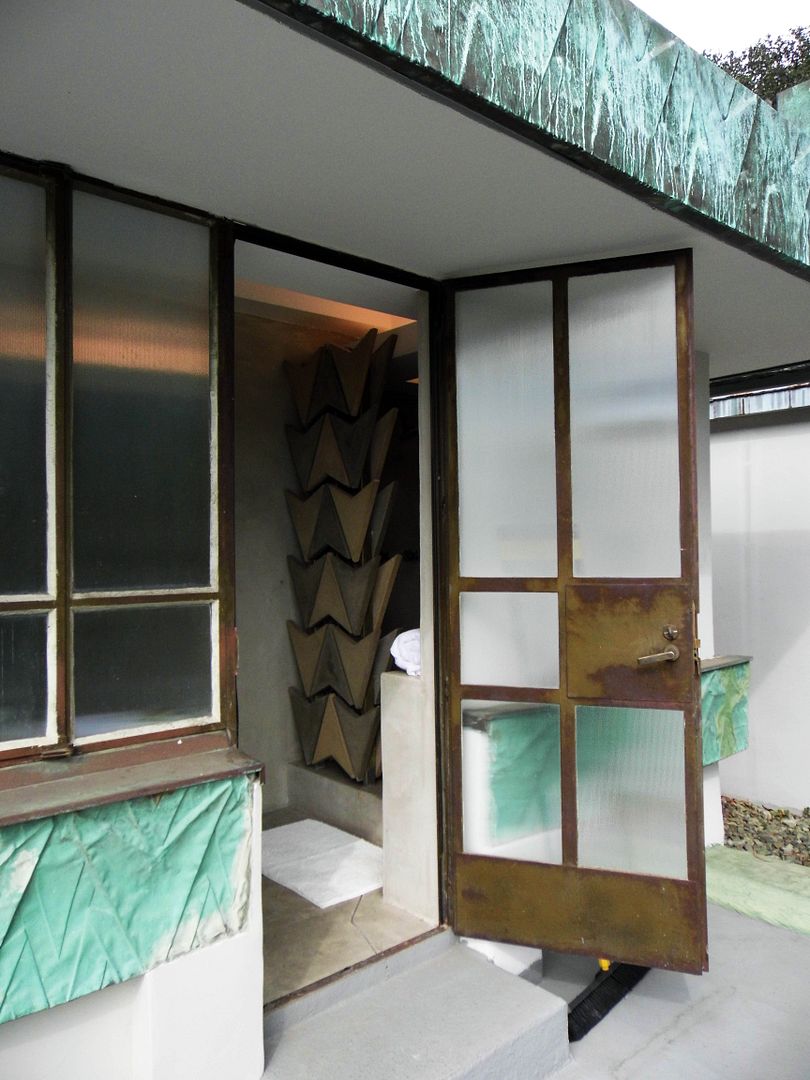 In fact, I preferred to view the interior from the outside...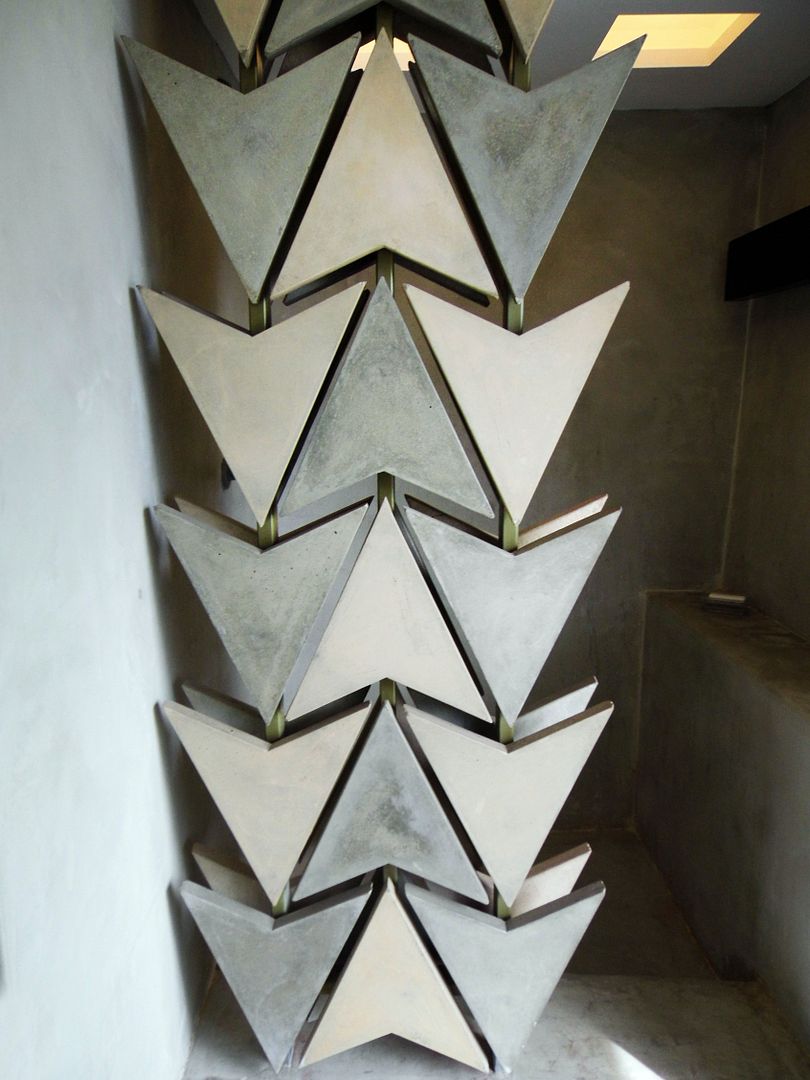 ...whether it was the concrete bathroom...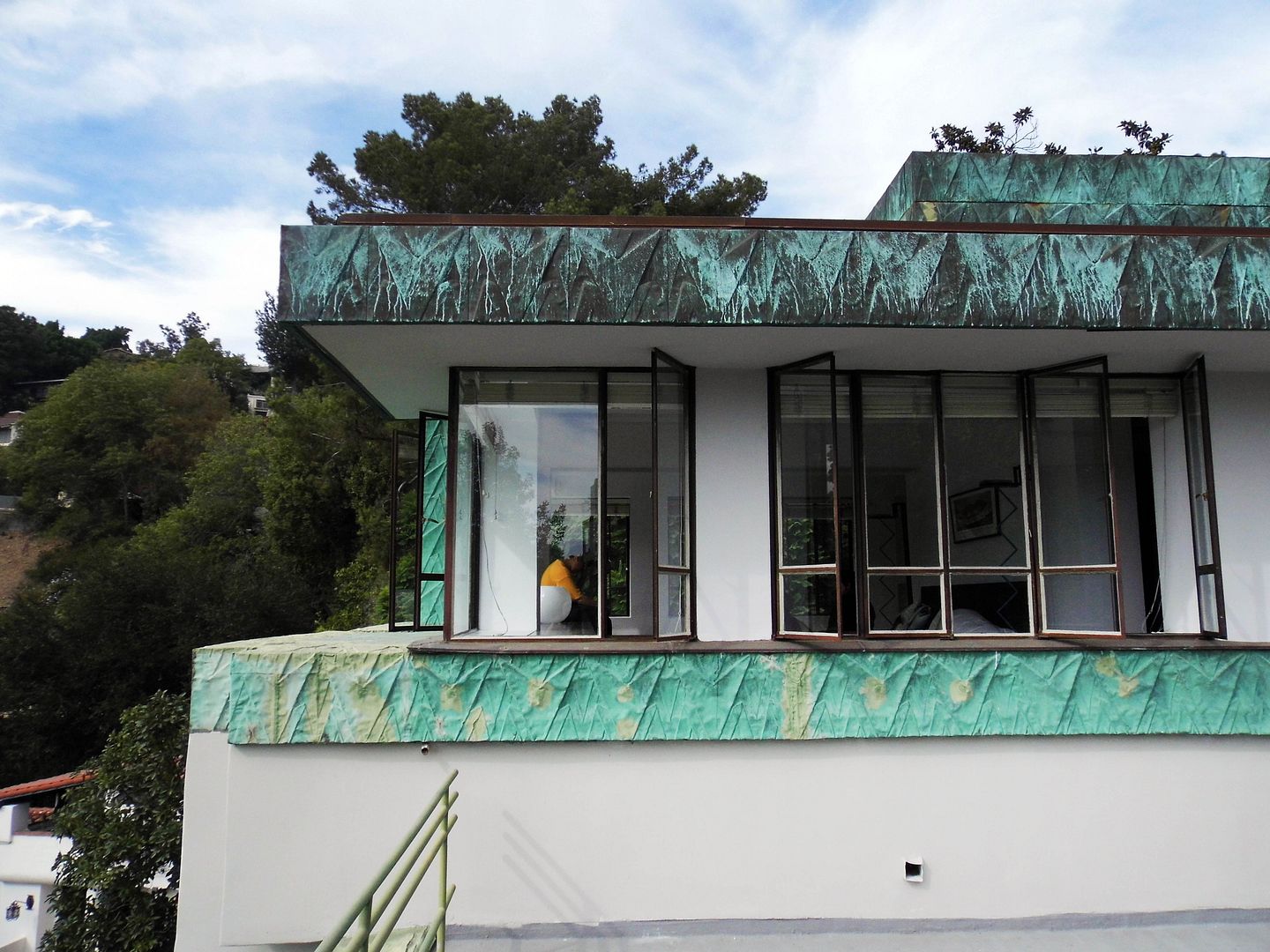 ...or one of the three bedrooms.
It's impossible to seamlessly walk along the multi-level terraces and cross between the various balconies and patios.
You have to go back inside to get back outside.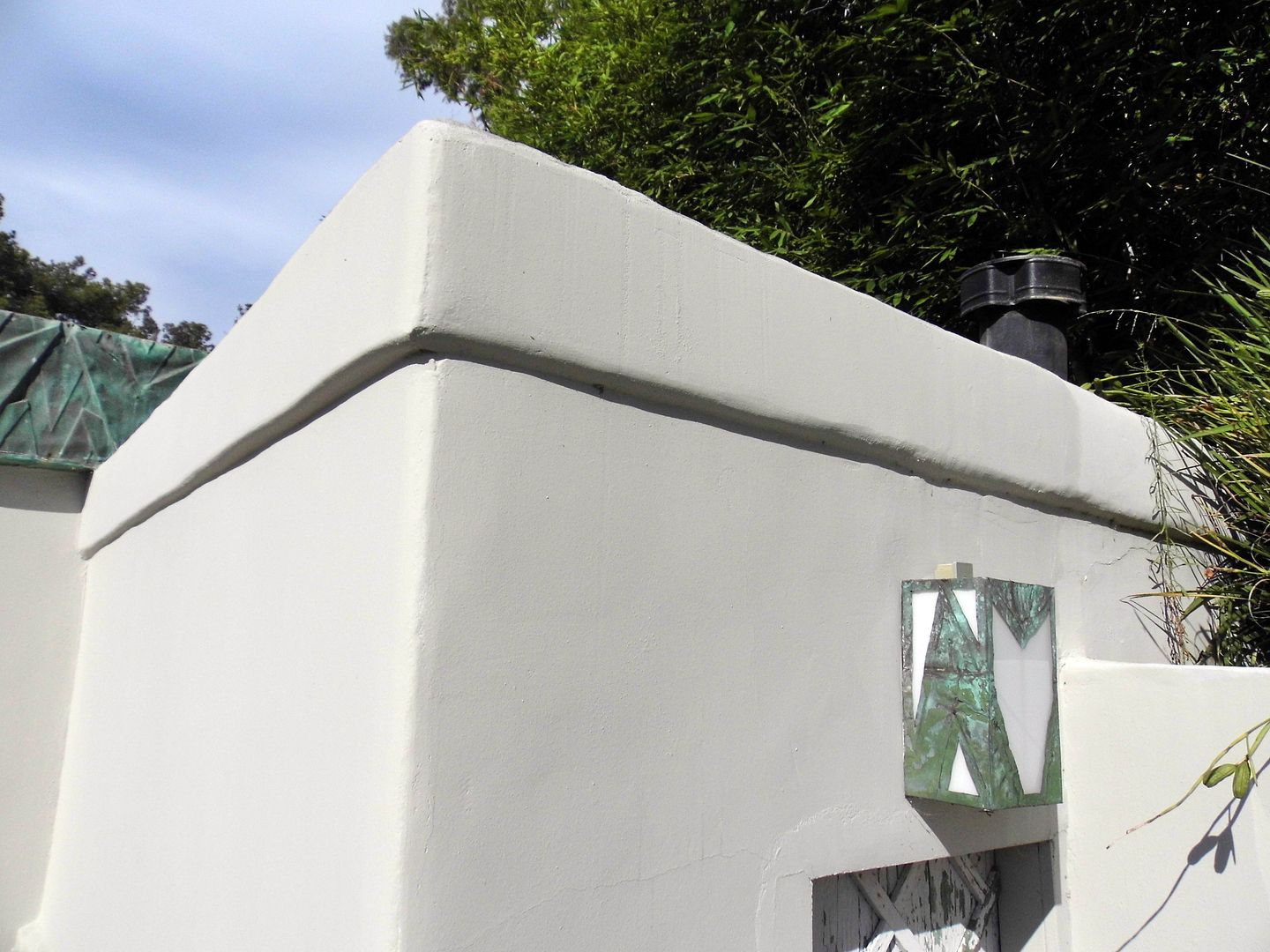 That was probably the point.
And the climax comes when you reach the enclosed pool (fed by a fan-shaped fountain), which feels like the perfect confluence of indoors and outdoors.
The Samuel-Novarro House is currently for sale for a cool $4.2 million.
Related Posts:
Photo Essay: Is the Arizona Biltmore Actually a Frank Lloyd Wright? (Does It Matter?)