Nestled between California's Santa Susana Mountains and the Simi Hills is Simi Valley, incorporated 50 years ago in 1969.
Known in the 18th century as Rancho San Jose de Nuestra Senora de Altagracia y Simi, or El Rancho Simi for short, it was the first Spanish land grant in Ventura and Santa Barbara counties—113,000+ acres of which originally granted to Spanish soldier Santiago Pico in 1795.
Pico built the Simi Adobe circa 1810—now the oldest structure still standing in Simi Valley—as the headquarters for his Rancho Simi.
But his legacy in what's become the city of Simi Valley has been eclipsed by what a family of Scottish immigrants built and left behind.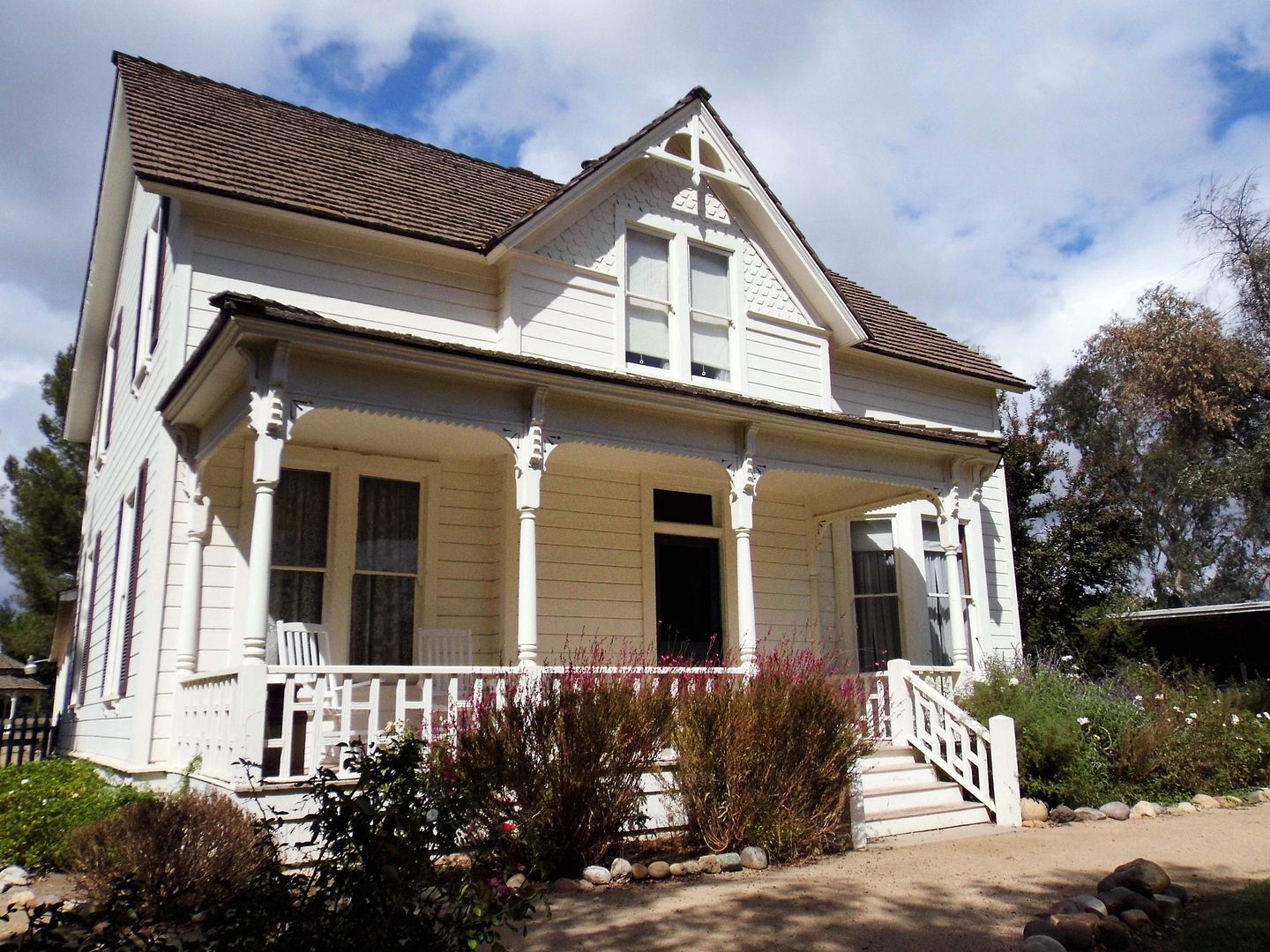 Robert P. and Mary Strathearn—cattle ranchers, pioneers, and early Simi Valley colonists—acquired 15,000 acres of the rancho in 1889 and built a wood frame farmhouse in Eastlake Stick Victorian style in 1892-3.
They used two rooms of the Pico-built adobe as a kitchen, breakfast room, and dining room as part of their "Home Ranch"—which has now been converted into a park and showcases a kind of living history of what ranch life was like for the Strathearns and their seven children. (That is, until Strathearn and two of his sons died in 1968 in a plane crash at sea.)
[Ed: date typo corrected 5/20/20]
They built corrugated metal farm sheds to use as garages for their family cars.
They pumped water into a tank from a well, powered by a windmill.
The water tank stand remains—but
this
windmill came to Strathearn Park from Moorpark, the area once known as the Strathearns' "Middle Ranch."
In 1968, the Strathearn Family donated their family home and the the six-acre parcel of land to Rancho Simi Recreation and Park District be preserved as Strathearn Historical Park, now managed by the Simi Valley Historical Society.
Some other historic structures have been relocated to the acreage—including the oldest church building in Simi Valley, which was built in 1902 as a Presbyterian church but became St. Rose of Lima Catholic Church in 1910. Restoration was completed in 2007, five years after it moved to the park from from Third Street and Pacific Avenue in Simi Valley.
You can get inside the locked door only accompanied by a docent, who'll show you the original baptismal font, vestments worn for Easter (and other holy days) by the church's clergy...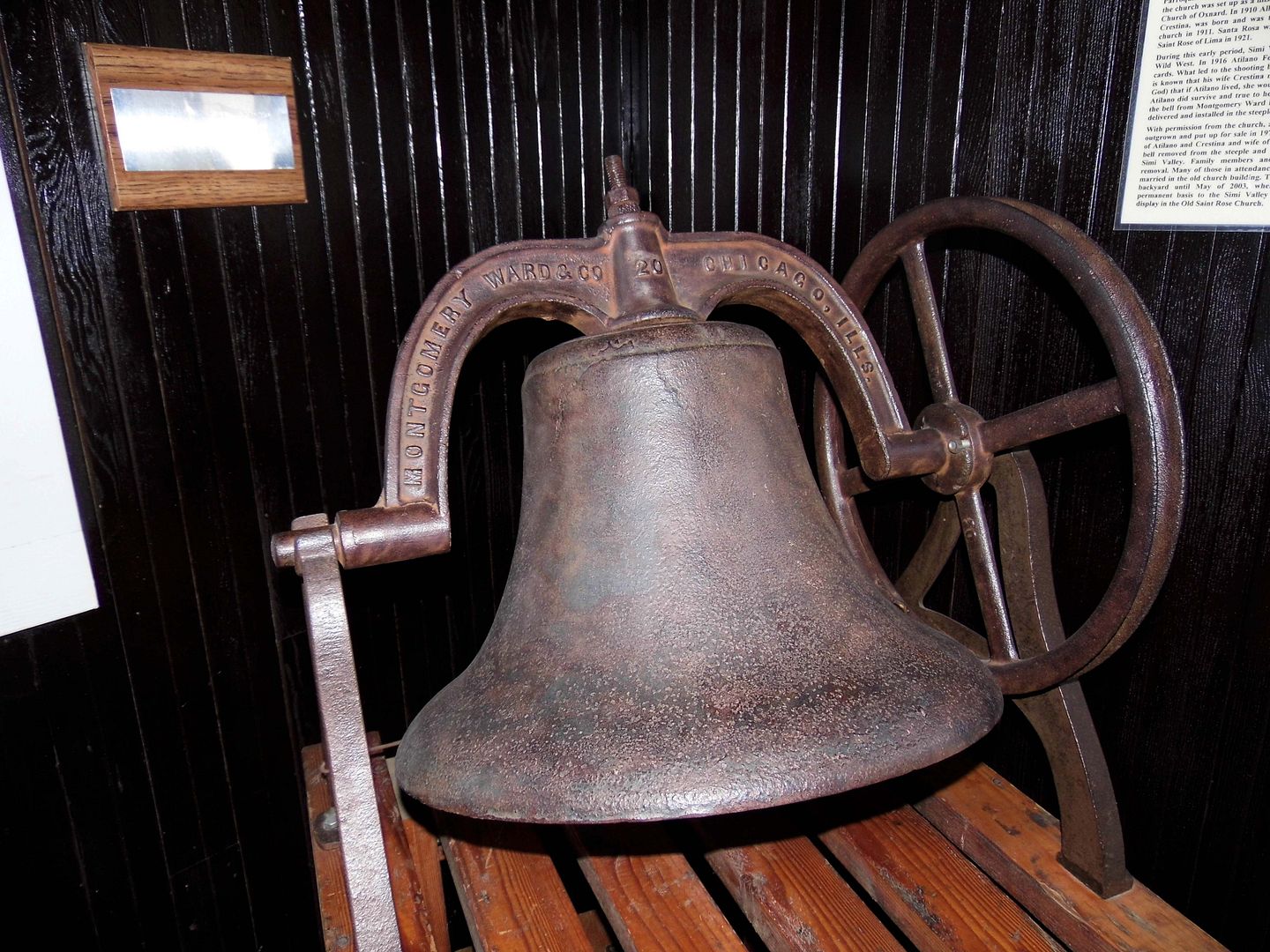 ...and the church bell purchased from Montgomery Ward in Chicago and installed in its steeple in 1916.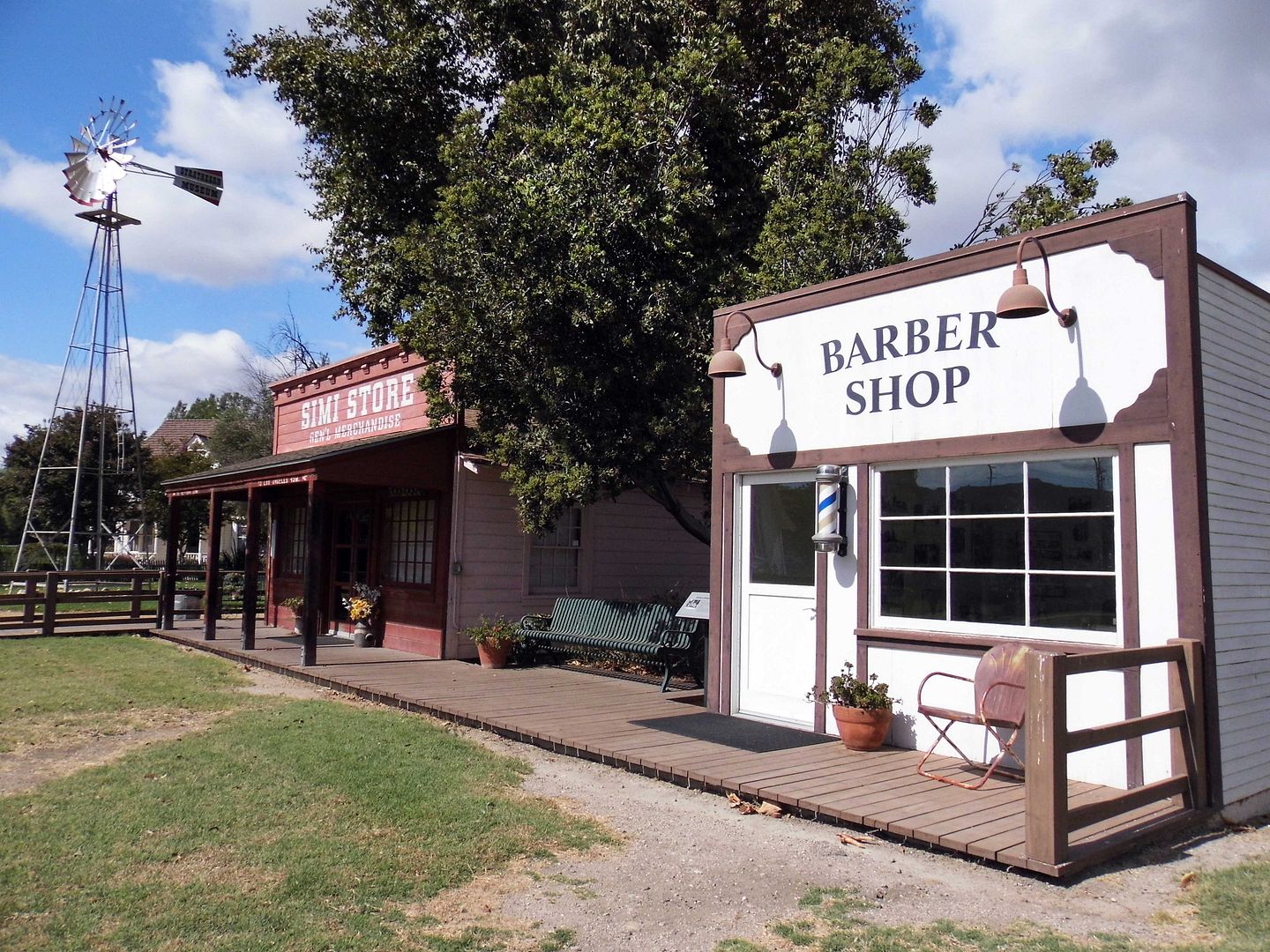 Although the Simi Store is a reproduction of a general store that used to stand at Los Angeles Avenue and Fourth Street around the turn of the last century (W.S. Keir General Merchandise), the structure itself is original to the Strathearn property. The family once used it as a garage.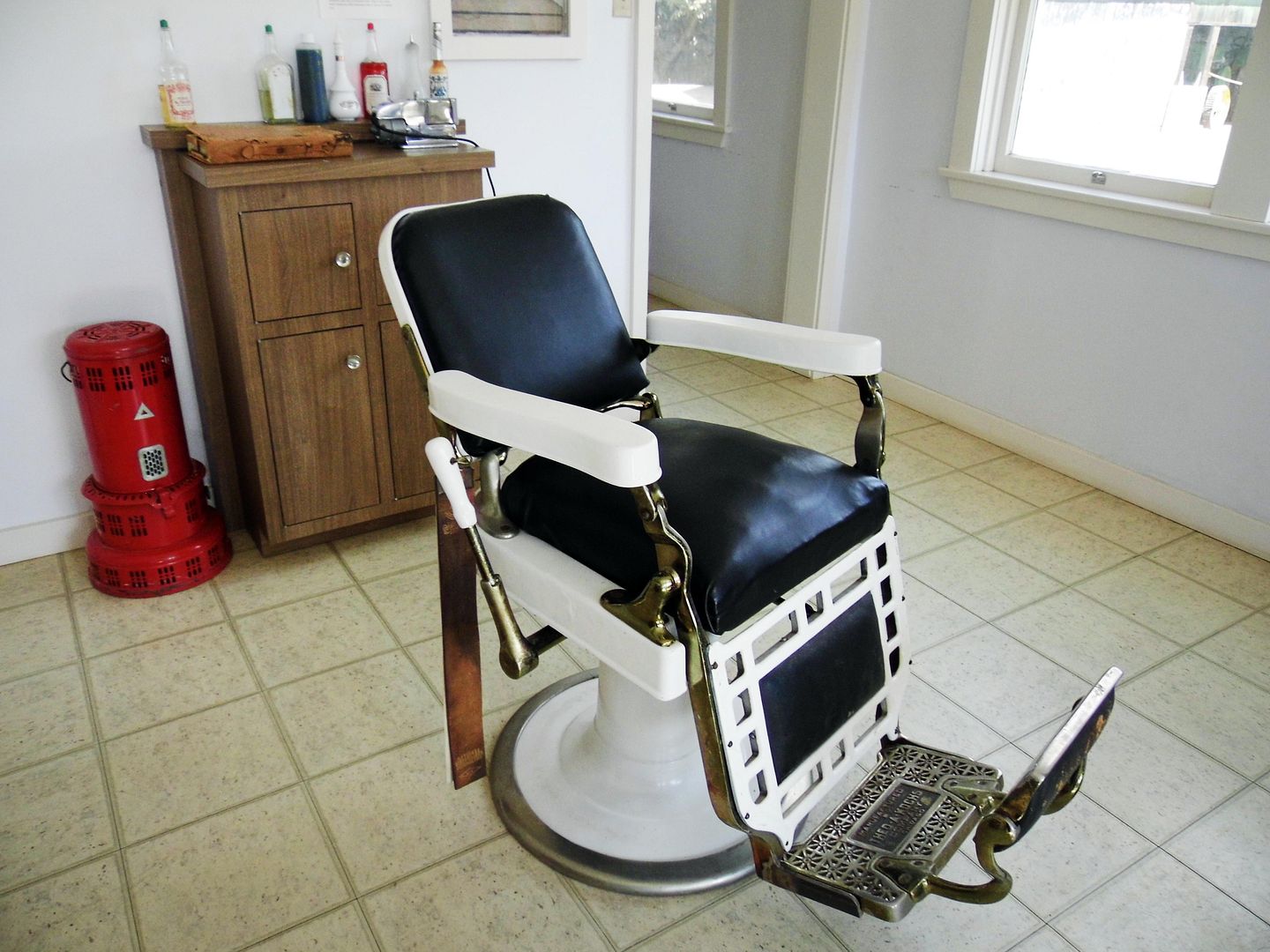 One of the three remaining original structures from the Simi Colony (or historic downtown) has also been relocated to Strathearn Park—a clapboard shop, built in 1905 on Simi Valley's busiest street, Los Angeles Avenue, between Third and Fourth Streets, on the edge of Simi's "Old Colonia."
The two-chair barber shop originally served as a "variety store," selling notions and candy. It also served at one time or another as a cafe, a tiny family home, a Jehovah's Witness meeting hall, and a chiropractor's office.
But it's best known as Manuel "Tito" Bañaga's Simi Valley Barber Shop, which opened in 1958 (when it was the only one in Simi Valley at the time) and ran until Bañaga died in 2008 at age 80.
The 1920s-era apricot pitting shed was moved here from the Currier Ranch on Royal Avenue in 2001.
Over 300 acres of apricot orchards were still in production in the Simi Valley area as late as 1950. The shed now houses farm implements, carriages, wagons, and other equipment.
There are lots of stories of Simi Valley that we'll never know—from pioneers who took them to their graves (namely at the El Rancho Simi Pioneer Cemetery, established in 1890.
A portion of the 7.5-acre Simi Valley Public Cemetery, a public burial ground, the Pioneer Section of contains original burial plots of the earliest Simi settlers—pioneer families including the Appletons and Saviers.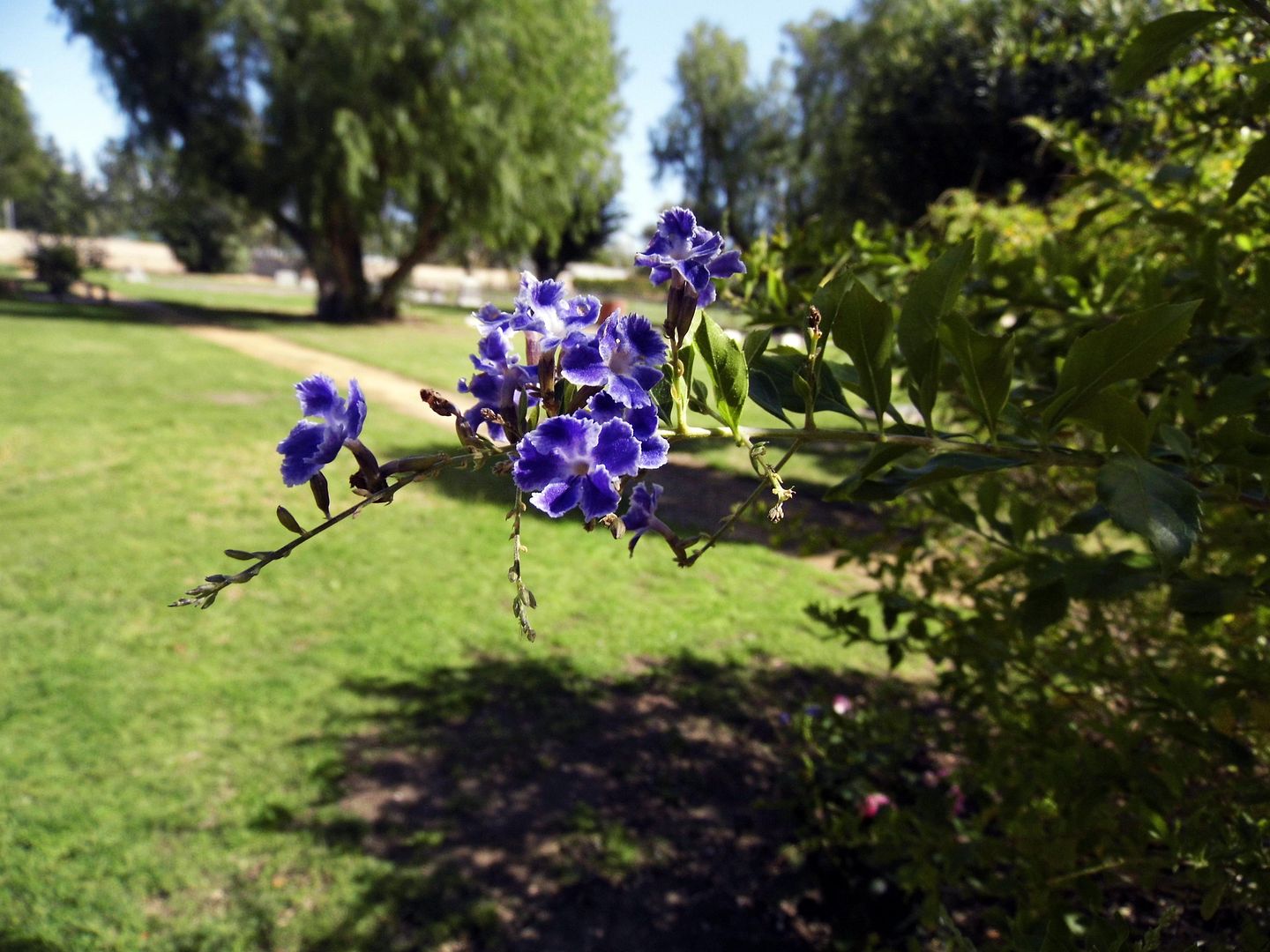 The earliest burial appears to be from 1895, though the earliest arrivals probably happened in the 1870s or so.
We may never know their tales of Angus cattle, the futile search for oil, and the water company land grabs that characterized much of early Simi Valley.
The Simi Cemetery continued as a private cemetery until 1946, when the County of Ventura purchased it and established a Cemetery District. The county also appointed trustees to supervise operations—which hasn't been without its challenges.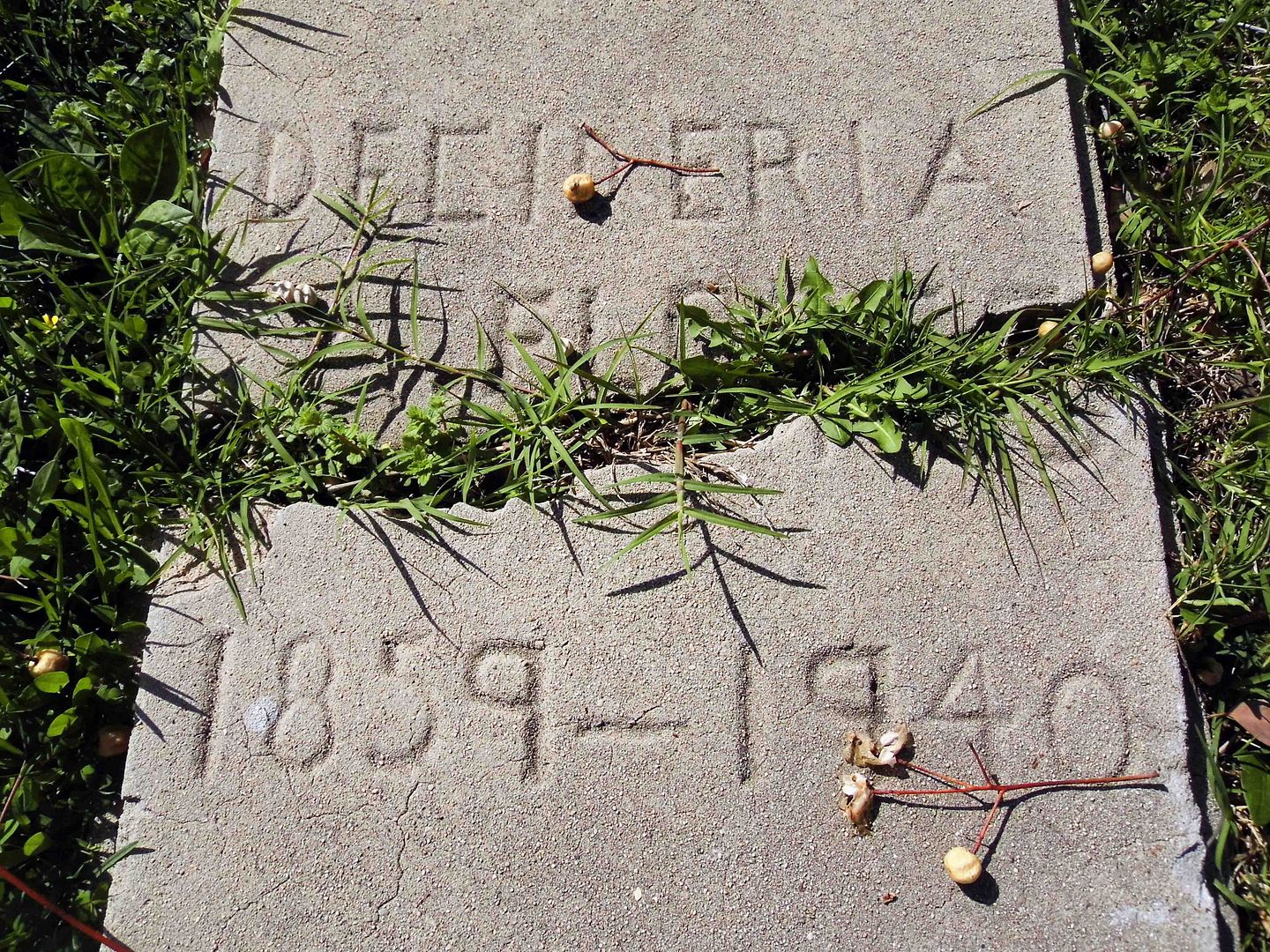 The graveyard was ravaged by the Northridge earthquake in 1994. Also in the 1990s, the land sank after heavy rains.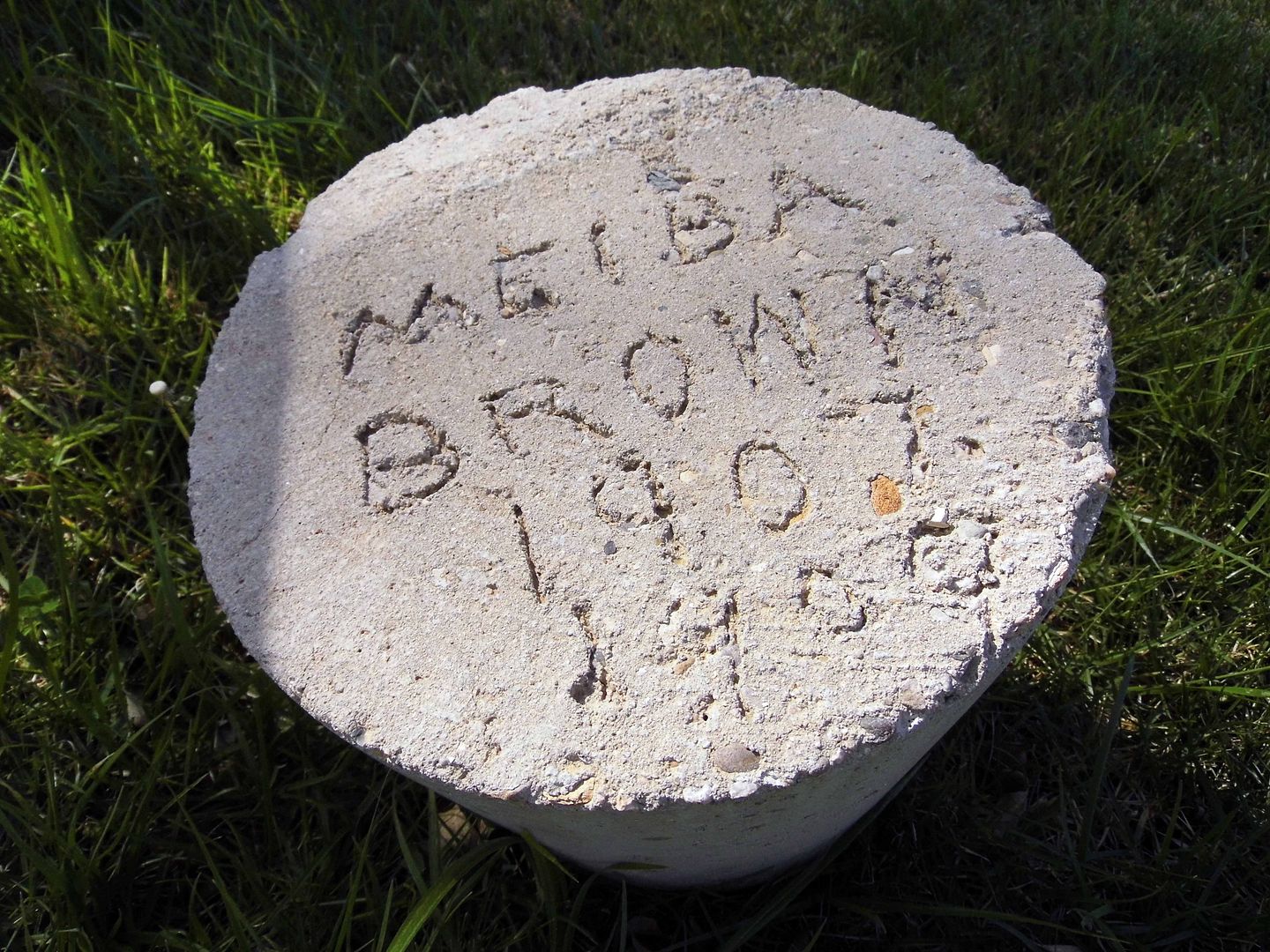 Homemade markers share the land with burrowing gophers...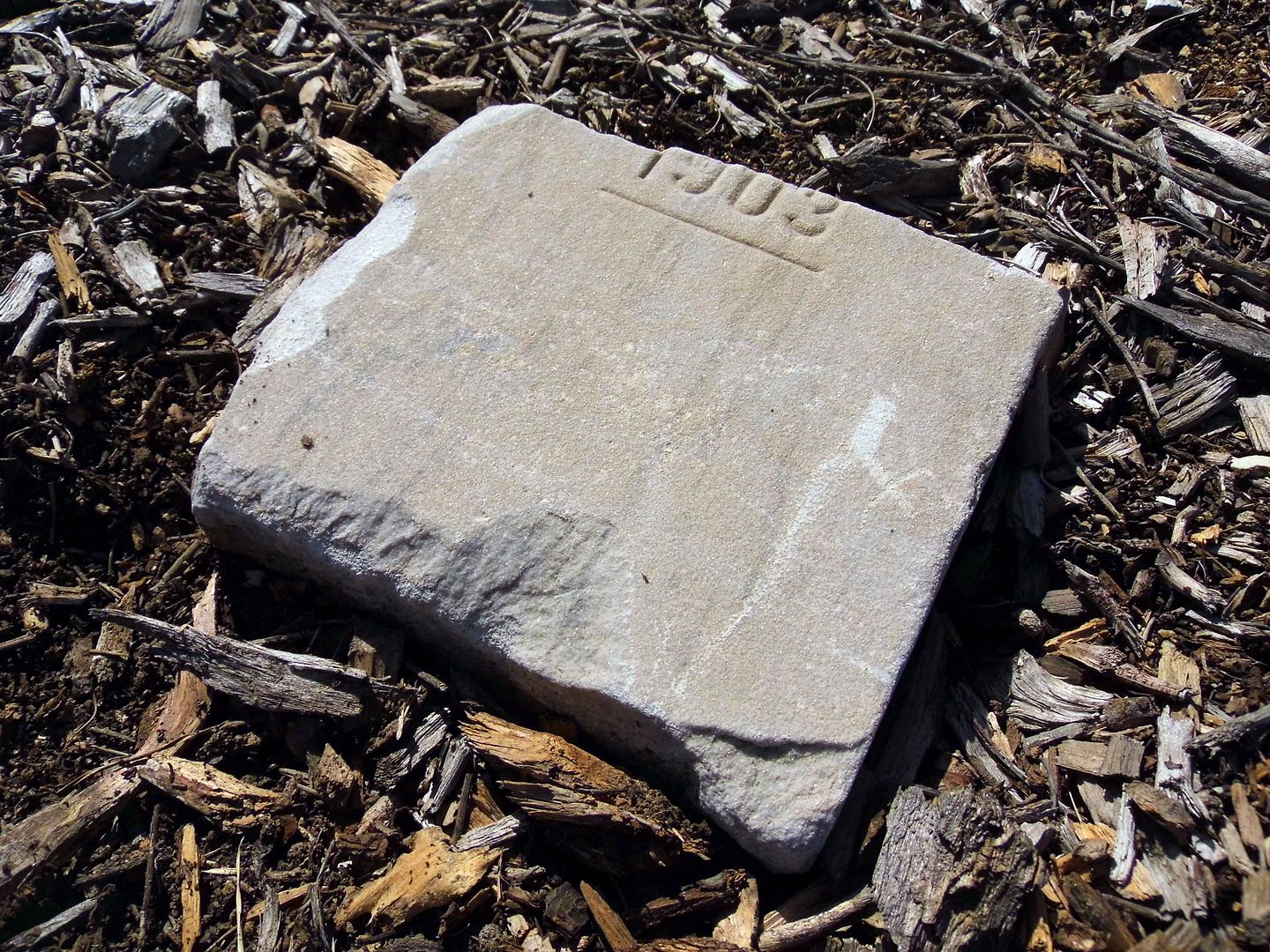 ...perched above reportedly misburied bodies, mishandled human remains, and other deceased victims of the ol' switcheroo.
Come to think of it, the dead probably don't care. But their surviving family members sure do.
Related Posts:
Preservation Means Saving the Stories Beyond the Siding
Photo Essay: The Museum of Misfit Houses
Photo Essay: Oxnard Heritage Square