Located in an adaptively reused
Victorian home
that was built out of wood from the J.D.B. Stillman Winery (where the University of Redlands is now), the Historical Glass Museum of Redlands, California was founded in 1985—at the time, the only glass museum on the West Coast (though now there's a big one in Tacoma, Washington).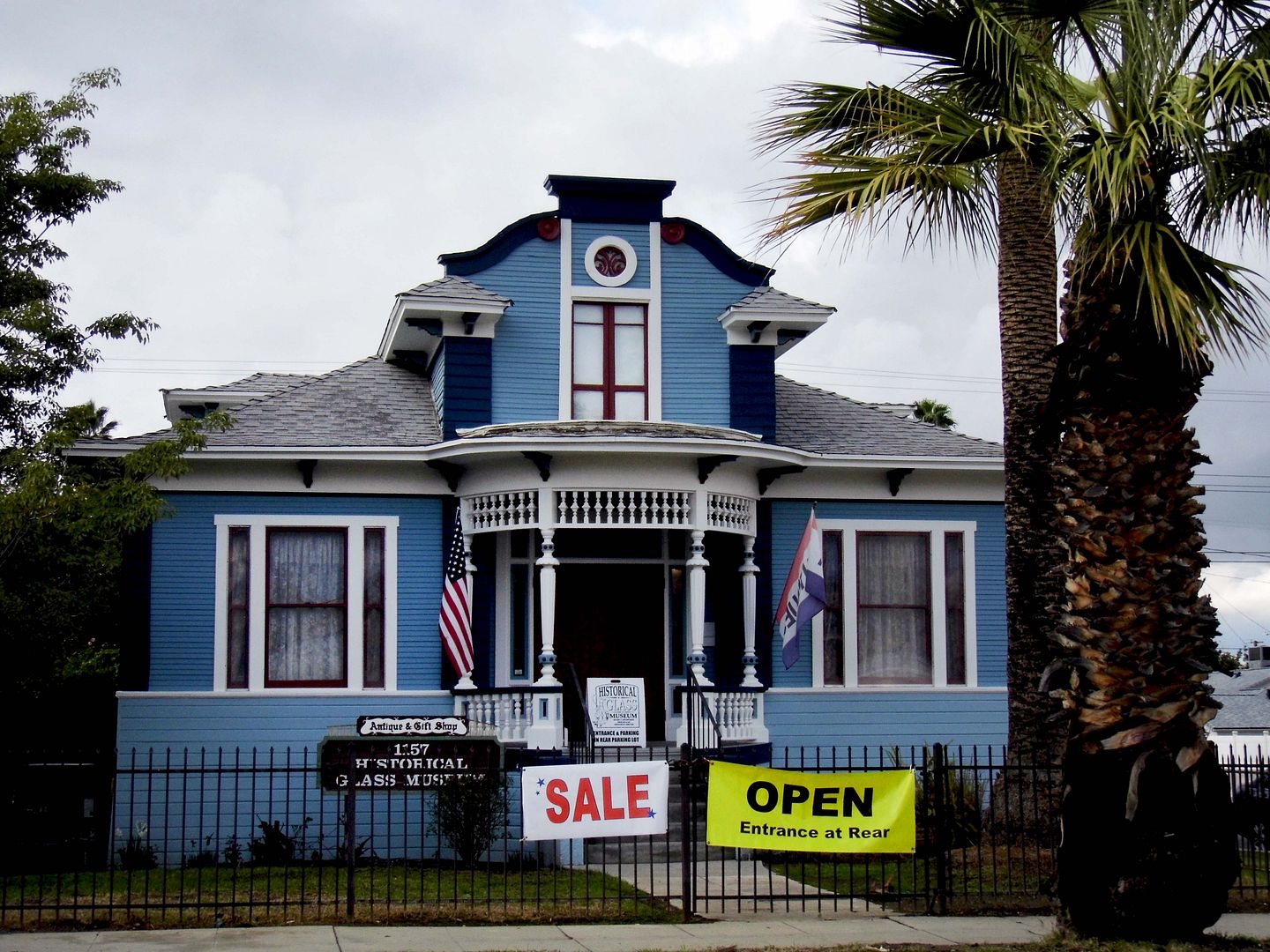 Constructed in 1903 by woodworker and architect Jerome E. Seymour (of the Seymour Brothers planing mill) for his family, the cottage provided a home for his daughter, Emma Cryer, until 1977, a year before her death (and six decades after her father died of influenza). Seymour's hand can be seen in many of the Victorian residences of Redlands—including the famed Morey Mansion.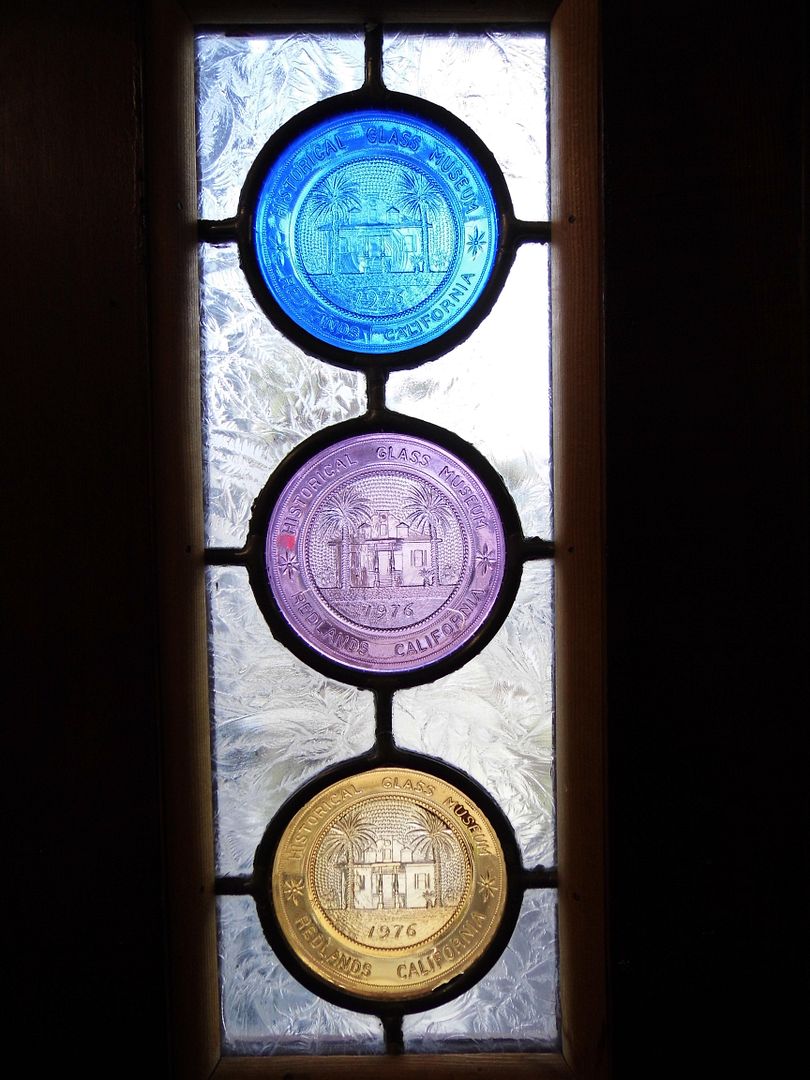 A few years later, the Historical Glass Museum's founders purchased the cottage and began renovating it for public access. And as the leaded windows on the front door indicate, the real attraction here isn't the architecture (as lovely as it is), but its glass collection—primarily American-made glass from the mid- to late-19th century and 20th century.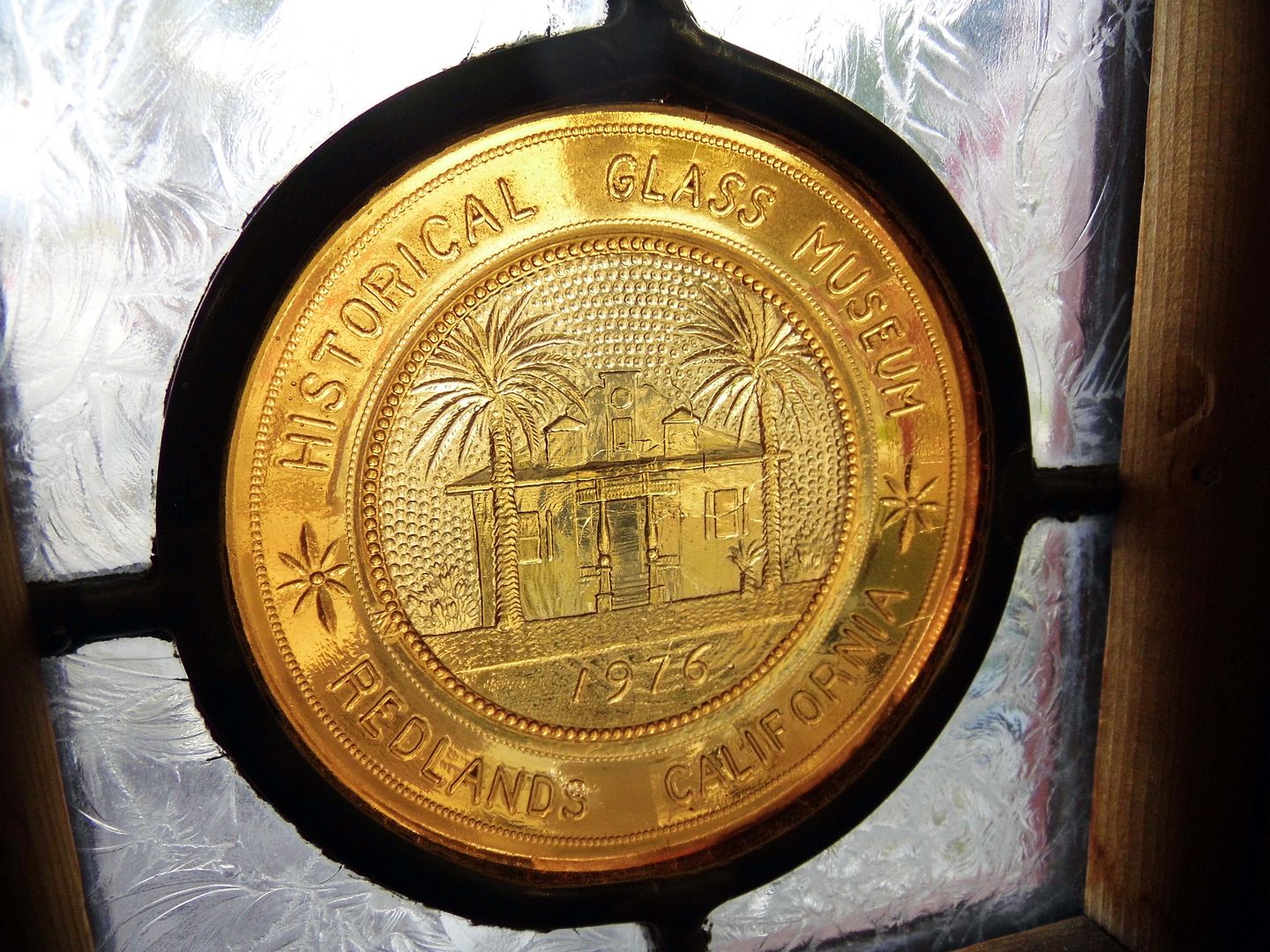 Showcased in the house's leaded glass are 1970s-era examples of pressed cup plates, which were popularly used as coasters in the pre-Civil War period, primarily produced from the 1820s to the 1850s using mold pressing technology. But that's just the beginning of the museum's collection.
Another type of pressed glass is known as carnival glass, recognizable by its iridescence or opalescence—an effect created by spraying metallic salts on still-hot glass, which is then fired.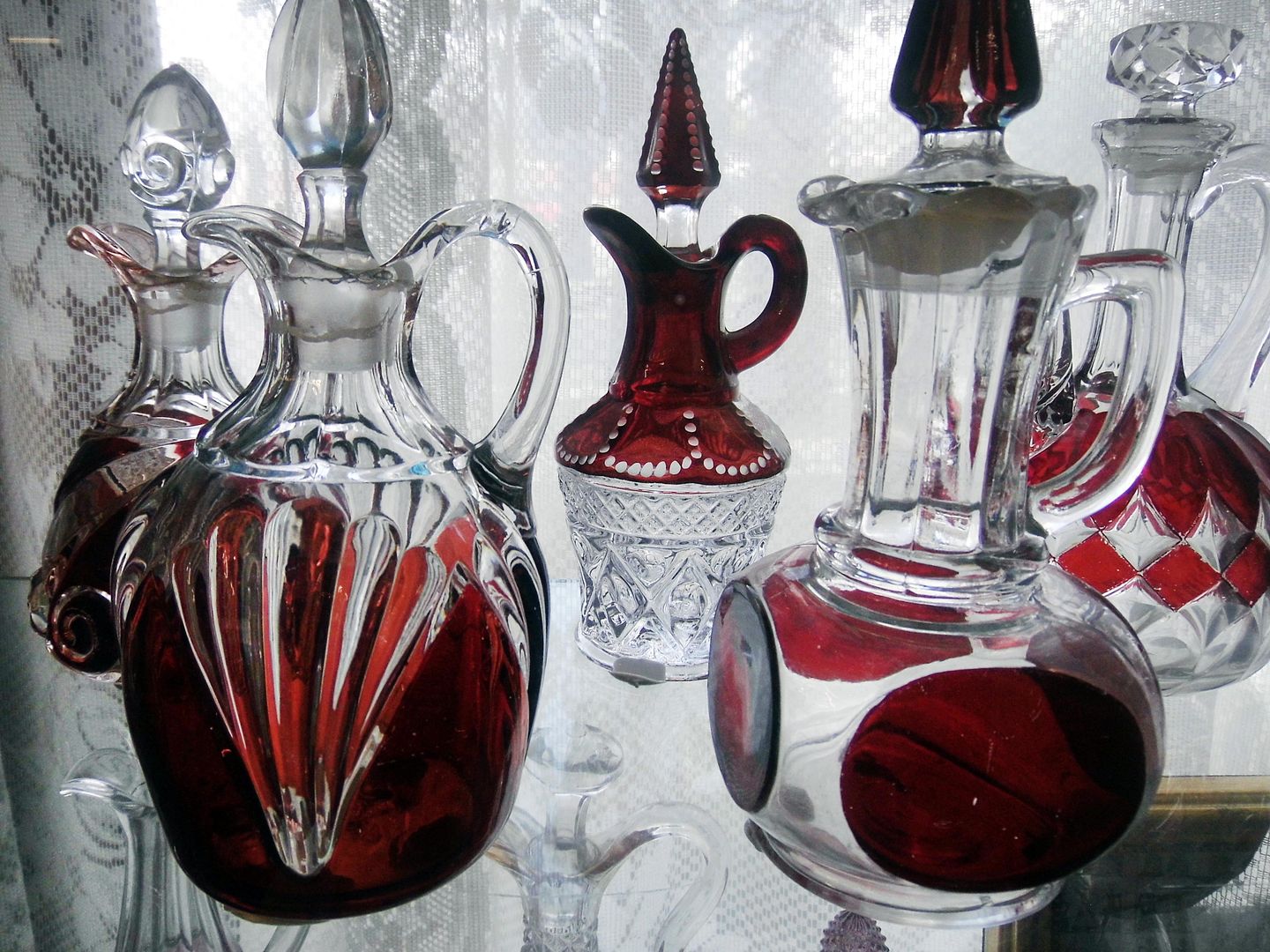 Early American Rock Crystal by the McKee Glass Company (circa 1920s-30s,
not pictured above
) is another kind of pressed glass made from a pattern that's included at the museum. At the time that it was contemporary, pressed glass was the cheap stuff—though its collector value has nudged its price tag up over time.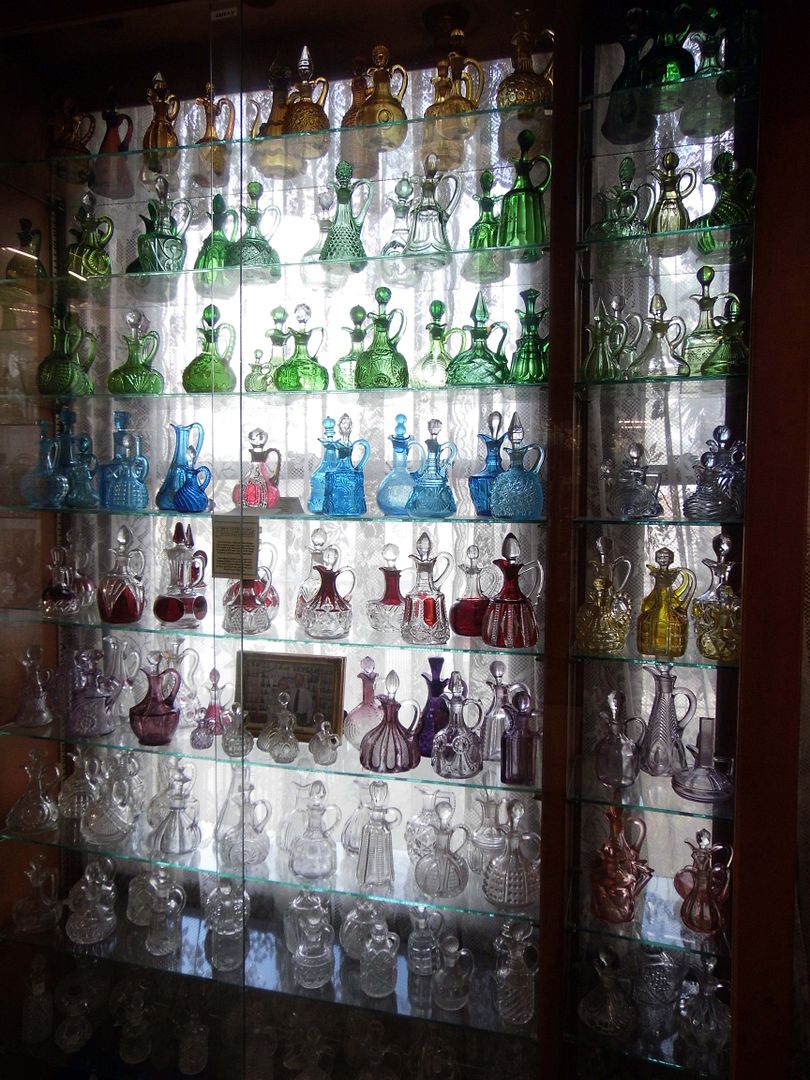 Of course, the Historical Glass Museum has got plenty of "elegant" glassware, too—from companies like Fostoria Glass Company (from the Ohio town of the same name), Steuben Glass Works (from Corning, NY), Fenton Art Glass Company (which ceased production in 2011 after 106 years), and many others that have been out of business for years.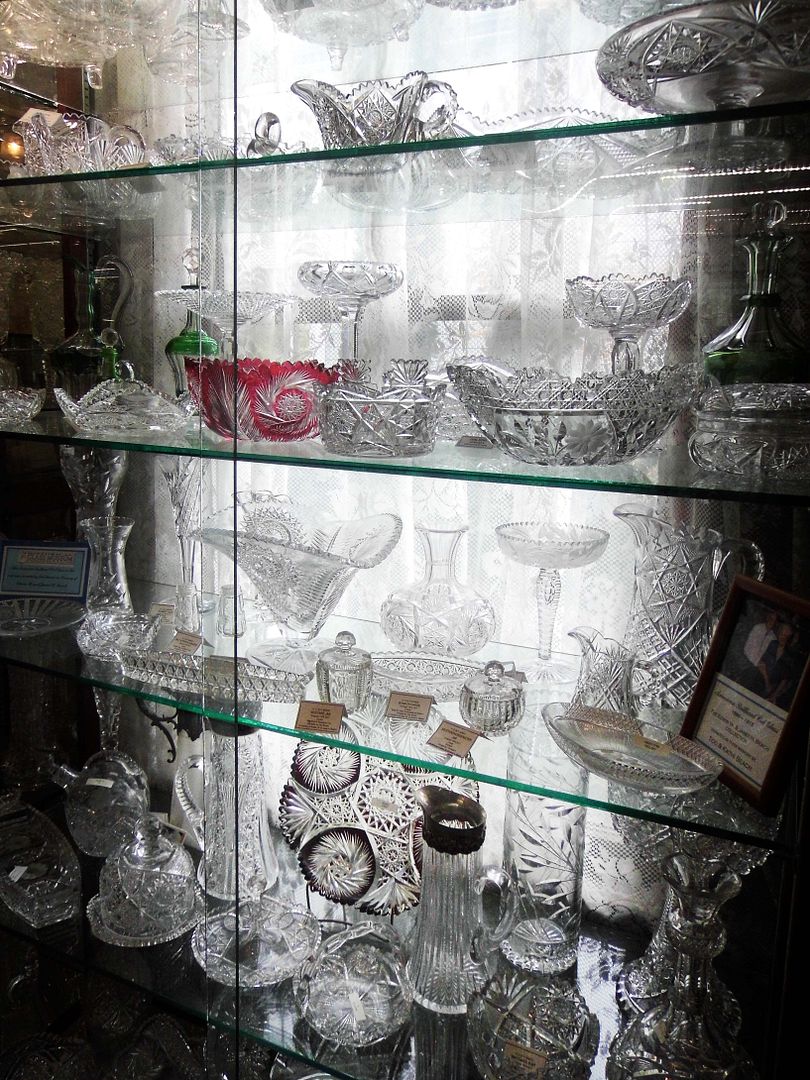 Then there's the American Brilliant Cut Glass (primarily produced 1850-1915), which rivaled the finest cut glass out of Europe. The clear crystal glass was what was popular during the Victorian era—and this kind in particular was called "Brilliant" because each cut in the glass was polished.
Liberace
was a collector of it, in fact—and pieces from his Los Angeles home were purchased at auction for inclusion in the museum.
Personally, I find the colored pieces—like cranberry glass made pink by adding gold chloride—far more fascinating. Even if it was inexpensive to make—and buy—at the time.
Fro instance, the "Depression glass" of the 1920s-30s wasn't just affordably priced for everyday use—this "dime store" glass, for the table and kitchen, was often
given
away! (In cereal boxes, no less.)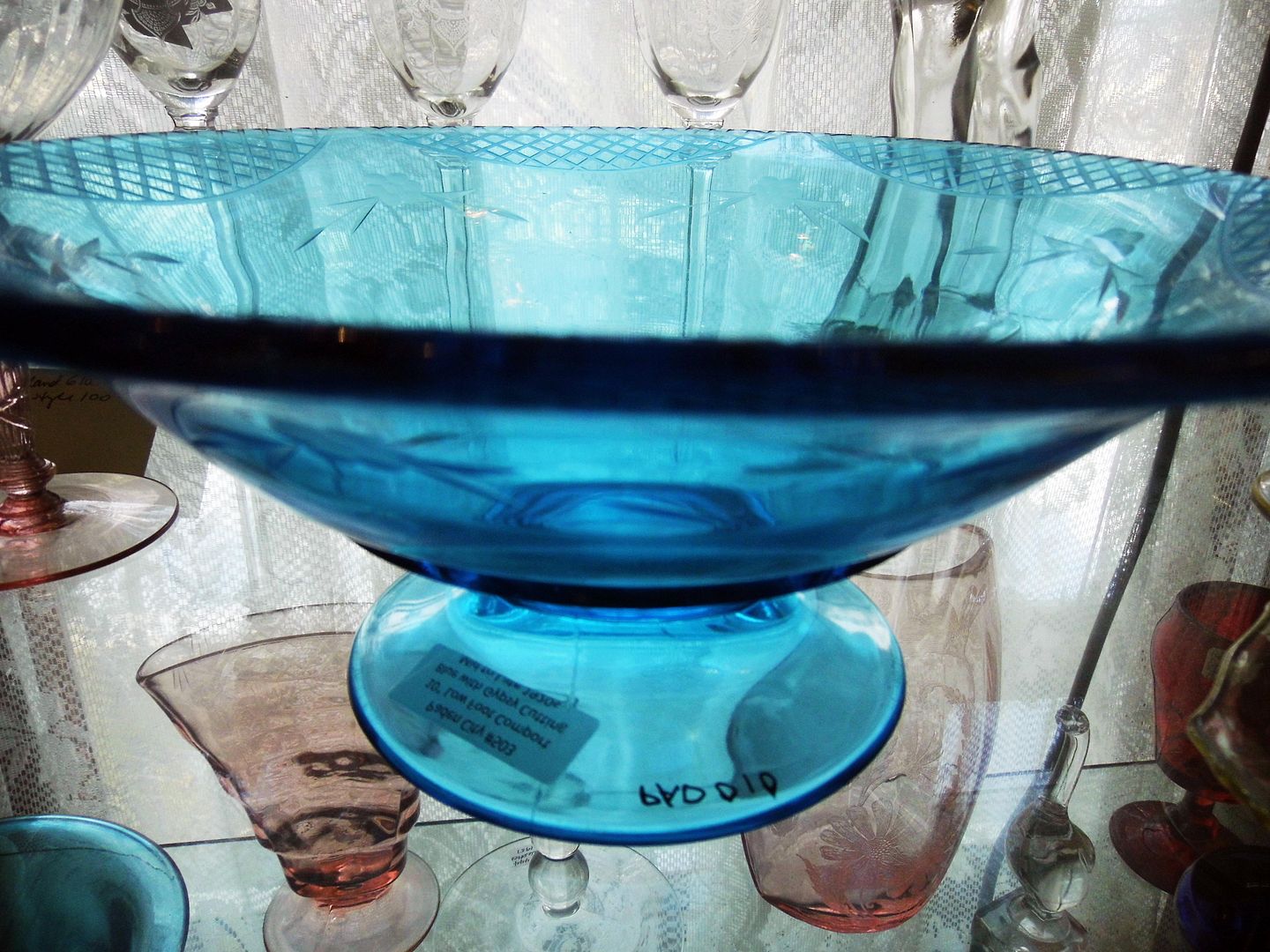 Automation—which allowed such glass to be manufactured so cheaply—caused the downfall of many glass plants, including that of Paden City, one of West Virginia's
many
glassmakers, which lasted only 35 years and shuttered in . The museum's collection includes a Paden City-manufactured low-footed blue bowl (or "comport") in the "Gypsy" pattern, from the mid- to late-1920s.
Much of the (mostly) donated collection also includes mercury glass (or "silvered," made with silver nitrate, circa 1855-85), swirled and streaked slag glass (circa 1890s), "Vaseline" glass (circa 1930s, all yellowish or greenish, some made with uranium and therefore radioactive, glowing under black light), and a huge lot of Jadeite kitchenware (a mid-20th century jade-green milk glass).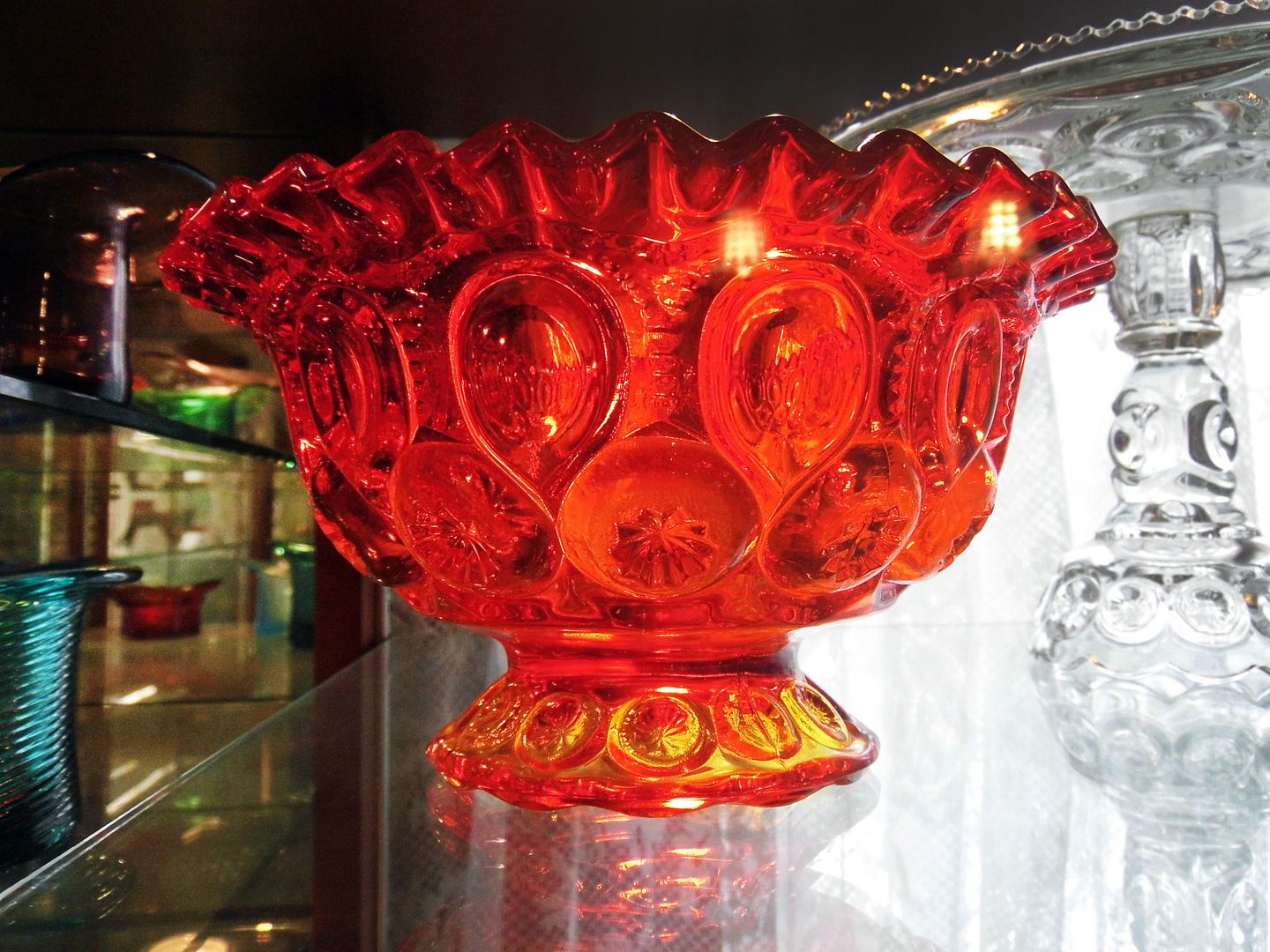 As if that weren't enough, it also boasts one of the most extensive collections of covered animal dishes (like the ubiquitous "chick in basket") as well as rarities like auto bud vases, one-of-a-kind paperweights, and even glass irons.
"Are you a glass collector?" my docent asked me.
"Hmmm no but this reminds me of what my mother and grandmother had," I said, hesitating midway because that didn't seem like a very good answer. I'm not that nostalgic for my childhood.
Then again, a blue carnival glass candy dish with a grape pattern on it is one of the few possessions of my mother's that I still have (and haven't
given away
).
"I like glass, though..." I tried to explain. "You know, like stained glass... I like to look at it."
Come to think of it, I really like the
clinking of glass bottles
, too.
"Do you collect anything?" she pressed.
"Well, yeah... tiki mugs... and Christmas tree ornaments."
That being said, I did buy a souvenir pressed cup plate, like what's embedded in the front door's windows, from the museum gift shop.
And I didn't just learn about glass from my visit there—but about the city of Redlands itself, too.
And maybe a little bit about myself, as well.
Related Posts:
Photo Essay: The Hangover Cure Clock Tower Gets Its Tick-Tock Back
A Specter of Light and Glory in Days of Darkness
Photo Essay: Bottle Tree Ranch (Updated for 2019, RIP Elmer Long)