It may not be the kind of cathedral you might expect when visiting, say, St. Paul's in London...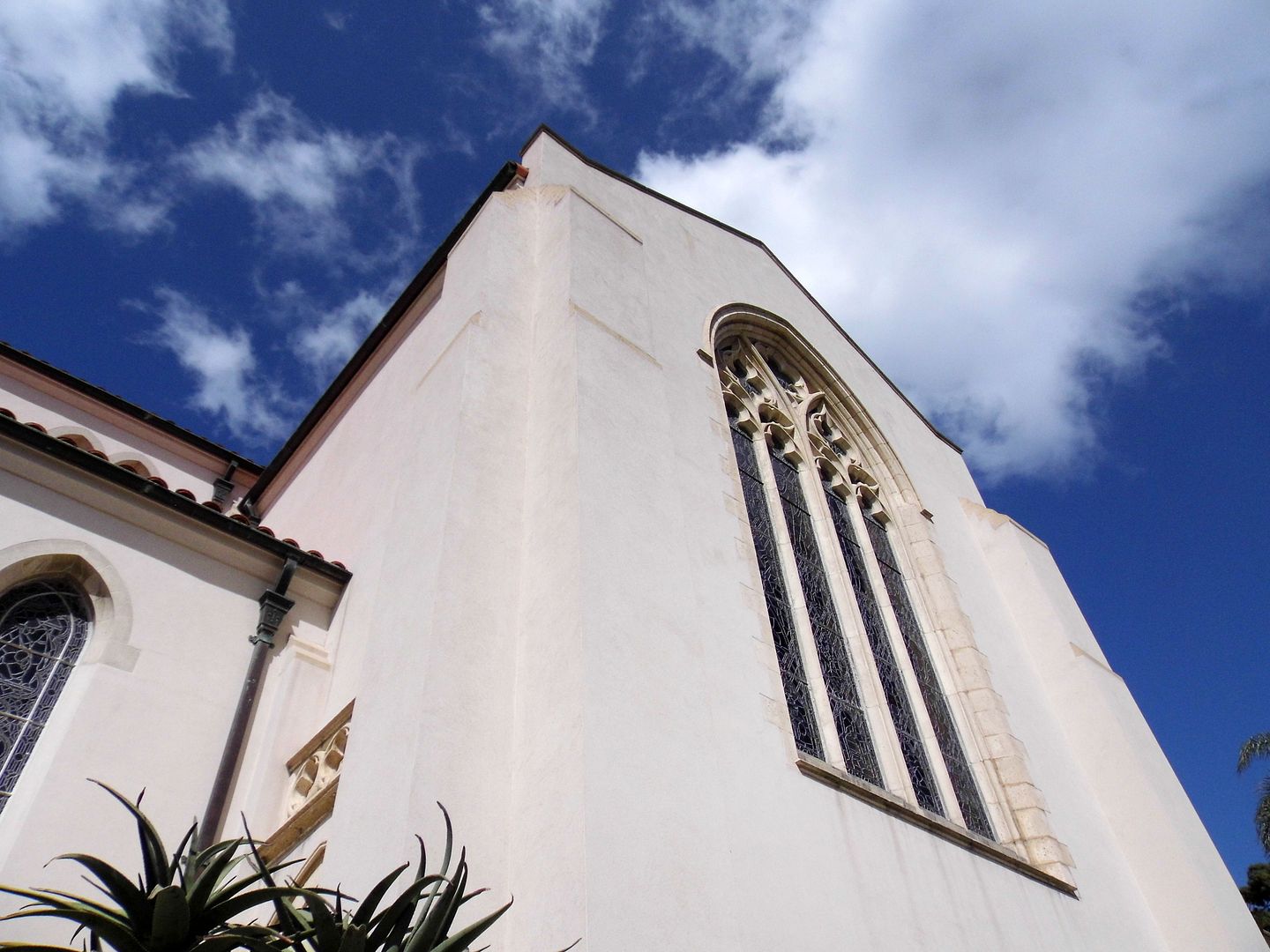 ...but St. Paul's Cathedral Episcopal in the Bankers Hill section of San Diego is a gem of its own kind.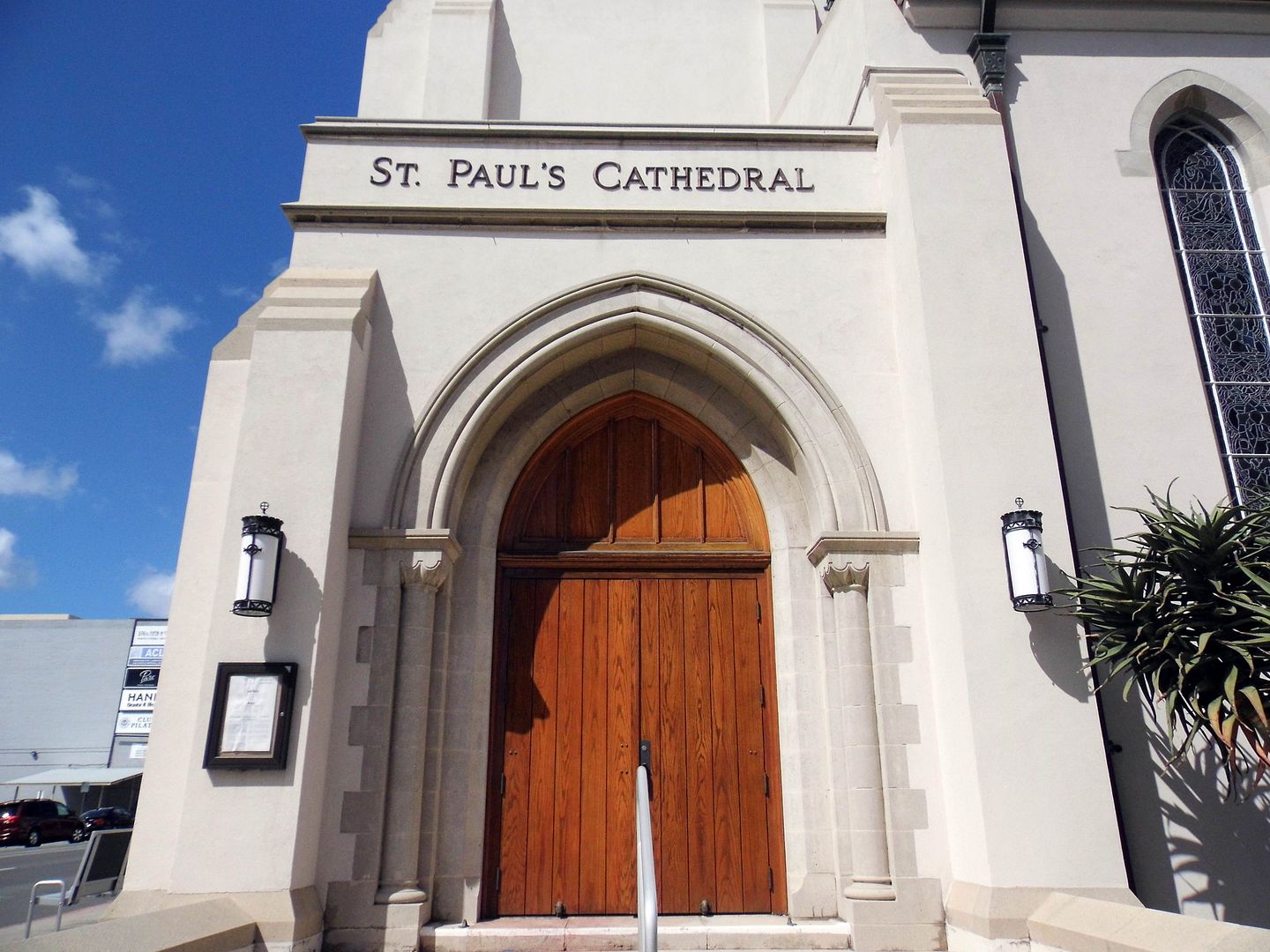 Now located just outside the western boundary of
Balboa Park
, St. Paul's is one of the oldest institutions in San Diego—not just religious, but also cultural.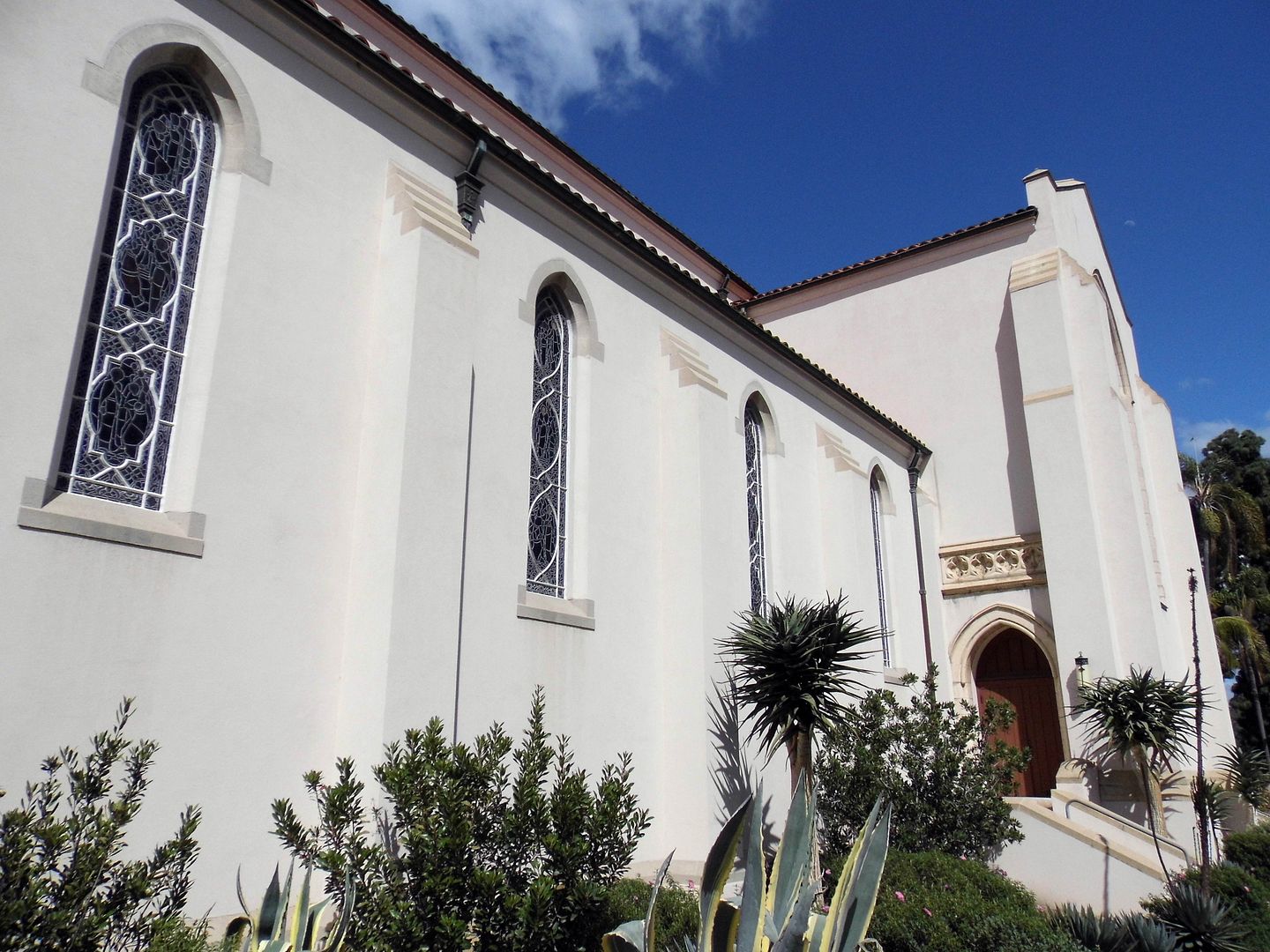 It's been providing religious services for over 150 years now—having taken the name "St. Paul's" in 1885, with beginnings that go as far back as 1853 (when its congregation met in Old Town San Diego, the first Protestant church to do so in the area).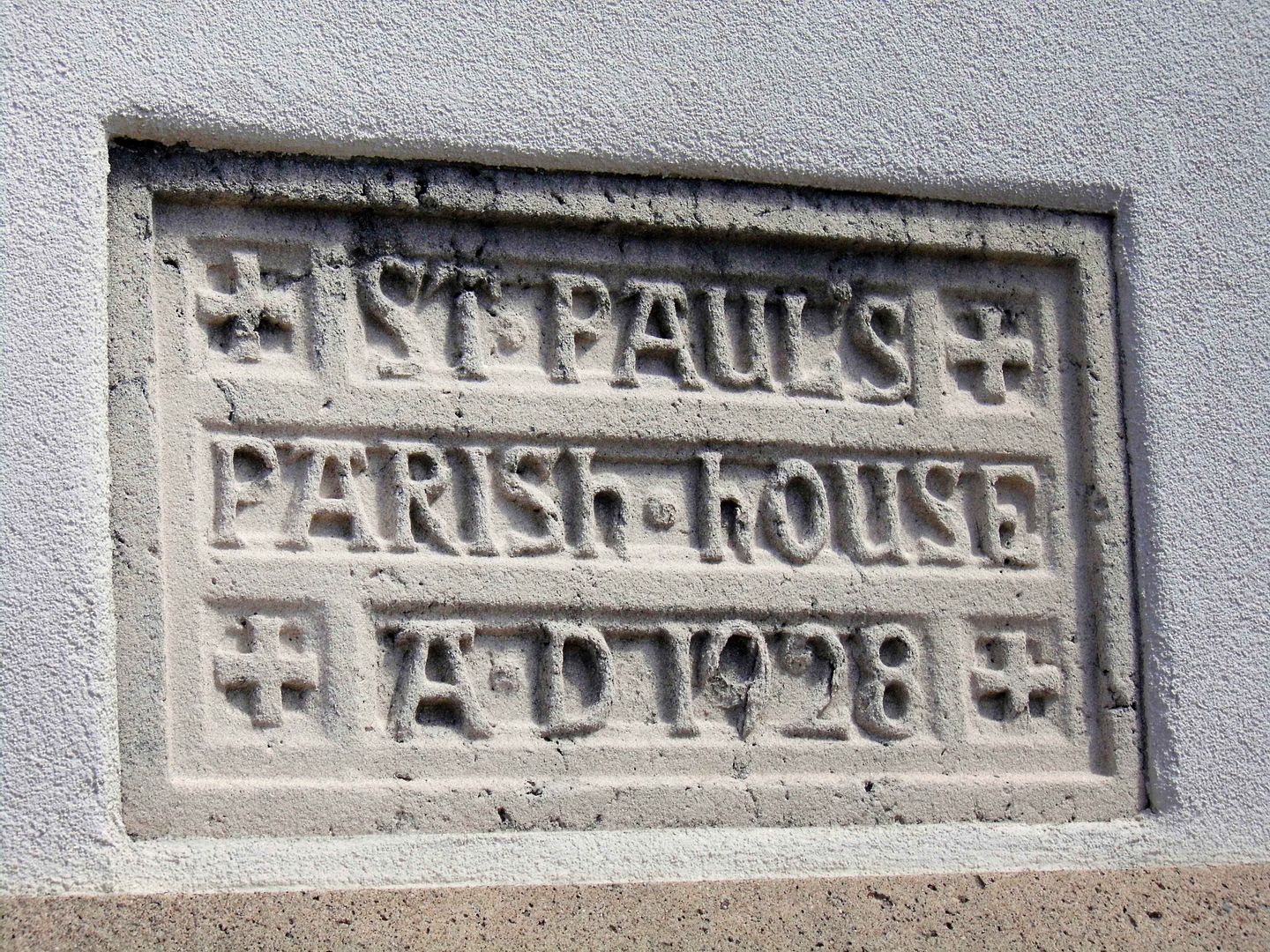 Designed by architect Philip Hubert Frohman, its 6th Street campus was constructed over the course of more than two decades. The Parish House and its auditorium (now the "Great Hall") were completed in 1929—right around the time of the stock market crash hat kicked off the Great Depression. That meant that for the rest of it, groundbreaking wouldn't occur until 1950, when wartime labor and material shortages would no longer be an issue. The entire complex wasn't completed until 1966 (and not even really then, either).
While Frohman was considered a master of Gothic architecture—and originally intended the structure to be made of stone, like the great cathedrals of Europe—postwar budget cuts gave it a poured concrete, Spanish Colonial Revival façade.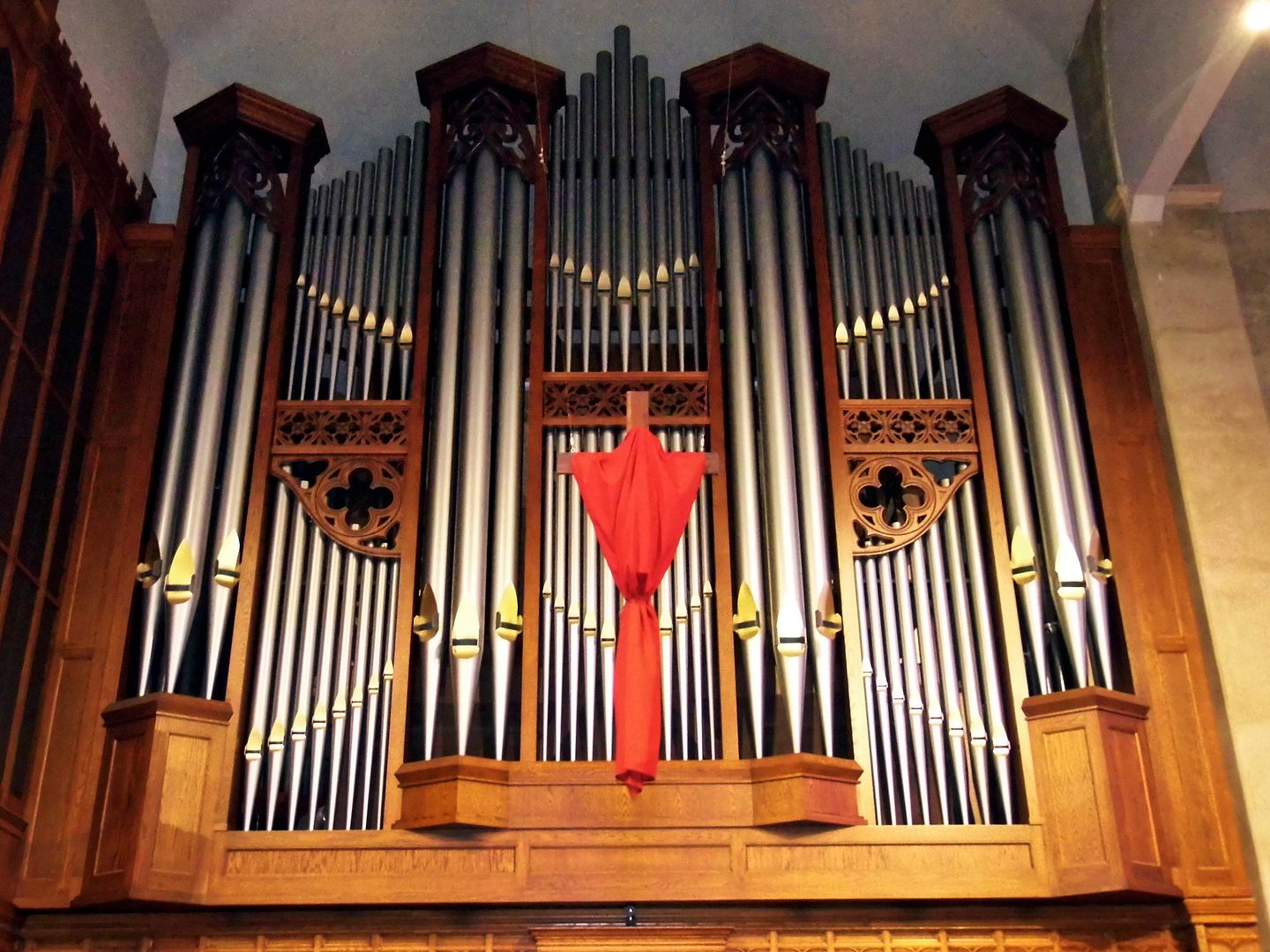 Among Frohman's expertise, you could also count two major components of St. Paul's Cathedral—stained glass and church organs.
The organ at St. Paul's is an Æolian-Skinner opus 1495 circa 1969 that encompasses part of the city's first organ, built in 1887 and moved to its Bankers Hill in the 1950s.
It was expanded several times with additional ranks and keyboards, and the console was rebuilt in 2000, with a complete organ rebuild by Quimby Pipe Organs in 2012. It now contains 86 ranks and 4,933 pipes.
Even the stained glass windows took more than a decade to complete.
Judson Studios
was first commissioned the work in 1951 and completed in 1967.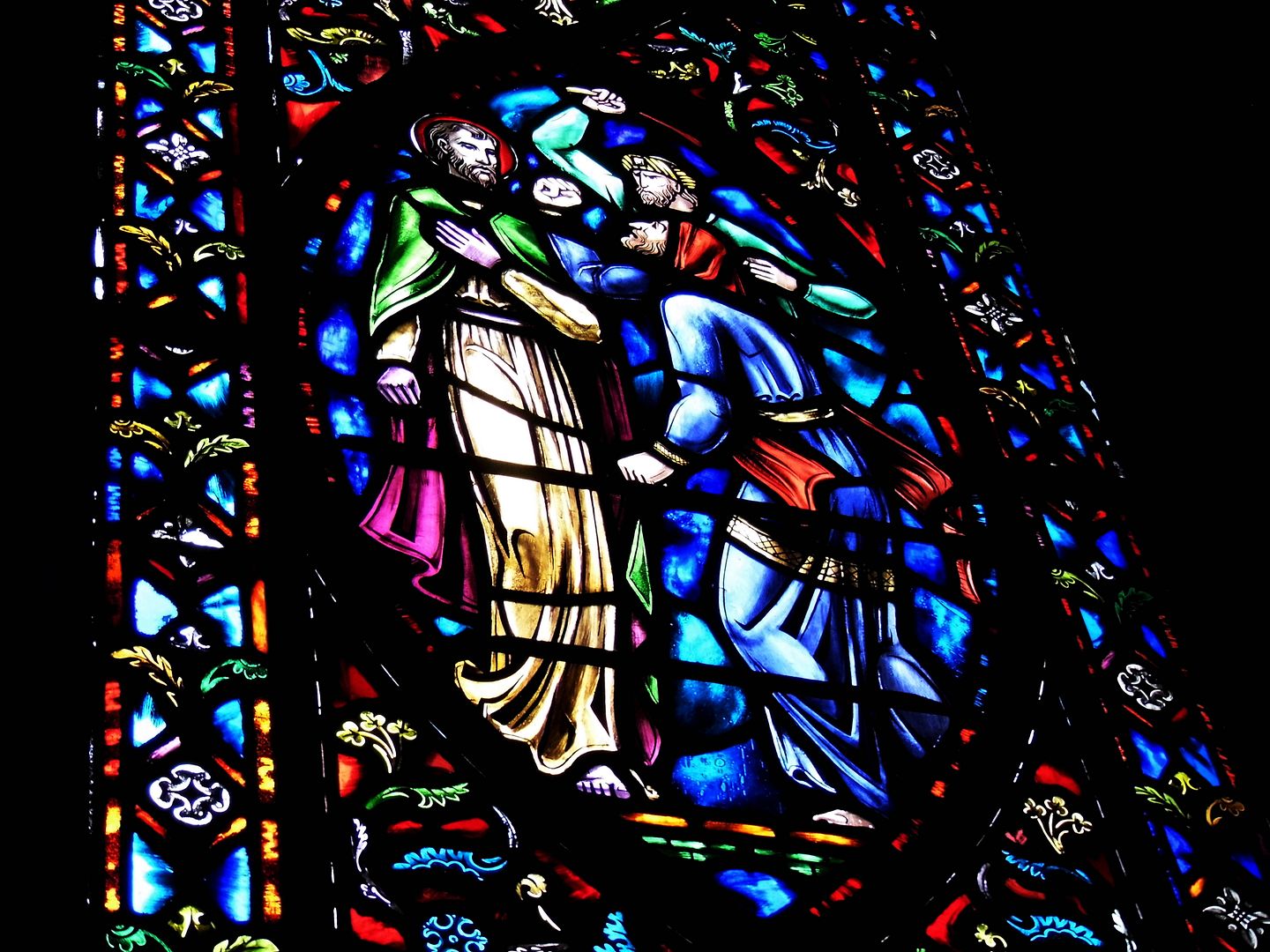 Many of the windows, however, are dated 1956.
The scenes depicted in the windows are stripped straight from the fifth book of the New Testament, The Acts of the Apostles.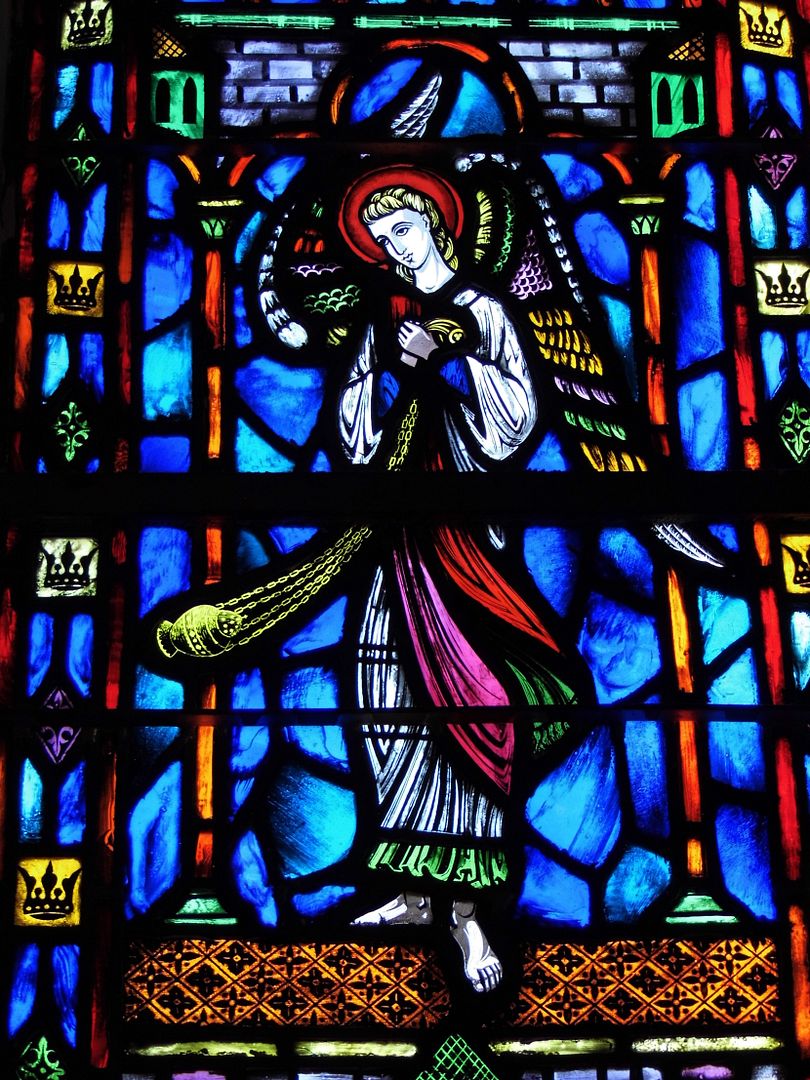 Among the scenes included are Acts 13: 6-12 (the sorcerer or "false prophet"), Acts 14:19 (Paul stoned by opponents), Acts 16: 23-25 (Paul and Silas flogged and imprisoned), and Acts 17:15-34 (Altar to the Unknown God).
Both sides of the nave are completely
covered
in stained glass windows...
...and the results are dizzying.
I've spent a lot of my life staring at stained glass...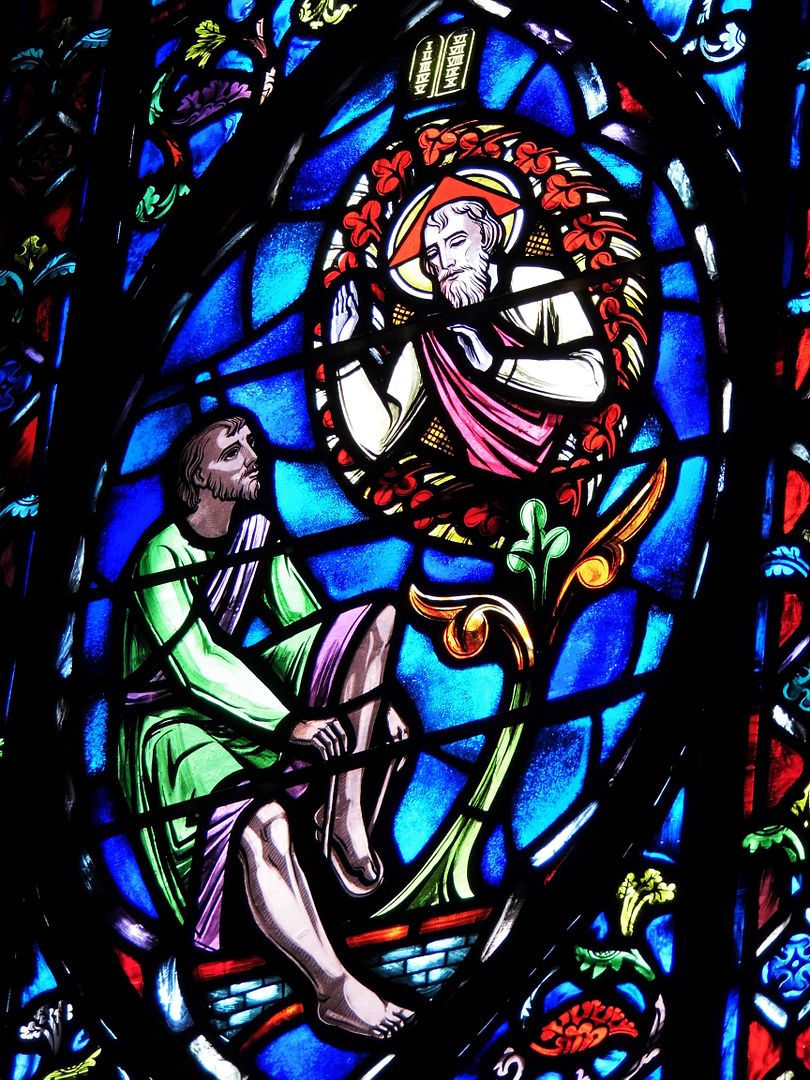 ...and these just blew me away.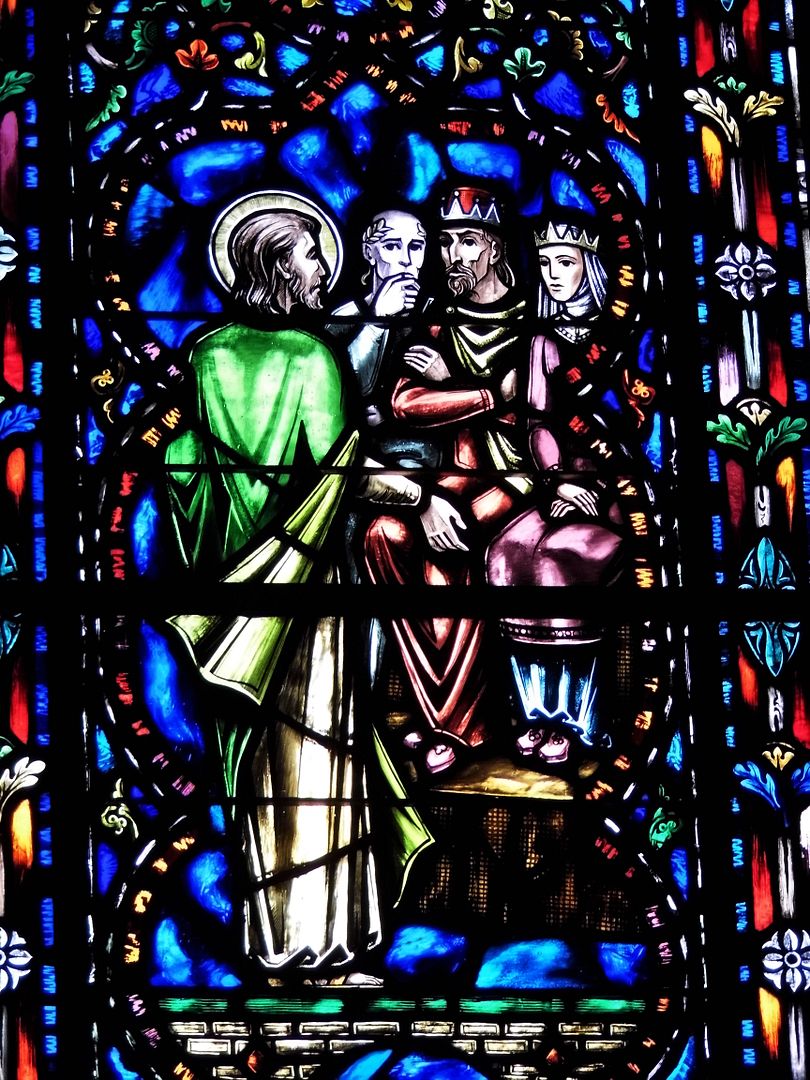 You'd think I'd get used to the work of Judson Studios by now, after having taken their studio tour several times and stalked their work at various landmarks around Southern California.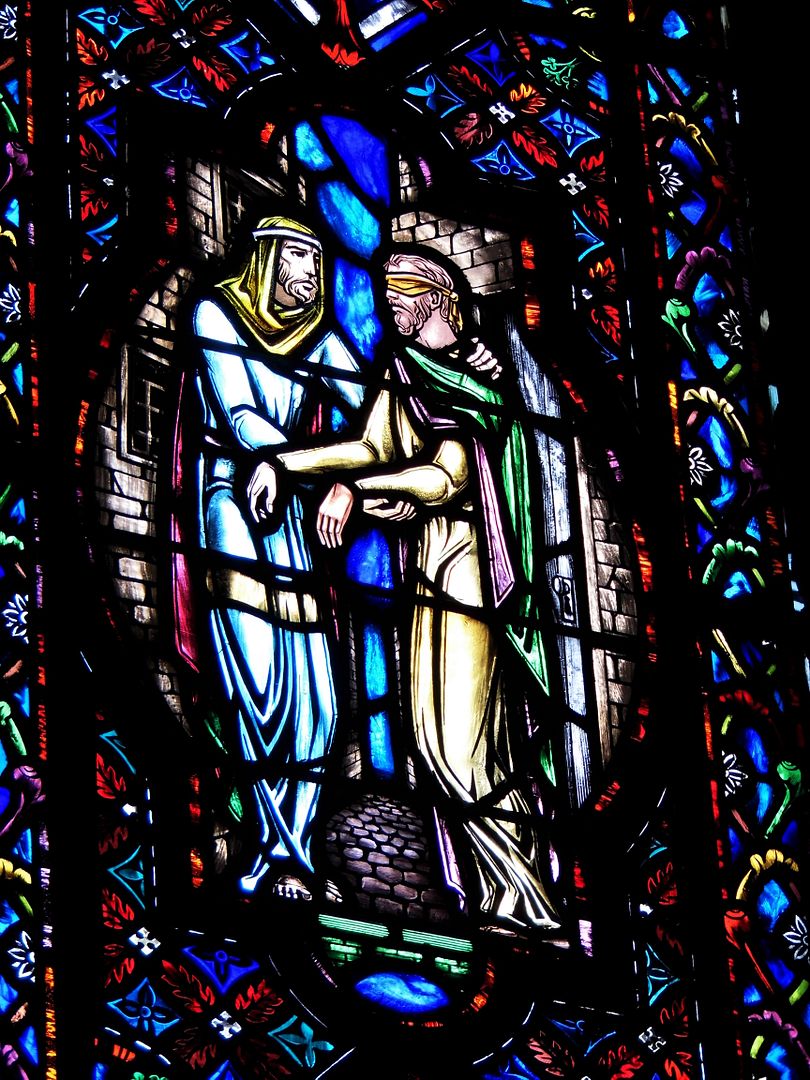 But I never tire of it. Every time is like the first time.
And while I don't ascribe the mysteries of life to miracles or the presence of any particular god or gods...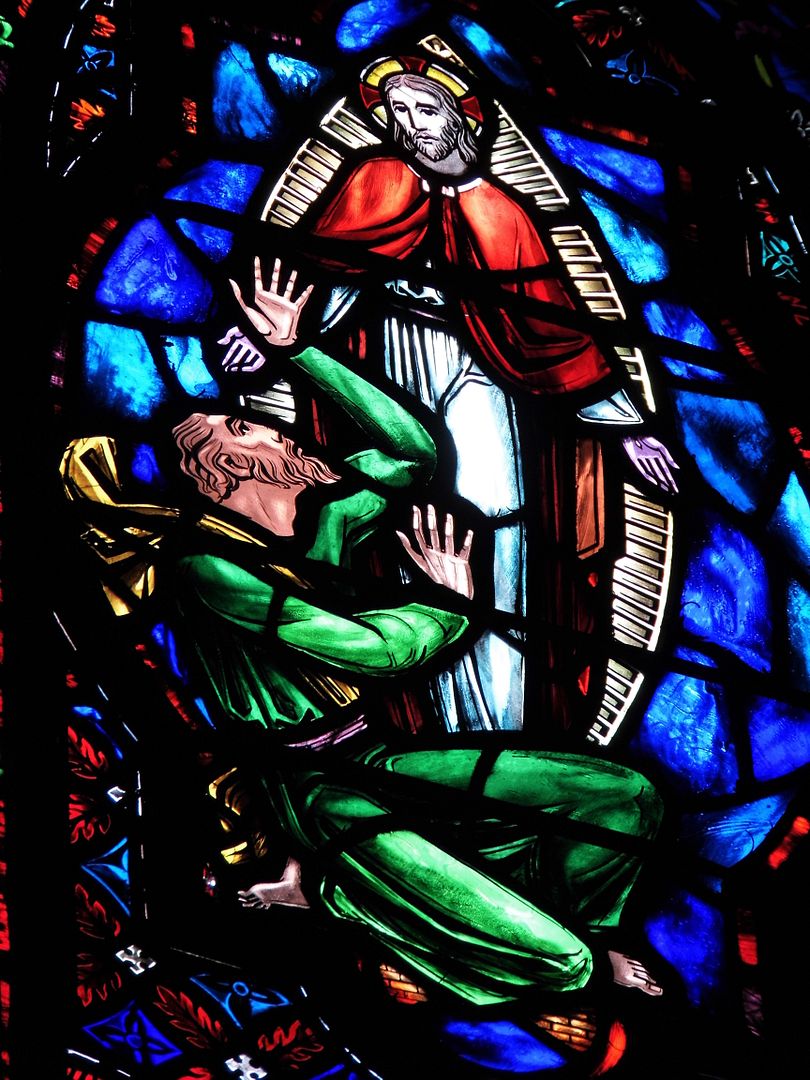 ...I can see the power that these images have over people.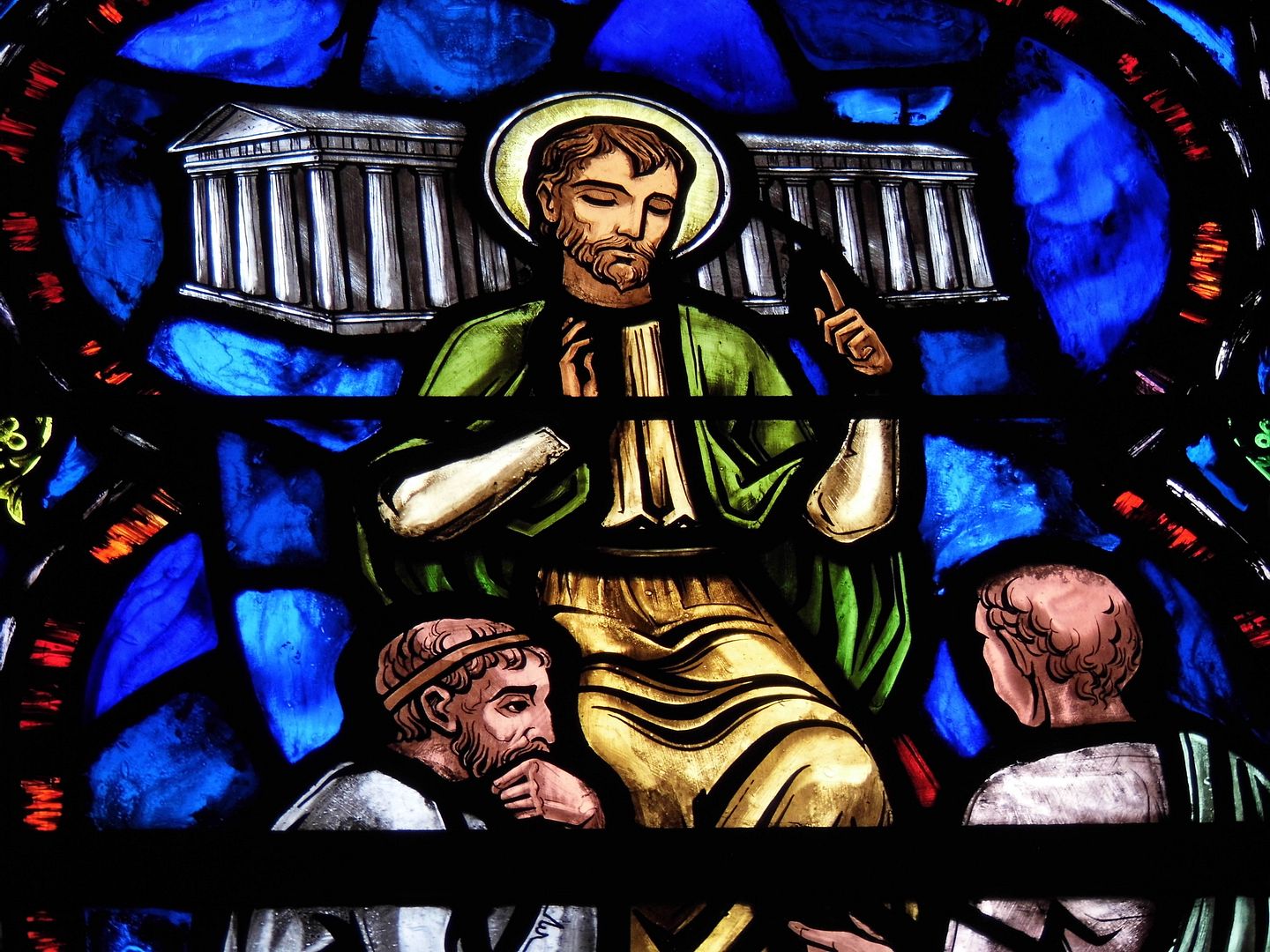 I can see how they can
keep
you inside a church (or
temple
), rather than running out the back door early like I usually do.
But that's one of my issues with attending any mass or service, anyway—I've got to sit in a pew instead of getting up close to the stained glass, mosaics, and other art that drew me inside in the first place.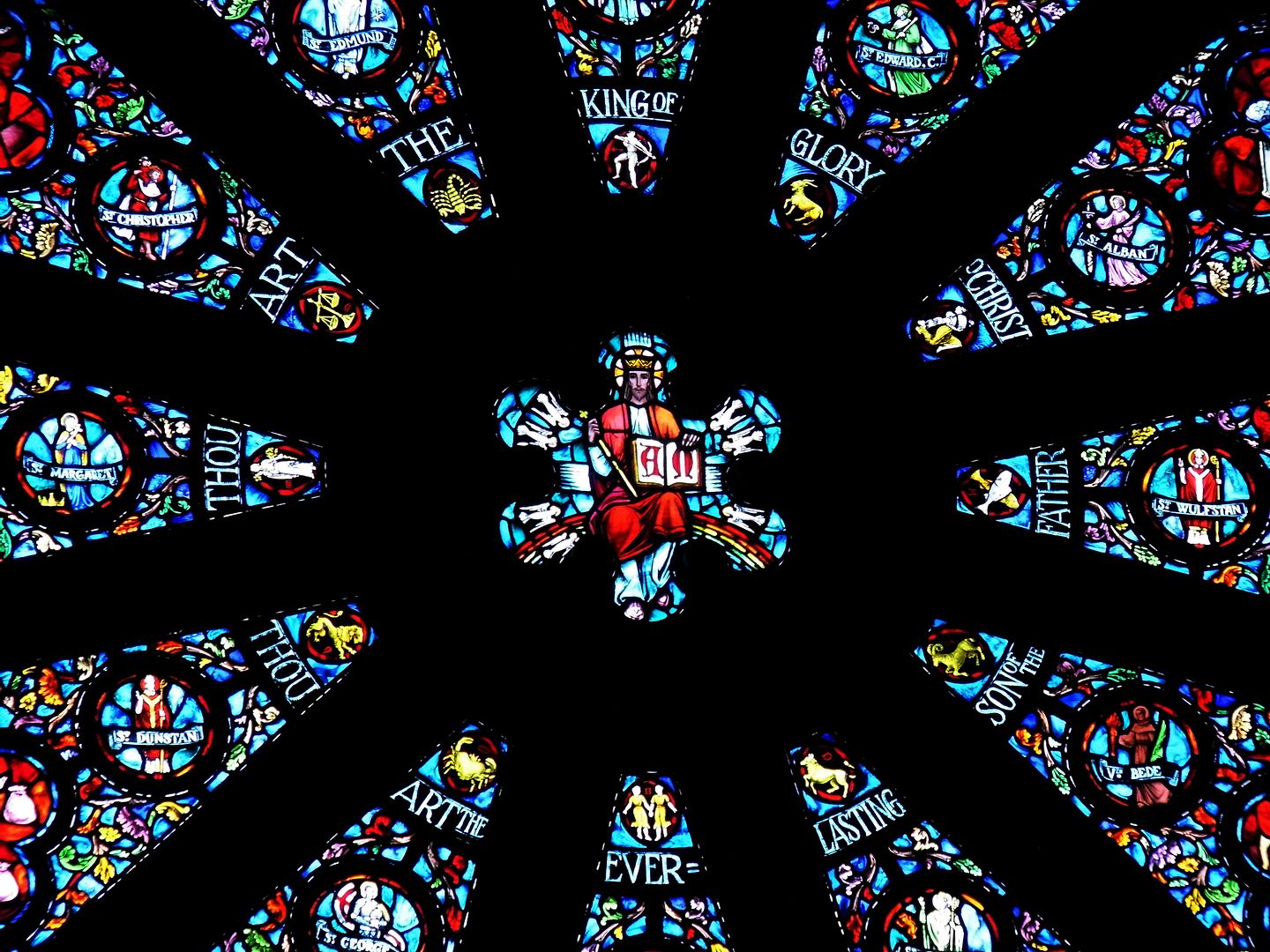 The Rose Window, in particular, deserves some extra attention—otherwise you'd never see how it spells out that Christ is the "King of Glory" and the "Everlasting Son of the Father."
Each of the "petals" on that window depicts a different saint, too, from St. Edmund the Martyr of East Anglia, St. Gabriel, St. Edward the Confessor, and St. Alban (the British "promartyr")...
...to St. Anthony, St. Christopher, St. George, Ste. Margaret, Bishops of Worcester St. Dunstan and St. Wulfstan, and Bede the Venerable.
With all those British martyrs and saints, it's no surprise that St. Paul's is an Episcopal/Anglican cathedral—but it's also embraced Lutheran, Methodist, Roman Catholic, and even Jewish traditions, at one time even having a Rabbi-in-Residence. (And the church's dean is a woman.)
I'm glad I got to see it on a self-guided tour instead of by attending services. I got to really take a good, long, hard look at it—and appreciate what I saw.
Related Posts:
Photo Essay: Stepping Through a Portal of Peace
Photo Essay: The View from Above Balboa Park's Former Expo Grounds