Pea Soup Andersen's is for sale. And it appears that it's being pitched as a "development opportunity."
Preservationists know what that means. Somebody might buy it just to tear it down.
But how could that be?
Pea Soup Andersen's is an absolute fixture of Central Santa Barbara County and the Central Coast—located in Buellton, which was once merely a "stopover" town on the way to or from San Francisco but now has become a destination all of its own (larely thanks to wine-country tourism, especially in the wake of the film Sideways).
Even if you don't go to Pea Soup Andersen's, it feels indelibly etched into the landscape of the Santa Ynez Valley, with all of its billboards dotting the side of the highway.
I didn't go for over 9 years after moving to California because I don't like pea soup. But last November, I decided to swing by and check out what else they had to offer.
I didn't yet know that there were plans afoot to wipe it off the map.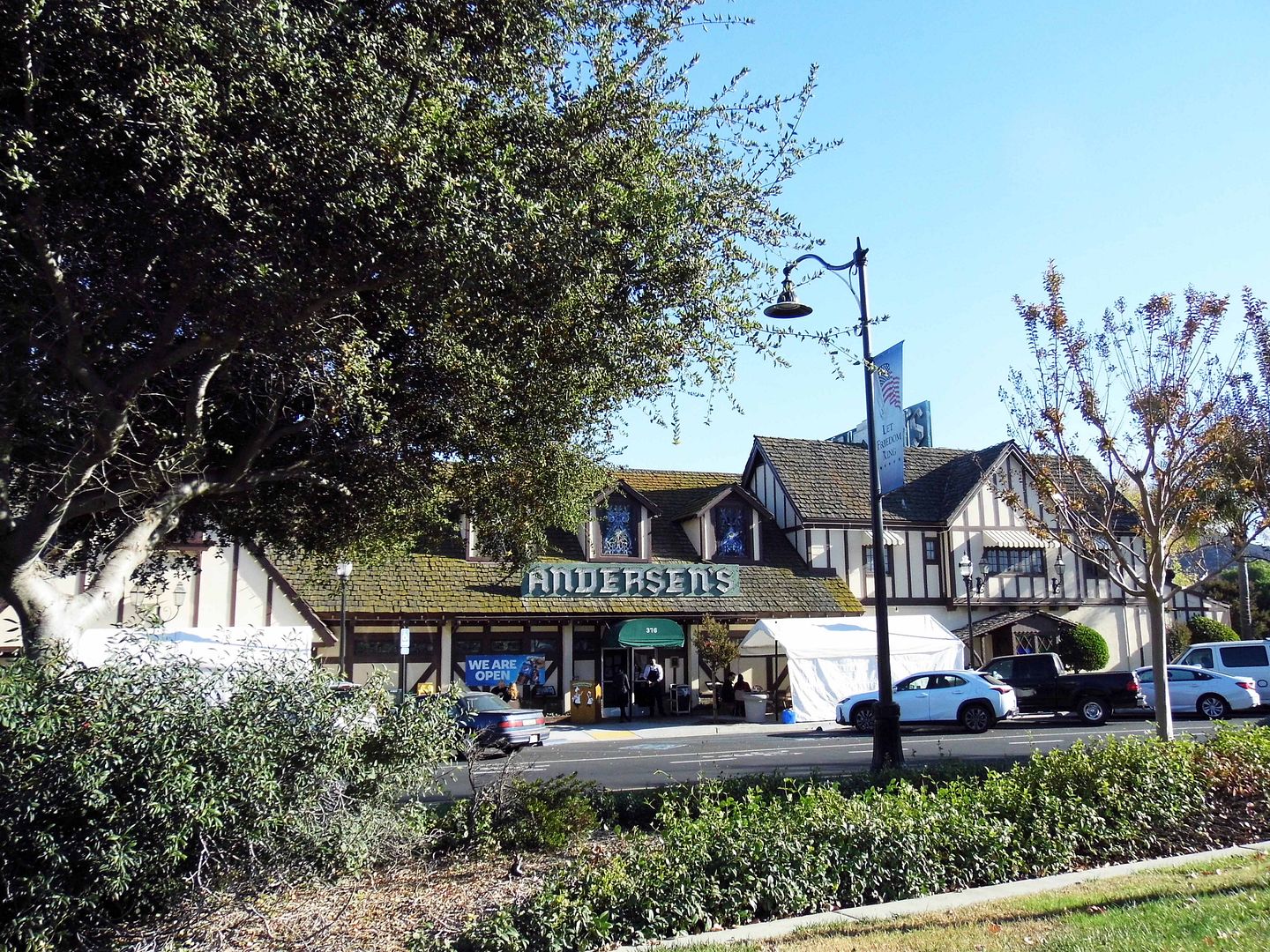 In 1924, Danish immigrant Anton Andersen and his French wife, Juliette, built a little roadside cafe amidst a horse and cattle ranch and dairy farm that Buellton pioneer Rufus Thompson (R.T.) Buell had developed out of the former Mexican land grant Rancho San Carlos de Jonata.
They named it "Andersen's Electrical Cafe" because they had a new-fangled electric stove. (Nevermind the articles that tell you it was called the "Electric" cafe—photos and documents show otherwise.)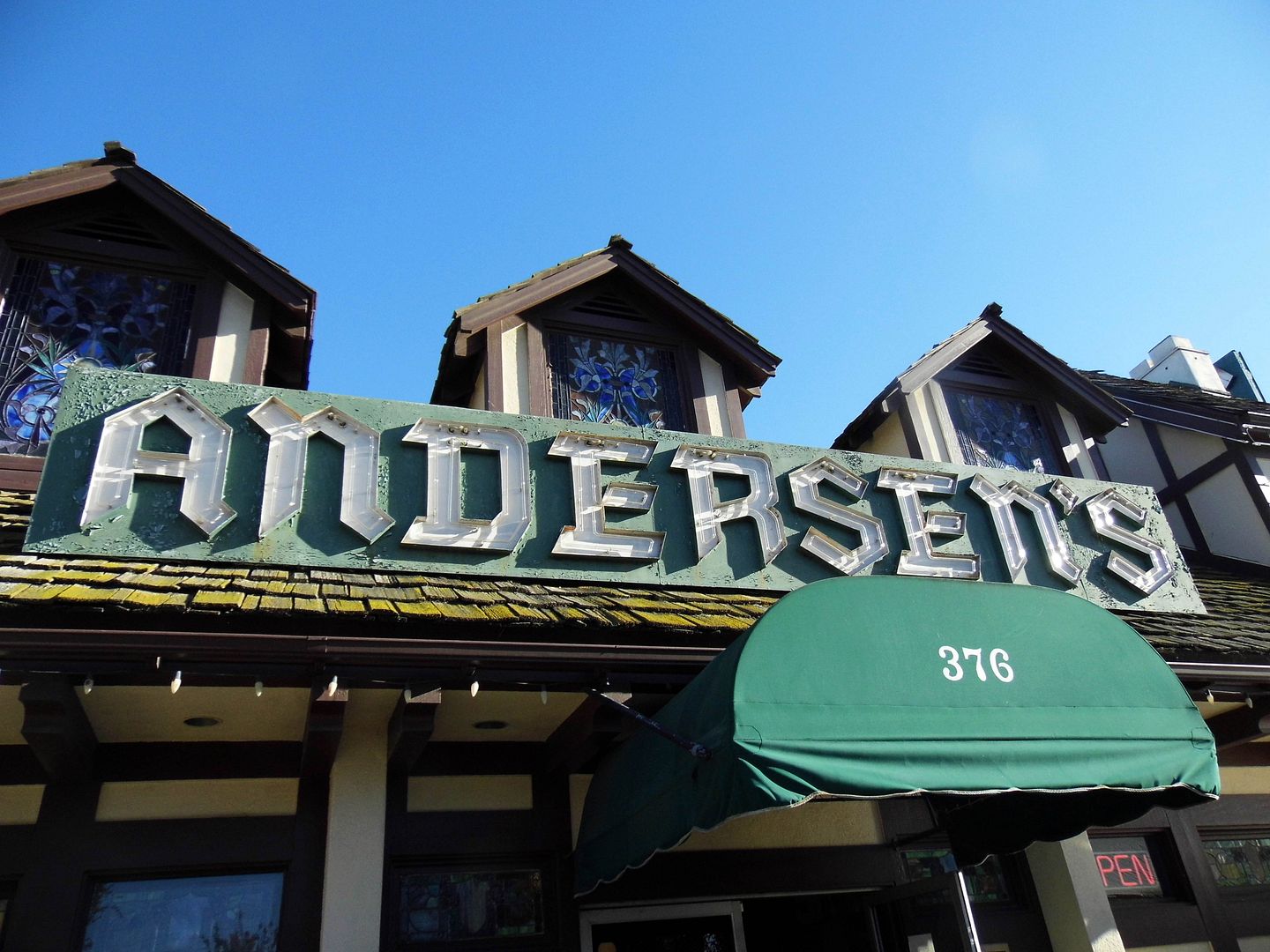 In 1928, the Andersens' cafe became popular enough for travelers that they expanded the site with the construction of
The New Bueltmore Hotel
—a play on the name of the Biltmore Hotel in Downtown Los Angeles. The hotel was later known as The Valley Inn.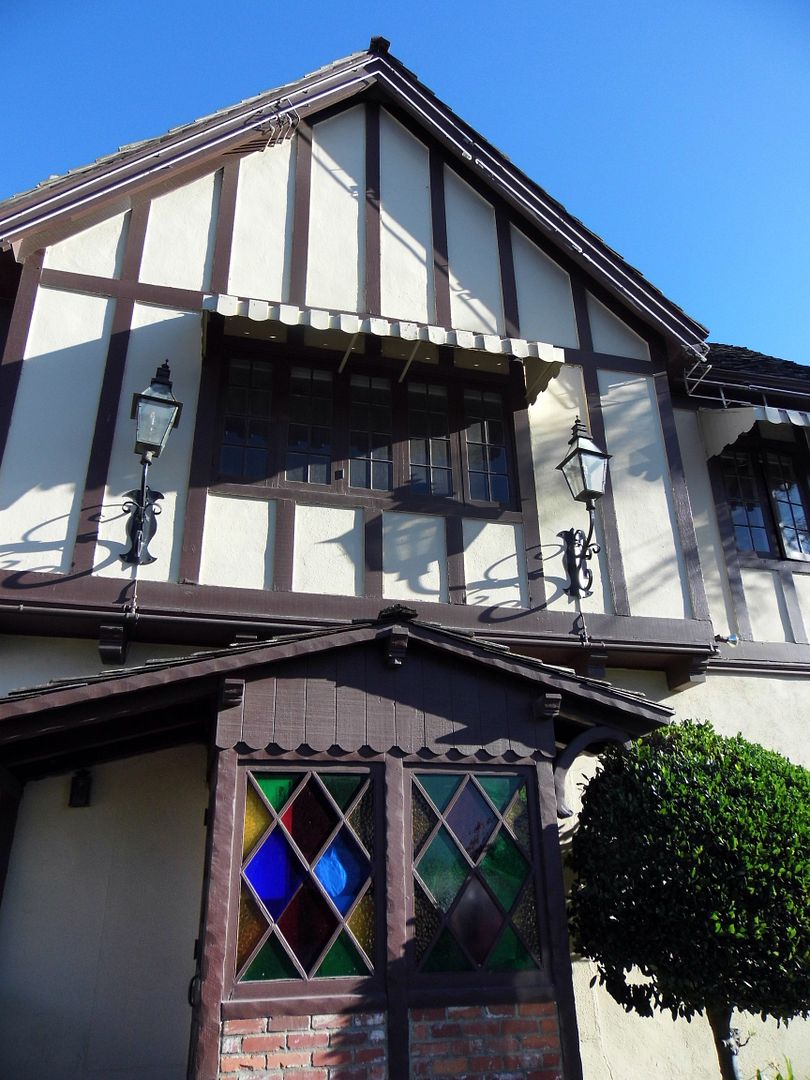 In the 1930s, the Andersens' business continued to grow—so their son Robert joined forces with them after college. He's the one who erected those now-infamous billboards that still stand today.
World War II brought new challenges—as military personnel who were stationed locally needed the hotel rooms for housing. The Andersens served meals to servicemen and their families for as long as they needed it.
After WWII, then-former Disney animator Milt Neil drew Pea Soup Andersen's cartoon mascots, Hap-Pea and Pea-Wee—who still adorn the exterior walls, interior, dishware, and menus today. Prior to the chefs, Neil was better-known for his work with Donald Duck, earning him the nickname "The Duck Man."
During that time, Andersen's Electrical Cafe evolved to become Andersen's Cafe and The Valley Inn, Andersen's Pea Soup, and finally "Pea Soup Andersen's" in 1947. The awkward syntax might've come from Robert Andersen having been known as Robert "Pea Soup" Andersen.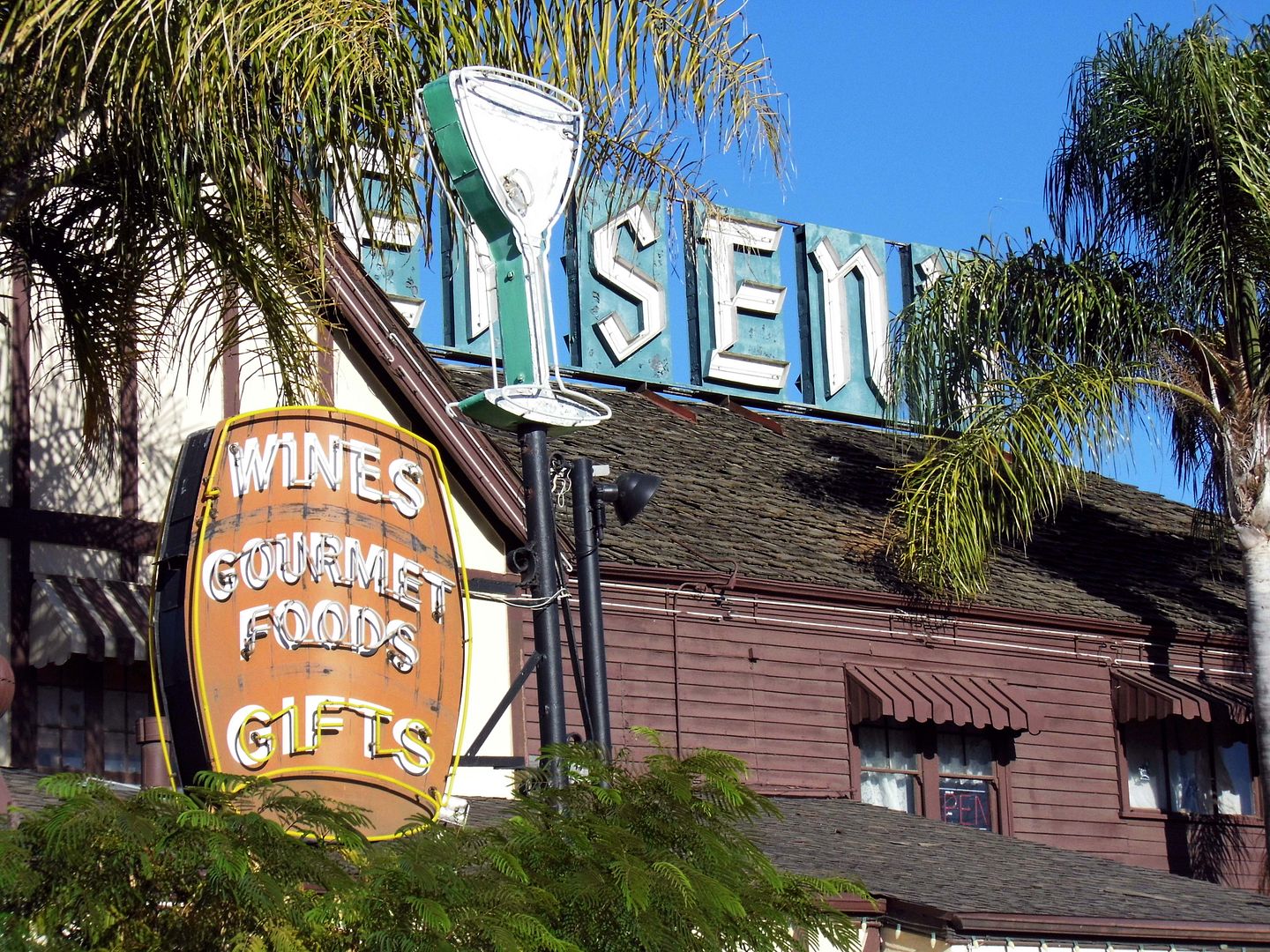 Of course, Pea Soup Andersen's has been sold before—but it's legacy has continued. In 1965, local business owner, actor, and "Memphis Belle" bombardier Vince Evans bought it and installed a mini amusement park with a train, aviary, and zoo. In 1999, it was bought by Milt Guggia, whose son Milt Jr. runs the property today.
But what happens if the next buyer doesn't want to keep it? Developers may have other plans for the property, in light of the Avenue of Flags Specific Plan—which aims to create a more pedestrian-friendly, revitalized "downtown" Buellton.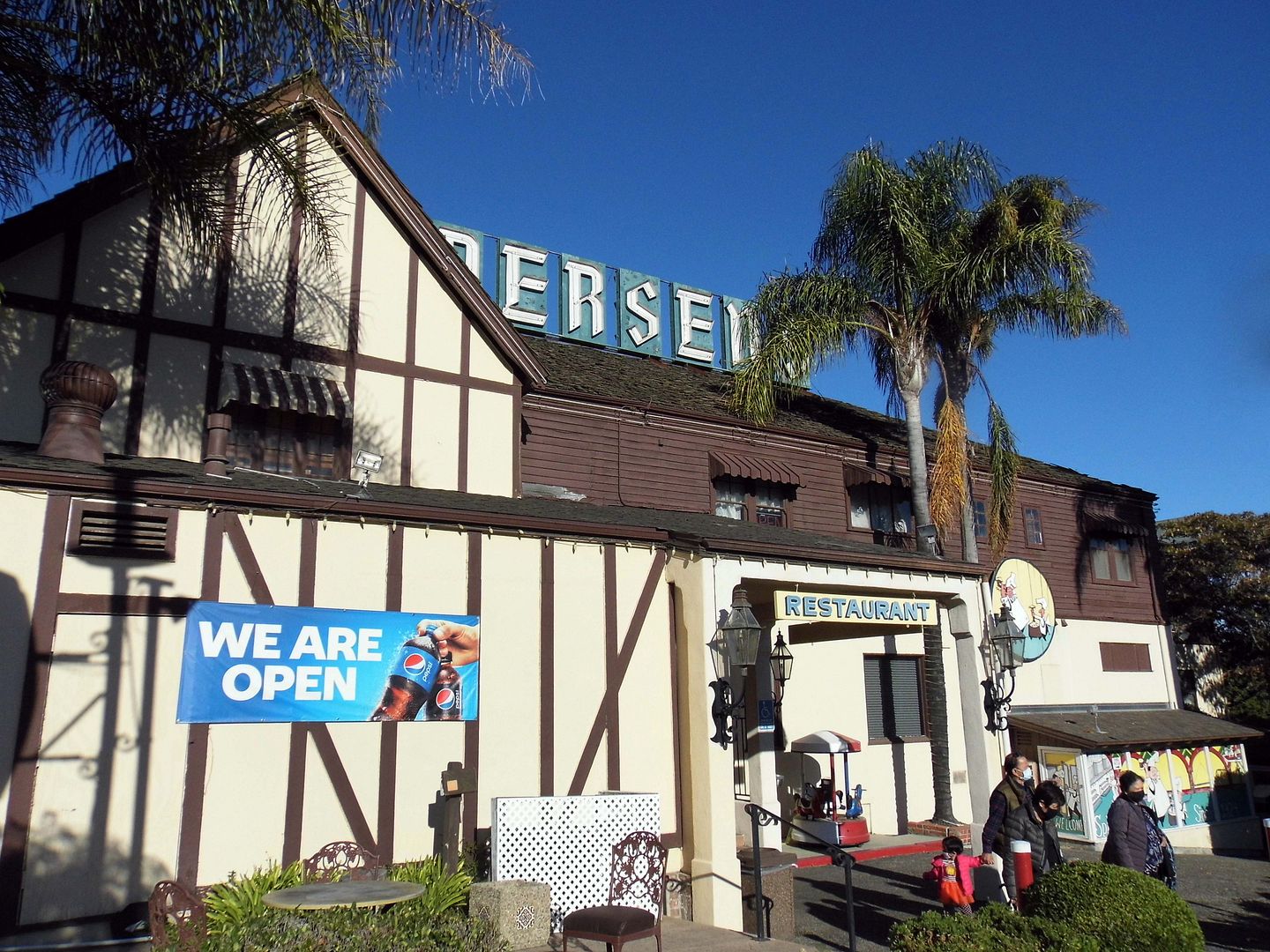 That's a turnaround from the travelers' service district that Pea Soup Andersen's anchors in Buellton—which has become renowned as "Service Town U.S.A." That reputation began when the 101 freeway cut straight through town; but it continued even after being realigned, when the former 101 that passes in front of Andersen's got renamed Avenue of the Flags in 1968.
The new plan dictates that the dedicated architectural style of Avenue of the Flags be Art Deco. But the real estate listing is selling the Tudor-inspired, Old World charm of Andersen's—all 3.36 acres of it, including a 35,000-square-foot main building—as "prime for redevelopment." And for the hefty price of $4.7 million (which honestly seems like a deal, given the size).
That also would include the banquet facilities and entertainment center that currently occupy a former English pub that then-owner Vince Evans purchased and relocated from London in 1979 and reconstructed in Buellton.
It does not, however, include the adjacent Pea Soup Andersen's Inn (which was at one time a Best Western). When the hotel rooms in the main building weren't enough for the demand, they got converted into seating areas and offices—and a standalone motel was built in 1970.
So, I suppose its possible that the inn might become the only remaining business in Buellton bearing the Andersen's name. But without the restaurant, bakery, and shops, how will travelers have a "soup-er" day?
Display located in the Santa Ynez Valley Historical Museum, Santa Ynez
Pea Soup Andersen's has been selling over 2 million bowls of pea soup per year, including the all-you-can-eat "Traveller's Special," to "Pea Soup-ers" from all over the world.
Display located in the Santa Ynez Valley Historical Museum, Santa Ynez
Isn't there a buyer out there who wants to continue that legacy for a little while longer?
Related Posts: