Unlike on Hawaii's black sand beaches, the black you'll find on certain SoCal beaches—especially at the southernmost section of Carpinteria State Beach, just south of Santa Barbara—isn't exactly exotic or romantic.
It's sticky and stinky—because it's asphaltum, a.k.a. tar, which erupts to the surface and bulges out in hulking, black gobs.
Together, several different natural tar deposits form what geologists call an "asphalt lake"—just like the one at La Brea Tar Pits in Los Angeles, only older.
The Carpinteria "Oil Seeps" could date back as far as 2.5 million years ago—to the time of
prehistoric megafauna
, like mammoths, giant sloths, dire wolves, tusked mastodons, and native
camels
.
Chumash villagers (sometime between 7000 B.C. and the 18th century) discovered that the seepage make a good sealant for boats and baskets.
And likewise, after the European colonization of Alta California, late-19th century Californios discovered that the tar also did a good job of sealing paved roads—so they mined the beach's resources to lay the first asphalt on Santa Barbara County's dirt roads, starting with nearby Linden Avenue.
Tip-toeing down the trail past some driftwood to reach the gooey beach at Tar Pits Park, I was among the remains of the former Sattler, Alcatraz, and Higgins (1912-1935) asphalt mines—and more. Upon the depletion of significant tar resources, locals used some of this area
as a trash pit
until the mid-1950s. (Hence the nearby Dump Road.)
But in 1964, even more natural resources were discovered in the Santa Barbara Channel (the waters between Santa Barbara County mainland and the Channel Islands)—crude oil, which could be pumped out of the Carpinteria Offshore Oil Field.
By then, many of SoCal's beaches had long been dotted with oil derricks—nearly all of which have been removed altogether or at least moved off the sand. In fact, right off of Carpinteria's Dump Road is the the formerly Venoco-operated Carpinteria Oil and Gas Processing Plant (which Chevron is currently dismantling) at Casitas Pier.
Farther south, the neighboring community of Mussel Shoals has its own
artificial oil island
(circa 1958), Rincon Island—a.k.a. "the 9th Channel Island"—in the Rincon Oil Field, which was first drilled in 1929. The island is connected to the mainland by a causeway known as the Richfield Pier, whose lessee is ARCO—the oil corporation that was formed when California's Richfield Oil Corporation merged with Atlantic Refining in 1966.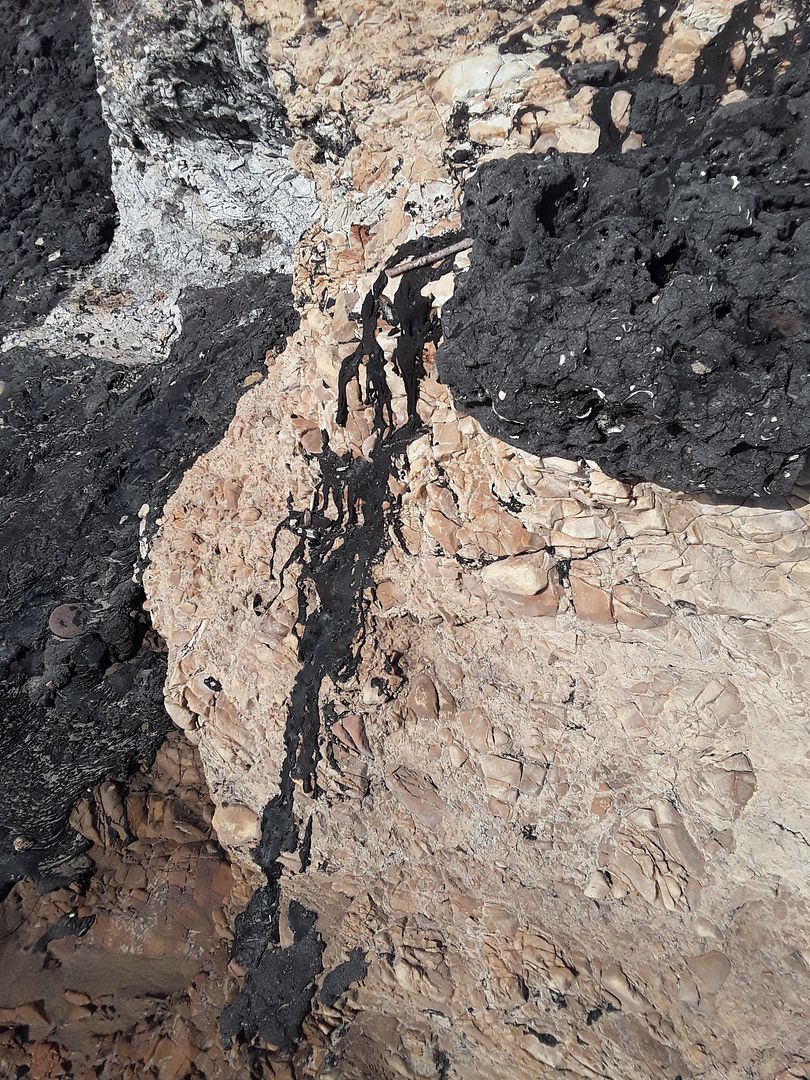 Nobody taps into the tar pits at Carpinteria State Beach anymore—but nobody seems to try to stop the glop, either.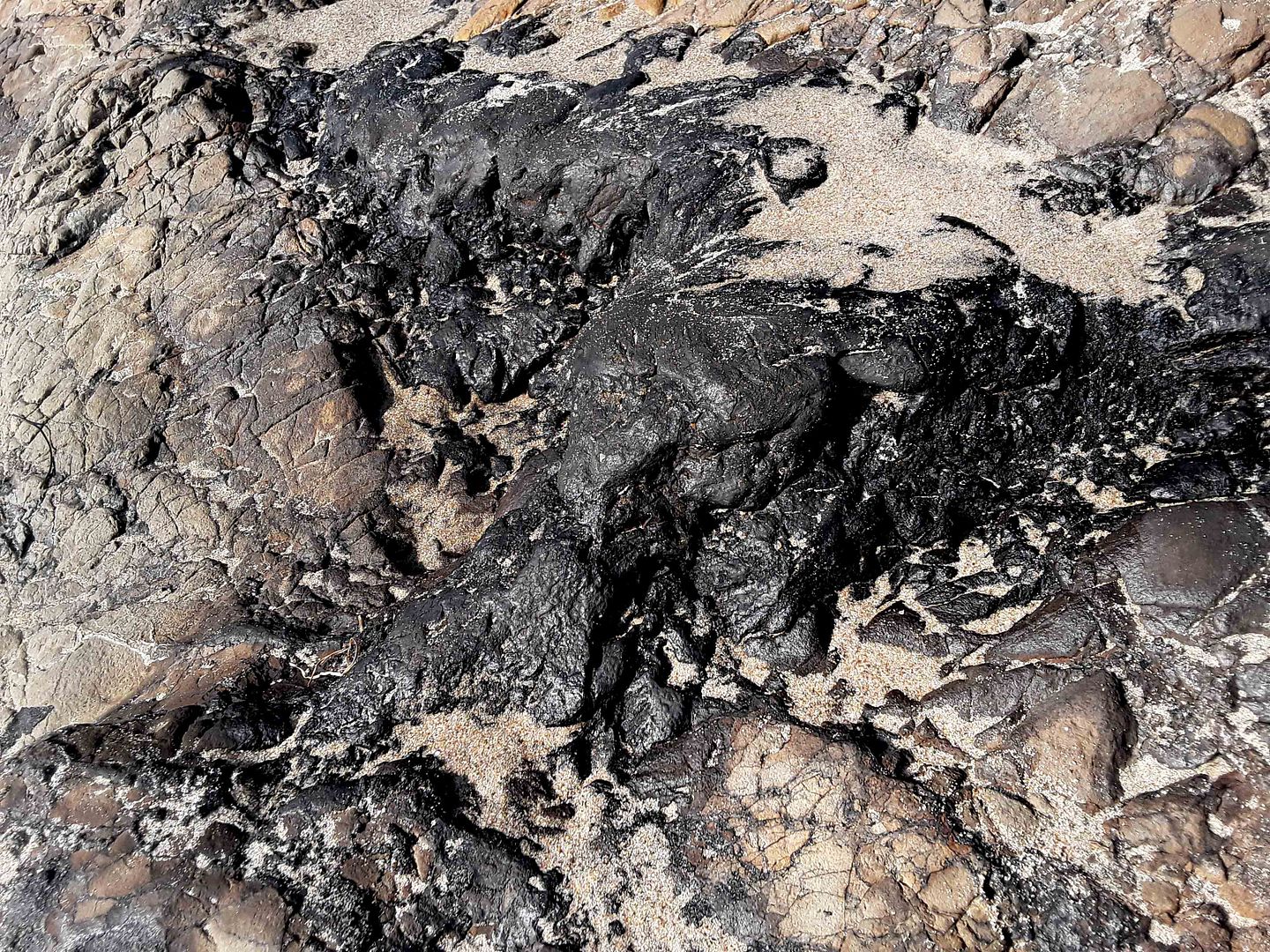 It flows hot, hoping to capture a animal or a shoe, until it cools off and hardens with rain or the incoming surf.
You'd think you'd find a pinniped or a pelican trapped in there—but maybe a couple of million years of evolution has taught the animal kingdom to avoid the inky mess.
It's still shocking to see it glisten as it coalesces onto the cliffsides and bluffs. As much as you know you shouldn't touch it, you still want to touch it—just to be sure it's real.
This isn't what most beachgoers are looking for when they hit the sand.
But this is far more interesting to me than throwing a frisbee, catching waves, or soaking up rays.
Related Posts: