Last updated 3/1/21 9:24 PM PT—video embed from Bob Baker Day added at bottom.
Updated 1/31/21 7:39 PM PT—nighttime photos added at bottom.
Because of the pandemic, I haven't been able to get inside the circa 1916 Looff's Hippodrome, the building that houses the Santa Monica Pier Carousel.
In fact, it's been pretty hard just to get outside of it, with the Pier closed to the public on certain weekends and holidays to prevent overcrowding and infection-spreading.
But last week, I finally got to check out the "Windows of Wonderment" exhibit in the carousel building's windows—a retrospective of a handful of Bob Baker Marionette Theater's stringed spectaculars.
It was supposed to run just for the Christmas holiday season (November 25 through January 7), but fortunately its run has been extended through the end of the month.
It's one of the only ways you can experience classic Bob Baker puppet shows, like "
Fiesta
" (circa 1969), in person—as the pandemic has also shut down
their Highland Park location
and even their safe and socially distant touring shows.
But seeing the marionettes presented in this way is kind of perfect, given Bob Baker's history in creating window displays for Disneyland's Main Street Emporium and Downtown LA department stores—the latter of which is where the elephant Baby Penelope made her debut in "Circus" (alongside Captain Wilbur, not pictured above) in 1940.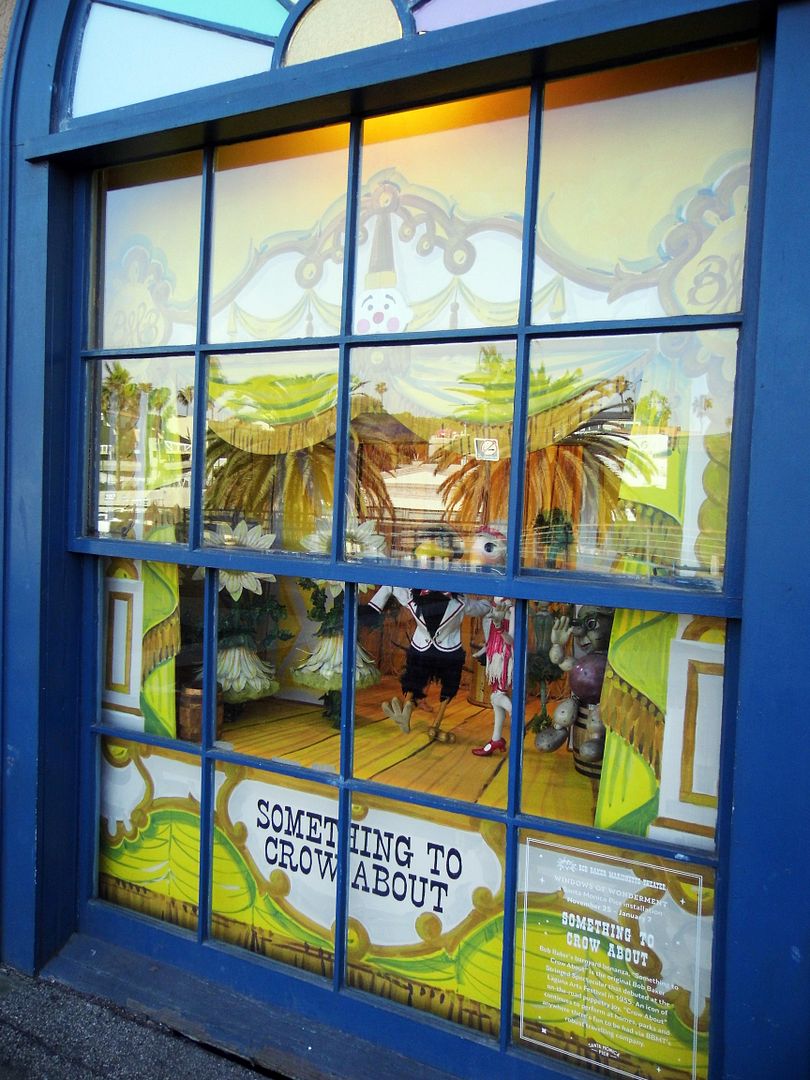 Even widely known traveling shows—like the backyard bonanza "
Something to Crow About
," which debuted in 1955 at Laguna Arts Festival—appear perfectly suited to be frozen in tableau.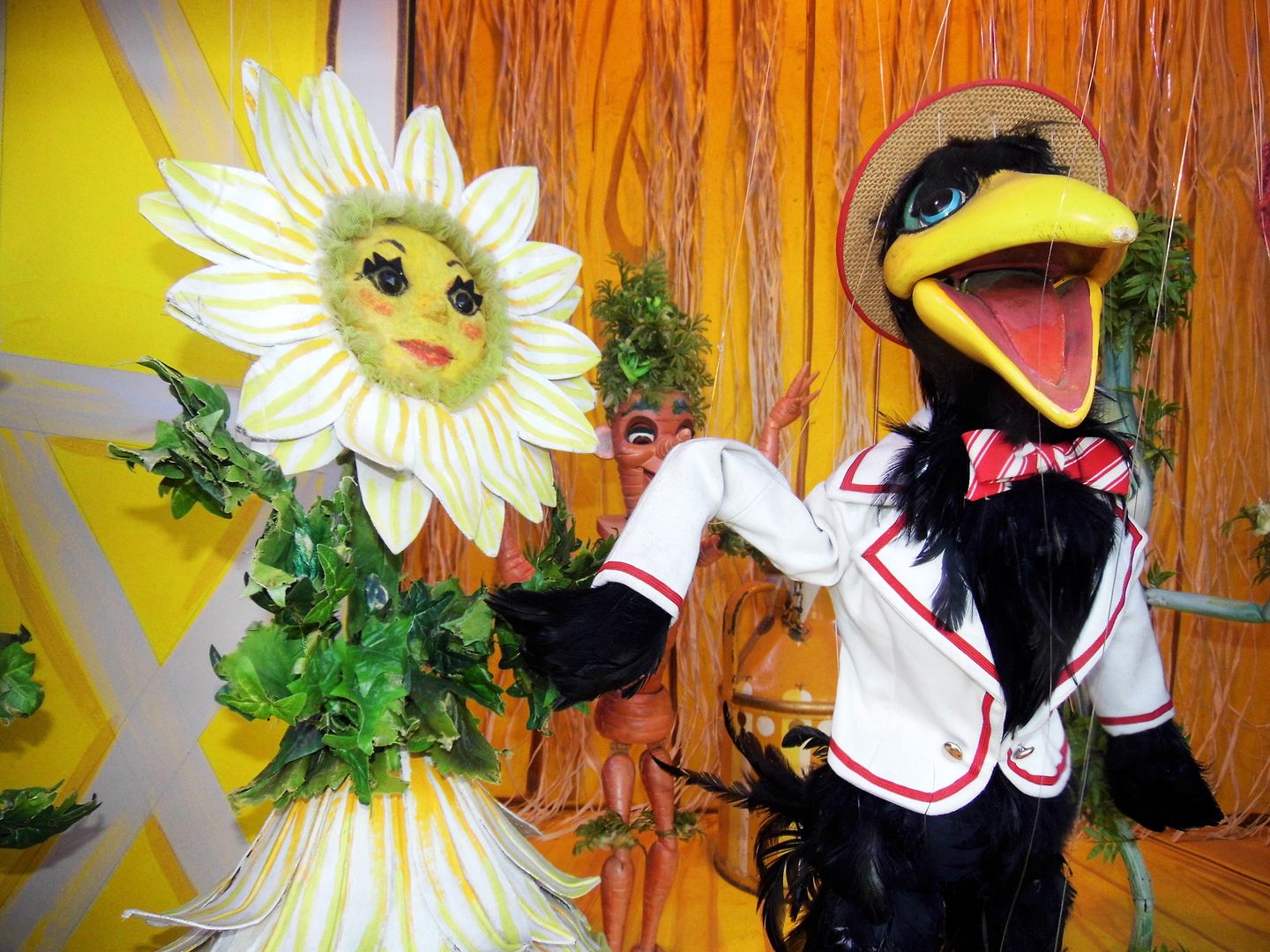 This springtime sensation is the one where the puppeteers wear denim overalls for a musical "Day on the Farm." But there are no humans to be found in these windows—which somehow makes them more magical.
I'd first seen the show in 2013—but I'd also spotted some of the vegetable marionettes (like Mrs. Broccoli from KTTV's "Revolt of the Vegetables") at a 2014 exhibit at Blue 5 Gallery. Others will recognize the flapper-style dodo bird, who sings "That's My Weakness Now" and was once featured in the 1975 Disney film Escape to Witch Mountain.
I've never seen the Bob Baker production "Over the Garden Wall"—a "backyard tea party" starring Humpty Dumpty, which made its debut in 1961—but few people have. After a 30-year hiatus, it was revived in 2019 for a limited Pasadena run and the Bob Baker Yard Sale—and it now makes a cameo on the Pier.
Last produced in
the old Bob Baker space
in 2016 after emerging from a 25-year dormancy, "Hooray L.A." began in 1981 as a "love letter to Los Angeles," upon the city's 200th birthday.
A pair of its stars—the "Hollywood Mice"—also appeared in the limited-time "Welcome Wagon Revue" retrospective show, which helped usher in a new era at
the puppets' new home in Highland Park
in November 2019.
They seem just as home in Santa Monica as they do in the limelight of Hollywood Boulevard.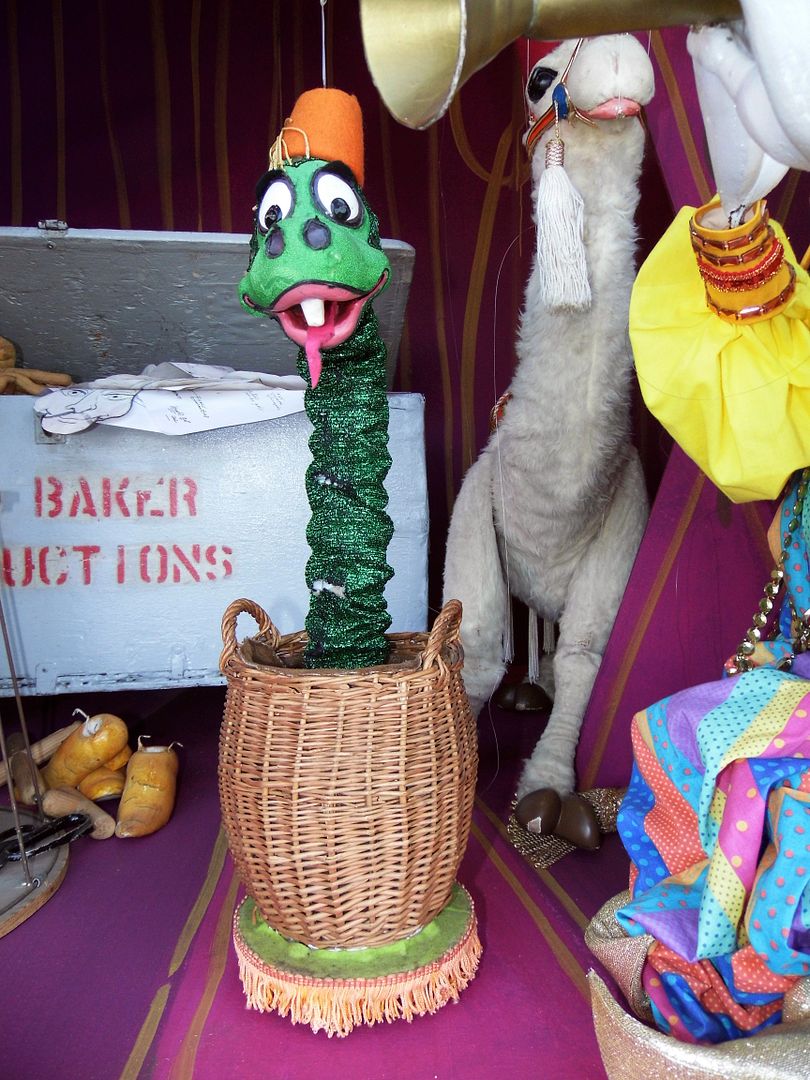 Perhaps the most exciting inclusion in the carousel building window displays is what Bob Baker Marionette Theater considers its future—"1001 Nights," Bob's final unfinished show that's been 30 years in the making.
Formerly called "Arabian Nights," I'd first caught wind of it
back in 2014
, the year Bob died—though it was
supposed
to be finished all the way back in
2012
. The theater company's puppeteers gave a small audience a sneak preview of it in
2017
—but the rest of us will just have to be patient until it's ready for a broader opening.
It would be nice if these windows could stay up a little while longer. I'd like to see them lit up at night.*
And they're a nice way to tide yourself over until the Bob Baker Marionettes can take their show back on the road and throw open the doors of their theatre.
*Update 1/31/21:
I loved the Bob Baker windows so much that I decided to return the night before one of their last days...
...and experience them all lit up...
...with just the final brushstrokes of sunset fading at the horizon.
And to see the puppets in action in their custom dioramas, watch this video from the Bob Baker Day online celebration, which debuted 2/27/21: