[Last updated 3/3/23 9:01 PM PT—The Alpine Village Market officially closed this week.]
Postcard: James H. Osborne Photograph Collection,
The Gerth Archives and Special Collection at the CSUDH University Library
Alpine Village in the South Bay may promote itself as the "Home of Oktoberfest Since 1968"—but this "little slice of Bavaria" is so much more than that.
Replete with a German restaurant, market, shops and even a chapel, it's also been ground zero for German-American Day LA
and
where you can catch televised soccer games played by the Deutscher Fußball-Bund
and
pick up some German trinkets for your
tannenbaum
all year long.
Although it has condensed its operations over the years, it's still the premier destination in the Southland for German celebrations, German music (ranging from rock bands to the accordion-laced oompah sounds of
Volkstümliche Musik
), German
bier
, and, of course,
Krampus
.
Unfortunately, the 14-acre property is in the crosshairs for demolition—because of a development project that would repurpose the site for truck storage and cargo container storage.
Alpine Village was founded more than half a century ago by two German immigrants—Josef Bischof, who came here in 1952, and and Johann "Hans" Rotter, who arrived in 1955.
While Bischof dreamed of sharing his German heritage and homeland with the Southland—inspired by the Danish-themed town of Solvang, California— Rotter was a soccer player who wanted to create his own soccer field on the former Gardena Valley No. 4 landfill property.
Fortunately, there was room to spare along Torrance Boulevard to develop an Alpine-style European village of their own—now located a few blocks east of Torrance in a section of unincorporated Los Angeles County (which some call "West Carson").
Never mind that it's at sea level. All they needed to create "The Little City from the Alps" was to employ a Swiss chalet architectural style—that "
Old Building Look
"—four different architects, all using a common Bavarian Alpine design motif.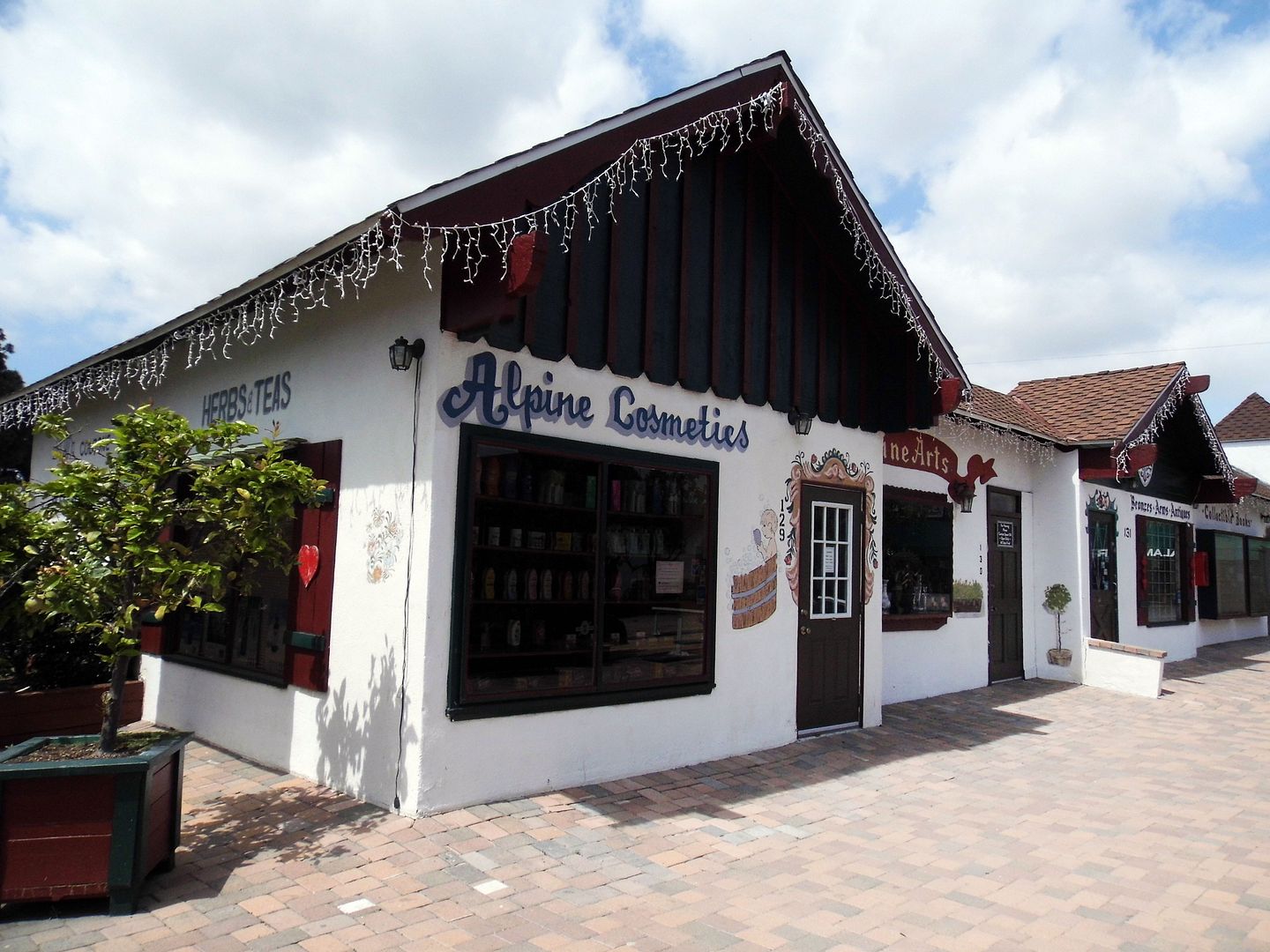 The result—seven buildings completed between 1969 and 1974—is excellent example of the "
Themed Shopping Court
" property type.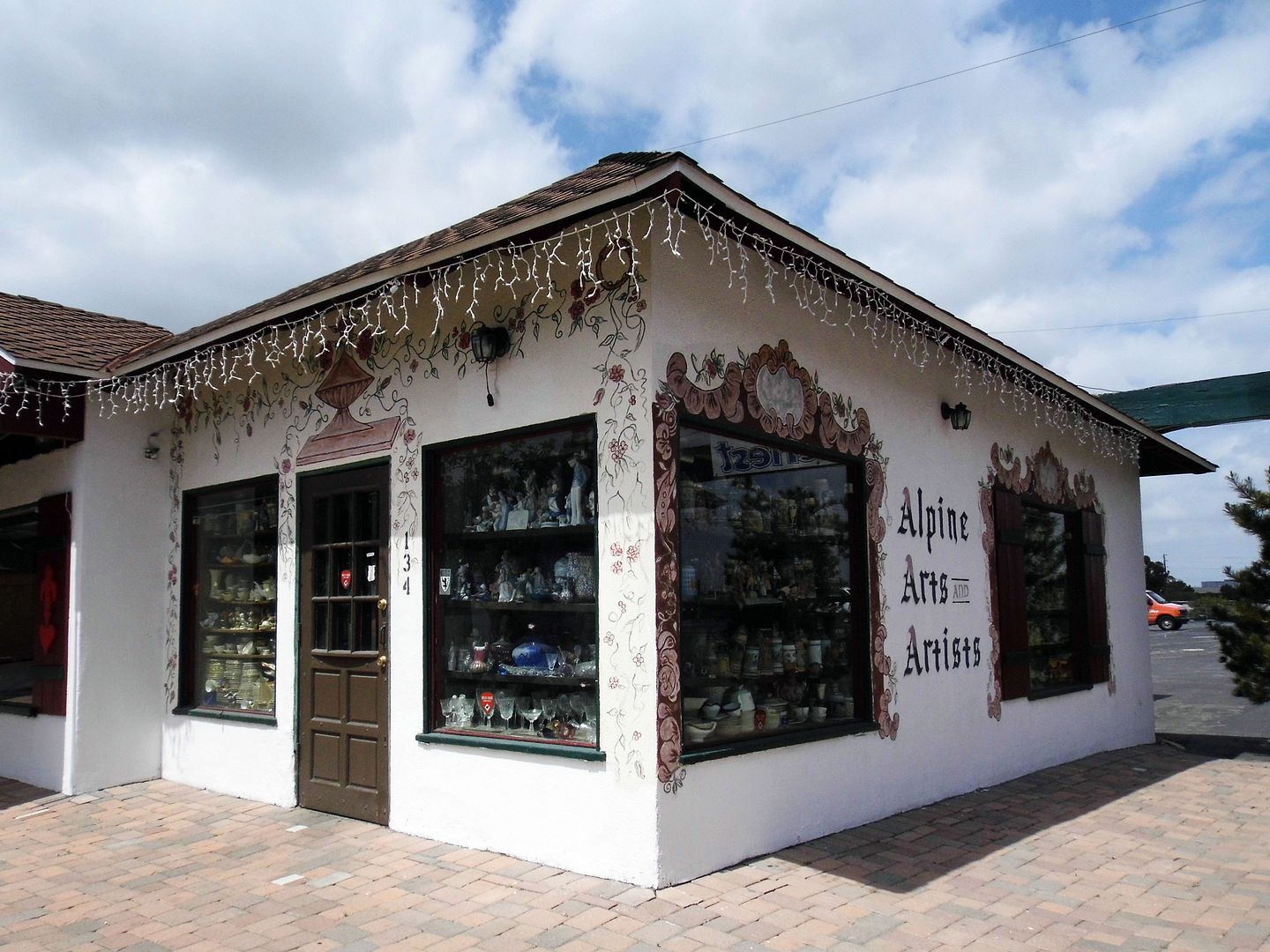 And it's a dying breed in Southern California, where people prefer the sparkling new themed environments of "Star Wars: Galaxy's Edge" at
Disneyland
to anything that reminds them of the "olde world." (Though how the Renaissance Faire survives is beyond my comprehension.)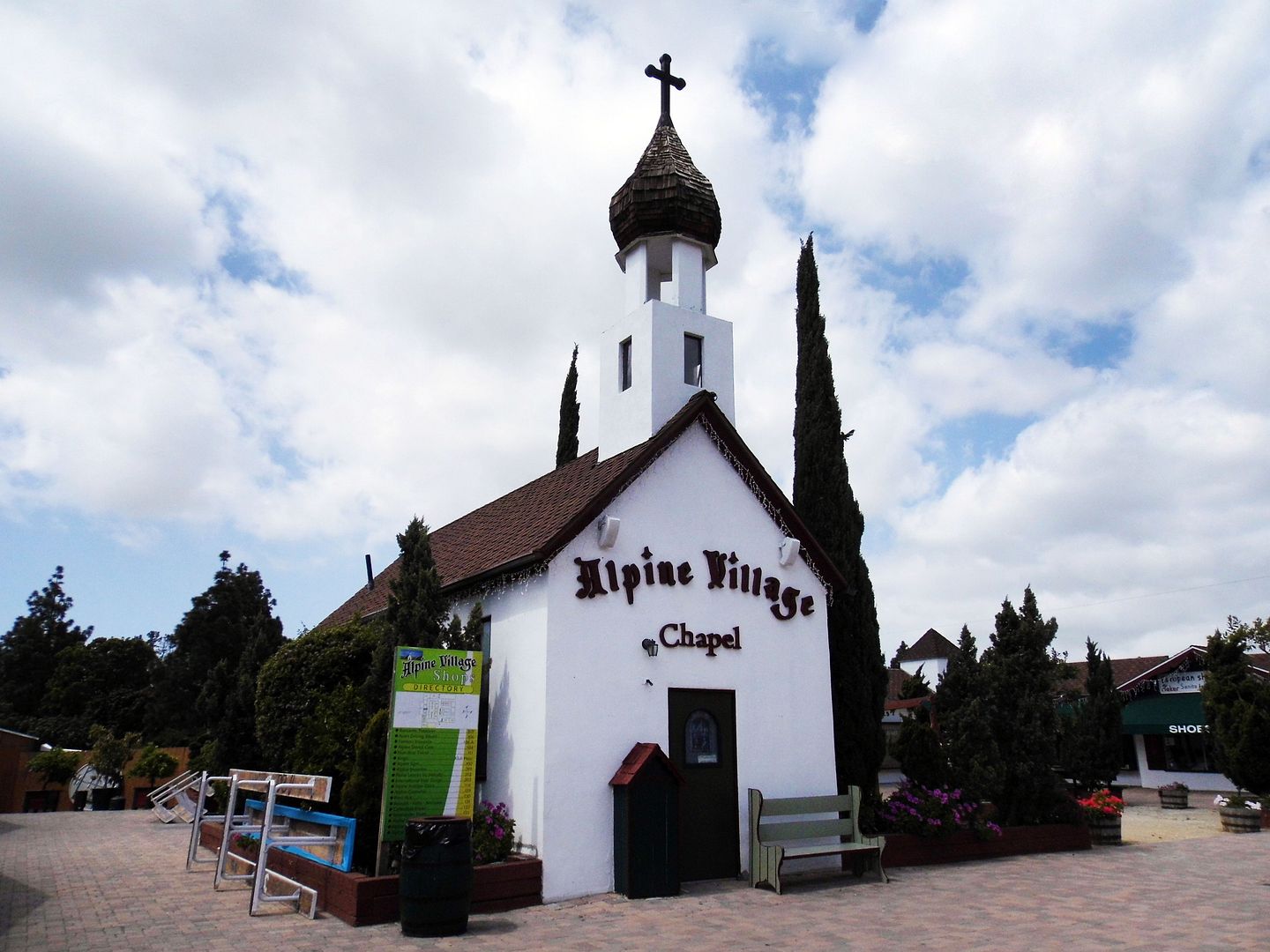 For instance, architect Joe Sing contributed a 400-square-foot chapel (whose façade once bore letters spelling out "Wedding"), which was completed in 1971 and now serves as the village's centerpiece.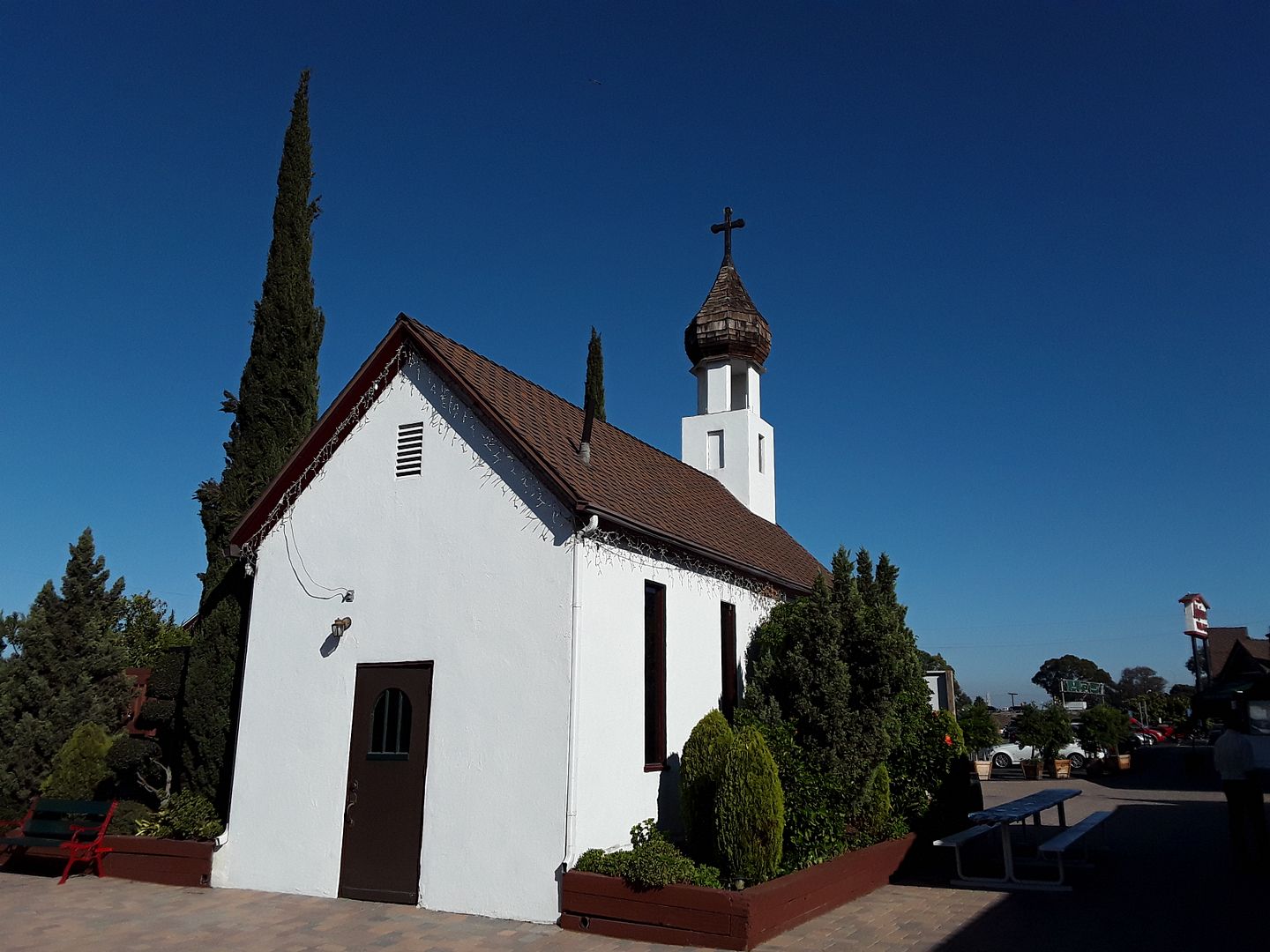 Sing was inspired by the design of the
Klausenkirche
(Klaus Church) in Engfurt, Germany, near Rotter's birthplace—and mimicked it, right down to the onion-shaped spire covered in wooden shakes.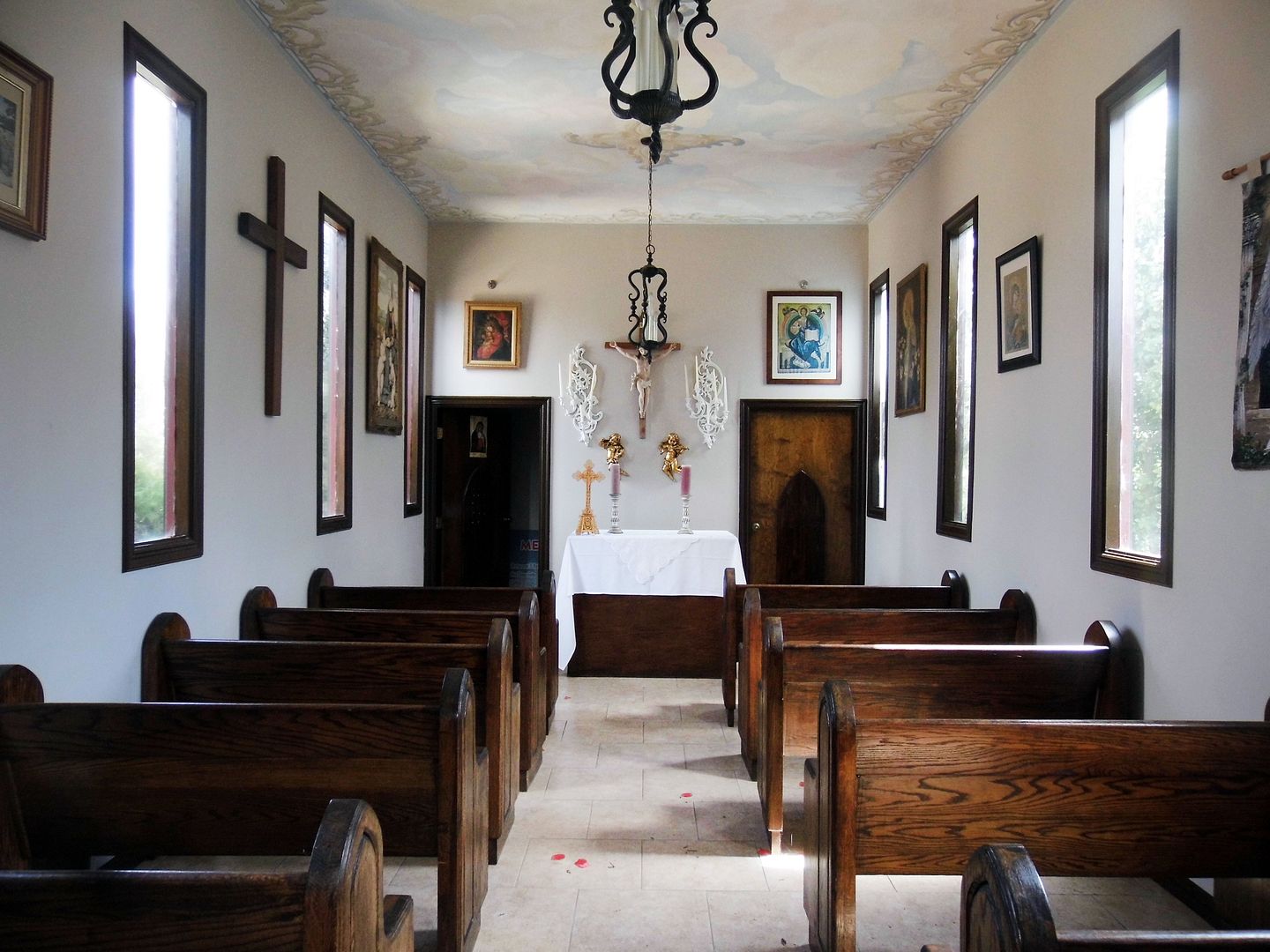 It still hosts weddings with up to 30 guests...
...with plenty of extra room in the landscaped courtyards...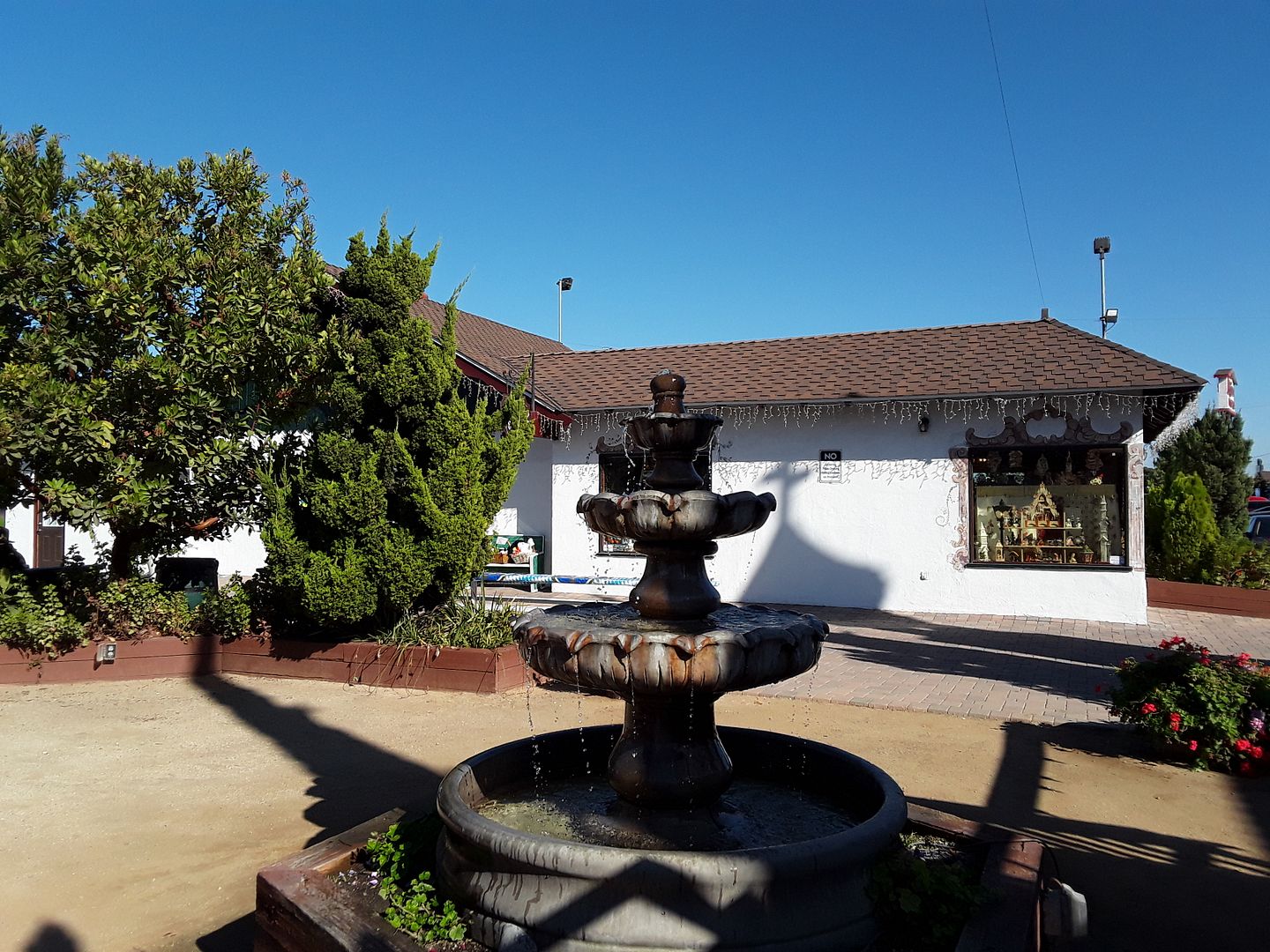 ...and by the fountain for more guests.
All the while you'd be surrounded by stucco-clad exteriors with windows and doors embellished by painted frames...
...gables with scalloped bargeboards...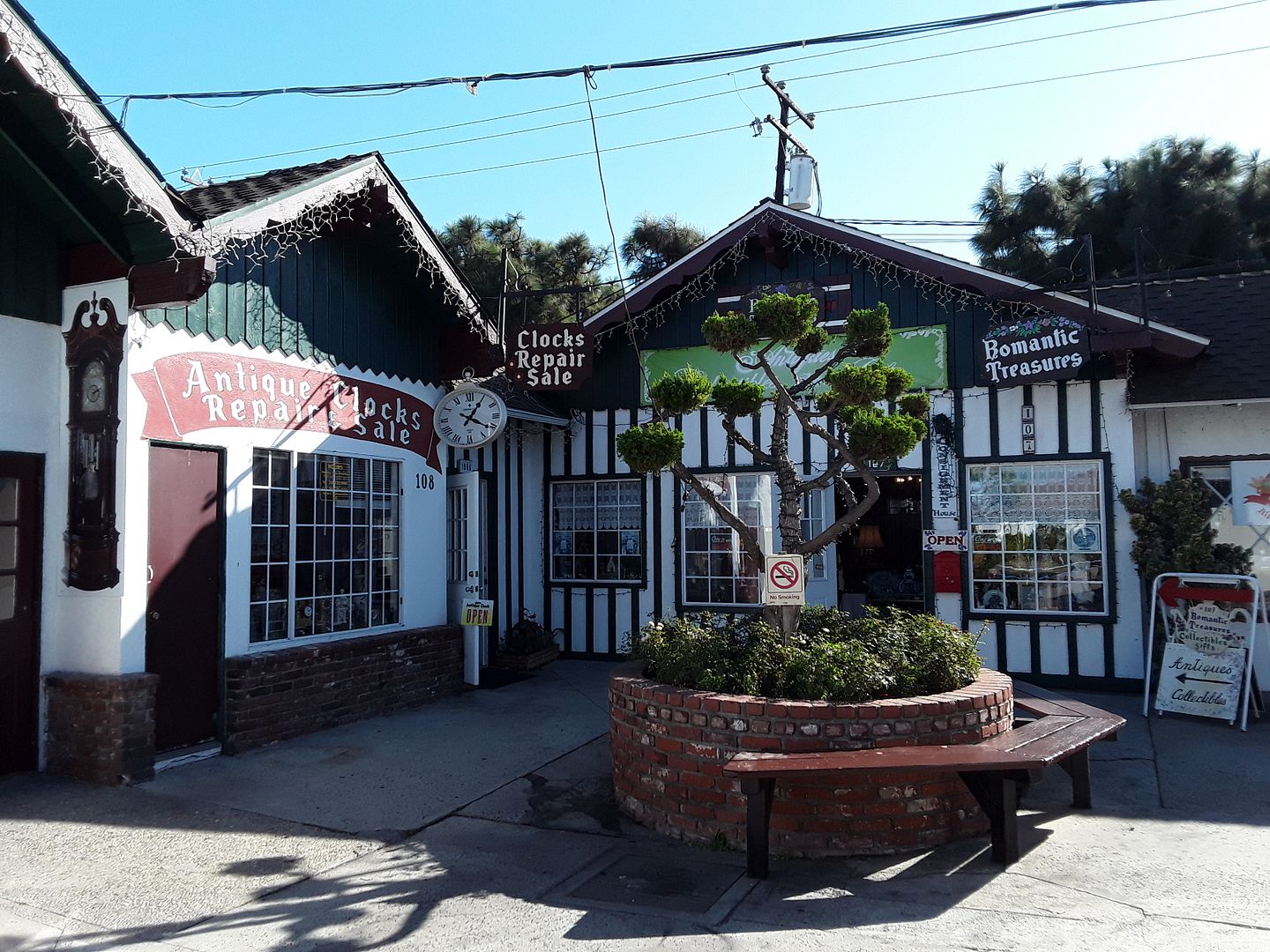 ...vertical wood boards in the gable ends...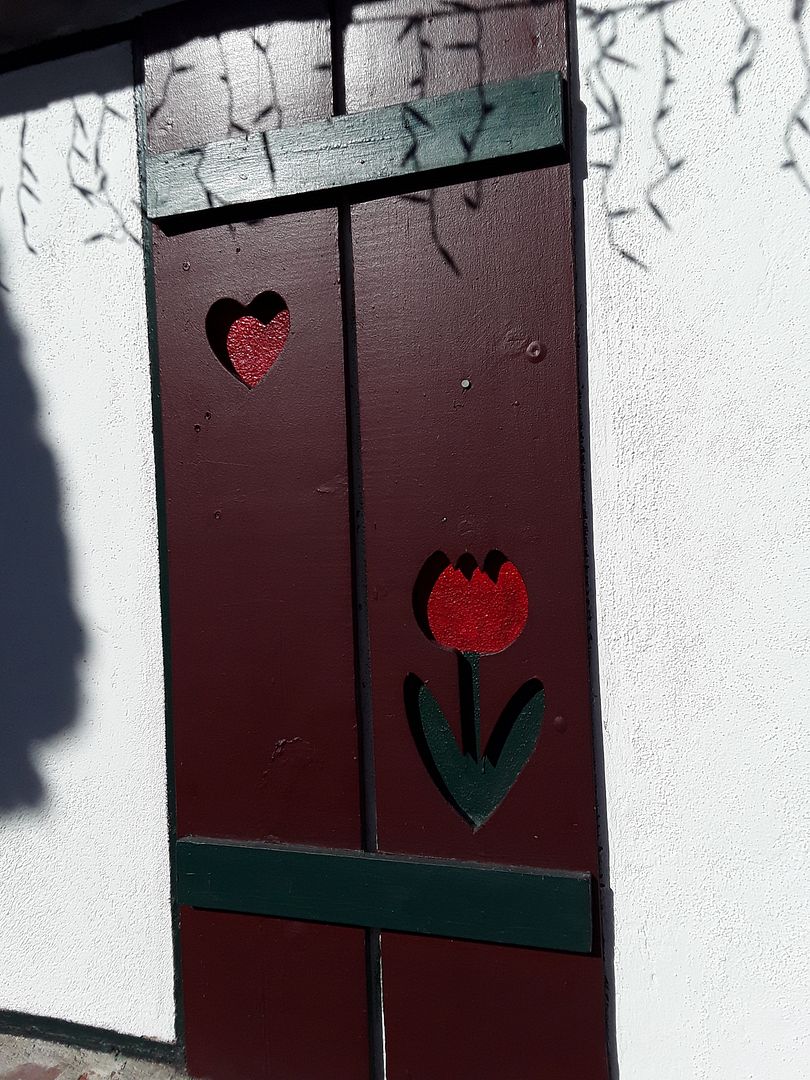 ...and decorative shutters, some with a tulip design.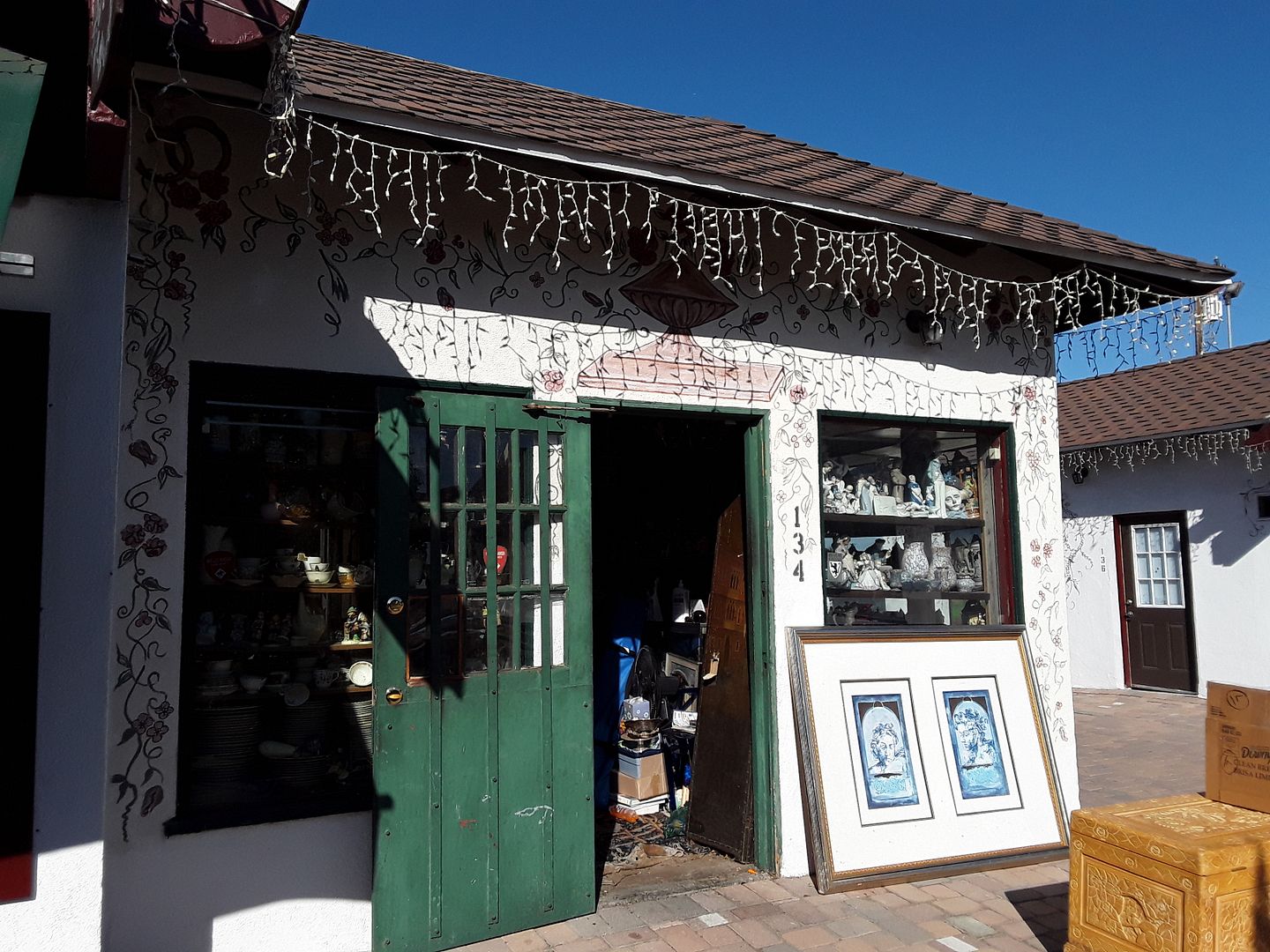 Much of those touches were the work of Yugoslavian architect Bruno Bernauer, who immigrated to LA in 1956. He drafted the designs for the first two buildings at Alpine Village—and then moved on to other local projects.
Joe Sing, the architect of the chapel, took that aesthetic and ran with it with the design of the newer buildings to retain as immersive an experience as possible.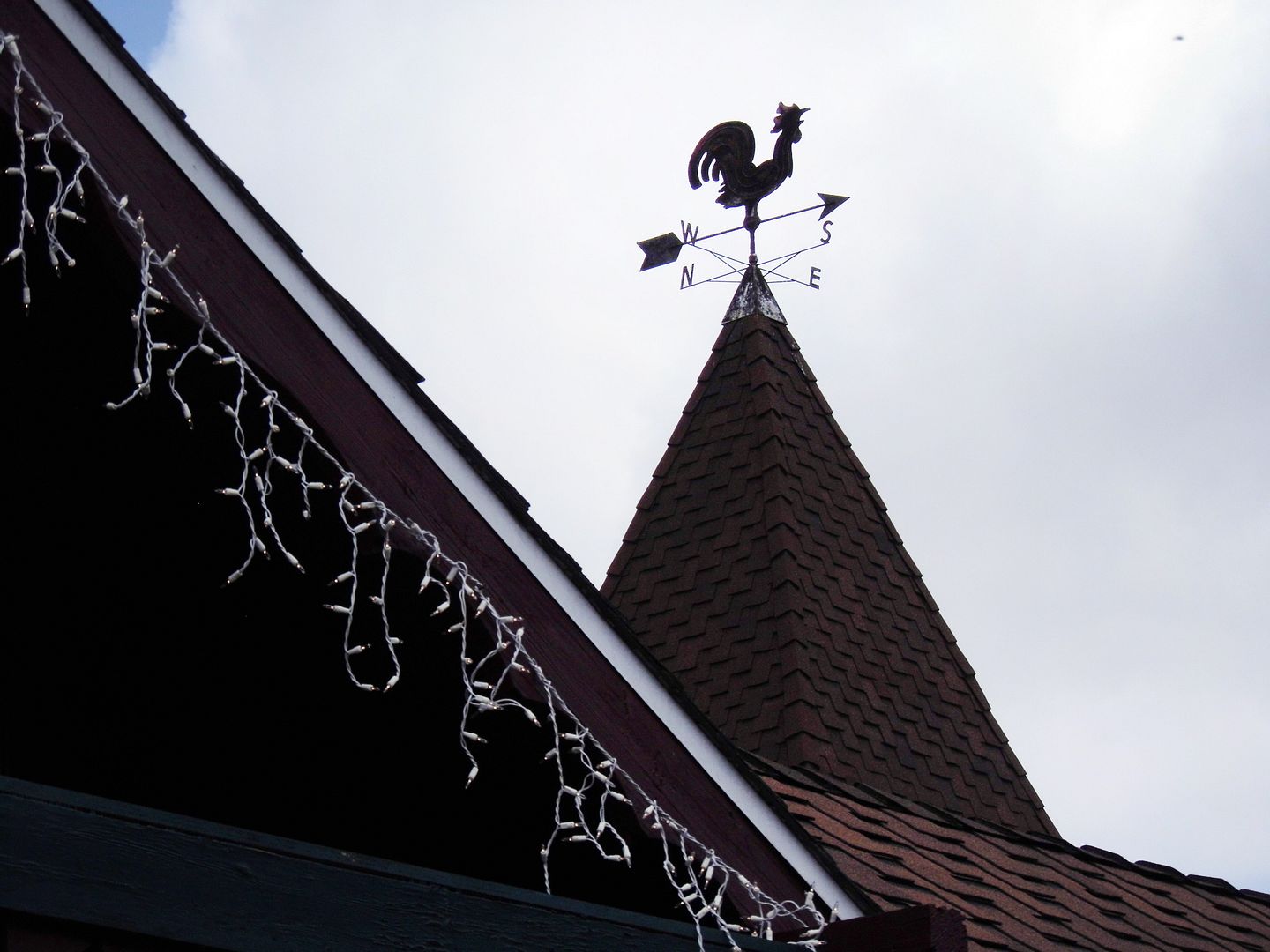 Today, there's a German cultural museum (LA Turners) and shops that sell traditional German garments, cosmetics, toys, shoes, and other gifts—as well as businesses offering travel services, dentistry, clock repair, and more.
Among the other areas available for rent is the Klub Haus, now a banquet room for up to 250 guests located in Building 1. It was the first building to be added in 1968, by Bernauer—and was a
movie theater
until 1980.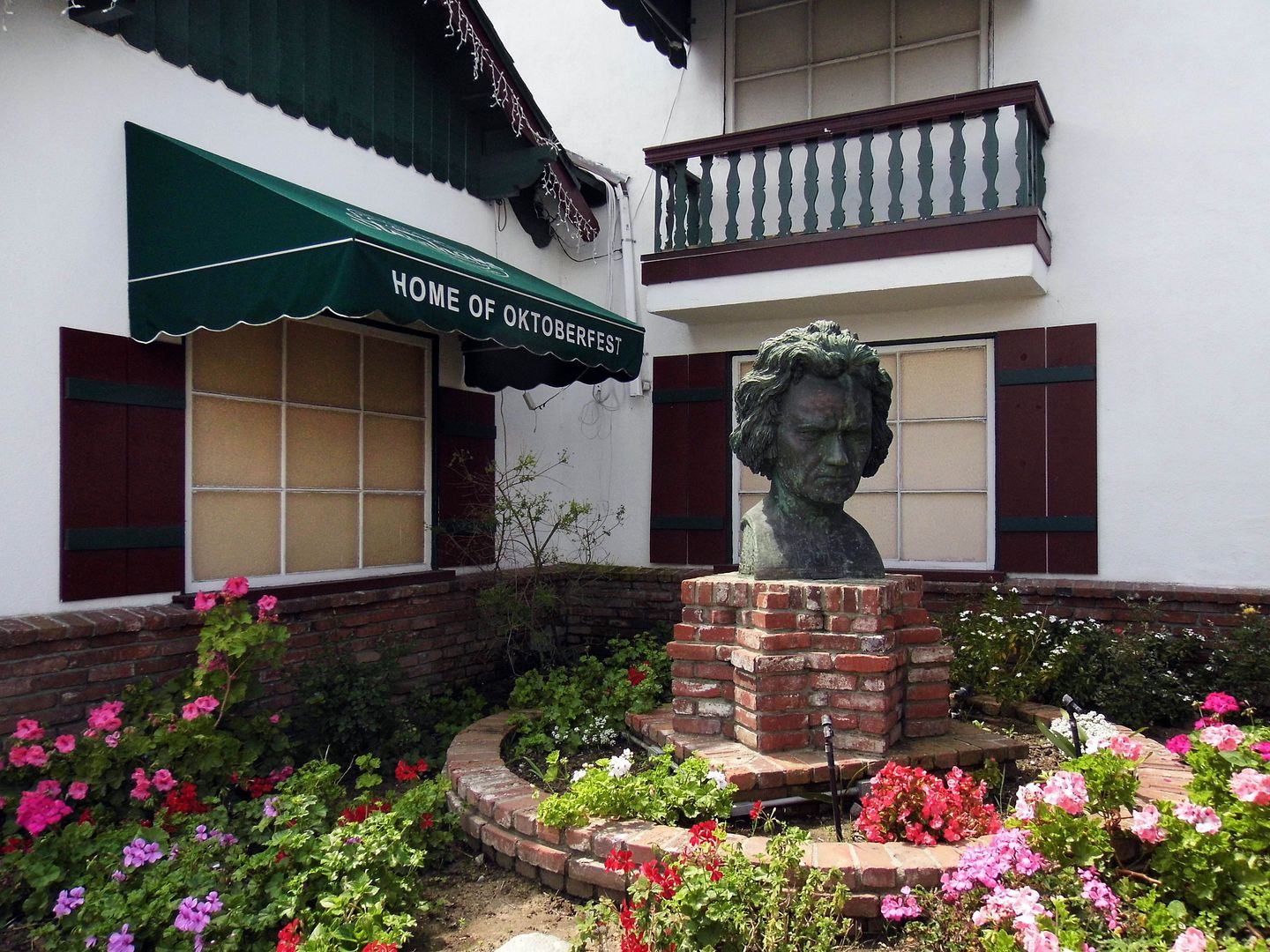 Look for the bronze bust of Beethoven
[Ed: The internet reports this has been removed]
, and around the corner you'll find the recently (and permanently) shuttered Alpine Inn Restaurant.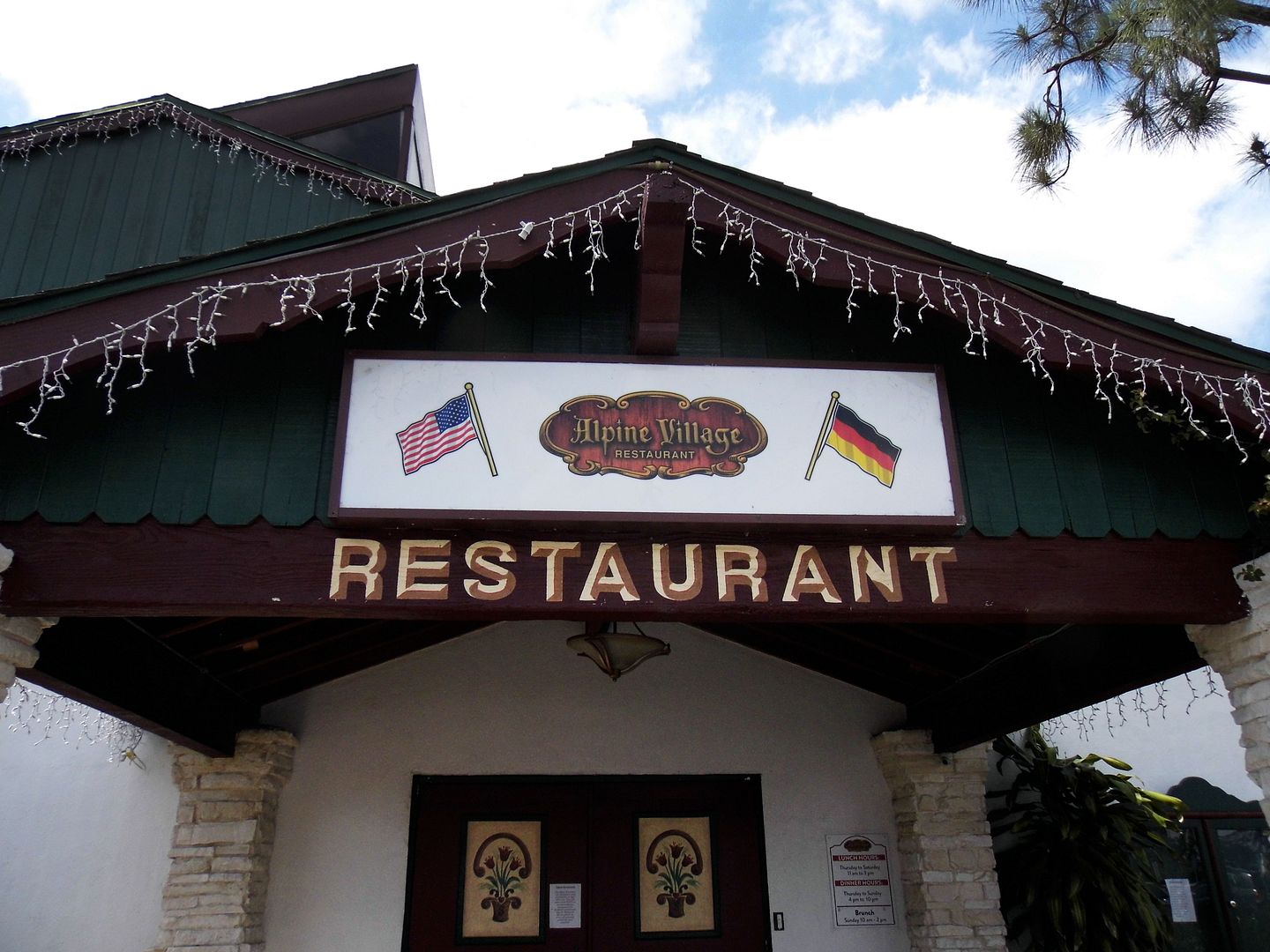 The restaurant has hosted festivities since Alpine Village first opened in 1968—though it was in Building 2 at the time and in 1984 moved to Building 7 (originally added in 1974 as a clubhouse or "Heimet House"/"
Heimathaus
" for the German American League, designed by architect W.A. Altmann of Stuttgart, Germany).
Structural engineer Peter Erdelyi led the 1980s renovation of the new restaurant building, which added a 8,170-square-foot two-story addition to the existing space—which had been the last building completed at Alpine Village.
Now a tavern or "
steinhaus
," much of what's inside dates back to the 1980s expansion and aren't original...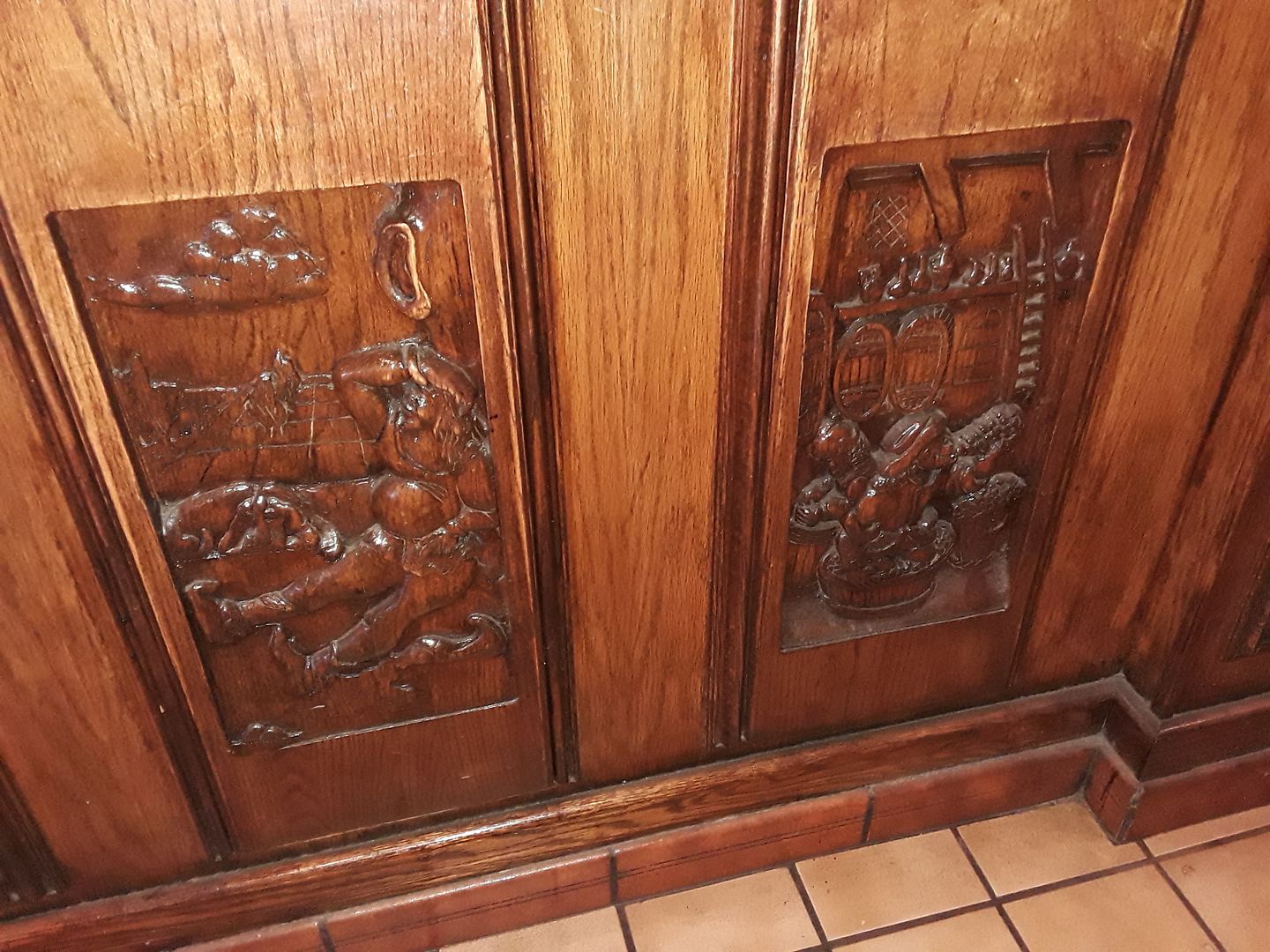 ...though once again, yet another designer took the German theme and played it up to the hilt with carved wood decorations, both at the base of the wooden bar...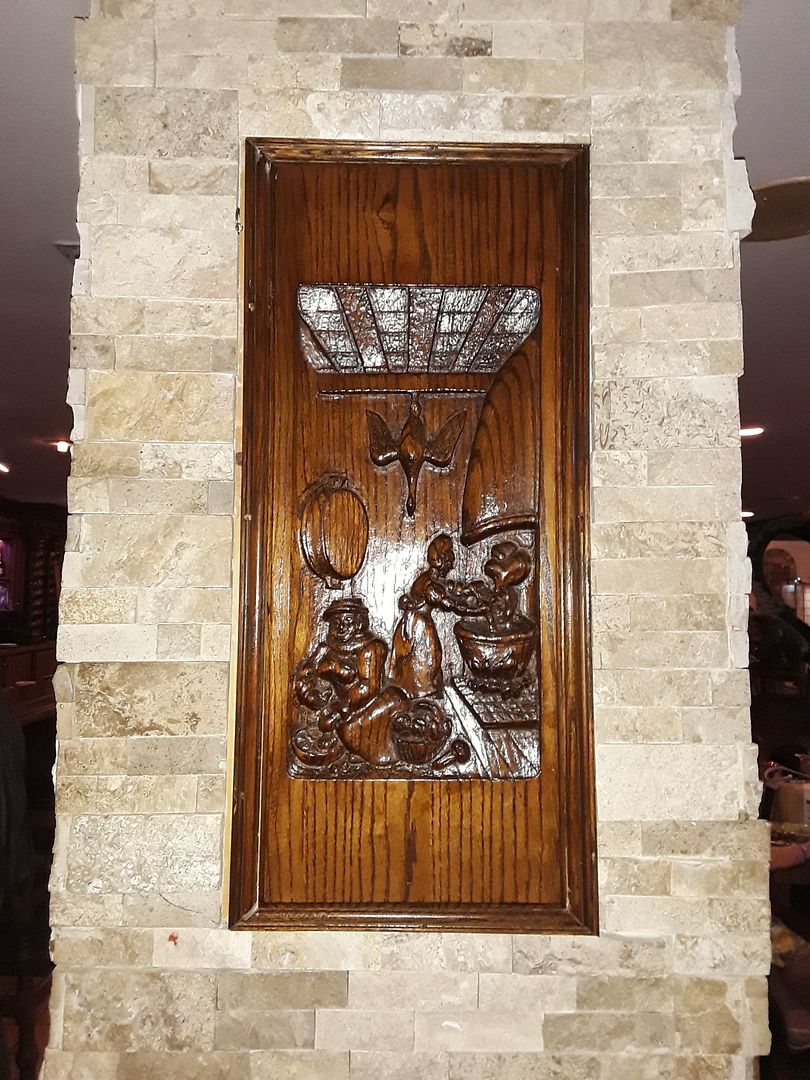 ...and mounted on the interior stone-tiled columns.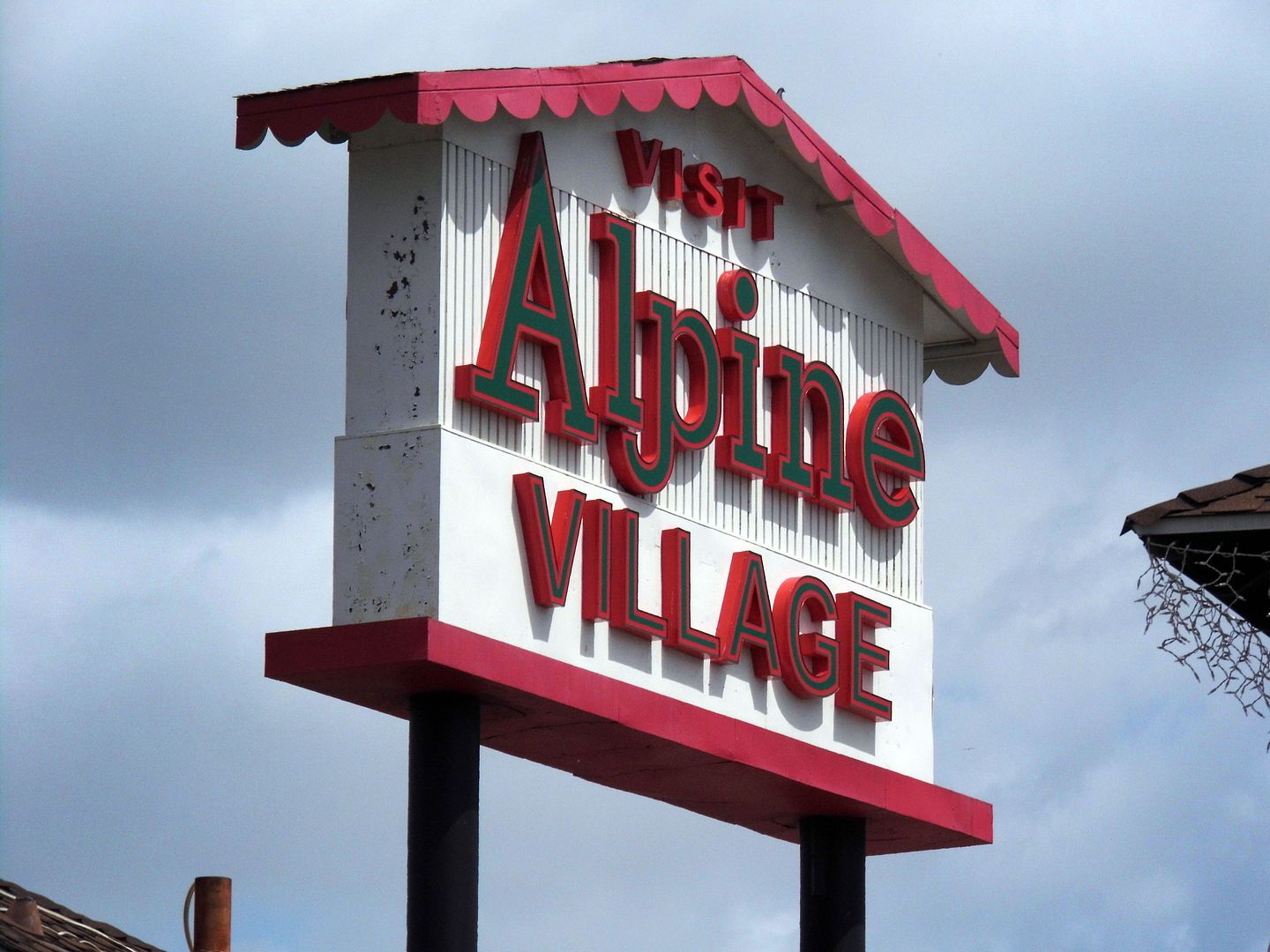 You couldn't ignore Alpine Village even if you were to try—thanks to its Chalet-shaped signage mounted on a 70-foot-tall pylon, visible from where the 405 meets the 110. Designed by Arthur L. Bergey, it features a sheet metal fringe "roof" and neon illumination (made by Chief Neon of Gardena, California) for night visibility. It's original to the opening in 1968 and virtually unchanged since.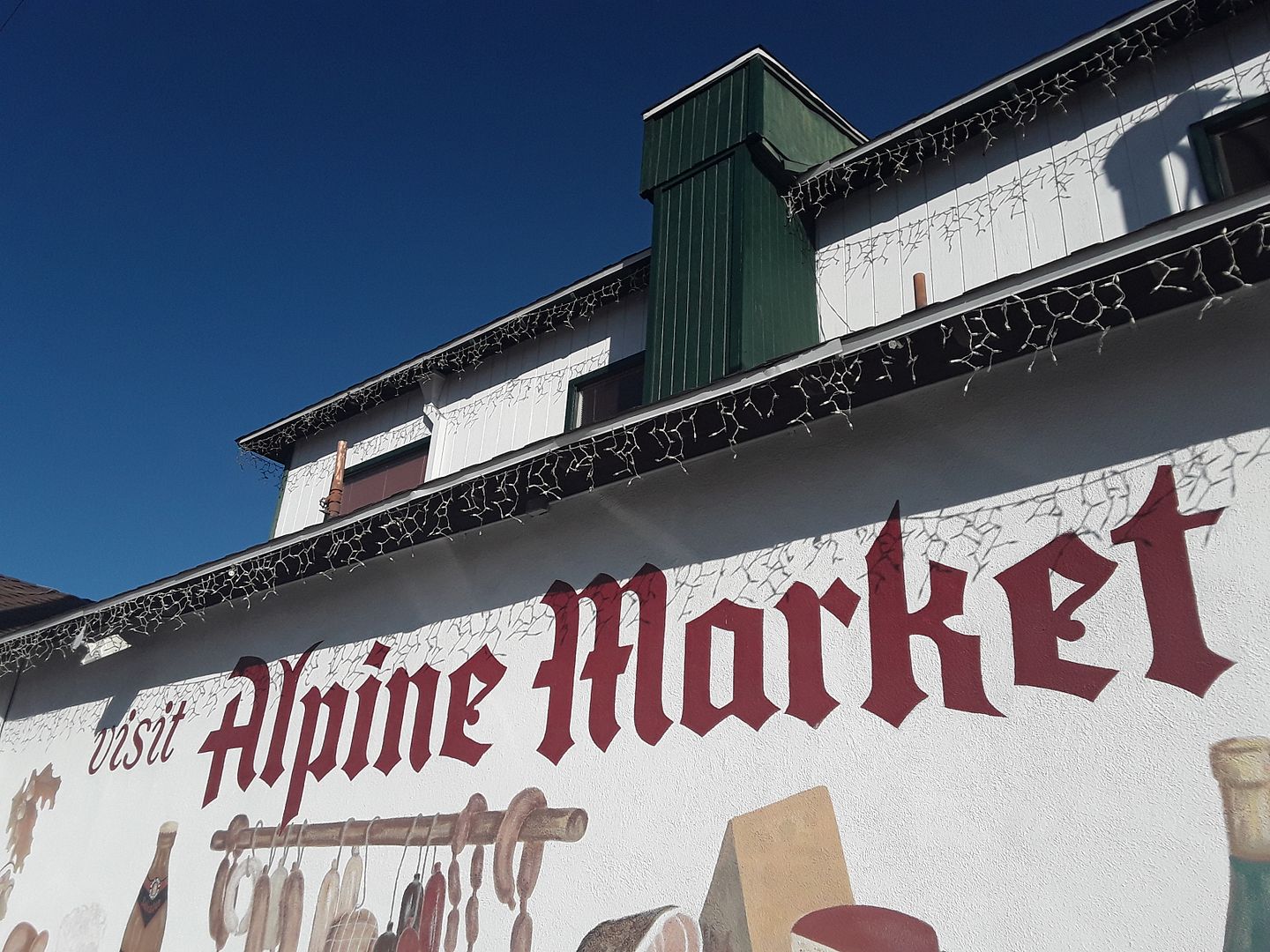 Although the restaurant has closed for good, the Alpine Market (in Building 6, erected 1973) is still open for business to satisfy Village regulars' yen for German specialties—even during our current pandemic lockdown.
[Ed: The market has since permanently closed.]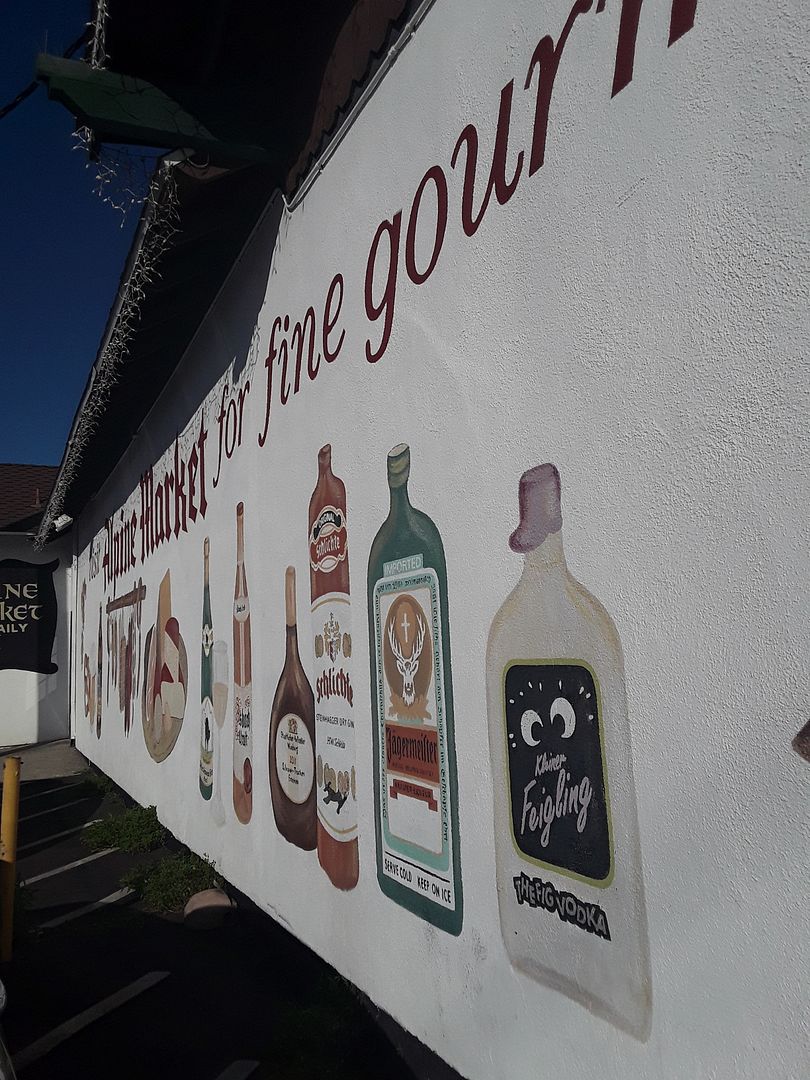 The 21,000-square-foot market (also designed by Sing, with a second story of offices added in 1988) offers fresh German meats and baked goods...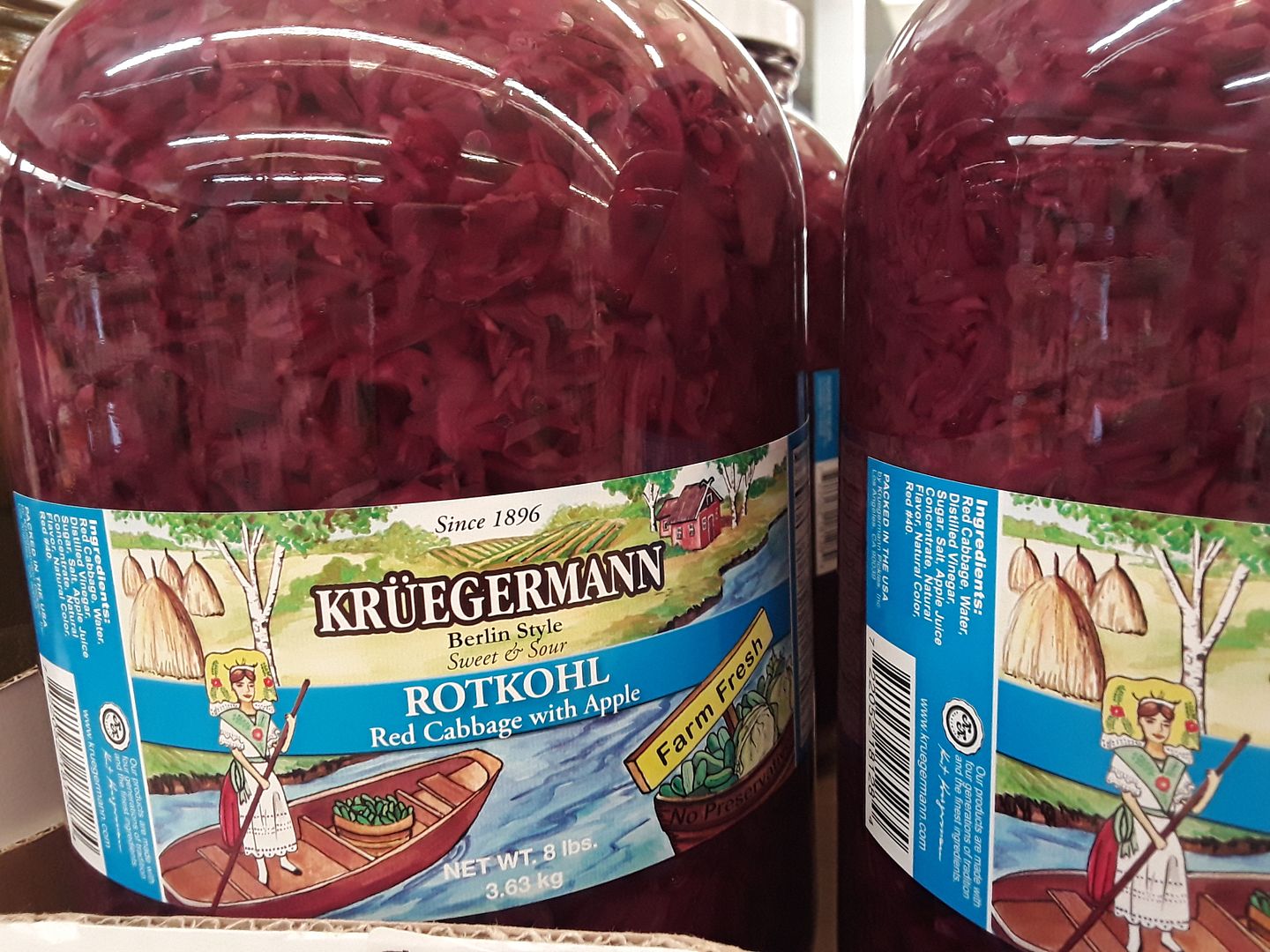 ...as well as jarred staples like
sauerkraut
and red cabbage...
...and plenty of fig vodka,
Glühwein
, and different types of herbal digestif drinks (
Kräuterlikör
).
So what of this impending threat of demolition?
Well, by no means is it a done deal. And Alpine Village has struggled before and come out the other side.
It's already been downsized from the full-fledged German theme park it had expanded into in the 1970s—losing not only its soccer field and batting cages, but also its carnival rides, Fairytaleland, and Children's Animal Farm.
And a group of preservationists believe it's important—not just because it's a themed shopping court, but a rare example of a Bavarian one, at that. Especially in LA County.
(Alpine Village's co-founder Josef Bischof later brought the Bavarian style to Orange County—with
Old World in Huntington Beach
, which his family still runs.)
But then there's also the association with commercial development and the automobile—that is, roadside architecture and especially roadside markets.
And finally, there's the importance of Alpine Village as the center of European-American social and cultural activity—not just German, but also Austrian, Polish, Ukrainian, Hungarian, Croatian, and more (as evidenced by the offerings for sale in the market).
Update from Los Angeles Conservancy:
On January 24, the Los Angeles County Historical Landmarks and Records Commission voted 5-0 to recommend that the County Board of Supervisors designate Alpine Village as a County Landmark. This follows the Commission's nomination of Alpine Village for landmark consideration at their meeting on October 25, 2019.
This would make Alpine Village the
fourth
designated landmark for LA County since the year 2000—the first being the
Hollywood Bowl
.
But as we've seen in the past, landmark designation doesn't always save a historic property.
For an in-depth history of Alpine Village, click here.
Related Posts:
Photo Essay: The Oktoberfest Running of the Weenies
Photo Essay: Old Hollywood's Crossroads of the World, Before It Gets Swallowed Up By 'New' Hollywood
Photo Essay: The Many Lives of LA's Original Farmers Market
These Memories That Reek