There's so much in LA that's been lost—that I'll never get to see in person.
But every now and then, I catch a glimpse of the past.
And that's what I went to City Terrace Park on
Christmas Day
in search of—pieces of hand-carved Arizona red sandstone from the 19th-century Los Angeles County Courthouse (completed 1891, demolished 1936).
The Richardsonian Romanesque-style temple of law once stood on the southwest corner of Temple Street and New High Street (now Spring) in an area formerly known as "Poundcake Hill"—which was eventually flattened for the the
Los Angeles Civic Center
and the Criminal Courts Building (completed 1972, renamed the Clara Shortridge Foltz Criminal Justice Center in 2002).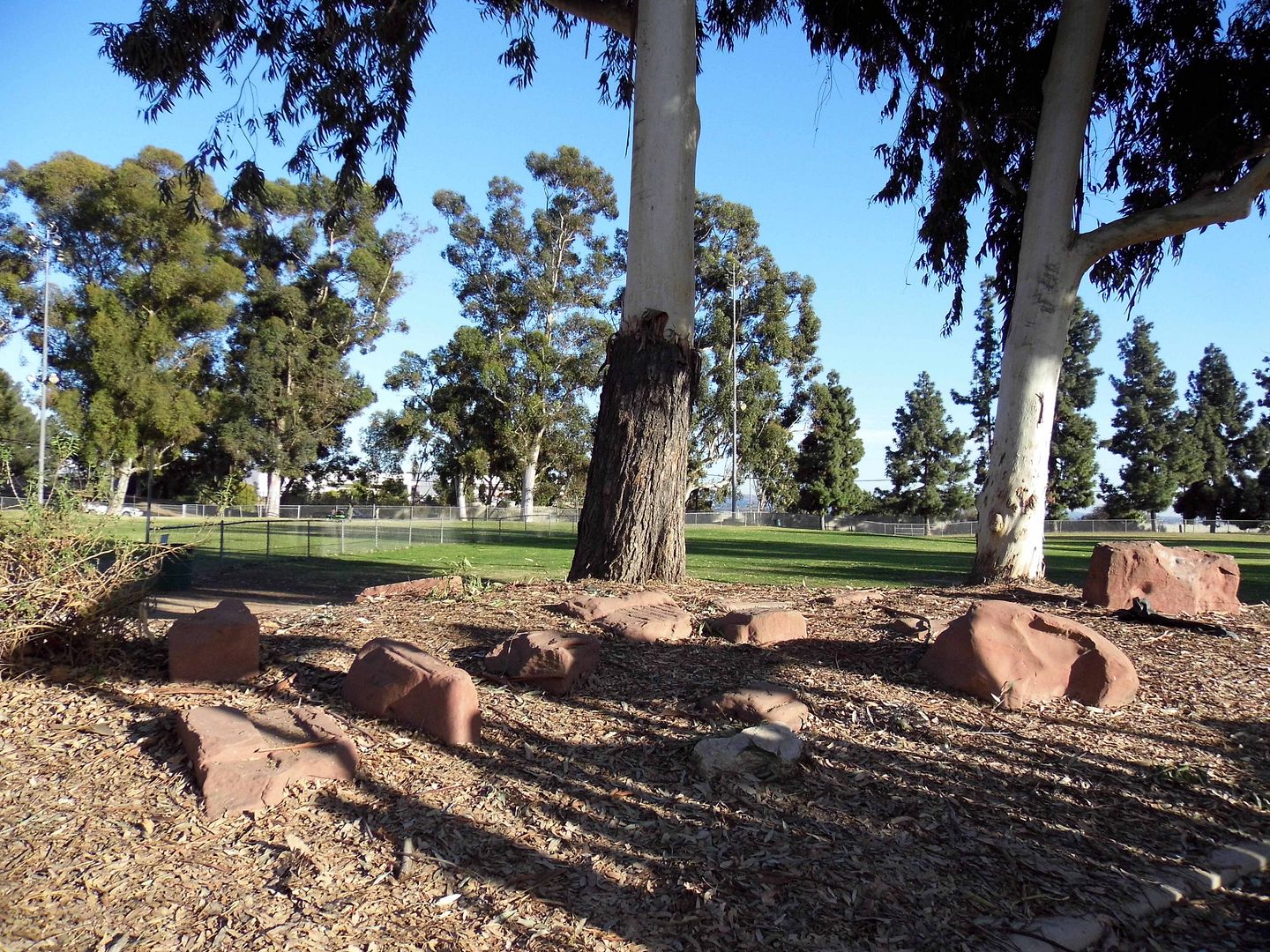 The "Red Sandstone Courthouse"—designed by the San Francisco-based firm of Curlett, Eisen and Cuthbertson—was exemplary of Romanesque architecture. But the 1933 Long Beach earthquake jostled it just enough for it to be deemed unsafe and slated for demolition.
The only way anyone can see it now—and in color!—is to visit City Terrace Park, just north of East Los Angeles, where its remnants form a kind of historic boulder garden between the playground and the baseball field.
Its reclaimed sandstone bricks—bearing the scars of dismantling, transport, and reassembly—also line the northern end of the park, which is managed by Los Angeles County Parks and Recreation (since City Terrace falls under county jurisdiction as an unincorporated area within LA metro).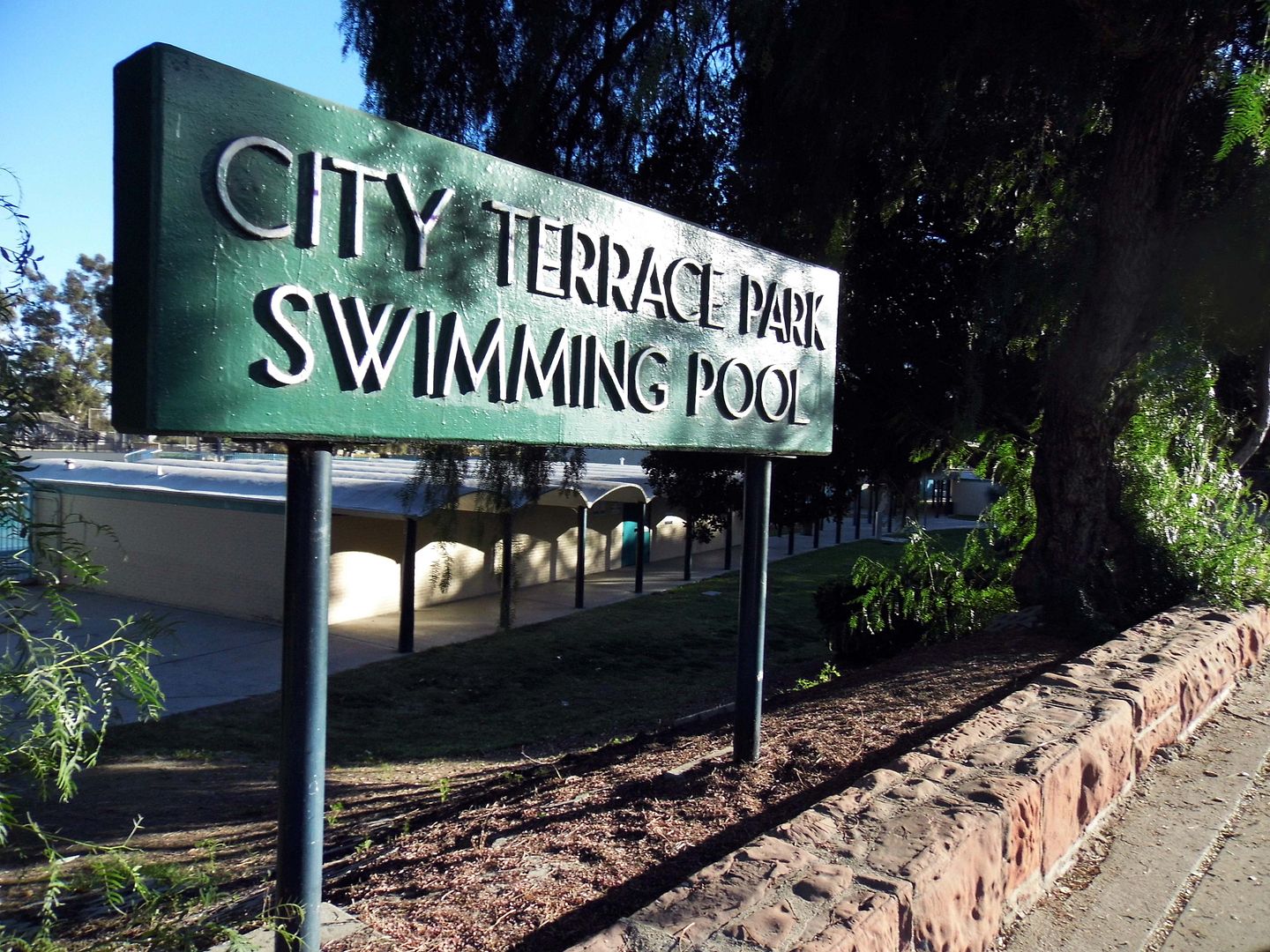 Although the 3.5-acre park was first dedicated in 1933 after having been built by crews of the Civil Works Administration (predecessor to the Works Progress Administration), it continued to be added onto—and not stopping with the salvaged sandstone.
In 1957, City Terrace Park's ravine was filled in with 600,000 cubic yards of soil that had been removed in the flattening of Poundcake Hill—expanding it to 15 acres. And in 1960, new structures were added to create a mini Mid-Century Modern campus within the park.
In addition to the covered walkway and administration structure adjacent to the swimming pool, the 1960s also saw the addition of the City Terrace Park Sports Shell. An indoor-outdoor dome for the basketball court that resembles a turtle shell or a saddle, it might be the only athletic dome of its kind anywhere.
The architectural term for it is a
hyperbolic paraboloid
, whose popularity rose in post-war America. But even now, this double-curved architectural form is a pretty "radical approach" to park design.
Architects Ralph J. Bowerman and Charles W. Hobson of Bowerman and Hobson designed it so that there aren't any walls at its base or interior columns—only five beams supporting it along the exterior.
And it looks as "space age" now as it probably did back then.
Of course, the sinuous lines don't automatically "go" with the Gothic scrolls of the former courthouse's stone ornamentation. But who cares???
I wish pieces of more fallen landmarks could find a forever home at some local park somewhere.
Then again, I wish so many landmarks didn't have to fall.