Architect Frank Lloyd Wright notoriously didn't see eye to eye with some of his clients, especially his female clients—perhaps most famously Aline Barnsdall, whose
Hollyhock House
is now a globally-renowned FLW design (and a UNESCO World Heritage Site).
Lesser known is the spat he had with Nina Anderton, a Bel Air socialite and philanthropist who commissioned him to build a shopping complex on Rodeo Drive in Beverly Hills—which was to be the architect's only commercial structure in Southern California, and his last design in all of LA.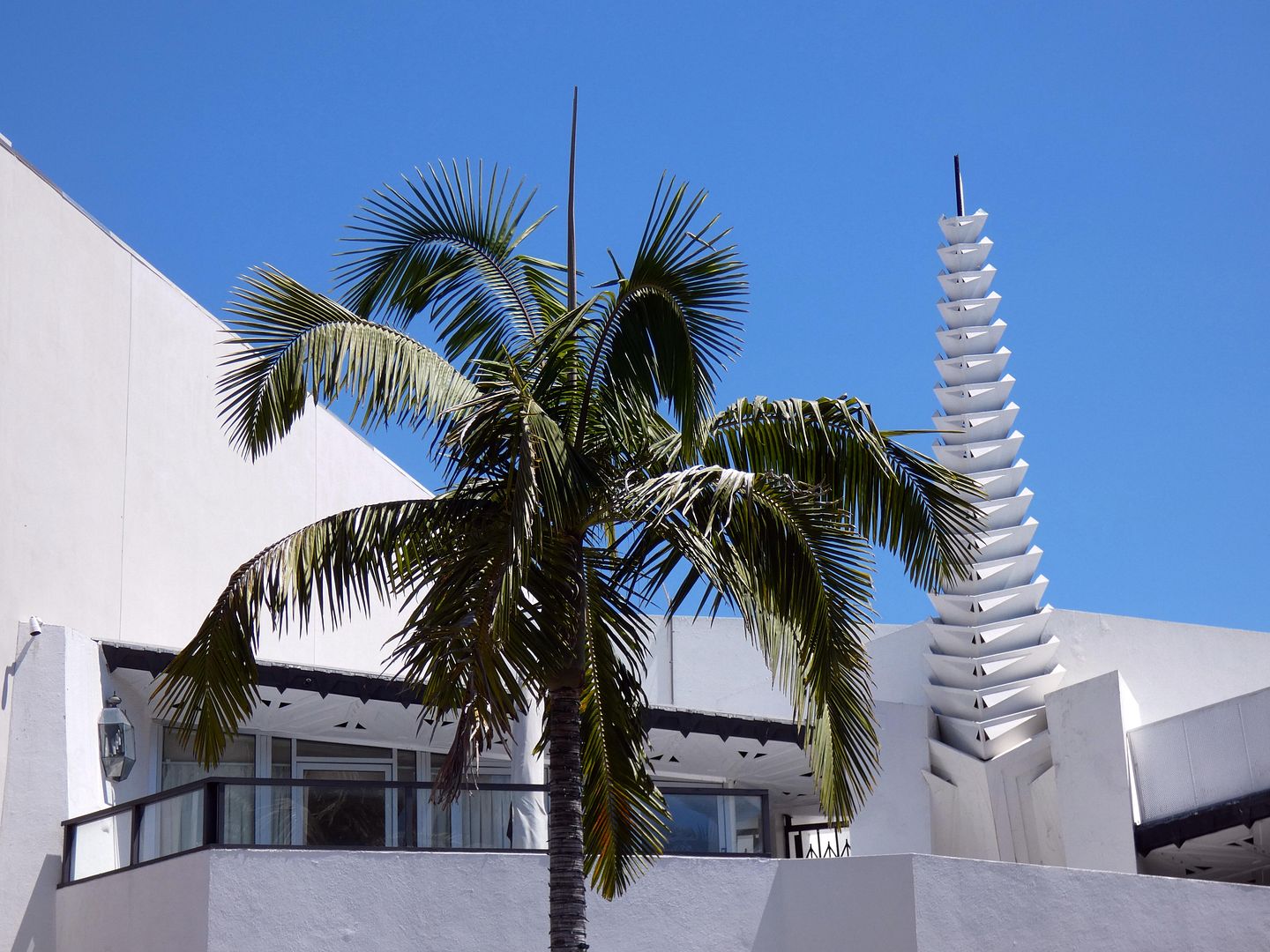 Anderton had married into textile money but became widowed young—and although she remarried a couple of times, she primarily kept her first husband's last name.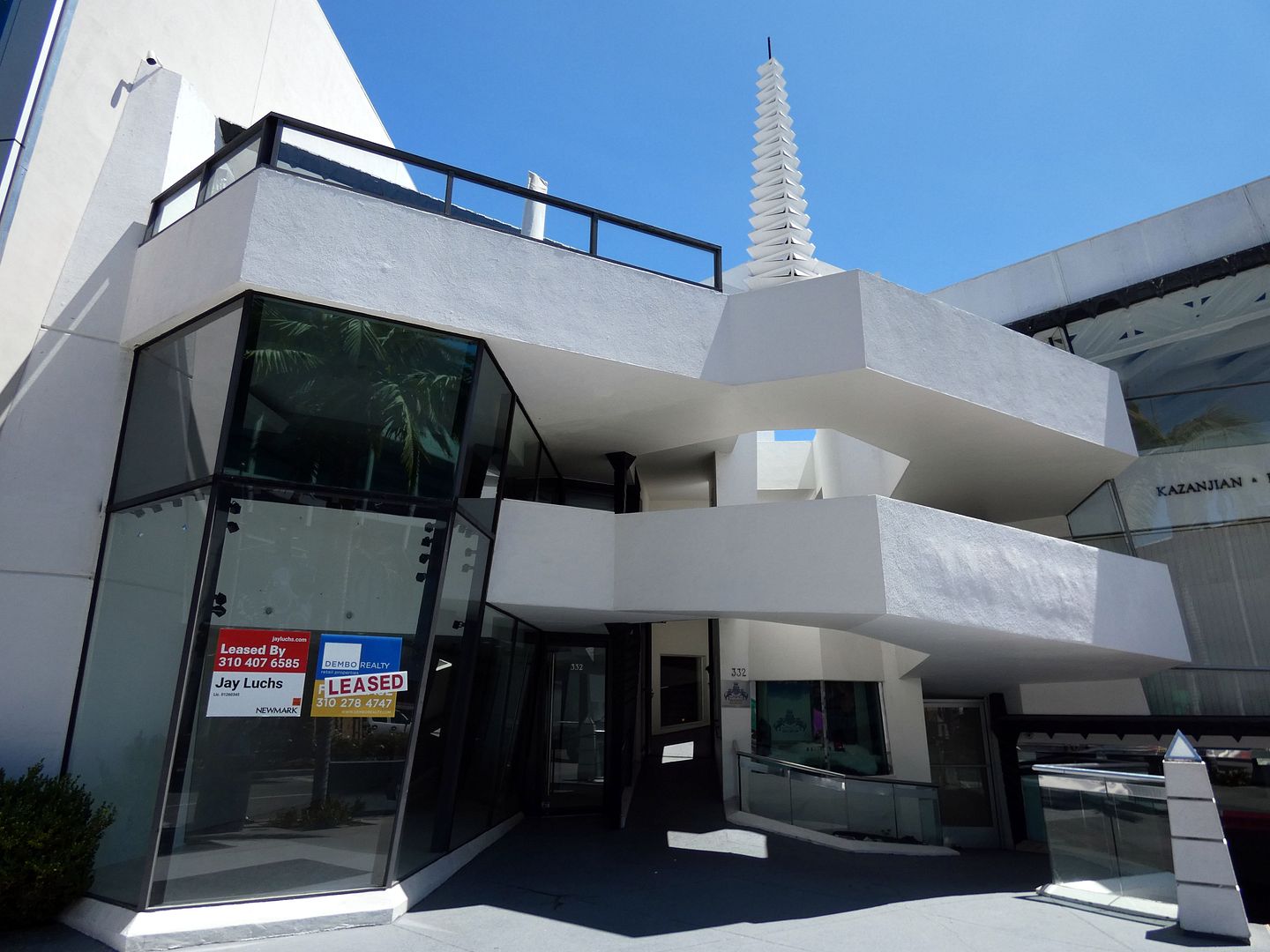 Although the shopping center bears her name now, she'd conceived it as the "Eric Bass Court Center"—named after her favorite designer, Eric Bass, who regularly dressed her to the nines for public functions. Bass was to be the anchor tenant of the three-storefront complex, whose rents would essentially bankroll its construction.
Anderton and Bass had a falling out and he backed out of the project, which was getting more expensive than originally budgeted ($80,000).
And although it bears some signature design elements associated with FLW's late career—like the futuristic spire with a cut-out diamond pattern—some compromises and concessions had to be made to save money.
In 1952, Wright
reportedly
had to completely redraw the design in order to cut some corners.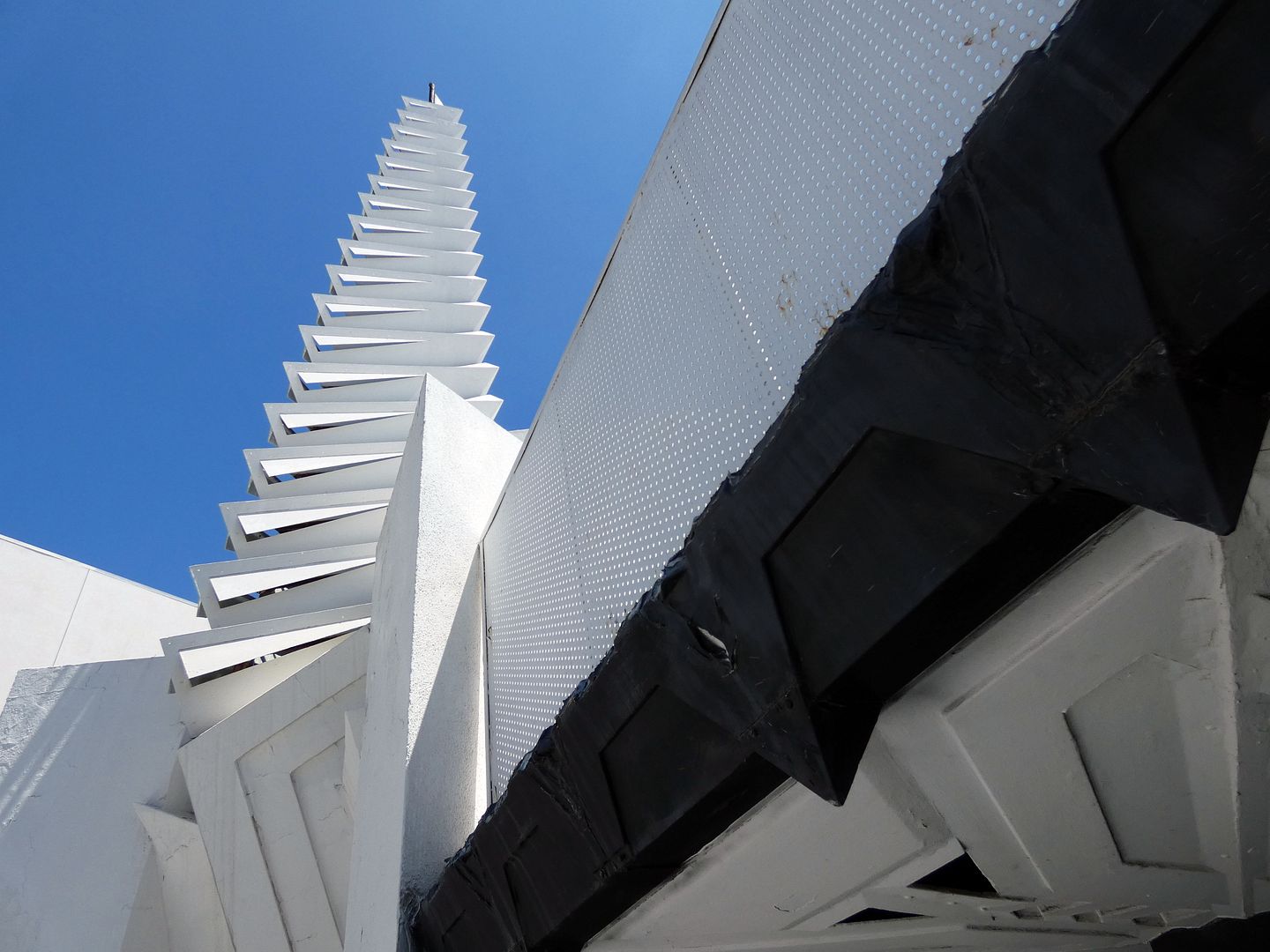 What was supposed to be copper ornamentation (which, by now, would have a nice
green patina
) was fabricated instead out of fiberglass-reinforced plastic and later painted black. (The walls were painted later, too—covering the original sand/beige color with stark white.)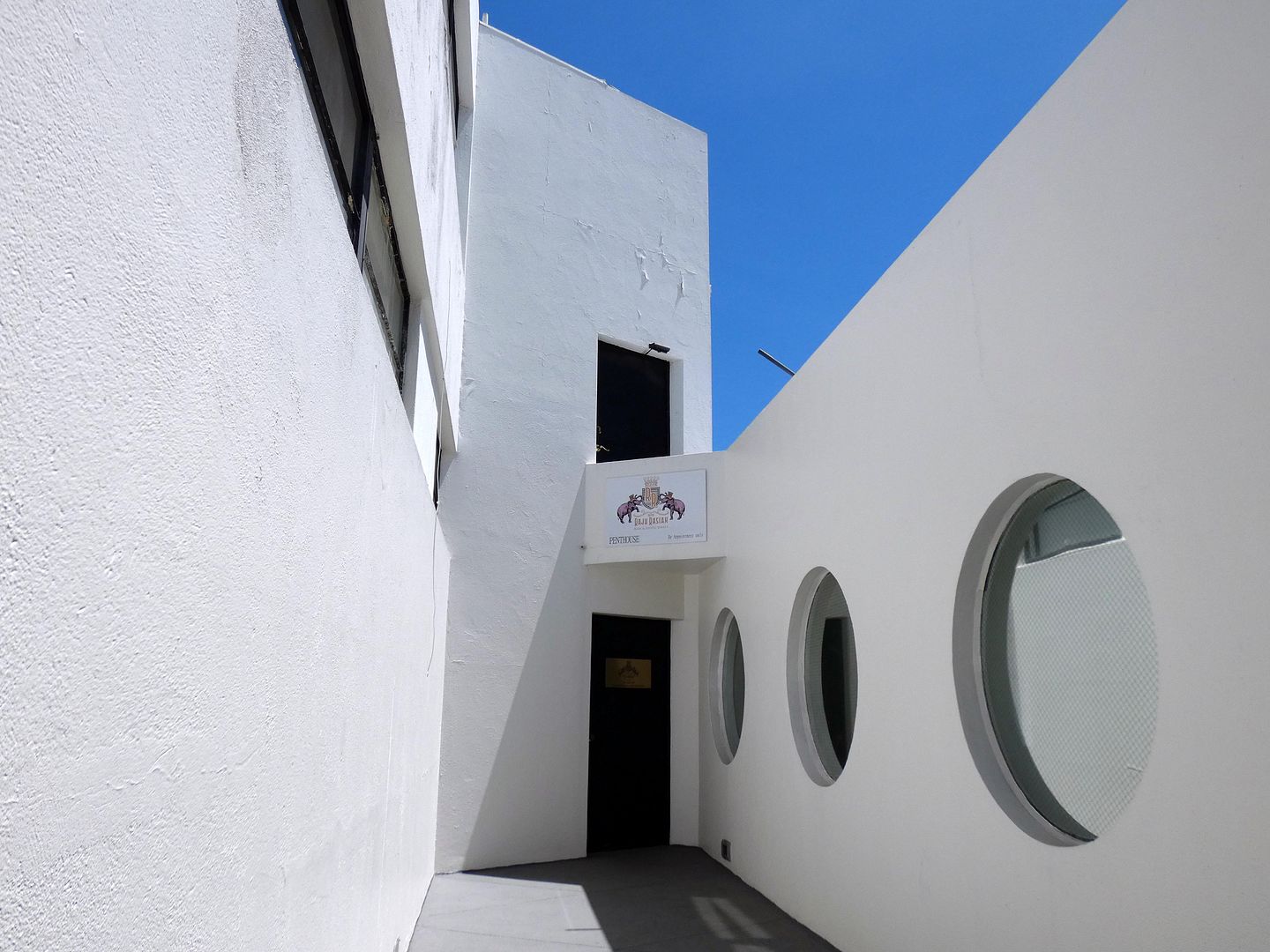 Bass was supposed to live in a top-floor penthouse and have his showroom on another level—but after parting ways with the project, Anderton was supposedly going to occupy the space with an office.
But she never moved in, as she couldn't get the landscaping she wanted up there.
After doubling in budget, the complex opened in 1954—despite
reports
of Anderton refusing to pay (although
how much
she refused to pay and
to whom
is unclear).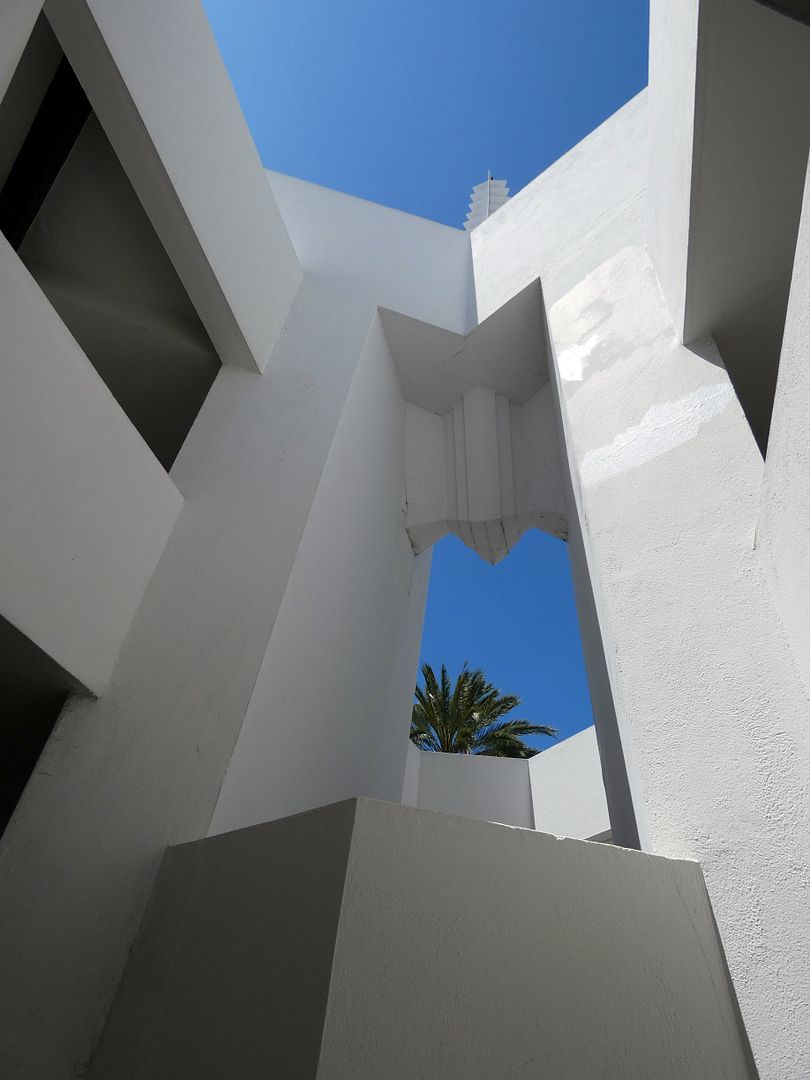 The tenants have switched out multiple times over the years, and the complex has been subdivided to accommodate six storefronts. When I first was there in 2015, it was occupied by Battaglia Beverly Hills Fragrances, Adore Organic Innovation cosmetics store, Kazanjian & Fogarty jewelry buyers, and Raju Rasiah Inc Rare & Exotic jewelry designers (who appear to still be in business there).
Of course, I didn't have any shopping to do there (or anywhere else on Rodeo). But fortunately, the public is welcome to walk up and explore the central light court and the walkways.
There's a spiral ramp that takes you up through the multiple levels—one that's indicative of Wright's architectural experimentation in the mid- and late-1950s, which ultimately led to the creation of the Guggenheim in New York.
It may not have been exactly what Nina Anderton wanted. Wright supposedly wasn't happy with the final design. And some architecture critics have lambasted it (although
Bob Winter
and David Gebhard perhaps lovingly called it "
zany
" in their architecture guide to LA, a.k.a. the "Blue Brick").
But Anderton Court Shops is unpredictable and fascinating from every angle—and a landmark in its own right, with a place on both the local Beverly Hills historic register and the National Register of Historic Places.
And I love that it's sandwiched between the luxury retail shops of Balenciaga and Yves Saint Laurent, with Gucci and Prada right across the street.
After all, Nina Anderton was quite the fashionista (thanks in no small part to how Eric Bass dressed her)—so much so that she was robbed multiple times for her jewelry and furs, forcing her to leave the Bel Air home where robbers knew all too well where to find her.
She probably would've fit right in with today's Rodeo Drive.
To watch a video on the Anderton Court Shops I produced for KCET's SoCal Wanderer series, click the player above.