It had been four years since I'd last visited Knott's Berry Farm...
...and here I was, going twice within a matter of just a couple of weeks, in a year when nearly everything else was canceled.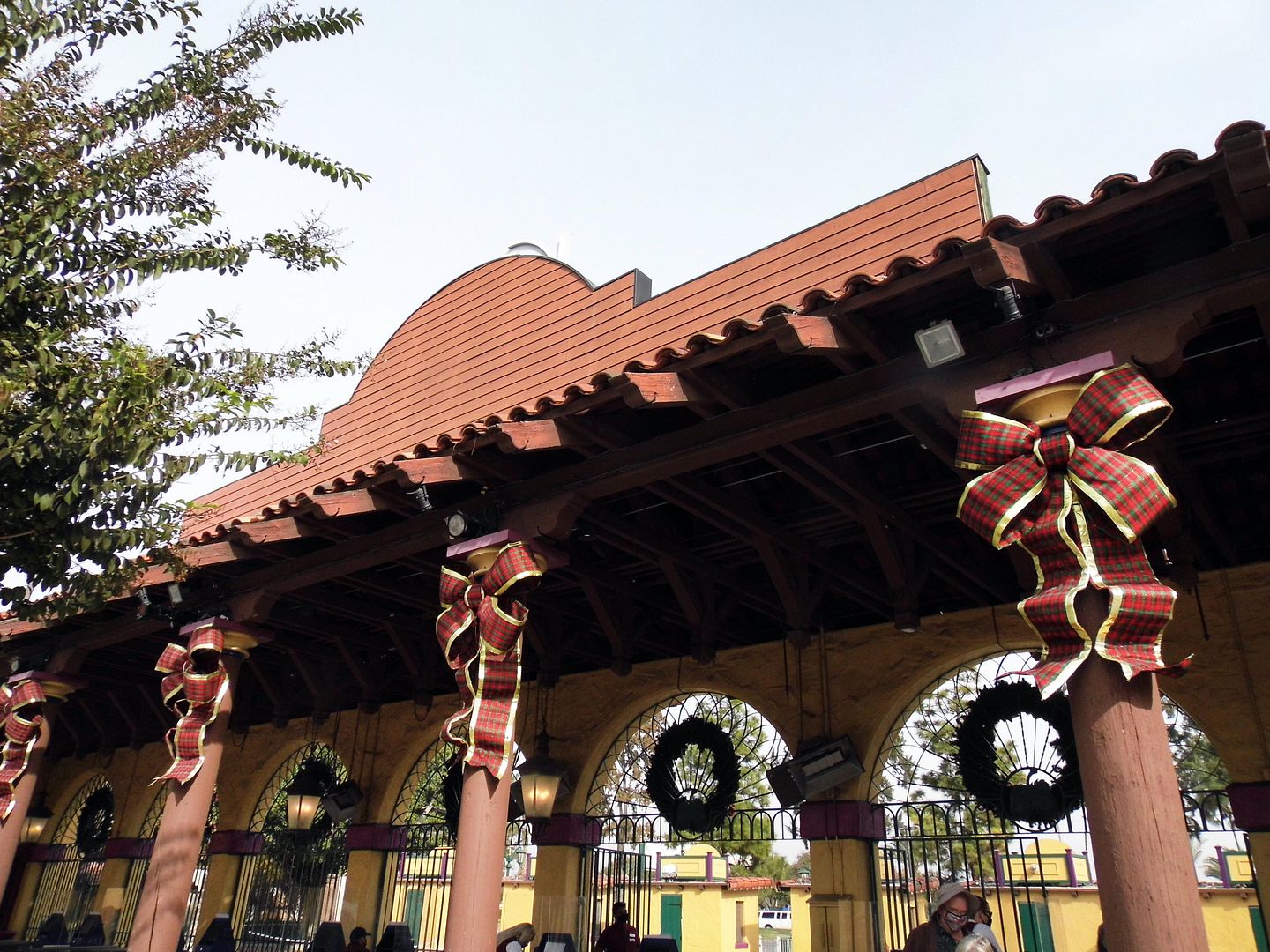 In October, it was for the theme park's
Taste of Fall-O-Ween
. And by November, the orange bunting and fall foliage wreaths at the main gate were replaced by evergreen wreaths and plaid ribbons, marking the holidays.
I'd actually been to Knott's Merry Farm once before, in 2014—but this time, with the pandemic closing the rides, the park had pivoted to its Taste of Merry Farm.
Ghost Town
got all dolled up in the colors of the season...
...ornamented by the glittery spectacle of a giant Christmas tree that seemed to evoke nothing of the Old West.
But the old standbys of the Ghost Town attraction were there, like the
Gold Trails Hotel
...
...with a character I guessed to be the Ghost of Christmas Present (but I was too polite to ask)...
...and the Calico Saloon...
...with Ebeneezer Scrooge himself heckling the crowds for not living up to his work ethic.
At Town Hall, there was no sign of the Mayor, the Mayor's wife Miss Pearl, Milton the Deputy Mayor, or Judge Roy Bean...
...but we did swing by to pay our respects to "Old Betsy," the antique mine train from
Trona, California
...
...and to the town jail to say hello to "Sad-Eye Joe," who insists he's not sad (though his eyes are).
It figures that the only way for there to be no line at the GhostRider wooden rollercoaster is for a pandemic to have shut down its operations.
But I distracted myself with a Christmas tree-topped red velvet cake, part of the special holiday-themed menu of the Taste of Merry Farm tasting event.
From the Fiesta Village...
...to the Boardwalk...
...it was nice to just walk around in the open air and admire the decorations.
Unfortunately, Knott's had to shut down its Taste of Merry Farm event when California regional lockdowns ordered all SoCal outdoor dining to cease.
The good news is that Knott's is opening its gates—for free—for a couple of shopping days to support its craft vendors and give last-minute shoppers a place to pick up some gifts and feel festive.
What will 2021 hold for Knott's Berry Farm? I don't think anybody knows. But I would think that as long as outdoor dining reopens, the theme park could resume its annual Boysenberry Festival in the springtime.