After the
devastating removal of the Millard Sheets mural from the former Home Savings in Santa Monica
, coupled with
the closure of The Marciano Art Foundation
, I decided it was time to finally go explore the former Home Savings at Sunset and Vine that features Sheets's most "Hollywood" mosaic ever.
It's a complicated corner—because while what's there now is a masterpiece circa 1968, it nudged out a beloved piece of Hollywood history (much like
the Chase Bank did at the site of the Garden of Allah
a few miles west down Sunset Boulevard).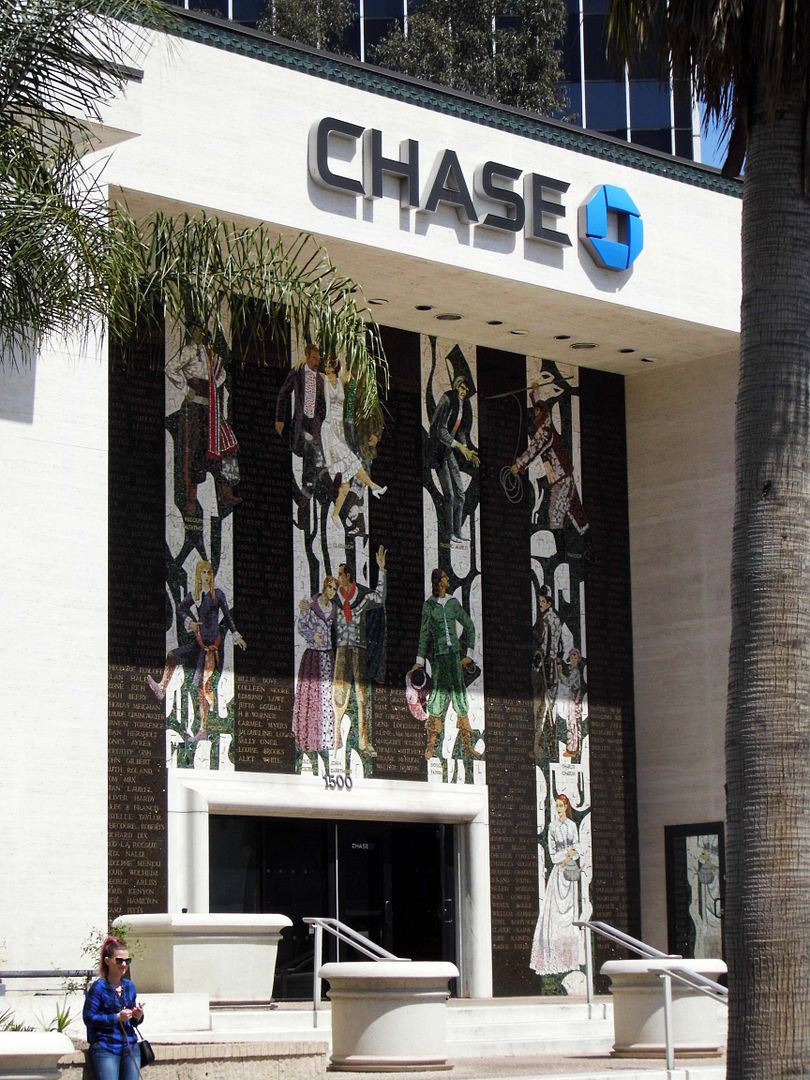 This was the original location of one of Hollywood's first movie studios, Burns and Revier Studio and Laboratory. And this is where the Jesse L. Lasky Feature Play Company filmed parts of Hollywood's first full-length motion picture,
The Squaw Man
, in 1913. (The studio's Lasky-DeMille Barn, originally used for dressing rooms, was subsequently moved several times—eventually landing in empty lot off Cahuenga, across from the
Hollywood Bowl
, and housing
Hollywood Heritage
).
Now it's a showcase for Millard Sheets's architecture and art—about as site-specific as you can get—as well as for an important piece of public art, "The Flight of Europa" by sculptor Paul Manship, best known for his Prometheus sculpture at Rockefeller Center in New York City.
Although the sculpture was reportedly intended for a swimming pool—with water symbolizing the Mediterranean—it's well-suited to the fountain that anchors this corner of Hollywood.
It's an eyecatcher for sure—as Europa, a Phoenician maiden (and namesake of Europe), rides the back of a bull that's actually Zeus in disguise. Cupid whispers in her ear, perhaps preparing her to lose her virginity once they reach Crete.
But the real attraction of this mid-century New Formalist-style bank building lies between the black granite panels of the entry façade...
...and that's the mosaic renderings of Hollywood's biggest stars, like Charlie Chaplin, Gary Cooper, Mary Pickford, Rudolph Valentino, Clara Bow...
...and Bette Davis, in character from her Academy Award-winning role in
Jezebel
.
Among the 40 Home Savings banks that Sheets was commissioned to design, this one was reportedly
his favorite
. Maybe that'll save it from
demolition
one day.
I'd driven by this branch so many times but had never even walked up close to it—so I was eager to see what's inside.
Beneath a dropped ceiling in the front lobby, there's a wall mural that pays tribute to
The Squaw Man
. But otherwise, it's unremarkable—until you reach the back entrance.
Bidding farewell to those exiting the bank is a unique grouping of stained glass windows by
Susan Hertel
...
...styled like a series of film strips...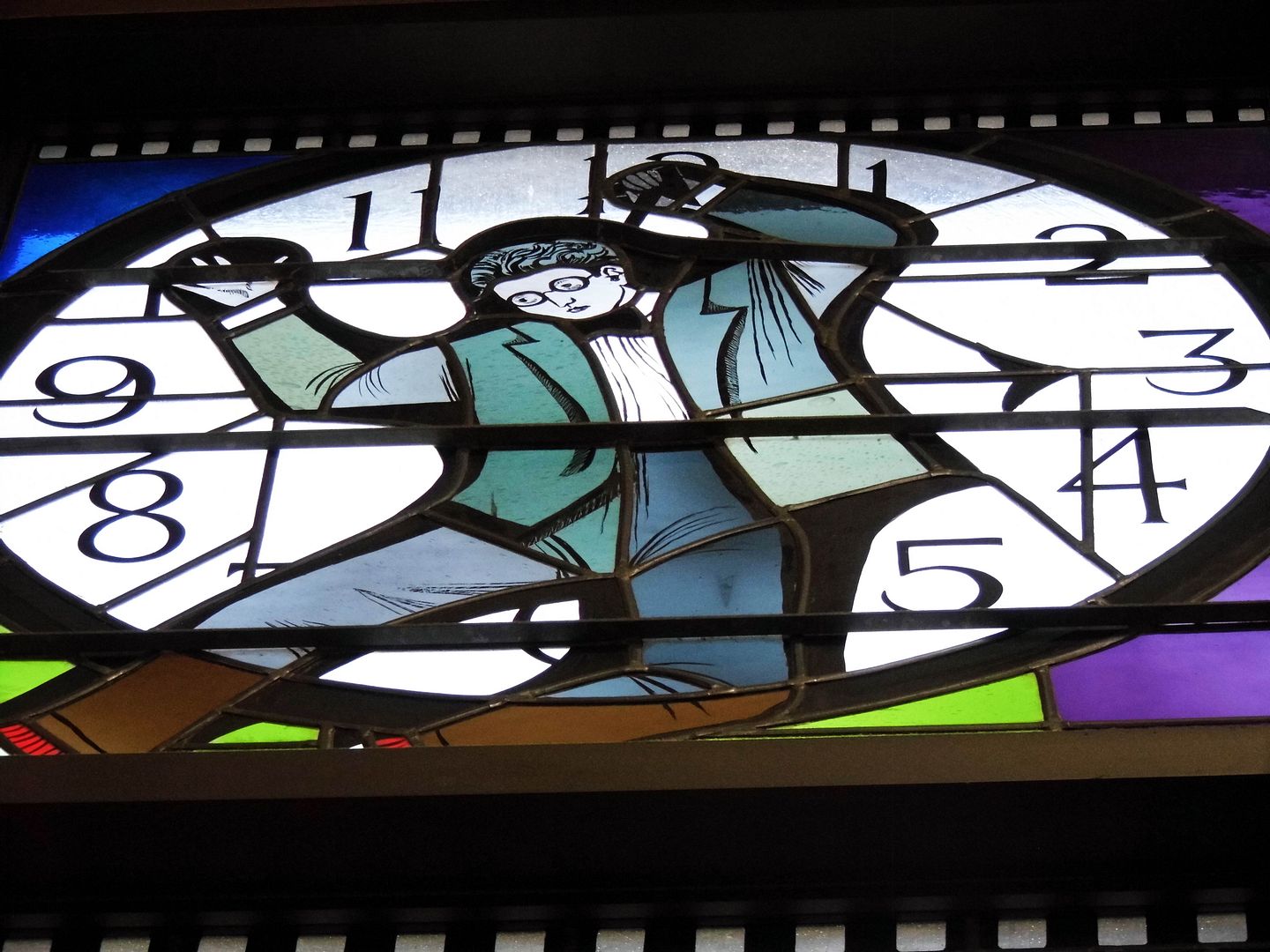 ...and depicting famous chase scenes featuring everyone from the Keystone Kops to Harold Lloyd.
Hertel was a frequent collaborator of Sheets, beginning as his art assistant and helping him design several of these Home Savings banks over the course of 26 years. (Fabrications were done
off-site
.)
What serendipity that these celluloid chases would make their way into what would become a Chase Bank.
Related Posts:
Photo Essay: It's Déjà Vu for Hollywood's Most Famous Imperiled Intersection
Another One Bites the Dust? Santa Monica Edition (Updated for 2019)
Photo Essay: Ever-Changing Hollywood, in Miniature Magic