[Last updated 2/25/23 11:03 PM PT—The Chase Bank was demolished in April 2021.]
Paradise was already paved once. And they're
trying to do
doing it again.
Circa 1927 (Photo: Los Angeles Public Library Images)
At the intersection of Sunset and Crescent Heights, there once stood the 1913 estate formerly known as Hayvenhurst (named after real estate developer William H. Hay), later renamed the Garden of Alla for actress Alla Nazimova, and finally known as the
Garden of Allah Hotel
, the so-called "playground to the stars."
Photo: Julius Shulman, 1960 (© J. Paul Getty Trust. Getty Research Institute, Los Angeles (2004.R.10))
That is, until banker Bart Lytton bought the place, and demolished the Old Hollywood estate in 1959 to build the flagship branch of his Lytton Savings & Loan in its place.
And now, somebody else is
trying to tear
tearing down the former Lytton Savings building (subsequently Great Western Savings, now Chase Bank) for the next big thing: a mixed-use behemoth designed by architect
Frank Gehry
.
Is this intersection cursed, or what? Maybe it's divine retribution, or karma, or just a matter of what goes around comes around. But just as we're starting to learn to cherish the bank building with the zig-zag roof, it seems as though we're about to lose it.
This 1960
Kurt Meyer
-designed structure with the accordion-style roof (just recently approved as a landmark) is an early example of the modern architecture that typified bank buildings in the post-WWII era.
But that doesn't mean it's safe. We've lost other Googie facades in recent years.
It doesn't feel very modern anymore. Well, not
Frank Gehry modern
, anyway.
It doesn't really tell the story of the "Sunset Strip," which it's located at the eastern edge of.
And Chase banks are so prevalent on a national level that maybe it's hard to imagine any Chase Bank being historic...
...except for the fact that many of today's Chase Bank locations in Southern California actually
are
architecturally, culturally, and historically significant sites (most of them former Home Savings and Loan branches) featuring
murals and mosaics by Millard Sheets
, sculptures, stained glass, and other public art.
I actually wasn't much interested in this Chase Bank—despite it being in my neighborhood—until I found out that there was some
art glass by Roger Darricarrere
inside.
Up to this point, I'd only seen his
dalle-de-verre
artwork in
ecclesiastical settings
.
But since some people treat money like religion and banks like their church, I guess it's fitting.
In this case, the "chunks" of colored glass are embedded in lots of concrete rather than lead...
...creating a three-dimensional wall mural that actually wraps around the rear of the main lobby, now tucked behind some cubicles.
Since it's not a window but more of a screen, it's artificially lit from the inside—but only part of it.
But with daylight streaming through the glass walls that face Sunset Boulevard, you can see the tell-tale marks of the glass having been hammered and cleaved...
...and, of course, the bubbles often found in the craftsman's faceted glass works.
The screen stands eight feet tall and 50 feet wide, which is pretty monumental for Darricarrere's first commercial commission. Up close, the concrete is reminiscent of the
textile block designs of Frank Lloyd Wright
(and, later, Lloyd Wright).
Above it, the folded plate roof design is reflected in the ceiling, each zig and zag illuminated more loyally than the pieces of glass in the screen.
I'd like to think that
if the Sunset Strip Chase Bank does get approved for demolition,
the faceted glass screen will be saved and relocated somewhere that people can still see it. But we've lost buildings containing a monumental Darricarrere glass work in the past, it ended up at
public auction
—and then on
eBay
.
Update:
Well, the bank was approved for demolition—and any hopes of a "stay" were dashed when the sculptures outside the structure (David Greene's "The Family") were removed in early December 2020. Wehoville reports that the statues will be returned to the site at some point.
A peek through the window reveals that the art glass screens have been dismantled from their backlighting panels, but their current location is TBC.
In the meantime, all Chase signage has been removed.
Demolition seems imminent.
Here are the rest of the photos I snapped on Christmas Day...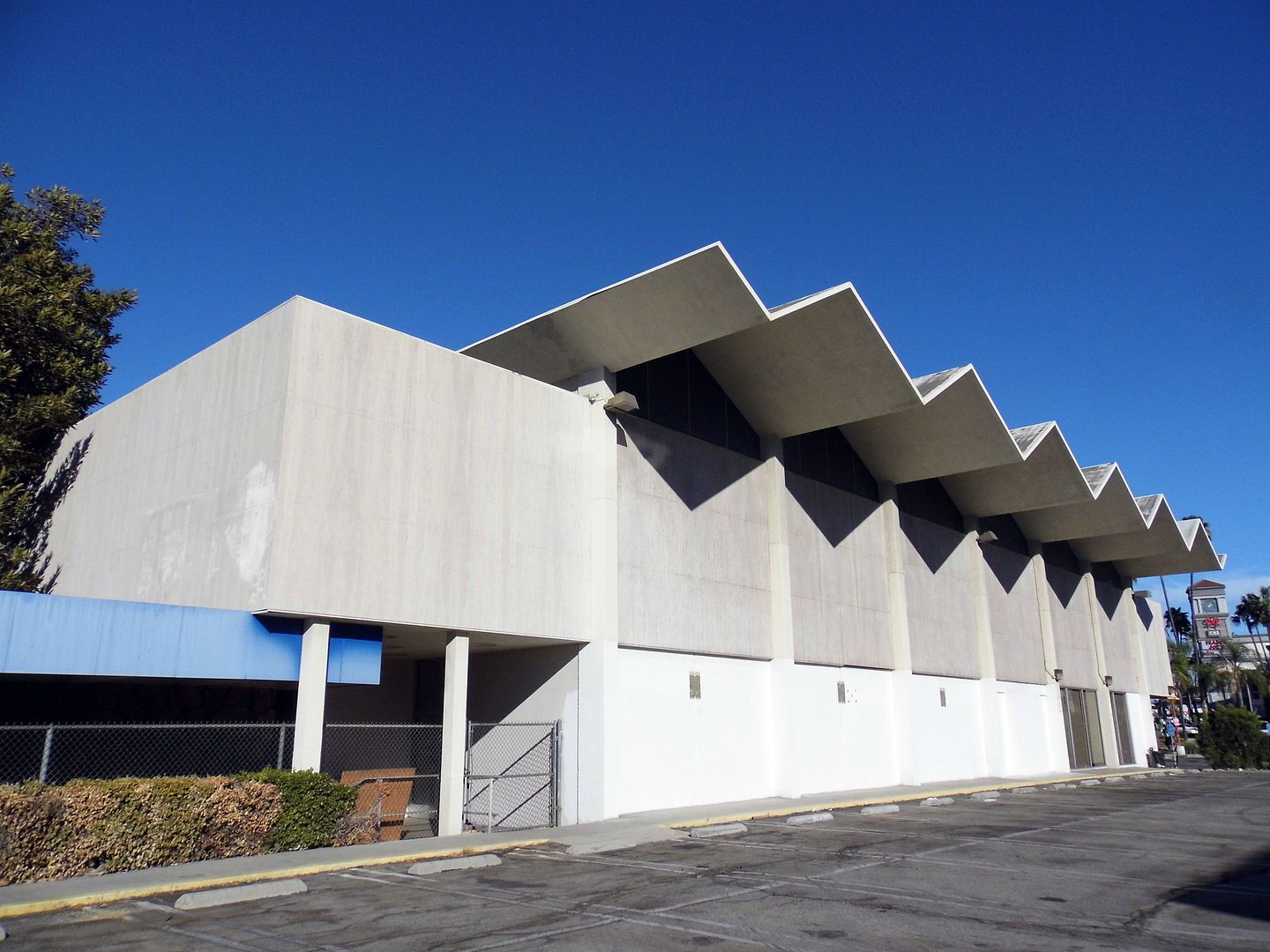 ...on what will probably be my last visit to the site...
...while the structure is still standing.