[Last updated 7/8/22 10:34 PM PT—info on sculpture removal added]
[Last updated 12/13/21 11:04 AM PT—info on stained glass removal added]
The largest of Millard Sheets's mosaic murals commissioned by Home Savings and Loan
is
was on Wilshire Boulevard in Santa Monica.
It's
It was the only such work by Sheets (essentially, a bank commission) in Santa Monica.
And although Home Savings closed in 2000 after operating here for 30 years, this bank branch still stands
and operates as a New Balance athletic footwear store
—though possibly
not for long
.
Many of the other Home Savings branches similarly commissioned of Millard Sheets—the
movie-themed one on Sunset and Vine
, the neoclassical one from 1953 on Wilshire in Beverly Hills, Sheets's first—were eventually taken over by Chase Bank.
But this one, "Pleasures Along the Beach"—also clad in travertine and trimmed with gold ceramic tiles—tells a story uniquely curated for Santa Monica, of bikinis and beach play and fun and sun.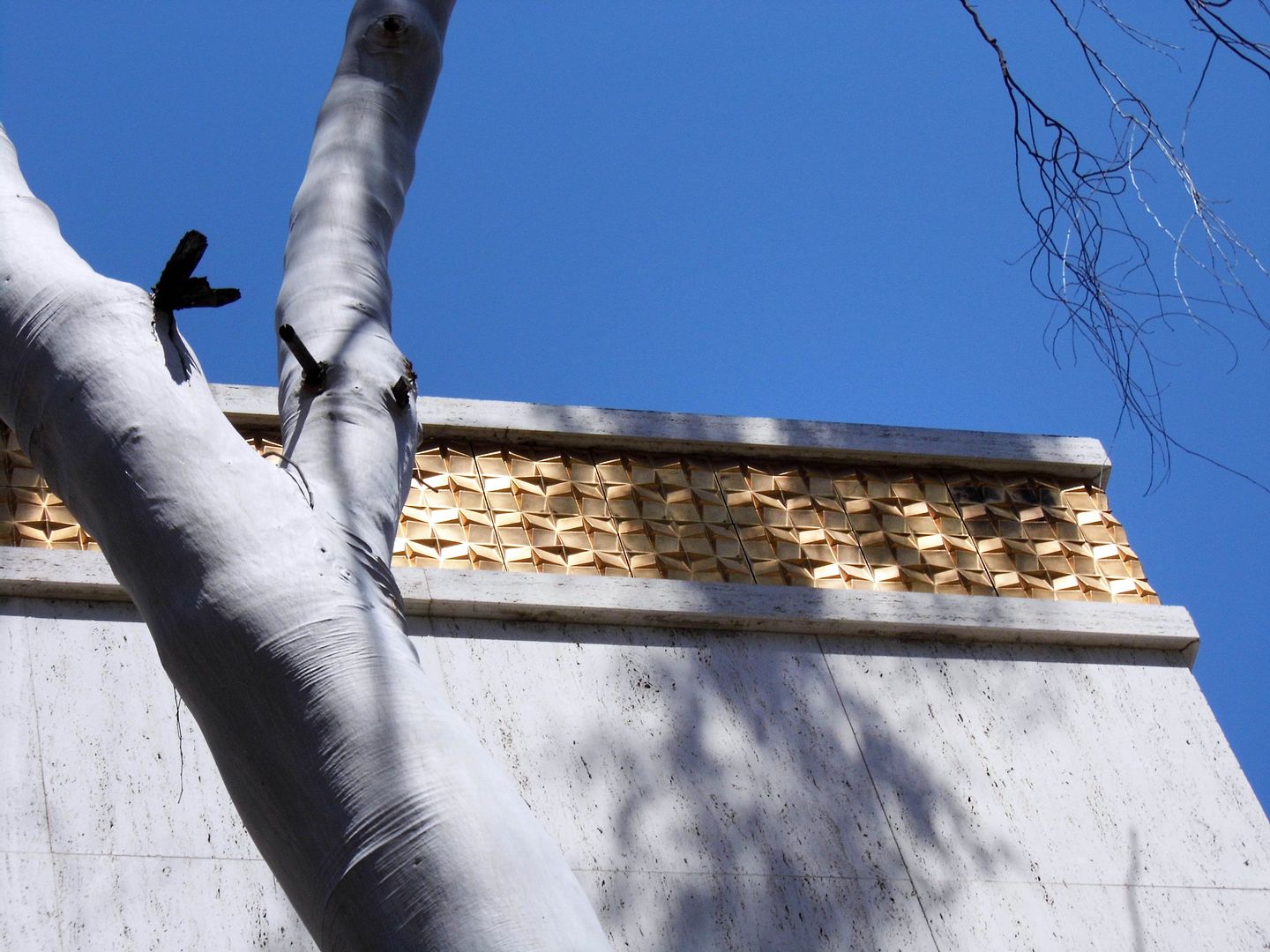 So, it's no surprise that it would eventually be taken over by a sporting goods store (after stints as a mattress retailer and a cell phone shop).
In its current iteration, the facade is only slightly marred by commercial signage—but unfortunately, although the interior stained glass (by Susan Hertel) was still there, it was obscured by a panel.
Even if you knew it was there, and even if you craned your neck to look up at it, it'd be kind of hard to see.
[Update 2021]
For a long time, there was no public talk of saving the stained glass—though it was as much a part of Sheets's architectural design as the mosaic tile on the frontage.
But on December 5, 2021, the panels were removed and went into storage until they can find their next "forever home"—which is TBD but would need to be able to accommodate a window that's 14 feet high and 40 feet wide.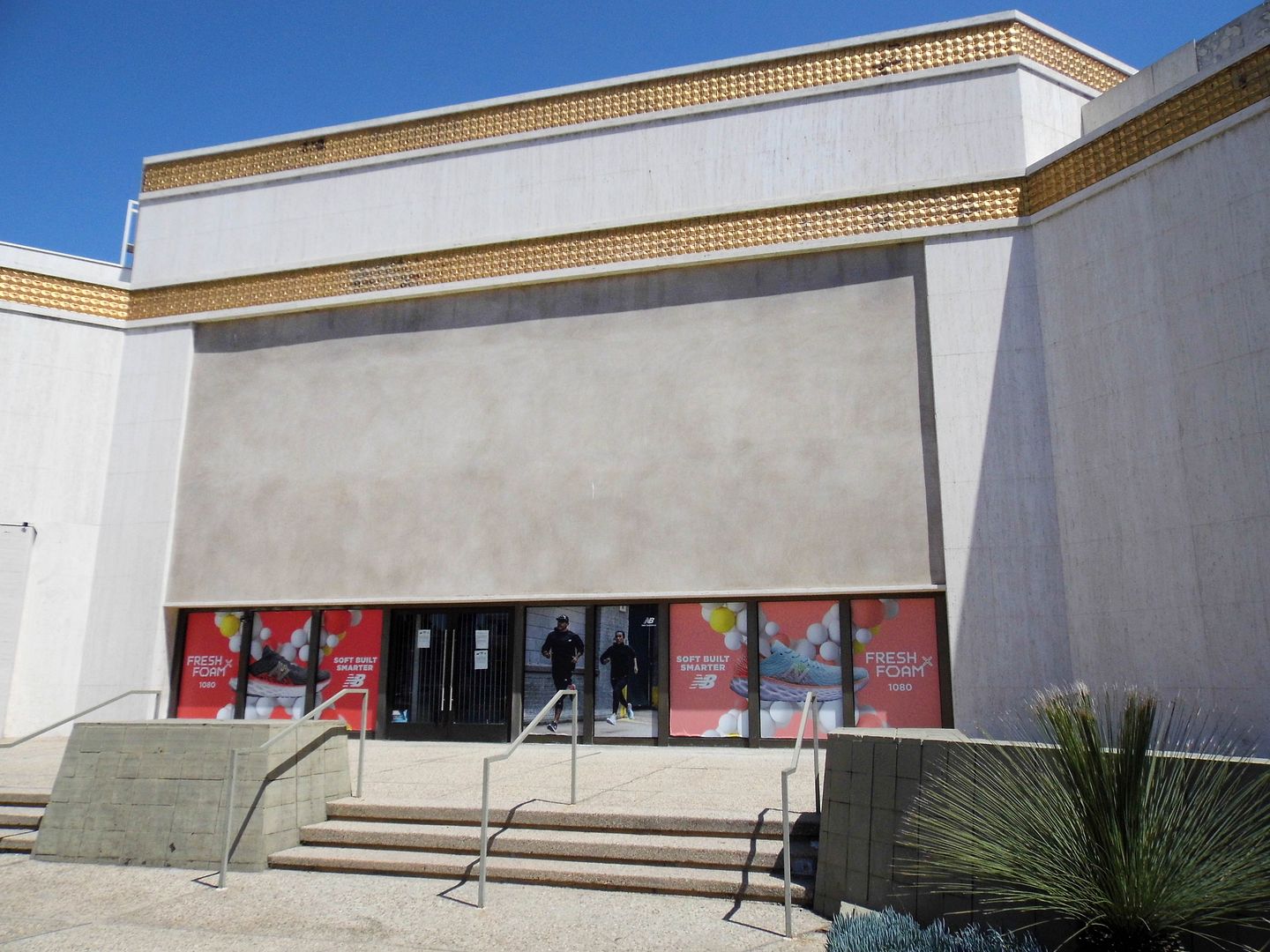 The mosaic was removed from the building in 2020, relocated to the collection of the
Hilbert Museum of California Art
at Chapman University in Orange, CA—because developers have gotten their wish to
demolish the structure
(despite the fact it was designated a
City Landmark
in 2013).
The bronze sculpture out front (originally a fountain)—"Family Group at the Beach" by Richard Ellis—has also been removed, replaced as of November 2019 by
Ed Massey
's 7-foot-tall depiction of a homeless man, "In the Image" (1998-2001).
[As of driving by on 7/7/22, this sculpture has been removed and the building still stands.]
Does it matter that this particular Home Savings design by Sheets—one of his last—was
one of his least favorites
?
Referring to the mosaic out front, Sheets
told an interviewer
, "I don't think it's one of the greatest, but it's a satisfactory mosaic."
Satisfactory is hardly enough to rally the troops to preserve such a thing.
But maybe it doesn't matter what Sheets thought. He's been gone for nearly three decades. Maybe he would've changed his mind by now.
In 2013, one preservationist on the Landmarks Commission argued that Sheets' opinion was irrelevant—that it didn't matter if he "winced" every time he drove by, because once it had been created, it entered the public domain.
And it's only the public—namely, the community of Santa Monica—who can really say one way or another right now.
In the end, though, that's just a matter of opinion. Legality is an entirely different matter. It always is.
Maybe that's why the Landmarks Commission overturned its original designation in November 2016. The Santa Monica Conservancy appealed in March 2017 and won—much to the chagrin of the building owner.
The owner
, however, persisted in the challenge of the landmarking—and the Santa Monica City Council
voted unanimously to settle the matter by setting aside the landmark designation
(translation: allow for demolition) as long as the artworks can be preserved and donated.
The term of the settlement is five years. A lot can happen in five years. But as we've seen in the past, real estate developers tend to get rid of the old before they quite figure out what to replace it with (or how to finance it).
Related Posts:
Photo Essay: Upon the Opening of the 2018 LA County Fair
Photo Essay: The Temple Abandoned by the Scottish Rite of Freemasonry