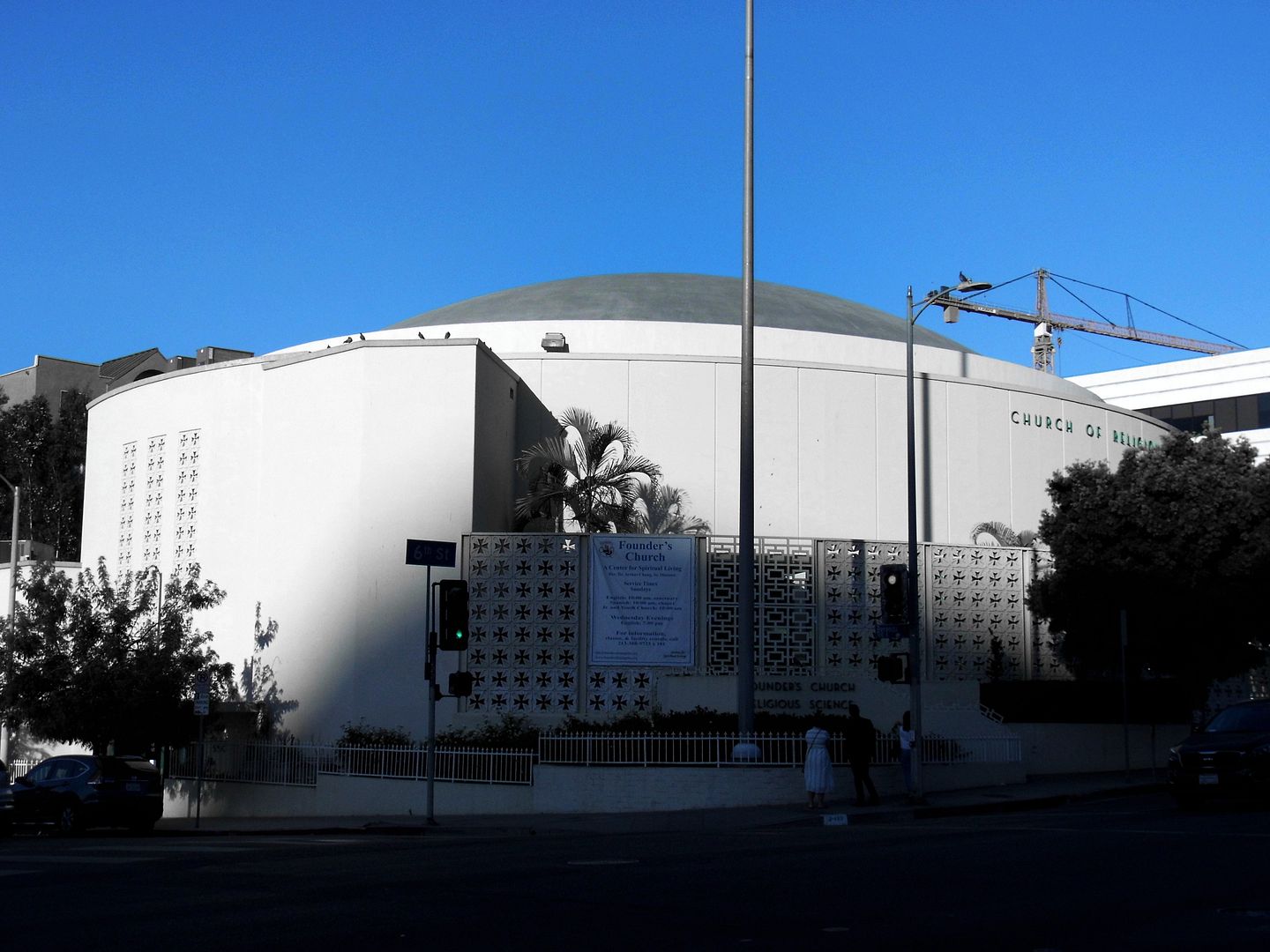 "What is God? Who am I? Why am I here?"
Don't we all ask those same questions of ourselves at some point?
And yet no one seems to have come up with the answer—though plenty have tried.
One such philosopher was a mystic named Dr. Ernest Holmes, who went on to found the practice of Religious Science in the 1920s as a a spiritual, philosophical, and metaphysical movement.
Dr. Holmes resisted calling it a "church," thinking of it more as an educational opportunity to encourage the arts and teach what he called the "Science of Mind"—a New Thought philosophy or positive spiritual principles that addresses the way God works in the world.
In fact, his congregation met for services at theaters, like
the Wiltern
, the Wilshire Ebell, and what's now the Hayworth Theatre (a playhouse that opened in 1926 as the Masque Theatre).
But a church it became—the Founder's Church of Religious Science, to be exact—and it grew into an international organization.
And now, the church
building
that Dr. Holmes commissioned in 1958 has just been added to the National Register of Historic Places—announced this year on February 3, exactly 60 years and one month since its dedication.
The Founder's Church project in the Wilshire Center/Koreatown neighborhood of Los Angeles first broke ground on March 3, 1959—and just 10 months later, it was officially dedicated (on January 3, 1960).
Though Founder's Church is now A Center for Spiritual Living—one of nearly 400 such centers throughout the world—the building itself has retained its historic integrity, with minimal alterations.
It's earned its landmark designation (both nationally and locally, as Historic-Cultural Monument #727)—and not only as a unique example of ecclesiastical architecture.
It's also
one of the few religious structures designed by master architect Paul Revere Williams
.
And the way he evoked post-war Modernism in creating it really caused a splash on 6th Street, just one block north of Wilshire Boulevard.
Instead of the typical cruciform shape found in many church buildings,
Williams
designed the building in an elliptical shape—highlighted by a 110 feet-long domed roof. According to Dr. Holmes, the ellipse was the "
perfect symbol for the wholeness, unity, unending and all-inclusive
power of love
" that were basic to his teachings.
Despite its geometric simplicity, the unusual oval form presented some structural and engineering challenges—not the least of which was the more than 30 tons of structural steel that builder George W. Carter (of Carter Company Contractors and Developers) needed to complete construction of the reinforced concrete dome.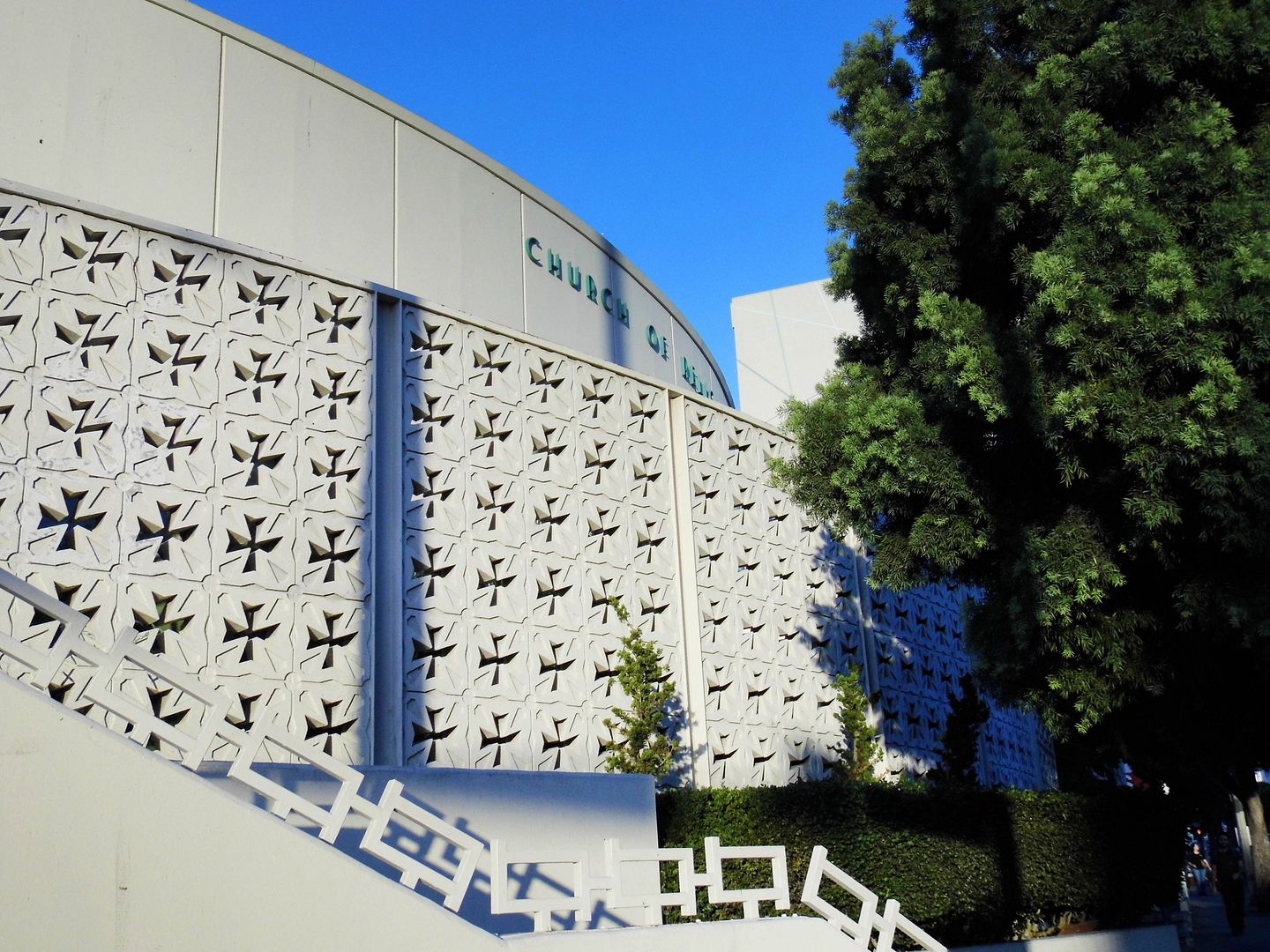 In line with the Mid-Century Modern movement, the concrete exterior walls lack embellishment...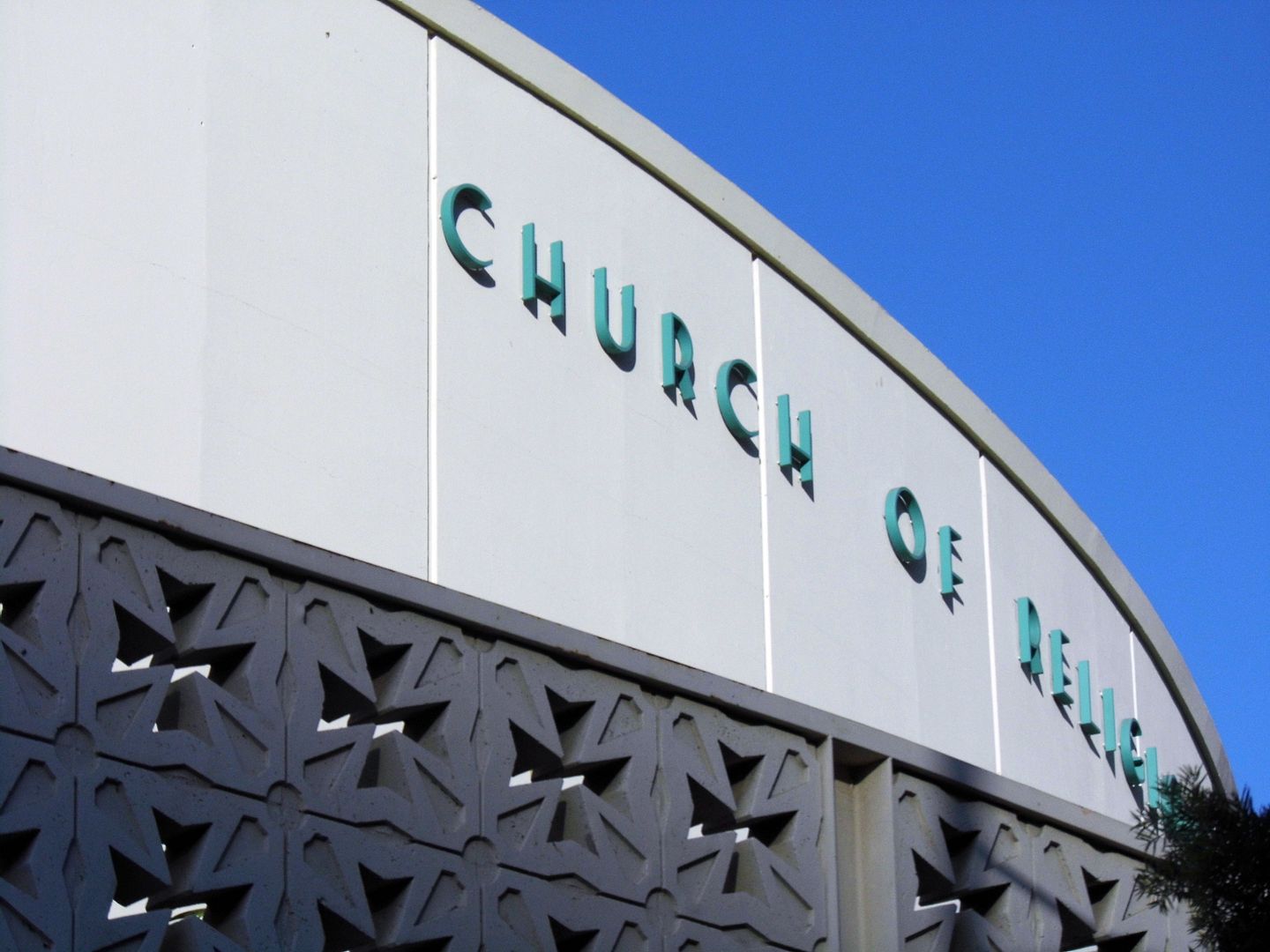 ...save for the metal lettering.
A 14-foot-tall breezeblock wall runs along the perimeter, providing a kind of Modernist cross pattern in concrete.
Place a hand on one of the wood-and-metal door pulls, and you find yourself entering a curved lobby...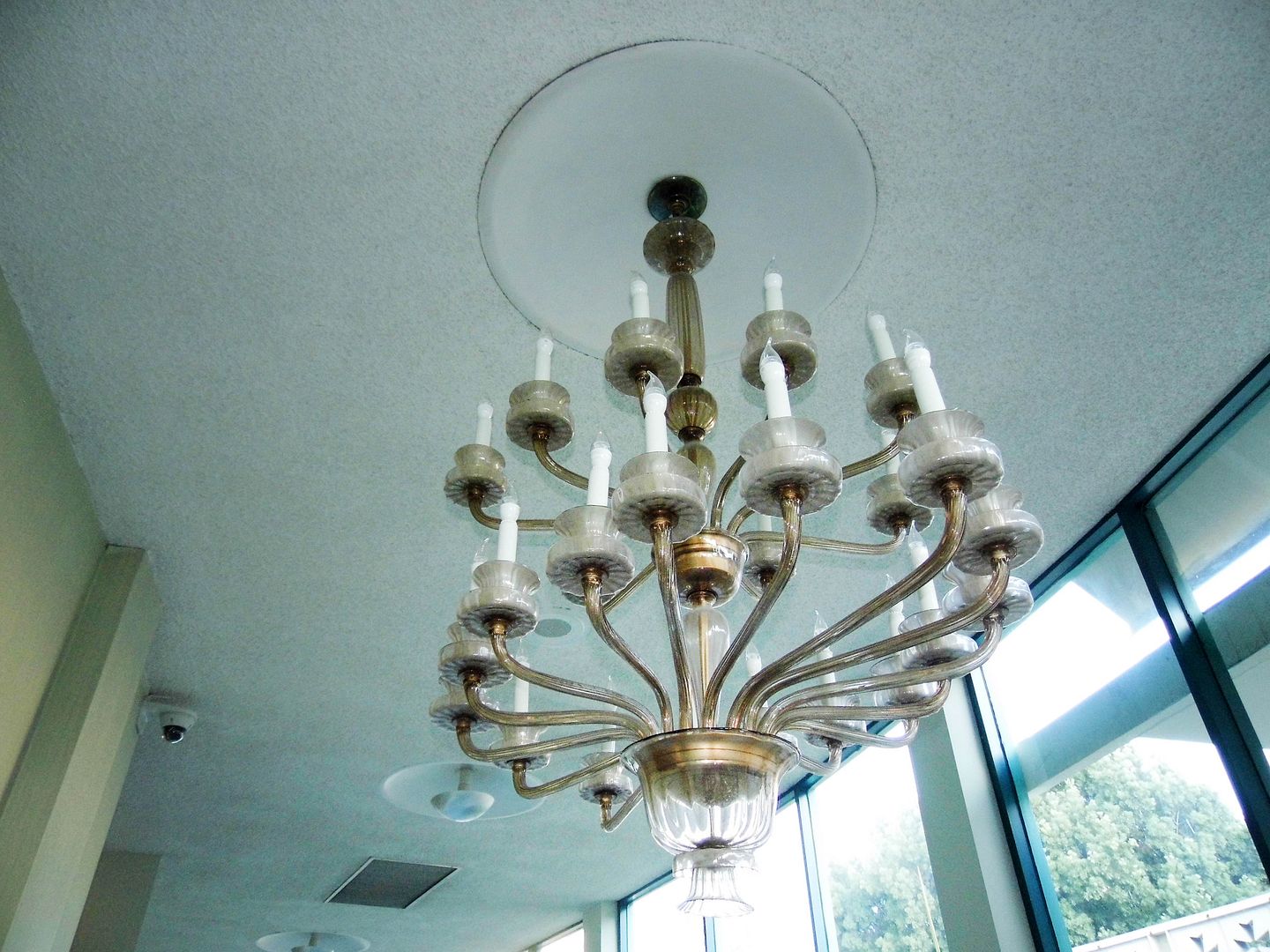 ...which is largely day-lit, thanks to the floor-to-ceiling glass walls that face the outdoor garden and forecourt area.
The main sanctuary seats a total of 1,483 (522 in the balcony), which is in addition to a lower chapel (added in 1964) that seats an additional 400. There's a remarkable absence of conventional church pews, with the congregation getting cushy upholstered seats, like at the movies or a show.
The theatre-style auditorium's ceiling is four stories high...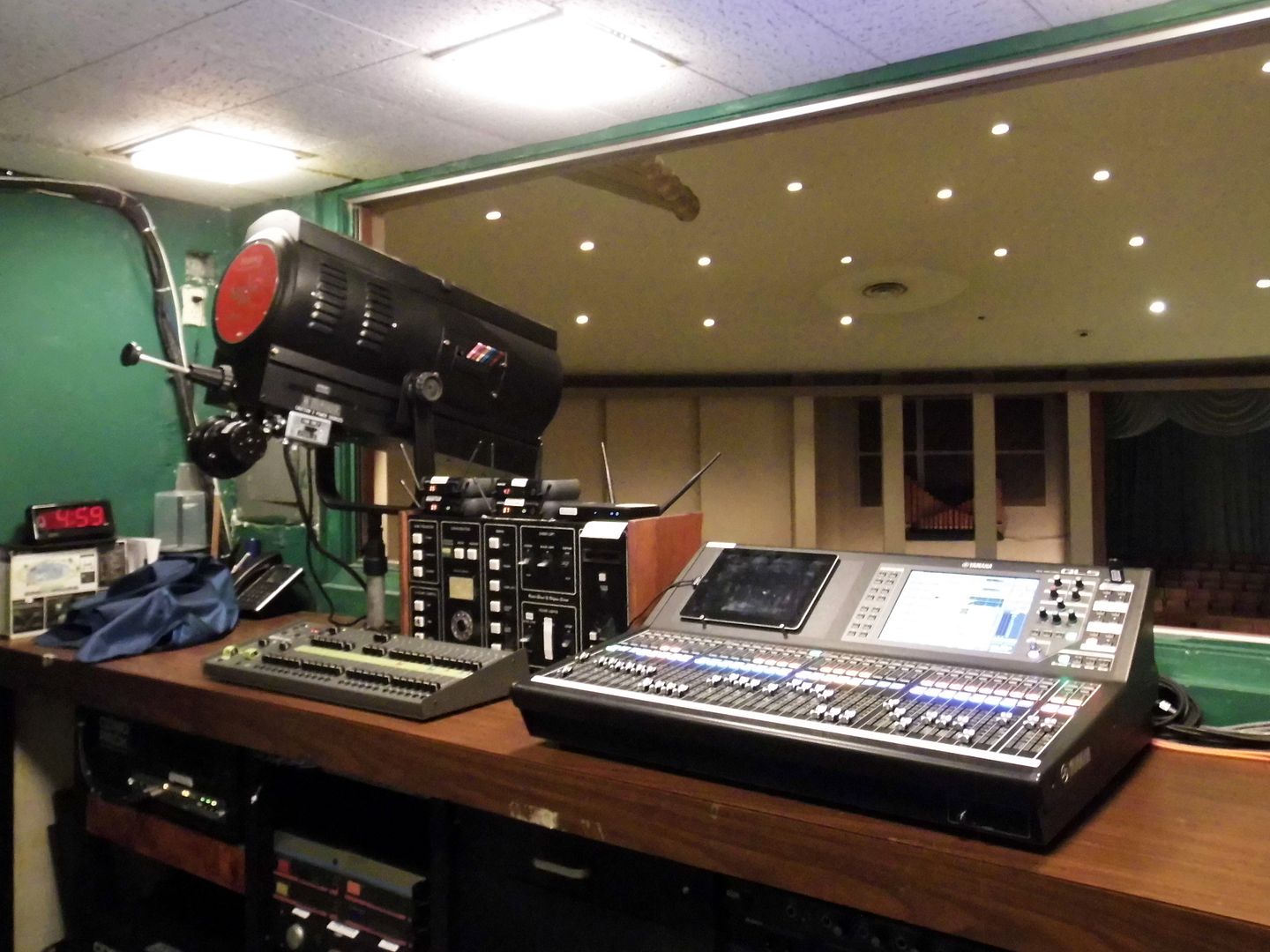 ...and at the top, you'll find a projection booth, just like at a theater.
Outside the projection room (used mostly for lighting) is a set of reed stops for the pipe organ that have been mounted horizontally—and are notoriously like a really loud set of trumpets, hence the name "
Trompette en Chamade.
"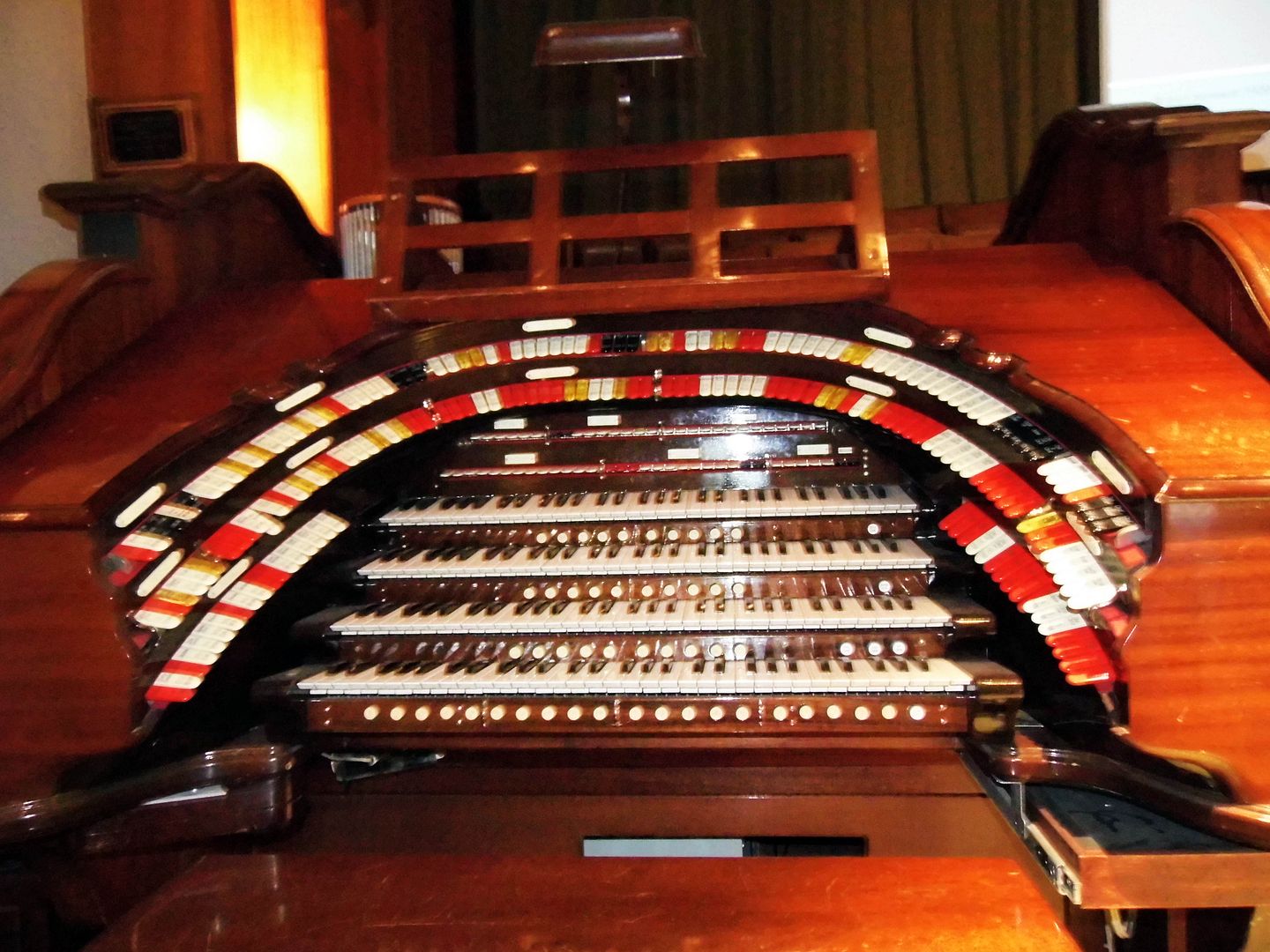 What provides the music here isn't a church organ—but a 4-manual/31-rank Wurlitzer theatre organ. At the Founder's Church since 1984, the horseshoe-style console relocated here from what's now the North Shore Center For the Performing Arts just outside of Chicago.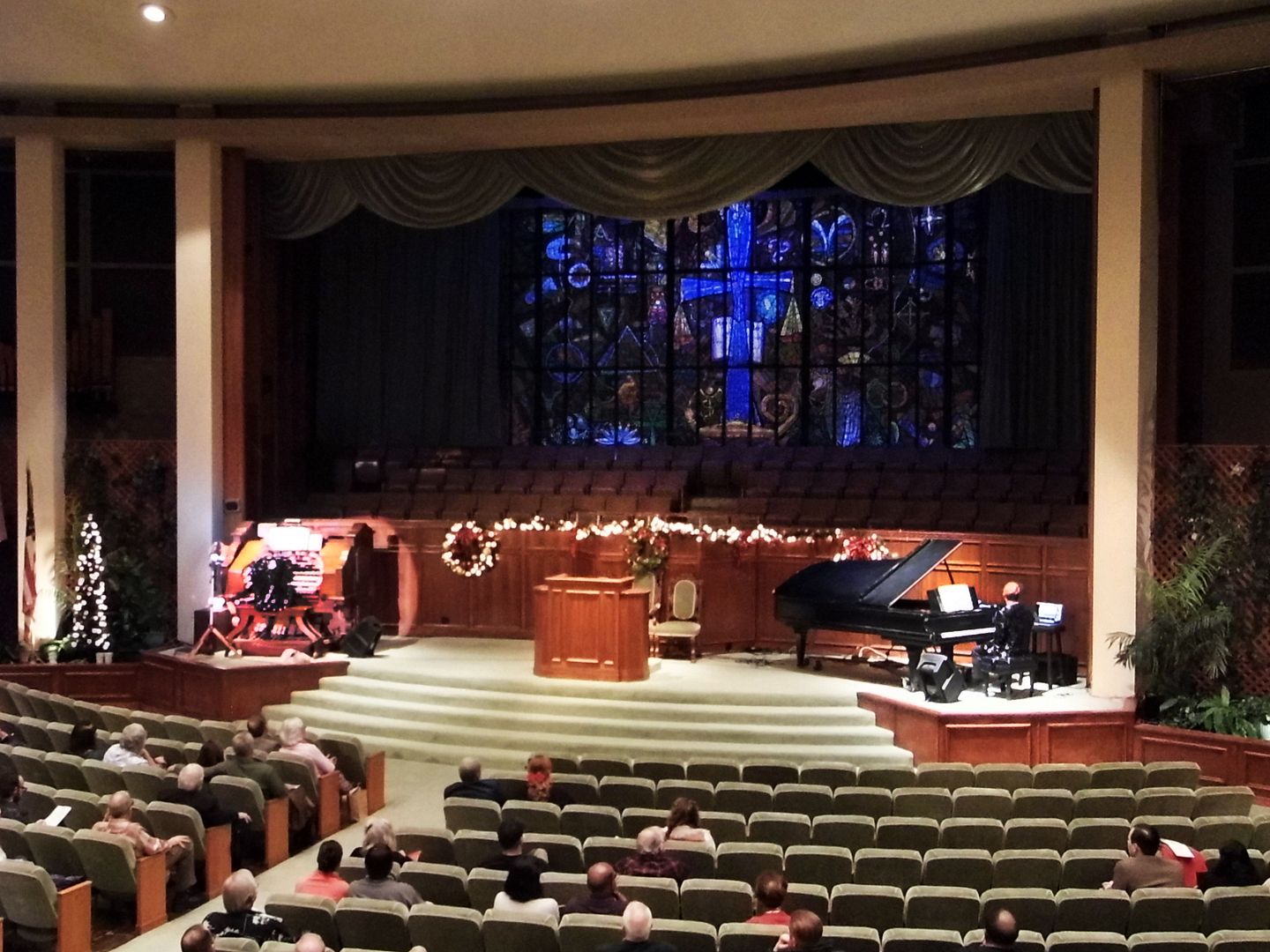 But the
pièce de résistance
of attending a service (or organ concert) at Founder's Church is curtained off, behind the choir loft—"The Wisdom of the Ages" mural by Hollywood set painter (also actor and minister of Religious Science) Wallace Roland Stark.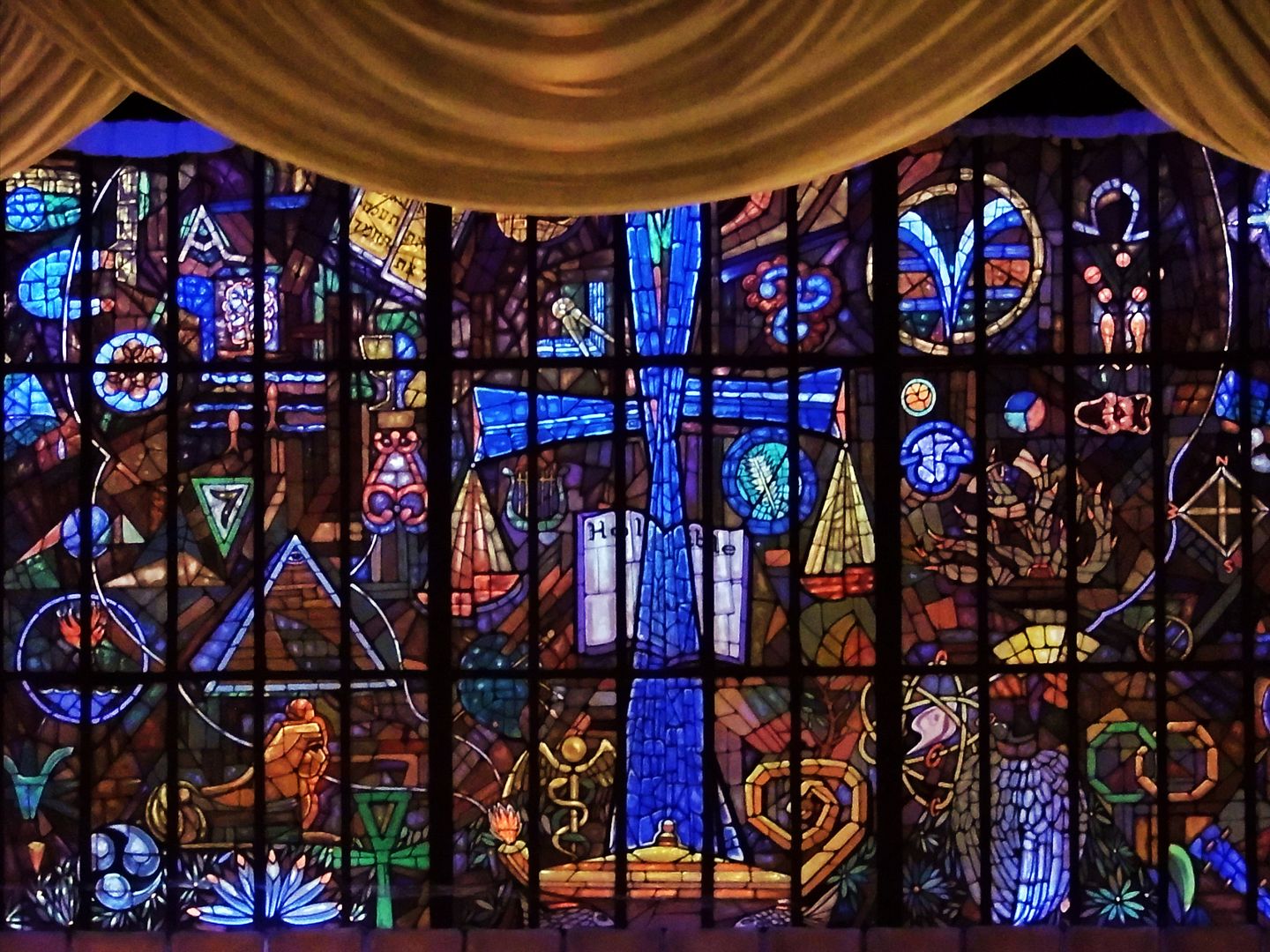 Added later in the year in 1960, the painting glows like stained glass—but only under UV or "black" light, thanks to a special kind of light-sensitive paint. Reportedly, Dr. Holmes was an avid student of symbology and collected over 100 different symbols of spiritual, artistic, scientific achievement for Stark to incorporate into it.
At the center, there's the Eternal Cross of Life—an ankh disguised as a Christian cross—positioned in front of the Holy Bible, above the Lamp of Knowledge, and surrounded by an olive branch (for peace) and the Egyptian symbol for The Healing Arts.
You can also see the burning bush from the Old Testament and the "loaves and fishes" from the New Testament—as well as concepts from Islam (crescent), Buddhism (lotus flower), Taoism (yin yang), Judaism (Jehovah), and Freemasonry (the square and compass). (
For a key to 77 of the 102 symbols, scroll to the last page on this document.
)
At Founder's Church, science is inextricably linked to religion—and therefore everything from botany, geology, and metallurgy to mathematics and even "outer space" gets its due.
As an all-embracing institution, it's acutely aware of the cosmos and its connection to spirituality. Whether that means studying the Universe as a whole or just acknowledging other dimensions, I don't know—and couldn't possibly have learned during my two secular visits there.
But there is something very intriguing about it.
Related Posts:
Photo Essay: Angelus Temple, A Theater for the Evangelized
Photo Essay: Sin City's Guardian Angel Cathedral