The California Theatre in Downtown San Diego is on death row.
Demolition permits were granted in April 2017. Construction on a new development that would take over the historic site was supposed to start last month and be completed by 2023.
And yet there it stands, a ghost-in-waiting—not in purgatory or limbo, and not even on life support.
It's been hanging on by its own volition since it closed for business all the way back in 1990—thanks only in part to it being added to San Diego's Register of Designated Historical Resources that same year.
But somehow, its designation as a local landmark hasn't been enough to get it a stay of execution.
Even though the required
environmental impact report
(EIR) of razing the structure failed to comply with the
California Environmental Quality Act
(CEQA).
That only bought preservationists some time. But they haven't been able to get clemency granted for the historic structure.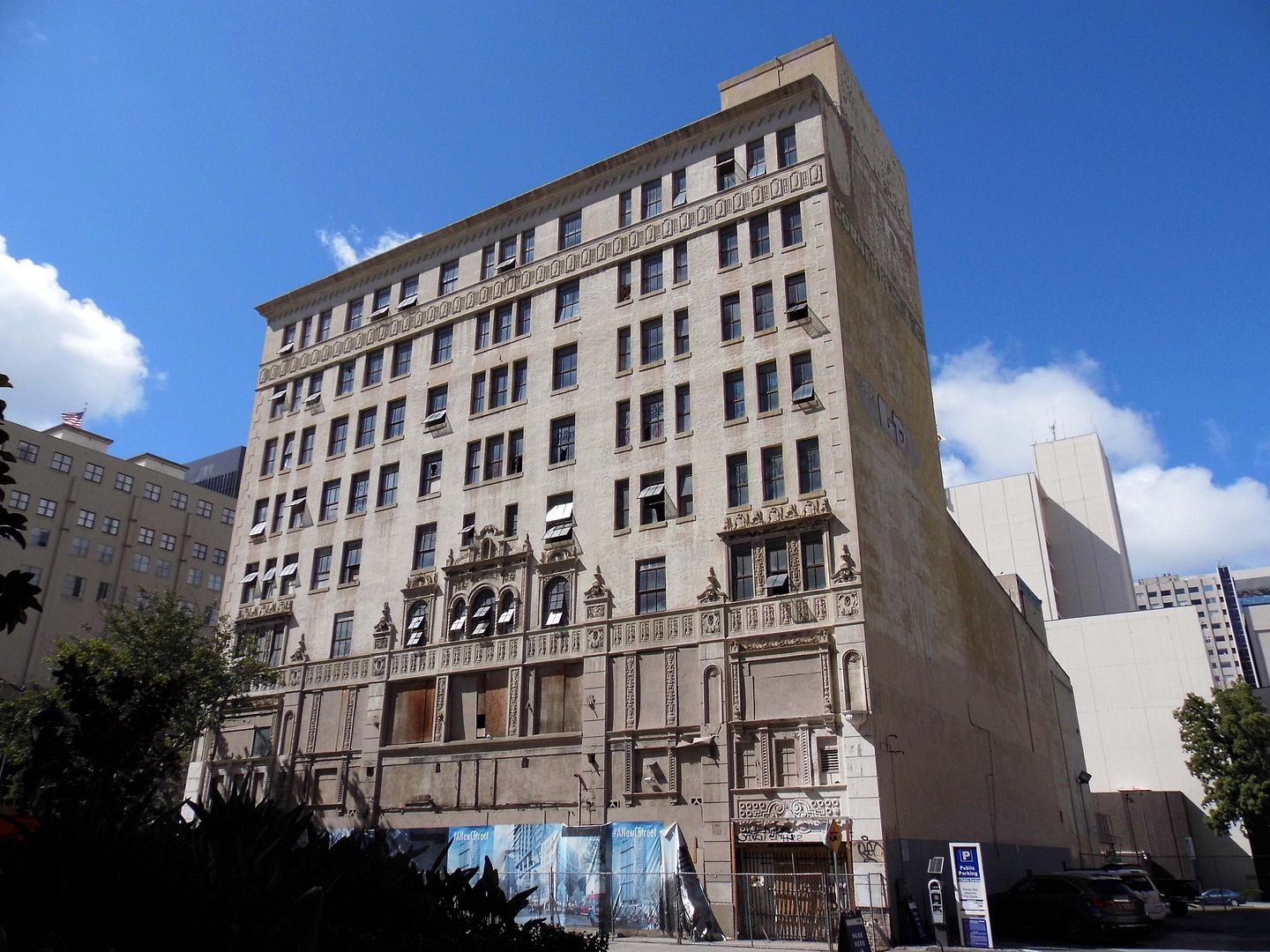 Maybe it's because it occupies prime real estate in Downtown San Diego—almost half a block of it—right across from city hall in the C Street corridor. It's a section that's been called San Diego's "Boulevard of Broken Dreams"—and calls for the buildings demolition insist that removing the so-called "blight" will help upgrade the street from a "C" to an "A." [
insert groan here
]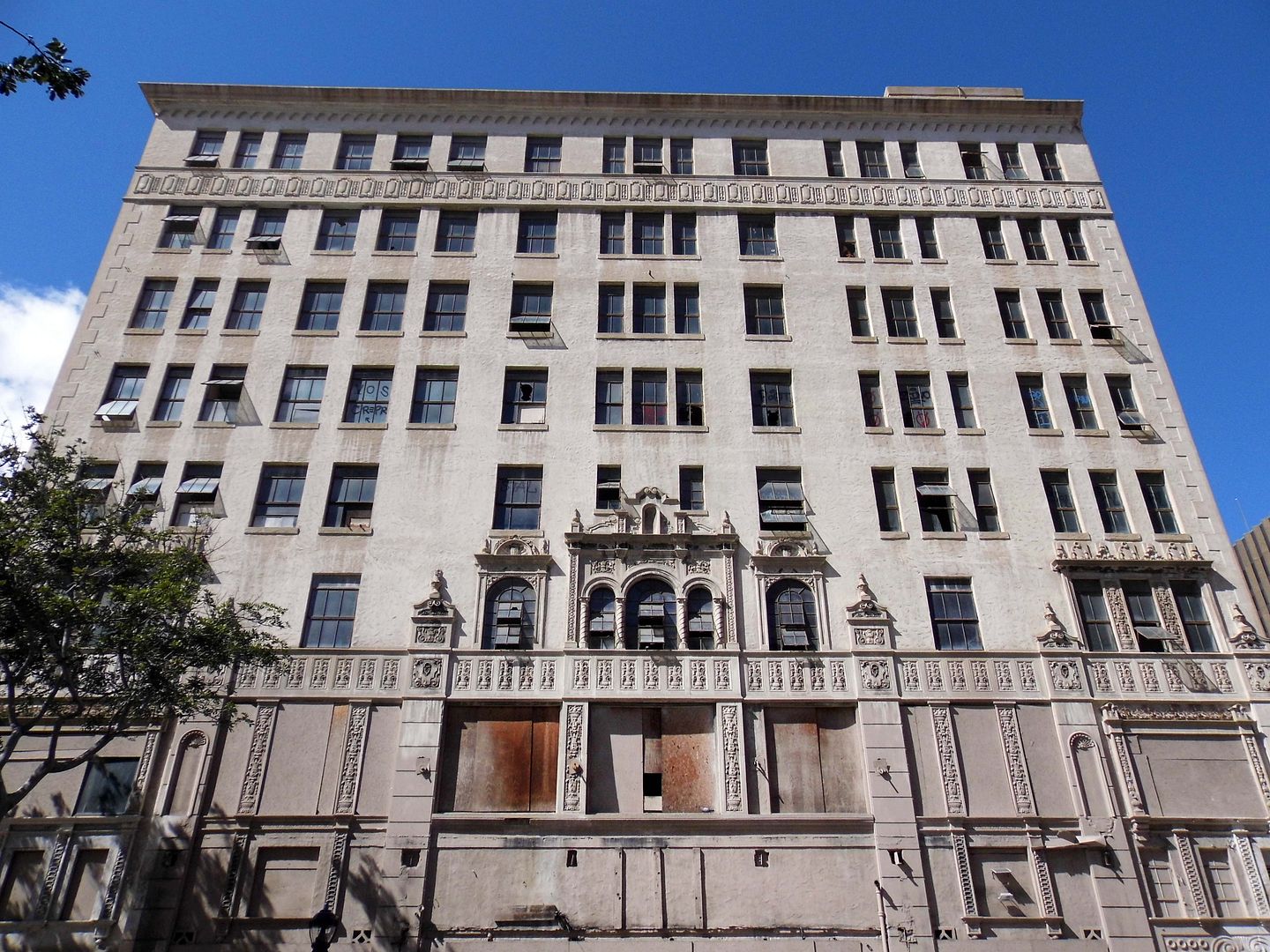 An
online petition
called the area "frightening to tourists and residents," with frequent mentions of dangerous, drug-carrying "vagrants" and "transients" who use the sidewalk as a bathroom and break all sorts of other laws. It claims that the California Theatre is the crux of the problem—and "the
only
answer to this blighted sight" (emphasis mine) is this new development.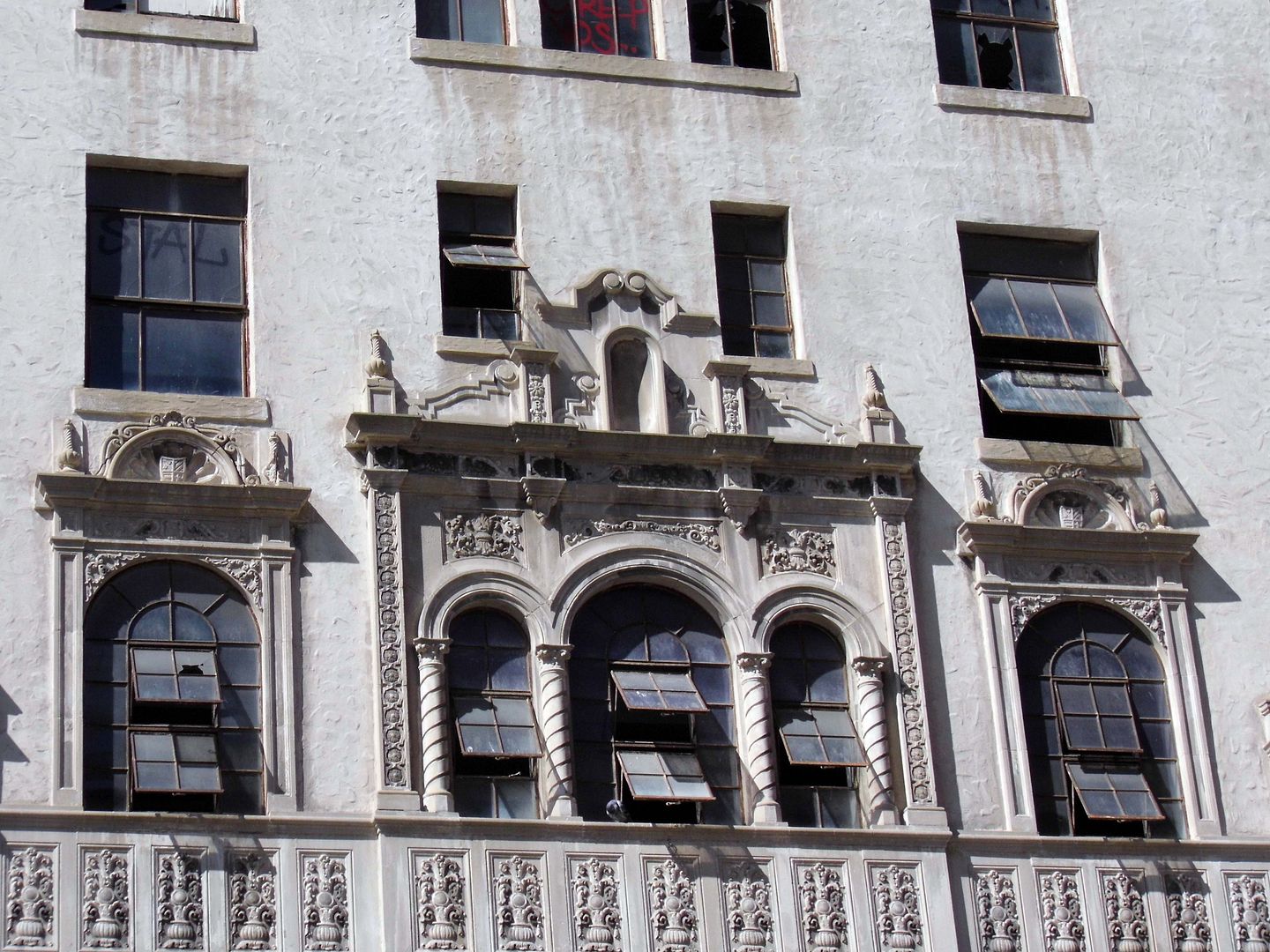 But who and what let the California Theatre get this way? And who let the neighborhood devolve into such dangerous territory that you supposedly can't walk through it? After all, it opened in 1927 as San Diego's
premier
movie palace—a Spanish Colonial Revival style single-screen theatre that the
San Diego Union
newspaper reported to be "
more imaginative and dreamlike than anybody's Spanish castle.
"
Designed by architect
John Paxton Perrine
for Fox-West Coast Theatres, and built by Edwards, Wildey and Dixon Building Contractors of LA at a cost of $340,000, the 9-story office building boasted a women's apparel store (Bernard's Inc.) on its second floor as well as the largest vaudeville (
discontinued in 1937
) and movie palace in San Diego at the time, with the capacity to seat 2200. Obviously, the neighborhood was once able to draw quite a crowd.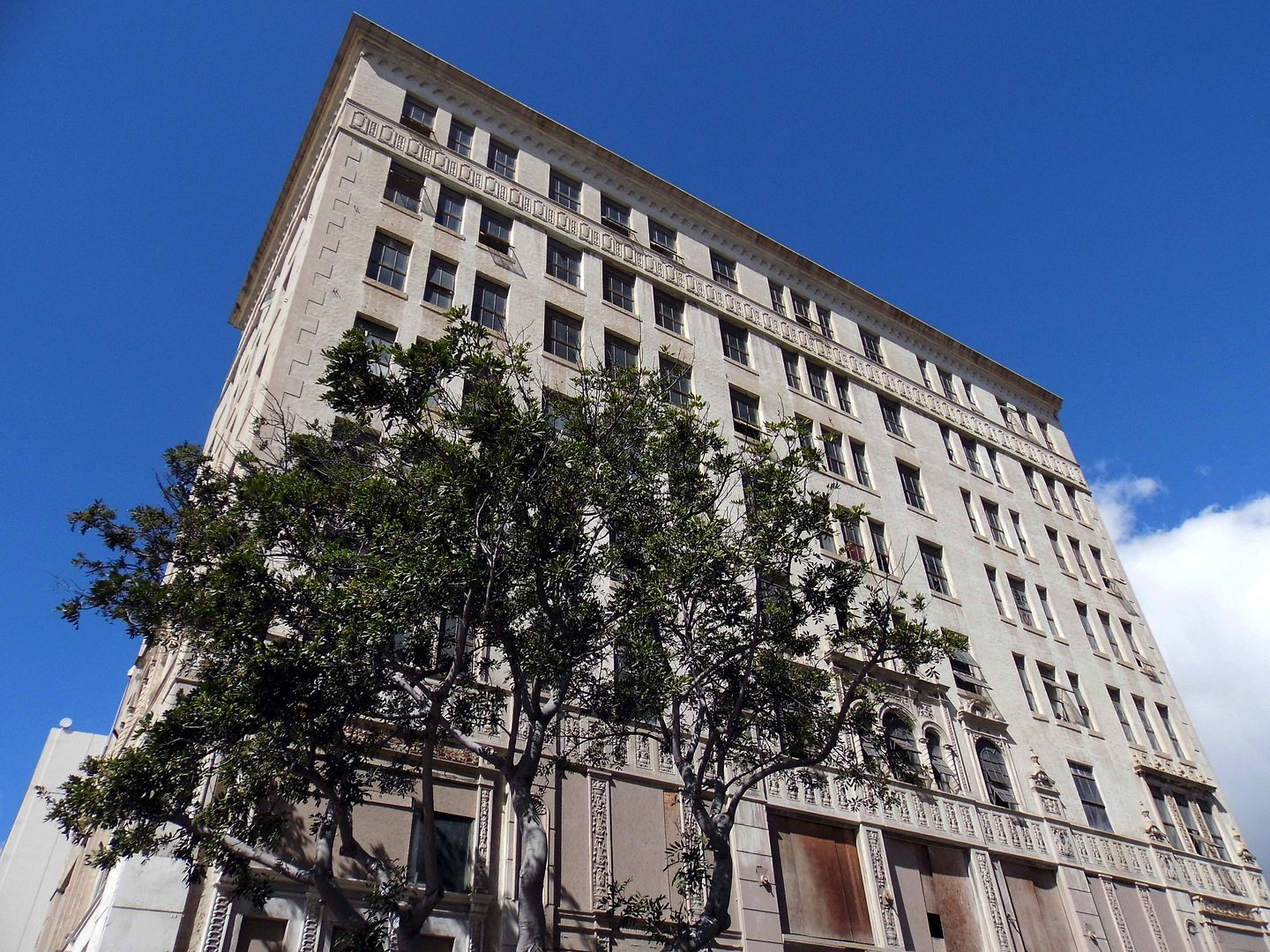 Although it opened as the "
New California Theatre
" (because the
other
California Theatre in San Diego didn't change its name to The Aztec until 1930), it's unmistakably been
The
California Theatre for San Diegans—starting with its grand opening of the silent, black-and-white film
The Venus of Venice
, accompanied by a huge Wurlitzer theatre organ (relocated and now long gone).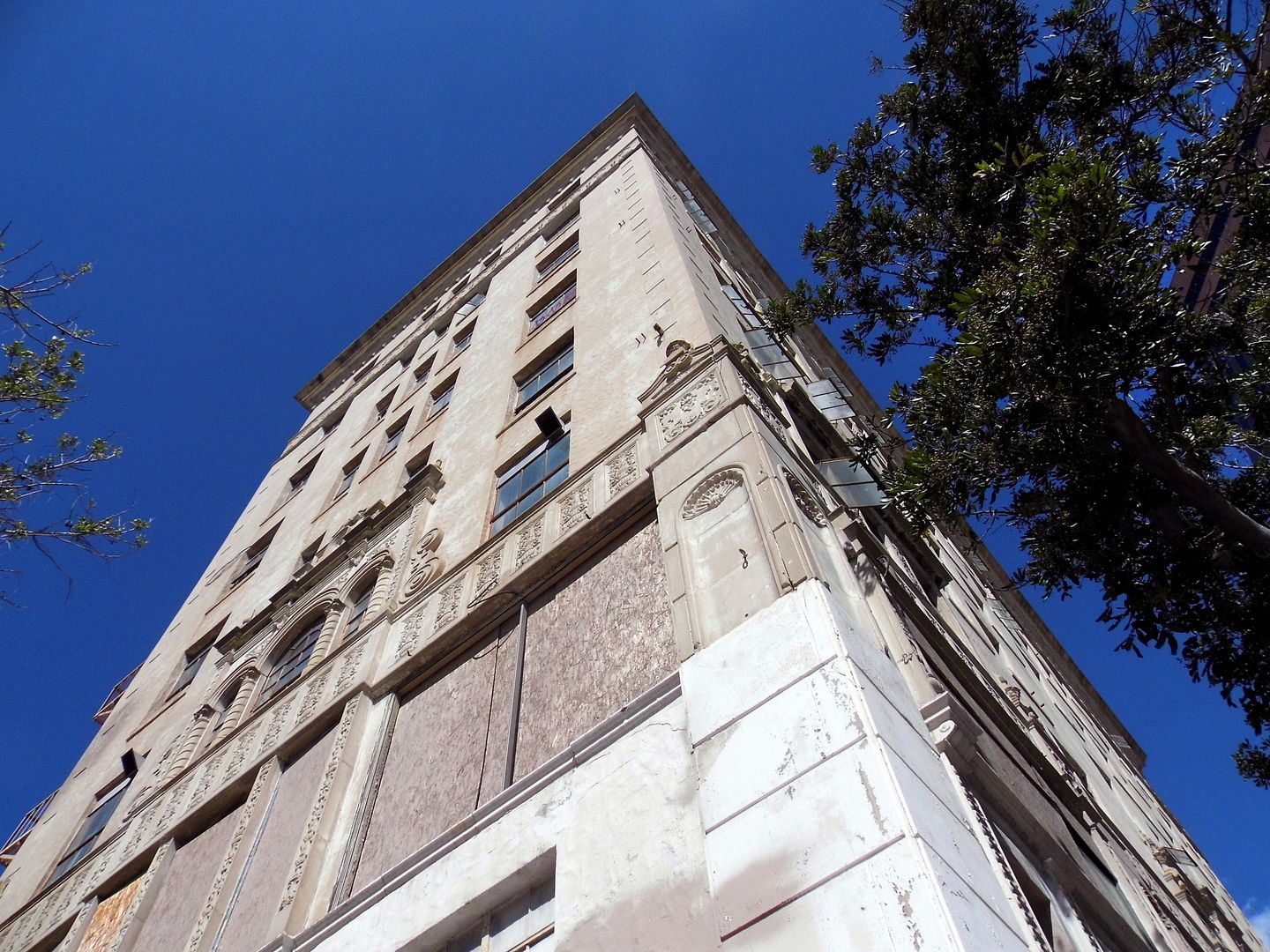 The last operator was Mann Theatres, which ceased its movie screenings in 1976. After a stint as a shabby concert venue and a renovation in 1988, it finally shuttered for good in 1990. That
seemed
like the death knell for the California Theatre, which everybody expected to be demolished any day after that.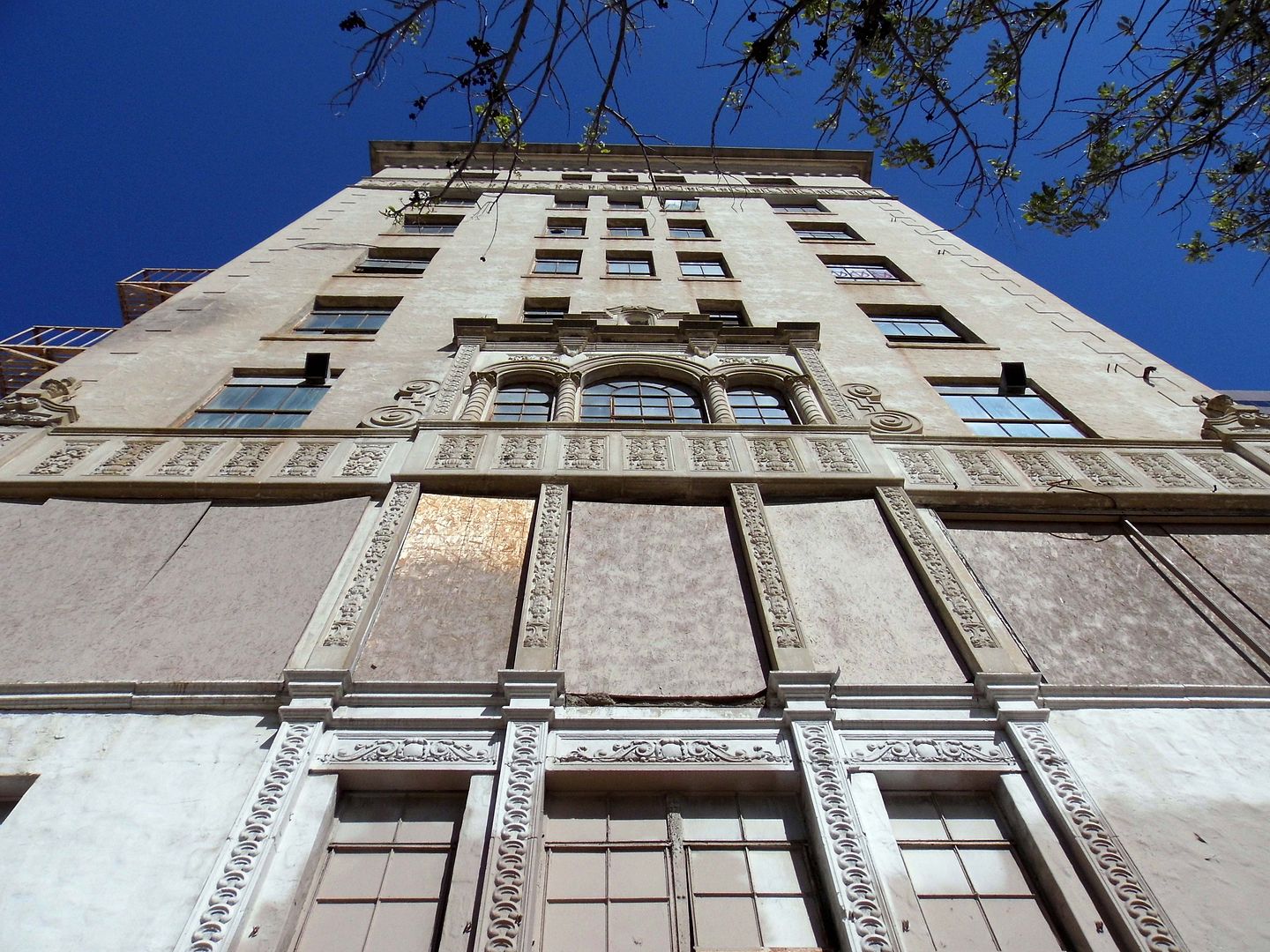 But by 2006, the owners had foreclosed, and investors Sloan Capital Partners of Beverly Hills took over the lease. The 2008 recession put the kibosh on any plans for new development—and in the meantime, leaving the site exposed to squatters, rodents, pigeons, and weather resulted in devastating water damage. It was a stunning example of demolition by neglect—conveniently making restoration costs an estimated $40 million and therefore better economical sense to start from scratch and build anew.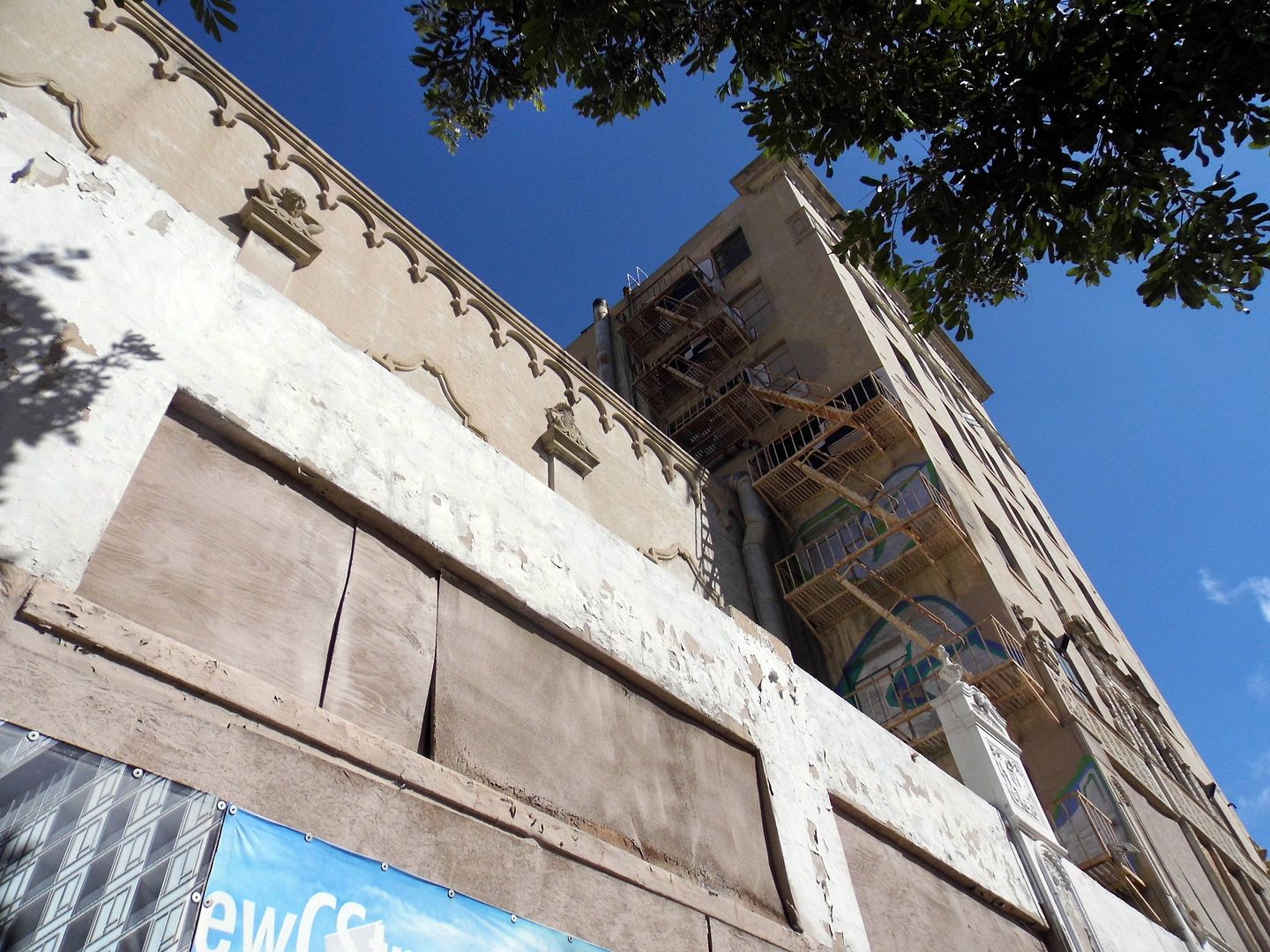 So now, it appears that the California Theatre will have to make way for the largest-ever Downtown San Diego condominium tower—a 40-story, 474-foot high-rise with 444 residential units, plus retail space at street level.
It was supposed to be called "The Overture"—developed by Caydon Property Group from Australia—but its social media presence (including hashtags) has stalled.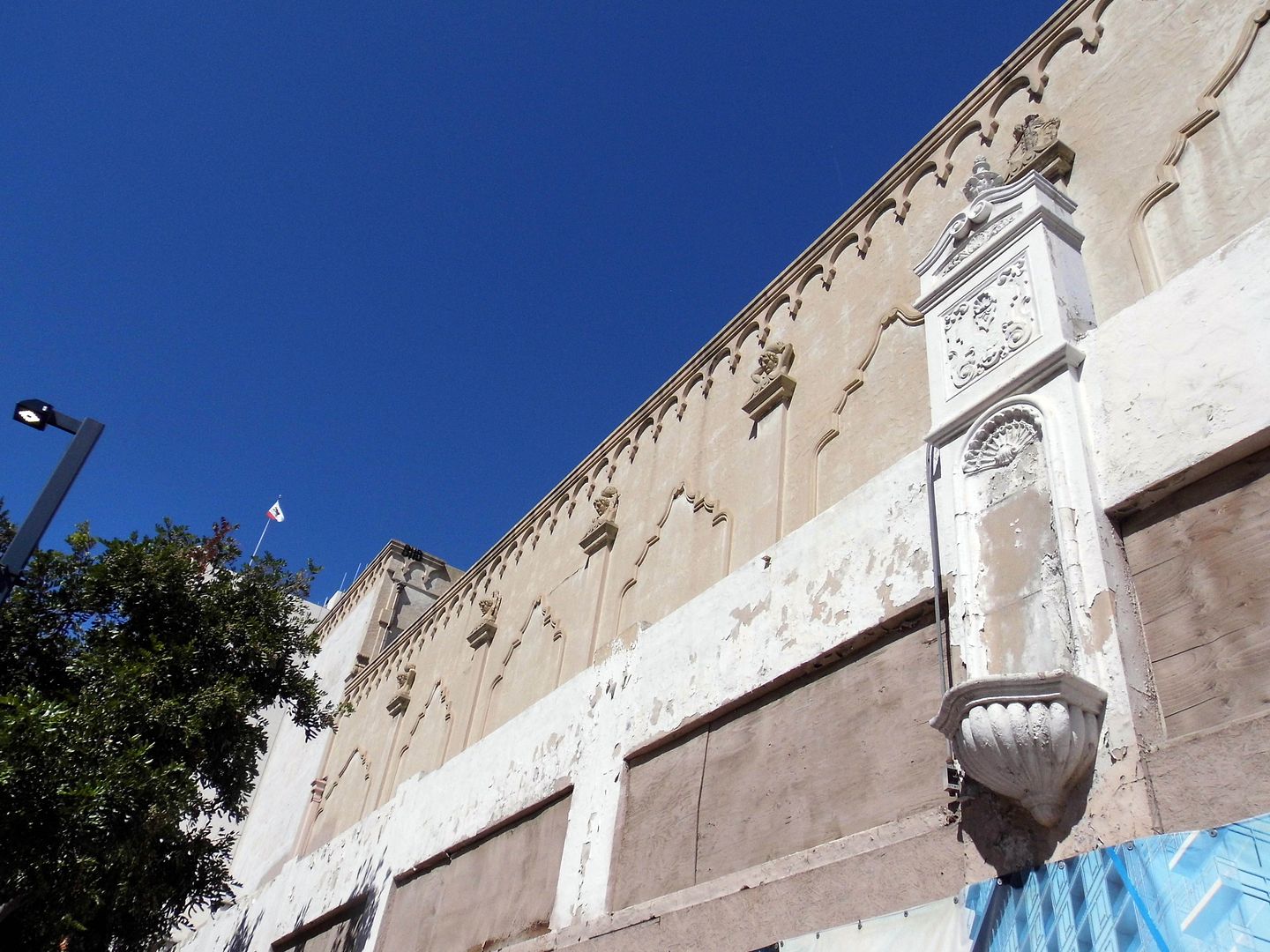 By all available reports, though, it appears as though the new development will preserve some of the building's exterior and lobby—but how much is debatable. Will it be a "façadectomy," as with the
ghost wing of the Alexandria Hotel
in Downtown LA? Or will it be a "faithful" reconstruction?
Maybe some combination of both—as reports state that it will reconstruct the lobby in its entirety and rebuild much of the exterior to look exactly like it was, based on laser scans.
There's one thing that's for sure—the interior and new tower will be modern, and there will be no theater.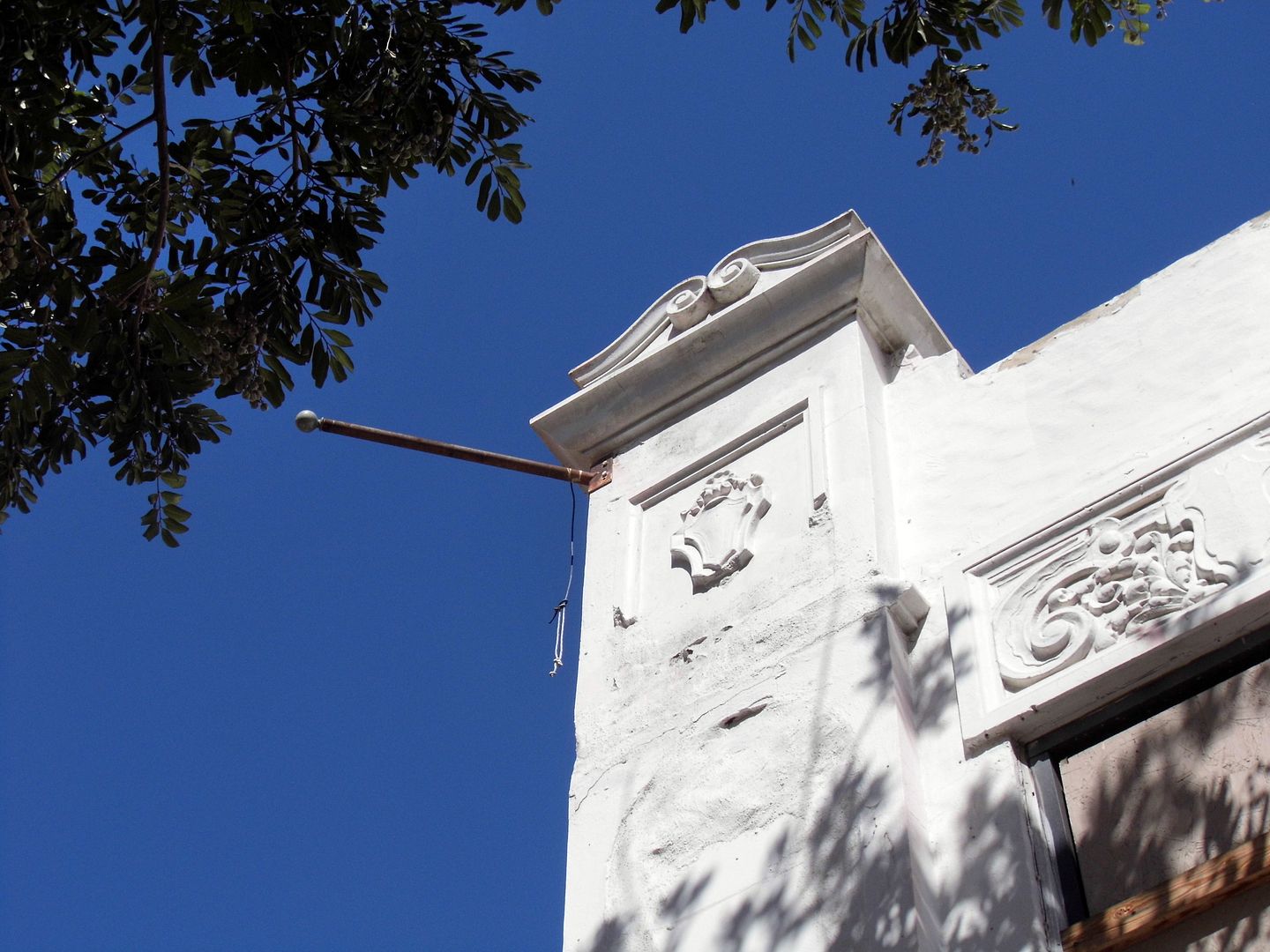 Even if the developers mount a new glittering marquee and blade sign—as is the plan—the building will be an imposter.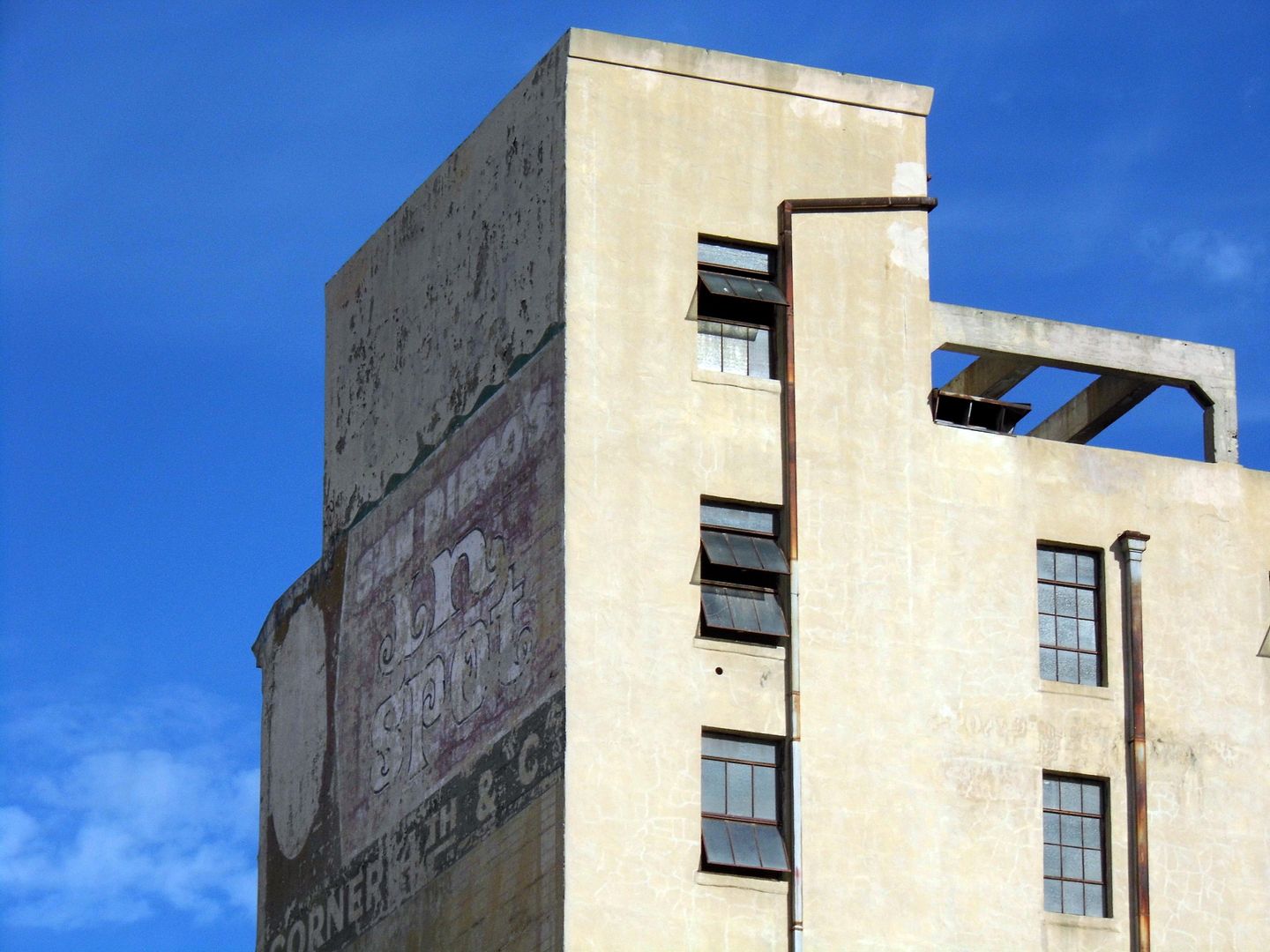 The California Theatre won't be reincarnated—and neither will the
Barbary Coast
, San Diego's "in spot" a.k.a. topless go-go bar at the corner of 4th and C from
1968
(?) to 1976 or so.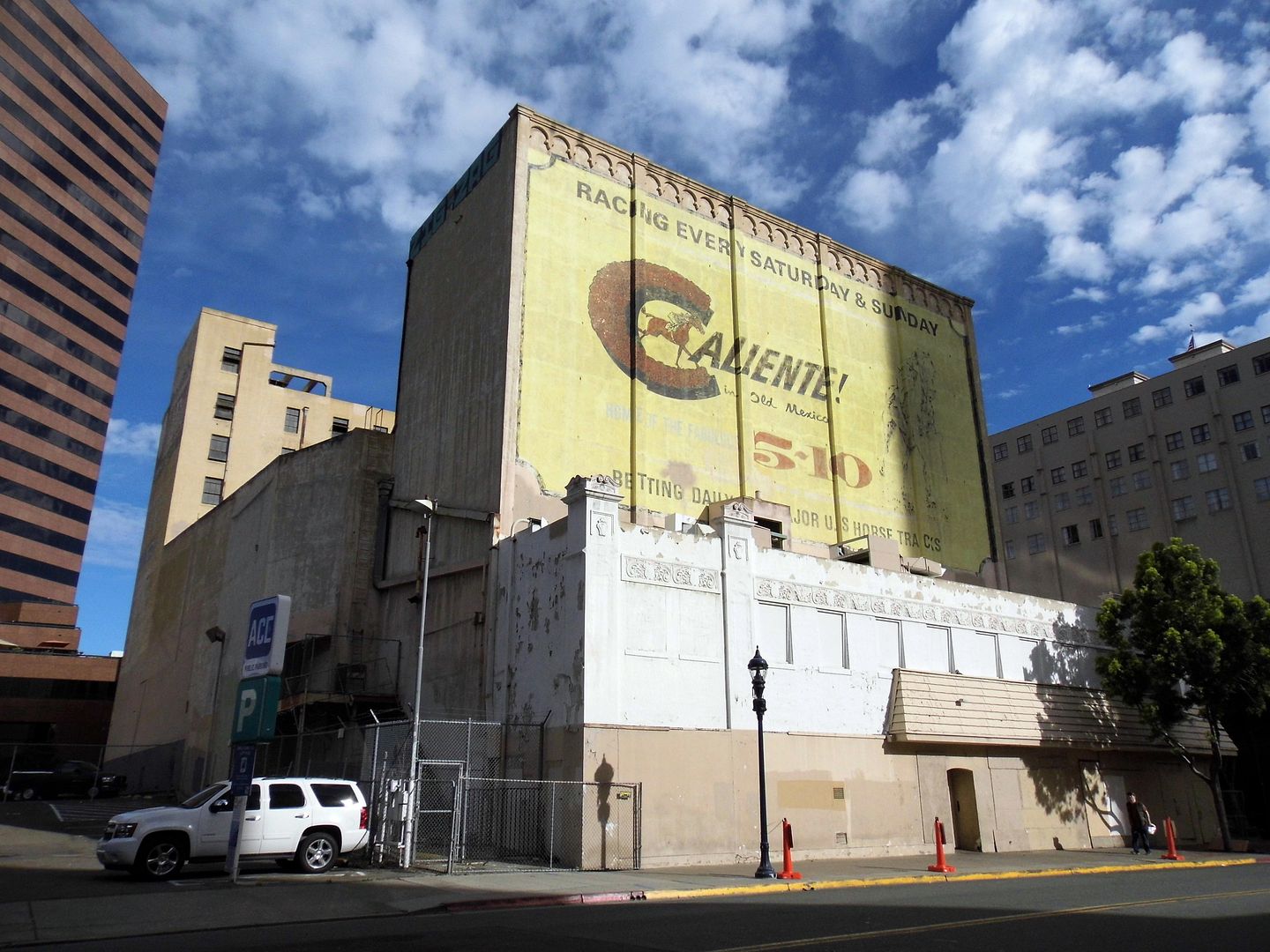 And even the
ghost sign for Agua Caliente
thoroughbred horse racing in Tijuana (a.k.a. "Old Mexico") on the west-facing exterior wall of the fly loft won't survive the reconstruction—despite having become a beloved piece of public art inextricably linked to the neighborhood and San Diego's history as a border town. (The greyhound dog racing ghost sign on the fly loft's south wall won't be preserved, either.)
They say the developer will
attempt
to recreate it on a new wall. But I kind of wonder what the point is.
When I visited the exterior with some friends early last month (I've never been inside, and its pretty well boarded up now), I just kept saying how sad it was.
"It's really sad," I said, again and again.
"It is," my friend said.
To read a relatively scathing architectural appraisal, click here.
For contemporary interior photos, click here and here.
Related Posts:
Photo Essay: The Inland Empire's Last 'Golden Age' Movie Palace, Saved from Demolition
Photo Essay: The 1980s Skyscraper That Ate the San Diego Fox Theatre
Photo Essay: The San Diego Theatre Built By A Sugar Fortune