Last Updated 1/24/21 10:34 PM PT—update on sign removal/relocation
Tiki isn't really a Hawaiian thing.
It's a Californian thing.
But my introduction to tiki didn't come through my experience on the West Coast. It started round about 2002 or 2003, when I got to know it through the eyes of the New Yorkers who opened Otto's Shrunken Head, a punk rock tiki experience in the old Barmacy space in the East Village.
I'd already missed Trader Vic's in NYC. When Trump bought the Plaza Hotel in 1989, he called it "tacky" and vowed to close it.
No one would ever go with me to the Trader Vic's at the Beverly Hilton in Beverly Hills until it had already been torn down.
In fact, I didn't make it to any Trader Vic's until
my 2006 trip to San Francisco
.
After that, in 2008, it was
Zombie Hut
, a Brooklyn version of a NYC tiki bar.
And in 2010, I was hanging out in a tiki speakeasy on the Lower East Side of Manhattan called Painkiller (later known simply as PKNY, though now permanently closed).
Sure, I'd had my first Zombie (or two, enough to make me pass out in the bathroom) at
Yamashiro
in Hollywood in the 2000s, but somehow Yamashiro always managed to suggest Polynesian dining without the kitsch trappings of a tiki bar.
Then again, I like kitsch.
In any case, it took me a long time—and
a move across the country
—to understand that I owed all of those tiki experiences I loved to a guy named (at least, at one point) Donn Beach.
And while the last remaining California location of his Don the Beachcomber has only been on the PCH in Sunset Beach for 10 years (having taken over the site of Sam's Seafood)...
...the chain began as far back as 1933, with its first location in Hollywood.
So, when word got out that this might be Don the Beachcomber's last weekend serving up Zombies and pu pu platters, I decided to go back and pay my respects.
Don's is considered one of the few remaining "tiki palaces" (the other in SoCal being Bali Hai on Shelter Island in San Diego)...
...and it's been a place where people have come for the live music as much as the tropical fare.
I'd eaten at Don's once before a few years ago and wasn't impressed enough to return to eat.
But then again, my pilgrimages to the many fine tiki establishments I've got under my belt have always been a bit more about the cocktail craft and not the American version of Chinese food (which isn't even Polynesian but is usually the cuisine of choice for most tiki places).
I was glad to go back one more time for one last Navy Grog, even if it did come in a plastic cup.
And although I'd visited Don's a couple of times prior, I was glad to document it (something I never got to do at Bahooka in Rosemead before it closed, though thankfully a lot of the stuff found a new home at Pacific Seas in Downtown LA).
The funny thing is—Don's hasn't actually admitted it's closing.
It just celebrated its 10th anniversary with a blowout this past weekend—which seemed like its last hurrah, though it wasn't promoted as a farewell.
But all of the bands that were on the schedule have been moved to a different venue.
And the bar has already run out of the makings for Zombies (the drink Donn invented and is most famous for) and several other cocktails on its menu.
Some areas are already cordoned off...
...and all signs point to it being "last call."
So, I finally got my tiki mug, a fitting tribute to Donn himself and not just the
Orange County
location. A part of me, though, still thinks that the news of its closure might be an April Fool's joke. I guess we'll find out tomorrow.
Update:
It turns out that April 1 was
not
the last day of Don the Beachcomber in California—it was two weeks later, on April 15.
Regardless of the timing, it's a loss for the tiki community.
But there are so many exciting new tiki spots that are constantly opening—and other stalwarts that are still going strong—that I don't feel the need to grieve this one much.
Update 2021: I was in Huntington Beach in October 2020 and swung by the former Don the Beachcomber—now the Himalayan Grill—just to check up on it. I was happy to see that the big swordfish sign that said "DON'S" (and once read "SAM'S") still stood. But I knew it wouldn't be for long.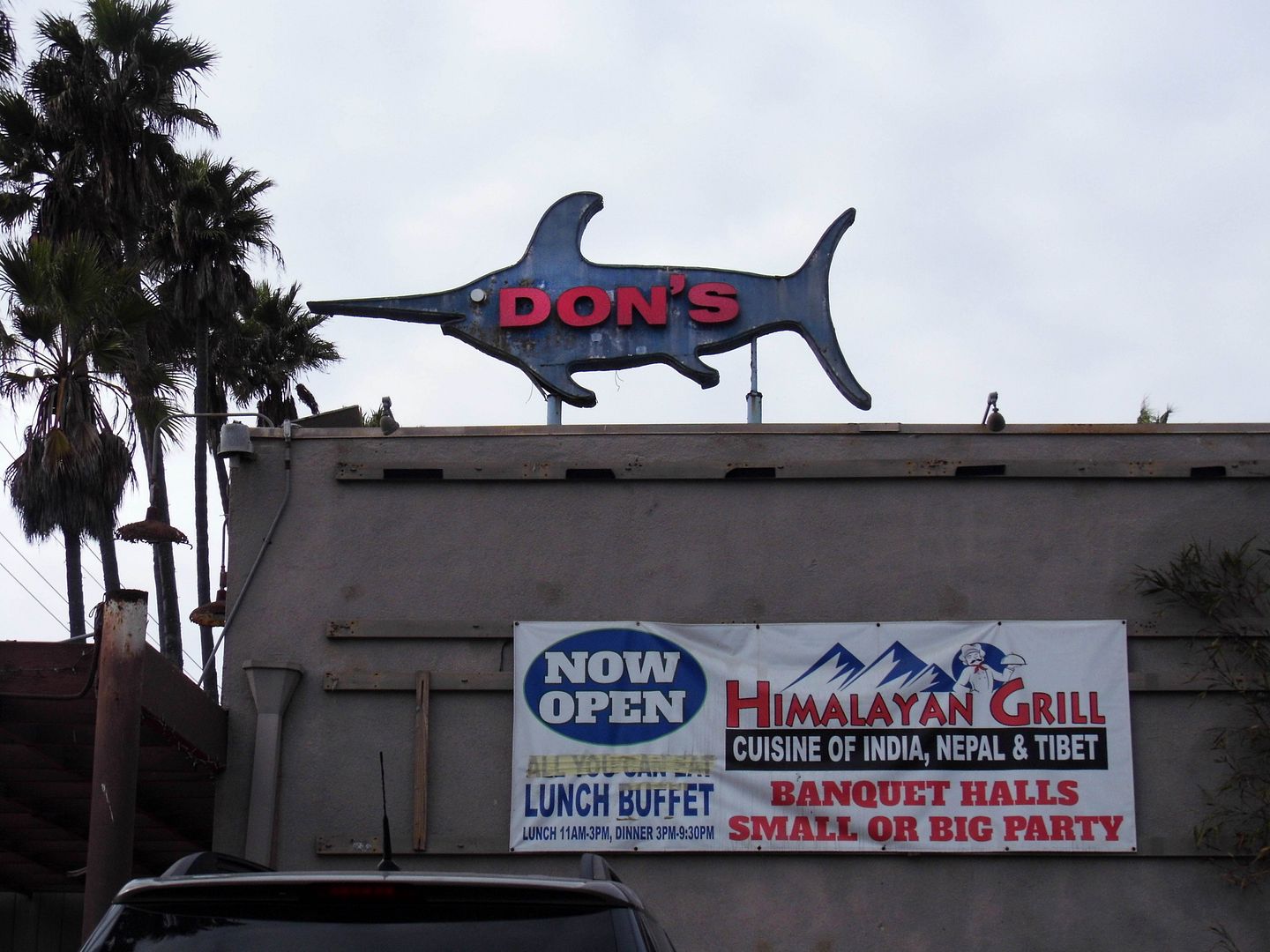 circa 2020


In January 2021, I saw online that the sign had been taken down (predictably)—and the tiki community despaired.
But then came the good news that the 29-foot-long neon fish had been rescued by and relocated about 10 miles north to Lace Music in the Orange County city of Cypress.
Watch the video below to see why they decided to become the sign's new stewards—and what they've got planned for it:
Related Posts: