The first time I ever got to see the Oscar Mayer Wienermobile up close, it was in Palm Springs in April 2021. (I might've seen one in the wild on the freeway or from a distance before that, but I can't quite remember.)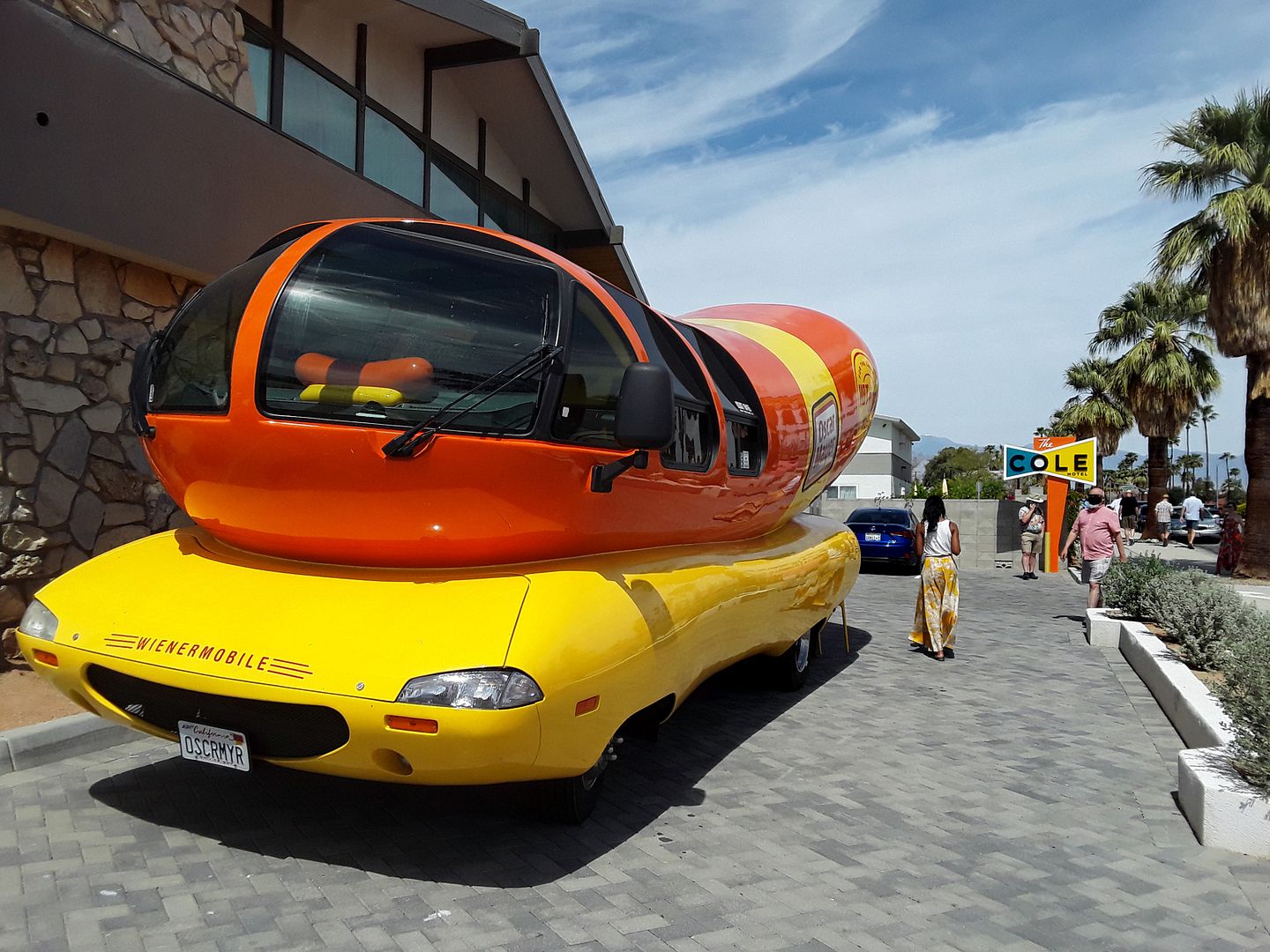 I'd been lucky to hear far enough in advance that the giant hot dog would be parked at the Cole Hotel on the same day I would be in the area for Modernism Week.
circa 2021
But while it was exciting to get the photo opp, I left wanting more.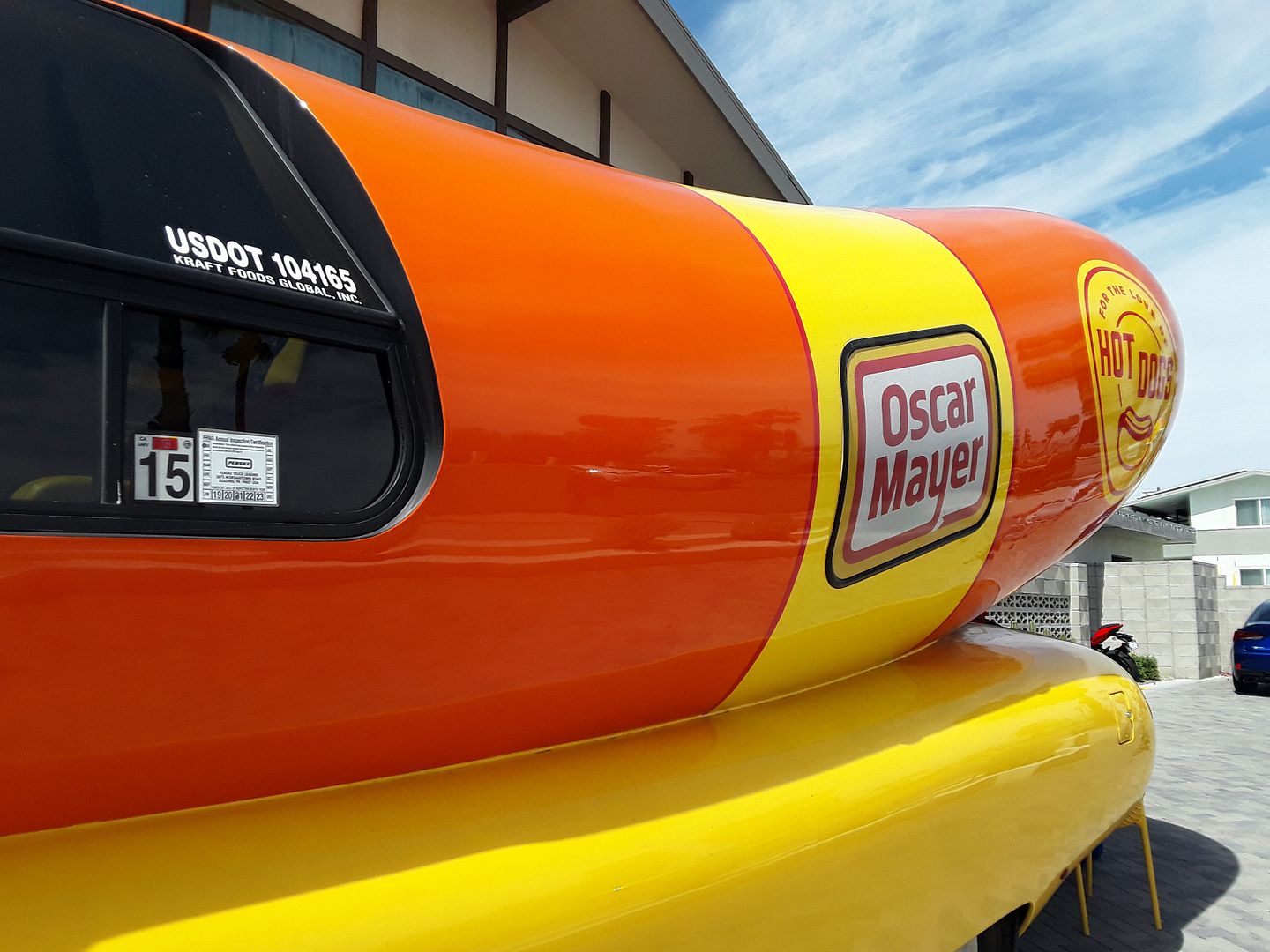 circa 2021
It felt like the encounter should've been more of an event.
Well, today I had my second chance to ketchup to the wiener on wheels—because it was the guest star at this morning's weekly
Los Angeles Breakfast Club
meeting (where pigs in a blanket were served alongside the traditional ham 'n' eggs).
Our presenters were two members of the 35th class of "hotdoggers"—Queso Dog Keila and Abbey Frankfurter—who were decked out in full regalia. And although this was the first time they'd ever done a presentation like this, their engaging program and enthusiasm proved that they could really cut the mustard.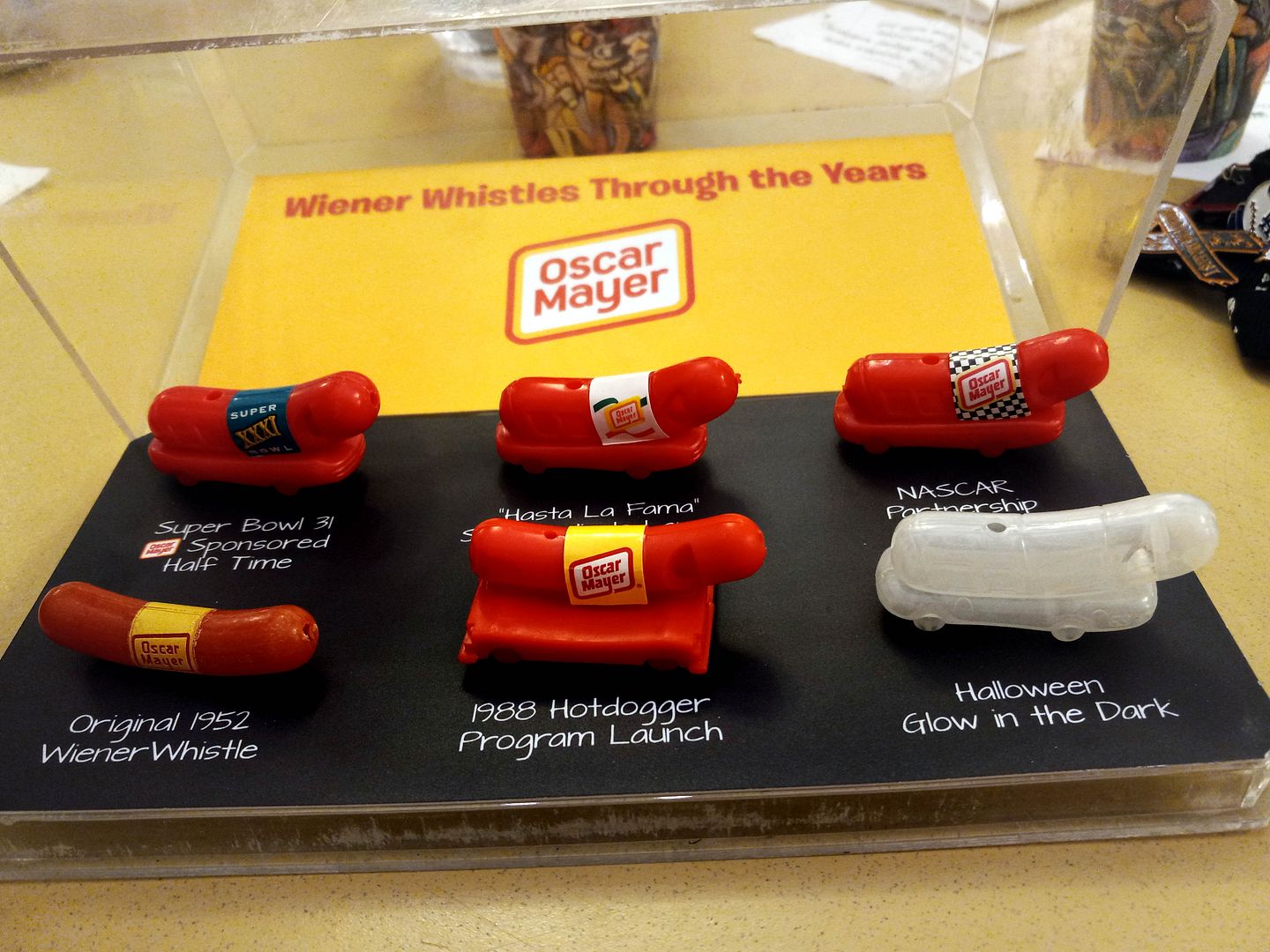 In addition to taking us through the history of the Wienermobile itself (first created in 1936 and available in multiple iterations, including a version mounted on a Mini Cooper) and their current fleet of six full-sized ween-hicles, they also passed around their mini museum of Wienermobile whistles through the ages (the original having debuted in 1952).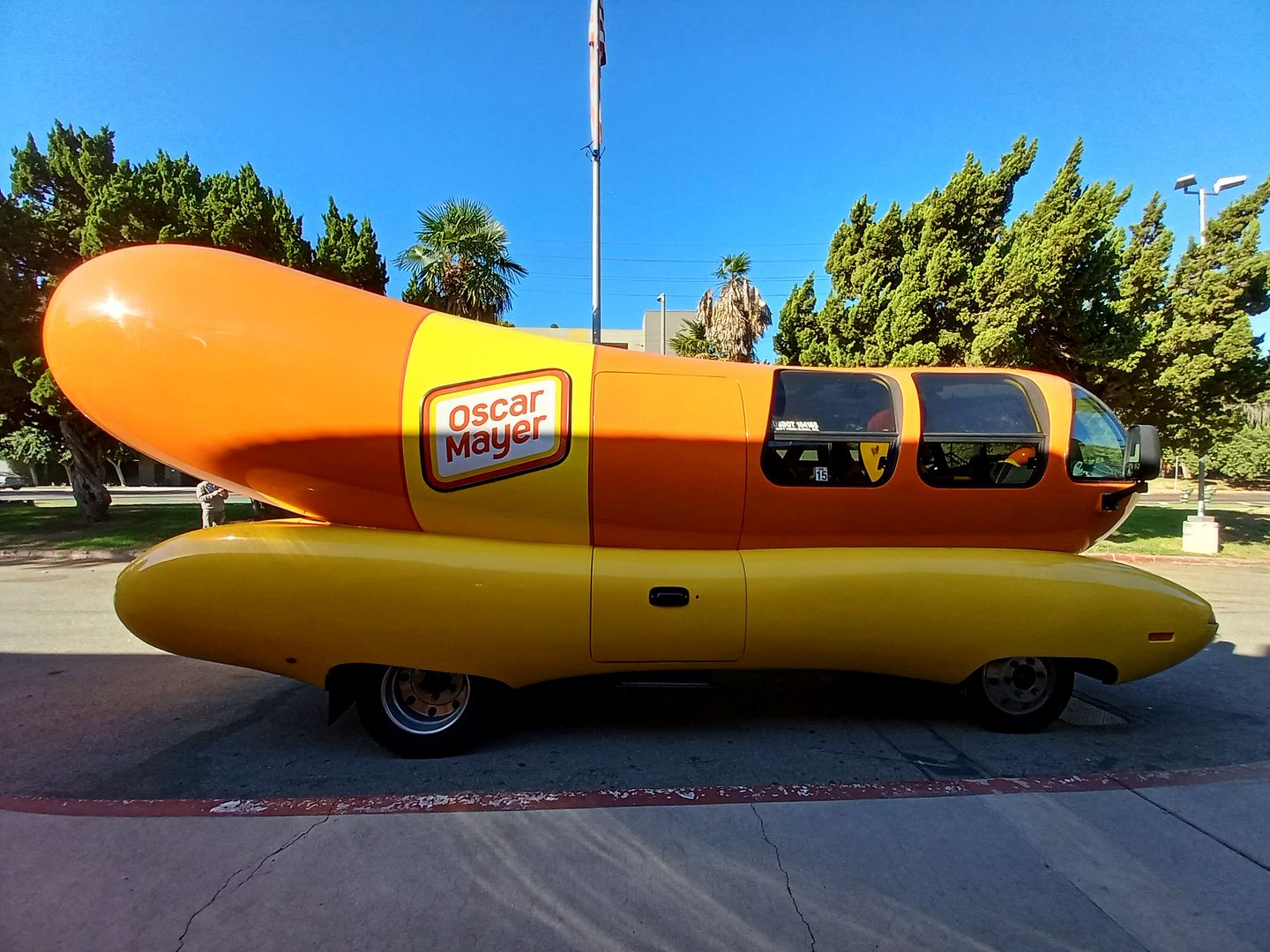 The four-wheeling frank we saw today parked outside of Friendship Auditorium was the same one I'd seen almost a year and a half ago—the California one, whose license plate reads "OSCRMYR."
The other five Wienermobiles in the fleet have Wisconsin plates, reflecting where the Oscar Mayer headquarters is located.
But this hot (dog) rod burns rubber exclusively in the West—mostly California, but sometimes Arizona and Vegas.
At the end of the presentation, everyone in the audience (over 100 of us) relished the opportunity to line up and get inside the Wienermobile.
It's surprisingly roomy and comfortable—and completely decked out in an appropriately themed yellow, red, and brown color scheme and Oscar Mayer branding.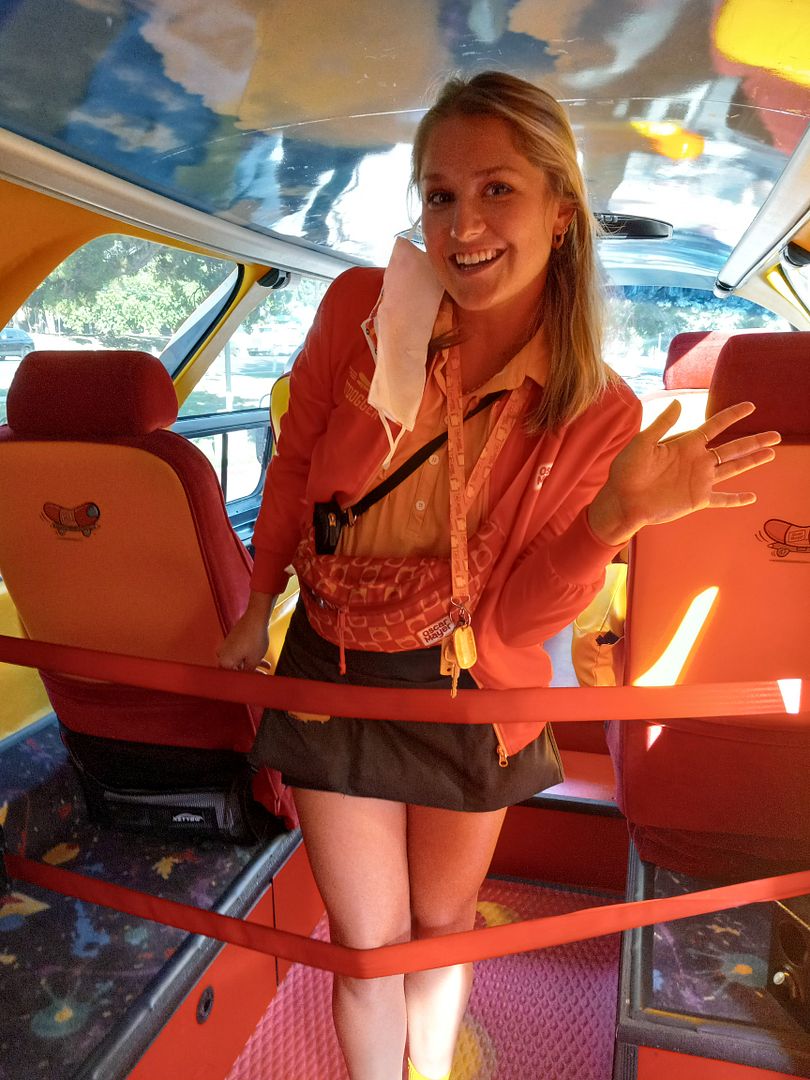 And where the sun roof—er, "fun" roof—ends, the rest of the interior above is decorated like a blue sky with white puffy clouds.
As a parting gift, we each got a souvenir "Wiener Whistle" to take home—and learn how to play the Oscar Mayer song.
Legend has it, all you've got to do is "just whistle," and the Wienermobile will come rolling up.