The Tail O' the Pup hot dog stand has been in storage ever since I moved to LA in 2011 (technically it got mothballed in 2005).
But I've always felt something of a connection to it.
Maybe it's because its prior two locations were both in my neighborhood, at intersections I pass on a nearly daily basis (Beverly and La Cienega, basically where the Sofitel is now, and, after 1986, Beverly and San Vicente).
And now it's back in my neighborhood—in a new location on Santa Monica Boulevard, the old Route 66 in West Hollywood.
But it's been a long, circuitous route to get there—having been trucked from its Torrance storage to Las Vegas in 2014 to be restored, put back in storage in Lake Elsinore, then donated to the
Valley Relics
collection in 2017 (though it was never on display), and finally acquired by
1933 Group
in 2018 to be revived as a public eatery.
Its new home is a storied location in its own right...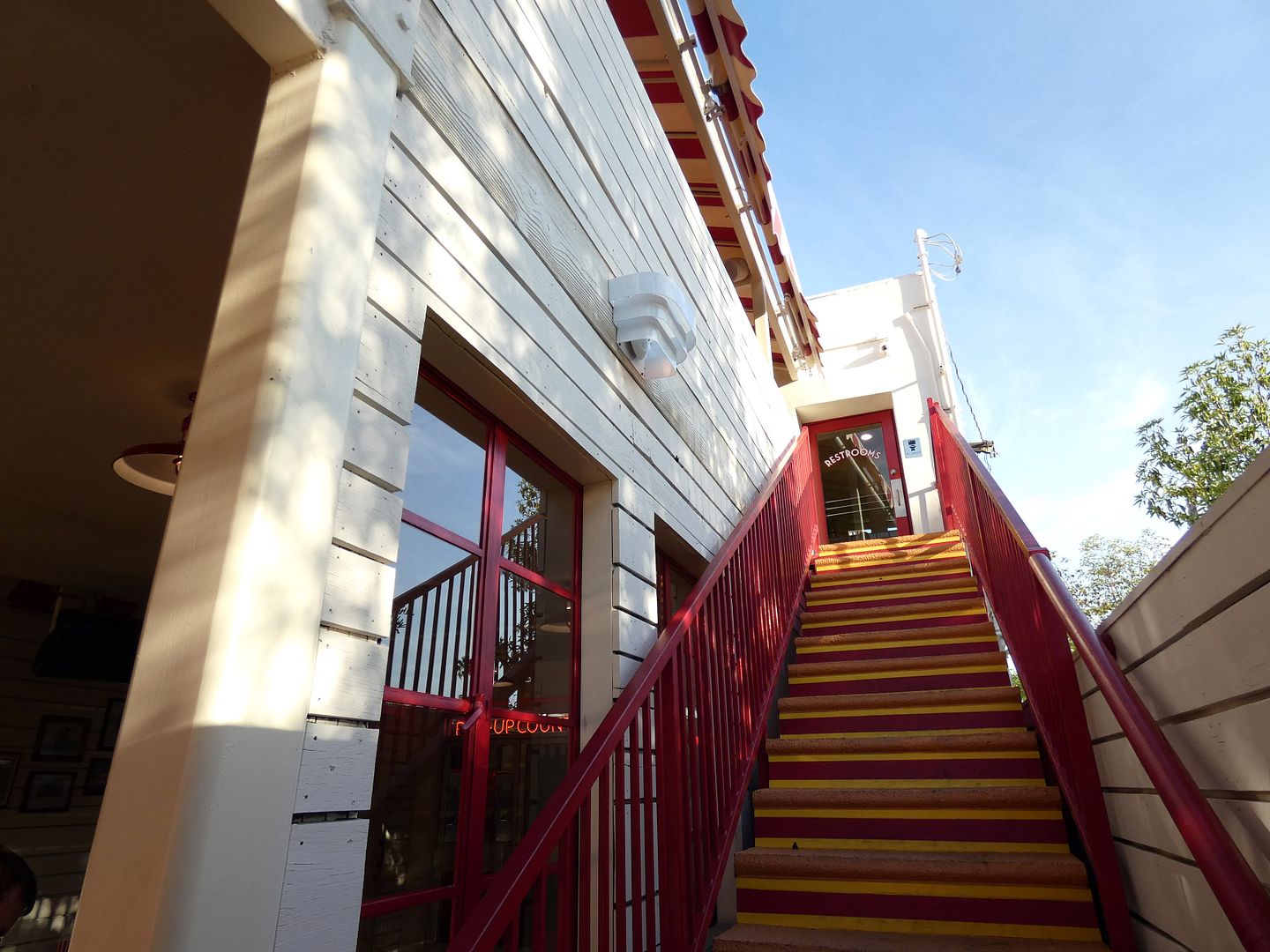 ...known from 1970-1 as "The Doors Workshop," where Jim Morrison recorded the vocals for The Doors' final album, L.A. Woman, using the bathroom doorway as a vocal isolation booth as he sung into his Electrovoice 676-G stage microphone.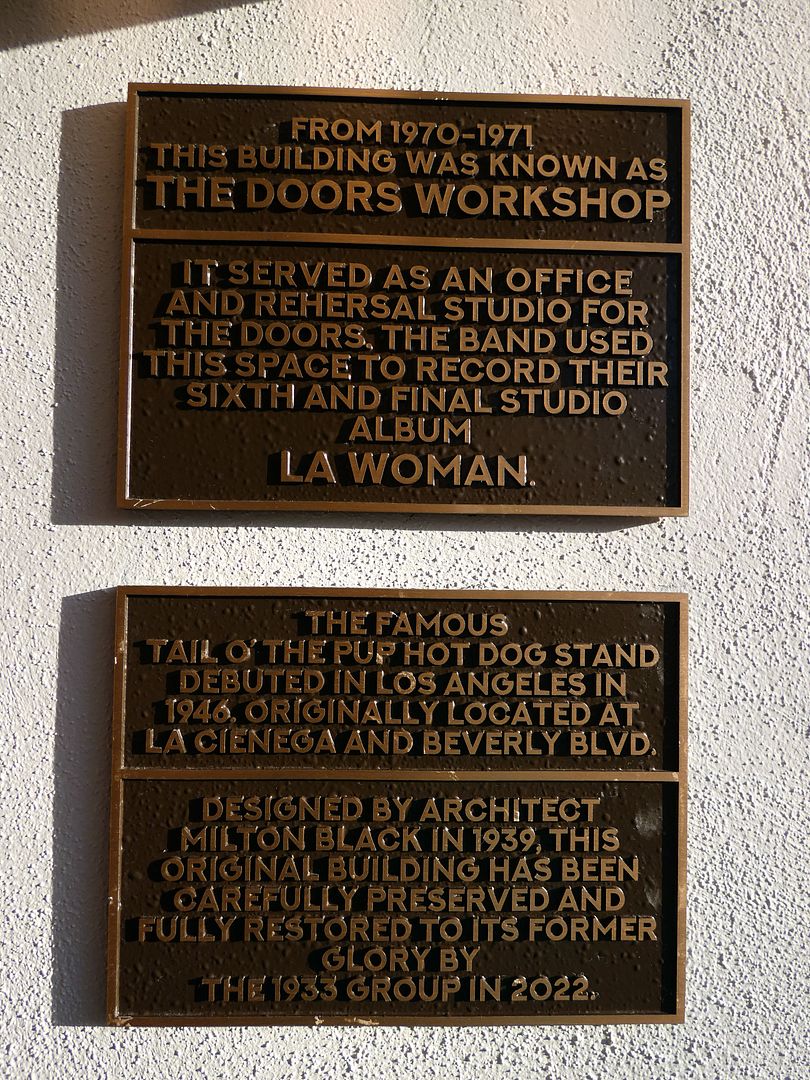 That space most recently had been open to the public as Bar Sopra (2019-2020), a rooftop bar above a restaurant called Blackbird. Before that, it was a Spanish/Japanese fusion spot called L'Scorpion West (2013-4), Tradition Tapas Kitchen/Forbidden Bar and Lounge (2011-?), Mexico Restaurante y Barra (2009-10), an Italian restaurant called Benvenuto (2006-8), and who knows what else?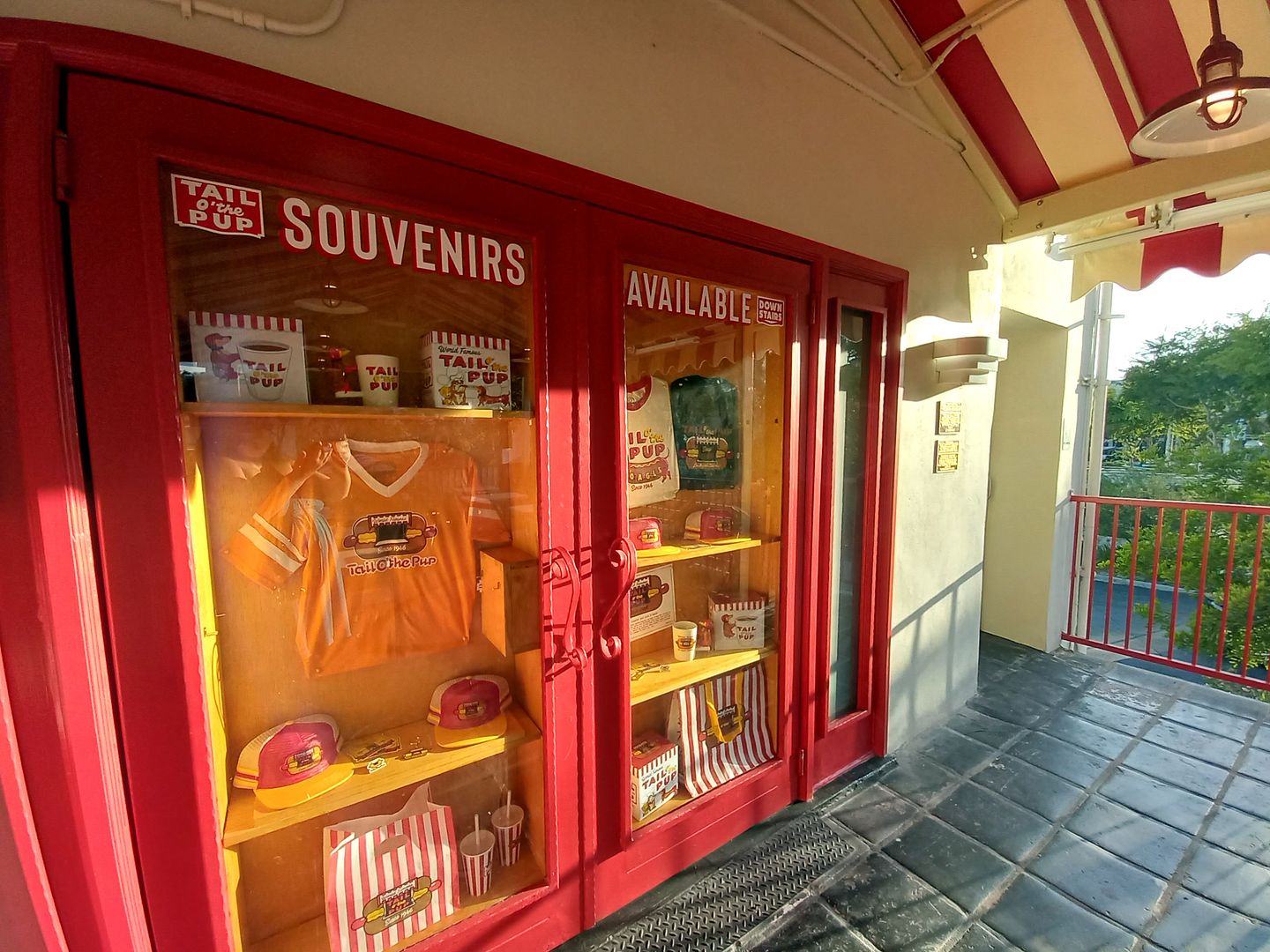 Now the former rooftop bar offers overflow seating, restrooms for the pup stand, and a display case for wiener-branded souvenirs. I hope, for history's sake, the Pup is here to stay.
The original Tail O' the Pup was just the 17-foot-long dog-and-bun structure made of concrete and designed by architect Milton J. Black. It now serves as the sidewalk-facing façade of the current sit-down restaurant.
You used to be able to grab a seat at the counter or at a couple of umbrella-shaded tables off to the side. Otherwise, you'd have to take your dog for a walk.
But that didn't impede its popularity—both among celebrities and regular folk. In fact, it only closed because it lost its leases—never because of lack of business.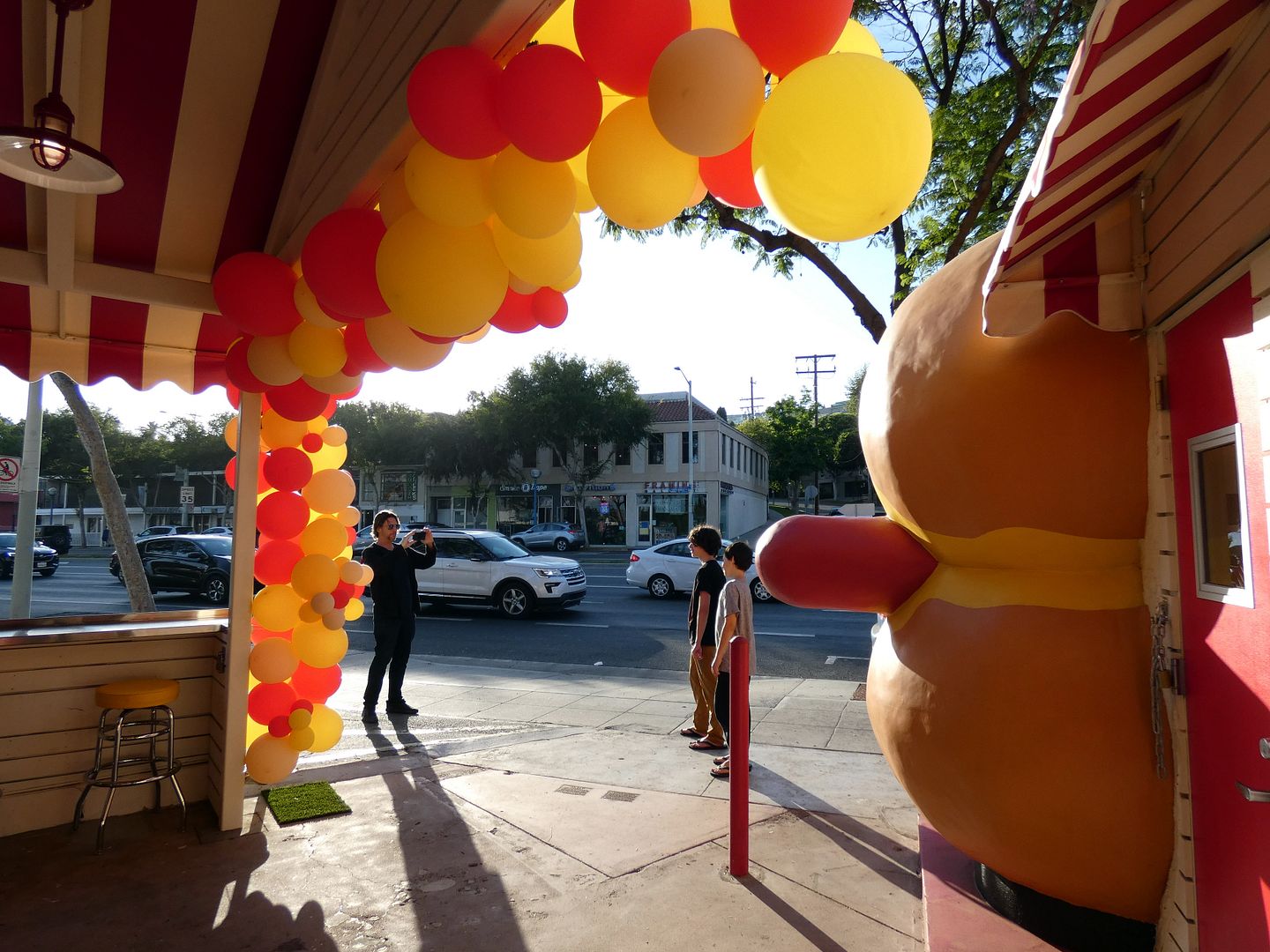 So its grand reopening is a grand affair, both for those nostalgic for the old days—the giant hot dog made its debut back in 1946—and for those, like me, who felt its absence even though we'd never experienced it firsthand before (though its role in the movie L.A. Story first introduced me to it).
Nowadays, in addition to the upper level (which is supposedly haunted by the ghost of The Lizard King himself), there's an airy outdoor patio (where actual living canines are welcome to join their humans)...
...and, inside, a peekaboo kitchen just past the spot where you pick up your order).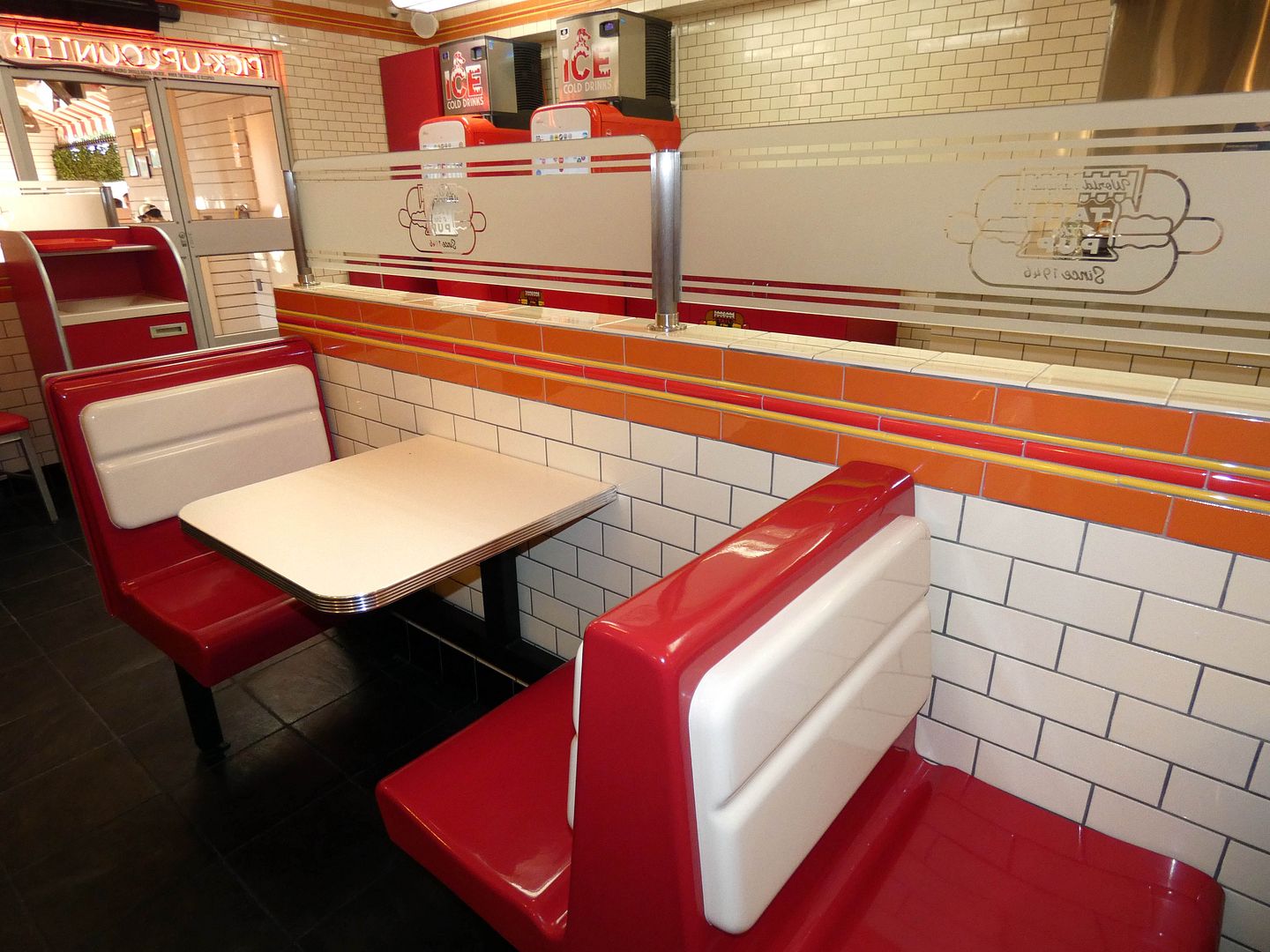 Kudos to the designer at 1933 Group (perhaps Bobby Green himself) who selected the hot dog-colored accent tile with mustard-yellow and ketchup-red stripes.
As for the food? Well, on my first visit, I started at the top of the menu with the "1946 Pup": a grilled and split dog on a toasted bun with grilled onions and mustard (with a side of fries with cheese).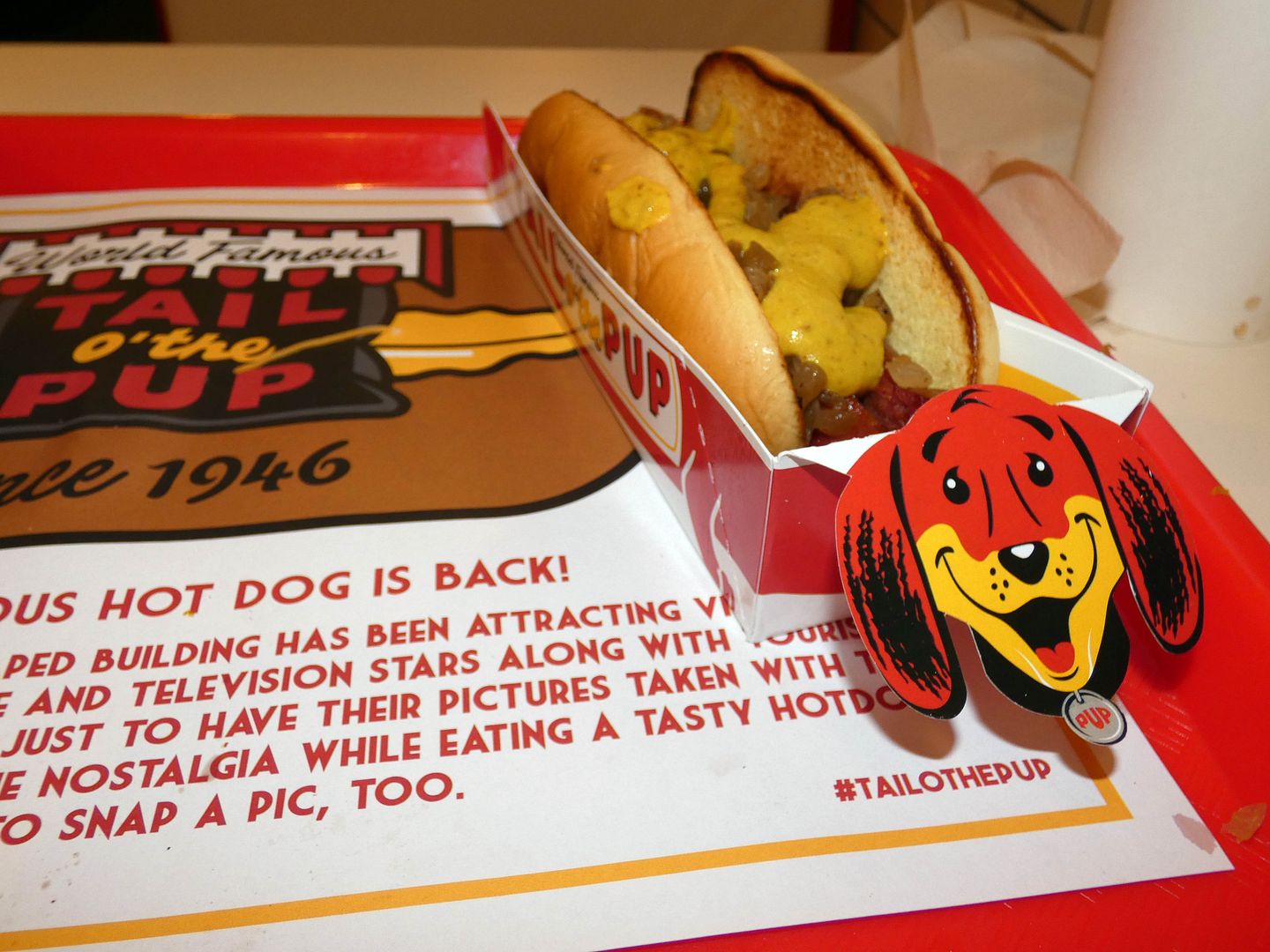 I'll probably go back and work my way down—maybe even trying some brand-new additions (like an adult beverage, the likes of which were never served at Tail O' the Pup before.
The Tail O' the Pup's previous owners had actually tried to stage a comeback in 2016, when they put a branded food truck on the road and parked it on North La Cienega, not far north from the stand's original location. I somehow missed that.
The mobile version of the wiener stand was supposed to tide the public over until the original could be relocated and reopen at a multi-use space in Downtown LA called The Bloc. But that never happened.
So it took a little longer than expected—as does the food when you order it—but how joyous is it to see an exemplary specimen of programmatic architecture (a.k.a. "California Crazy") come back, instead of succumbing to the wrecking ball!
In fact, it was so pup-ular during its first few days open that it was forced to close over the weekend to restock its dogs.