I'll eat on any train at any time. In fact, I want to eat on ALL the trains. And fortunately, there are plenty of rail-themed dining establishments in Southern California, particularly in LA.
One of my favorites is what I've nicknamed "The Hot Dog Train"—a.k.a. Carney's Restaurant, a family-owned business with actually
two
locations, both housed in vintage rolling stock.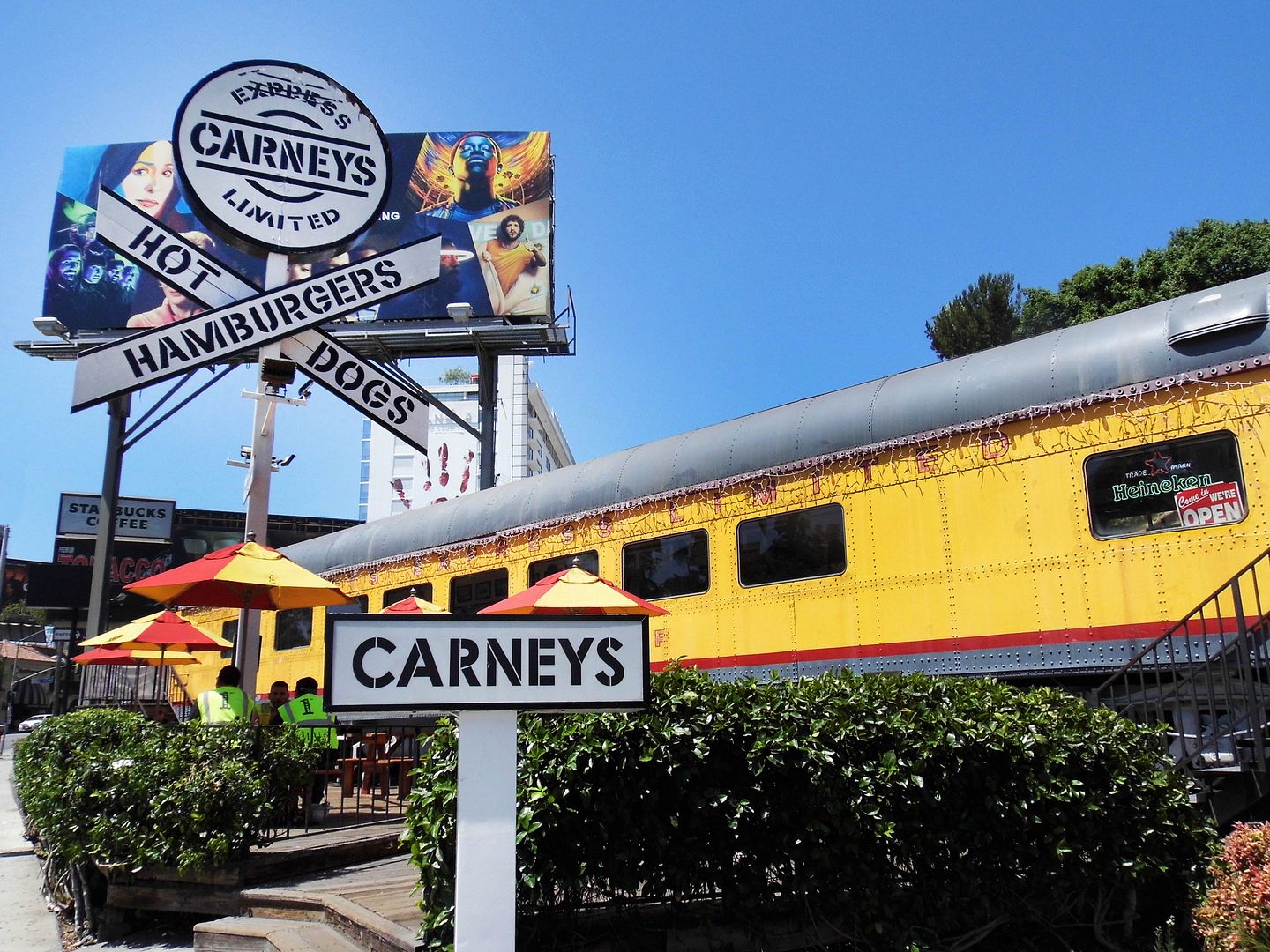 In addition to the one located in Studio City on Ventura Boulevard (established 1981), there's my "local"—the original one that opened on the Sunset Strip in West Hollywood in 1975. (A third location in Glendale is no more.)
Sometimes I can't believe something so whimsical and such a slice of Americana can still exist anywhere in LA—especially in an area that's been getting gobbled up by hotels and high-rise condo towers.
And part of me is convinced that a train that serves up hot dogs and hamburgers topped with chili couldn't possibly be around much longer.
Fortunately, the coronavirus pandemic has allowed food that's fast and casual to thrive in an era of social distancing.
And while you can still board the train to place your order and retrieve your food, now you just have to bring outside to eat.
The interior is worth a visit, if only for the historical photo display that tells the story of how the hot dog train got to the north side of Sunset Boulevard in the first place. I always liked to think that the tracks pre-dated the Strip—but it turns out that's not the case.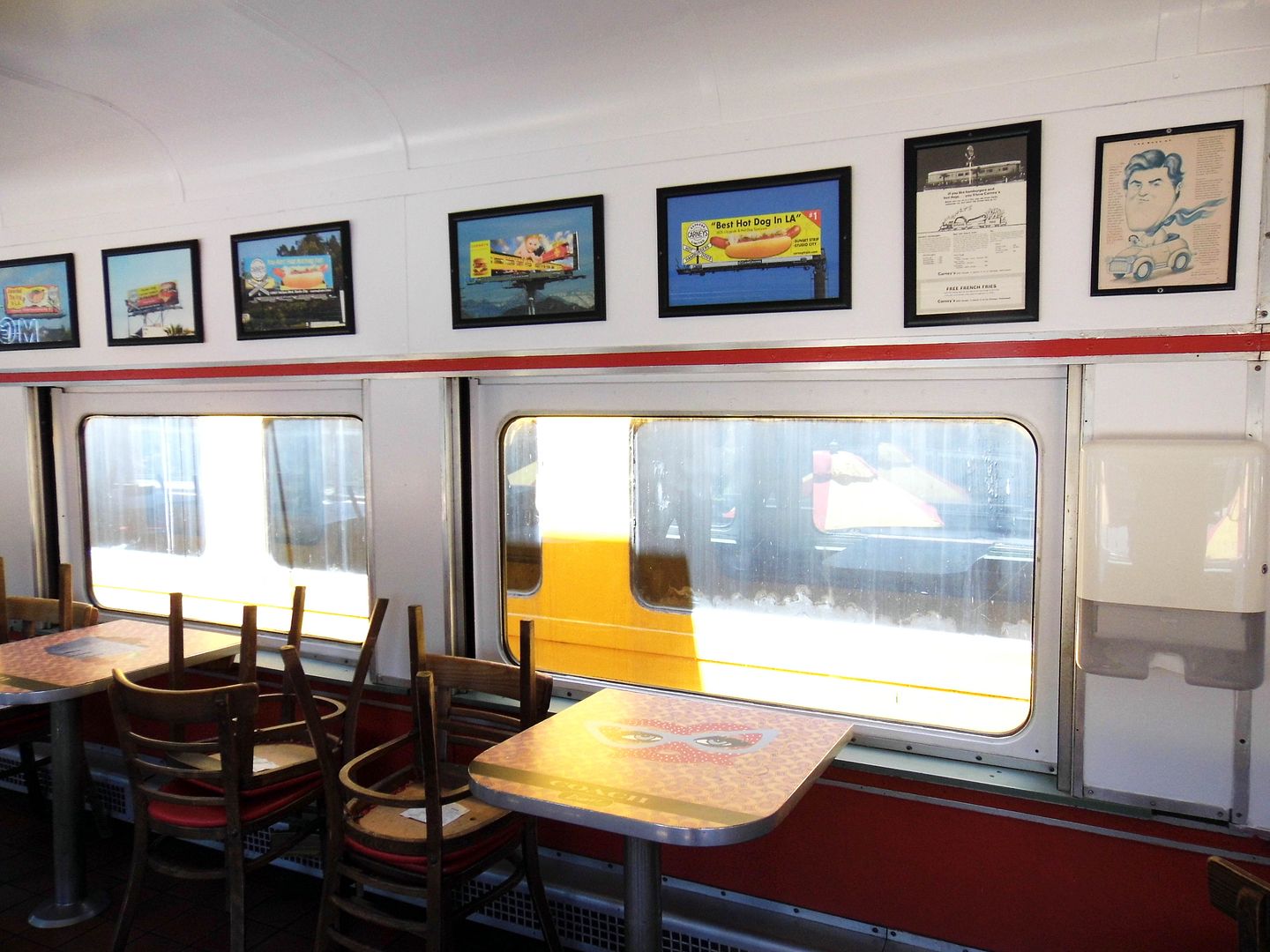 Originally built in 1926, the Union Pacific "Challenger" class passenger coach #535 that became Carney's was relocated overnight to the Sunset Strip from a private owner's property in the Mojave Desert.
Once it arrived to the lot, it took an hour—with three lanes closed to traffic—to get it exactly into place. . But even so, it was designed to be "portable" in case the Wolfe family ever lost their lease.
Fortunately, they haven't (yet), so you can still get the Carney's chili dog with mustard, onions, and tomatoes...
...or the chili cheeseburger with pickles and tomatoes and a side of "train wreck" fries, smothered and covered in cheese, grilled onions, and Thousand Island dressing.
Now, from the street it looks like Carney's West Hollywood location is just one train—but it's actually two. The kitchen car is a converted bar/lounge car, also from Union Pacific, that was fitted precisely over a basement area that had been excavated in advance.
During the day, the kitchen workers are slammed with delivery orders and walk-ups from local construction crews and looky-loo tourists. At night, the booze-soaked crowds gobble their chili and wash it down with bottles of beer before making it on foot to their next party stop.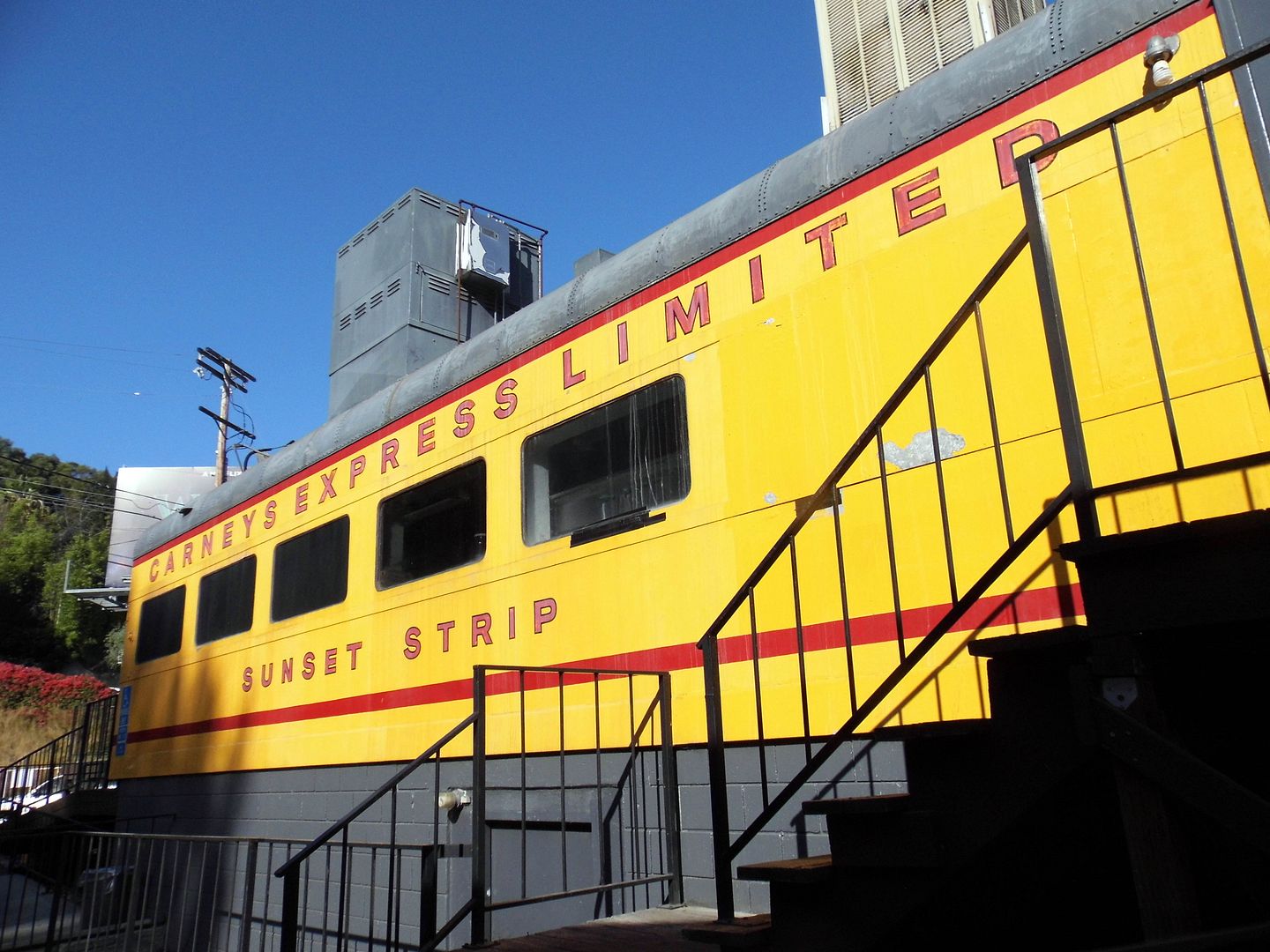 As food critic extraordinaire Jonathan Gold wrote for
LA Weekly
, "After a few beers and a chili dog or two, the train can appear to be lurching down the track."
I'll take Carney's over Pink's any day.
And eating outside the train, right next to the tracks, is as much of a kick for railfans as grabbing a seat inside.
Either way, no boarding pass is required!
Related Posts:
Photo Essay: Welcome Back, Formosa Cafe!