Once thought to be the world's largest freestanding boulder, Giant Rock in the High Desert town of Landers, California has somewhat mystified me over the years...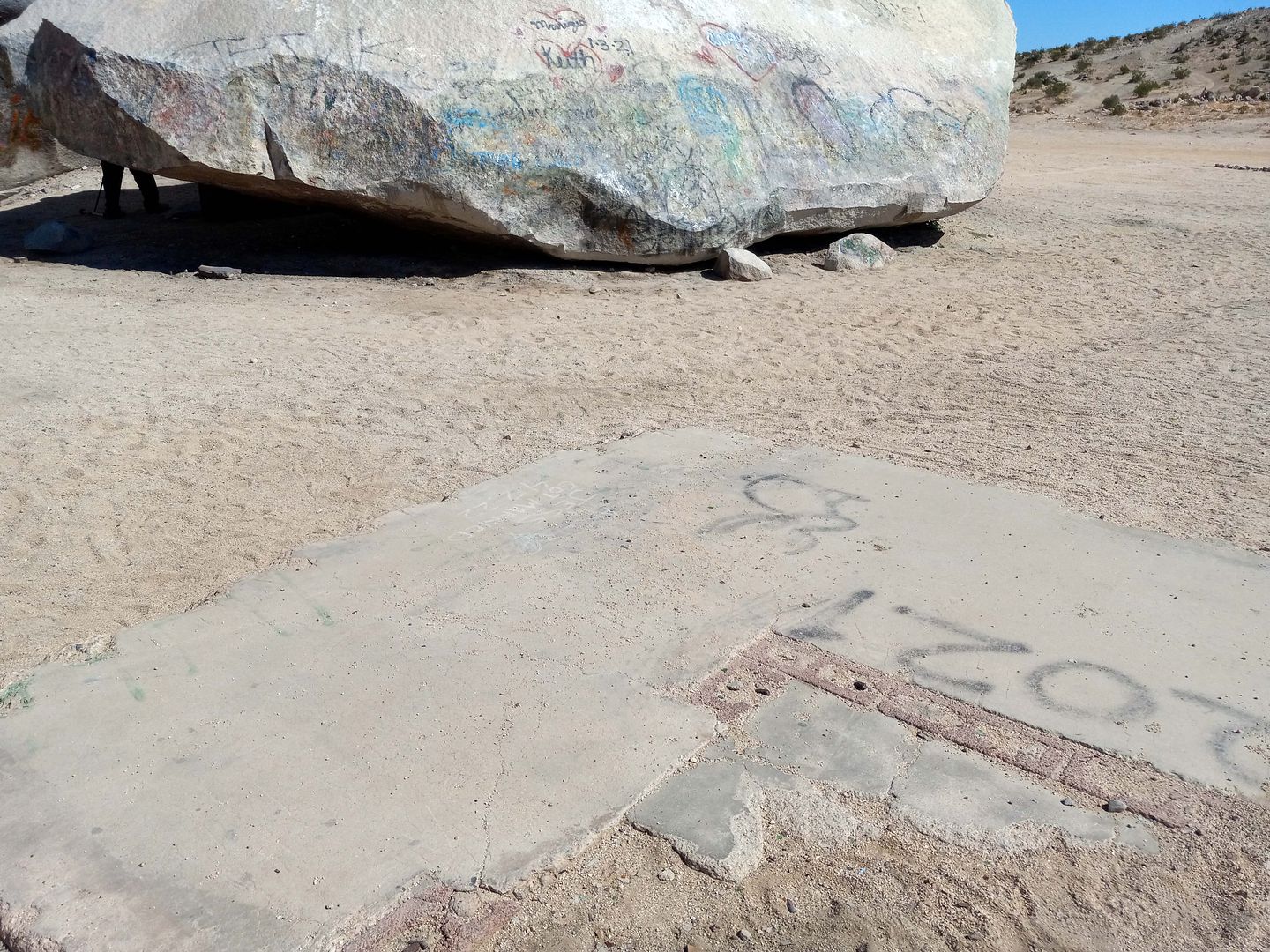 ...and an airstrip with an adjacent cafe (whose concrete slab remains by the the 25,000-ton rock)...
...but also because of how hard I thought it was to get to, since I'd tried to drive there once and failed.
Over a decade later, I went back to Landers to visit Giant Rock, where a cleanup project was happening on National Public Lands Day.
While others applied "elephant snot" to graffiti on the surface of the stone, and others tried pressure-washing the paint off, I headed into the "vortex"—the spot between the boulder and where a piece of it split off mysteriously in 2000.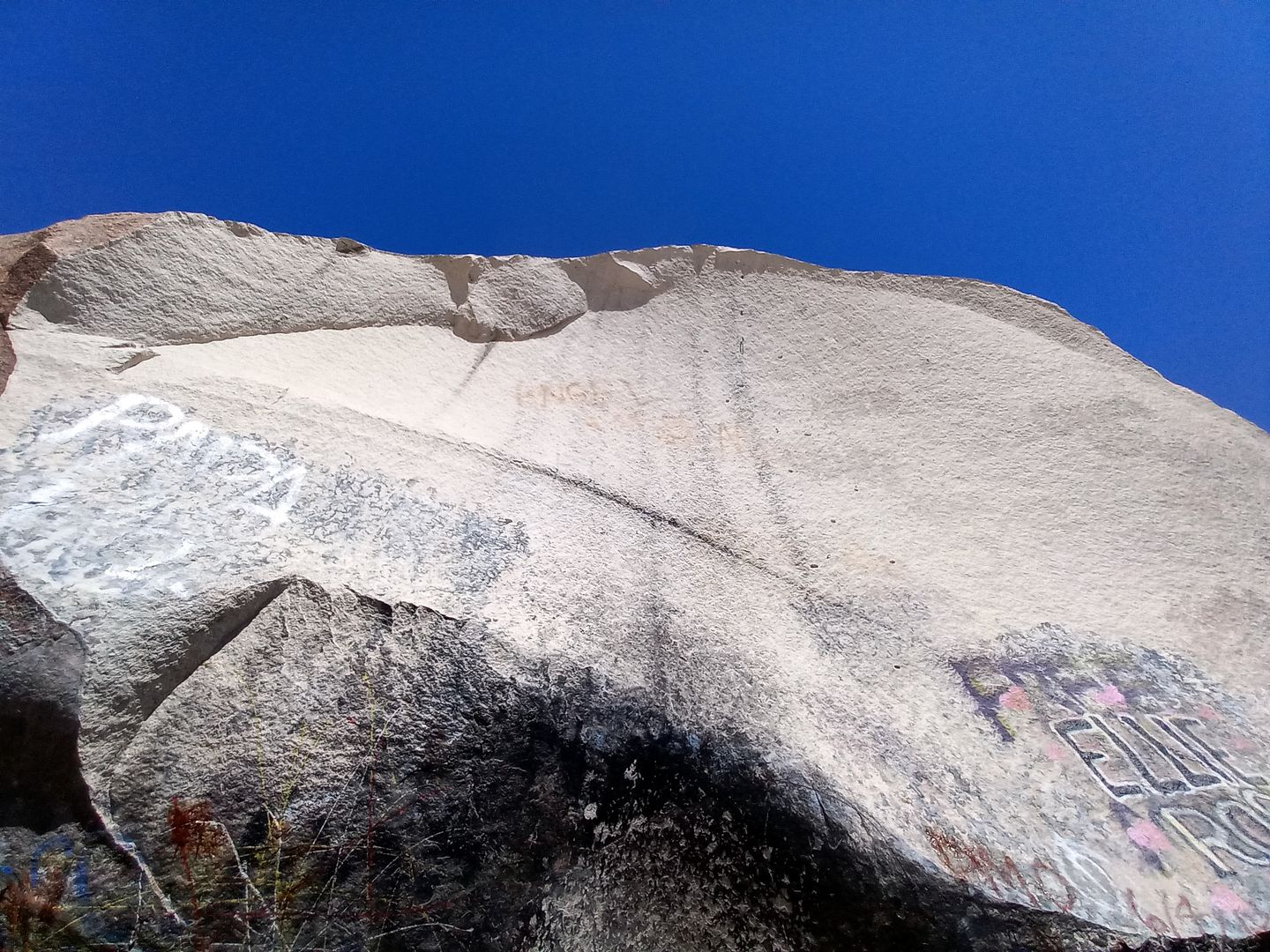 Of course, the truth is that the entire site is considered some kind of spiritual vortex—just like the site of the neighboring Integratron (built as a time machine/human battery recharger).
Unfortunately, a lot of visitors to this BLM-managed area don't respect its energy or significance—and, often while camping overnight, set off fireworks and leave a lot of trash (like beer bottles and toilet paper) behind. In the vortex, it even looked like somebody had set a mattress on fire, based on all the charred springs that I had to dig out of the sand.
Maybe they don't know the legend—that in August 1953, during a "close encounter" at Giant Rock, extraterrestrials made contact with aircraft mechanic, flight inspector, and desert transplant George Van Tassel.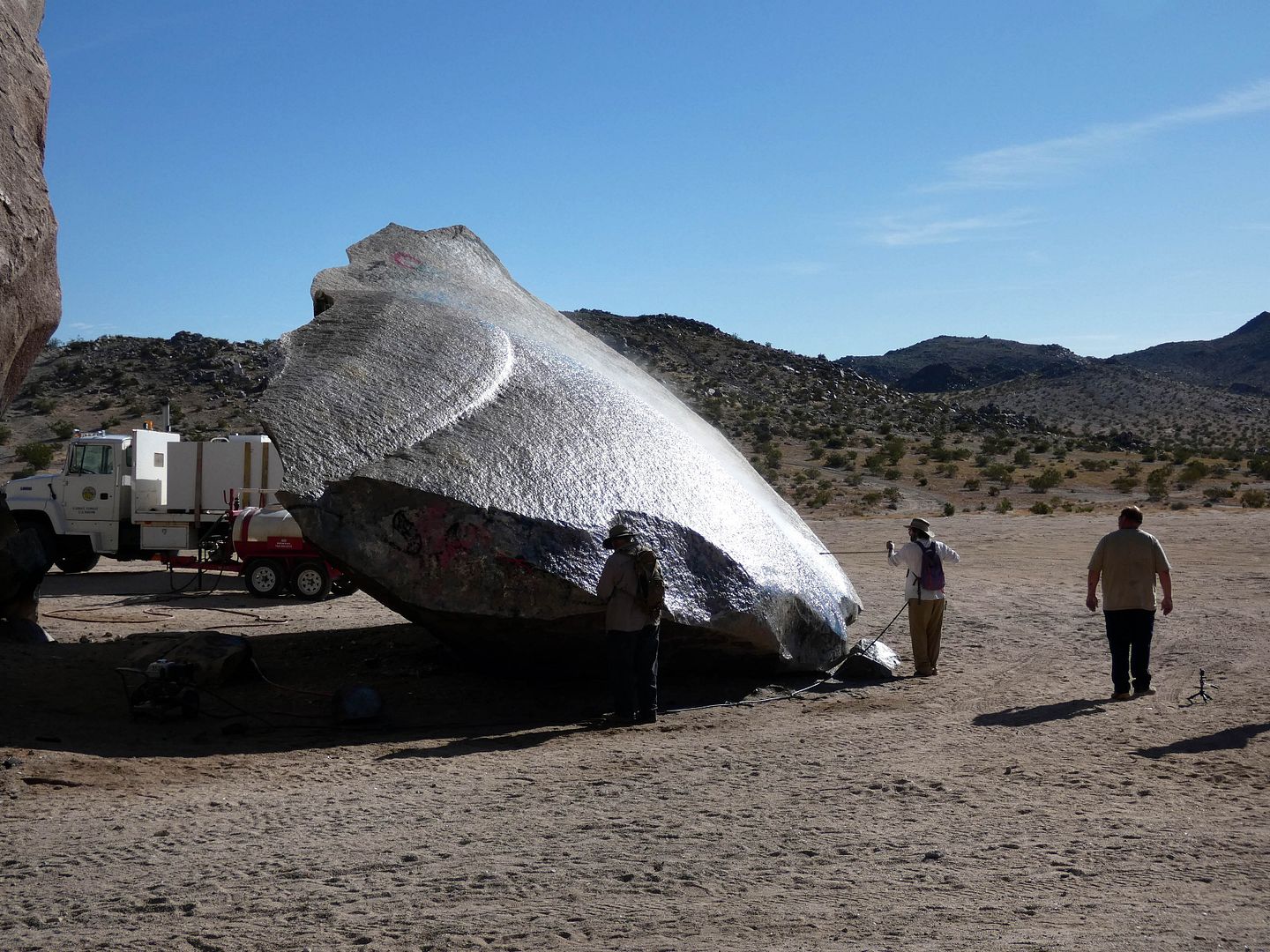 Supposedly from the planet Venus, they gave him instructions of how to design and build an "electrostatic generator for the purpose of rejuvenation and time travel" (a.k.a. the nearby Integratron).
But these aren't modern-day UFOlogists who are defacing Giant Rock. And most of them probably have no clue about Frank Critzer, the miner-turned-hermit who made Giant Rock his home in the 1930s and tried to turn it into a tourist attraction. Rumor had it he was a German spy (though he was born in the U.S.), hence the naming of nearby "Spy Mountain."
The only way vandals like these can think to make their mark on the world is with a can of spray paint.
But something good does come out of their desecration of the site—because out of the tons of trash that gets collected from these cleanups, there are some materials (like broken glass) that get recycled and reused by artists as creative material, thanks to the efforts of one of the cleanup partners, Positional Projects.
Unfortunately, Giant Rock never stays clean for very long. But it felt pretty satisfying to watch all that paint just melt off the boulder, dripping into disappearance, and to use the magnet sweeper to suck up all those nails out of the sand.
For more on Giant Rock, watch a clip from the documentary Calling All Earthlings above.
Related Posts: