It's the American Military Museum, fondly nicknamed "Tankland."
Craig Michelson is its current curator (and collector), but it was his father—a former officer in WWII—who founded it six decades ago.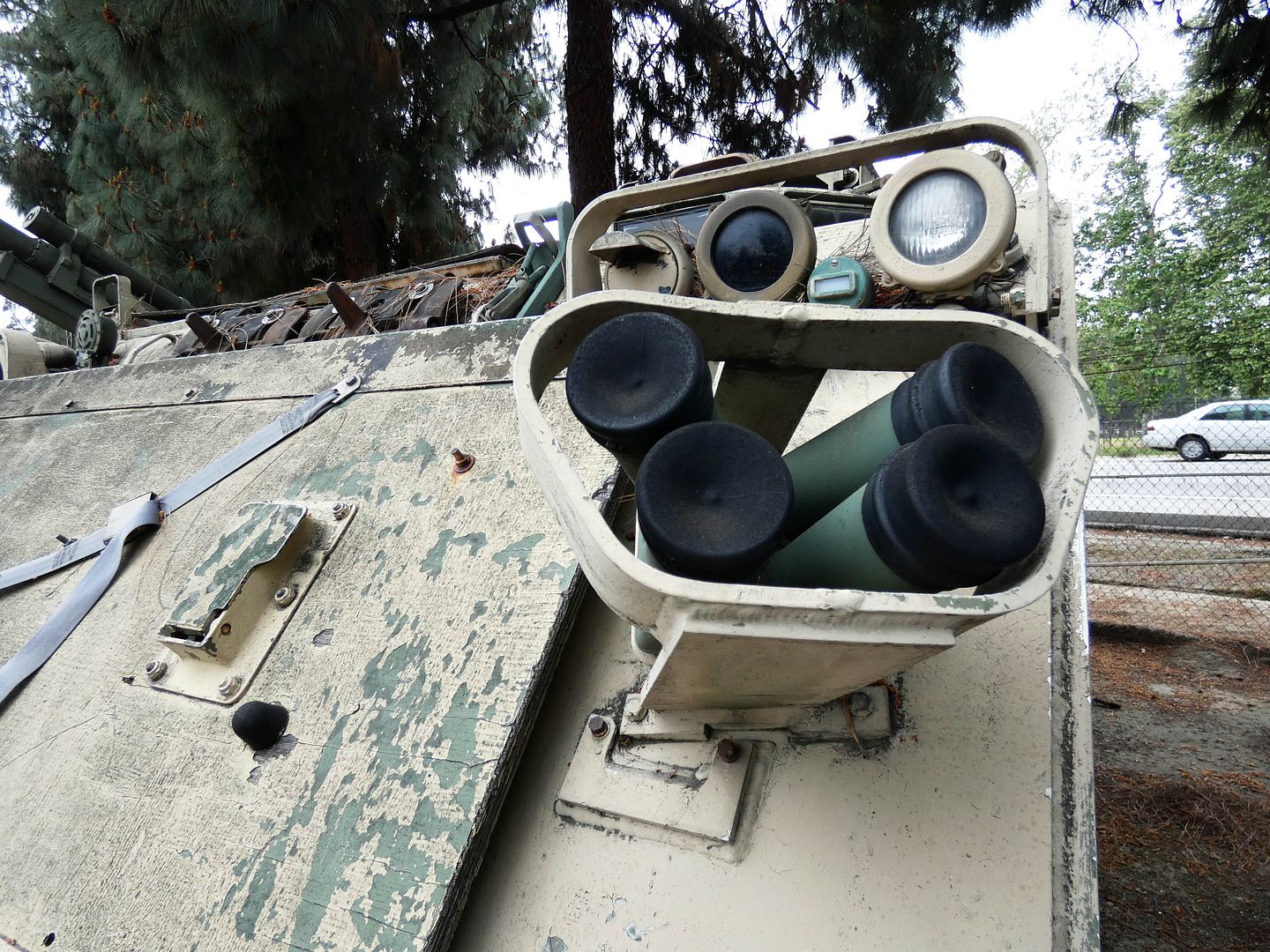 ...like the M901 APC with T.O.W. (tube-launched, optically- tracked, wire- guided), which carried as many as 10 fully loaded infantrymen during the Korean War.
Of course, Tankland has plenty of tanks, too...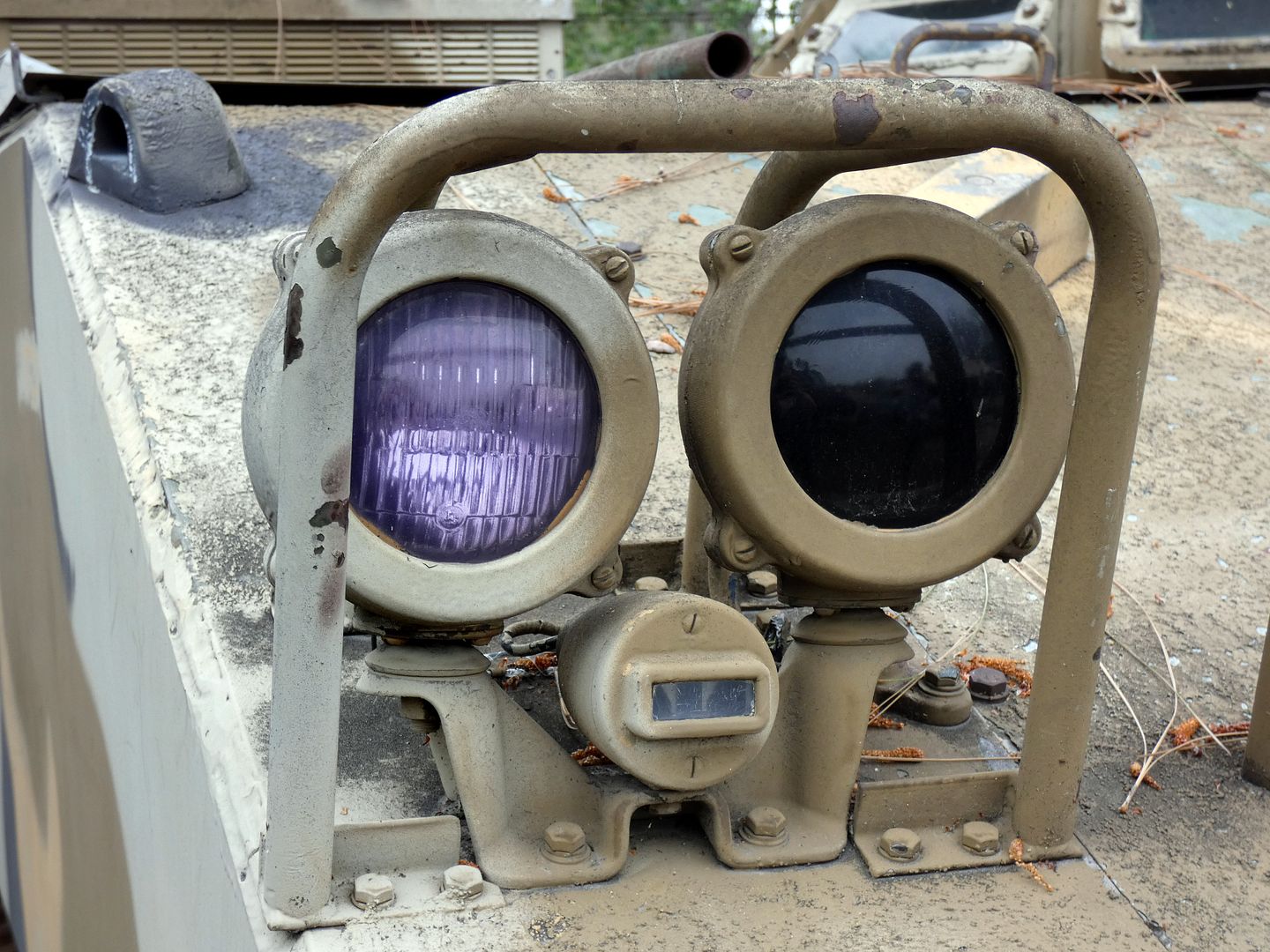 ...like the M114A1 M114 Command and Reconnaissance Carrier, which was manufactured during the Vietnam Era by the Cadillac division of General Motors (and, traveling at just 36 miles per hour max, was considered fast for a tank).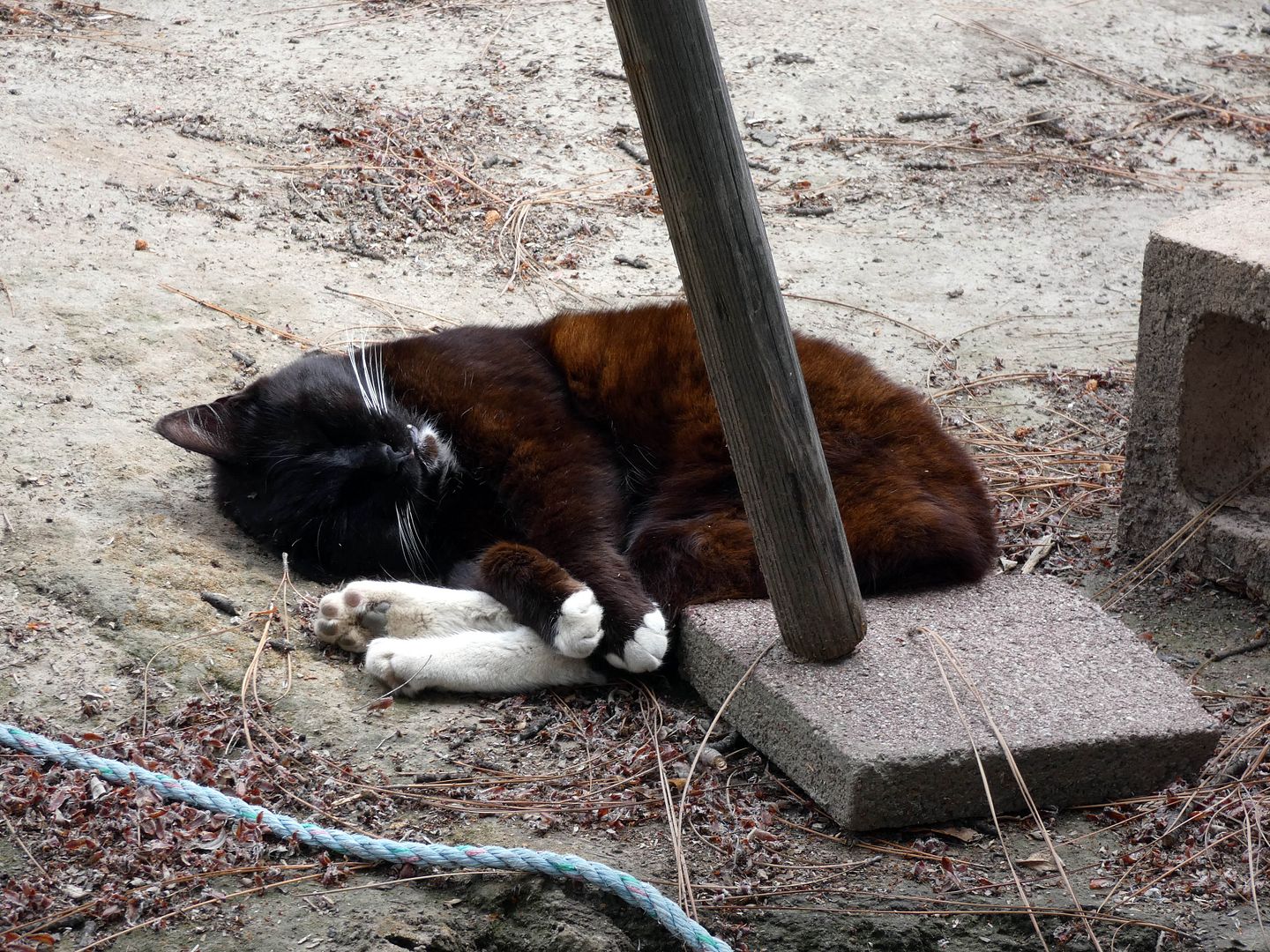 And that's just at the gate—which is guarded by the resident museum cat, named Boots, curled up for a nap but presumably ready to spring into action.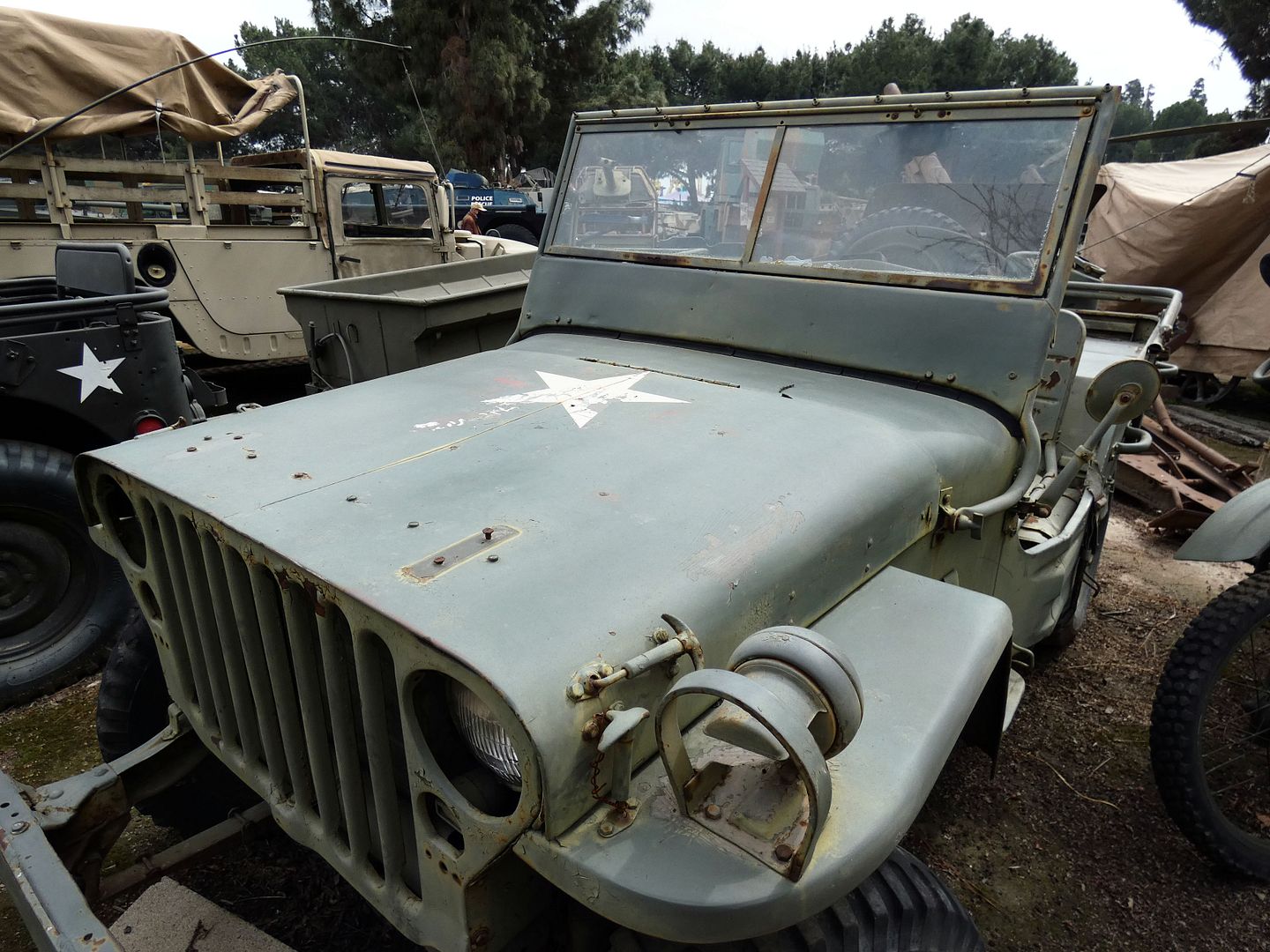 Tankland's collection also helps tell the story of the development of the Jeep...
...whose name came about as a shortening of the initials of "G.P."...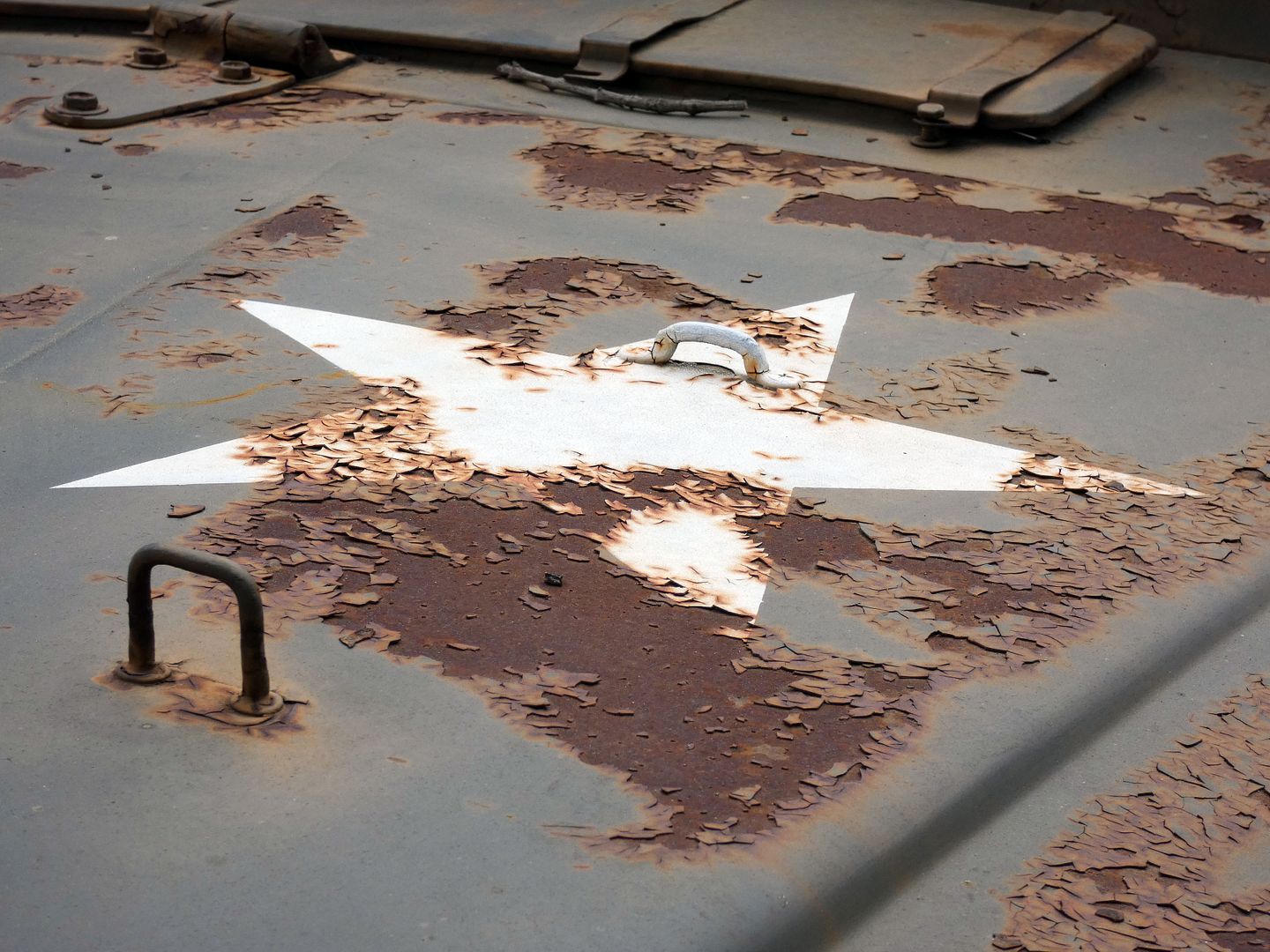 ...which, depending on who you ask, either referred to the War Department's "general
purpose" vehicles...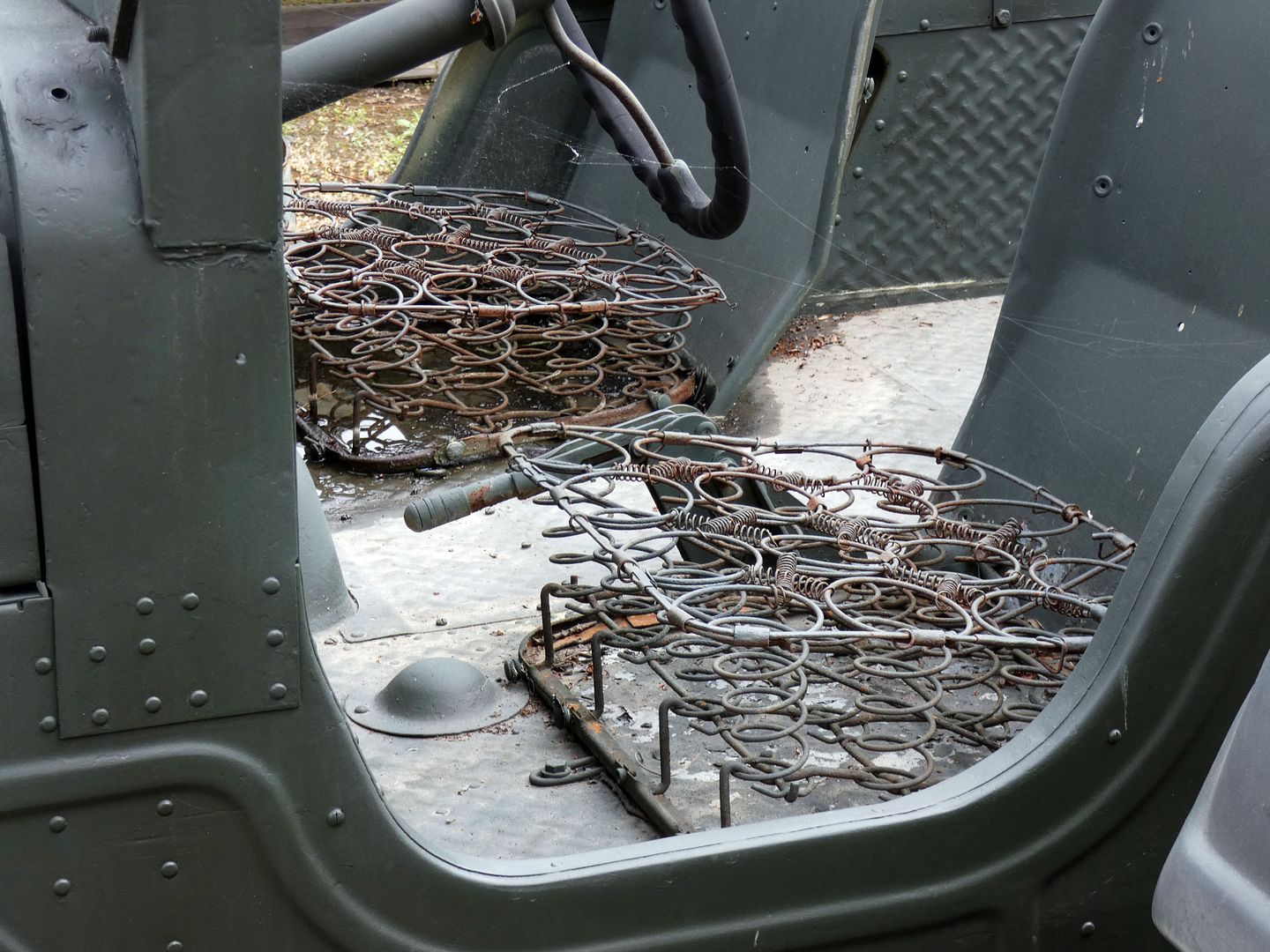 ...or the model Ford GP.
Some jeeps were even used as ambulances, like the circa 1959 M170...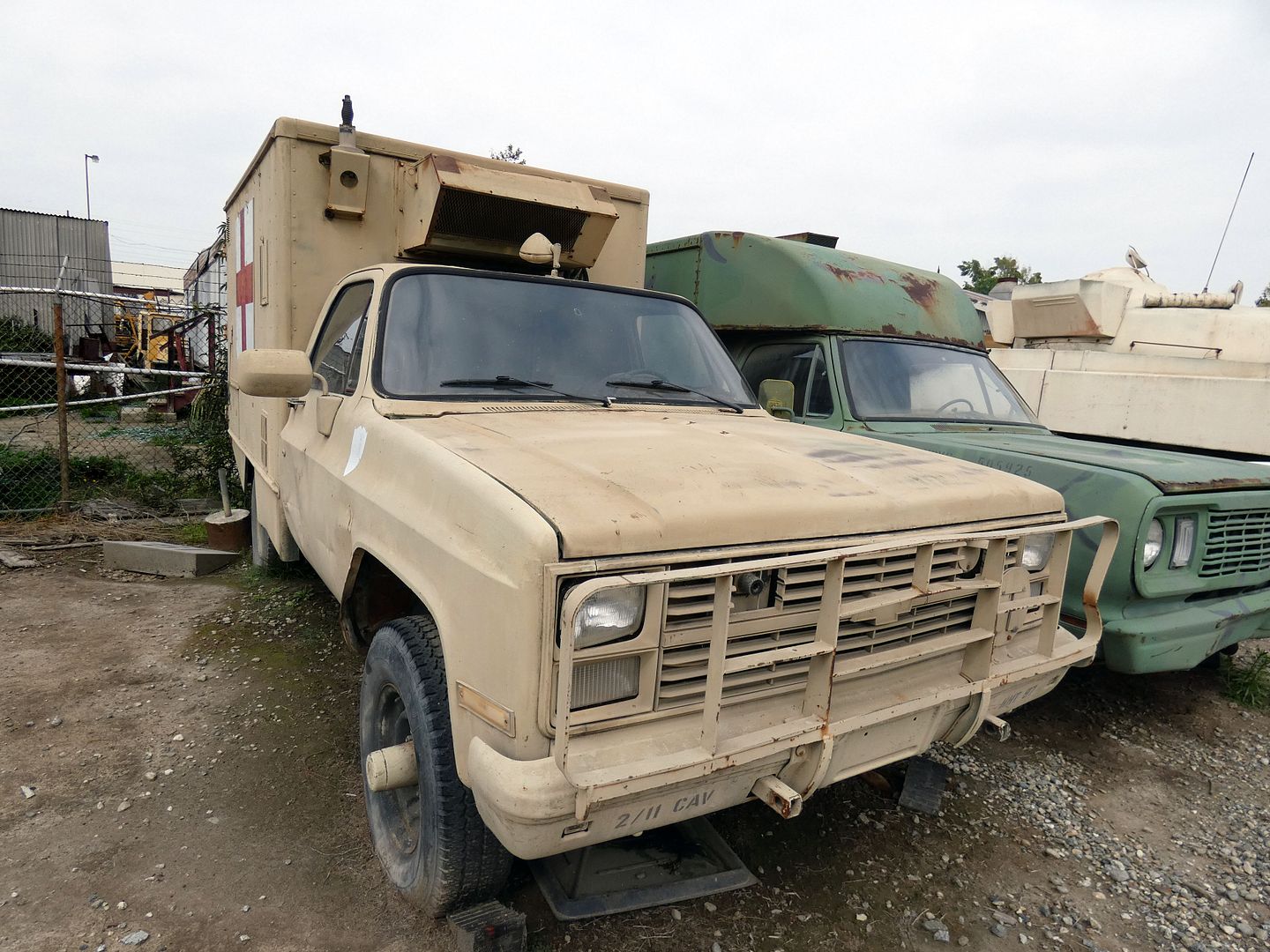 M1010, truck ambulance 1¼ ton, 4X4
...although other motorized ambulances (which replaced horse-drawn ones on the battlefield) were also used, primarily starting during World War I.
The Ford GTB 1 "Burma Jeep" is actually a half-ton 4X4 truck, circa 1943, which the Navy used as a general utility pick-up truck and for bomb transport during WWII. Its max speed was better than that of a tank, but not by much: 45 mph.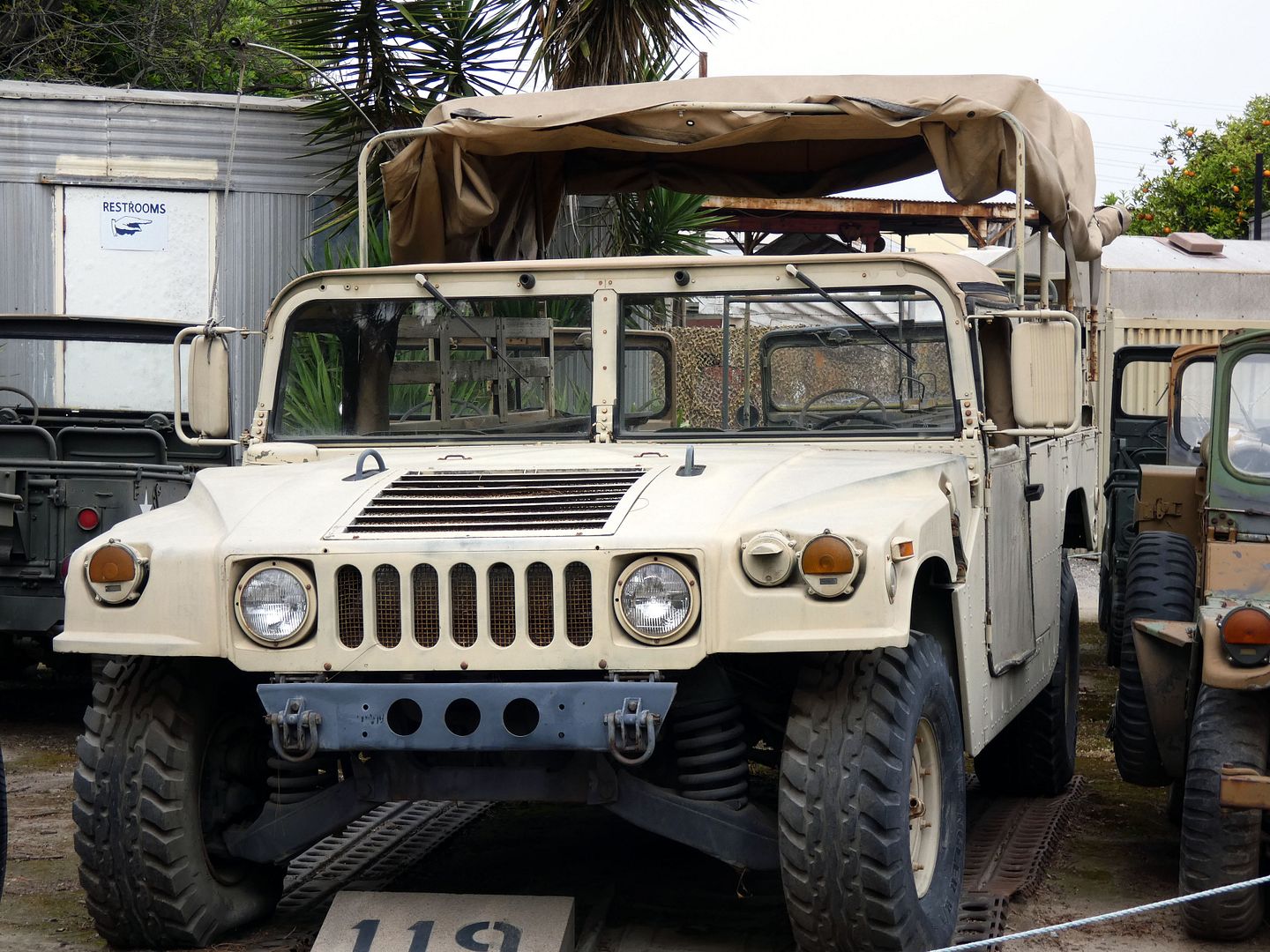 Jeeps and 1½- and 2½-ton trucks were replaced, however, by High Mobility Multipurpose Wheeled Vehicles, a.k.a. "humvees" or "hummers." The M988 HUMMVW at Tankland is actually a Frankenstein-like conglomeration of parts from five different wrecked hummers, assembled to build a complete vehicle.
The Tankland collection also contains rare military buses...
...and a "half-track", the M16 Multiple Gun Motor Carriage, a.k.a. an armored personnel carrier and self-propelled anti-aircraft weapon manufactured by the White Motor Company and in use from 1943 to 1953, during both WWII and the Korean War.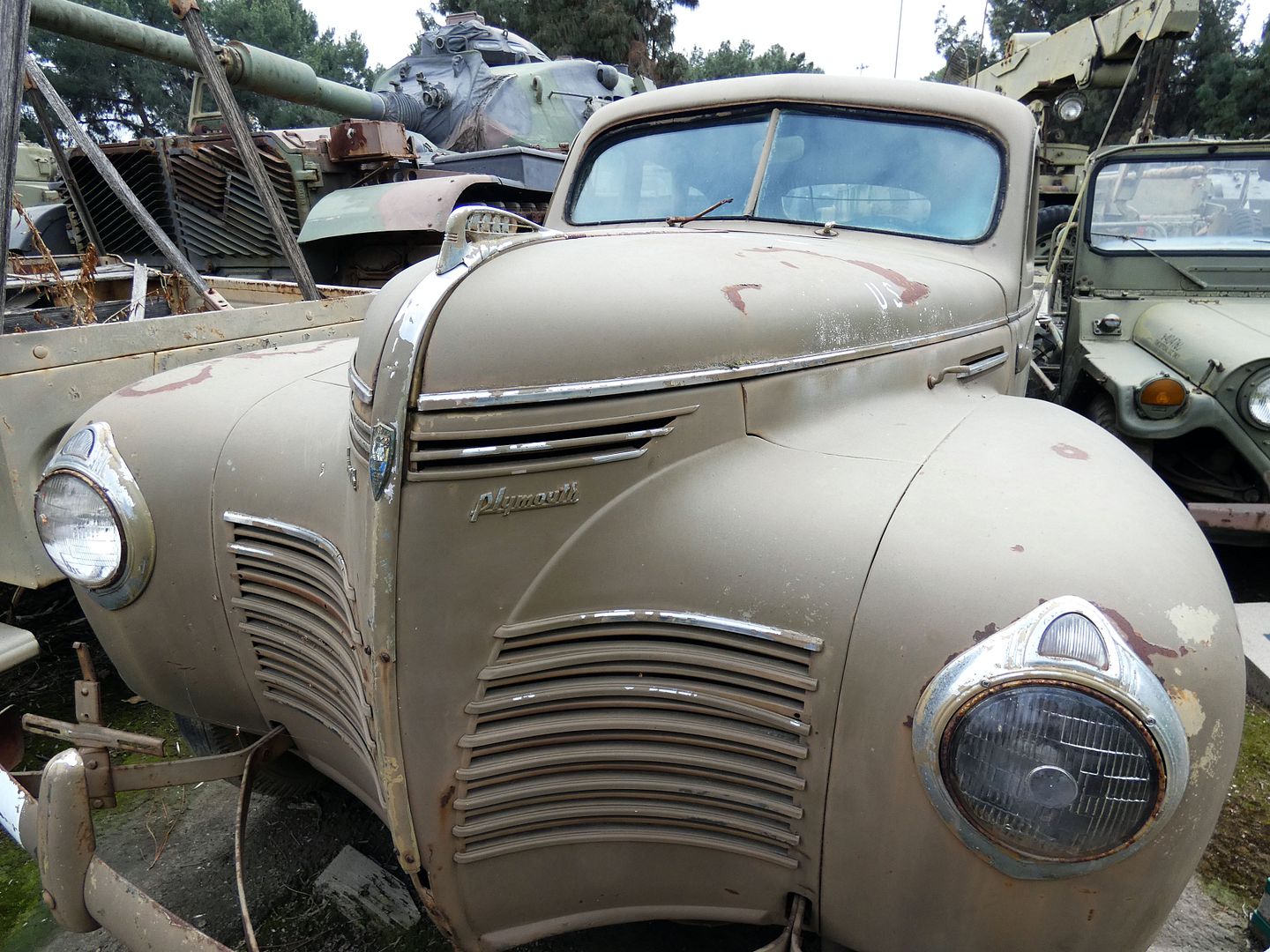 Officers and other important personnel were transported in the P11 Chrysler Plymouth staff car during World War II.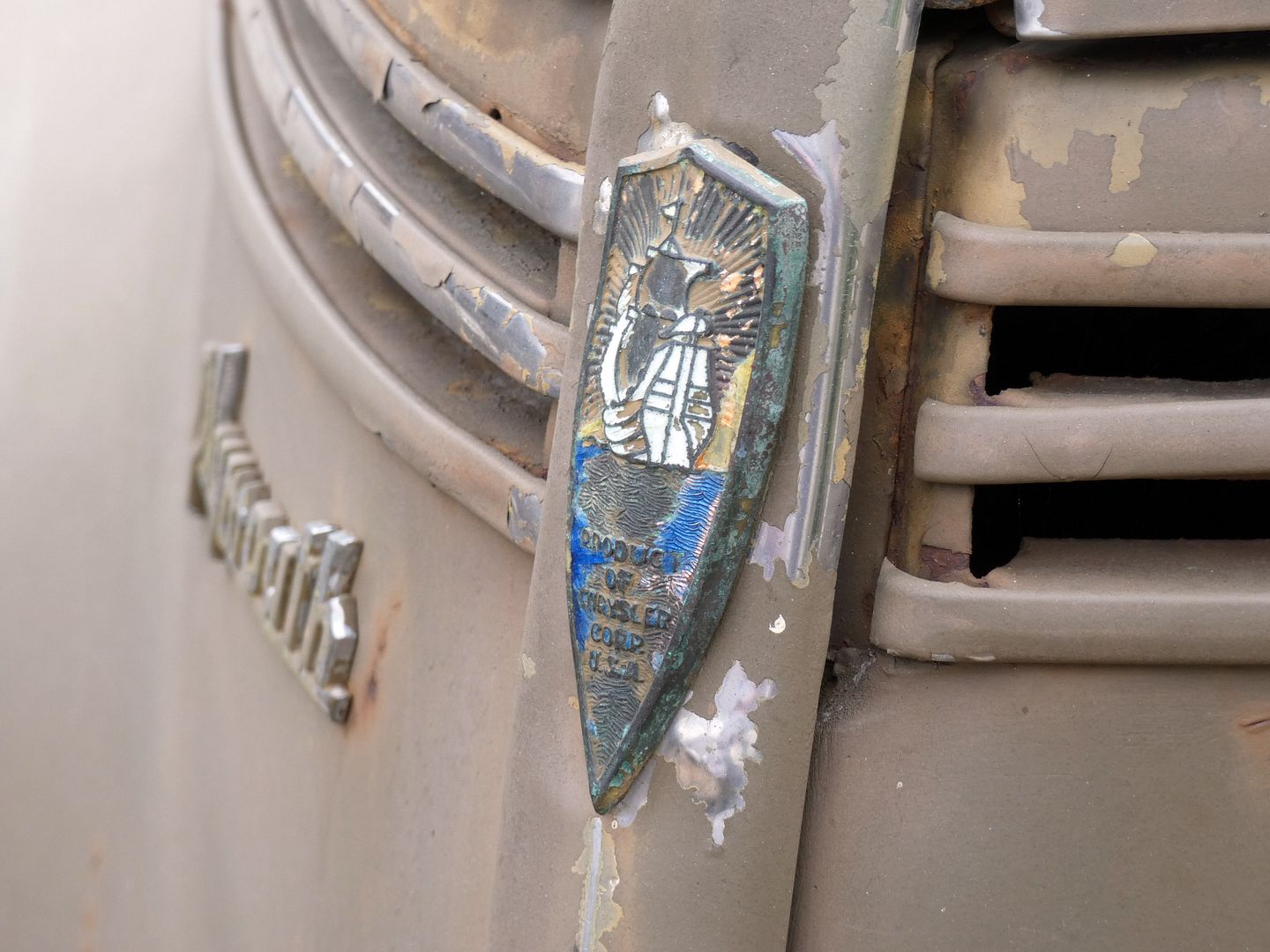 This sedan, on display at Tankland, was manufactured by Chrysler in 1941...
...and was outfitted with "suicide doors" and a rad hood ornament.
Tankland has so many tanks, its central display is known as "Tank Island."
There's the mock-up of the Soviet-designed T-72 tank mock-up, built and used by Hughes Electronics for testing anti-tank heat-seeking missile guidance systems.
And the amphibious landing vehicle tracked LVT-4—built by Food Machinery Corporation (a.k.a. FMC, better known for its manufacture of farm equipment) and in service from 1944 to 1955—was originally designed to load, carry, and unload supplies and other cargo from the shore to ships and back (hence the rear ramp).
Amphibious tractors like the LVT-4 were also later used as assault vehicles.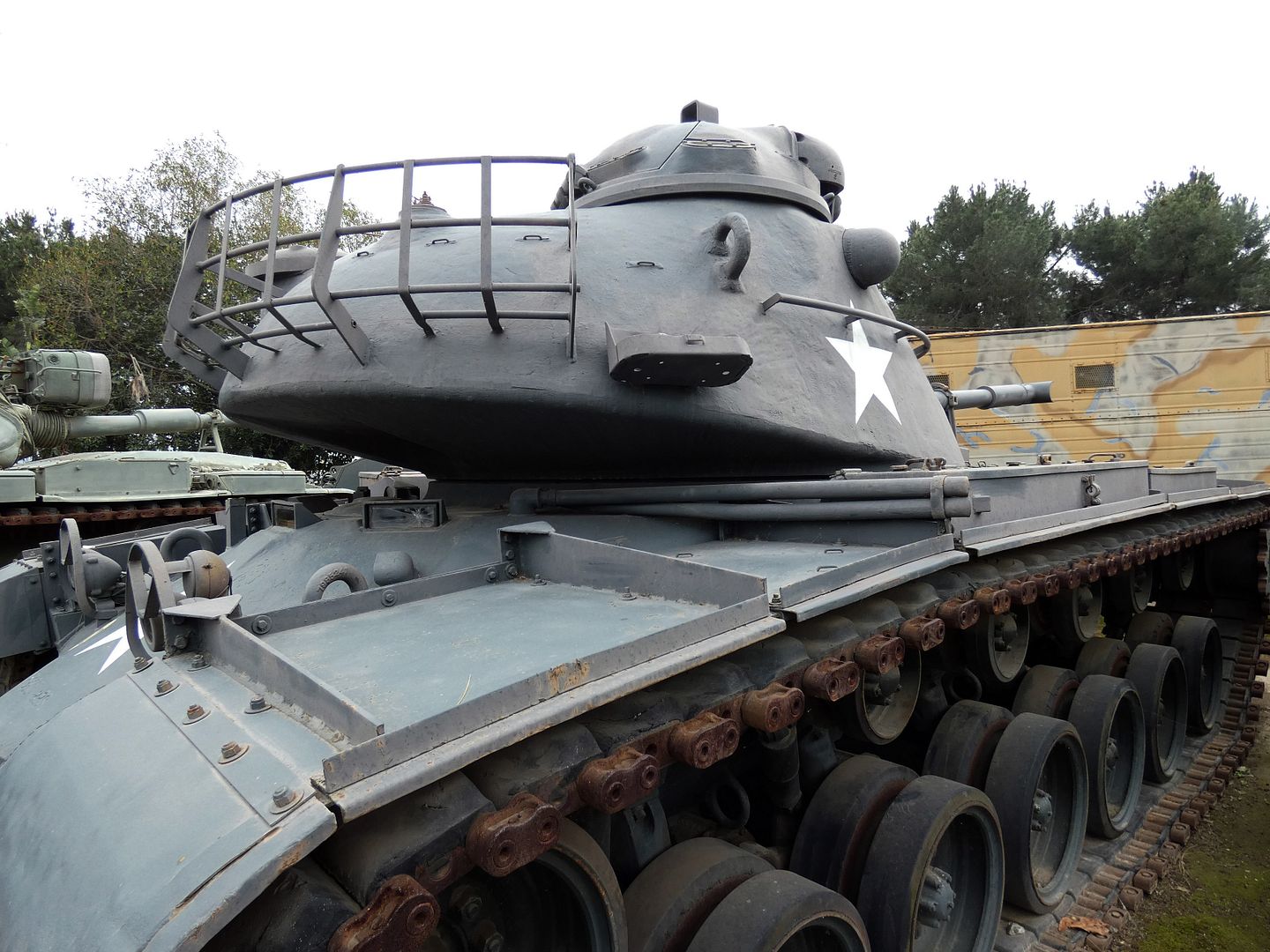 The M48A1 medium tank—designed by Chrysler and later manufactured by Ford, AMC, and others—was used by the Marines only until 1973 and by the Army only until 1987. But it's still used in certain countries in Europe (Greece, Germany, Poland), Asia (Taiwan, Thailand, South Korea), the Middle East (Iran, Lebanon), North Africa (Morocco), and Turkey.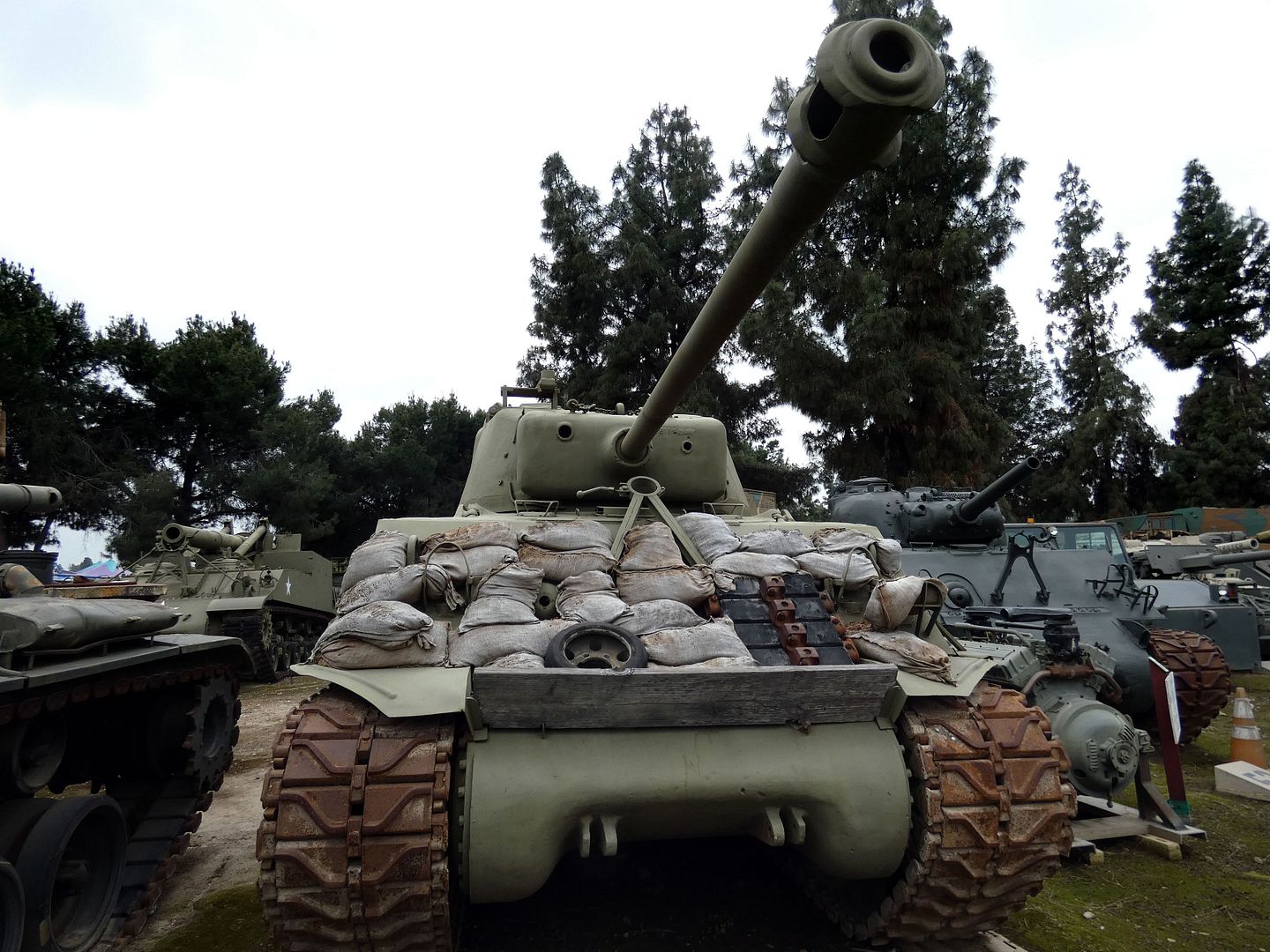 The "Super Sherman" tank, a modified version of the Sherman M4 medium tank (technically the M4A3E8 "Easy Eight"), once carried a 76 mm main gun—which the museum hopes to replace with an authentic demilitarized one, if they can find and acquire one. It also carried two 30-caliber machine guns and two 50-caliber machine guns.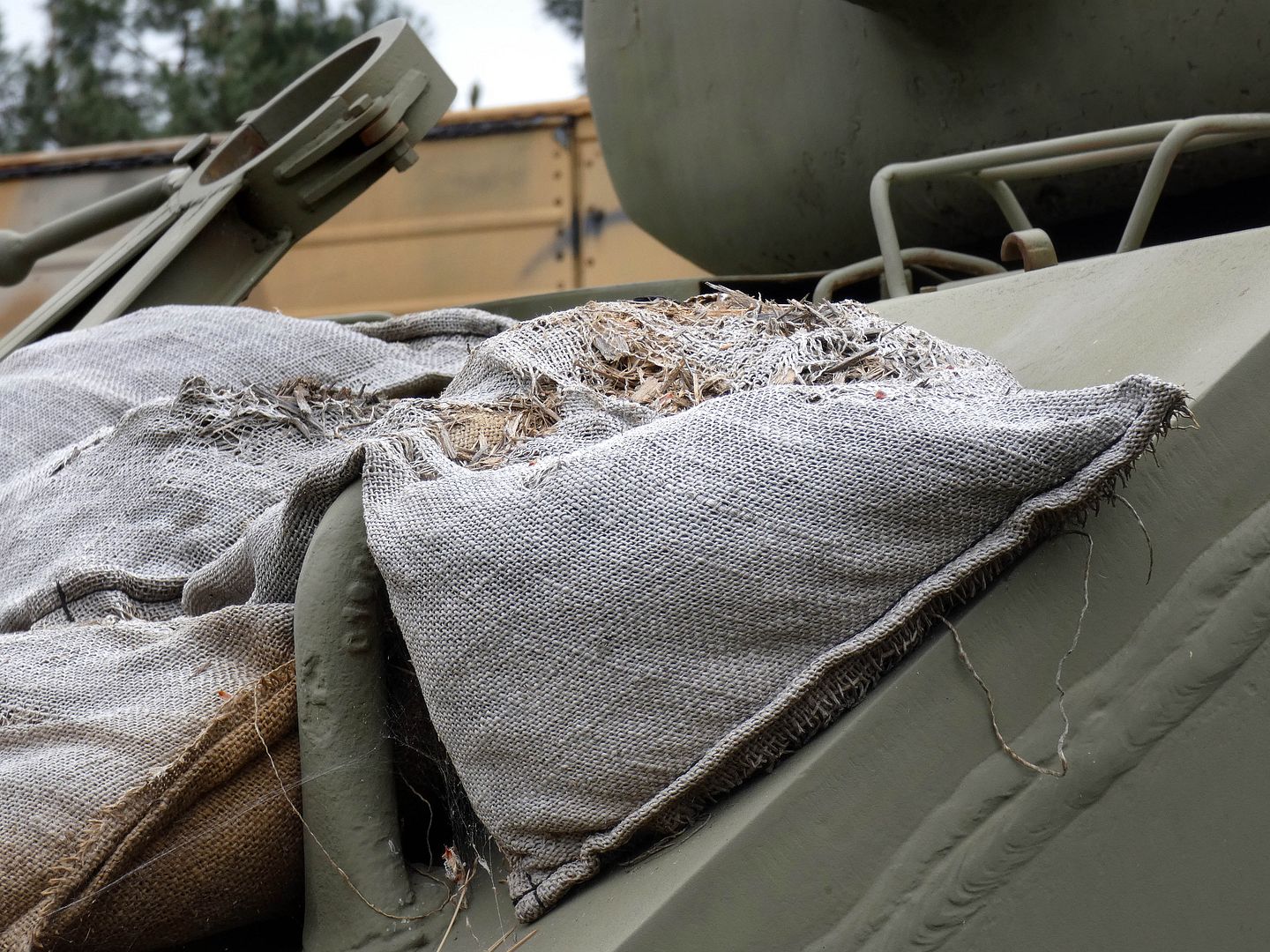 This 36-ton tank was built by Ford with a 500 HP, gas-powered engine that could travel about 100 miles (but only at a top speed of about 26 mph).
Thanks to its welded aluminum hull, the M551 Sheridan tank was so light (just 28,535 pounds) that it could be airlifted and dropped by parachute! This particularly "airborne tank" was used at the
National Training Center at Ft. Irwin
to simulate Soviet T72s and BMPs as the "aggressor force."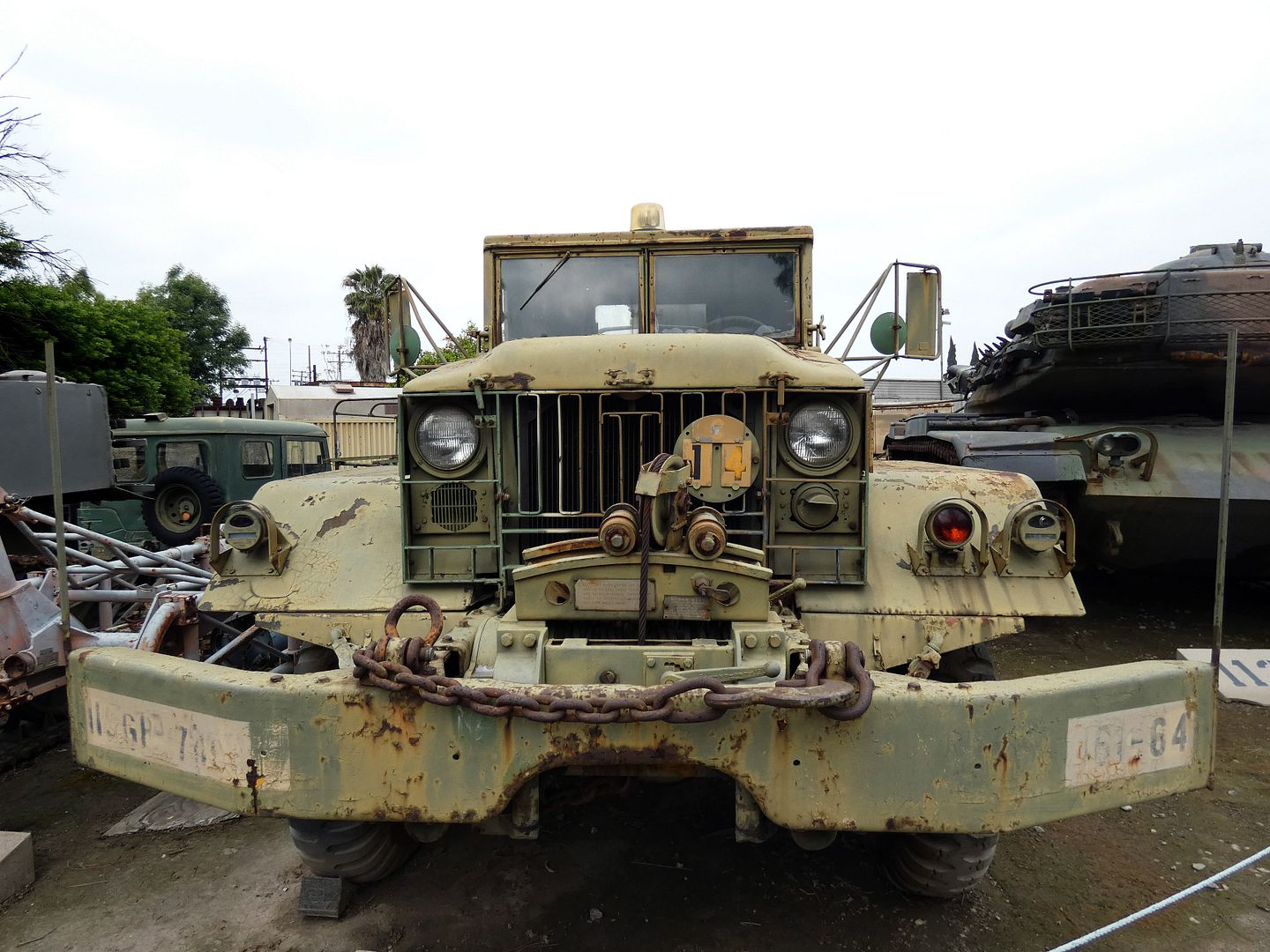 The M62 wrecker 6X6 truck, however, is a 5-tonner that was heavy enough to handle most military vehicles from the 1950s until the late 1990s. Its crane lift capacity was 10,000 lbs.; its front winch could handle 20,000 lbs.; and its rear winch could handle 45,000 lbs. But even that wasn't strong enough for today's heavier military vehicles, so it was phased out.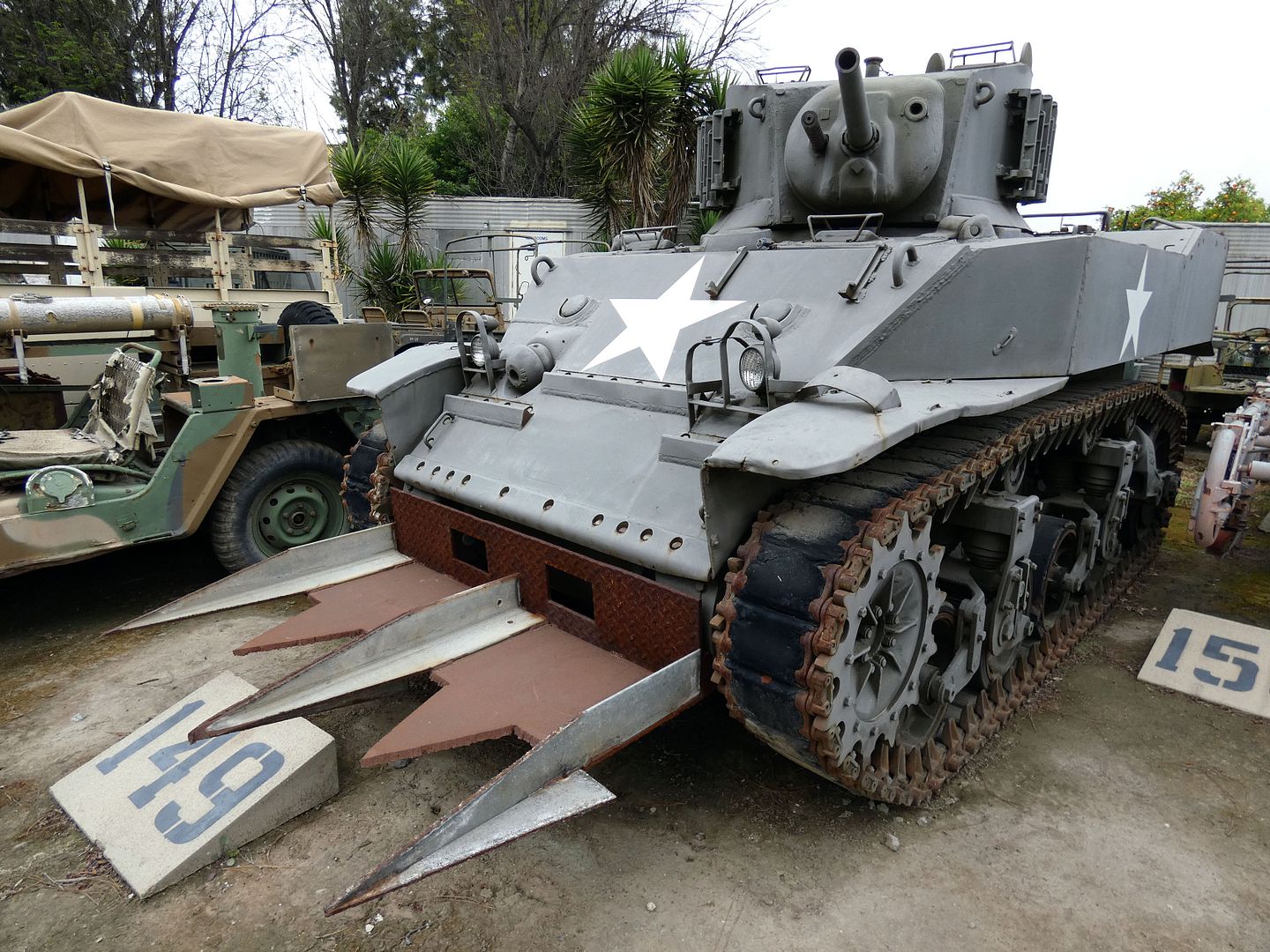 Several of the military vehicles at Tankland were used in Hollywood productions, like the M5 A1 Stuart light tank, made by General Motors at its LA-adjacent South Gate Assembly automobile plant in 1943 and featured in the MGM film Windtalkers (2002).
A surprising number of the DUKW 2½-ton, six-wheel drive amphibious trucks ("Ducks")—dating back to 1942 and used during the D-Day invasion—are still in use today. It was driven by a propeller for water operations, like amphibious landings and river crossing operations—which were possible thanks to a watertight hull. It could carry 25 troops or up to 2½ tons of cargo.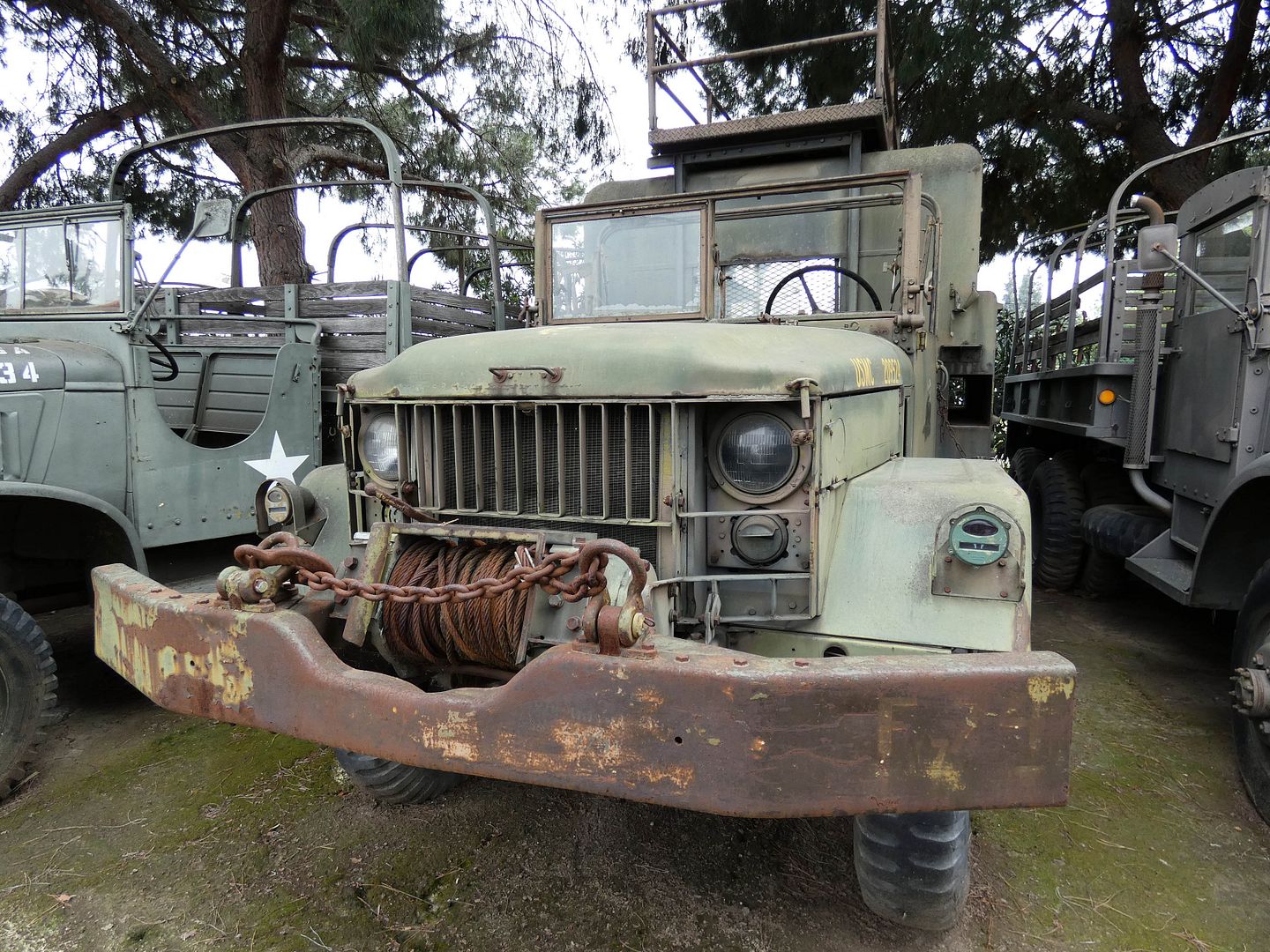 Some of the utility vehicles didn't see direct combat—but instead were used for more logistical operations, like putting up telephone poles and lines. The V-17A/MTQ truck, manufactured by R.E.O. Motor Car Company (yes, which also made the "speedwagon"), was in service from 1953 to 1975.
This maintenance and telephone construction truck's winch load capacity was 10,000 lbs. in the front and 20,000 lbs. in the back.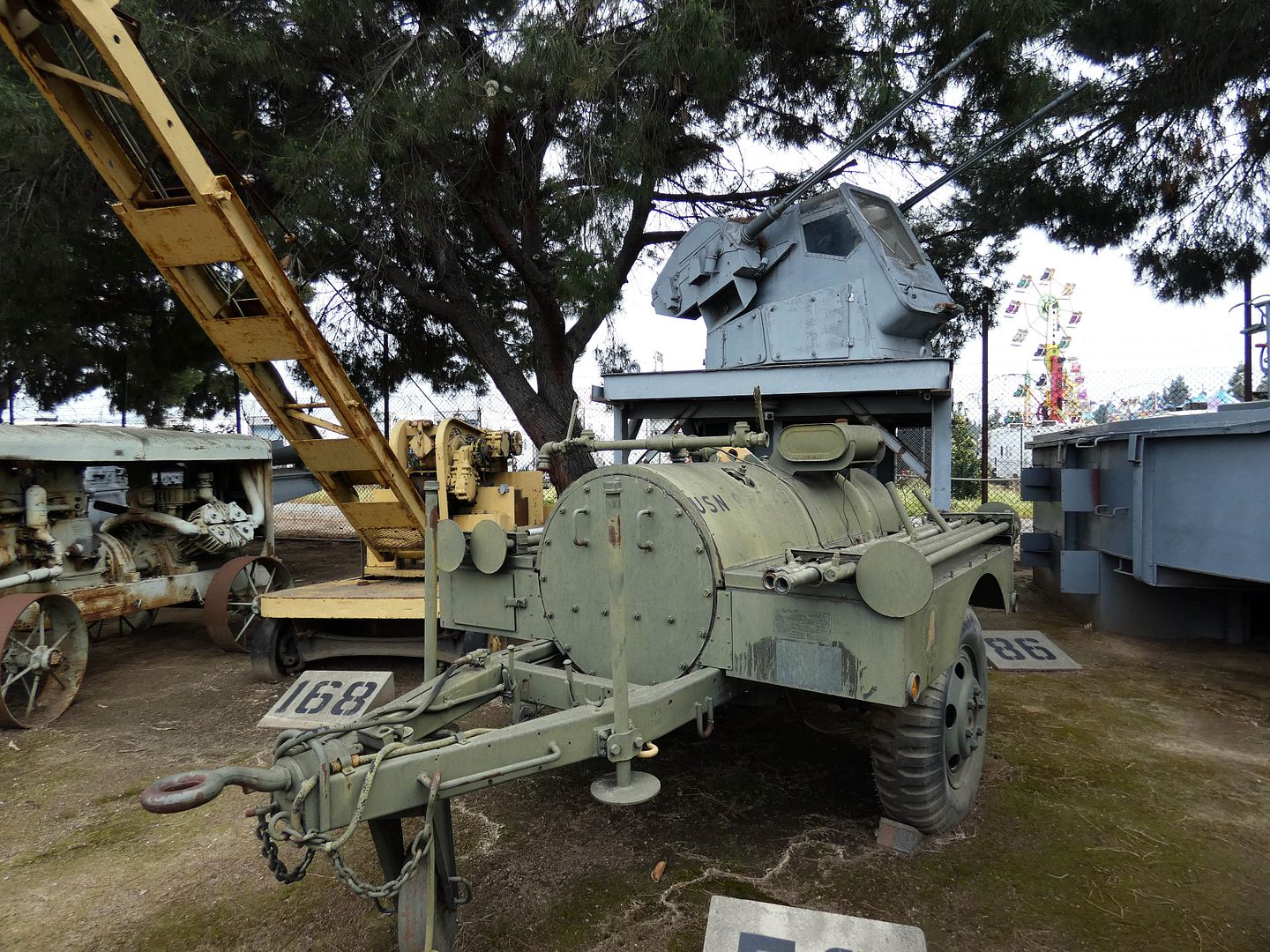 (Rear) EX-74/Emerlec-30 gun mount
And, besides telephones, the soldiers needed other infrastructure, too—including somewhere to take a hot shower. The museum's collection also features a 2-wheel, towed shower unit, equipped with complete plumbing and is hooked up to a a 400-gallon water tank trailer (a.k.a. "Water
But of course, any military museum will also feature its fare share of artillery (of course, inert, a.k.a. deactivated)—and at Tankland, you can see torpedo tubes (in the foreground, above) with a 4,500-yard range (on steam turbine power), used from 1930 to 1946.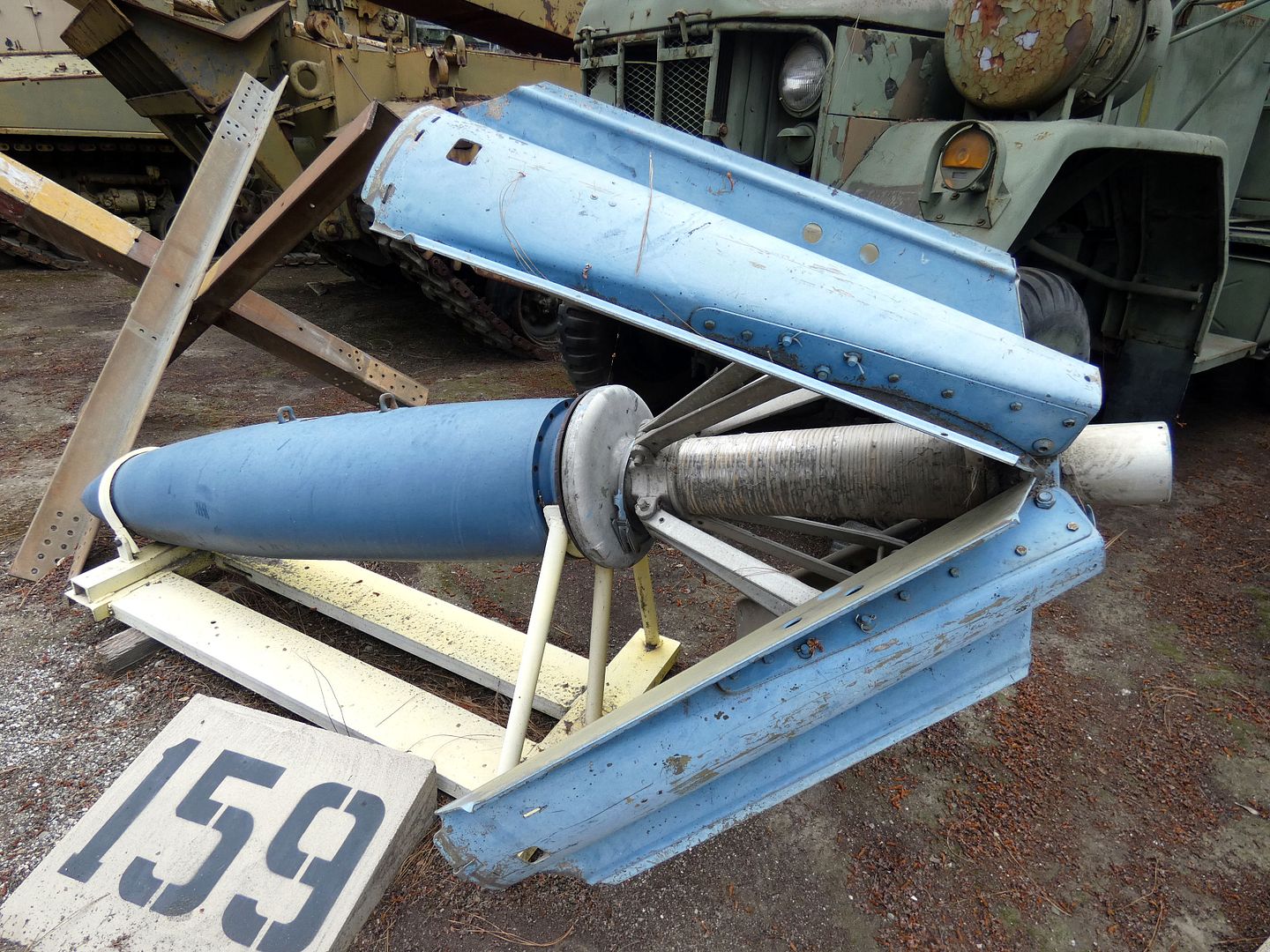 The MK-82 General Purpose Bomb (GPB) series of bombs—with "snakeye fins," which allowed them to be dropped at low altitude by hi-speed aircraft— started production in the 1950s.
The Tankland collection also contains a non-recoverable, supersonic, air-launched missile target system used by the Army and Navy to simulate invader aircraft and missile threats: the AQM-37A Target Drone System, Expendable (as seen in the film Pearl Harbor).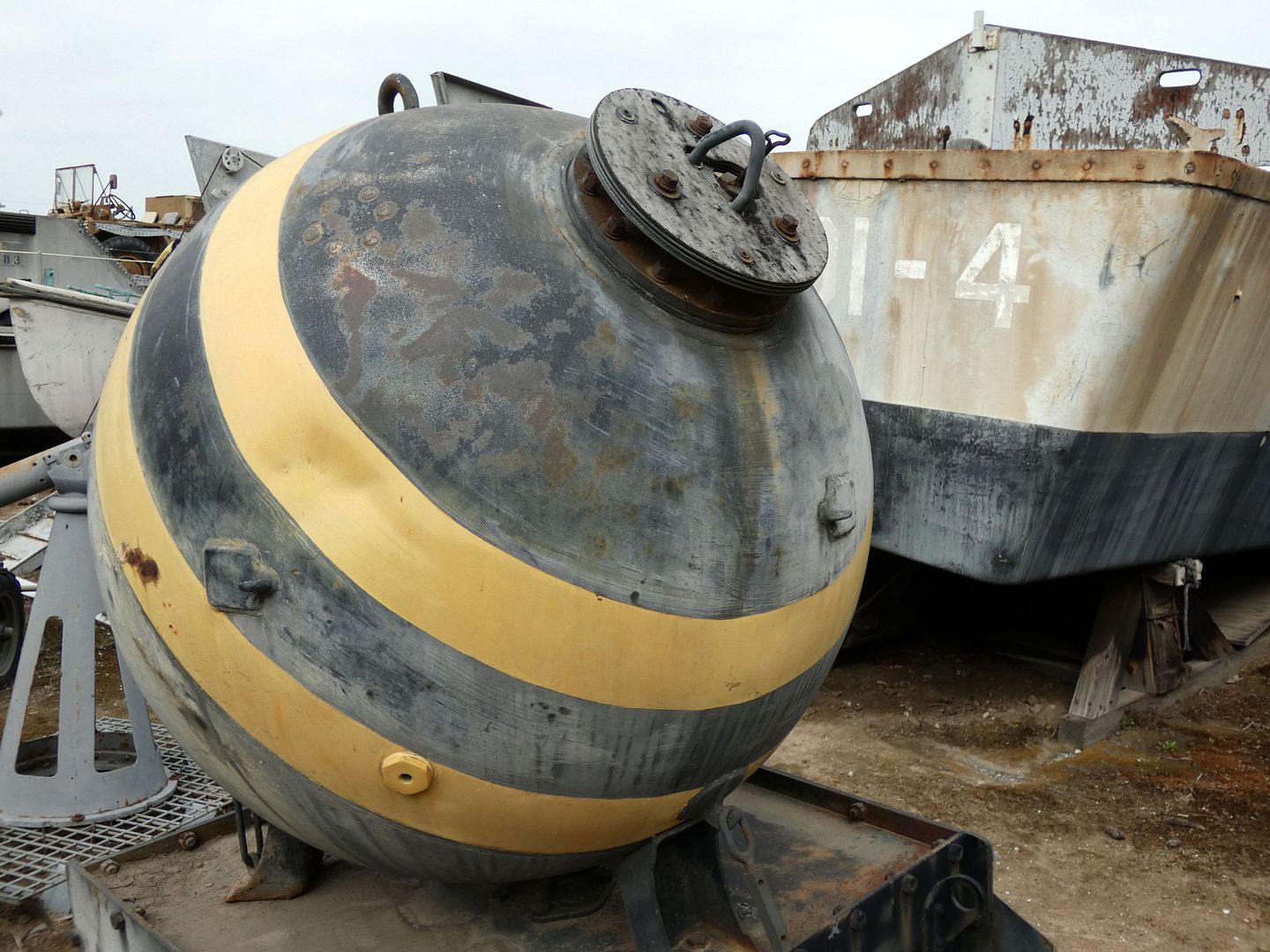 The WWI-era Mark 6 (or MK 6) antenna mine is a 34-inch sphere containing 300 lbs. of TNT. The sphere and sinker together weigh 1400 lbs. total—and the whole thing could be dropped in up to 3,000 feet of water.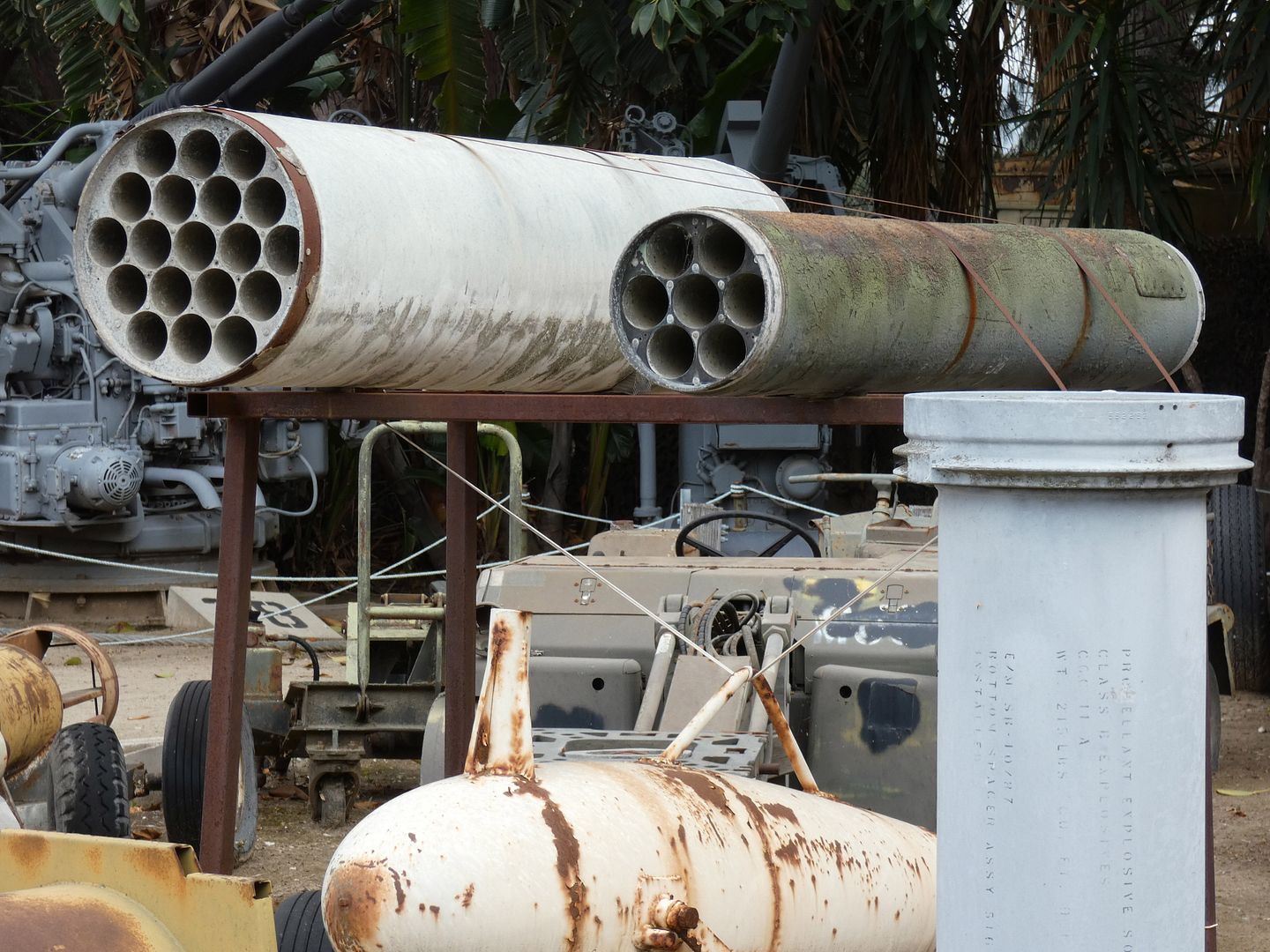 I've never seen so many mines, bombs, torpedoes, and other explosives in one place.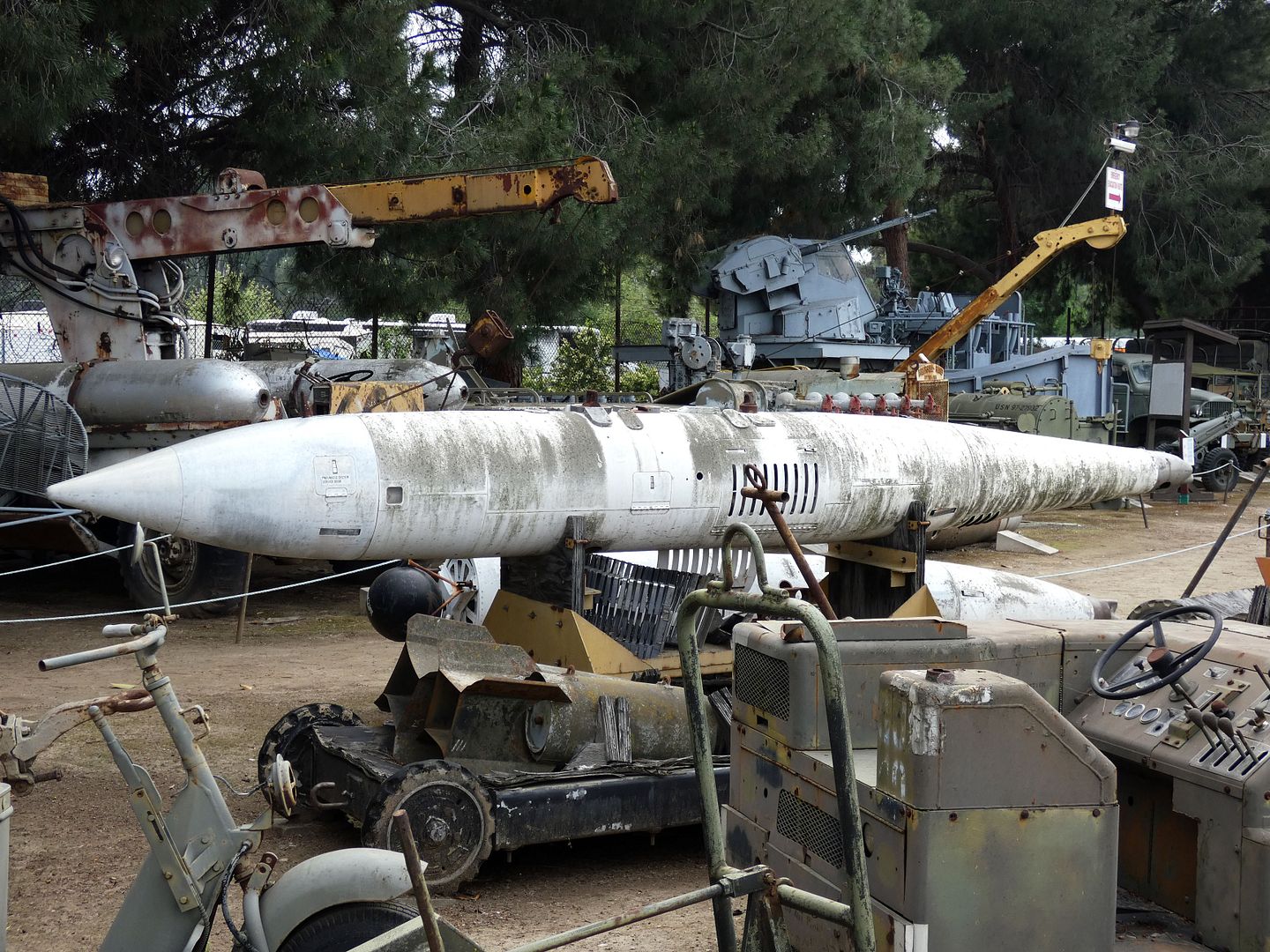 Even if you care nothing for tanks...
...the weapons alone at Tankland are pretty impressive.
But don't forget the vessels used in warfare—like the "Higgins boats" used during World War II and Korea as landing craft (like in the D-Day landings). Derived from the shallow-boat designs of Andrew Jackson Higgins of New Orleans, this one is made of wood—and, at 36 feet long, could carry 39 troops and a crew of three.
Another type of landing craft is the fiberglass one used to retrieve personnel or equipment during Vietnam (above, foreground). The 26-foot motor whale boat (above, rear) transported personnel and
was used as a lifeboat during WWII, the Korean War, and Vietnam.
My favorite item at Tankland was probably the Cold War-era air raid siren, used primarily in the 1950s and '60s. There are several still mounted in place around Los Angeles, maybe two or three stories high—but this one was removed by the city of Beverly Hills and donated to the museum.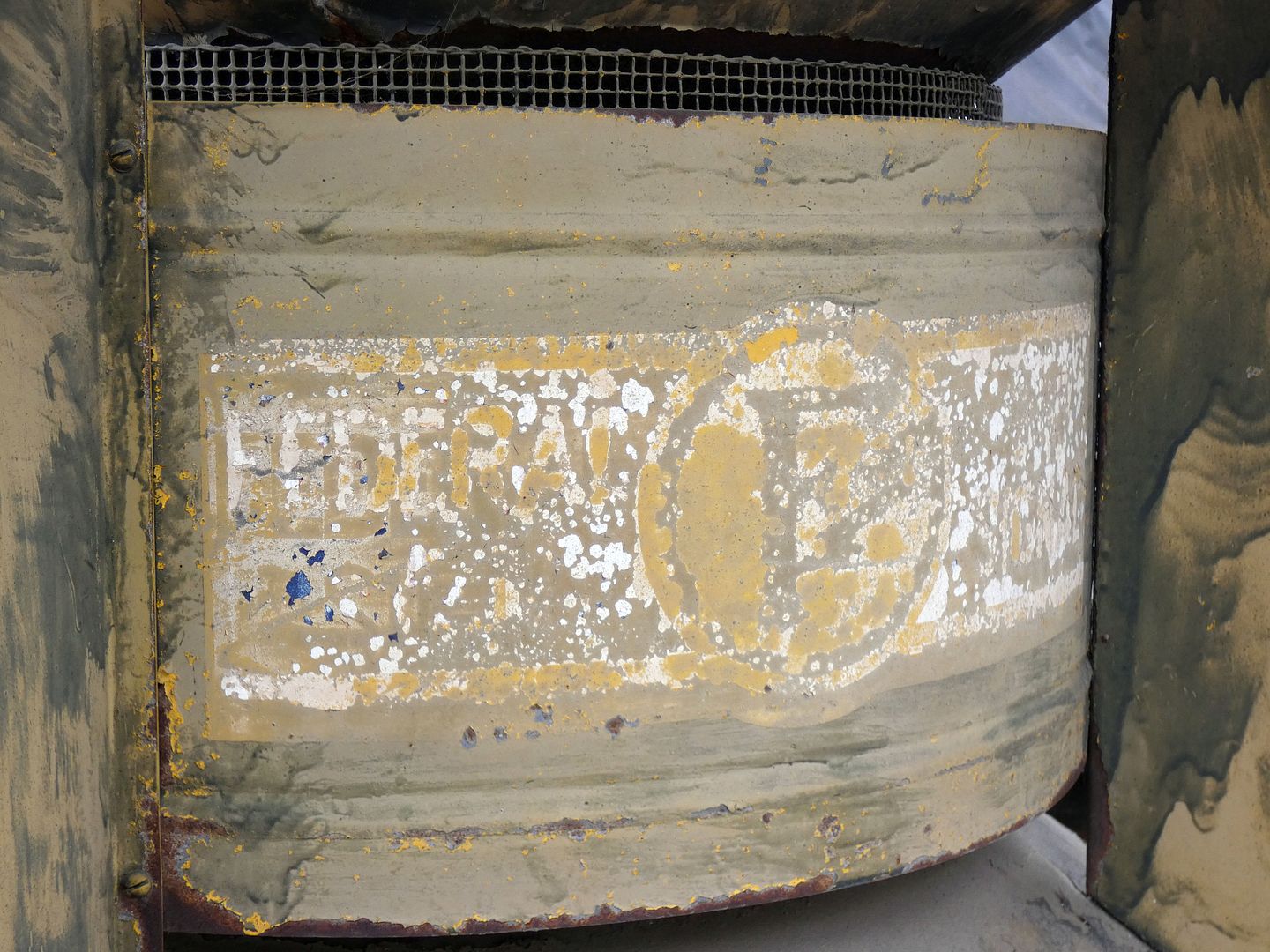 It's so cool to be able to see it at eye level—and examine the ghostly maker's mark of Federal Signal Company.
Other neat items—some of which get loaned out for the annual
Air Raid reenactment at Fort MacArthur
—include searchlights, a Soviet radar simulator (used in the movie
G.I. Jane
), giant propellers (a.k.a. "screws," like a 14,300-pound one removed from a Navy minesweeper), and more.
The American Military Museum is located on Los Angeles County-owned land—so my friend and I couldn't help but wonder what will happen to it when Craig Michelson is no longer interested in or capable of being in charge.
Or, what might happen if the county decides it ever wants the land back, to use it for some other purpose?
Will it all be sold at auction to the highest bidder?