I'd had a chance to join a group of friends on a nature walk to Fly Geyser back in 2018, the first year it had opened to the public in over two decades.
But on the date of their trip, I was already making up for another trip I'd missed with that same group of friends.
I feel like I'm always behind on everything.
Every opportunity taken is a missed opportunity to do something else.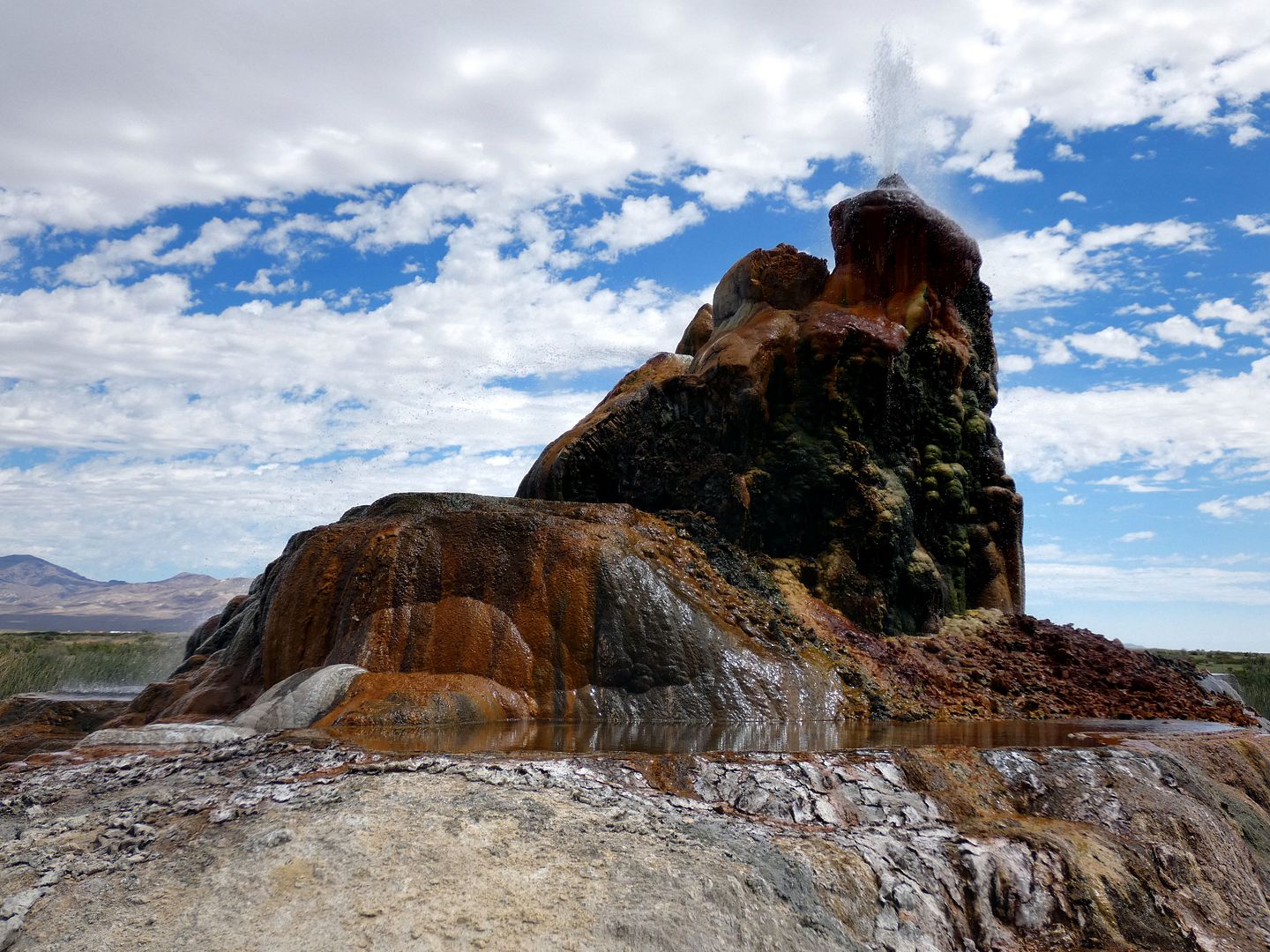 So only four years later, I managed to nab a reservation through Friends of Black Rock High Rock, the non-profit that controls public access to the natural wonder (with an incredibly restrictive photo policy).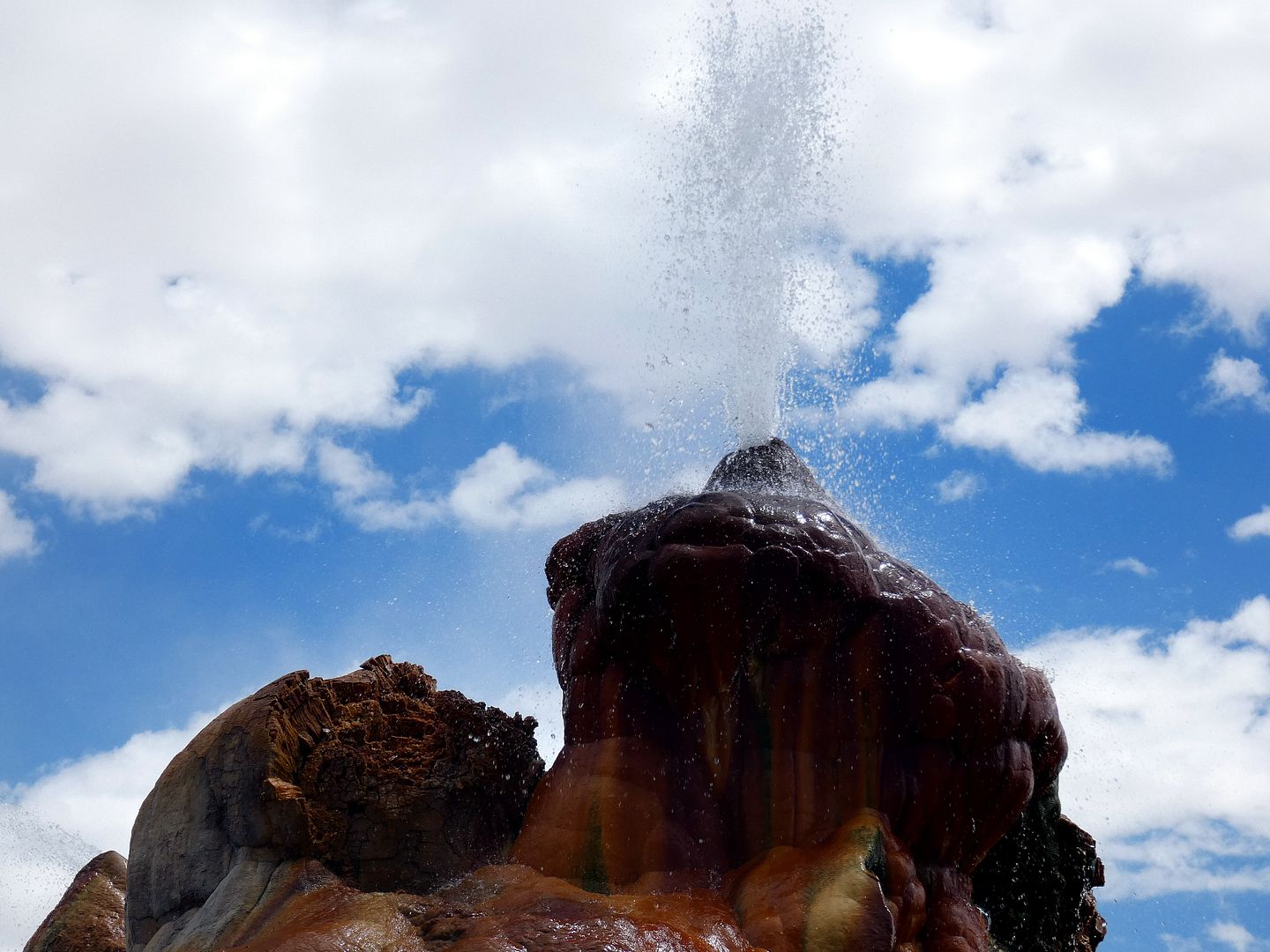 The geyser itself is located Fly Ranch—a 3,800-acre property northeast of Gerlach, Nevada, owned by Burning Man Project since 2016. Fred Gerlach homesteaded it in the late 19th century—and after that, parts of it were used as a cattle ranch, alfalfa farm, and even an airport.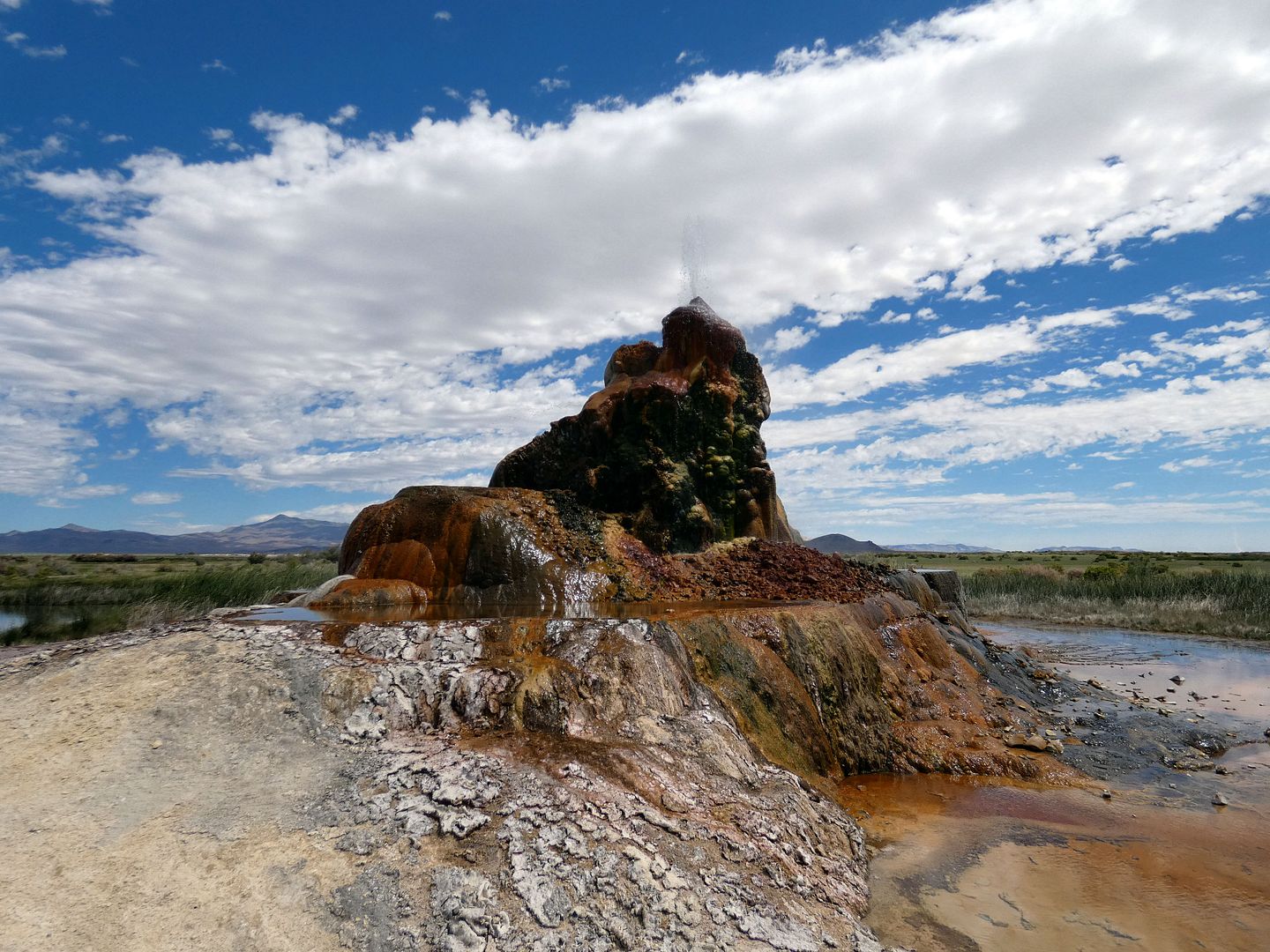 Burning Man holds its annual festival in nearby "Black Rock City," set up on the dry lake bed (or "playa," which isn't always so dry) of Hualapai Flat.
There's some surrounding BLM-managed land, the Black Rock Desert - High Rock Canyon Emigrant Trails National Conservation Area, that allows greater public access—like camping, and even some recreation, like 4-wheeling and off-roading.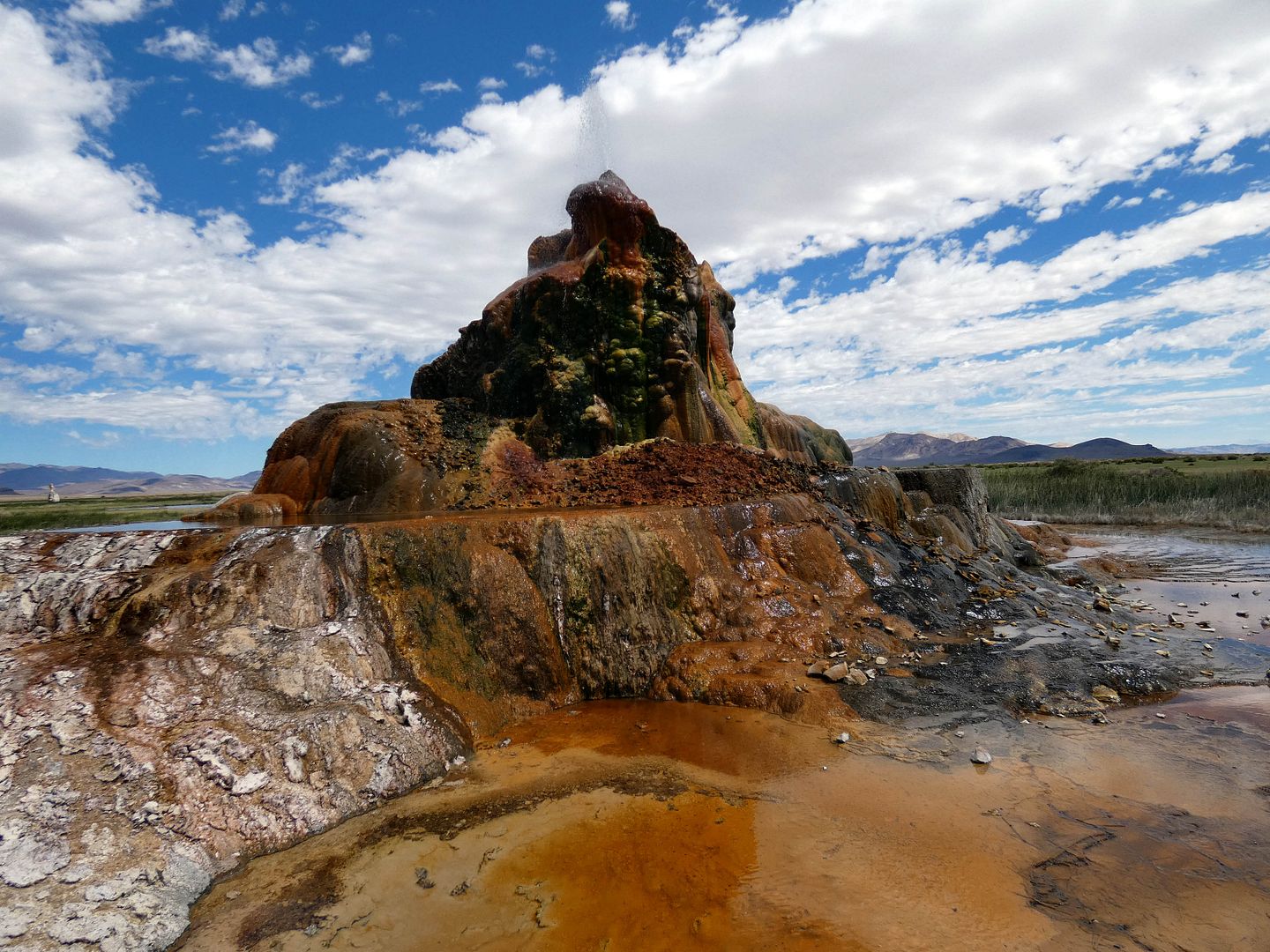 But this area of geothermal hot springs and cold springs is kept pristine—so any changes you see, like how Fly Geyser gets taller and wider each year with increasing mineral deposits, is entirely natural.
You're not allowed to go in the water—and you may not want to, considering how much thermophilic algae there is, creating that rainbow of colors. And some of the water is known to get hotter than 115 degrees F.
The entire ranch features pools that disappear and reappear in different spots—thanks to a groundwater supply that's very close to the surface. There are also larger ponds that were created when parts of the ranch were dammed off.
Water is also constantly spurting out of the top of the 30-foot mound—and that water could be as hot as 225 degrees F. (I've seen photos and videos of two spurts coming out of the top in the past, but I only saw one during my visit.)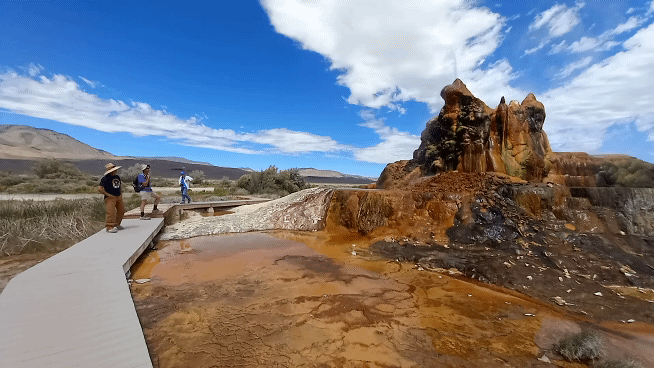 It's a relatively young geyser—formed in 1964 when Western Geothermal drilled the area and found that it wasn't hot enough to use as an energy source.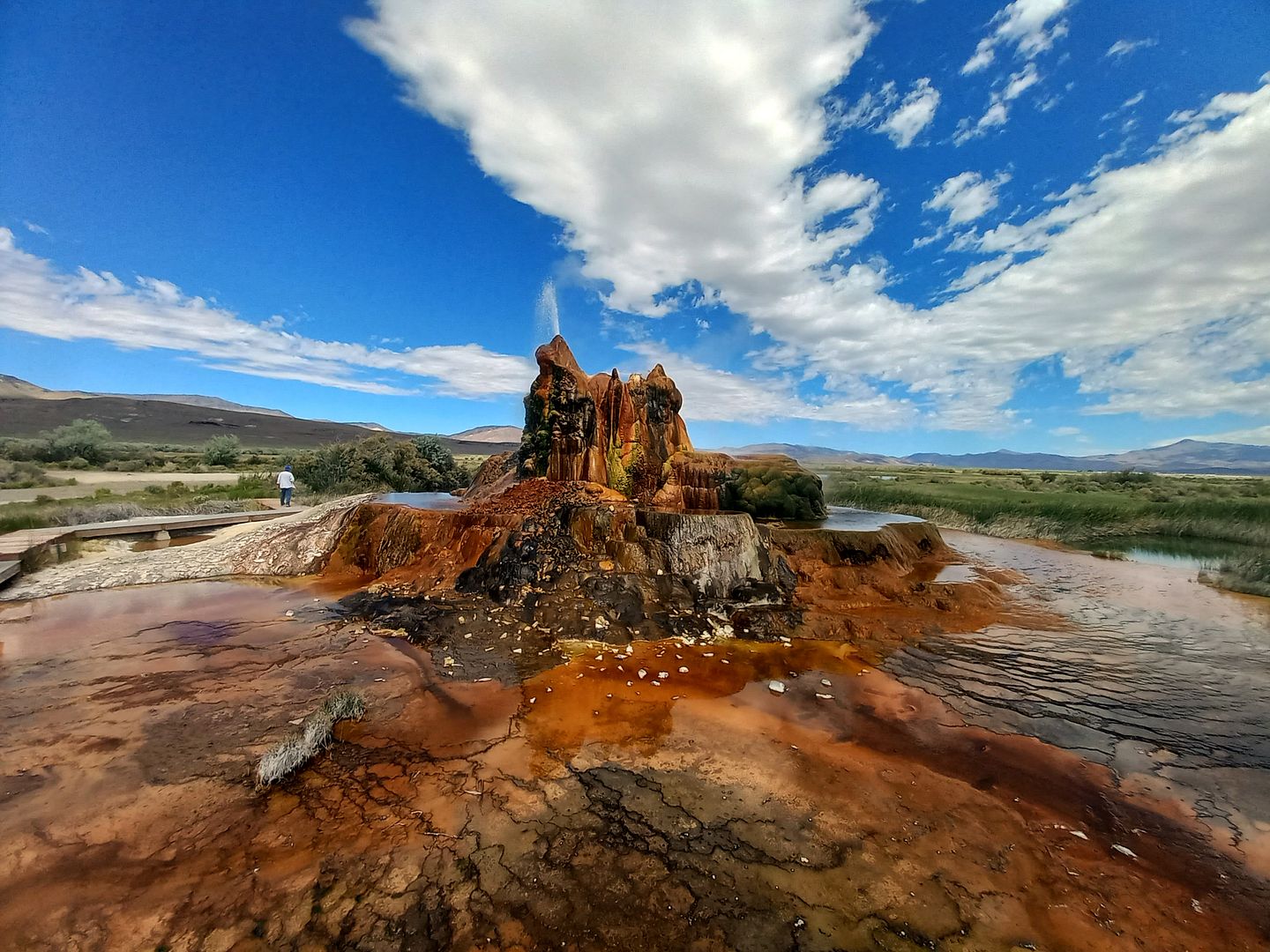 The company capped the well but didn't seal it properly—allowing water to escape and deposit minerals, forming travertine.
In addition to calcium carbonate (the main ingredient in travertine), there's also the presence of iron—as indicated by the orange color.
Plus, a high silica content has contributed to the formation of quartz...
...which is unusual for a geyser that's younger than 10,000 years old.
There are actually three main geysers visible on the Fly Ranch Nature Walk. Fly Geyser is geyser #2.
Geyser #1 is "The Wizard." About 12 feet tall, it's a cone of travertine that formed after an attempt to drill a well for irrigation water in 1917. (The water was too hot for farming, so they left it alone.)
It used to gush bursts of water that went as high as 10 to 12 feet in the air—but when Fly Geyser began, well, geysering, its activity went way down. (When its activity occasionally bubbles up, it begins to change color as it attracts more algae bloom.)
The newest geyser—geyser #3— is called "Little Pot" (because some "burners" actually used its 200-degree water for cooking while soaking in the pools) or "Will's Geyser" (named after a Burning Man scout who discovered it).
Unlike its two predecessors, it doesn't appear to have been created by any drilling activity. It appears to grow a few inches a year—but for now, it's still kind of hidden in the brush.
It's hard to know what Burning Man will do with this land in the long term. There's a lot of talk and a little bit of money.
My hope is that they maintain it as it is, keep trespassing humans and cattle out, and conserve it as much as possible while allowing some access for educational purposes. I really hope it doesn't become an "attraction."
But no matter what happens to it, I'm glad I got to see it in its present state.
WARNING: DO NOT HOP THE FENCE. THERE ARE 24-HOUR CARETAKERS ON SITE AND SEVERAL LOCKED, ELECTRIFIED FENCES BETWEEN THE ROAD AND THE GEYSER. To make a reservation, visit BlackRockDesert.org.