I'd seen that the Lloyd Wright-designed Derby House in Glendale, California was for sale last year—and that I'd missed an open house.
For months, I kept the real estate listing open as a tab on my web browser, just waiting and hoping for another open house to be scheduled.
And then I gave up—and closed the tab.
But I still kept my eyes open.
And then, at the end of June, I had my chance again. And I didn't miss it this time.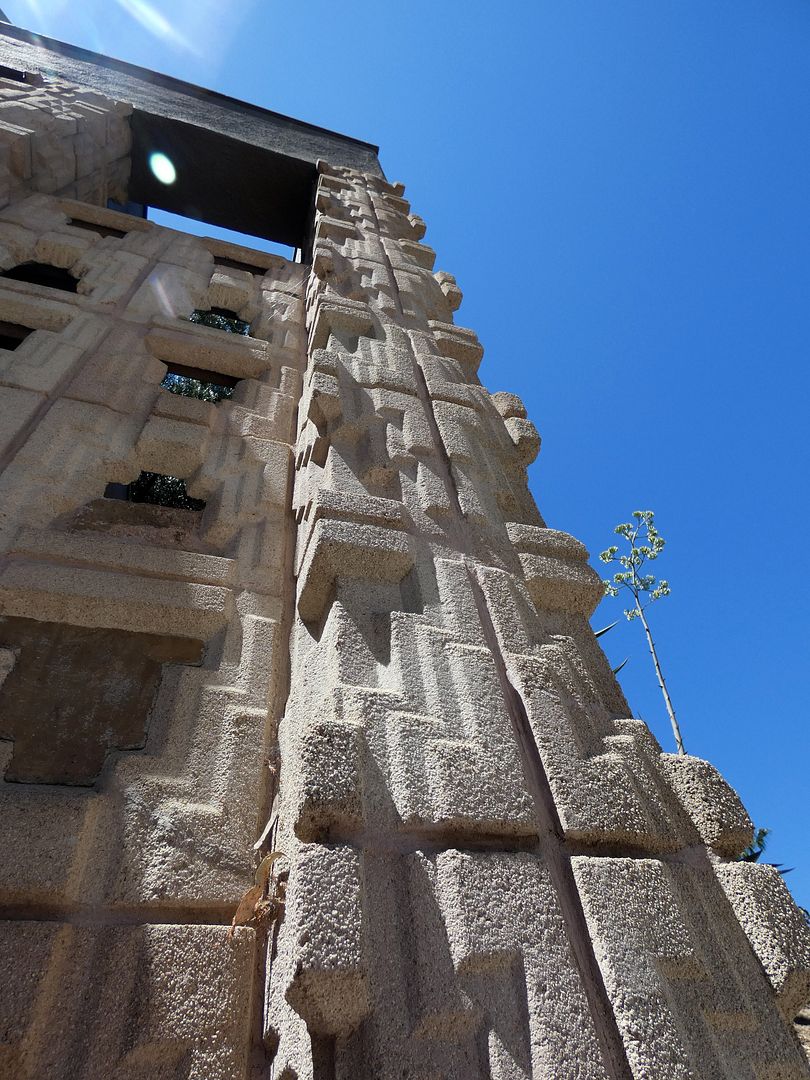 Landmarks like the Derby House—which are historically significant but privately owned—aren't often open to the public for touring. So, you have to wait until they're about to change hands between private owners.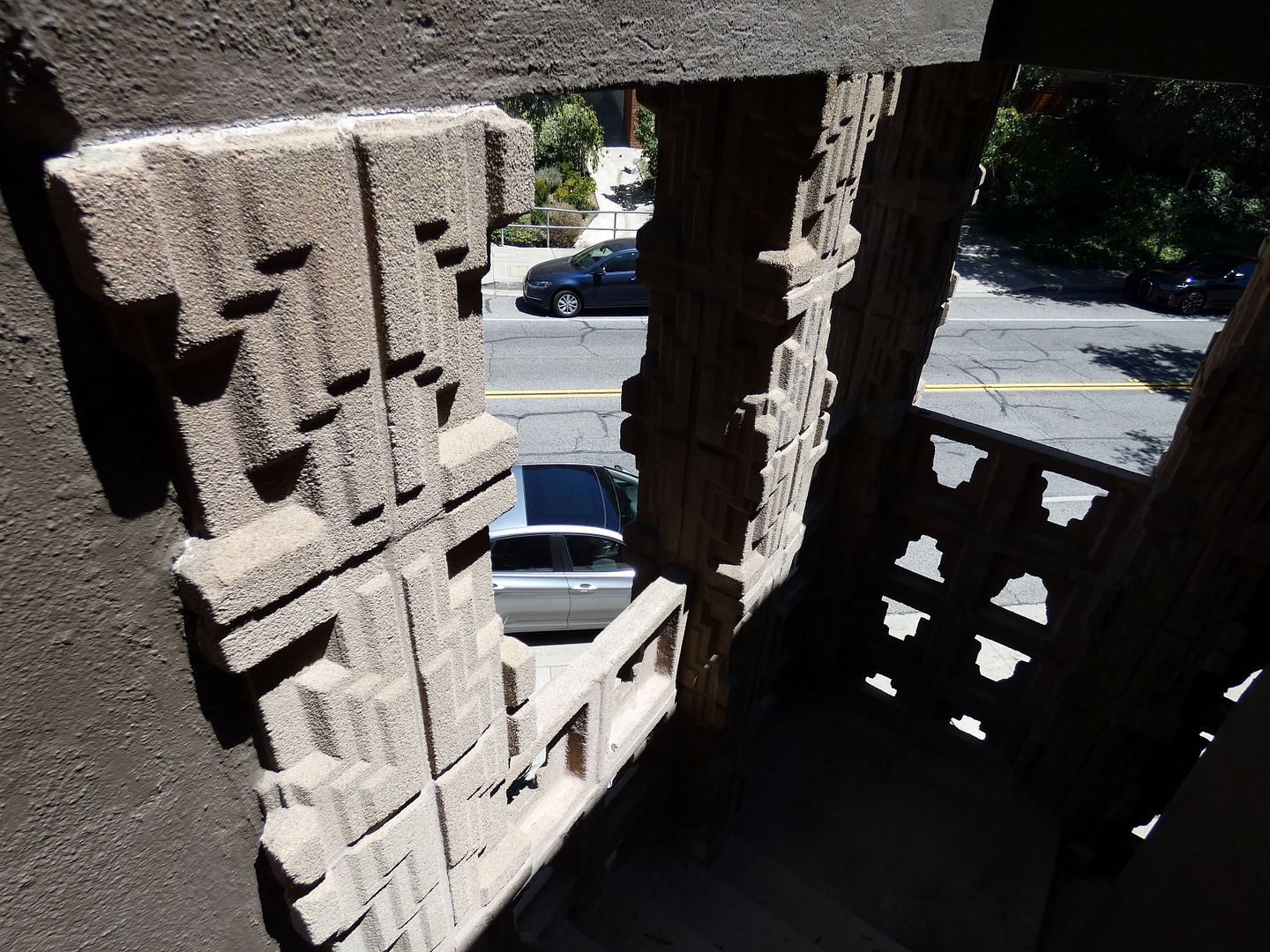 The Derby House rises vertically from an unassuming, curved, residential street in the Rancho San Rafael corridor between the 2 North and the 134 East.
You can climb up through an open-air column in the structure to reach the front door...
...or you can take an exterior stairway to the left...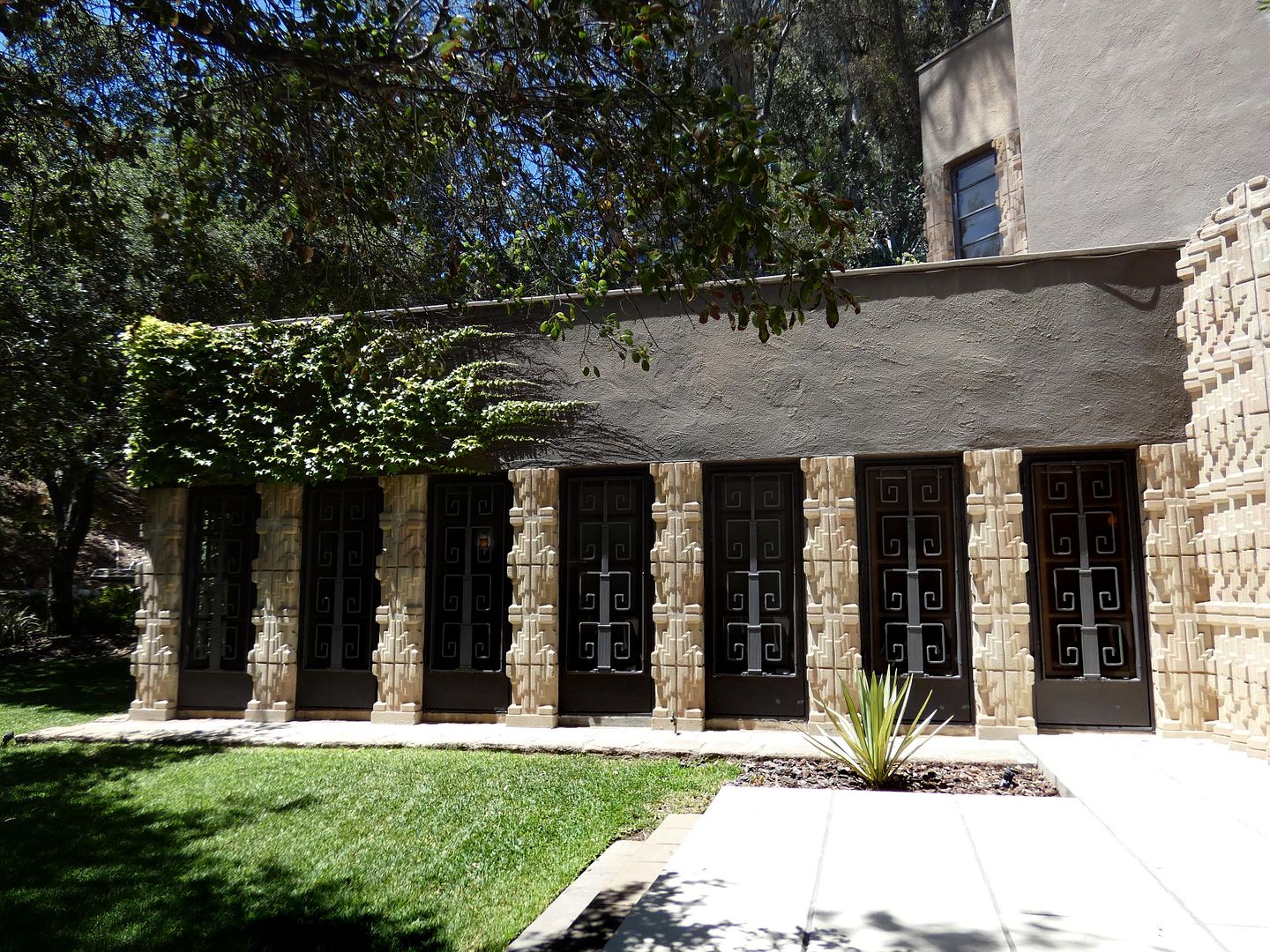 ...which takes you to a landing that reveals a surprising horizontality to the home, not visible from the street.
From here, the Derby House doesn't look nearly so imposing...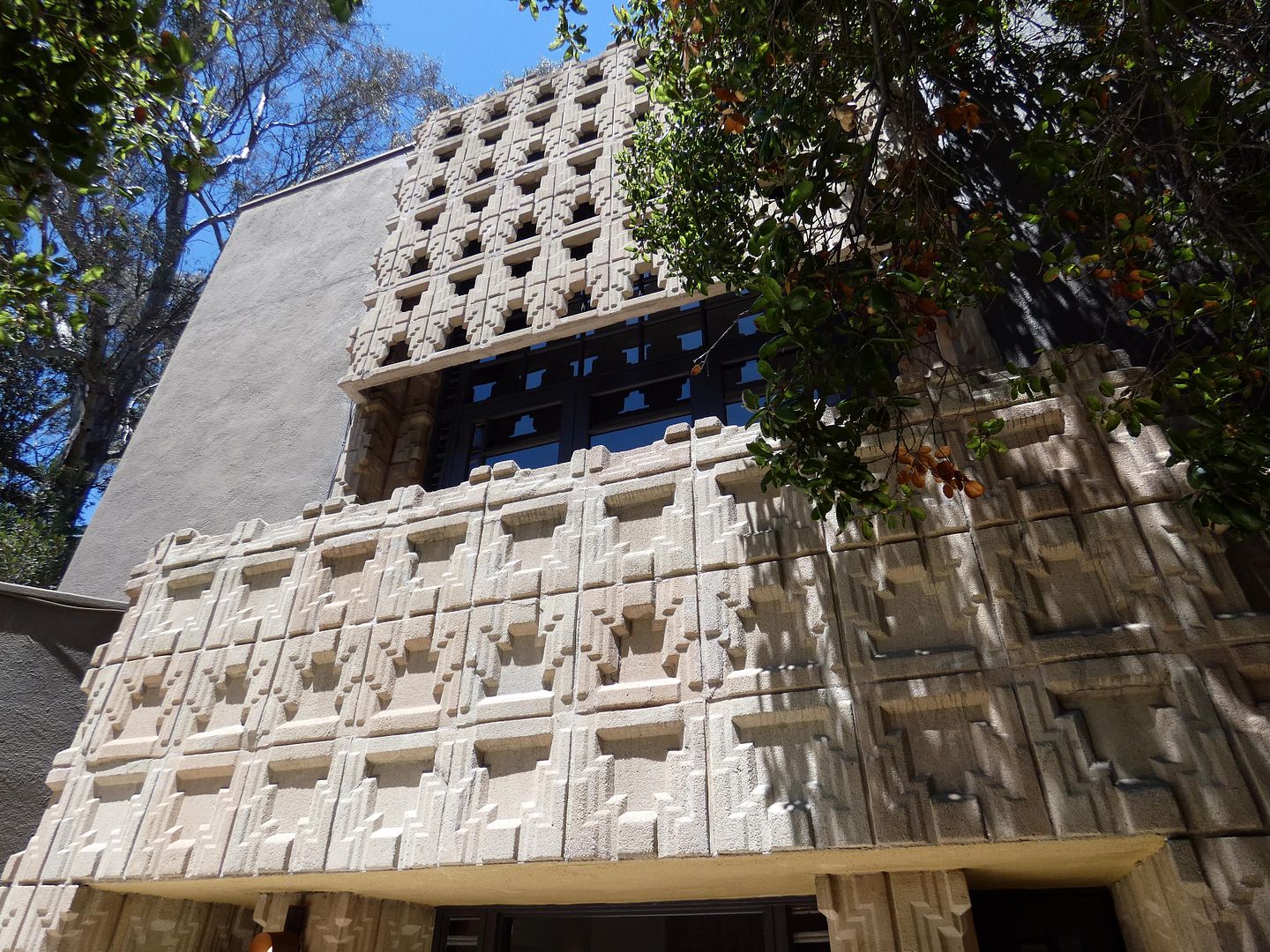 ...yet it's still monumental, like the Mayan temples that inspired its design.
Lloyd Wright was continuing the legacy started by his father, Frank Lloyd Wright, with this textile concrete block architectural approach (using sand sourced from nearby Chevy Chase Canyon)...
...both outside and in.
At any given time, it's difficult to ascertain which floor of the house you're on—because even when you look outside, what you see as the "ground floor" might very well be highly elevated from the street.
Those multiple levels of natural light intermingle with definitively "Wrightian" lighting fixtures, including sconces with rough-hewn edges zig-zagging like a Mesoamerican pyramid or a Navajo weaving.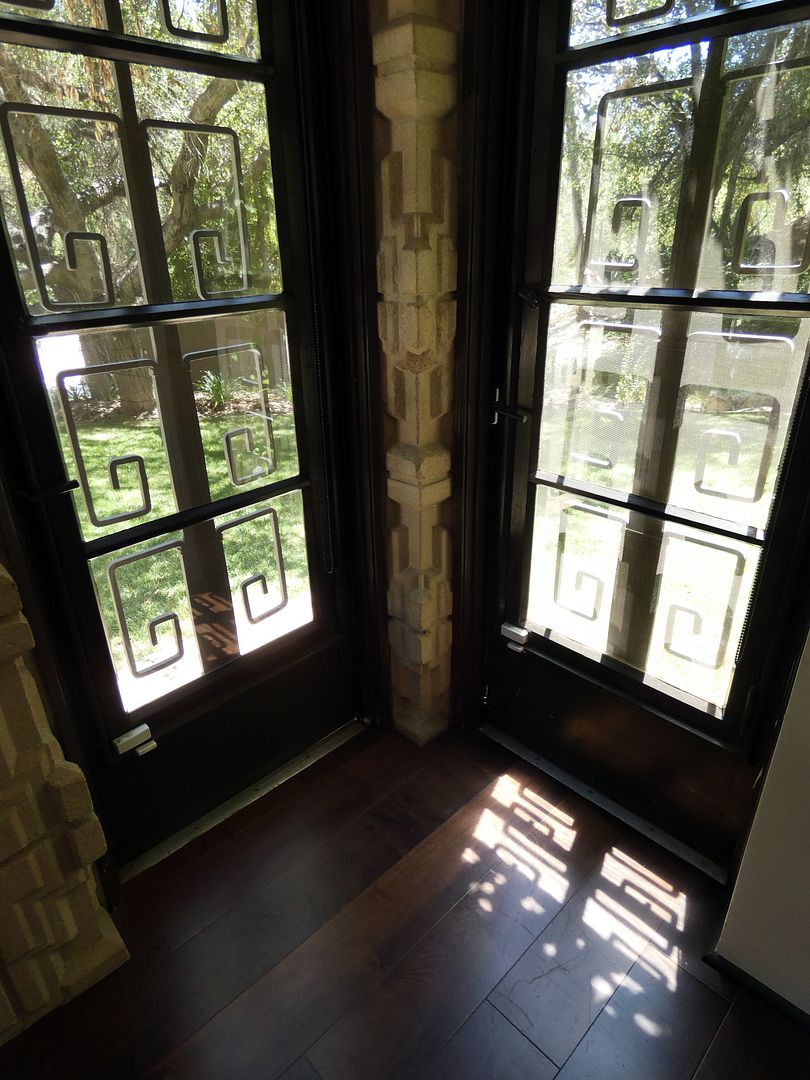 All in all, it's 3200 square feet of living space on 1.5 acres...
...including five bedrooms...
...and three baths (one of which is delightfully festooned in vintage pink tile).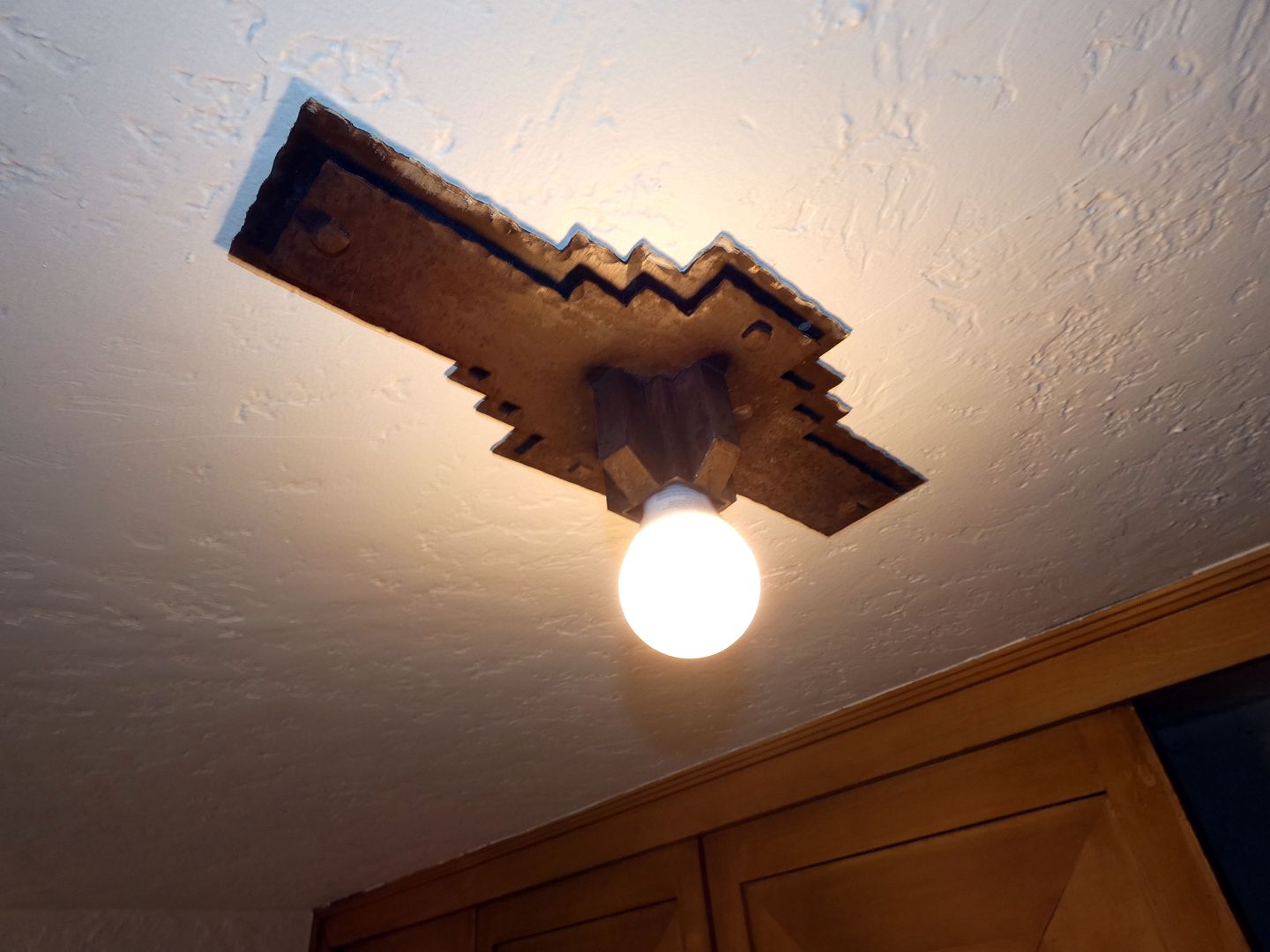 Wright designed it for his client James Daniel Derby, who reportedly never actually lived in the house—despite it being completed in 1926. His soon-estranged wife and two sons, however, did.
One of the cathedral-ceilinged bedrooms looks out onto a terrace...
...with an adjacent door to the exterior, providing even more outdoor living space.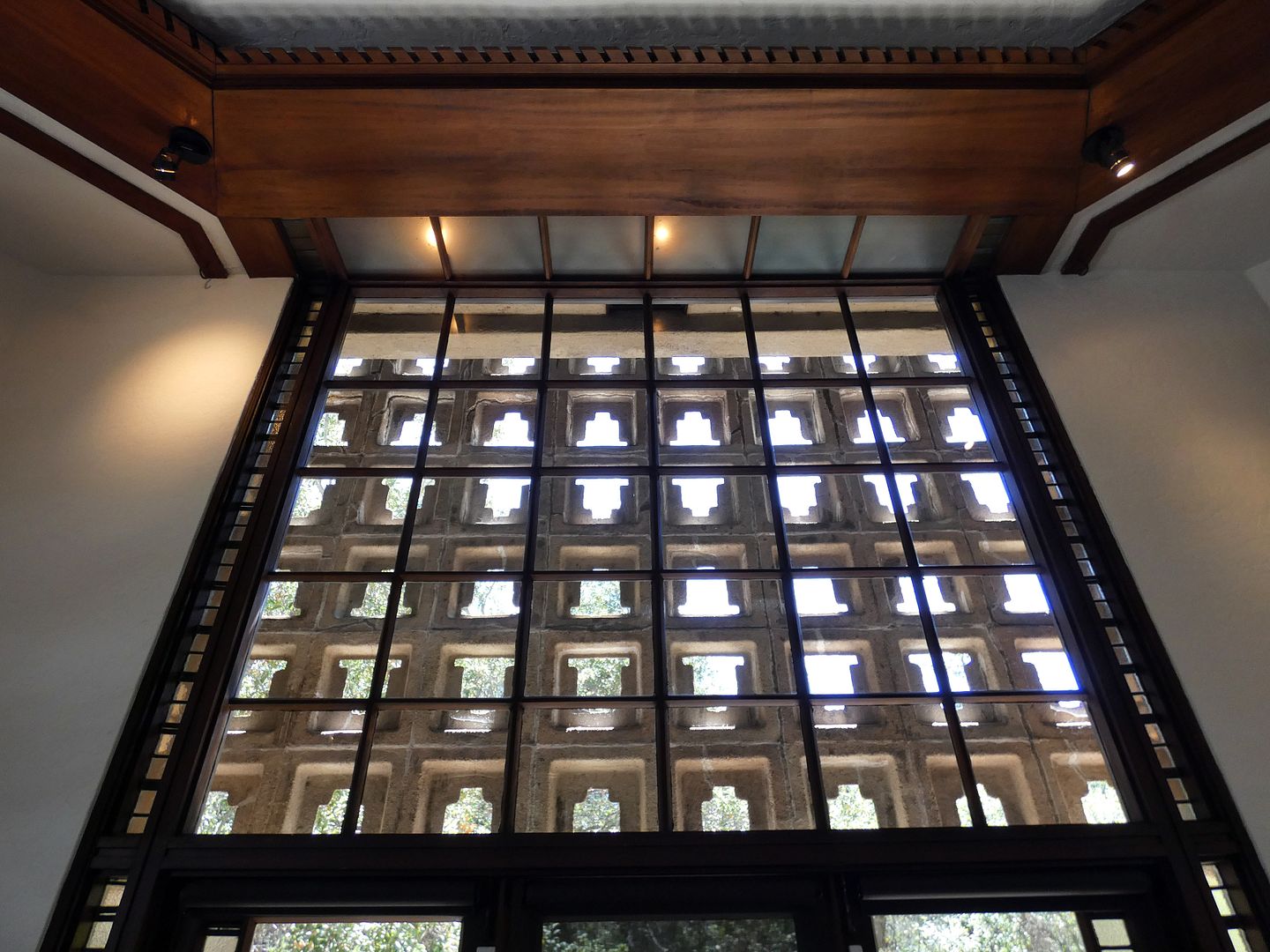 But the stunner of the home is the glassed-in, double-height living room...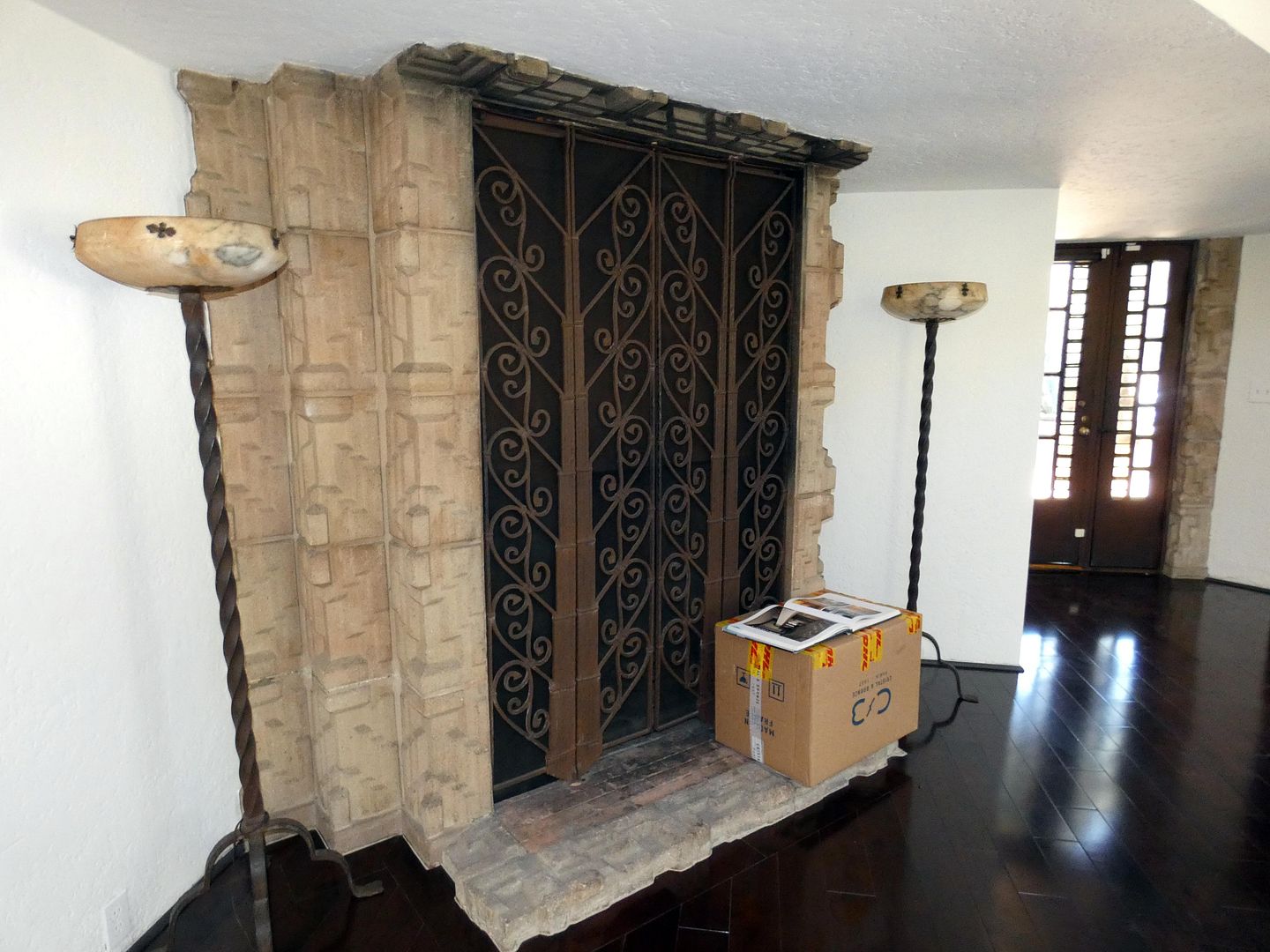 ...with its textile block fireplace (with wrought iron grille), which actually extends from floor to ceiling (piercing through a library located on the balcony above).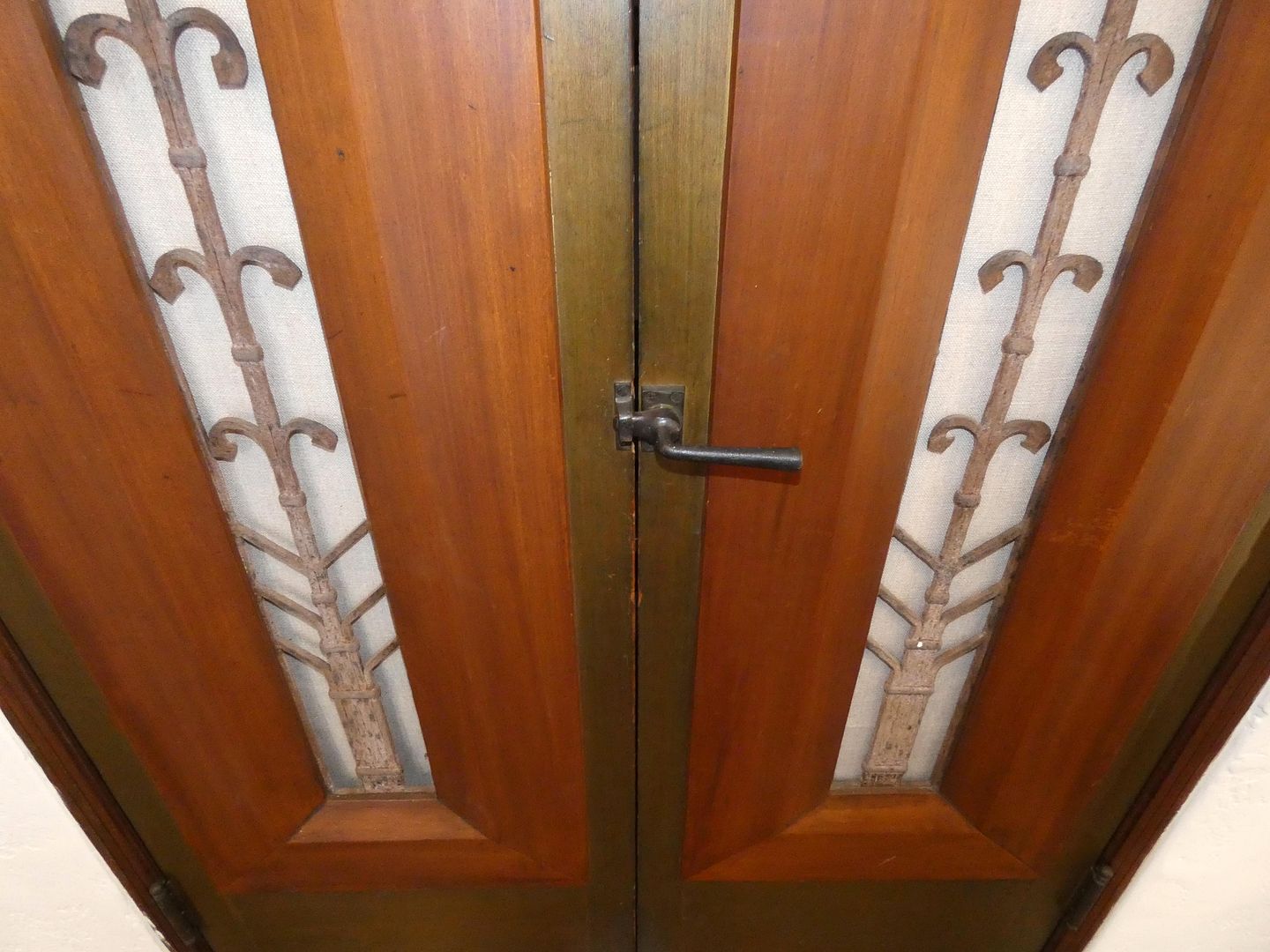 Throughout this room—as well as the rest of the house—you can see how Wright designed the ornamentation as an abstraction of yucca plants (reminiscent of what his father did at the
Hollyhock House
).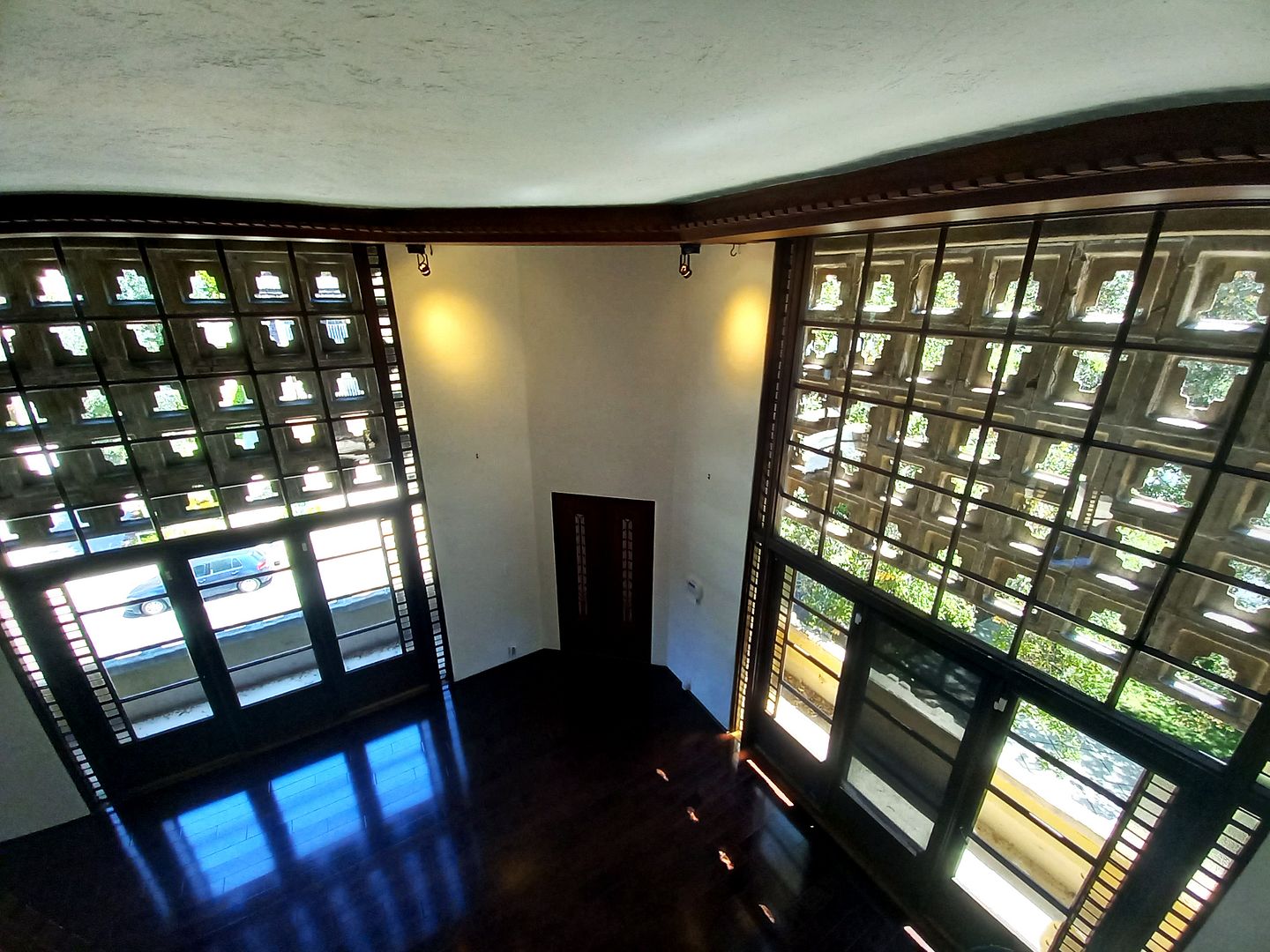 According to a 1993 Los Angeles Times article, "There is constant movement within the cavernous house and upon its facade, as the sun, in its journey across the sky, leaves indecipherable, changing hieroglyphics in its wake."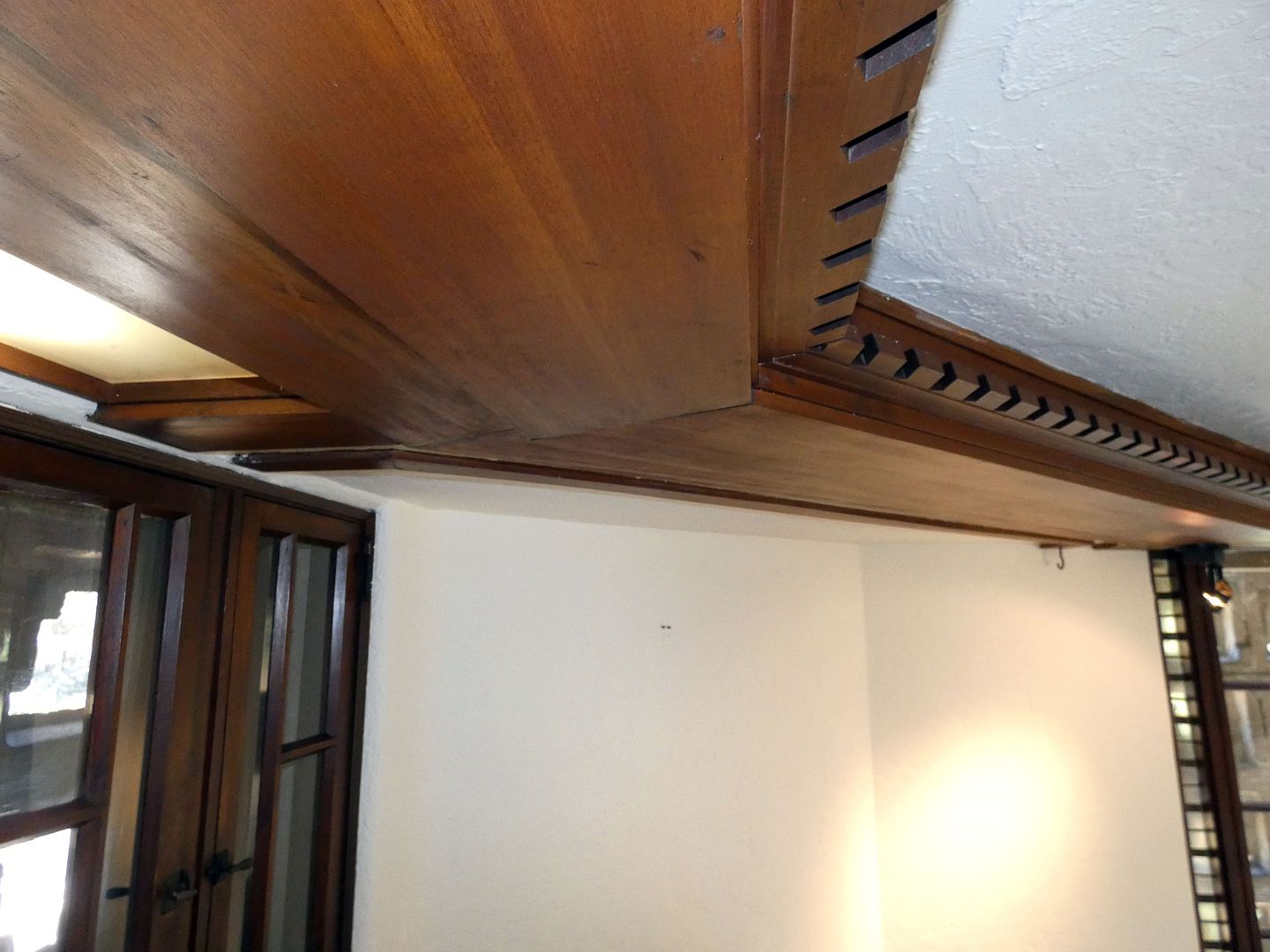 And the only way to really experience the house is to move within it—taking it in from every angle and elevation, floor by floor, stair by stair.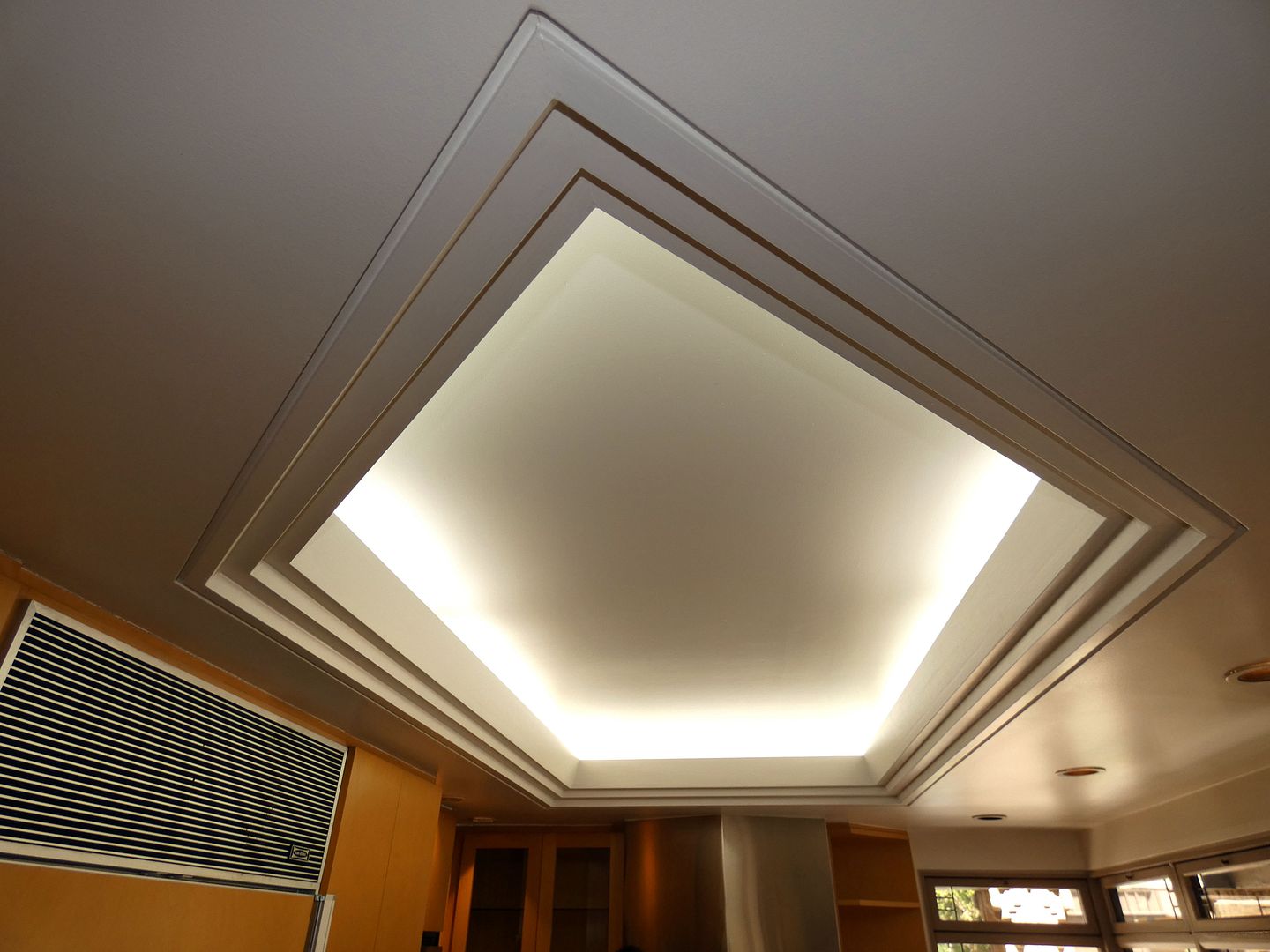 The kitchen has been updated—but what it shares with the rest of the Derby House is the unsettling geometric shape that both encloses the space and opens it up to the adjacent spaces. It's both perplexing and intriguing.
As of right now, the Derby House is still
for sale
—for a cool $3.2 million. You can drive by to get a good view of the exterior from the street; or you can keep an eye on the listing for future open houses to take a look.