Its official name is the "Lawrence and Martha Joseph Residence and Apartments."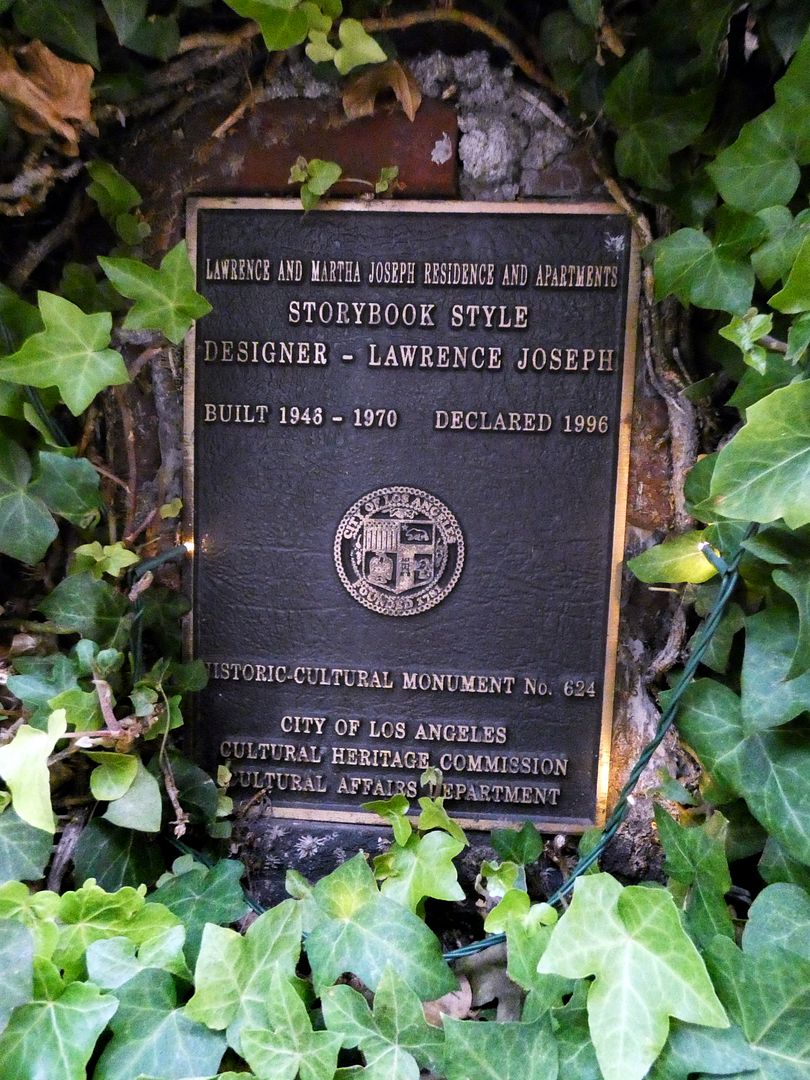 It's technically located in Palms neighborhood of the City of Los Angeles, but Culver City has kind of adopted it as its own—which is why my only way to get in and see it on a tour was through the Culver City Historical Society.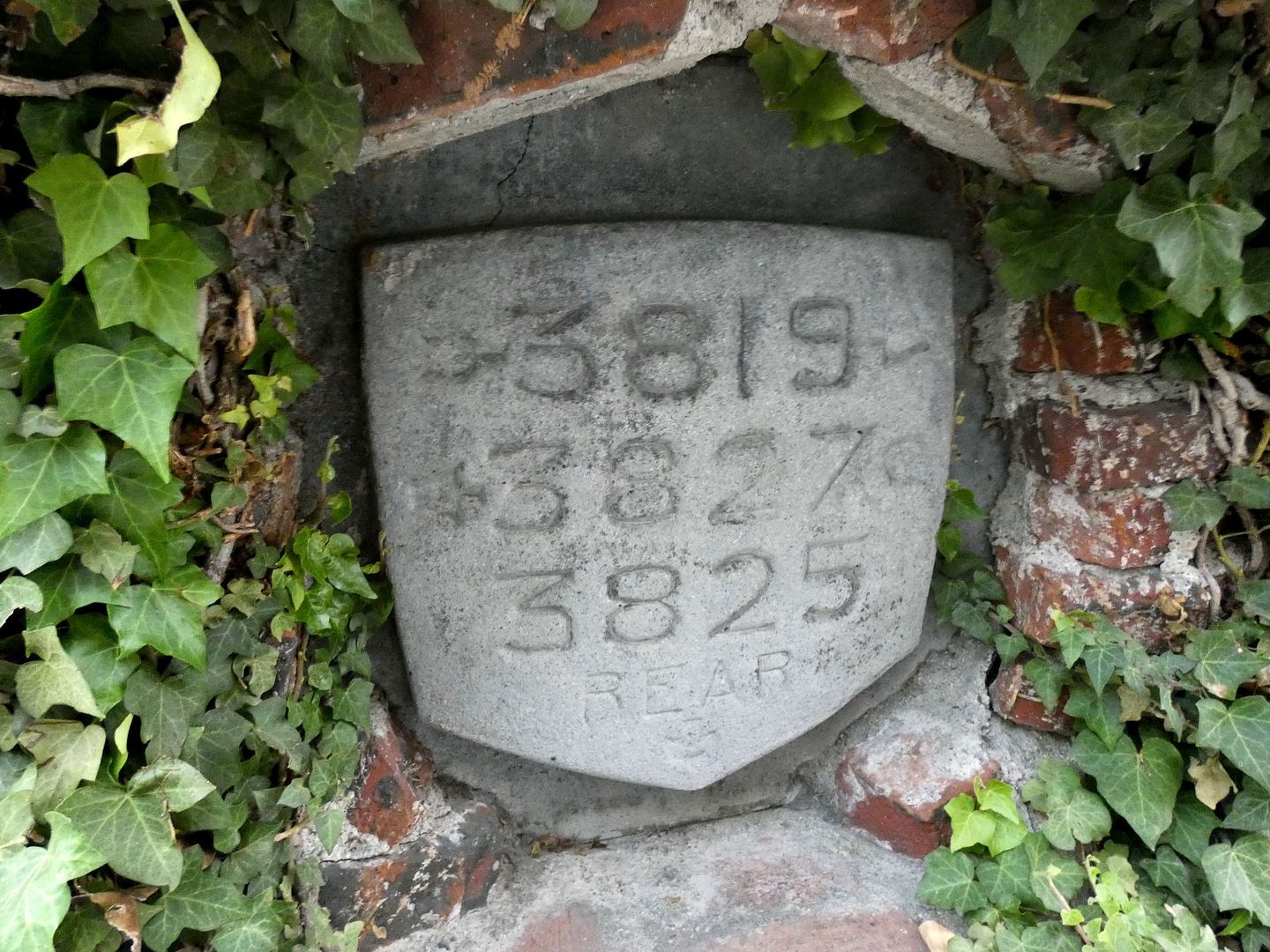 Otherwise, I figured I'd have to wait for a vacancy and just apply to move in.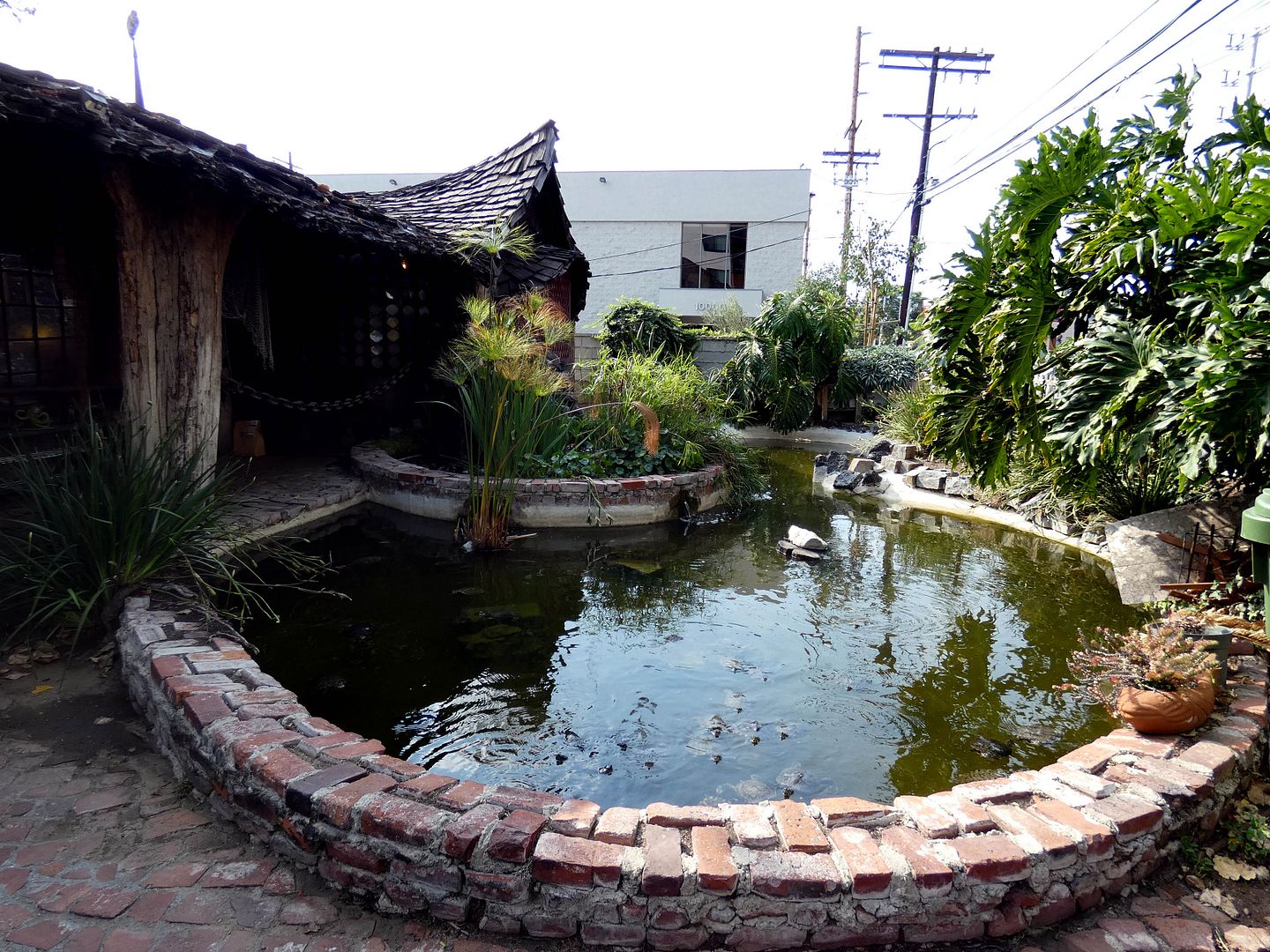 I'd walked by before, but I hadn't breached the driveway or gate—so I'd thought that it was actually just a house (or maybe two houses) and not an entire complex.
But other people have been braver—or less courteous—than I. You can tell by how many pet turtles have been abandoned in the two front ponds.
Fortunately, the red-eared sliders and western pond turtles have been welcomed and are fed fresh fish daily.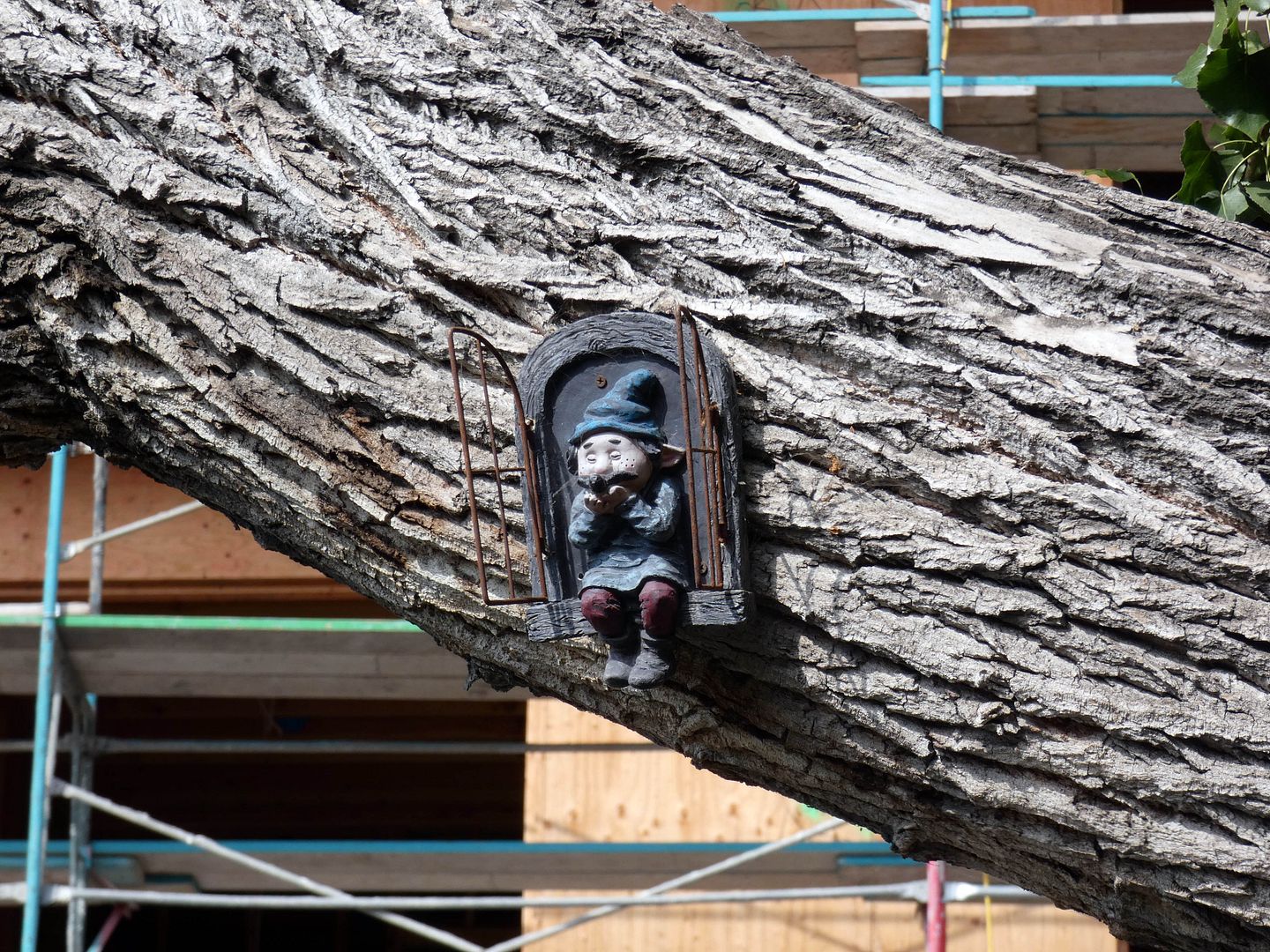 You might expect to see gnomes, trolls, or Gollum occupying a place like this...
...or, alternatively, the ghost of a Hollywood set designer (like perhaps the one who designed Spadena House, a.k.a. the "witch's house," in Beverly Hills, which was relocated from Culver City).
But in reality, its creator was Lawrence (or "Larry") Joseph, a former Skunk Works aerospace builder who'd previously worked for Walt Disney, drawing Donald Duck (but for literally just a few days).
Upon his death in 1991, Larry still hadn't considered the complex finished...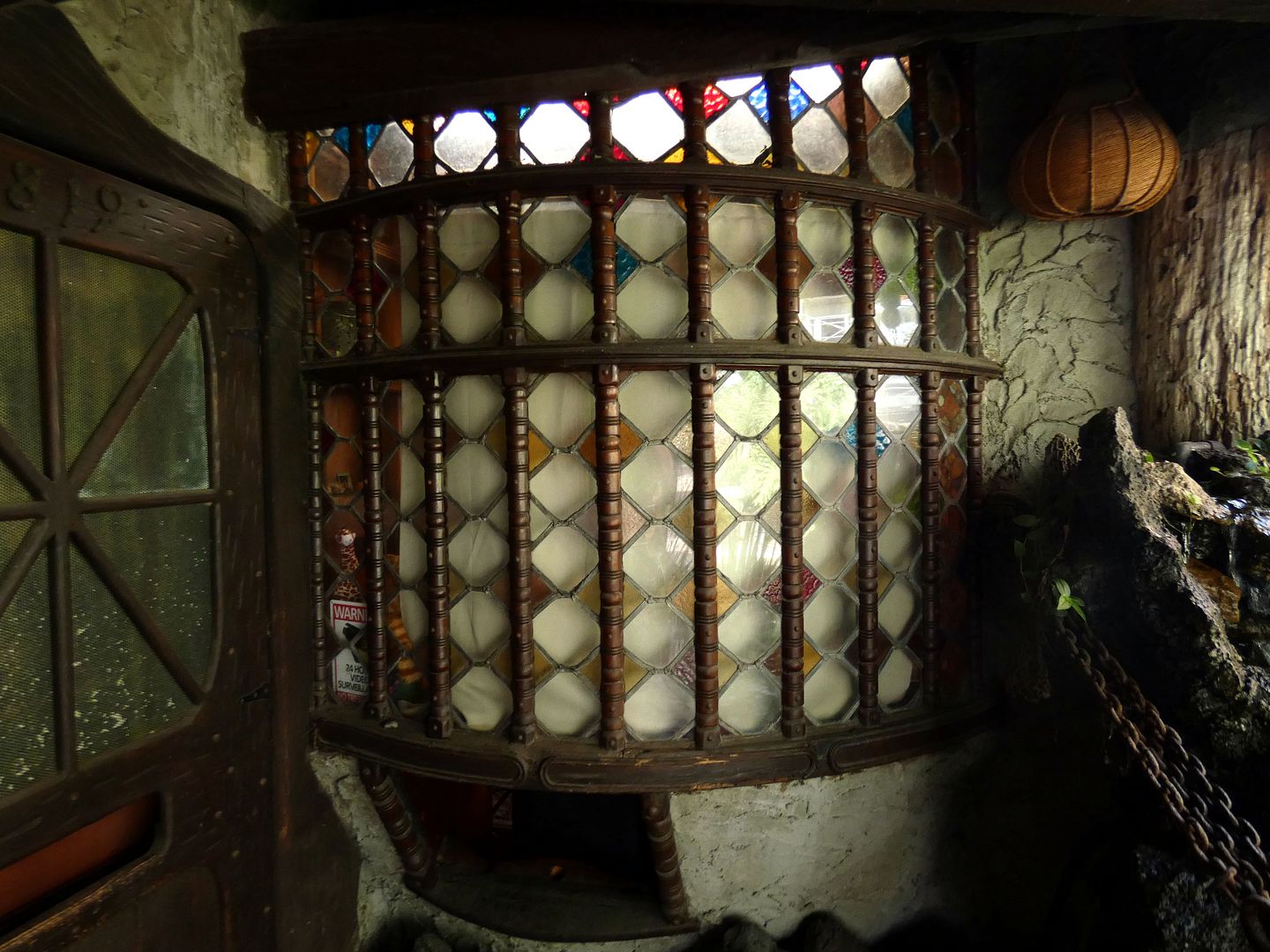 ...even though most of the work had been completed between 1946 and 1970.
His wife Martha took care of the property until she died in 2004...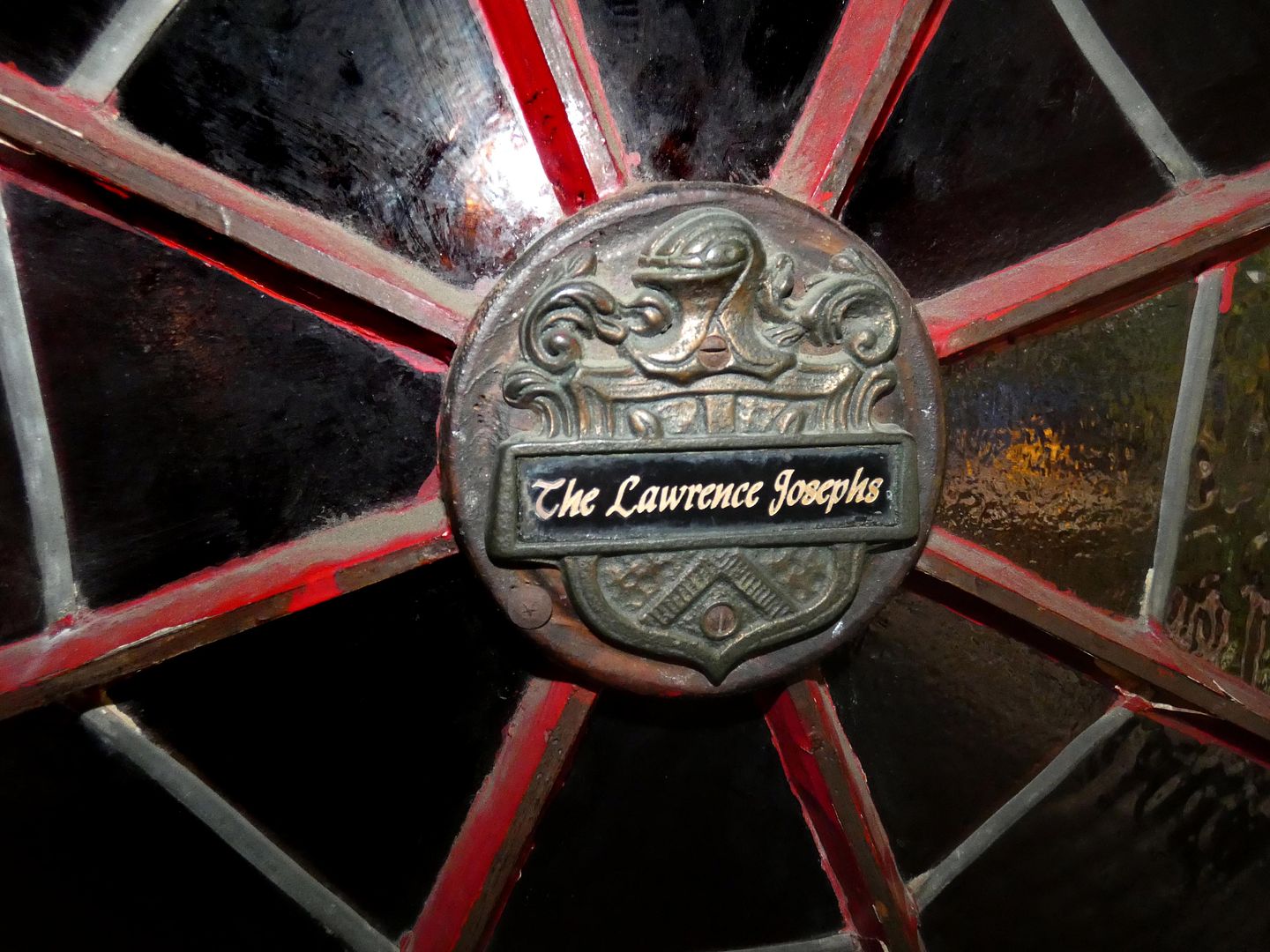 ...and subsequent caretakers have left a shocking amount of original details in place.
In the main house (which is actually considered "Building C," as the third and final cottage built in the collection)...
...you'll find built-in furniture (constructed by Larry, who was a master carpenter)...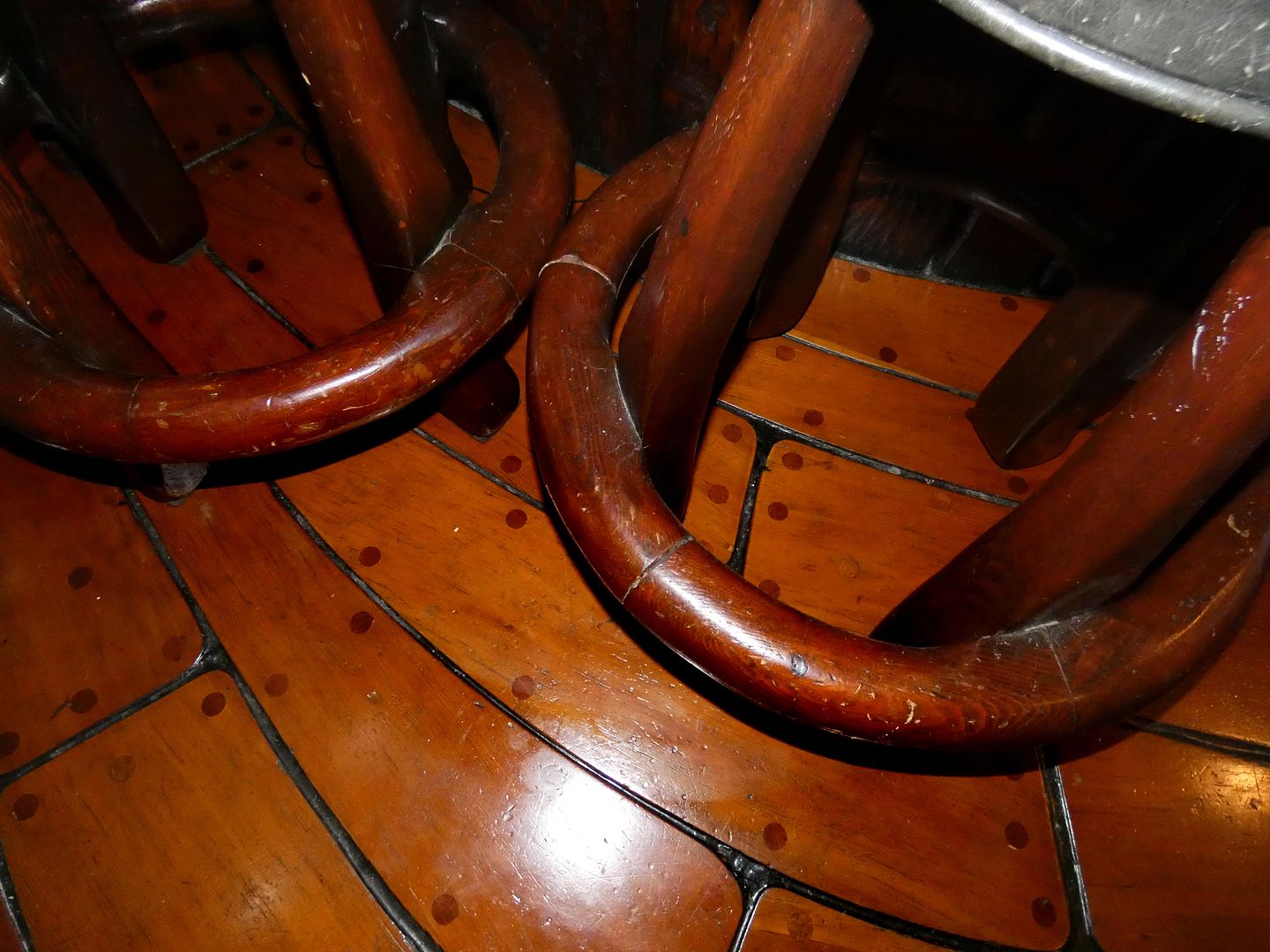 ...vertical-grain boat planking in the floor...
...and diamond-paned windows of a storybook fantasyland.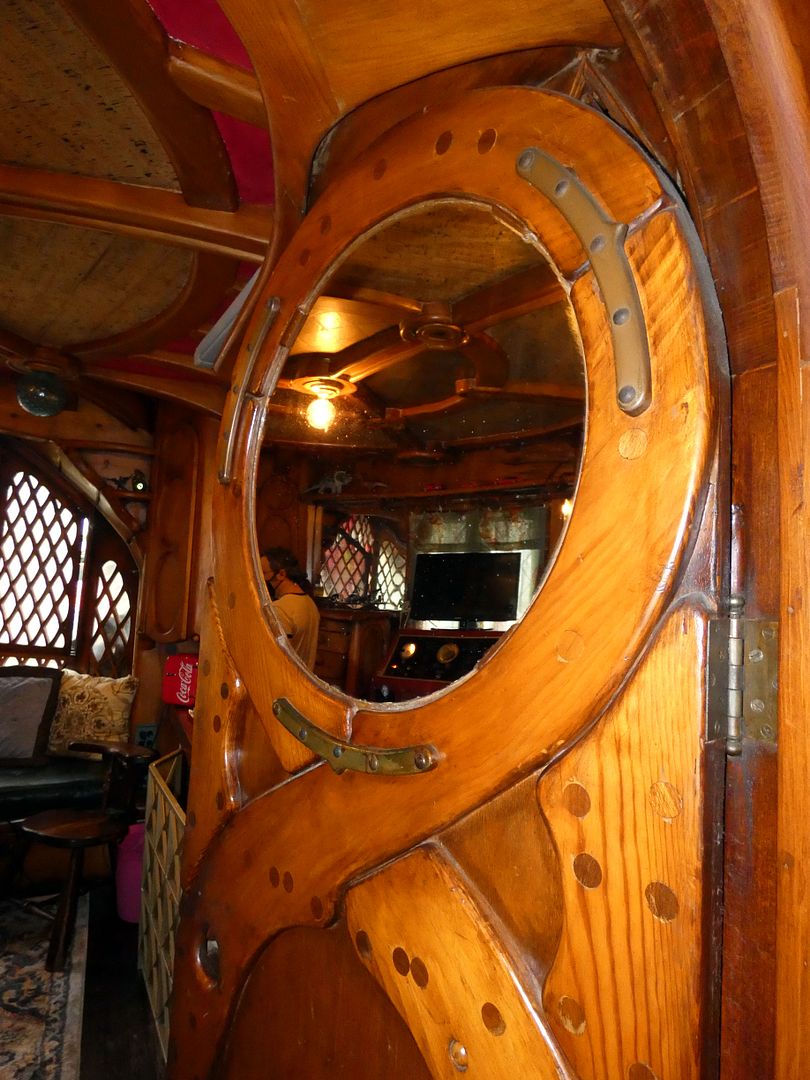 Also an expert sailor, Larry made sure most of the doors open only with the aid of boat latches and levers (which he crafted himself). You'd be hard-pressed to find a doorknob anywhere.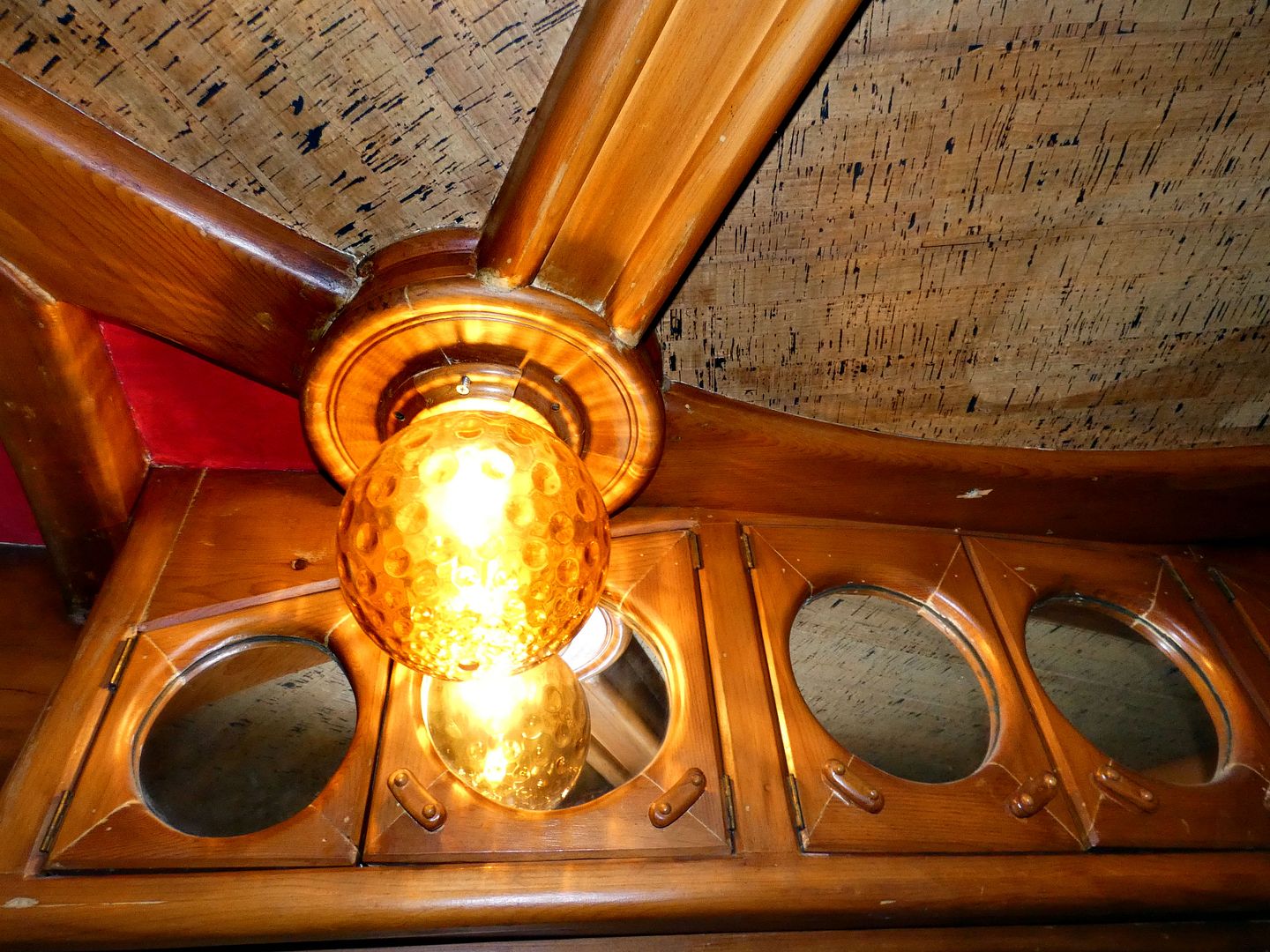 Every room is packed with nautical details. Even the mirrors are shaped like portholes.
And much of the ornamentation is pretty fanciful, like what you might find at Disneyland.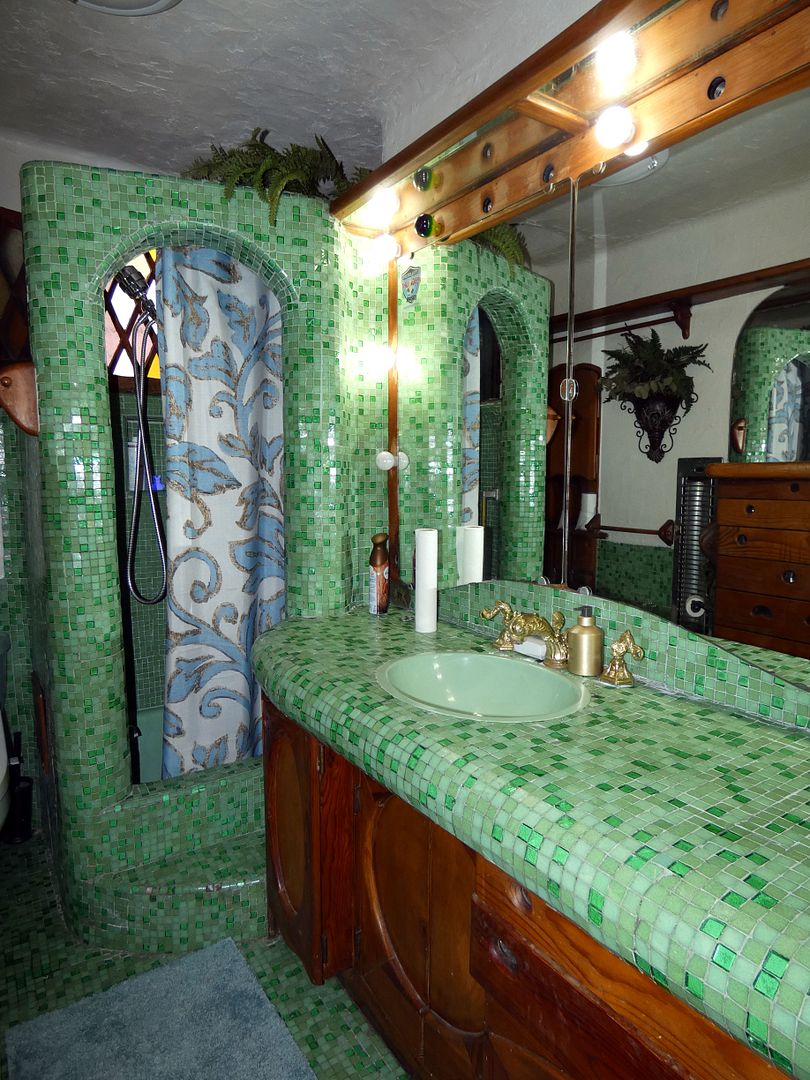 There are surprises around every corner, like the tiny bathroom tucked away between the two bedrooms—exploding in green mosaic tile.
Although the second bedroom still has somewhat of a nautical flair, it was literally whitewashed—by Martha herself, who insisted on having a white bedroom.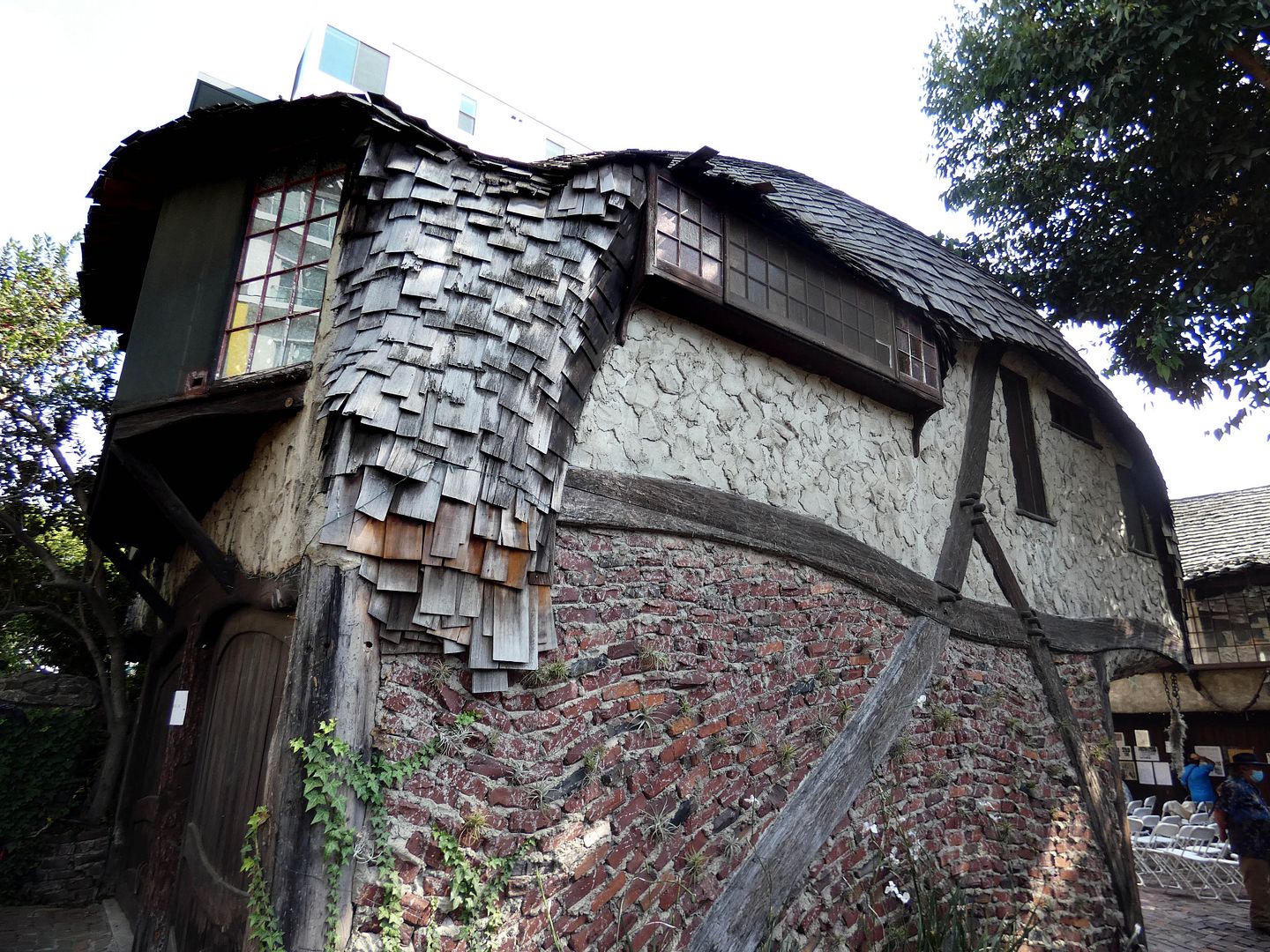 The second building—Building B—is a domed behemoth also facing the street.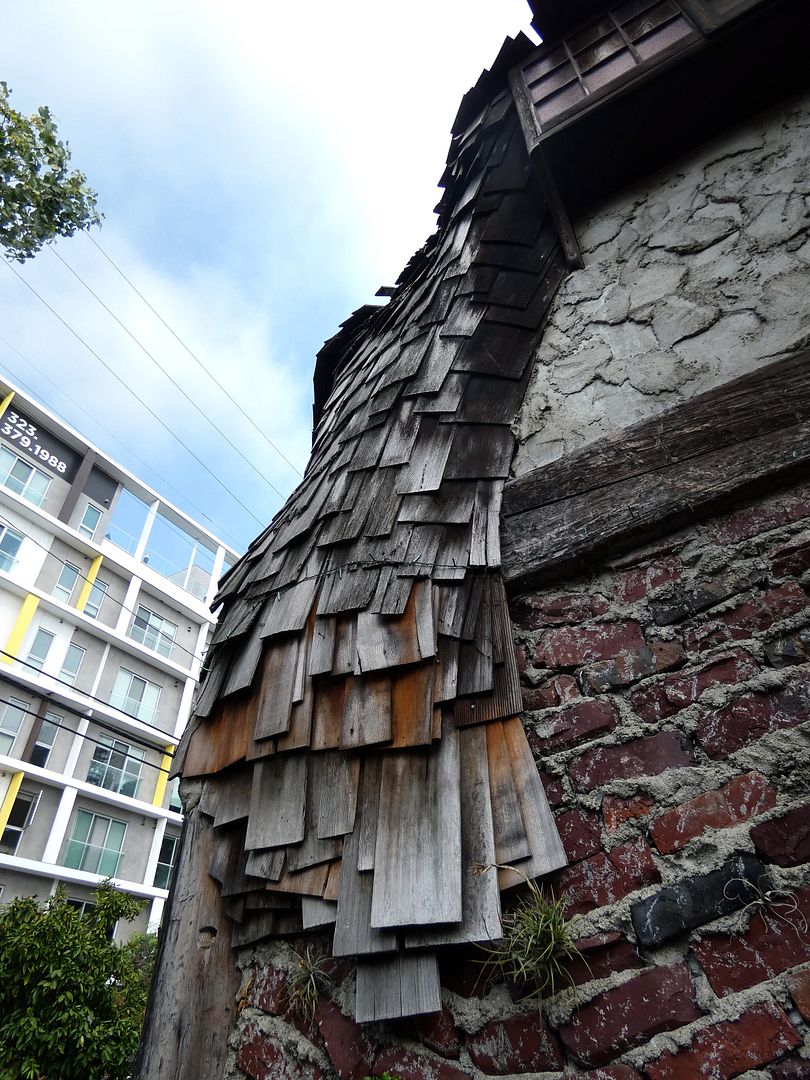 It's a staggering monument of clinker bricks, weeping mortar, and wooden shingles all akimbo...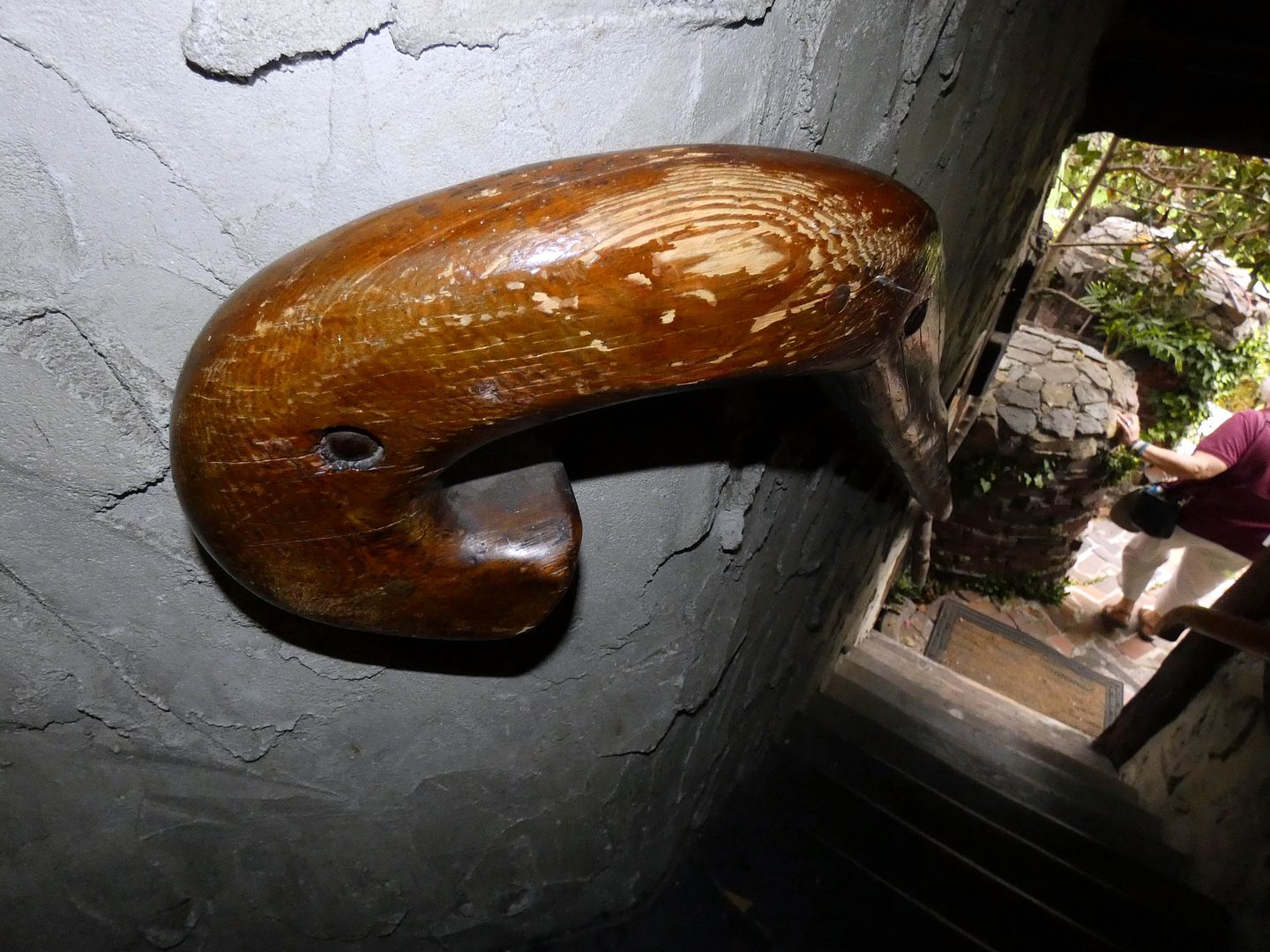 ...with a steep climb up through a stuccoed stairwell...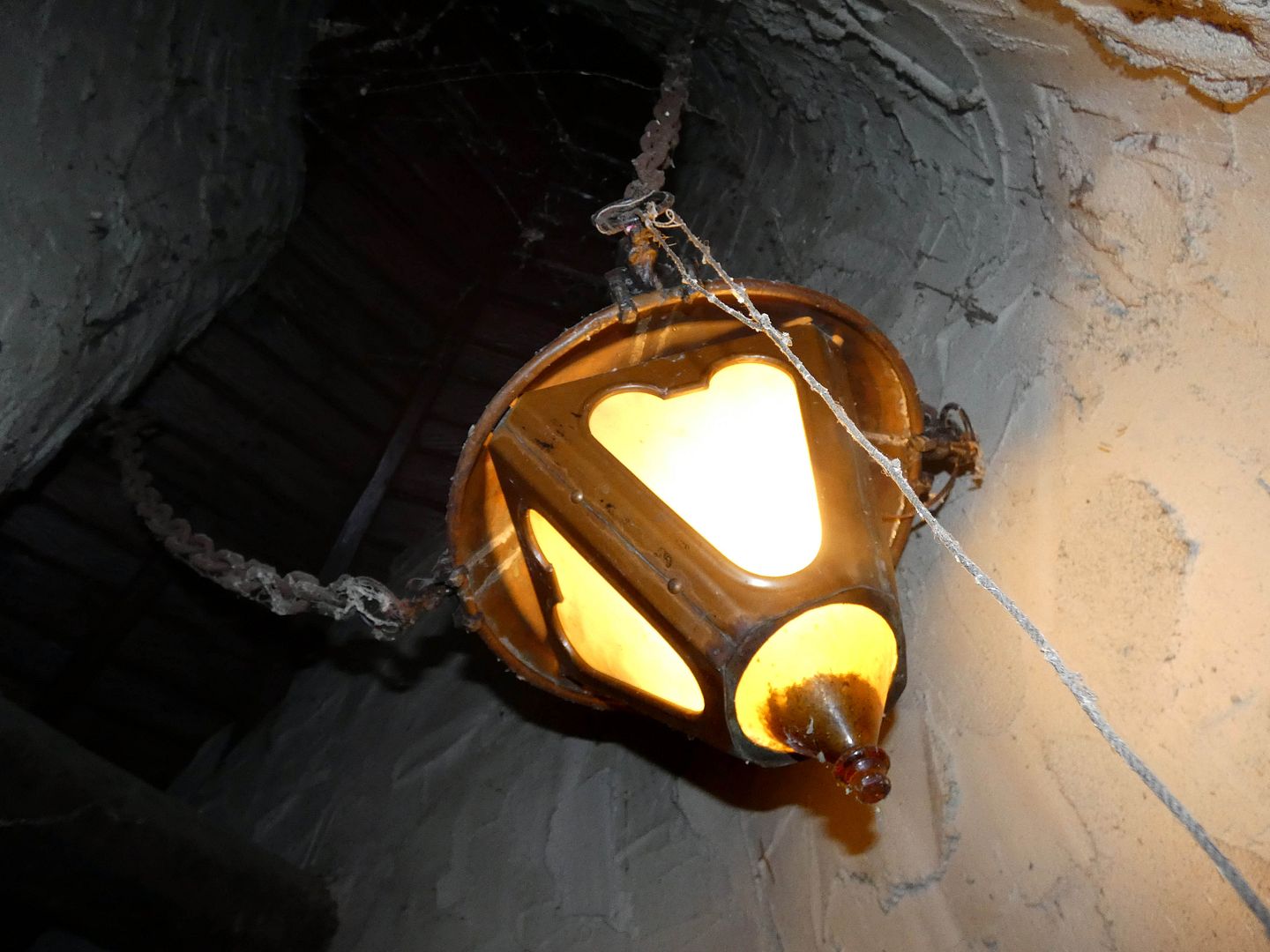 ...lit mysteriously and reservedly as though leading through the bowels of a ship.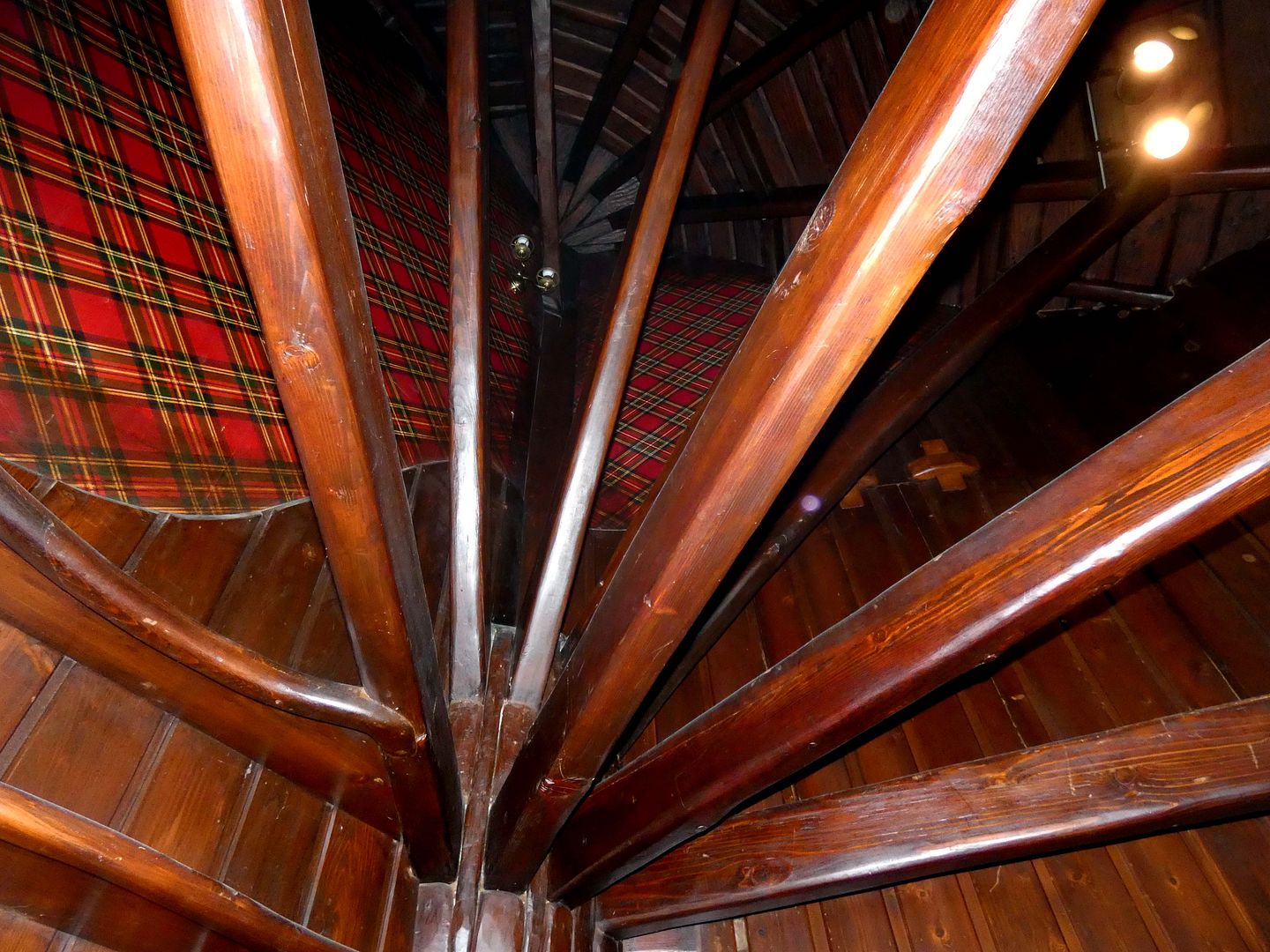 Inside, the umbrella-inspired pattern of the raftered ceiling construction highlights the absence of 90-degree angles...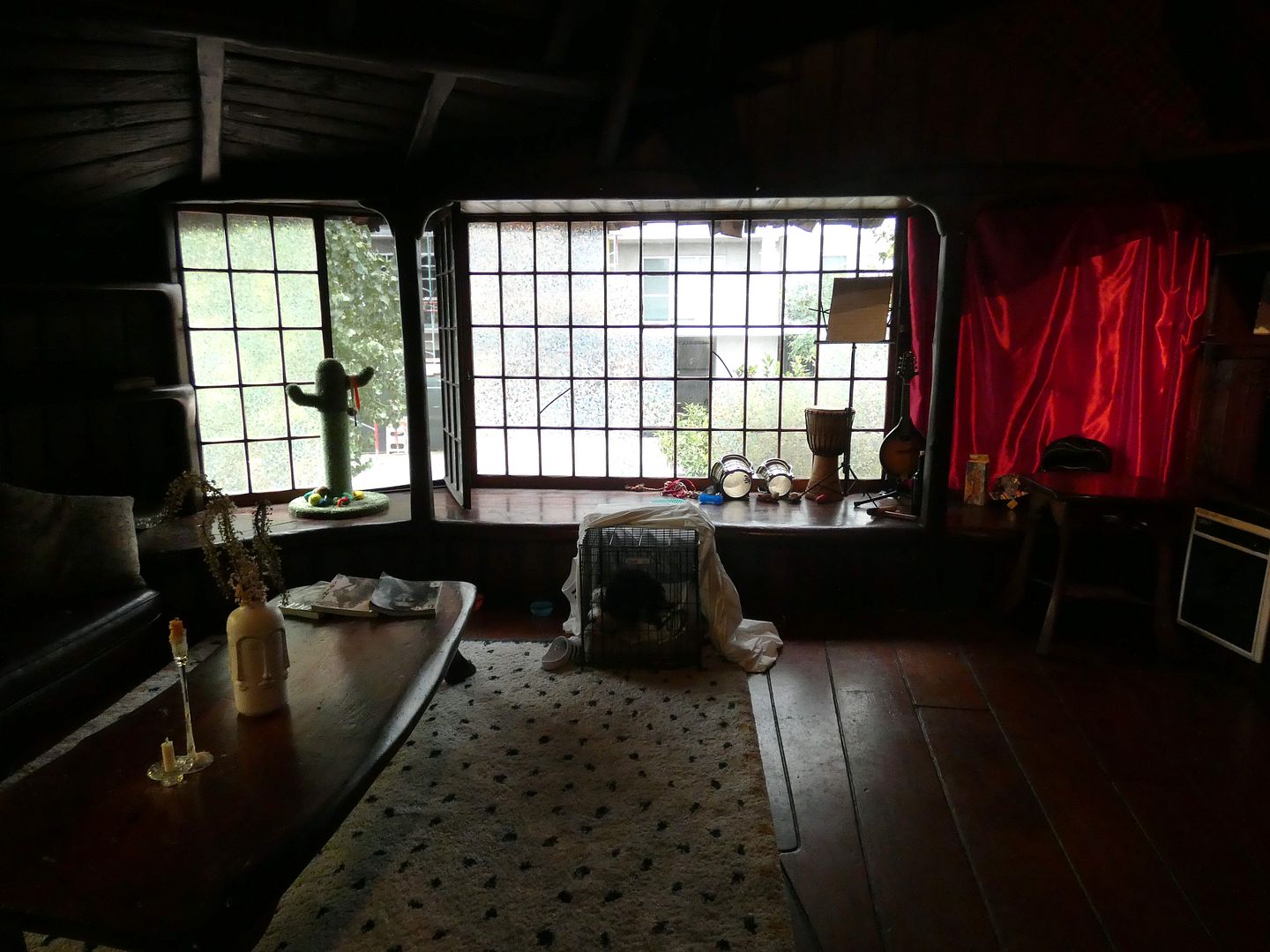 ...a feature that's consistent throughout all three buildings of the complex.
In the built-in cabinetry, you can examine the nautical hardware...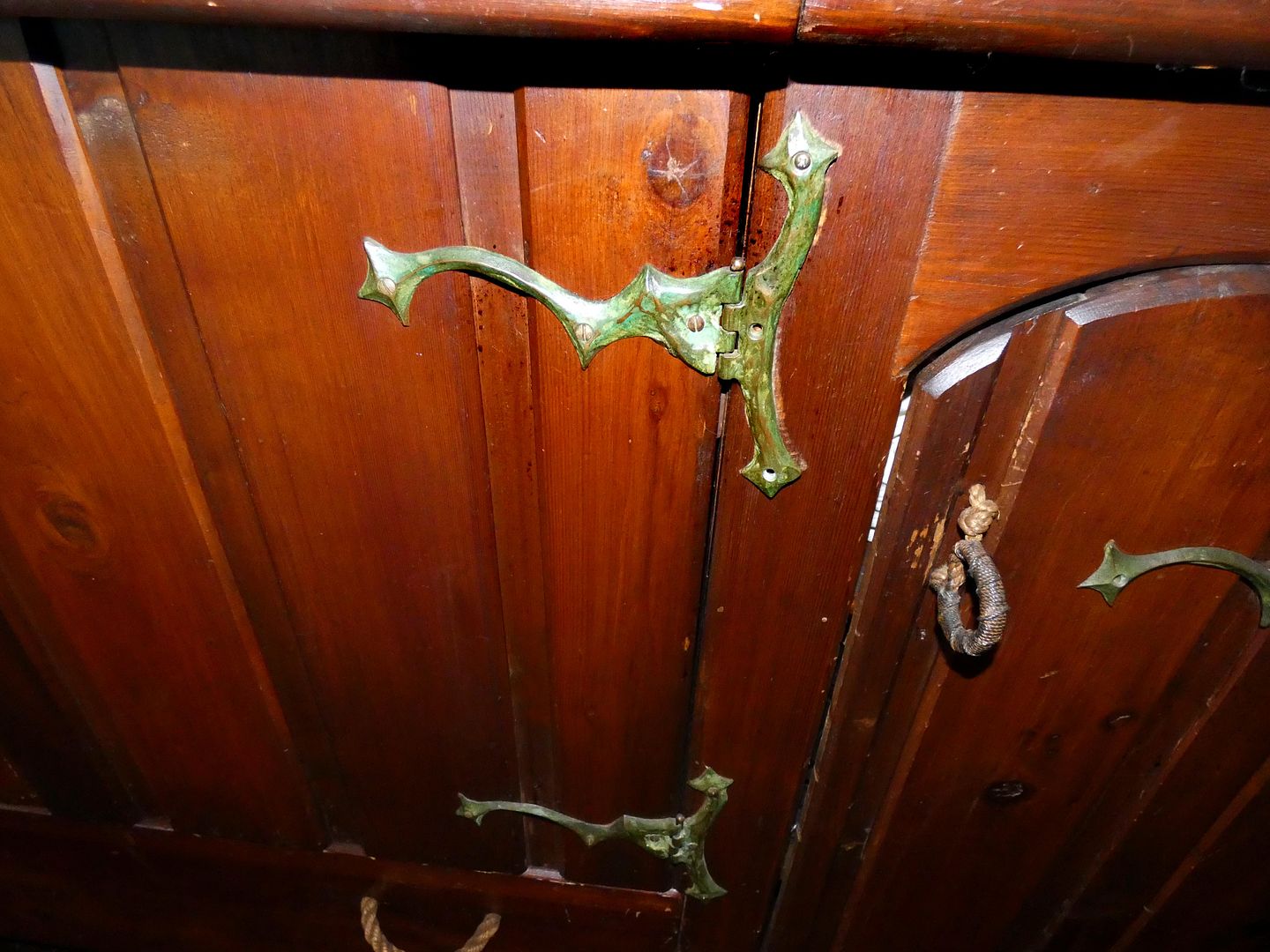 ...including the sand-cast bronze hinges forged out of patterns that Larry had carved by hand.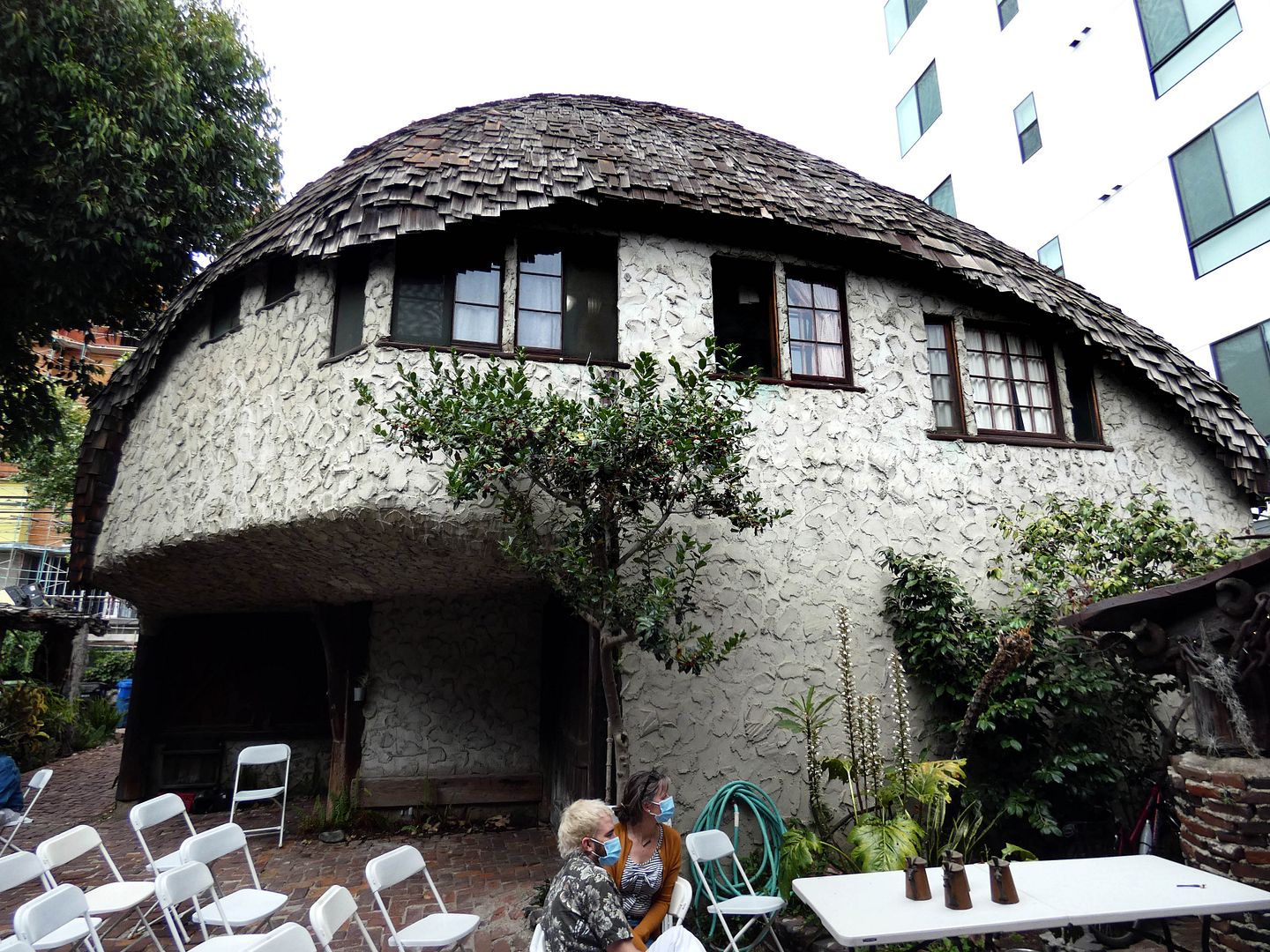 One newspaper article—whose clipping was hung for tour-takers to read—called the domed house "an old English dream world in the middle of a modern metropolis." And even more so now than then, sterile-looking high-rises have encroached on the Hobbit Houses' perimeter, stealing trees and a view of the sky.
The first structure of the complex to be built—a four-unit apartment building in the back—took five and a half years to complete, starting in 1946.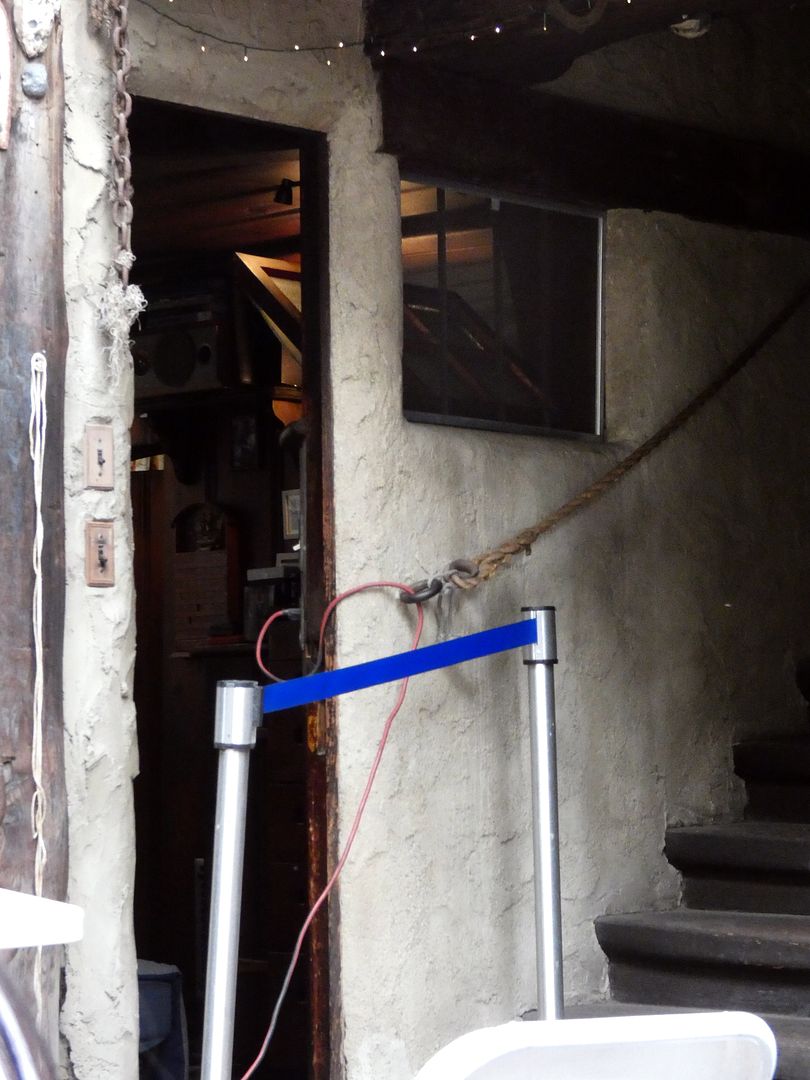 Previous (famous and infamous) tenants included dancer Gwen Verdon, actor Nick Nolte, some of the "little people" from The Wizard of Oz (who reportedly slept in large dresser drawers), and the man convicted for kidnapping Frank Sinatra, Jr. in the 1960s.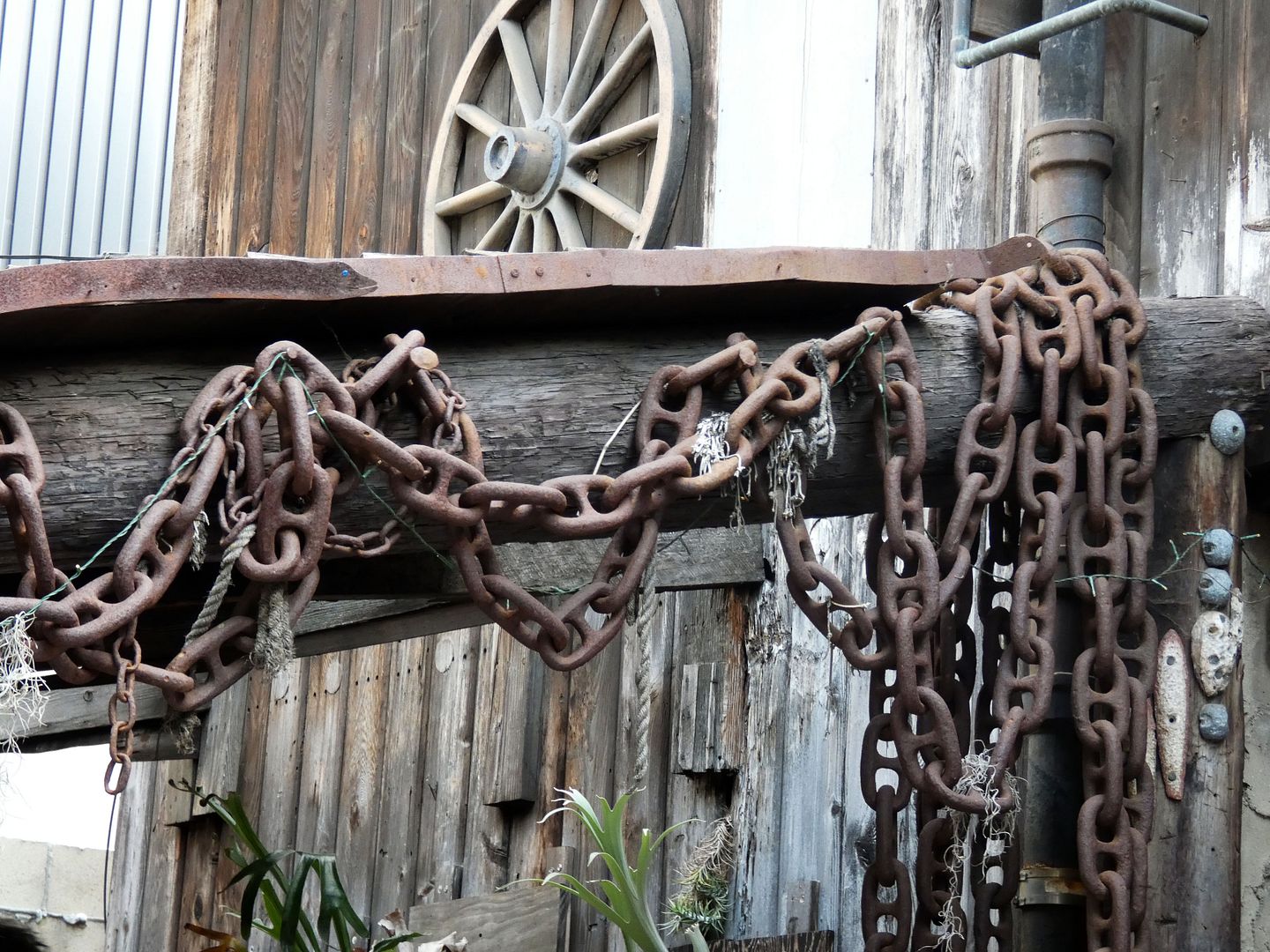 "Building A" is surrounded by salvaged pier pilings, chains, rams' horns, wheels, and other reclaimed pieces.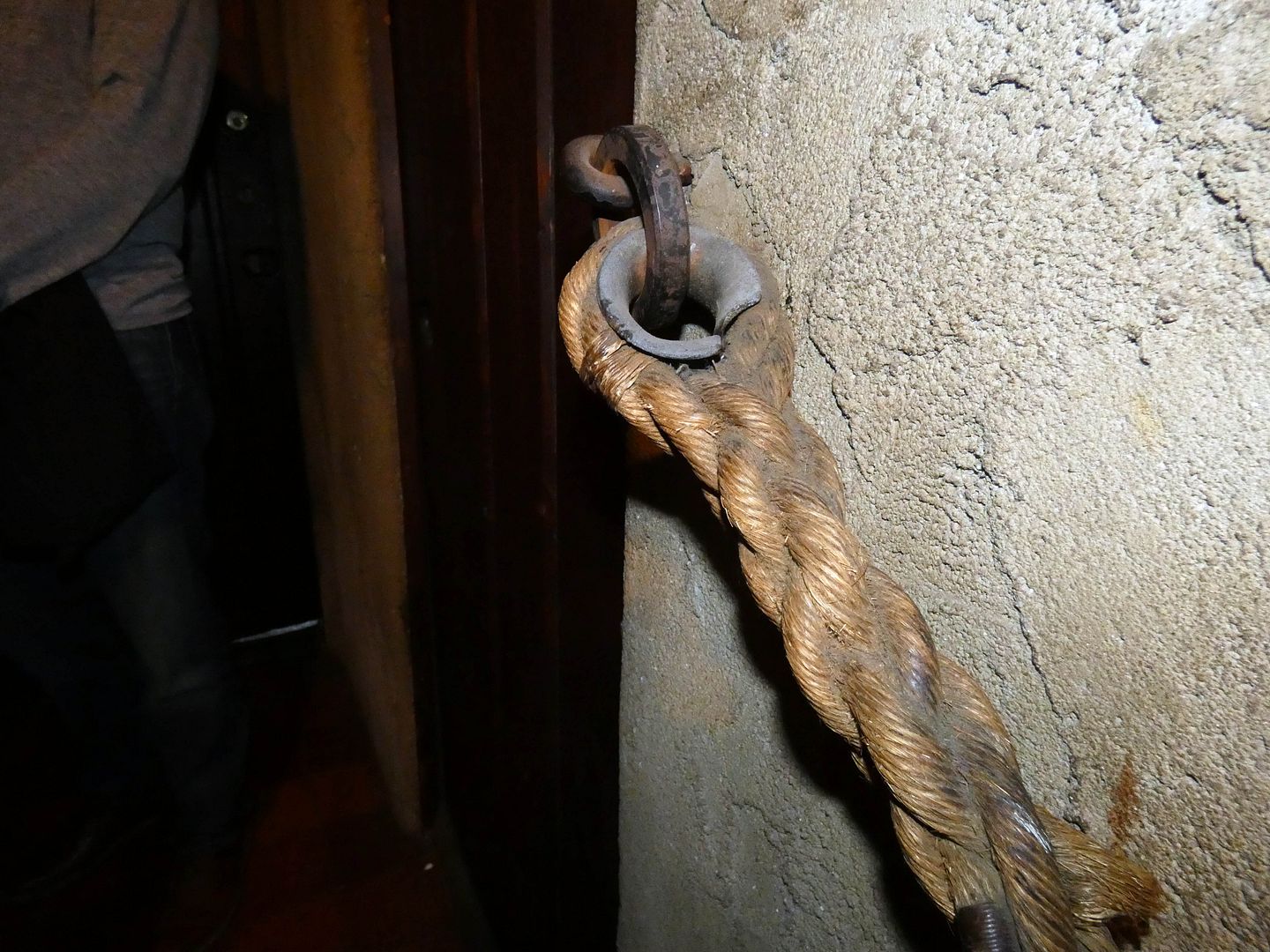 A rope handrail offers little stability to those making their way to the upper units...
...one of which is a delightful, airy, well-lit space with wonky wooden curves...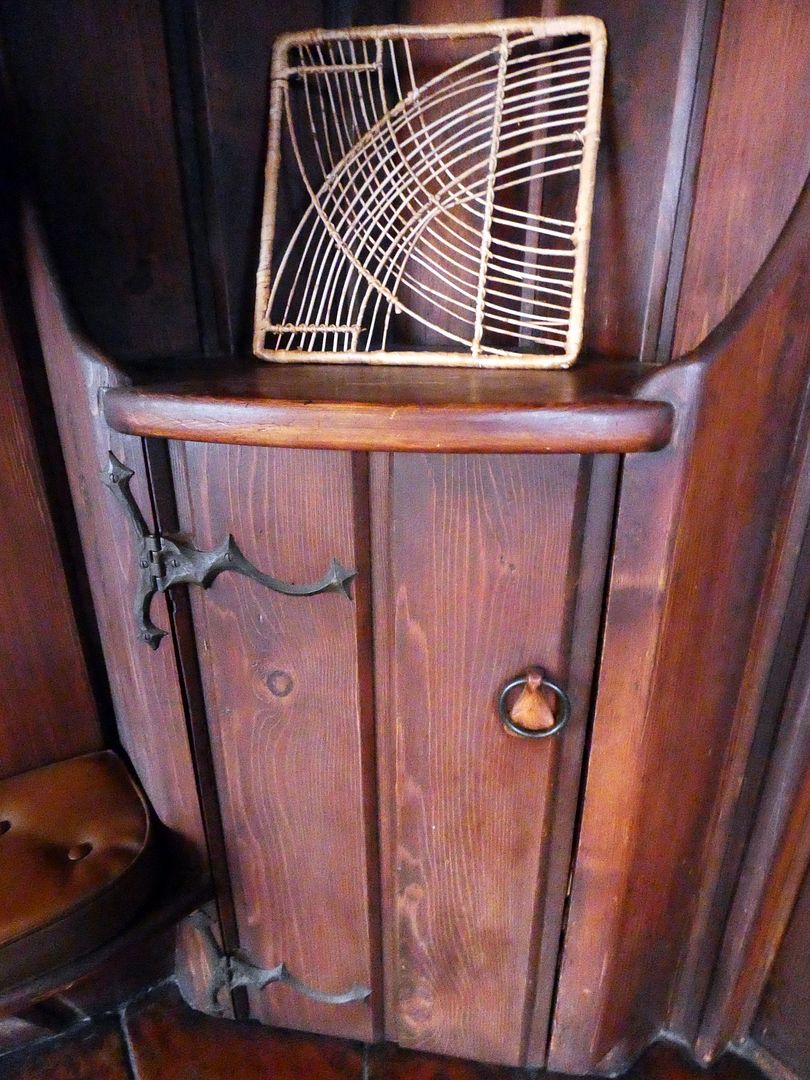 ...plenty of hidden storage...
`
...and undulating seats to curl up cozy upon.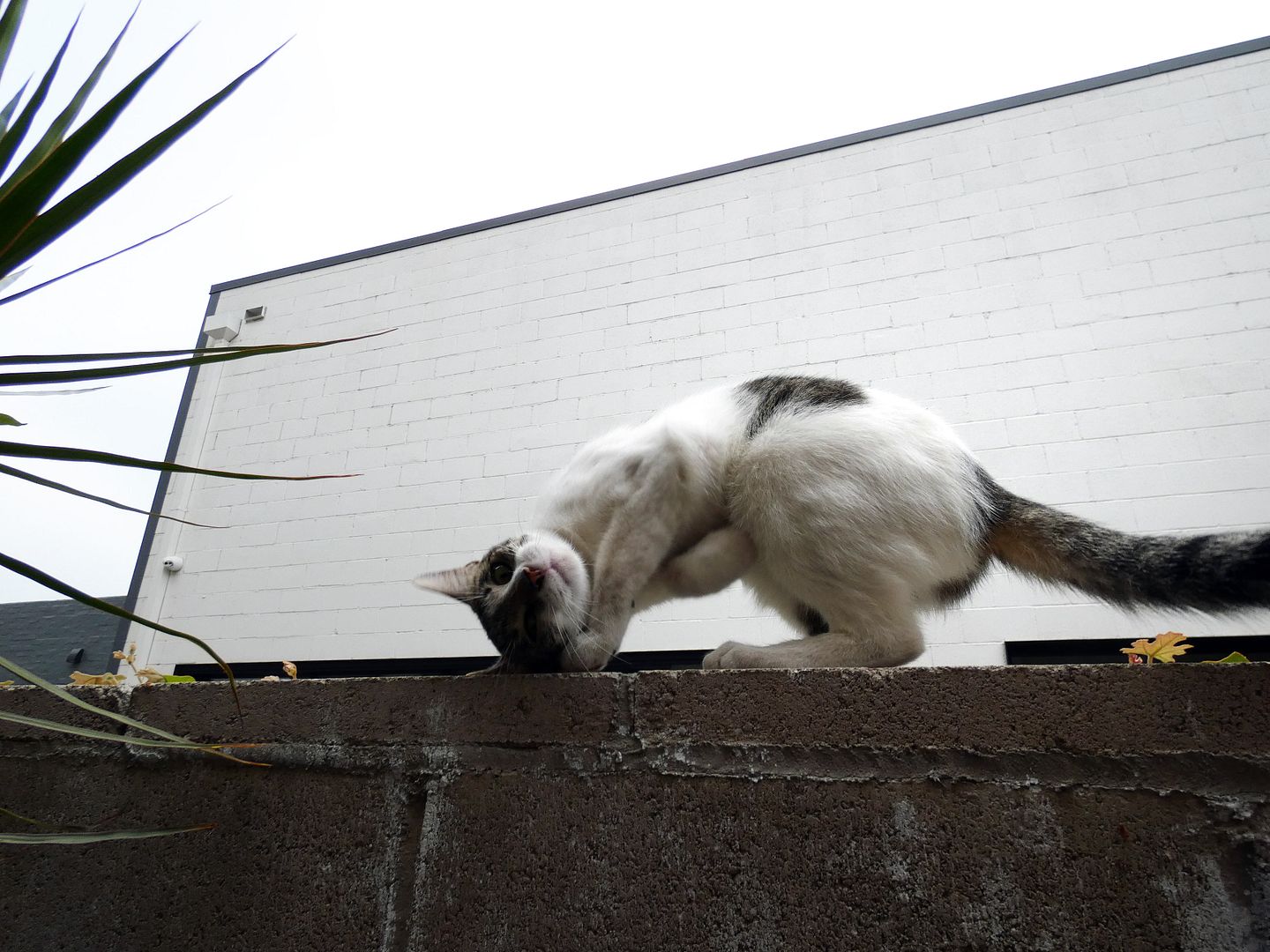 This other-worldly domicile deservedly was designated a Los Angeles Historic-Cultural Monument in 1996—which will hopefully protect it from years to come.
As
An Architectural Guidebook to Los Angeles
by David Gebhard and Robert Winter states, it's unbelievable that this "Medieval fairytale world of Hansel and Gretel cottages in a witch-infested jungle" is still with us, "only a block from the center of Culver City."