The Old Orange County Courthouse in Santa Ana, California—the county seat of Orange County—is a
Richardsonian Romanesque
monolith of steel, cement, and brick clad in Arizona red sandstone (with a foundation clad in Temecula granite).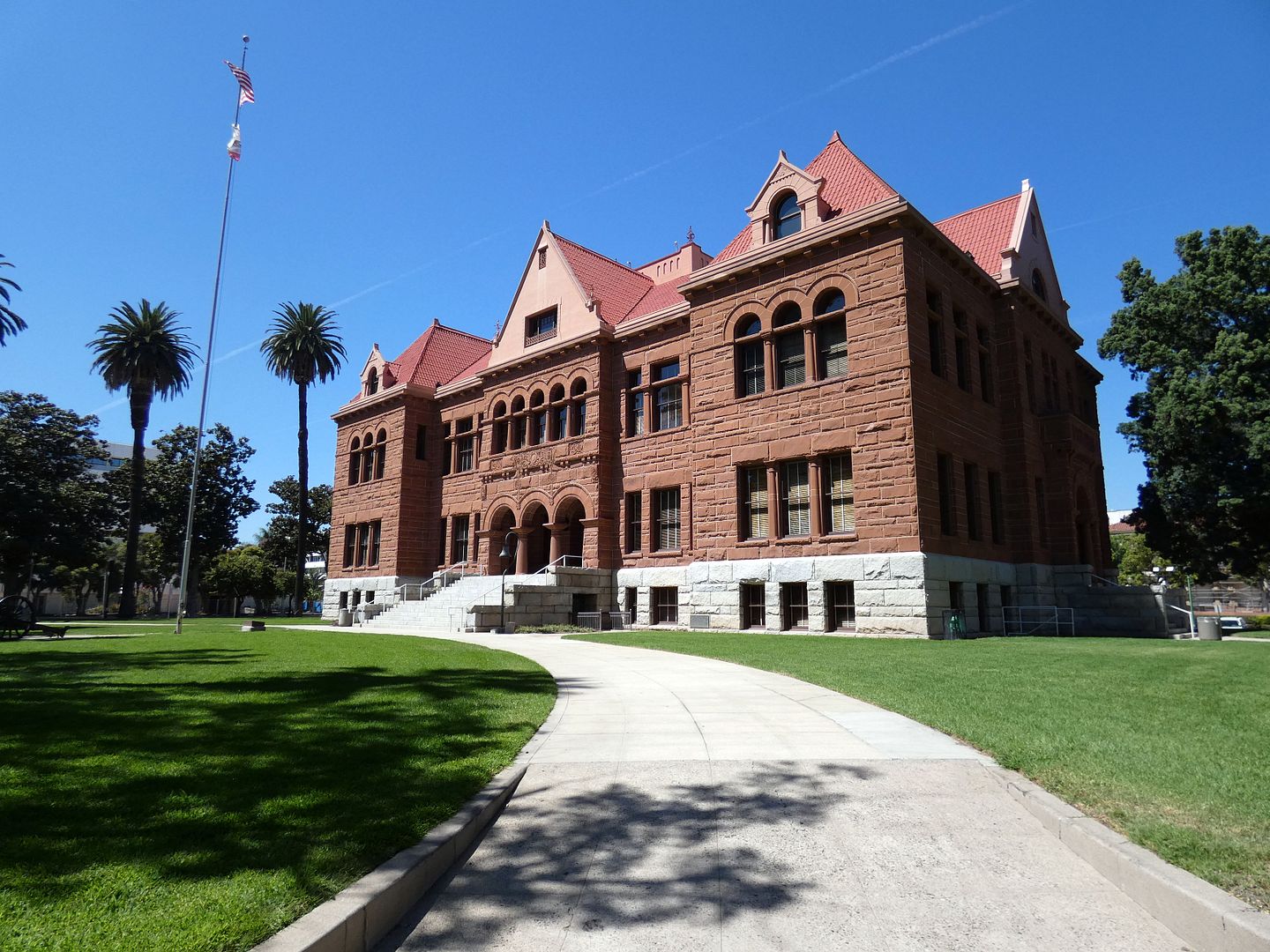 It was dedicated in 1901, just 12 years after the establishment of Orange County (having split off from Los Angeles County). That makes it Southern California's oldest county court building—now recognized as a historic landmark on both the state and federal levels.
The
Charles L. ("C.L.") Strange
-designed courthouse—built on land purchased from Santa Ana founder William H. Spurgeon, where the county jail was also located (1897-1925)—was damaged so badly by the 1933 Long Beach earthquake, the 135-foot-tall
cupola
was removed over safety concerns.
In 1969, a preservation campaign—timed to coincide with Santa Ana's centennial—helped get the courthouse landmarked, therefore saving it from the threat of demolition (to make way for a parking lot). No trials had taken place there since 1968, when they moved over to a newly-built courthouse.
And then in 1979, the courthouse so badly needed a seismic retrofit that it completely closed to the public. Fortunately, it reopened in 1992 after a massive restoration— and today, it still provides some court services (like marriage licenses).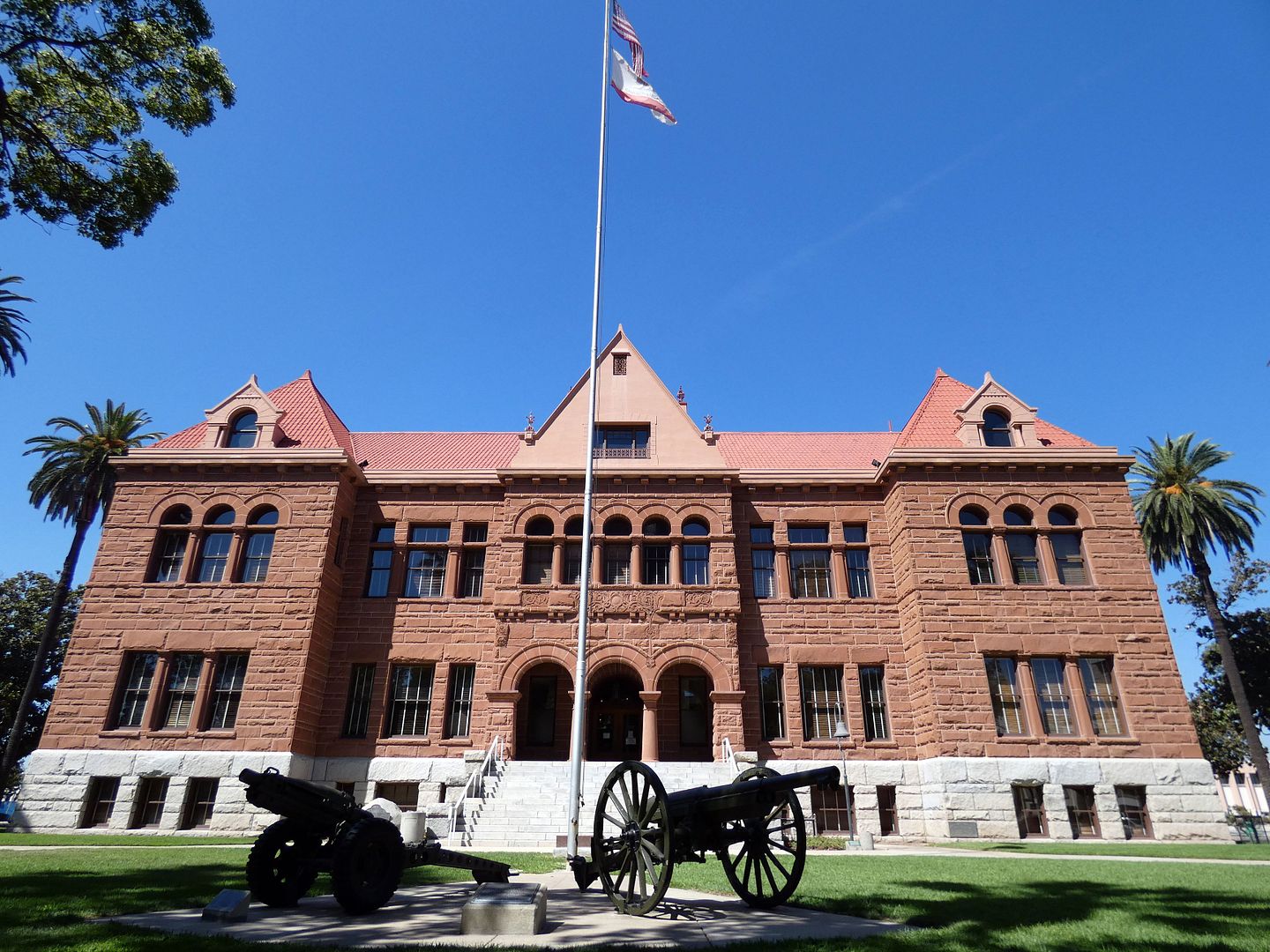 Otherwise, the 30,000-square-foot courthouse—which occupies an entire city block—serves as a museum and county historic park (featuring a restored 75 mm French Field Gun from 1918 at its front entrance on West Santa Ana Boulevard).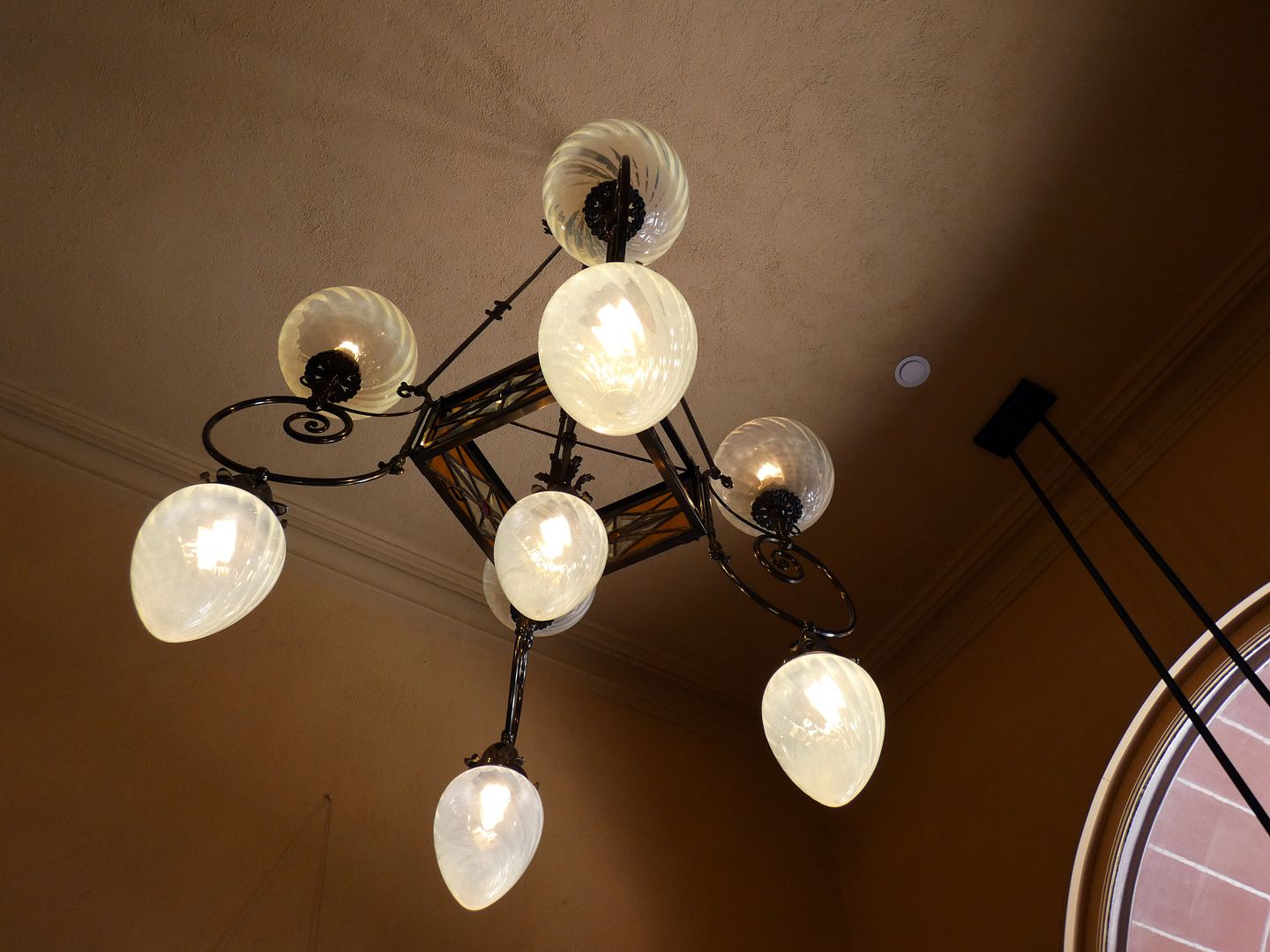 From there, you enter onto what's been renumbered as the second floor...
...and its historic grand staircase simply bowls you over.
From its wrought iron filigree...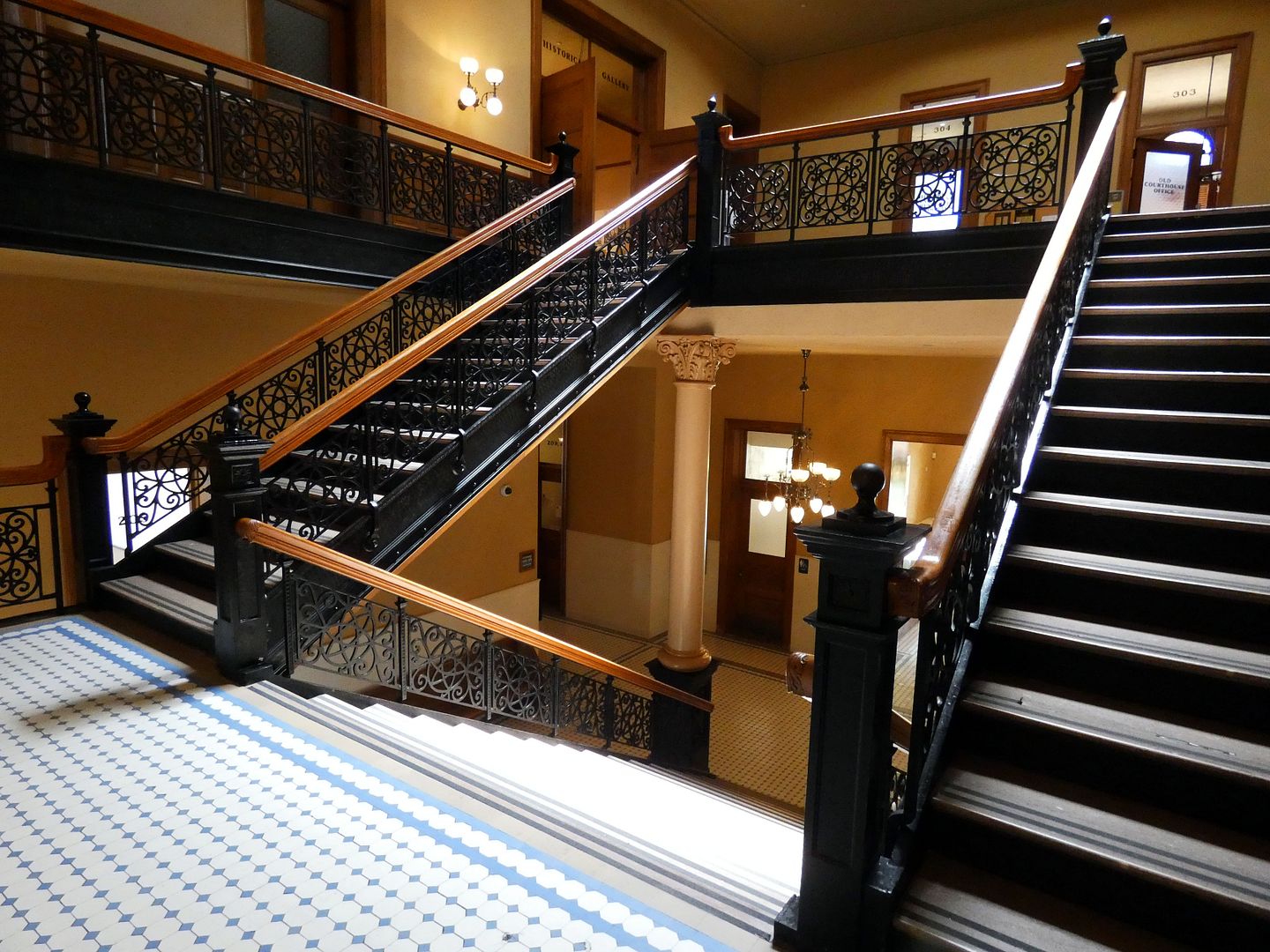 ...to the tile on the landing (reproduced from the original flooring, which was hidden under carpeting since the 1960s)...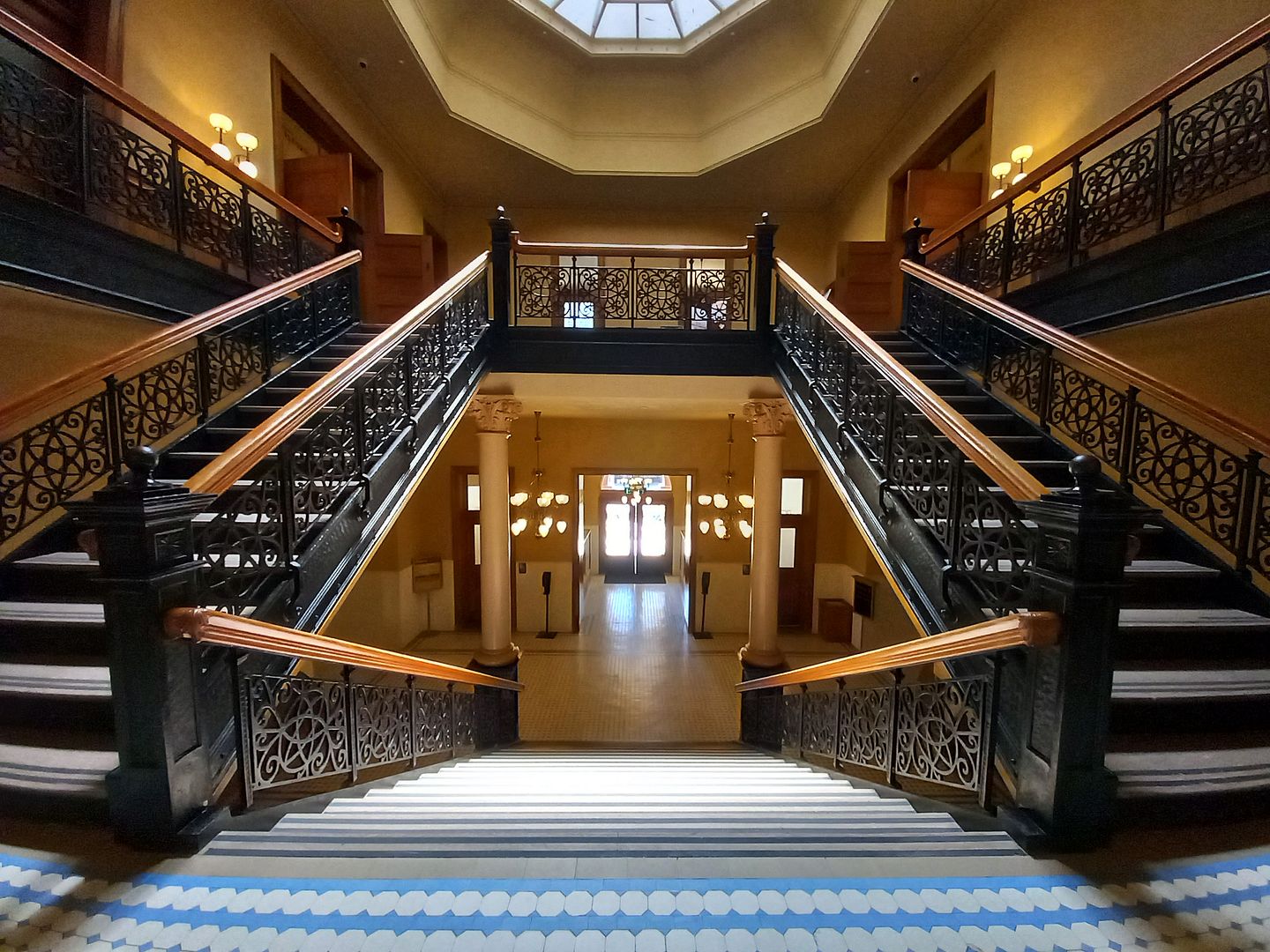 ...it's all stunningly illuminated by an octagonal skylight (above which the cupola once stood).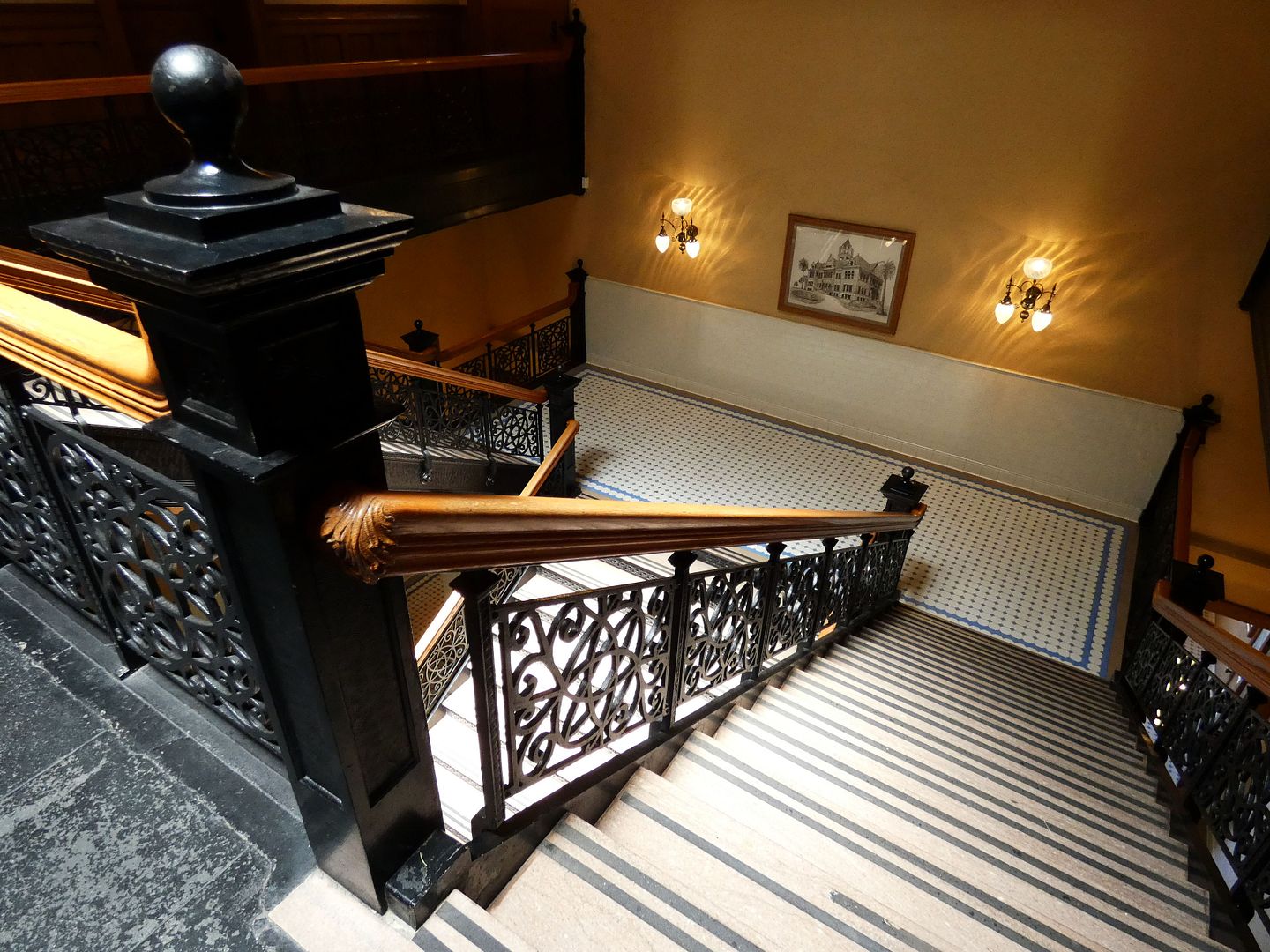 This picturesque and majestic setting is fitting for a palace of law...
...and quite ornate for the humdrum county offices that also once occupied it.
Upstairs on the third floor is the Historic Superior Courtroom (a.k.a. "Department 1")...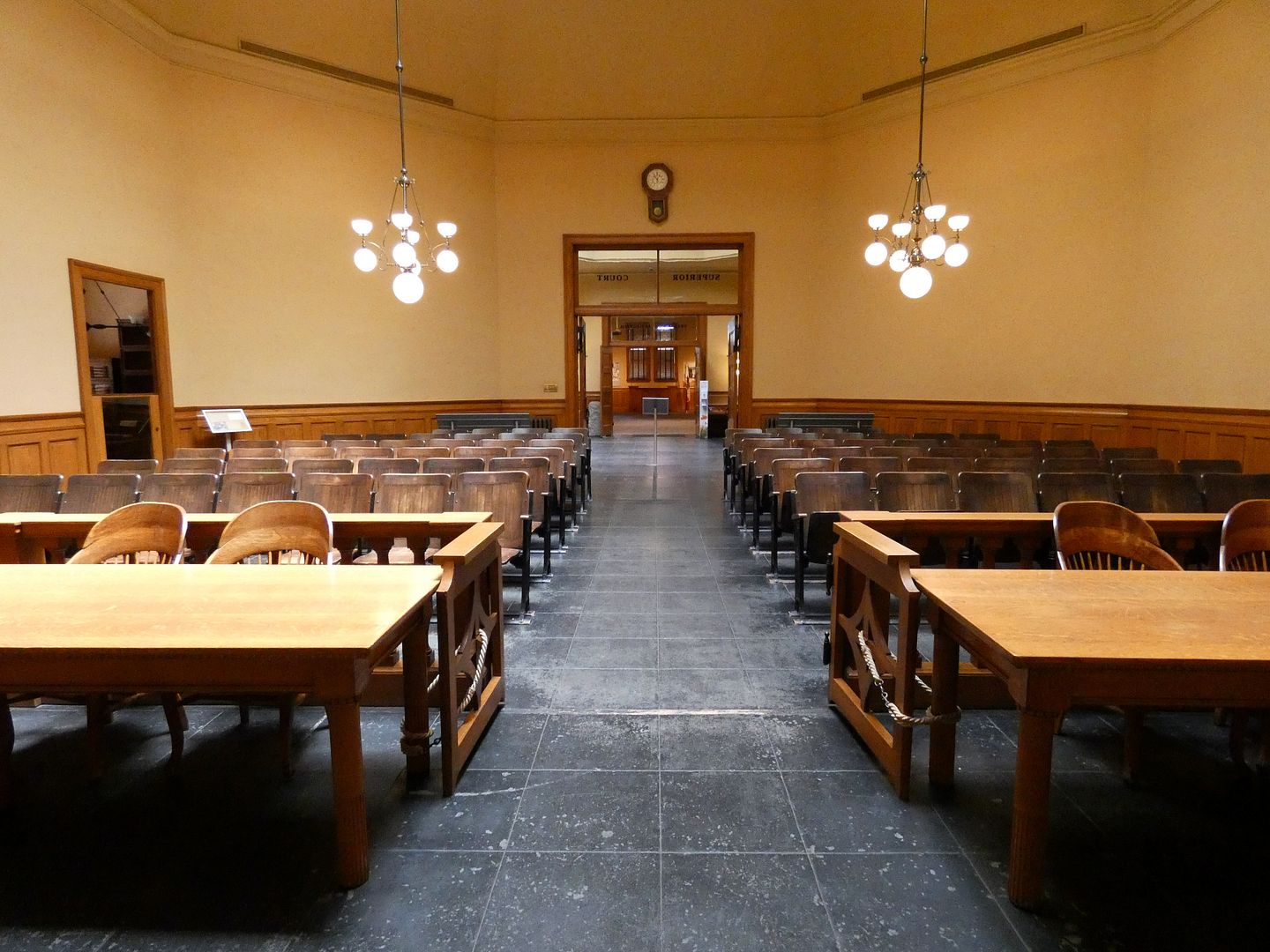 ...the county's first and, for a dozen years, only Superior Court.
With its original chandeliers and antique oak furnishings, including an ornately carved judge's bench...
...and circa 1912 spectator seating...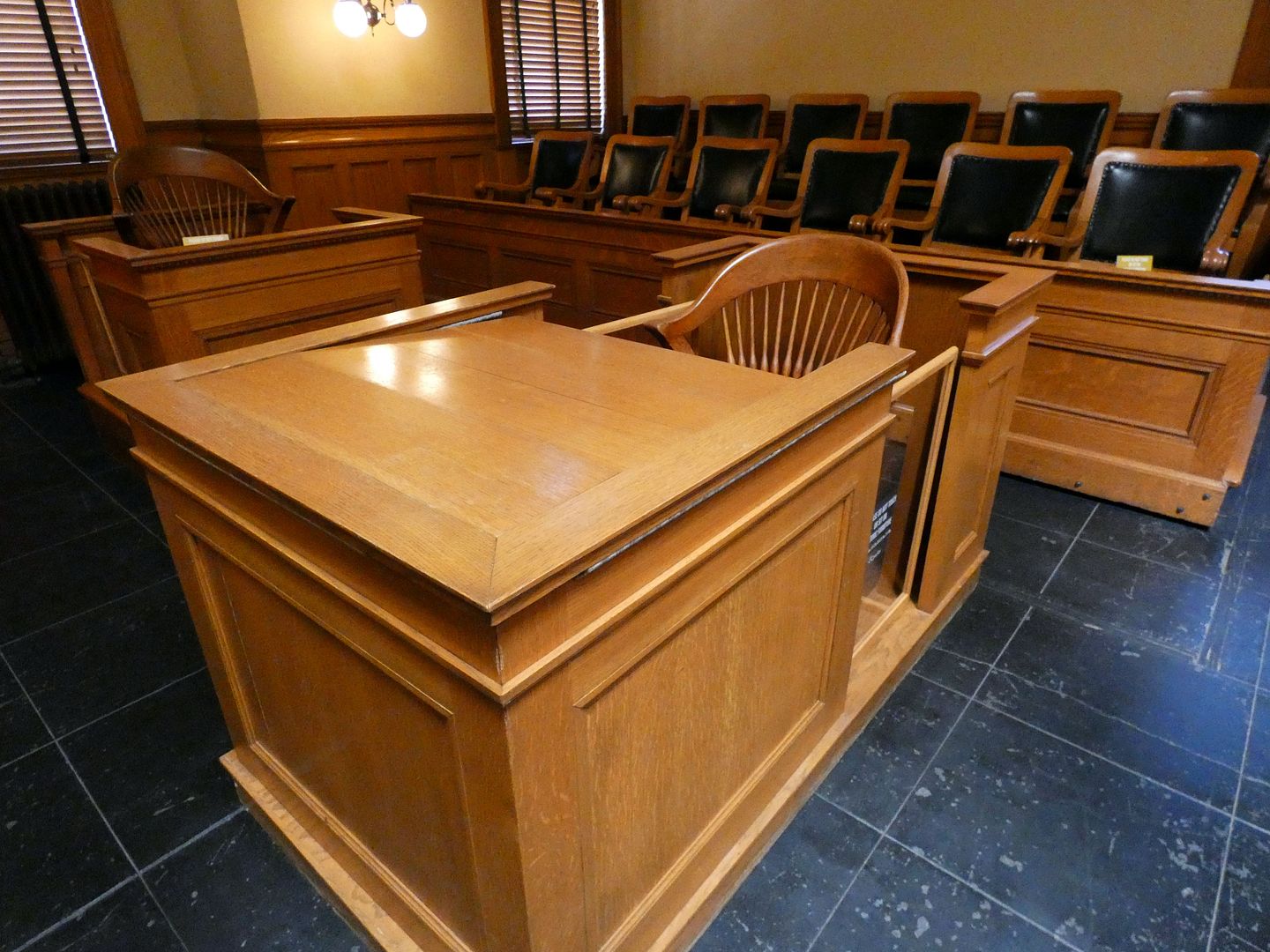 ...it's a real showstopper, having made on-screen appearances in such films as Norma Rae and Catch Me If You Can. (Legally Blonde and American Horror Story: Asylum both used shots of exterior views.)
There's even an adjacent judge's chambers and court reporter's office, with historically accurate setups.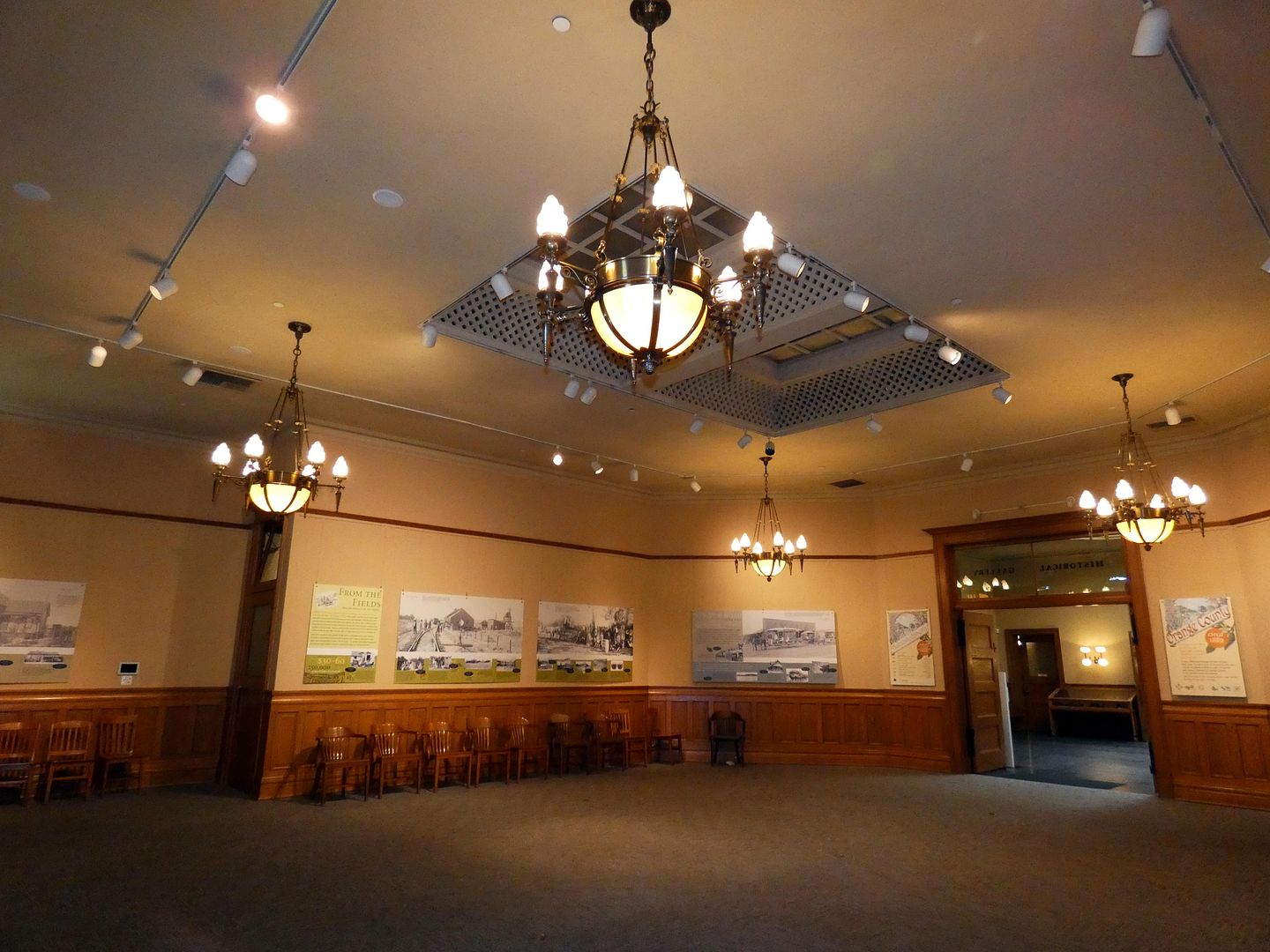 Across the hall is the former "Department 2" courtroom, which had been converted into a cubicle-filled office space in the 1960s and transformed into the Historical Gallery during the 1980s restoration.
According to author and historian
Phil Brigandi
, this was the site of the longest criminal trial in OC history (and, at the time, one of the longest in the U.S.): the murder trial of
People of California vs. Gollum and Overell.
It lasted nearly five months in 1947 and resulted in a "not guilty" verdict (and tons of headlines).
The exhibits that rotate in that space today are focused less on legal proceedings and more on Orange County history—and it's just one of the many gallery spaces throughout the building (including the former basement, now the first floor) that share the history of Santa Ana, OC, and the courthouse itself.
Admission is free and self-guided tours can be taken on weekdays during normal operating hours.