I've been feeling a sense of urgency to visit all the Vegas hotels and casinos I can before they get imploded. I've seen too many disappear already—some devastatingly before I ever had the chance to visit.
I still rack my brain trying to remember what the Strip was like when I first stayed there, at the
Stratosphere
, when I was too sick with the flu to really explore or appreciate it. That was before I knew everything would go away one day.
Now I know. And it tortures me.
I first visited the Golden Gate Hotel & Casino at 1 Fremont Street in 2013 to have breakfast at
Du-par's
, the Vegas outpost of the beloved LA family restaurant, which had taken over the former Bay City Diner space in 2010.
I went back to the Golden Gate in 2018 to eat at Du-par's again and was disappointed to find out that it had closed the year prior. All traces of it have been erased. Even the Main Street entrance to the restaurant has been bricked off.
Golden Gate now has no eateries—the rest of them have moved over to its sister property, Circa Resort & Casino—despite the fact that visitors once flocked there for "the first shrimp cocktail in Vegas." In 1959, you could get the dish for a mere 50 cents. Even Du-par's continued to serve it until its closure (at a higher price, of course).
I've had no confidence that the Golden Gate is in Vegas to stay—despite a good 116-year run, having first opened in 1906 as the two-story, 10-room Hotel Nevada and having never closed.
Simply being the oldest hotel in Vegas tells me it's on the chopping block (even though there are no formal plans to get rid of it yet). So, I booked a couple of nights there last month when I was in town for Nevada Preservation Foundation's annual Home + History event.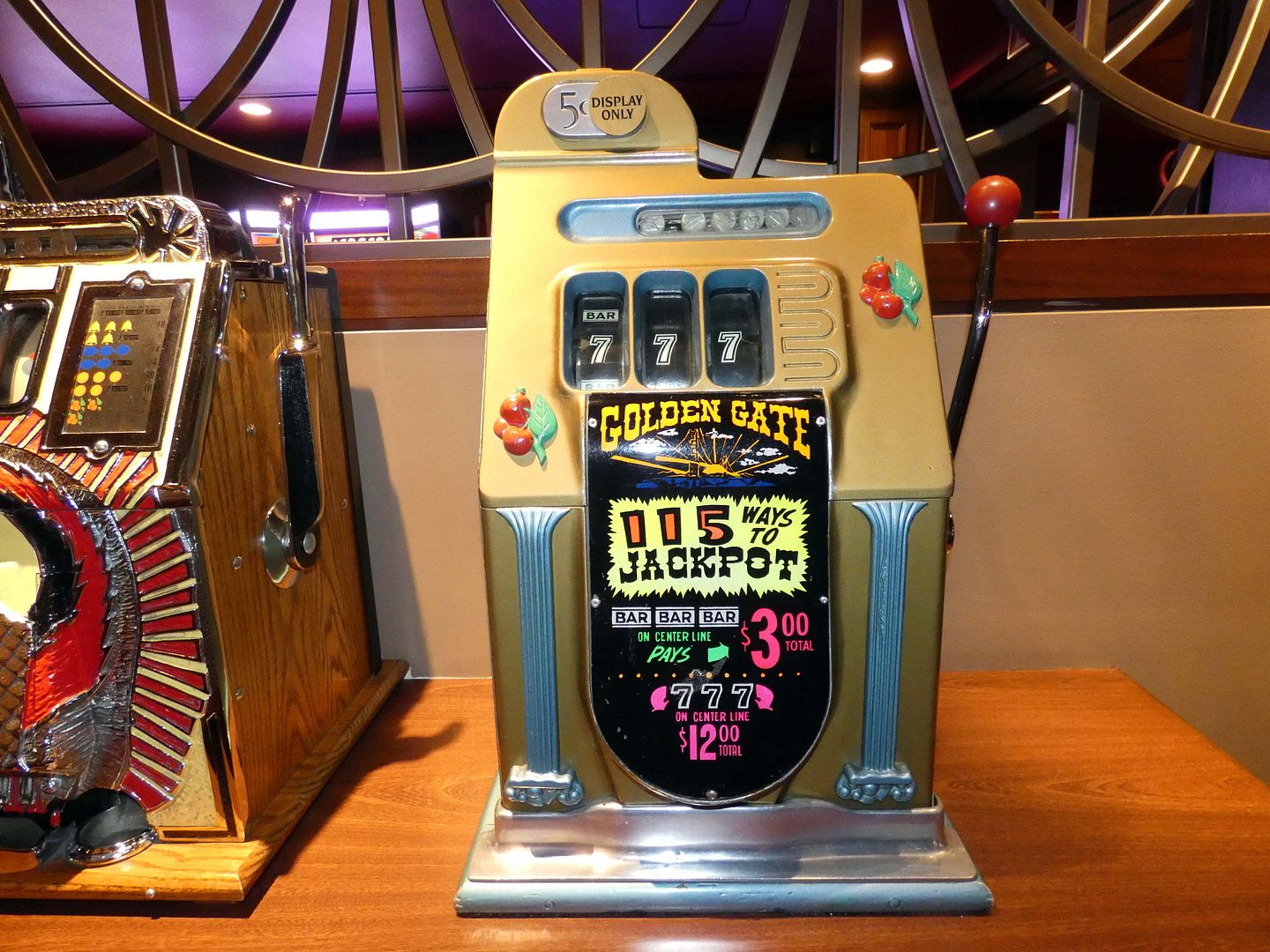 Despite the changes with its dining options, the hotel seems to embrace its lengthy history....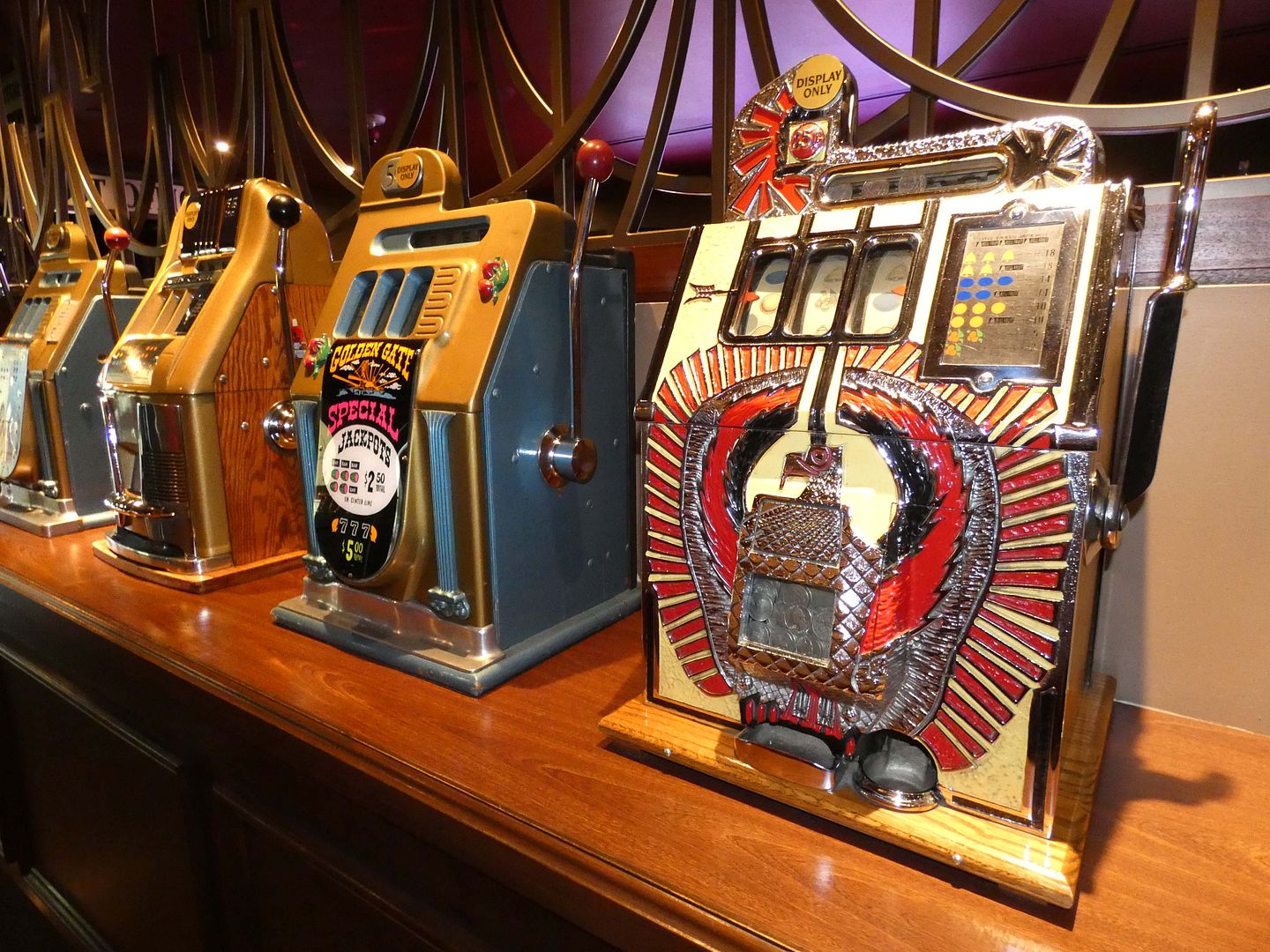 Nowadays, all the slots are digital and video-based.
And they don't take or dole out coins—requiring a plastic players' card for all transactions.
But there's something just so satisfying about the mechanical action of those old analog machines.
Also on display near the front desk are a circa 1960s change vest, antique chip racks, vintage hotel ledgers, and other ephemera from hotel and casino operations of days of yore.
Since I was actually spending the night, I got to ride the (only) elevator upstairs and check out the guest room hallways where Rat Packers like
Frank Sinatra
, Dean Martin, or Sammy Davis Jr. might've stumbled.
They were all said to have frequented the Golden Gate Casino downstairs from what was then known as the Sal Sagev Hotel. And by then, the upper floors had been added.
I was delighted to see vintage doors still in place—bearing the scars from old metal room numbers that had been removed with the renumbering of the rooms for the creation of a few suites.
As you'd expect from an early 20th century hotel, my room was small—the original room size of 10 x 10 feet.
While modest by today's standards, at the time, the hotel and its rooms were considered "first class." It had the first telephone in Vegas, installed in 1907. (The phone number was simply #1.)
It opened with indoor plumbing—though the bathrooms today evoke more of a mid-century feel.
It was also the site of one of the first electrified signs on Fremont Street, installed in 1927.
Today, the letters spelling "G-O-L-D-E-N G-A-T-E" on the hotel's vertical sign rotate from side to side as their bulbs glitter in the darkness. (Then again, Fremont Street is never really dark.)
Golden Gate offered a surprisingly comfortable stay, with the option to book a room that faces away from the non-stop onslaught of noise from Fremont Street.
I'd stay there again—except I've got my sights set on the Plaza and the Fremont Hotel next.