It's at
Dodger Stadium
—the first sports arena in the country to qualify for botanic garden accreditation (which took five years).
And it's open for tours.
Guided walks around the stadium exterior and its new landscaping began late last year—but they really ramped up after
The Los Angeles Times
ran a
story
on it in March 2022.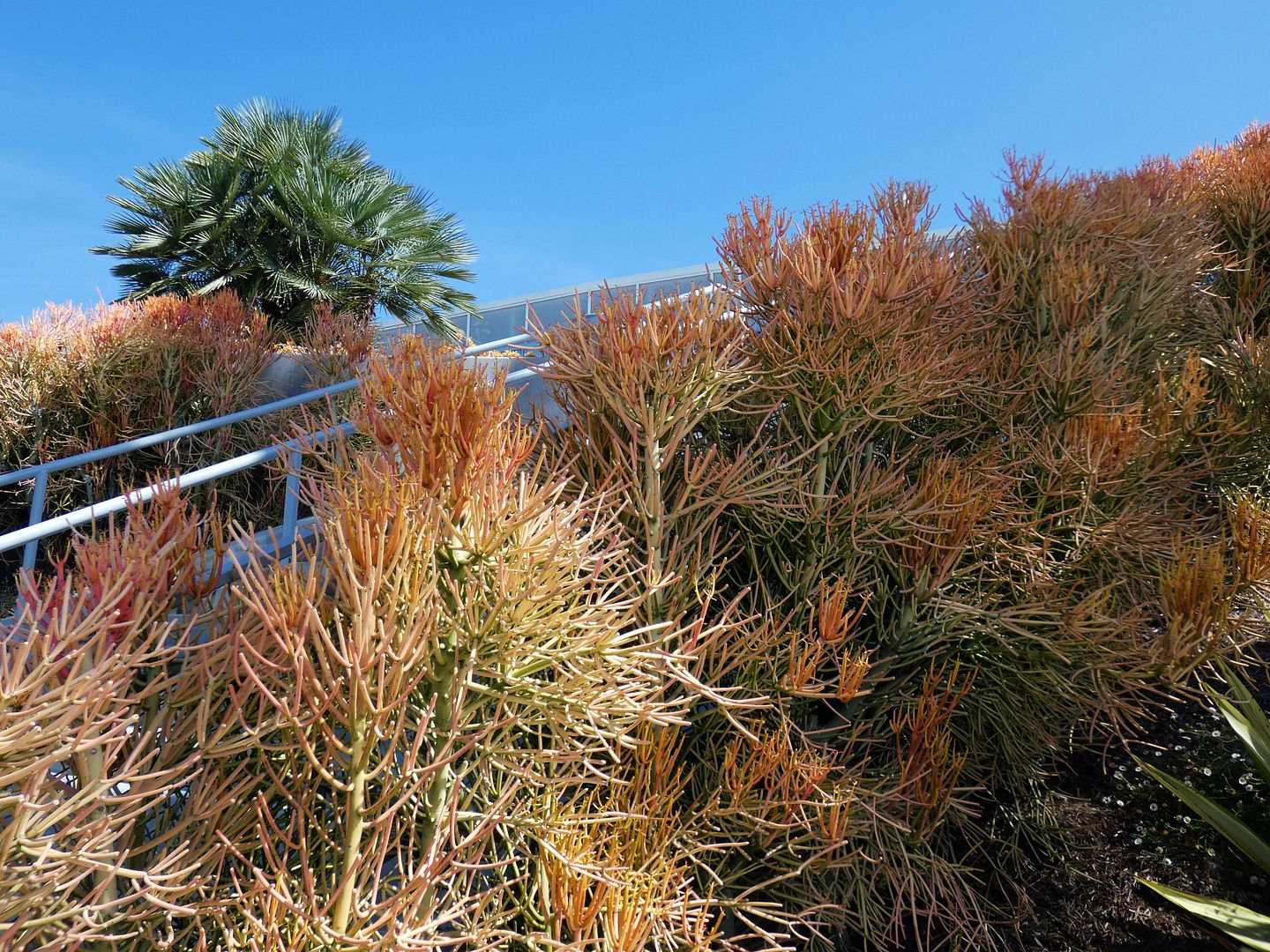 For our tour, we met on the Top Deck level by the Top of the Park Official Team Store (behind home plate) and walked below the Retired Numbers Plaza...
...past a thick planting of fire sticks (Euphorbia tirucalli).
They're just one of over 100 drought-tolerant varieties of plants that have been added to planters, walkways, and areas that might've previously been filled with dirt, concrete, or asphalt.
The stadium's previous water-thirsty ornamentals have also been replaced with Caribbean copper trees (Euphorbia cotinifolia, above)...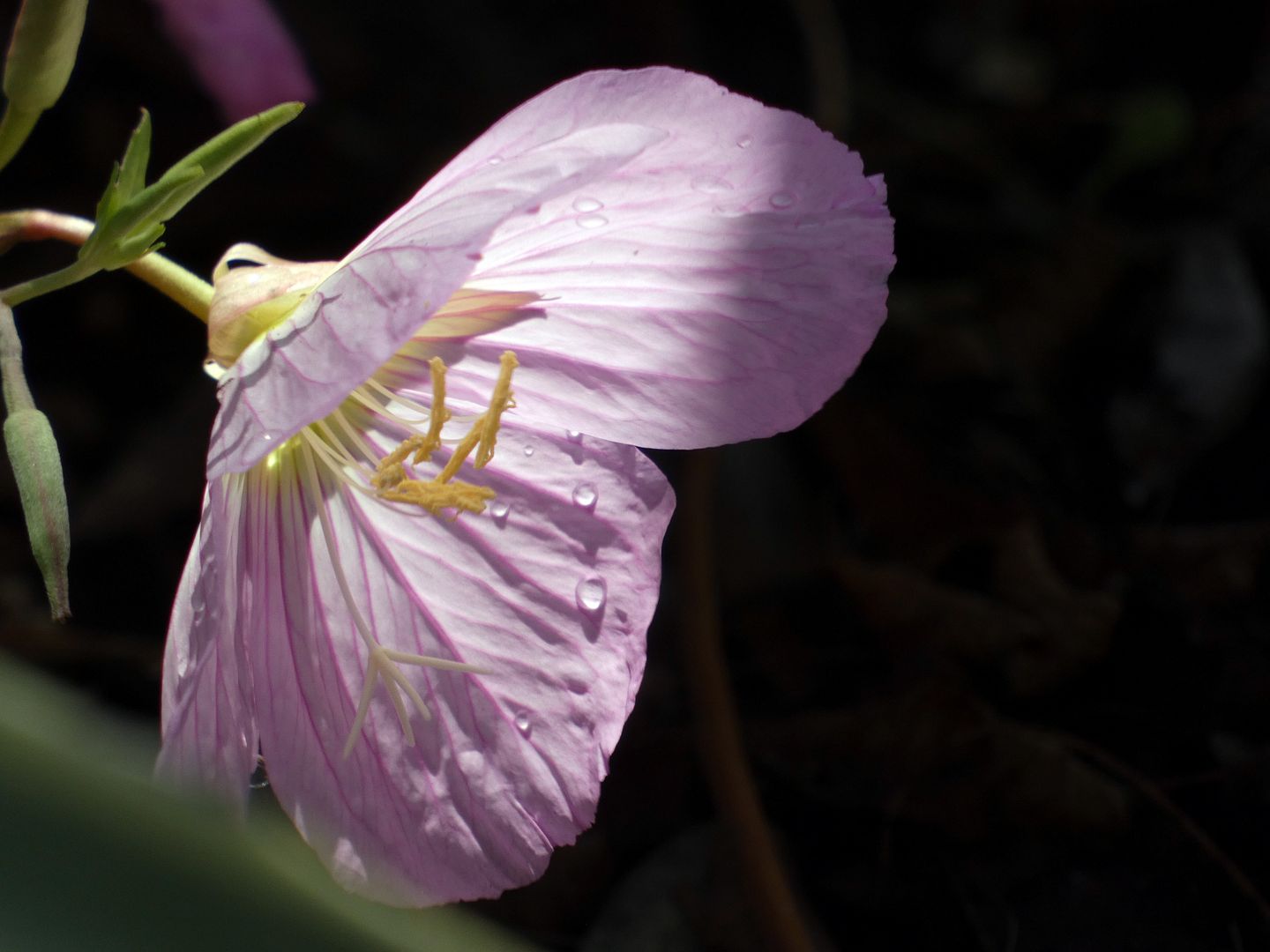 ...evening primrose (Oenothera speciosa)...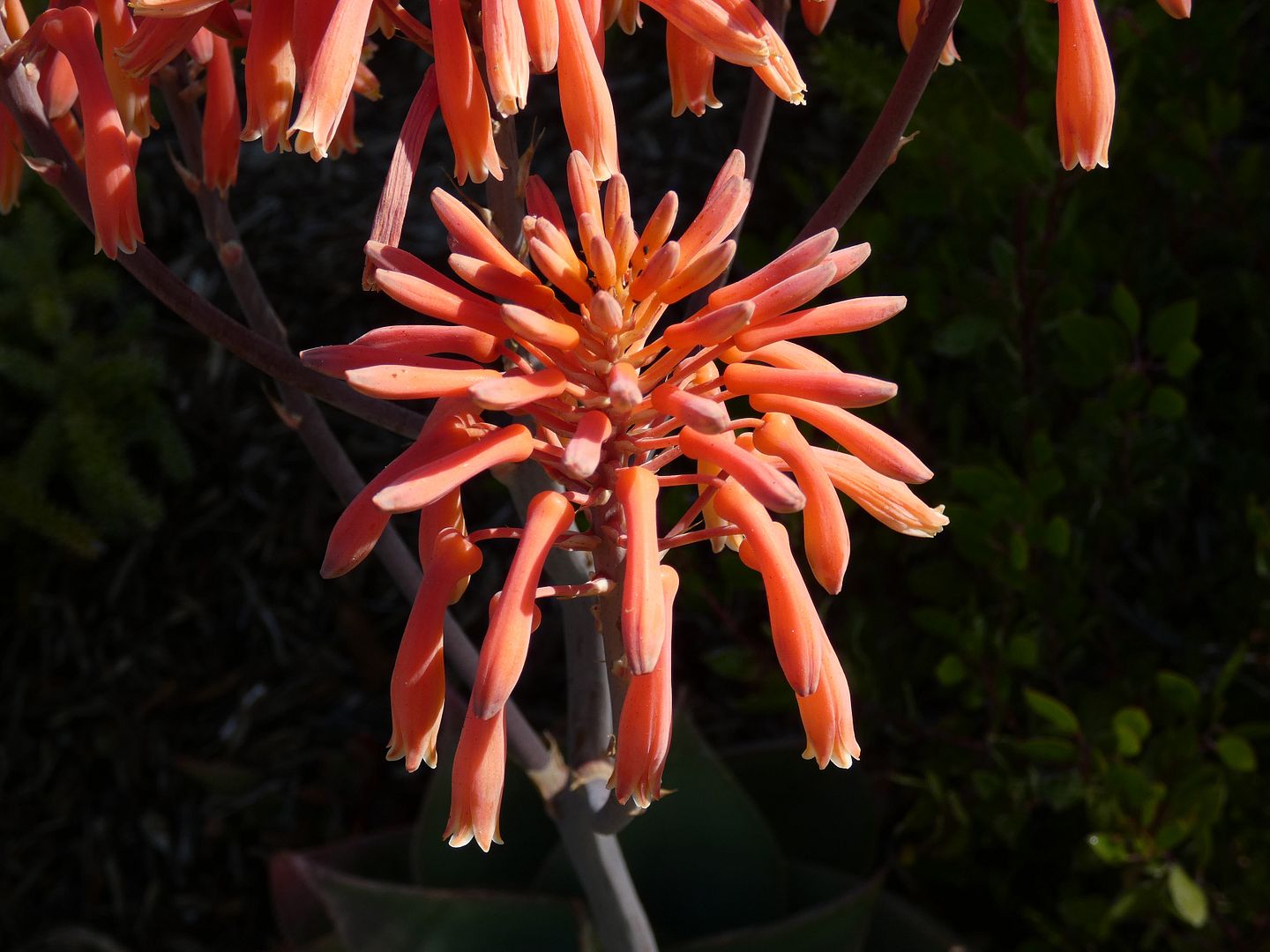 ...succulents like agaves, variegated wild sisal (Furcraea selloa) and Goliath Aloe...
...and black sage (Salvia mellifera, above), hummingbird sage (Salvia spathacea)...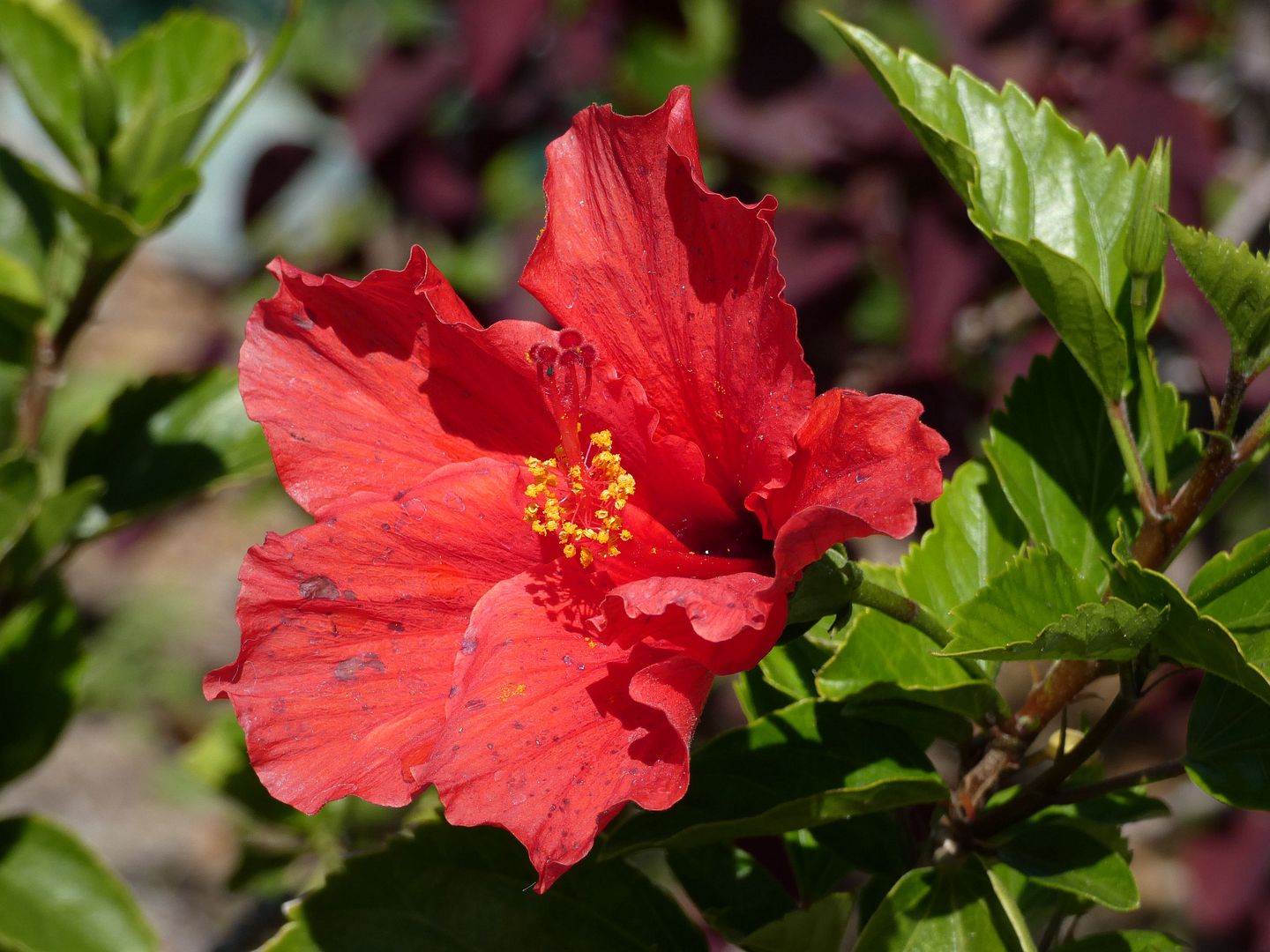 ...red hibiscus (Hibiscus rosa-sinensis)...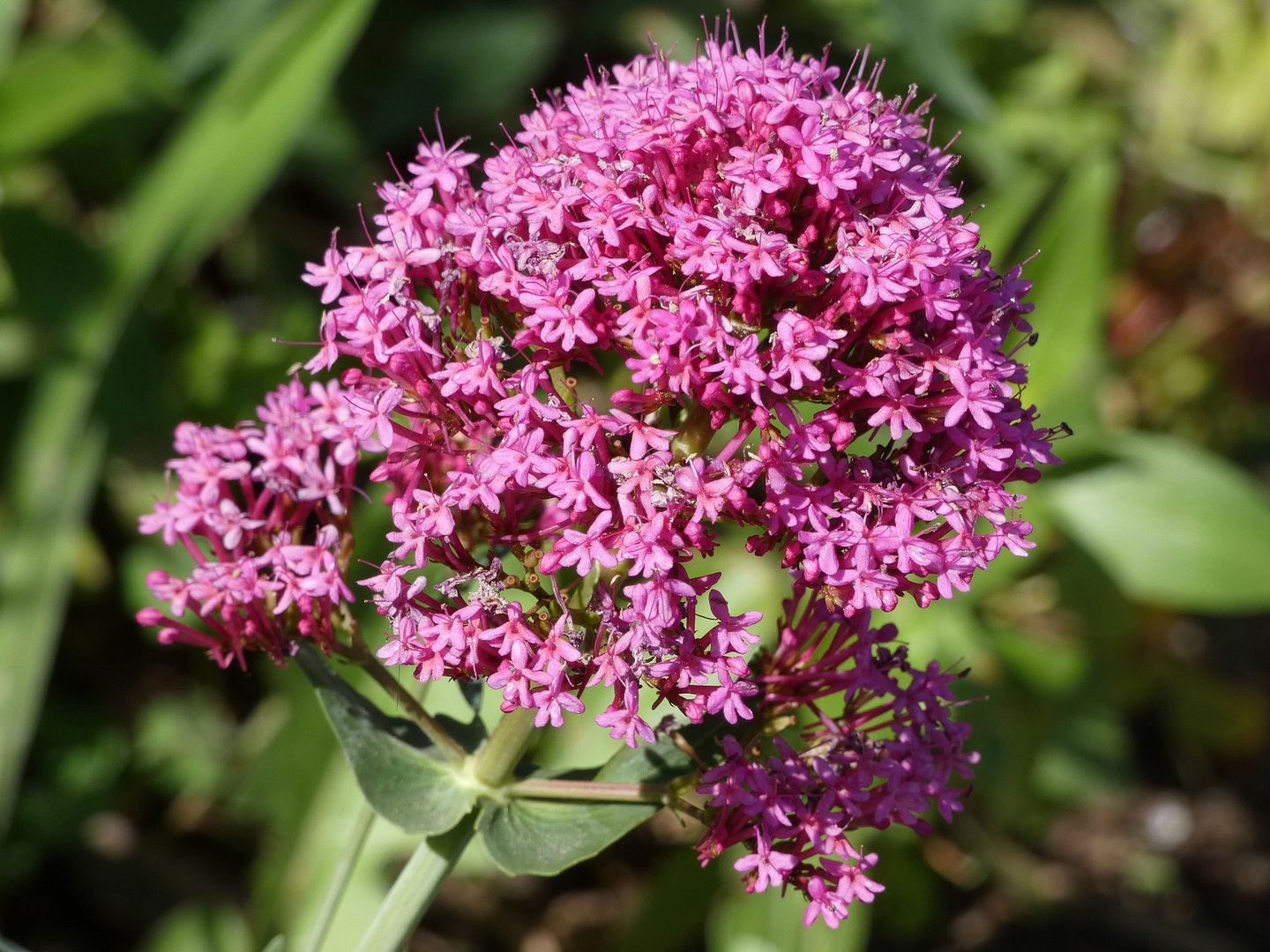 ...and plenty more.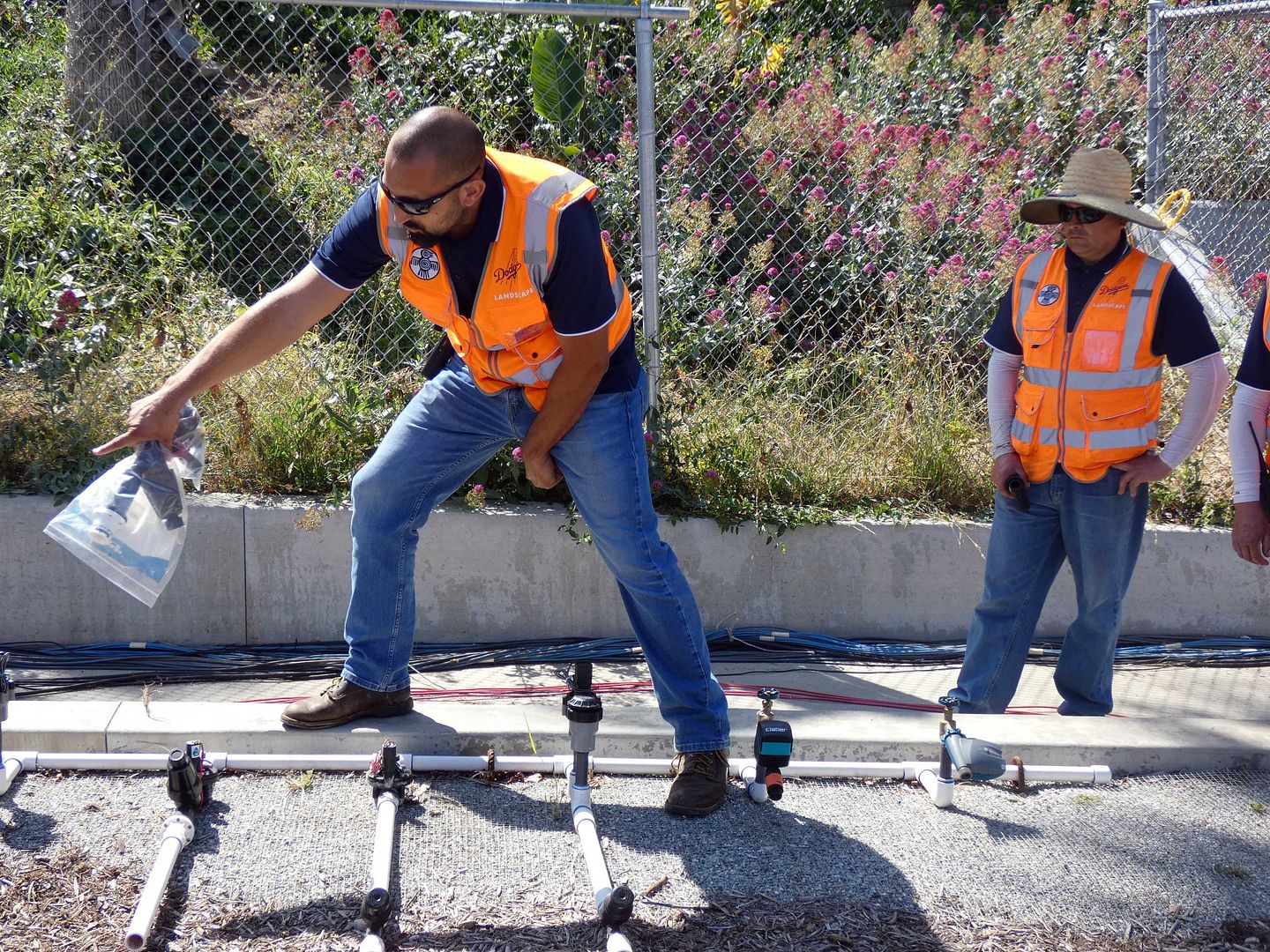 It's impossible to talk about the Dodger Stadium botanic garden—or its tour—without mention of its creator and leader, Certified Arborist and Professor of Horticulture Science Landscape Manager Chaz Perea. He began working for the Dodgers in 2009—when he was in his early 20s.
During the tour, he leads his small crew of landscapers in a water savings demonstration...
...showing how the garden's irrigation uses slow drip tubing and low-flow spigots...
...and how different types of soil (including local sandy soil) traps or releases irrigation water.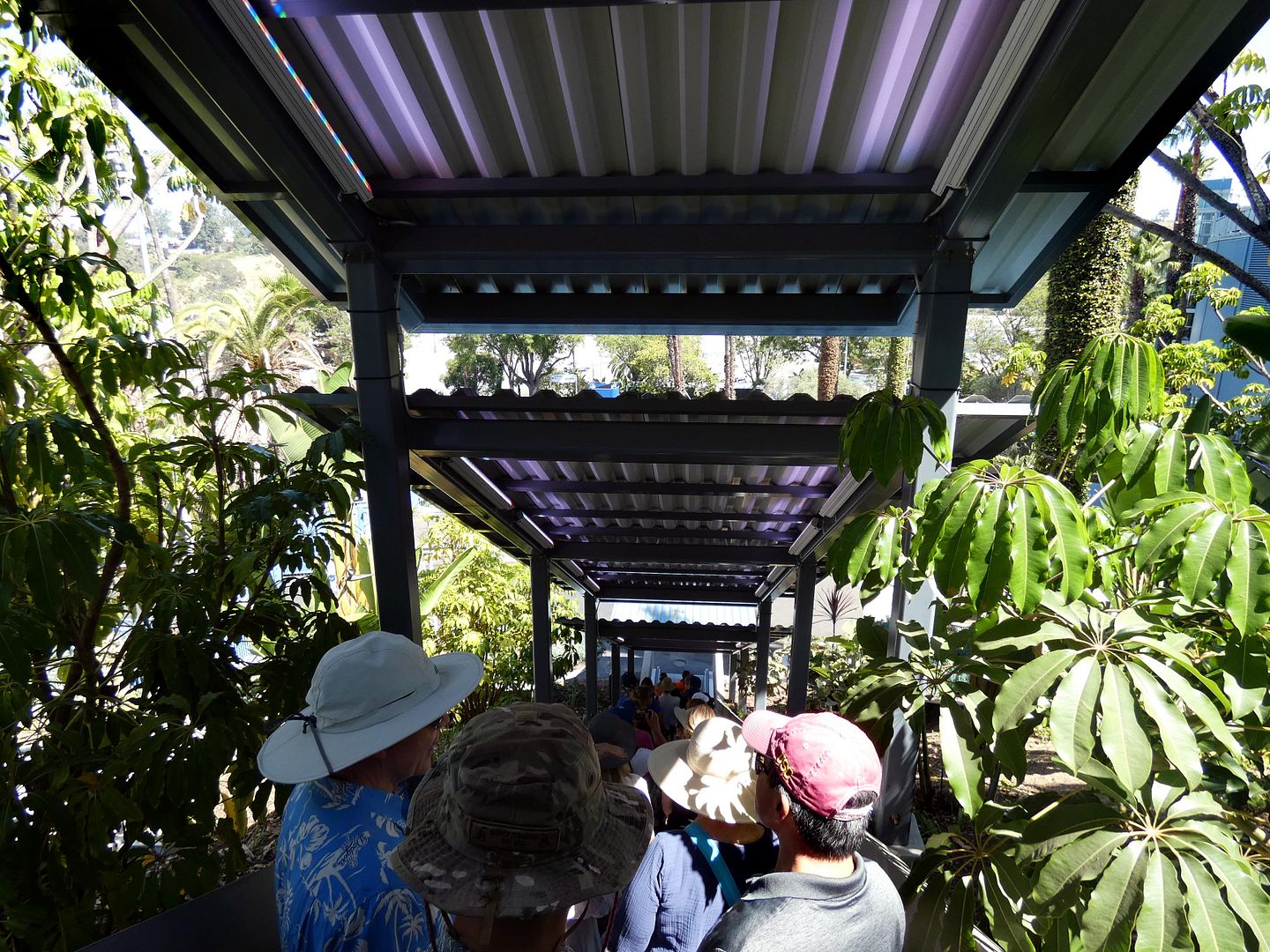 From the Left Field Reserve Level, we headed down to the Field Level...
...where a dirt patch near the loading dock is "ground zero" for the restoration of Dodger Stadium's "martini planters."
Formerly known as "champagne bowls," 169 of these concrete planters were part of the stadium's 1960s-era landscaping of high-maintenance ivy and water-unwise annuals, as dictated by then-Dodgers President Walter O'Malley.
Only problem was that 60 years later, their unreinforced rims were crumbling—spurring a restoration effort that would rebuild their edges with rebar and put them back into use.
But this time around, they're holding succulents and other water-saving species of plants.
Passing by outcroppings of beeblossom...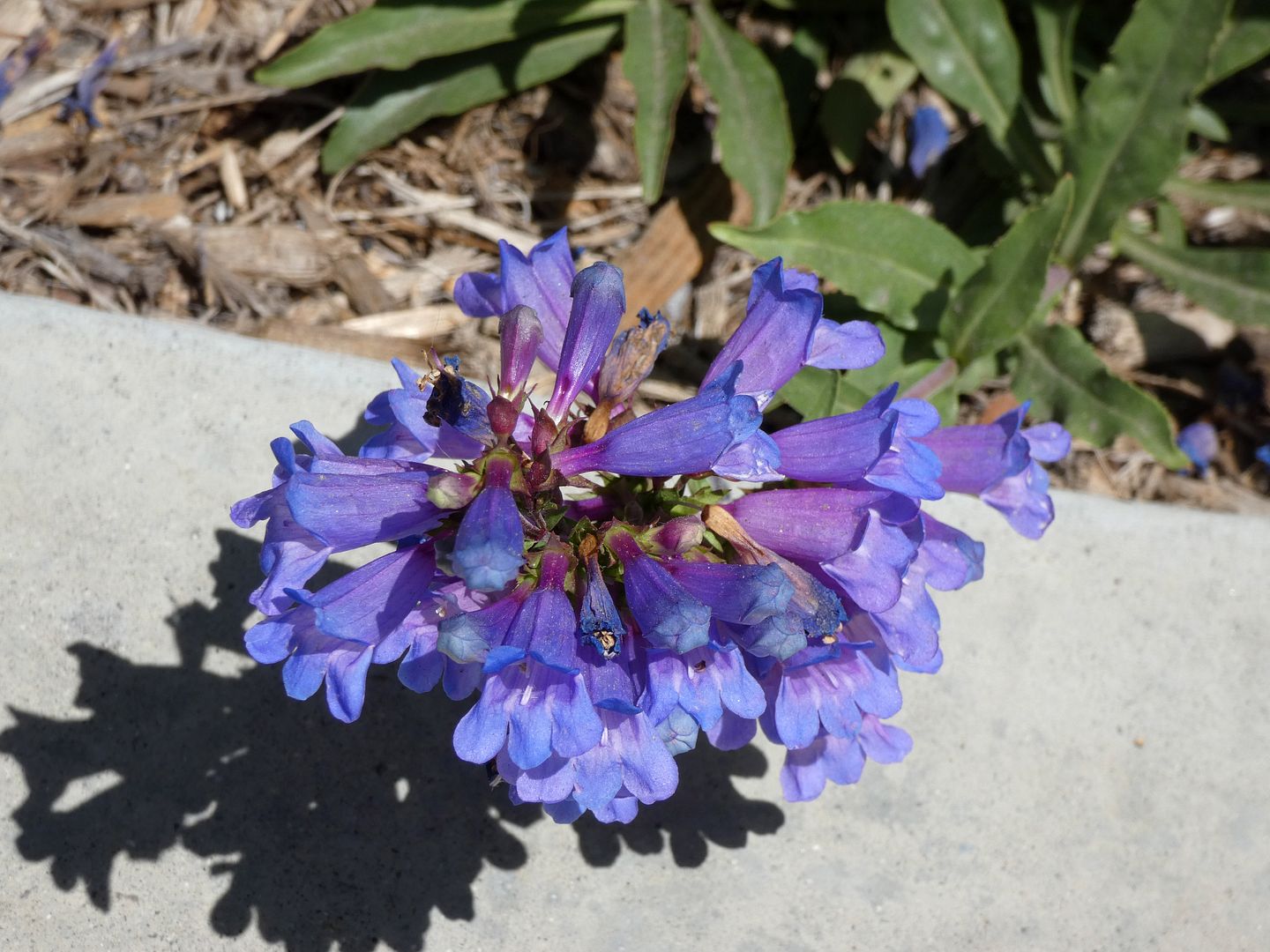 ...and penstemon (Penstemon heterophyllus 'Catherine De La Mare')...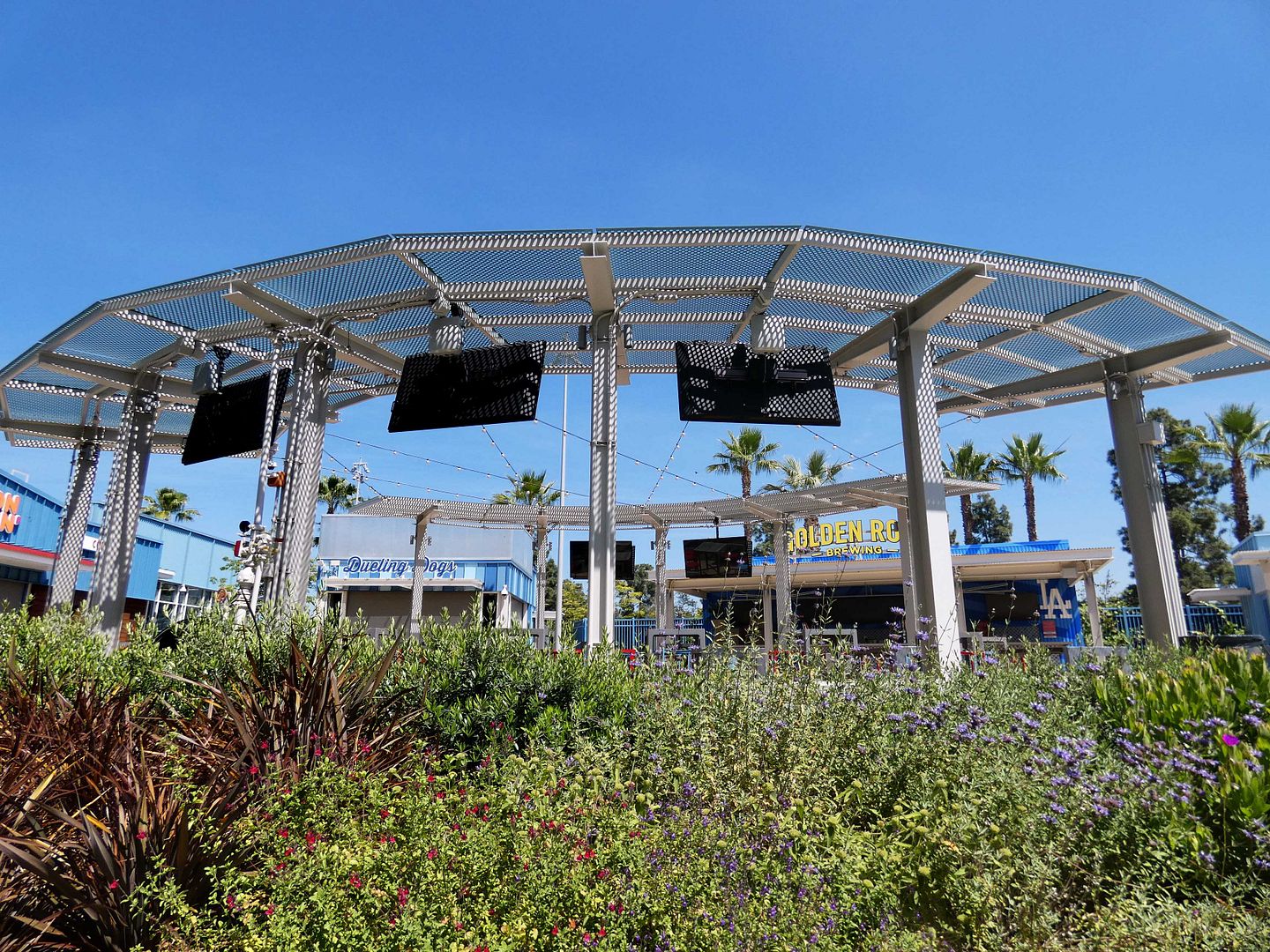 ...we reached the "Blue Heaven on Earth" food court at Centerfield Plaza (named after Tommy Lasorda's nickname for Dodger Stadium itself)...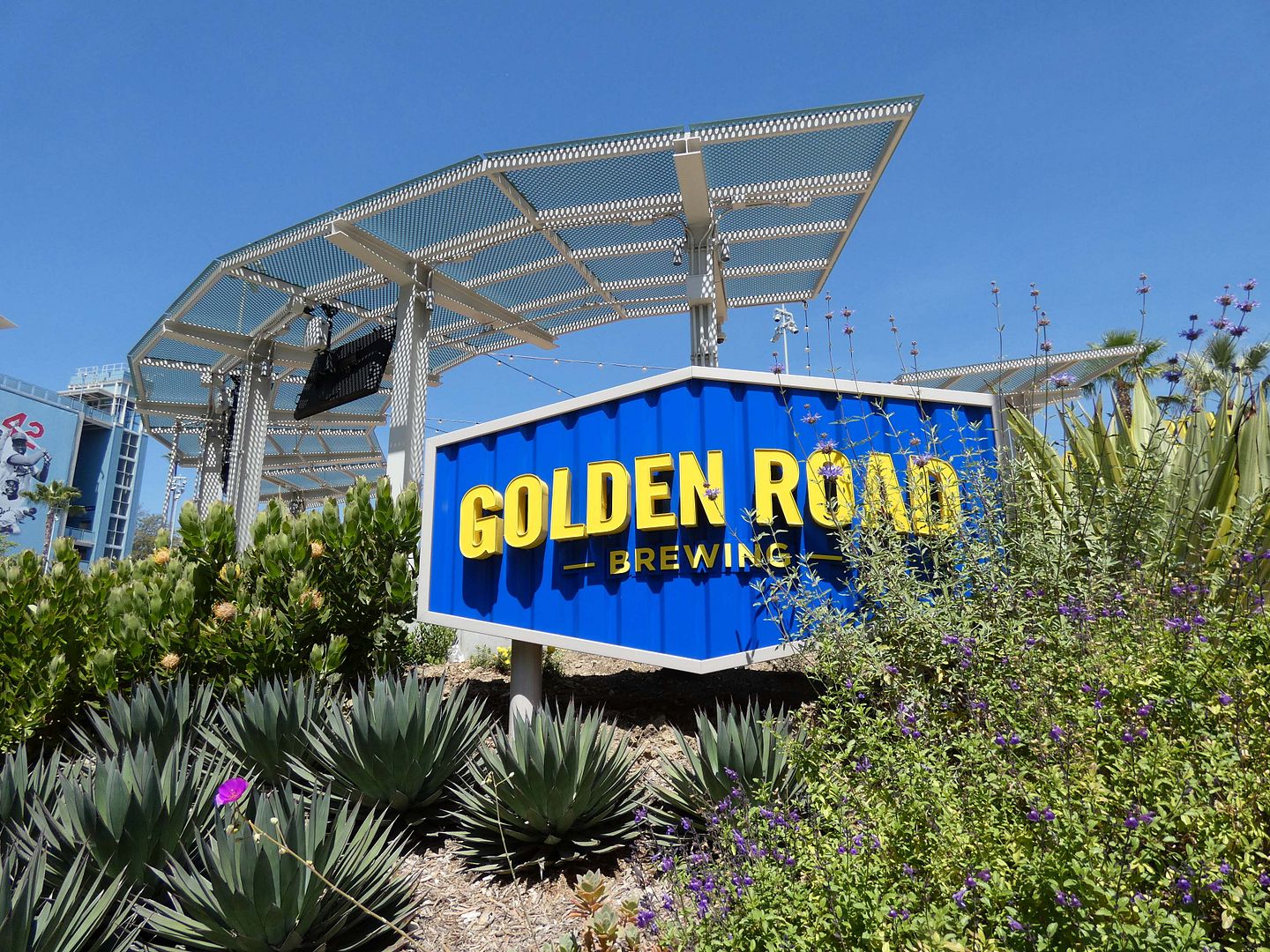 ...Shake Shack, and a Jim Beam-branded bar.
Some of these areas have been
so
transformed—not just by the landscaping, but also by overall stadium improvements—that I couldn't recall ever having seen them before. Not on the
stadium tour
I took, and not during any of the games I'd been to.
I didn't even remember having seen those martini planters before. But they sure do stand out now.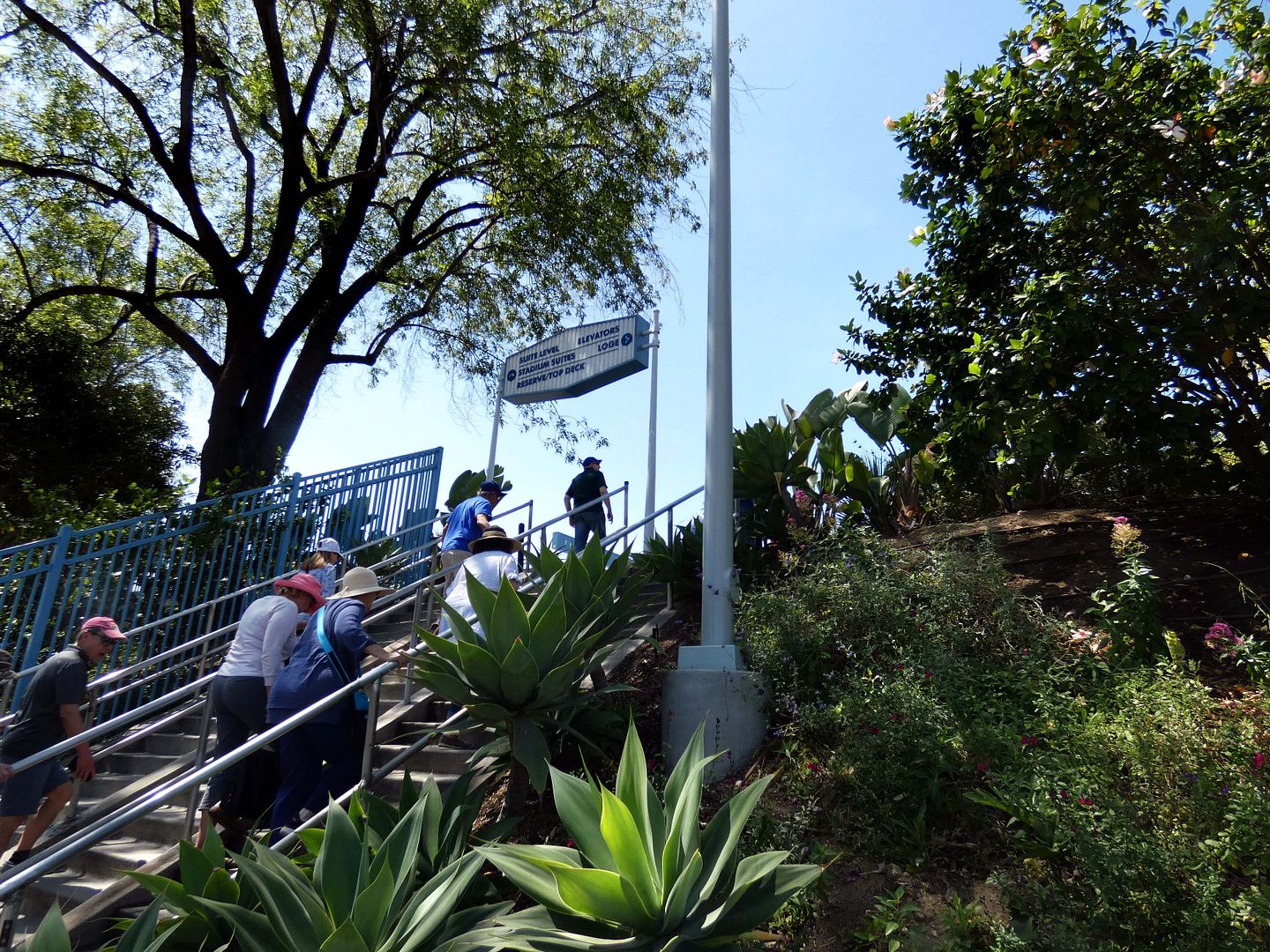 Heading back up to the Right Field Reserve Level...
...past the Dodger Dog stand, center field plaza (with larger-than-life versions of the team's World Series rings), Stadium Club, and Suite Level...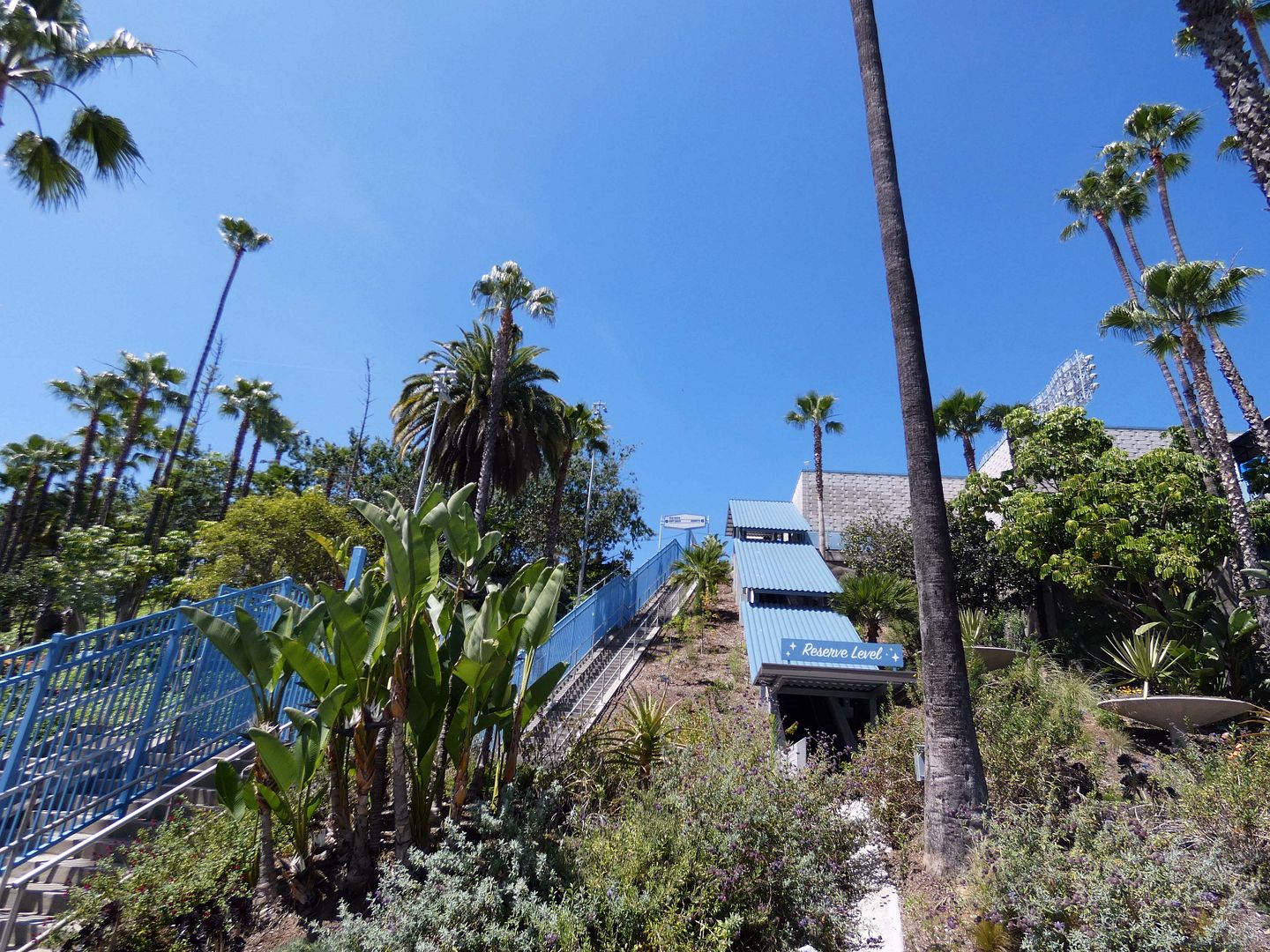 ...we reached the stadium's native garden...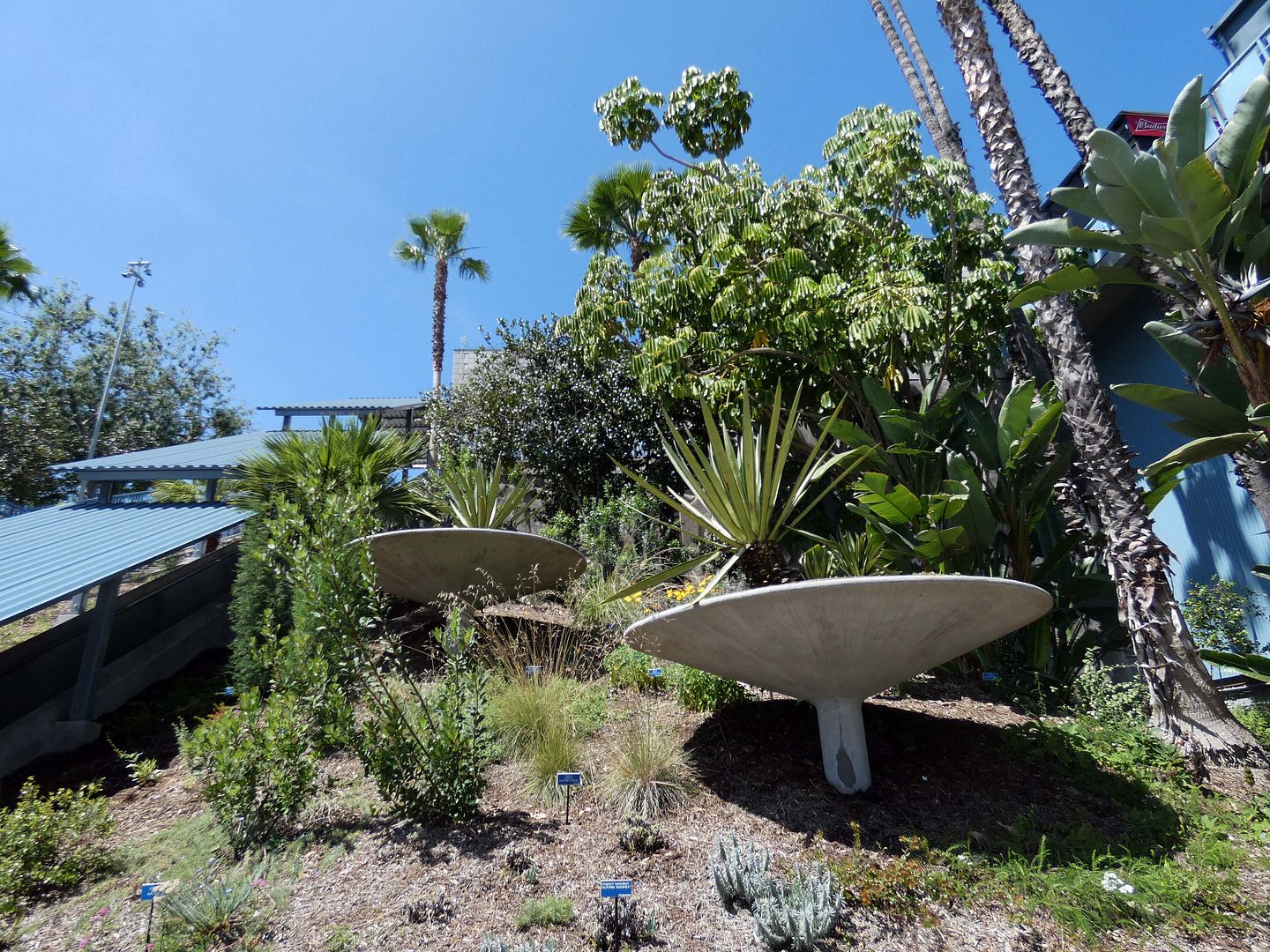 ...planted with California fescue (Festuca californica), California buckwheat (Eriogonum fasciculatum)...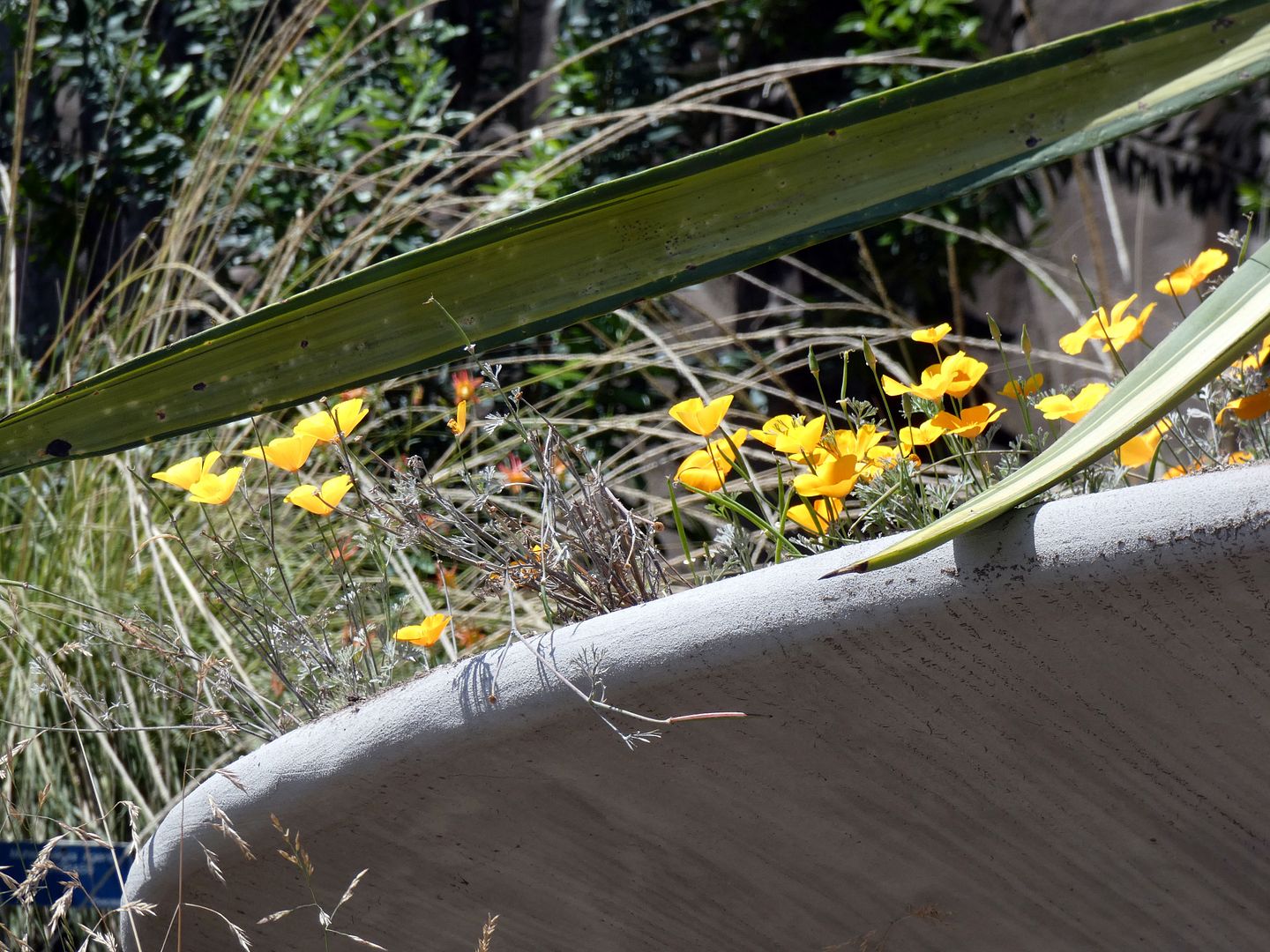 ...California poppies (
Eschscholzia californica
), and more...
...making it the final stop on our tour around the perimeter before returning to the Top Deck.
There are plans to hold plant sales in the stadium parking lot and maybe even create hybridized plants unique to Dodger stadium—maybe Dodger blue agave?—which will certainly bring horticulturists and others with a green thumb to the stadium, even if they don't come for the games.
But hopefully this will enhance the gameday experience for Dodger fans, too—and maybe even get them a little more excited about plants and gardens and saving water (at home, too).