The Beverly Grove neighborhood of Los Angeles has an embarrassment of riches when it comes to groovy and historic coffee shops to visit—from
Norm's on La Cienega
to Swinger's Diner on Beverly and Dupar's at the
Original Farmers Market
.
But Canter's on Fairfax—at the edge of the nationally-landmarked Beverly Fairfax Historic District, one block north of Beverly Boulevard on Fairfax Avenue—holds a special place in my heart, as it's located in a former movie theater.
While the neon image of a chef (or maybe I guess a baker) now adorns the building's frontage, above the bakery windows...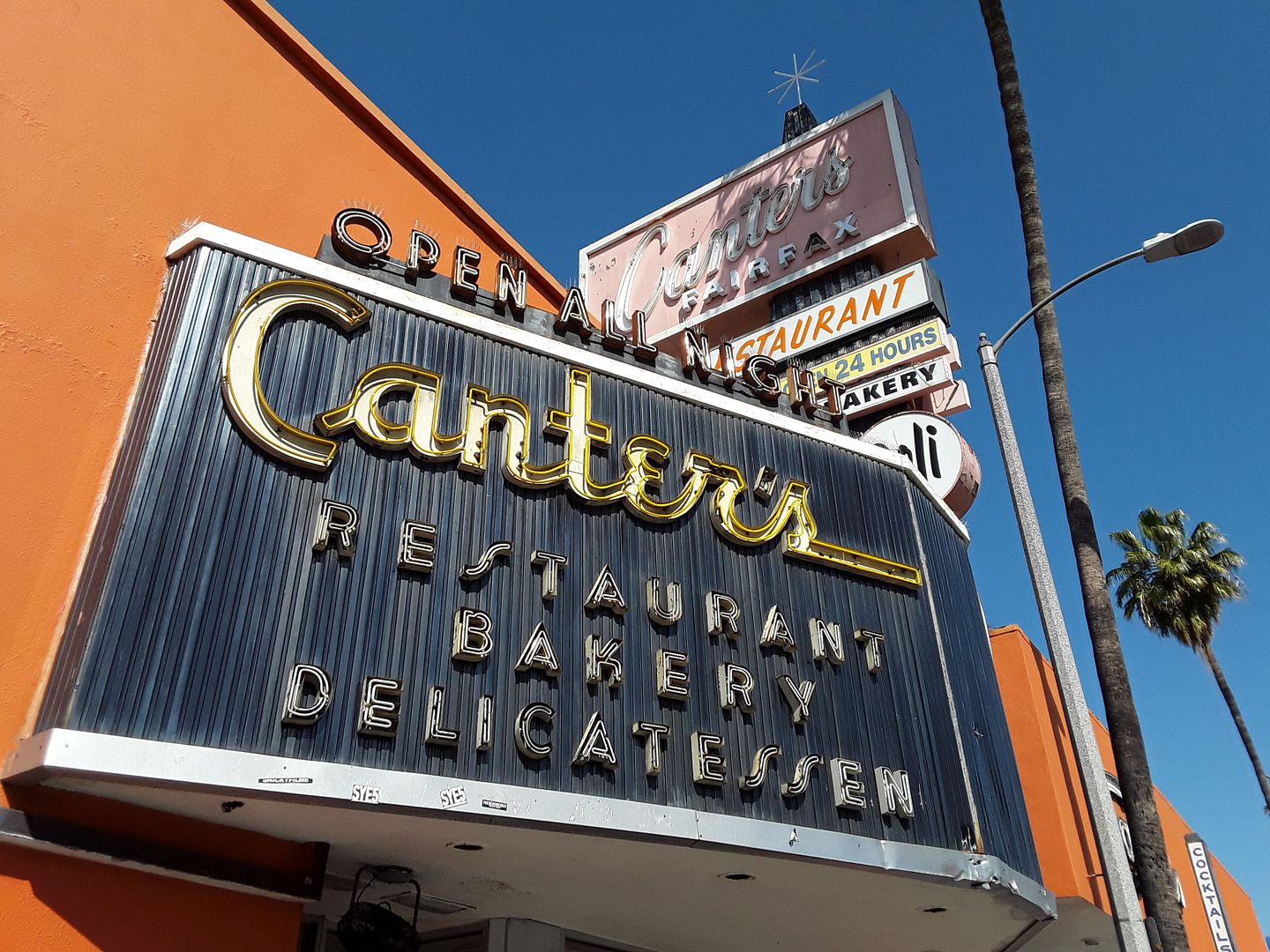 ...the façade somehow retains the glitz and glamour of Hollywood, even as it advertises the 24-hour delicatessen that's now inside (one of the first all-night eateries in the city of LA).
Its predecessor, the Esquire Theatre, opened in 1937 as an independent movie house—though not purpose-built as one. (Architect
Clifford A. Balch
renovated an existing retail storefront building, formerly a
Safeway
market.) It showed a number of foreign-language films ("
World Cinema Attractions
"), including those in Yiddish.
Neon circa 1959 by Interstate Neon Corp., Van Nuys, CA


Ben Canter took it over in 1953, having opened his Canter Brothers Delicatessen on Brooklyn Avenue in the
once-Jewish Boyle Heights neighborhood
in 1931 (with brothers Joseph and Ruben, who stayed there until the 1970s). His expansion west to the Fairfax District coincided with the same path many Jews took in post-war Los Angeles at that time.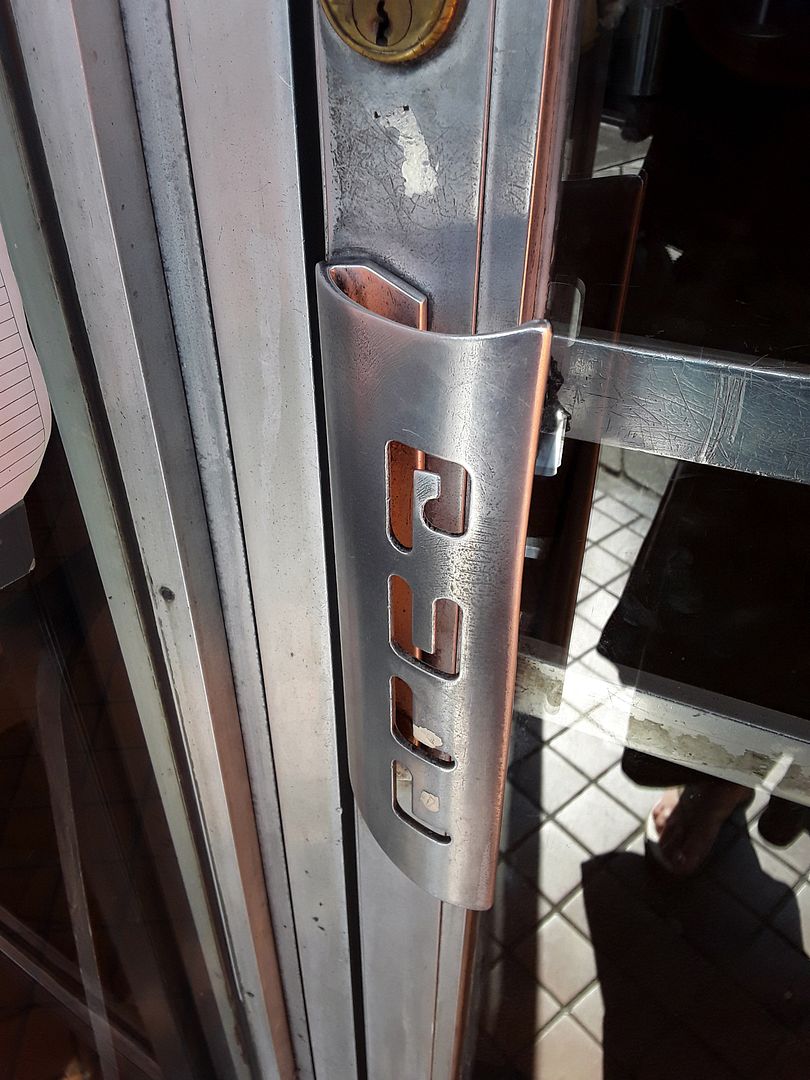 And now, after over 90 years (between three LA locations, the brief Canter and Son Delicatessen
circa 1948
just down the street), the family's Jewish deli is still run by third- and fourth-generation Canters.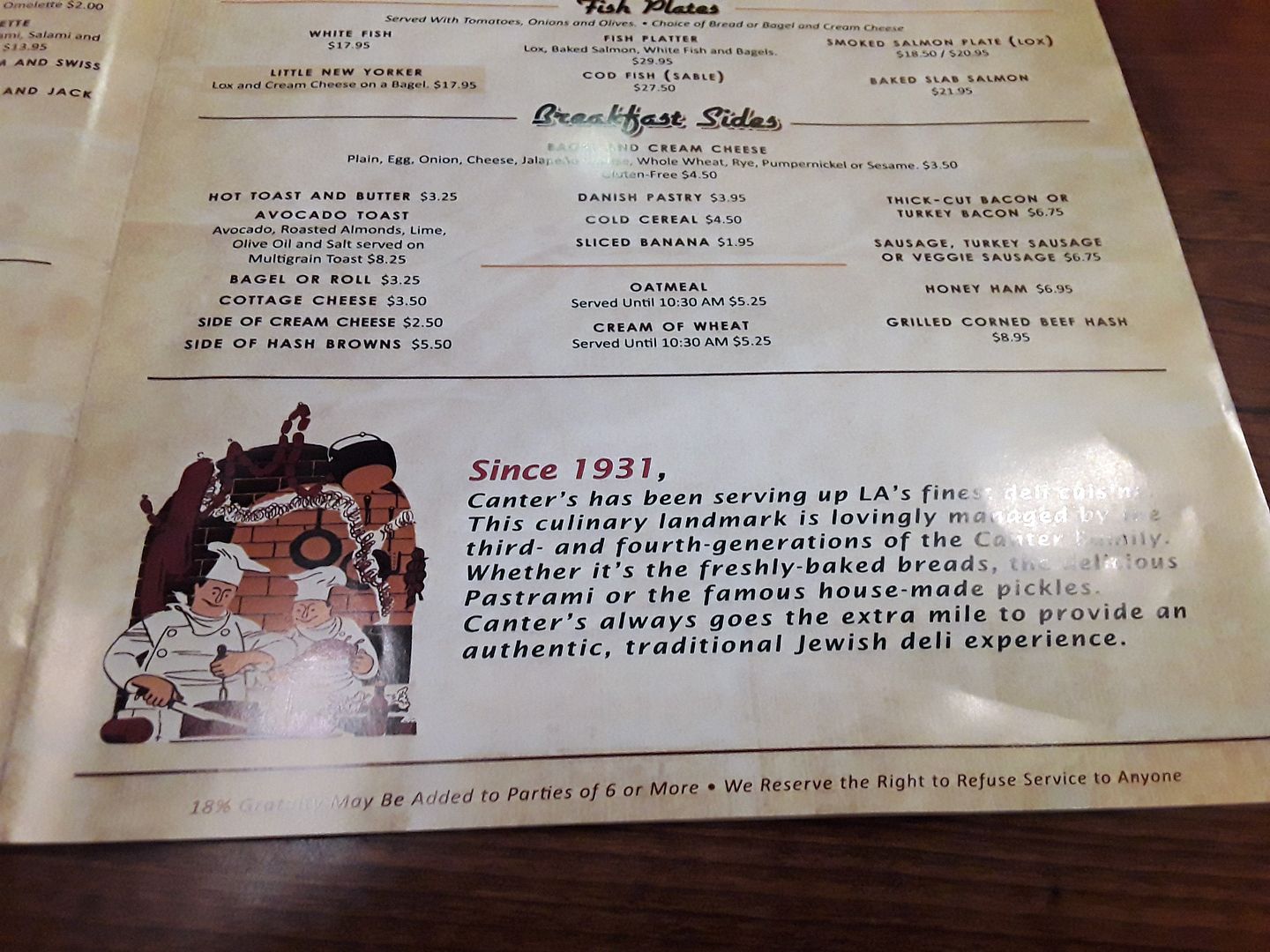 They've come along way from losing their New Jersey deli in the 1929 Stock Market Crash—and moving to LA with only $500 on hand.
There are two main dining rooms—including the original one, recognizable from countless TV shows and movies that have shot there, right under the "autumn leaves" ceiling (a replacement for a collapsed predecessor). Located a stone's throw from CBS Television City and the Sunset Strip, Canter's has gotten its fair share of celebrity clientele over the years—Elvis, Marilyn, Prince, Obama, you name 'em.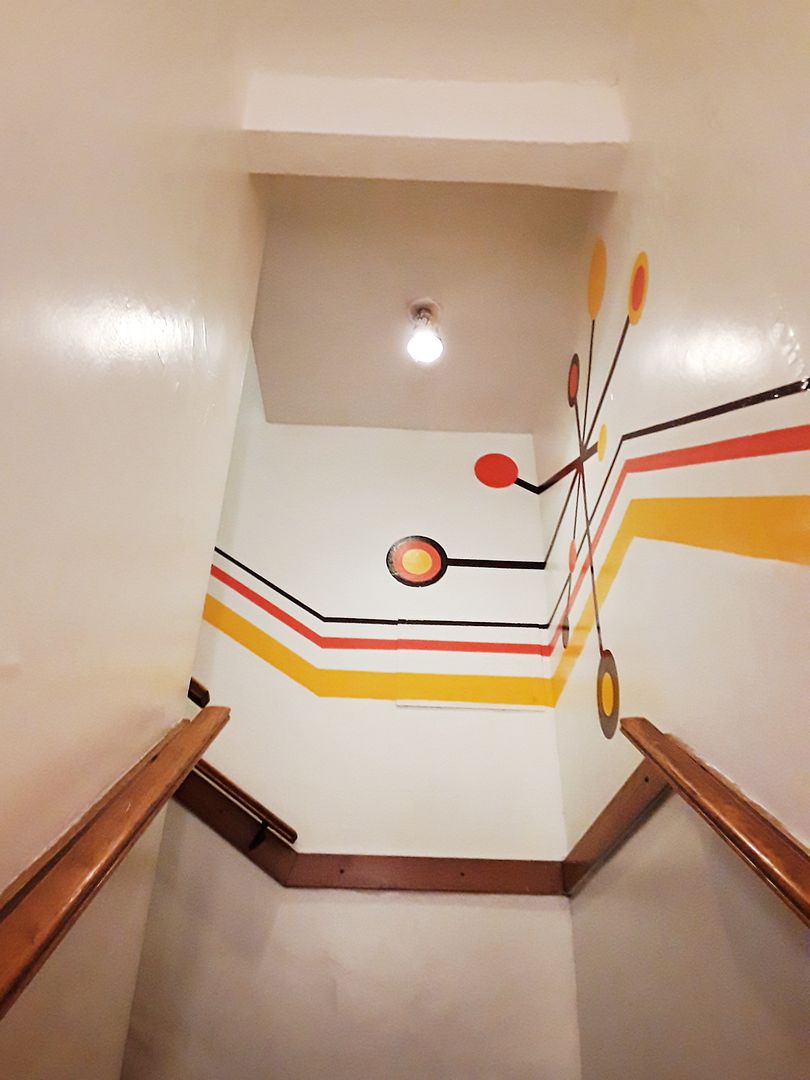 All that remains of the former Esquire Theatre—besides the high ceilings—is located up a staircase.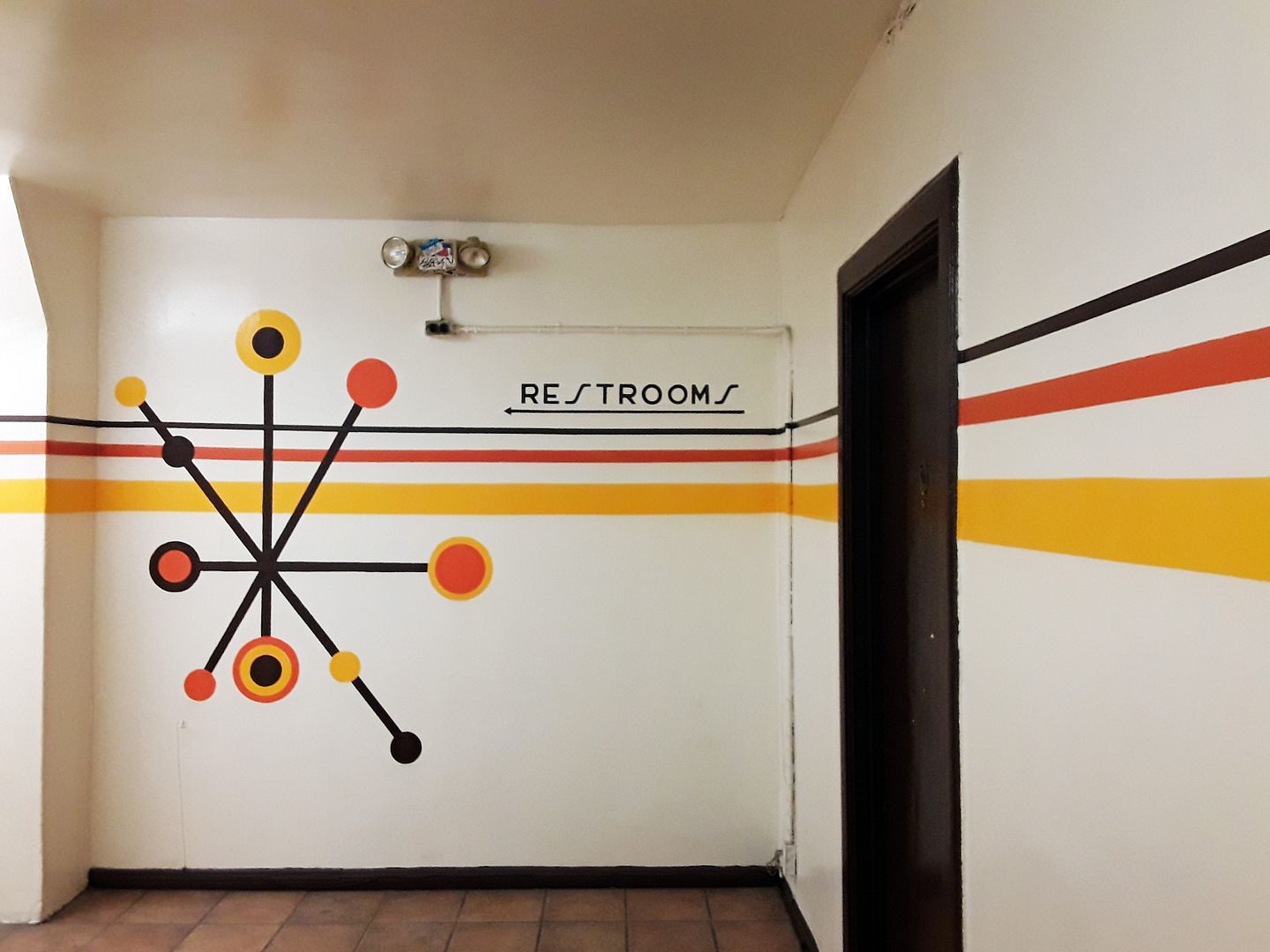 That's where you'll find the original restrooms (update and renovated, of course) and the former projection booth (now used for storage). The vintage photo of the theater that once hung on the upstairs wall (which I last saw in 2013) has unfortunately been taken down.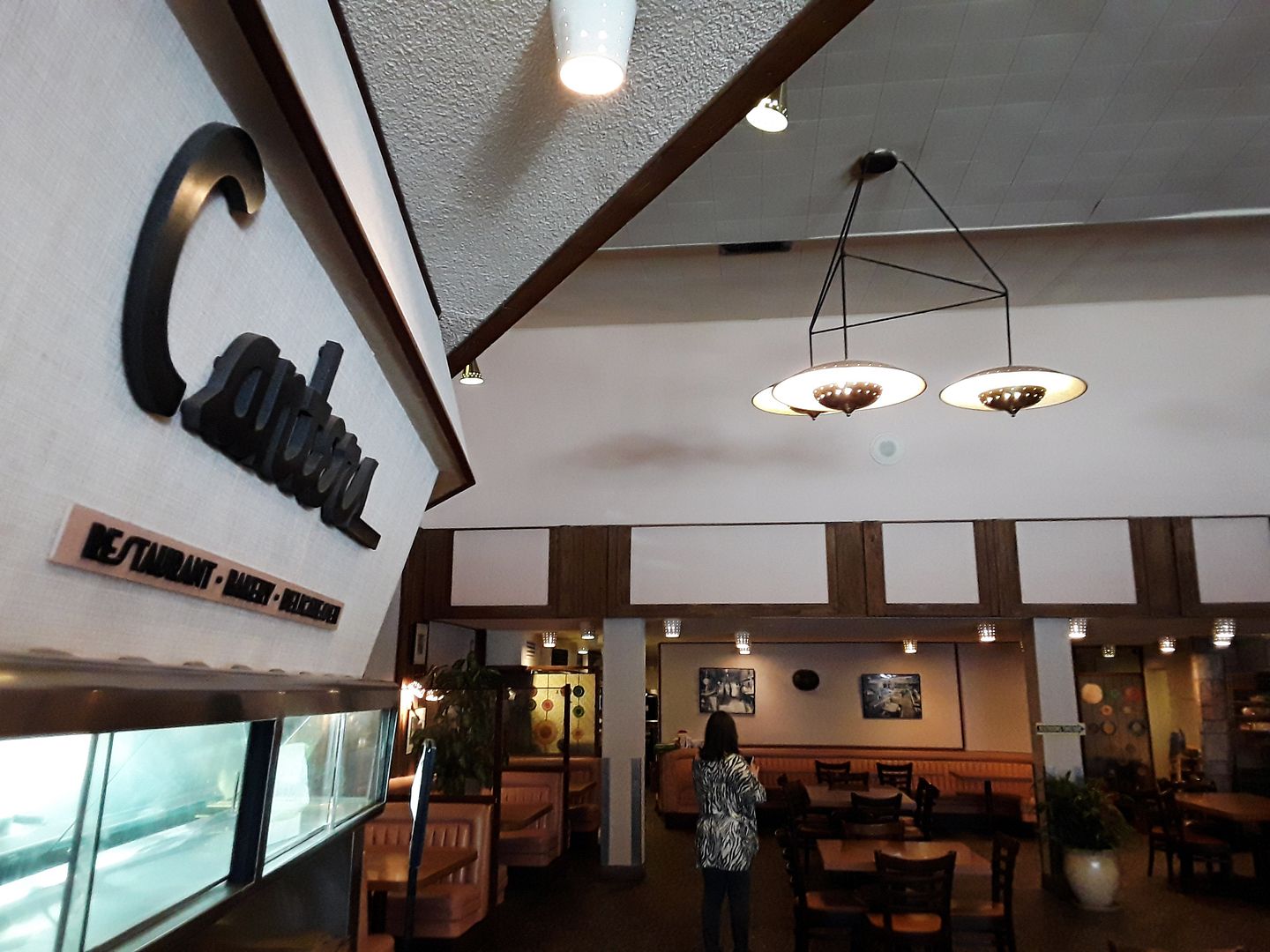 Then there's the
1959
dining room expansion to the north—in the former Cohen's deli, which once occupied what used to be a
Woolworth's
, built 1946.
Only a one-story building, it now serves as the darker and more sophisticated-feeling annex...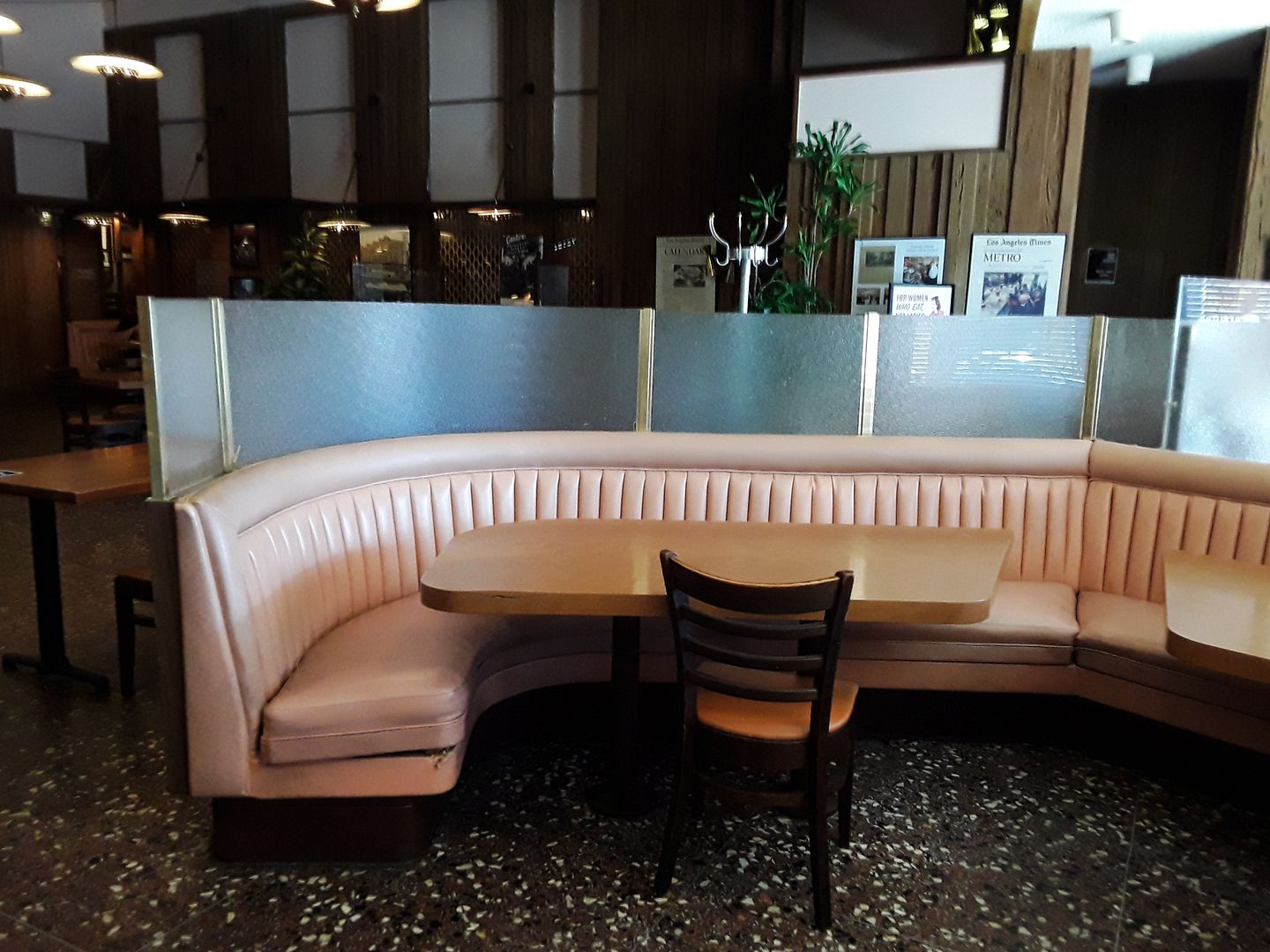 ...where the Mad Men seventh season premiere and an episode of Entourage were filmed.
It gets even darker at the most recent and northernmost portion of Canter's, a circa 1961 bar/live music addition called the Kibitz Room...
...which, although it closes at 2 a.m., attracts Kibitzers and Rock n' Rollers alike (not the least of whom have included members of Guns N' Roses and Jakob Dylan's band The Wallflowers).
Outside on wall of the storefront just south of Canter's, facing the deli's
circa 1965
parking lot, there's the Fairfax Community Mural, "A History of the Jewish Community of Los Angeles," featuring a depiction in acrylic of the Jewish deli's first location in Boyle Heights—painted by muralists Arthur Mortimer, Stephen Raul Anaya, and Peri Fleischman.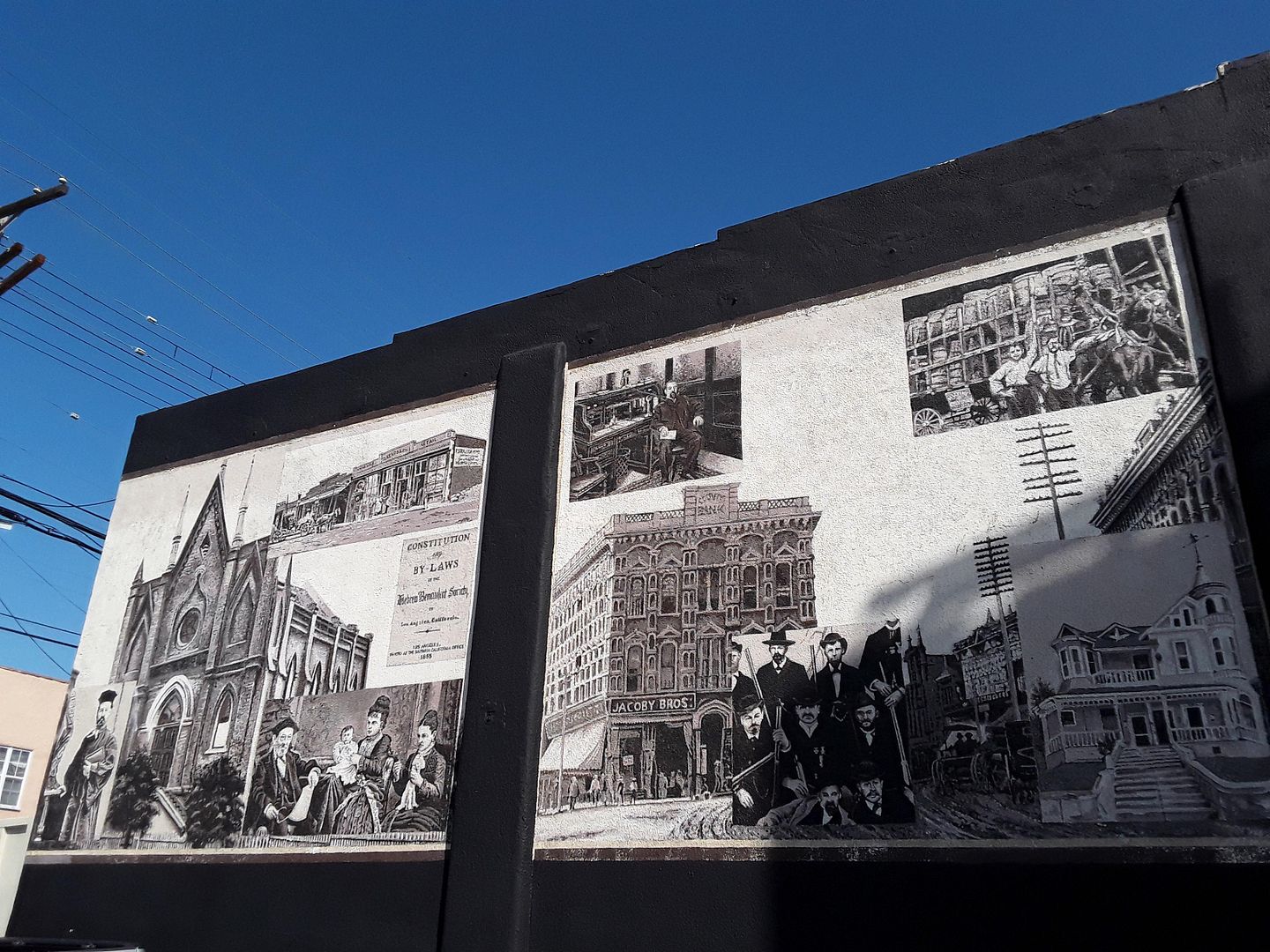 Elsewhere on the seven-panel mural, more historical images of LA circa 1841-1985 include the first LA synagogue, the earliest version of what was to become Cedars-Sinai Hospital (both circa 1860s)...
...Sandy Koufax pitching for the
Dodgers
(circa 1960s)...
...and Fairfax Avenue circa 1985, with images of women at a produce market and waiting at the bus stop.
All seven panels were restored by the Mural Conservancy of Los Angeles in 2012.
May Canter's be serving up meat and fish platters, pickles, matzo ball soup, and other noshes—363 days a year (closed on the Jewish holidays of Rosh Hashanah and Yom Kippur)—for decades to come.
Related Posts: