[Last updated 3/24/20 8:21 PM PT—new photos added]
When it comes to
this blog
, I'm trying to focus more of my energy on chronicling
some of the places in LA that really mean something to me
, rather than making cursory visits to landmarks, reporting on them, and then moving on.
And I don't remember a time when I didn't associate LA with Pann's Restaurant.
In my first visits from New York, when I'd fly into LAX because JetBlue hadn't yet begun service to Ontario, Burbank, or
Long Beach
, the best way I knew how to get to Hollywood or West Hollywood (where I'd inevitably be staying) was to drive past Randy's big doughnut building straight up La Cienega.
And that would take me straight past Pann's, whose neon sign I admired and whose tilted roof didn't look like any of the family restaurants I'd seen in Upstate New York or the steel-sided diners of New Jersey and the Tri-State Area.
But I've always been drawn to the 1950s—and a time before you had to dial the area code even when it wasn't long distance.
It wasn't until 2010 that I first stepped inside Pann's, having just landed at
LAX
...
...and heading off on one of the many scouting expeditions I launched to prep for moving here.
I'd be staying somewhere in the Culver City / Mar Vista area of the Westside, not terribly far from Pann's, and I was hungry.
I remember feeling excited to walk through the front door.
My arrival felt like an event.
Asking for a table for one, I got offered a stool at the counter...
...and as much as I usually like sitting solo at the bar...
...I was so worn out from my flight that I asked for a booth in the back, and the hostess obliged.
I was immediately transported to the diner scenes in
Pulp Fiction
, which had been shot at now-demolished, similarly Googie sister restaurant called Holly's in Hawthorne. My mind, however, conflated them into one location. As I ordered my chicken sausage, biscuits, and diet soda, I kept waiting for someone to hold up the joint. Fortunately, no one did.
Despite my initial perceived state of famishment, my eyes turned out to be bigger than my stomach, but the food I'd ordered was so good that I boxed it up and brought it with me to the backyard cabin I'd rented for a couple of nights. (It was supposed to be an in-ground pool called "The Cave," but I got upgraded to "The Treehouse.") It was cool out those nights, so I thought my leftover would be safe unrefrigerated—until I found them commandeered by ants and had to throw them out, uneaten.
That was the same trip I gave myself mild food poisoning by snacking on the unrefrigerated tabouli I'd been keeping away from the ants in my rental car.
Over the last eight years, I've stopped stopping at Pann's after landing at LAX. I'm usually too anxious to get home to my apartment. For a while, though, I'd made it a point to stop there after dropping someone off at the airport or before picking them up.
In 2014, I cried my eyes out at Pann's after sending
Casey
off on the trip that he would use to cheat on me, and I did so again when I sent him off to Alaska for what I thought would be several months and a make-or-break hiatus from our firestorm romance.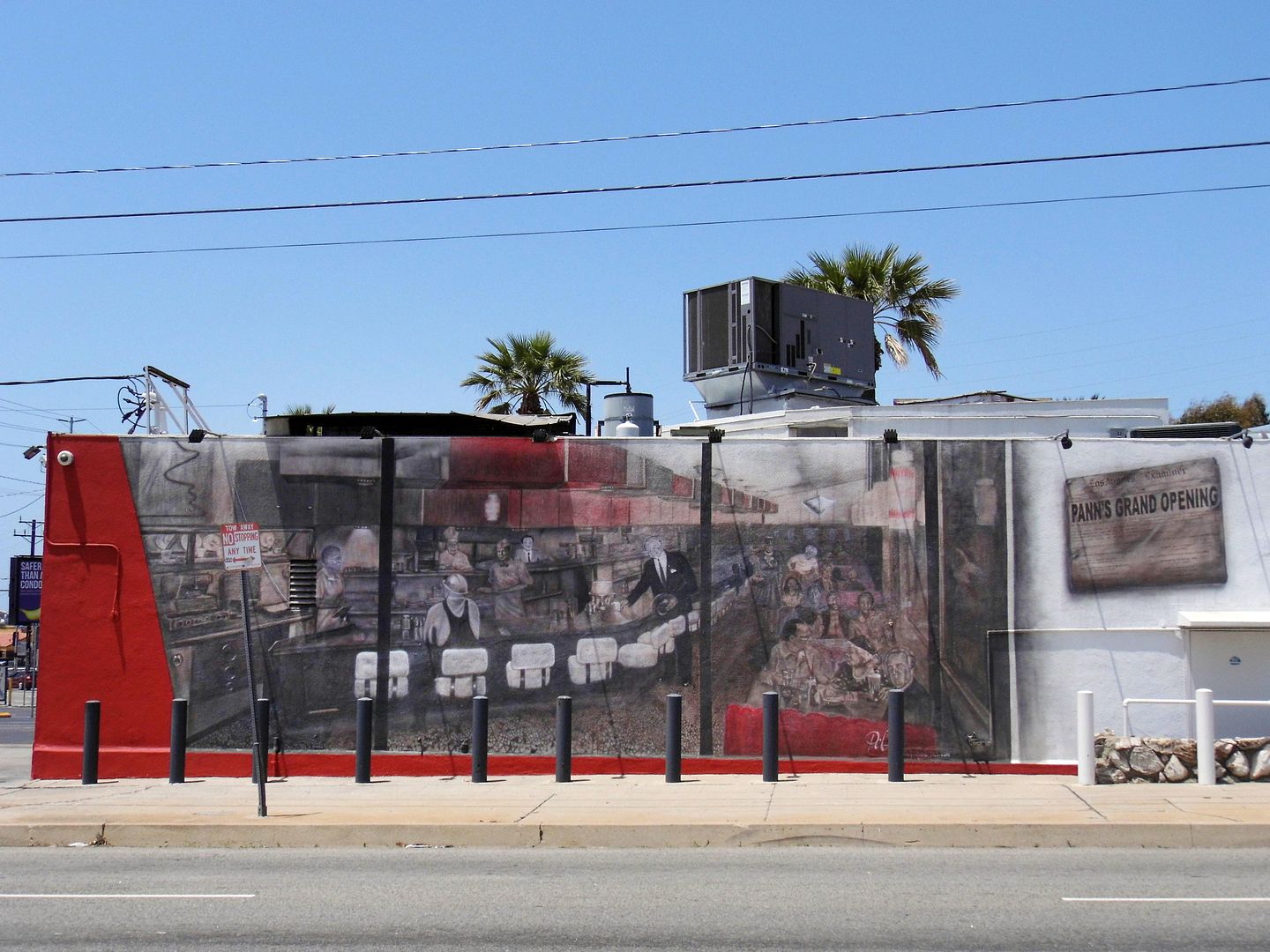 His premature return and the two days that followed our drive up La Cienega, past Pann's, to Fairfax Avenue turned out to be the last time we'd be on speaking terms.
I've been back to Pann's since then—flying solo at the counter, on a date, and meeting a friend. I've even bought my souvenir coffee mug, the good kind that's a little oversized with the curled lip.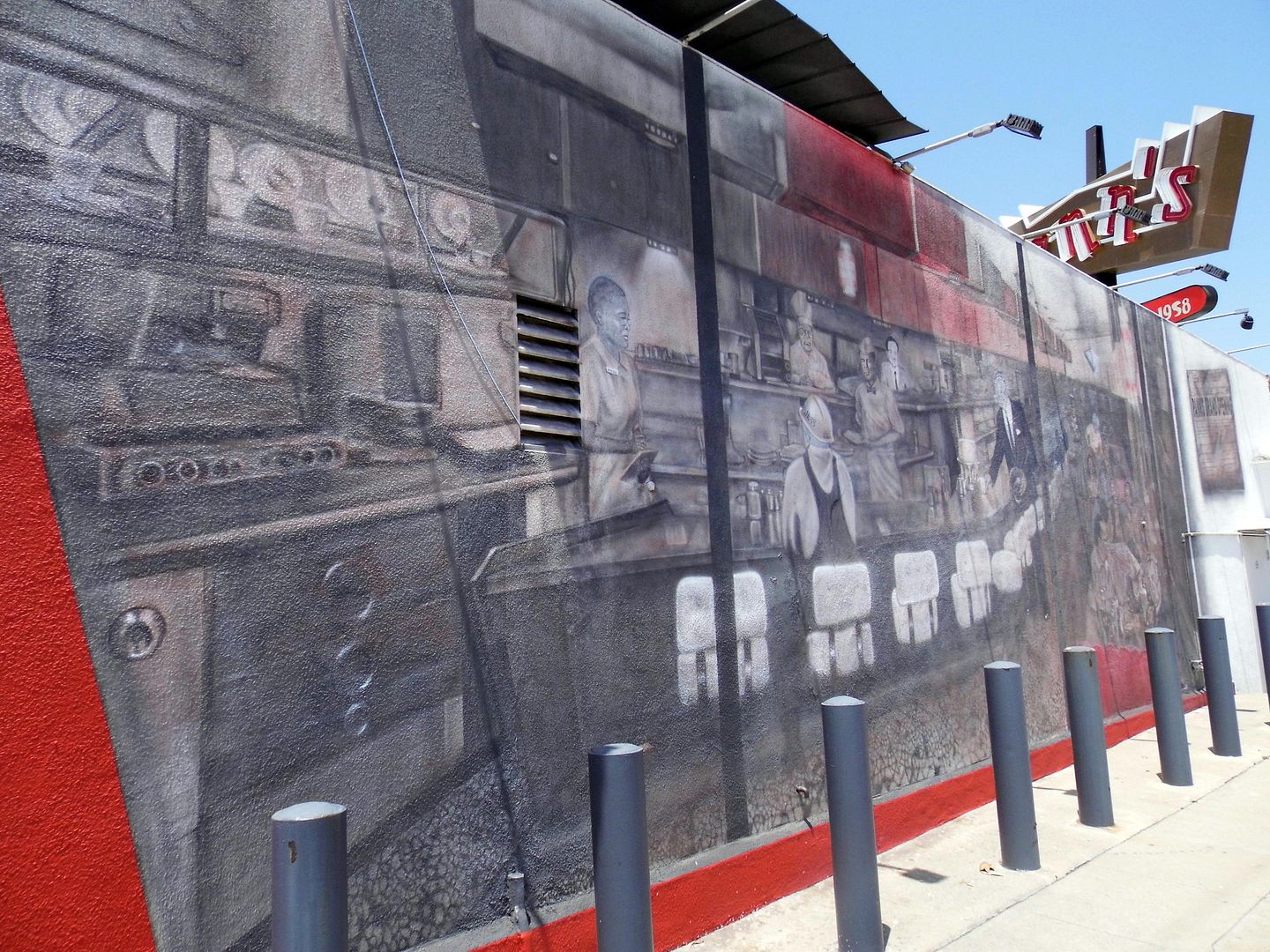 And I refuse to ever cry again in that coffee shop. If the
Googie
-style design by Helen Liu Fong (in collaboration with
the Armet and Davis firm
) was meant to evoke the future, then I want a future without tears.
Related Posts:
The Oldest Bob's Big Boy, And Its Nearby Adoptive Brother
Photo Essay: A Hollywood Diner Campaigns for a Hollywood Candidate
To Live and Cry in LA
Photo Essay: Retro Digestion in LA's Most Futuristic Restaurant Designs (Updated for 2019)