[Last updated 5/24/20 8:31 PM PT—new photo added]
Maybe it's time I start chronicling some of the places that have become part of my California routine.
After all, it's a little depressing to only write about them
just as they're reported to be going away
. And it breaks my heart to see all the photos of all the amazing hamburger stands, coffee shops, diners, and drive-ins that were lost to development before I could ever get the chance to visit.
Now, after seven years, I've been living in the LA area long enough to have established a handful of places that I like to go back to over and over again. At least, while I still can.
Take Bob's, for example. I've been going to the Wayne McAllister-designed Burbank location (the oldest Bob's standing) since even
before
I moved to the West Coast.
In fact, I'd already had a long history with the "Big Boy," dating back to my childhood.
Only, it wasn't a "Bob's" Big Boy.
And it wasn't a coffee shop.
But sometime in the late 1980s and early 1990s, my family had gotten into the habit of stopping at the Syracuse location of TJ's Big Boy (one of 34 franchise brands that grew out of Bob's in Burbank) for their breakfast buffet before driving four hours up for summer vacation in Lake Placid, New York.
While it didn't have car hop service, it did have the best little fried cinnamon sugar, churro-style doughnut sticks.
And it had the same exact Big Boy, hoisting his infamous burger in his right hand, high enough to meet the swooping curl at the top of his head. He even wore the same checkered overalls and T-shirt.
Although I don't look back at my childhood with much fondness, there's something so inviting and comfortable about Bob. He's just as familiar to me as, say, Tony the Tiger or
Ronald McDonald
.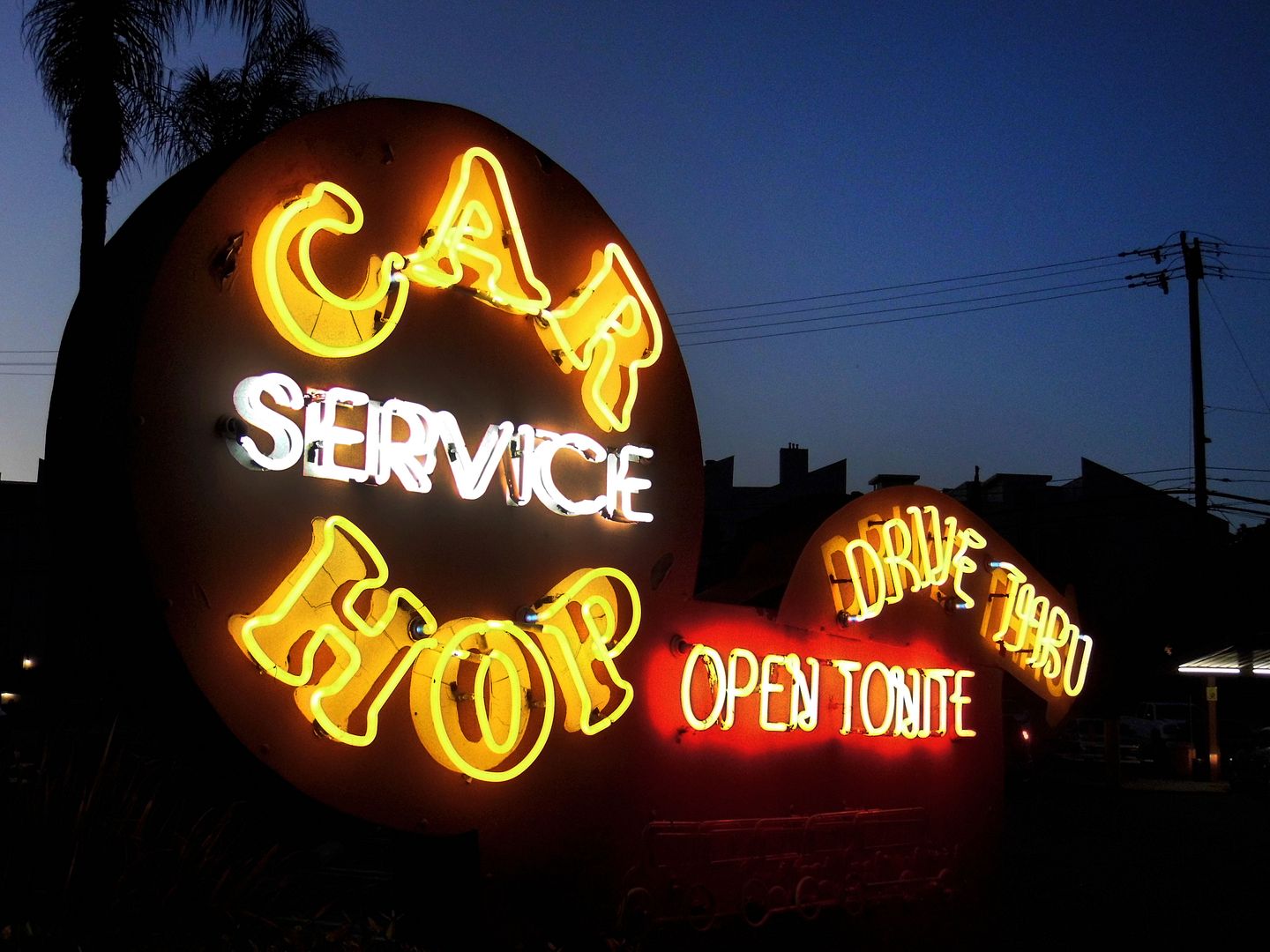 So now, I'll go to Bob's whenever I get the chance...
circa 2018
...day or night...
circa 2018
...whether it's the one in Burbank (Toluca Lake)...
...or the one in Downey (home of
the oldest standing McDonald's
).
The Broiler location wasn't always a Bob's, though. And it's got some baggage, having first been built as a Harvey's Broiler in 1958 and subsequently operating as a Johnie's from 1968 to 2001 and a used car dealership from 2002 to 2006.
And then, on one Sunday in 2007, it almost ceased to exist in its entirety, as an illegal demolition brought most of it down. It's only here today because preservationists rally to save the Googie-style coffee shop, rebuild it according to architect Paul B. Clayton's original blueprints, and reopen it as a Bob's.
And it's a drive-in palace, in an era when most commuters simply drive
through
to get their food on the go and don't bother to stay to eat and talk to anybody.
Now, at Bob's Big Boy Broiler, you've got your choice of either one.
But for years, the Broiler was the scene of a real-life
American Graffiti
—a haven for greasers and hot-rodders and fodder for plenty of rockabilly revivalists and "kustom kar" cruisers from back then and today. In fact, a cruise-in event still happens every week—Wednesday nights here and Friday nights at Bob's Big Boy in Burbank.
And although Bob's has taken over the branding of the Broiler (including on its 65-foot-long rooftop sign), it's kept the original Johnie's mascot—the "Fat Boy" (who's kind of Big Boy's brother-from-another-mother).
There are other Bob's locations in California, of course, but these two are the last of a dying breed. Any other Bob's location you may find here or in the Midwest may have the burgers but not the memories or the architectural panache.
So, I'll keep going back to these two—even if there are other (or even "better") options nearby. Because when the day comes that either of them has to go away, I want to know that I've had my fun there and that my experience with it wasn't just a one-off drive-by.
Related Posts:
Photo Essay: A Hollywood Diner Campaigns for a Hollywood Candidate
Photo Essay: How Billions of Burgers Got Their Start in Southern California
Photo Essay: California's Last Location of Don the Beachcomber, On Perhaps Its Last Day
Photo Essay: The Proud Bird Restaurant, Before Closing