When I was researching golf carts for my post on the
golf cart museum
in La Quinta, California earlier this year, I came across some information about an annual golf cart
parade
that takes place just before Halloween in the nearby community of Palm Desert, also in the Coachella Valley.
I knew I had to go.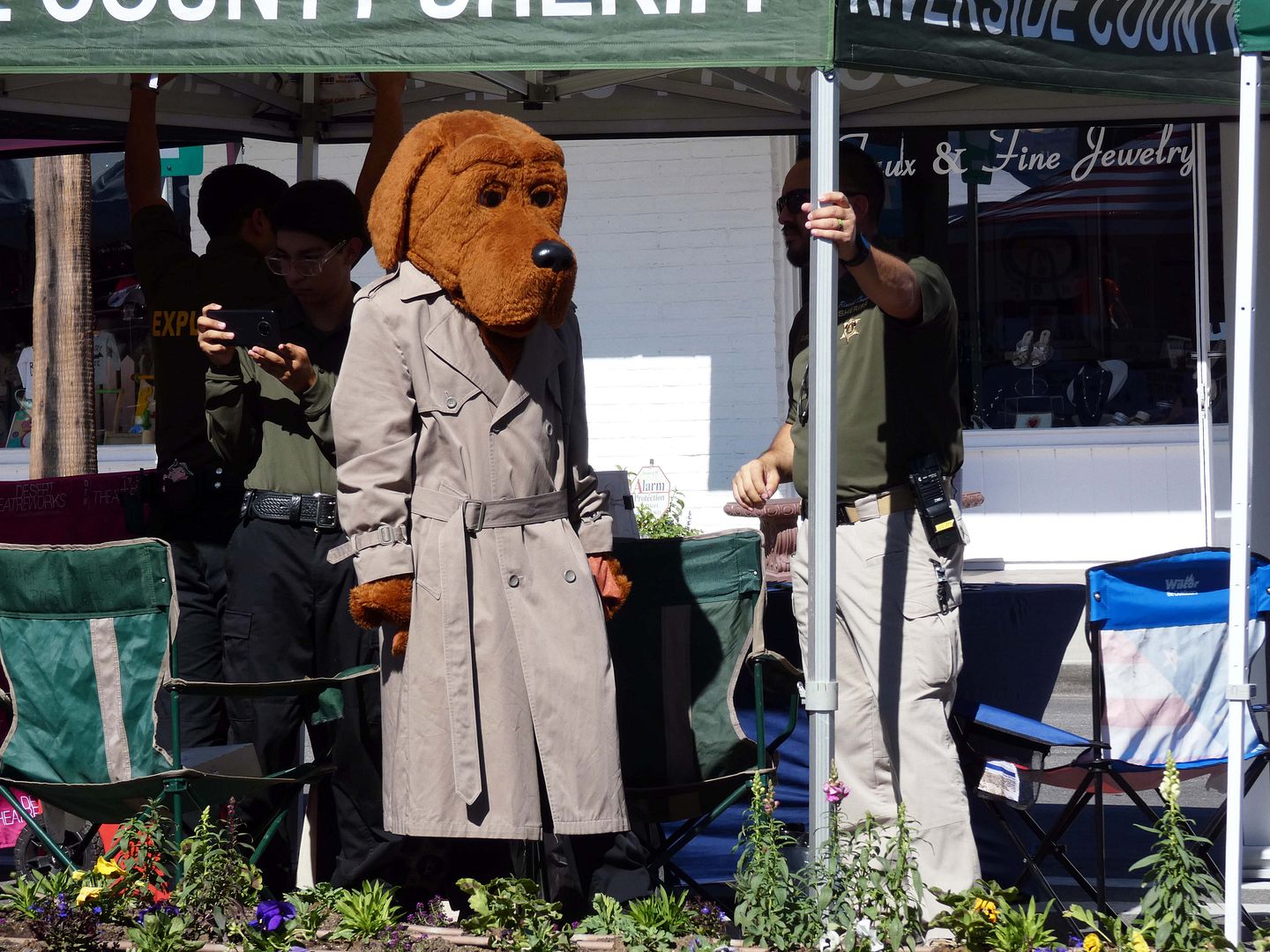 So even though I'd just been in Palm Springs a couple of weeks before, and I'm going to be passing the "low desert" on my way to Joshua Tree next weekend, I hopped in my car and drove two and a half hours on the day before Halloween to get my small town parade fix—and get my golf cart on.
After a classic car cruise and the requisite flyover (courtesy of the
Palm Springs Air Museum
) and procession of local law enforcement on motorcycles, next came the bagpipes...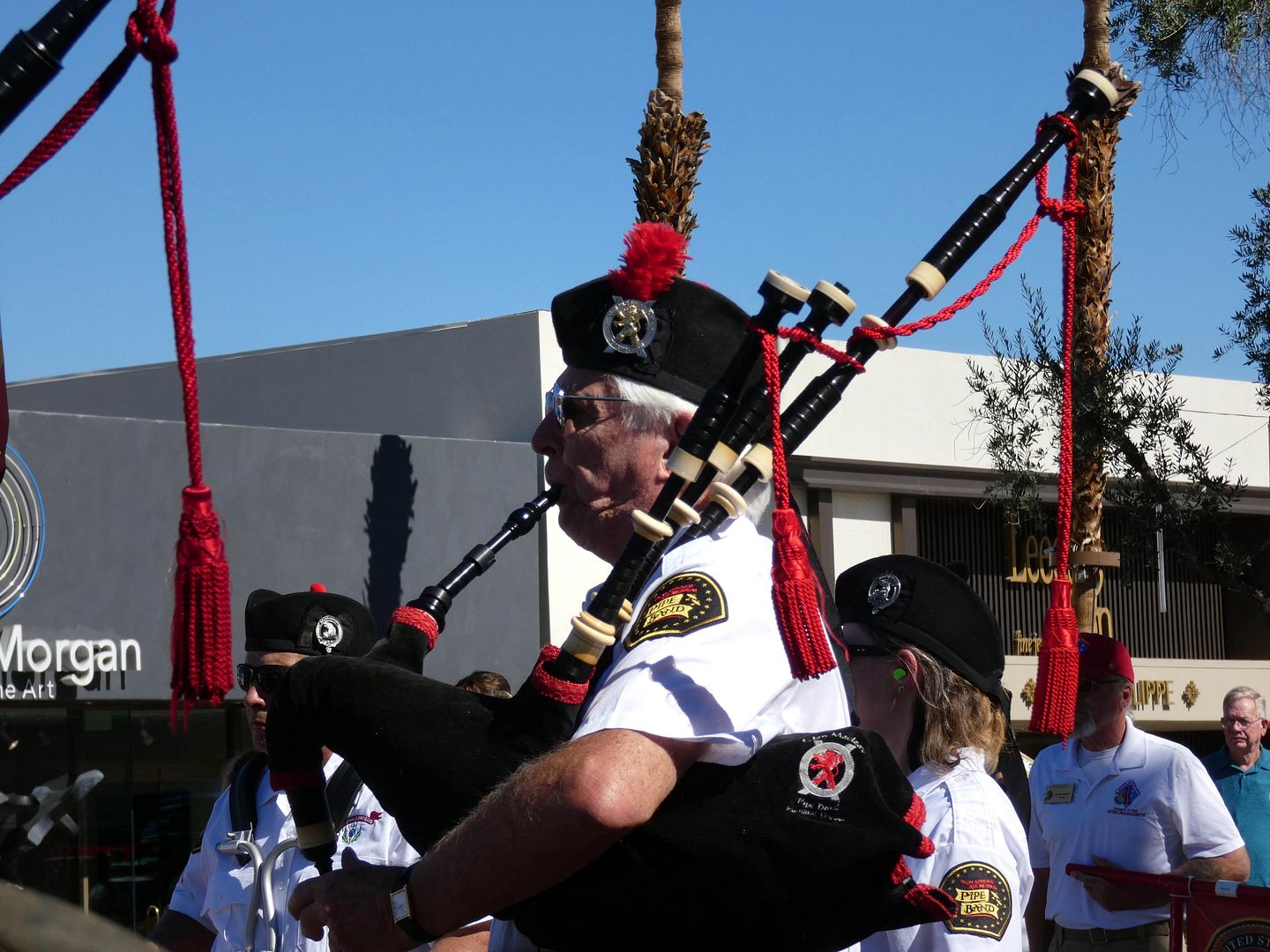 ...thanks to the Palm Springs Pipe Band.
The Golf Cart Parade—now in its 58th year—has a different theme every year.
This year, it was "Masquerade"...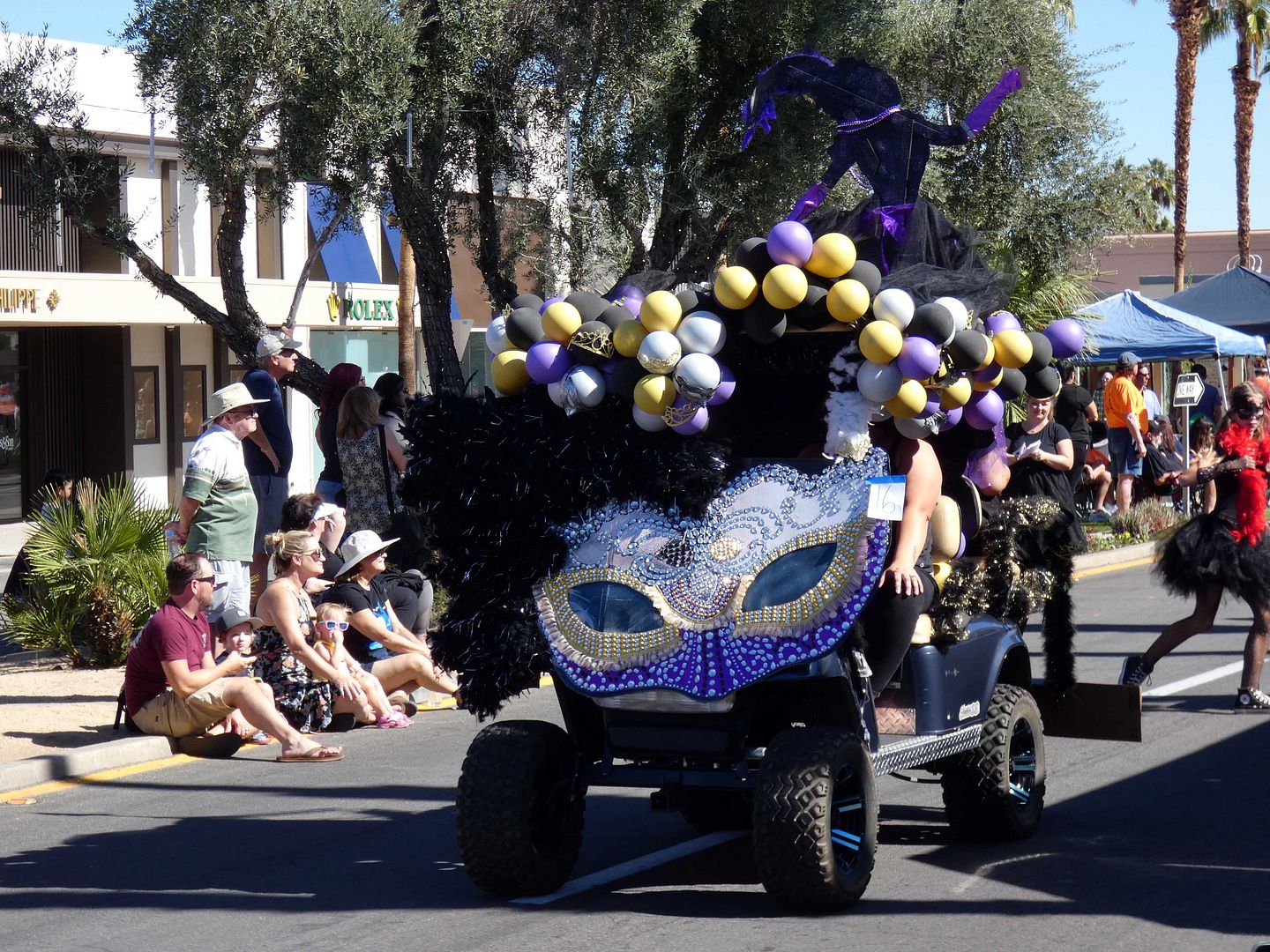 ...and many of the participants interpreted that as more of a Mardi Gras theme than a Halloween one.
But lots of the parade participants—both human and motorized—were dressed up in lots of different kinds of ways.
And the local schools' teams, like the Palm Desert High School Aztecs, were out in full effect...
...as were their mascots...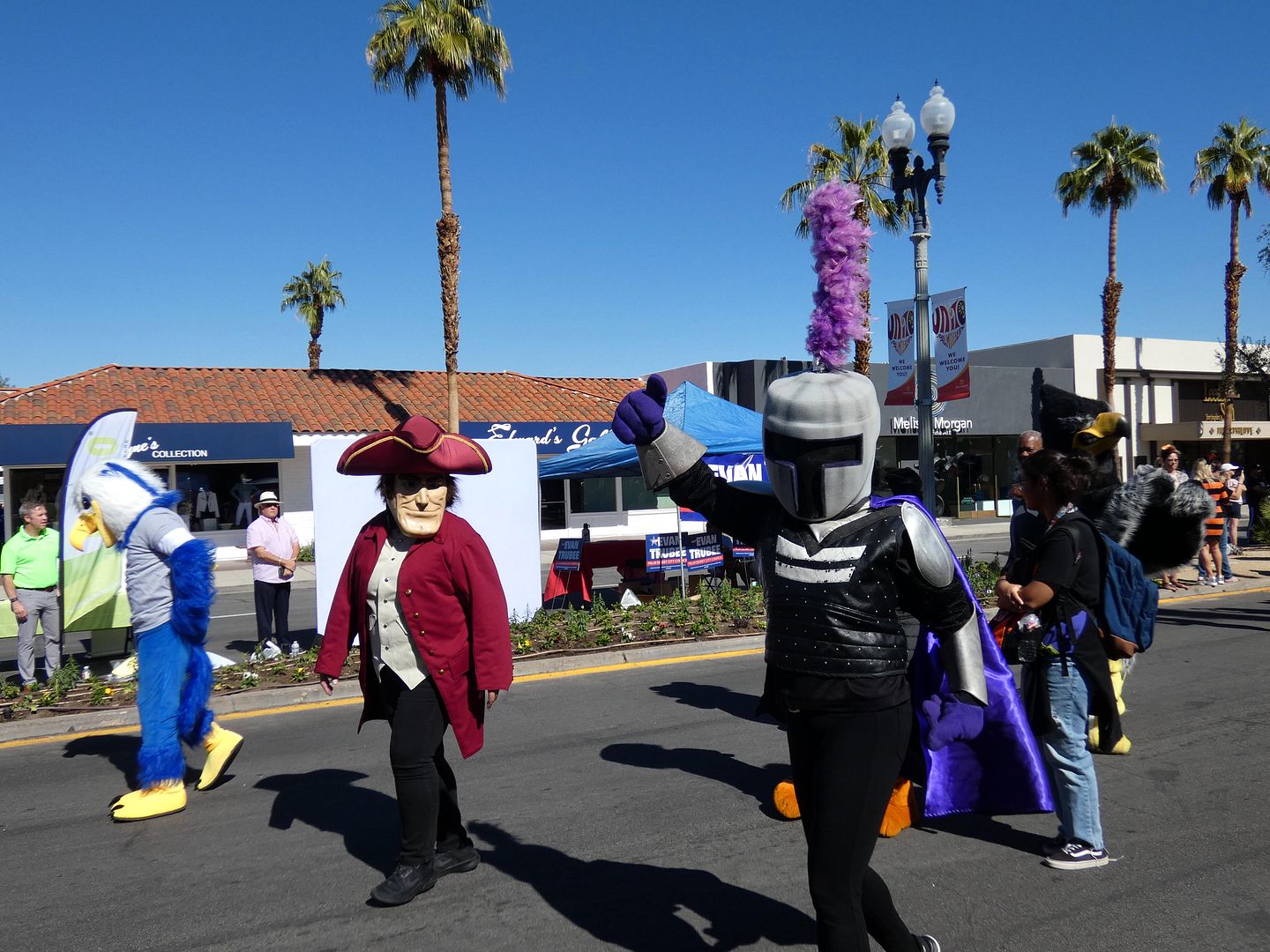 ...like the Shadow Hills High School Knight and the Amistad High School Eagle (both from Indio).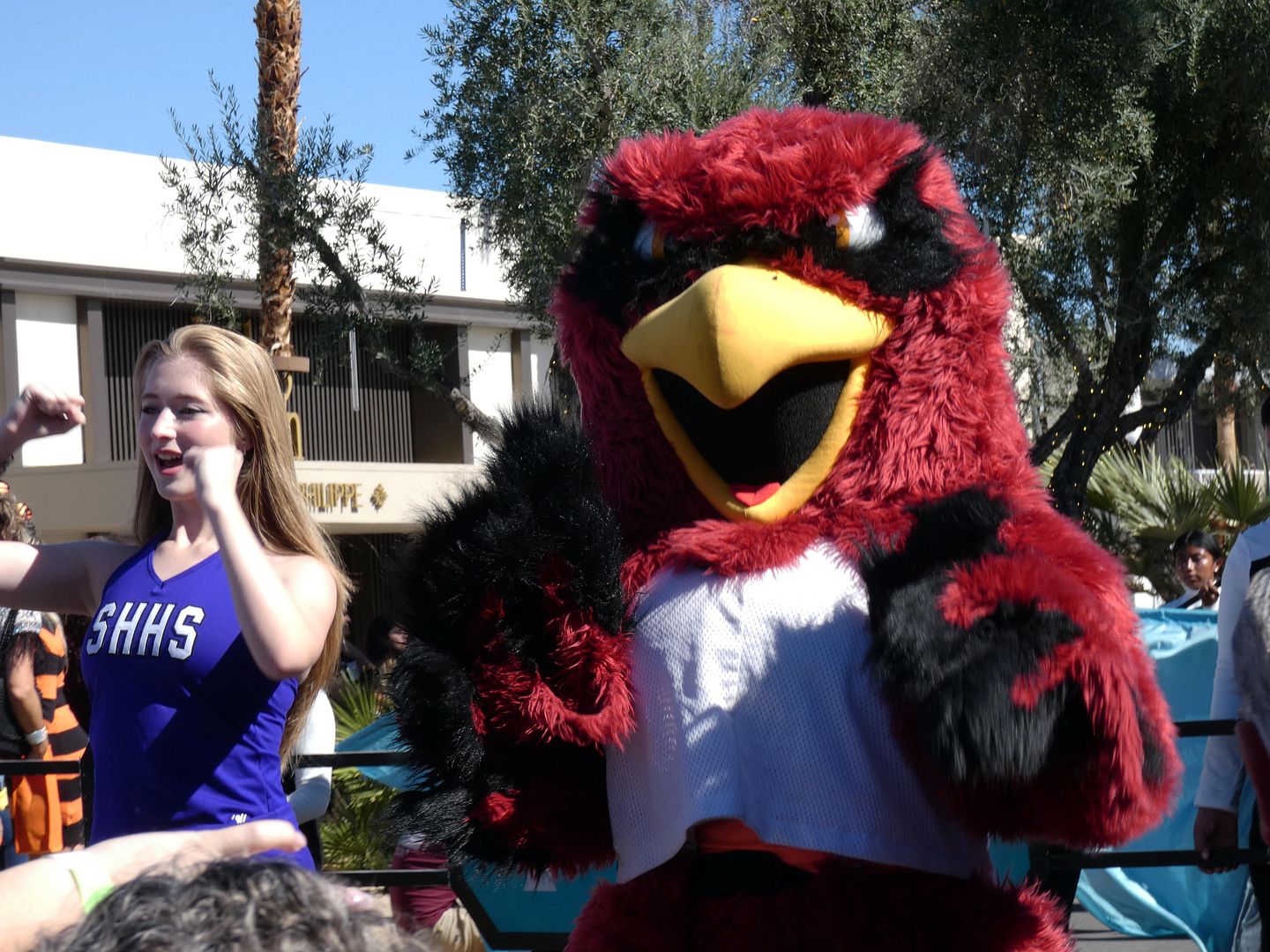 Even some of the local middle schools got in on the action—making it feel like a very spirited occasion.
There were some real, live animals parading through Palm Desert's El Paseo as well (not just humans dressed in big walk-around costumes)...
...but the stars of the show were the golf carts themselves, most of which were from local sponsors...
...and some businesses (like local golf clubs) that are a part of the Palm Desert Chamber of Commerce, which presents the parade every year.
But it welcomes participants from the entire valley area, like the Loving All Animals pet adoption service from the city of Coachella...
...and the Coachella Animal Network, based in Indio...
...which featured one of the more adorable parade participants.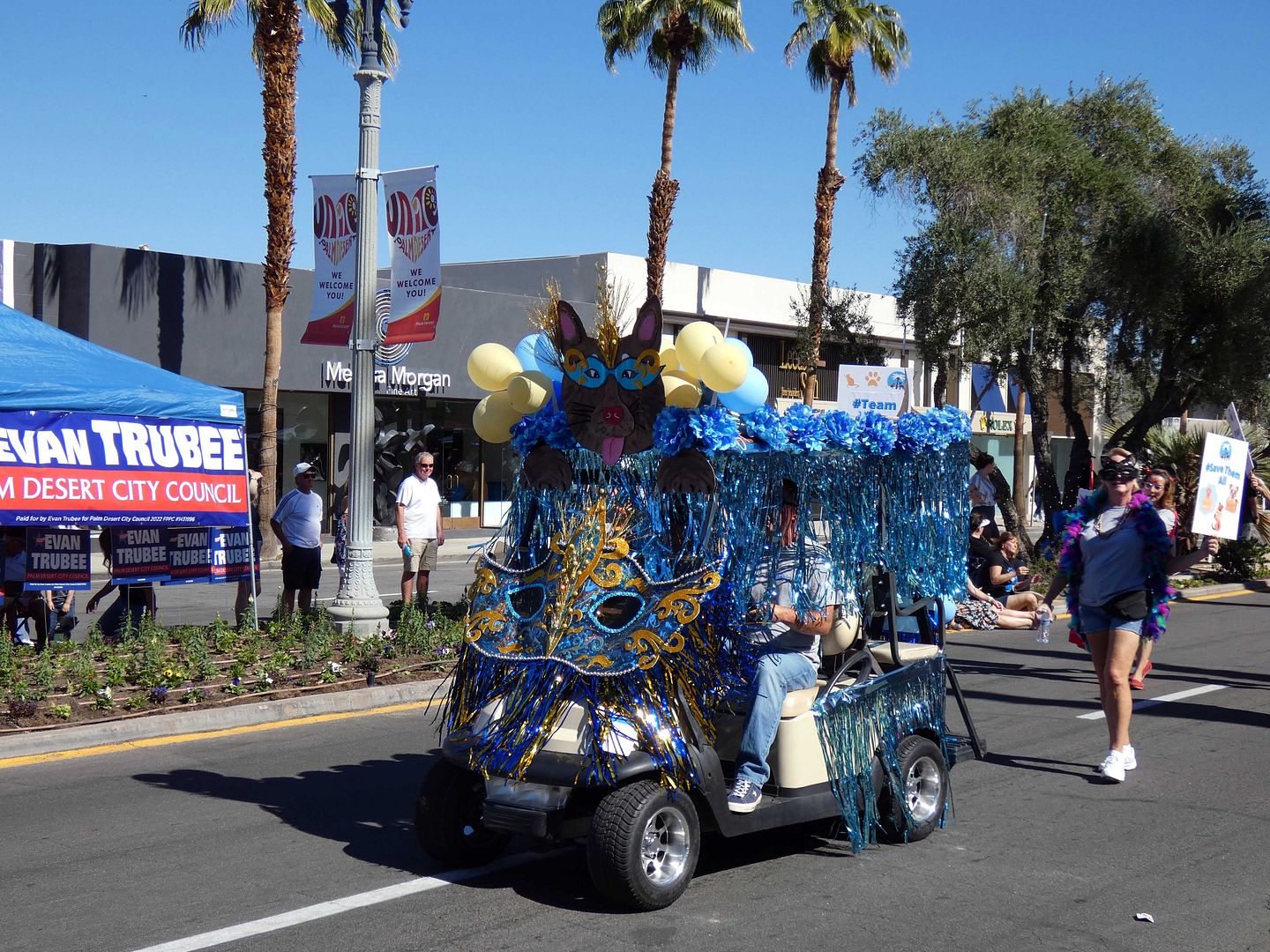 Think of the golf carts as a tame version of the "art cars" at Burning Man...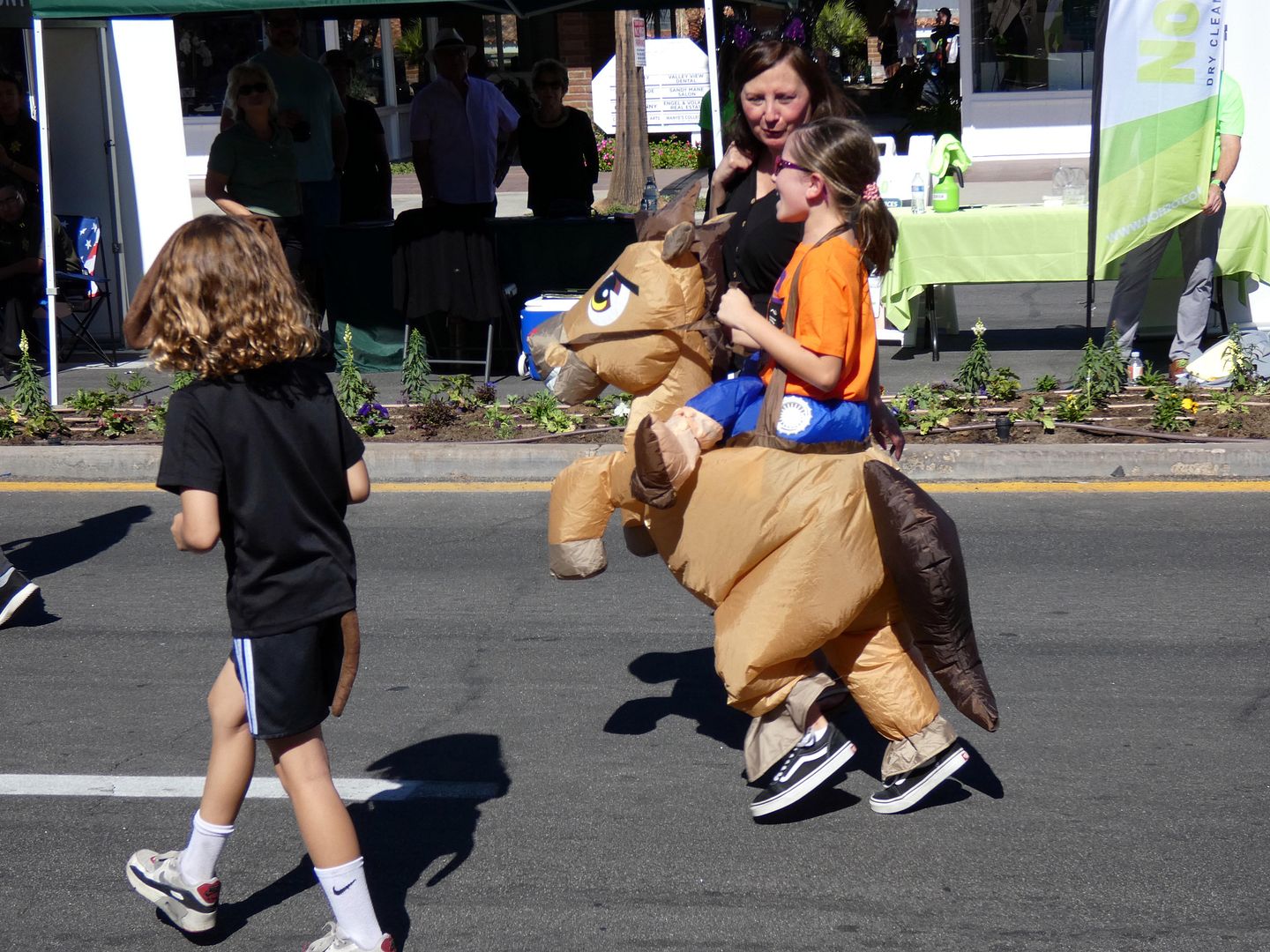 ...though not nearly as eccentric.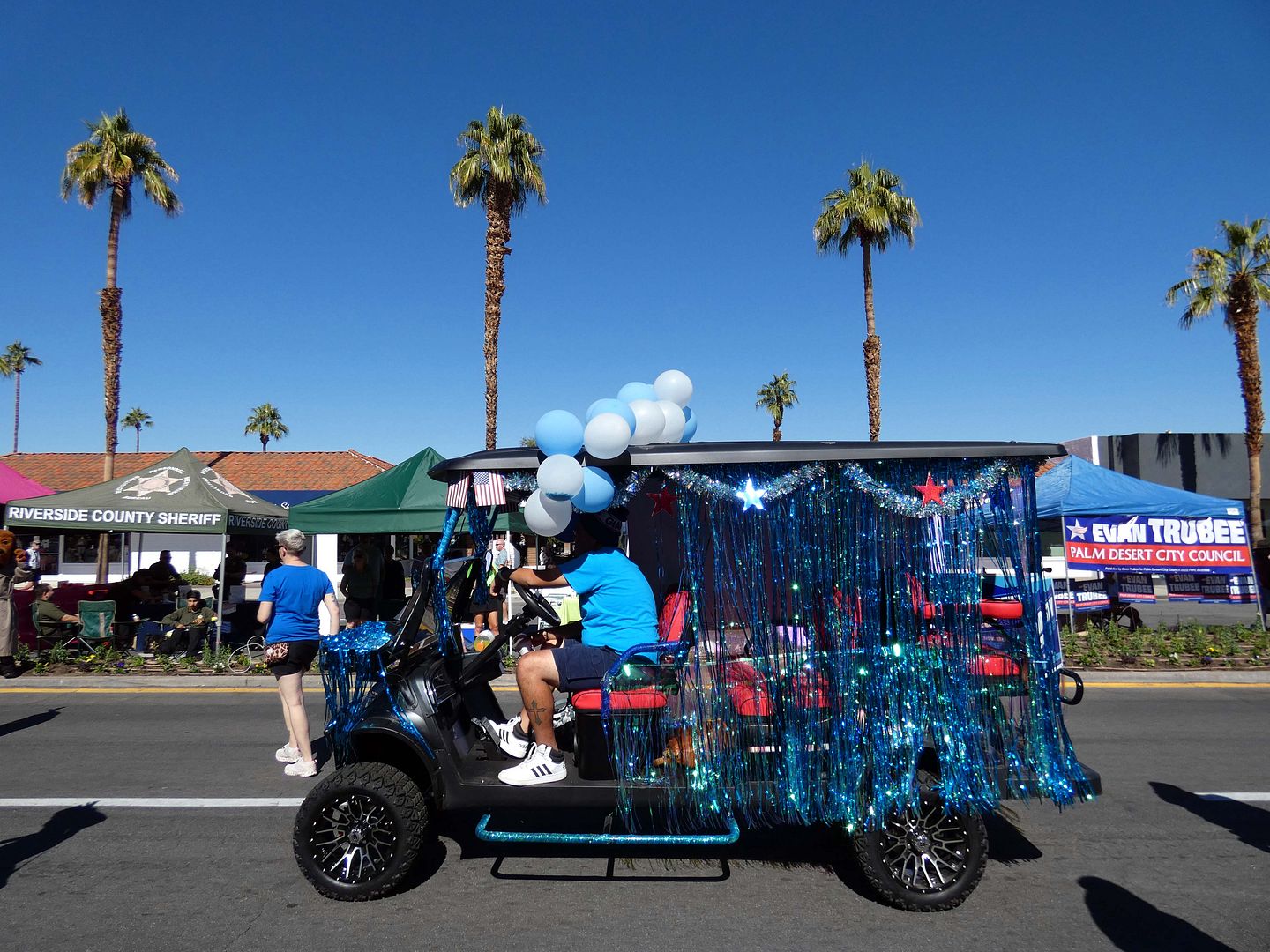 Plenty of local candidates took this opportunity to engage with the community...
...while non-profits like Friends of the Desert Mountains took to the streets to spread their messages about land conservation...
...and a local news channel even got fancy with their golf cart while putting their local anchors on parade.
One of the award-winning cart designs (for the Judge's Award) was focused on getting out the vote...
...conveniently leading a caravan of candidates for Congress...
...state assembly, and Palm Desert City Council.
I'm not sure who the ostrich was stumping for.
And fortunately, some of the paraders seemed to just be enjoying the festivities, with no agenda other than being spooky.
The City of Coachella's golf cart "float" honored Día de los Muertos...
...with amazingly costumed performers in tow, dressed in their best calaca outfits.
Renova Energy, a solar energy company based in Palm Springs, brought out the spooky side of the parade with a Scream-worthy, cobwebbed cart...
...while local candidate Joel Kinnamon channeled the College of the Desert mascot, the Roadrunner.
If you're going to participate in the Golf Cart Parade so close to Halloween, you've got to beware of hitchhiking skeletons...
...including pink ones that do yoga.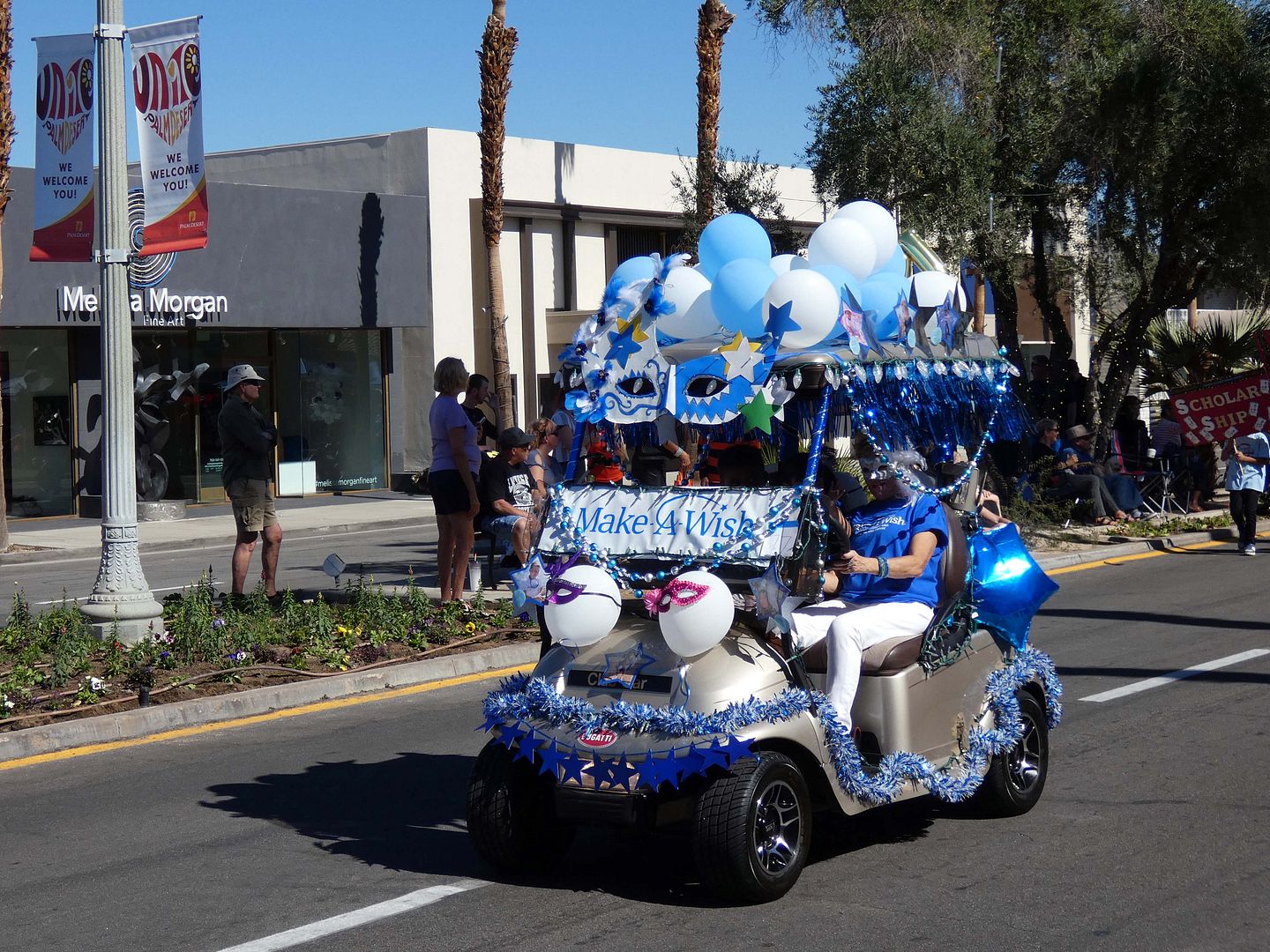 Palm Desert's golf cart parade isn't the only one in the country. There are others—at Disney's Fort Wilderness resort in Lake Buena Vista, Florida, for example.
There's also a Christmas-themed one at Newport Beach's Balboa Island (though I don't see how it could possibly surpass
the boat parade
).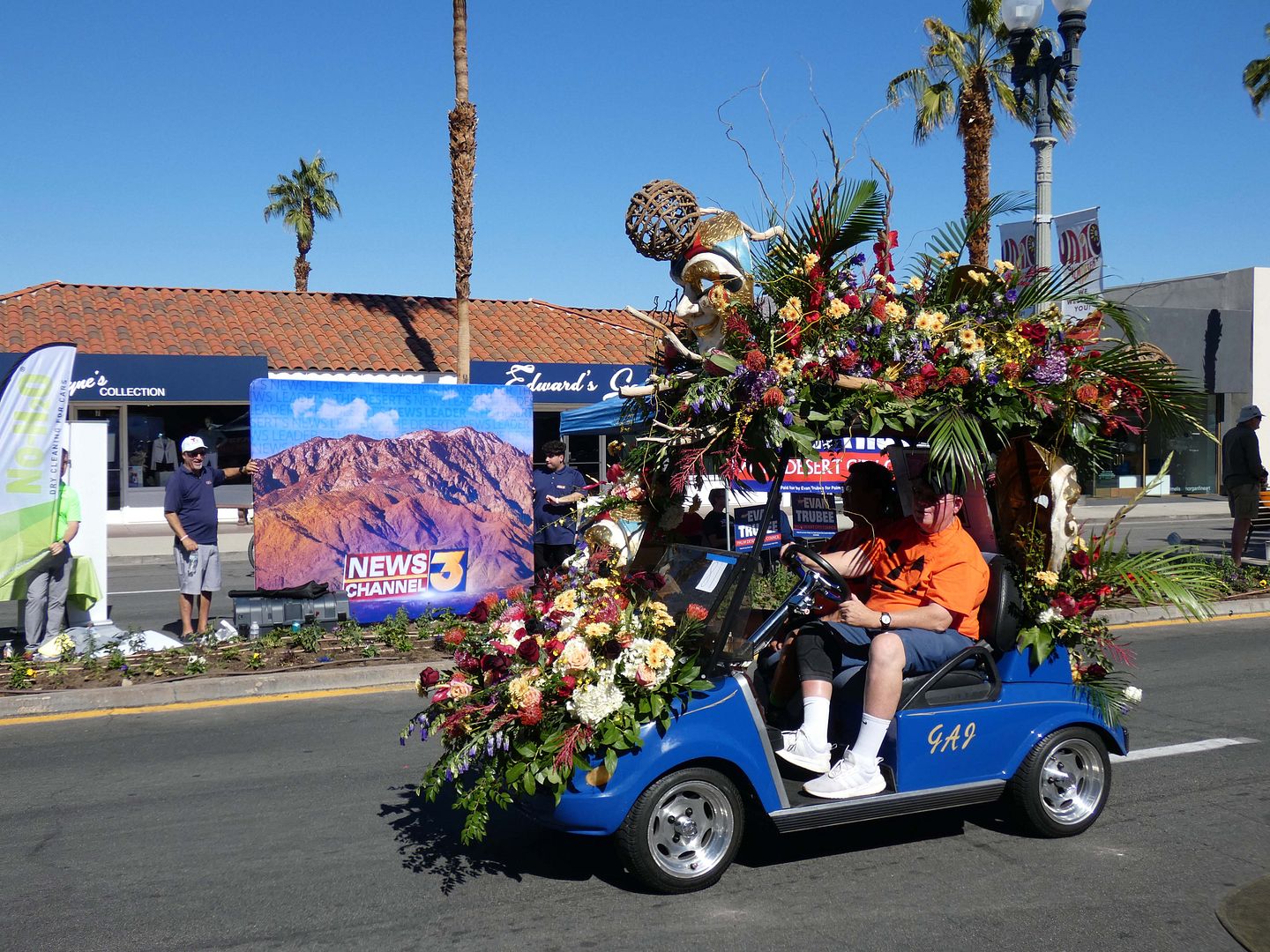 ...though only one of the golf carts in Palm Desert was festooned in flowers in true Tournament of Roses style.
Palm Desert's golf carts also had something you don't usually see on Rose Parade floats: balloons.
And they also had some kick-ass
marching bands
, like the one from Desert Hot Springs High School.
When you buy a ticket to sit in the (shaded) VIP section like I did, you not only get boxed lunch—but also a great, (mostly) unobstructed view of the parade and its bands, which tend to pause right in front of you as they play.
But when a really good golf cart rolls by, like the pirate ship in this year's parade, they never seem to linger long enough.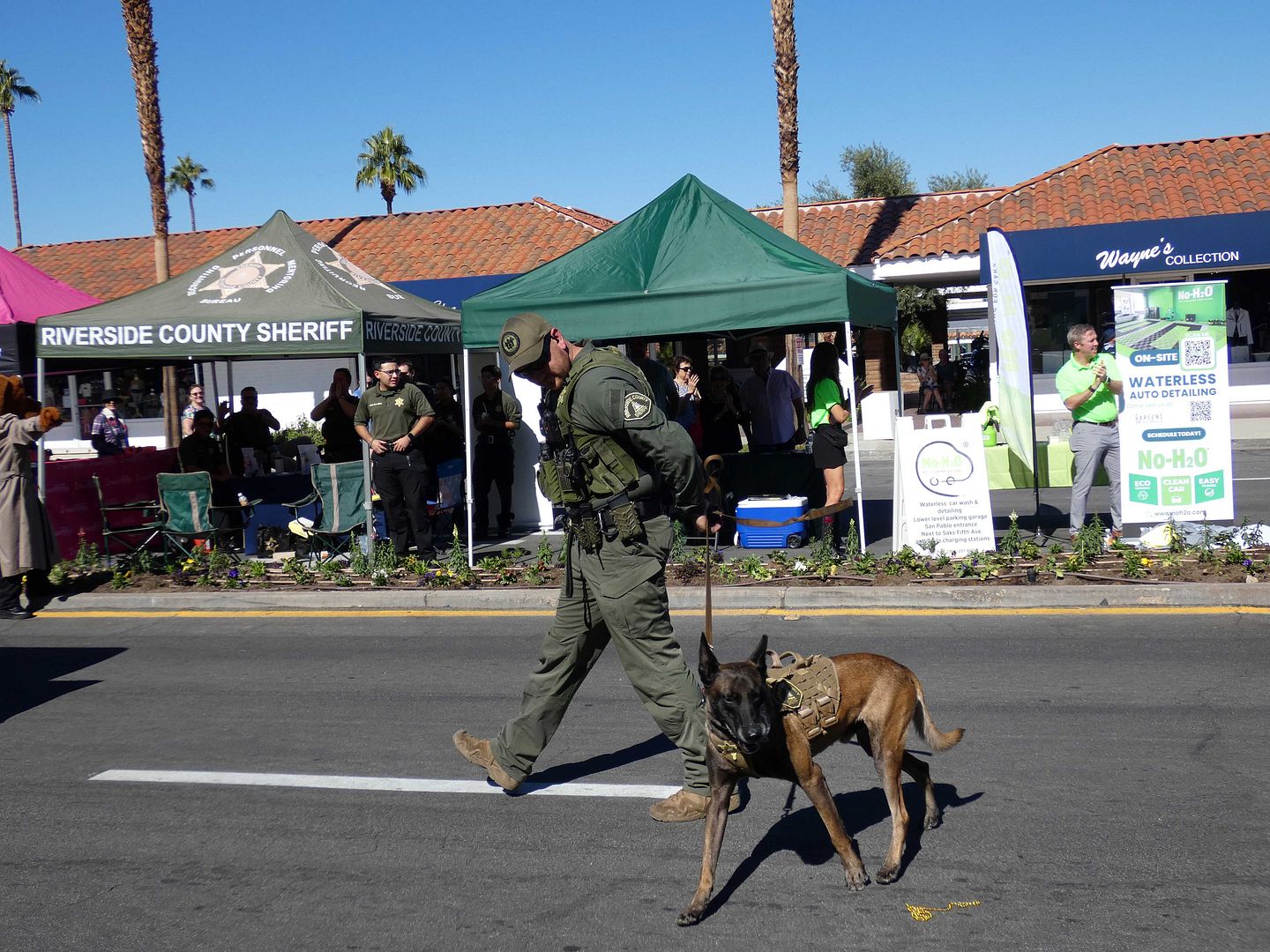 Same goes for the K-9 officer of the Riverside County Sheriff's Department...
...although a good follow-up was the Riverside County Sheriff Mounted Posse...
...part of the department's "Volunteer Forces Unit" (since all "posse" members are volunteers with their own horses) and a continuation of an American tradition that dates back to the 1600s.
Finally, the finale of the golf cart parade featured a vintage fire engine, courtesy of the Palm Desert Historical Society, which is located in the city's first permanent firehouse.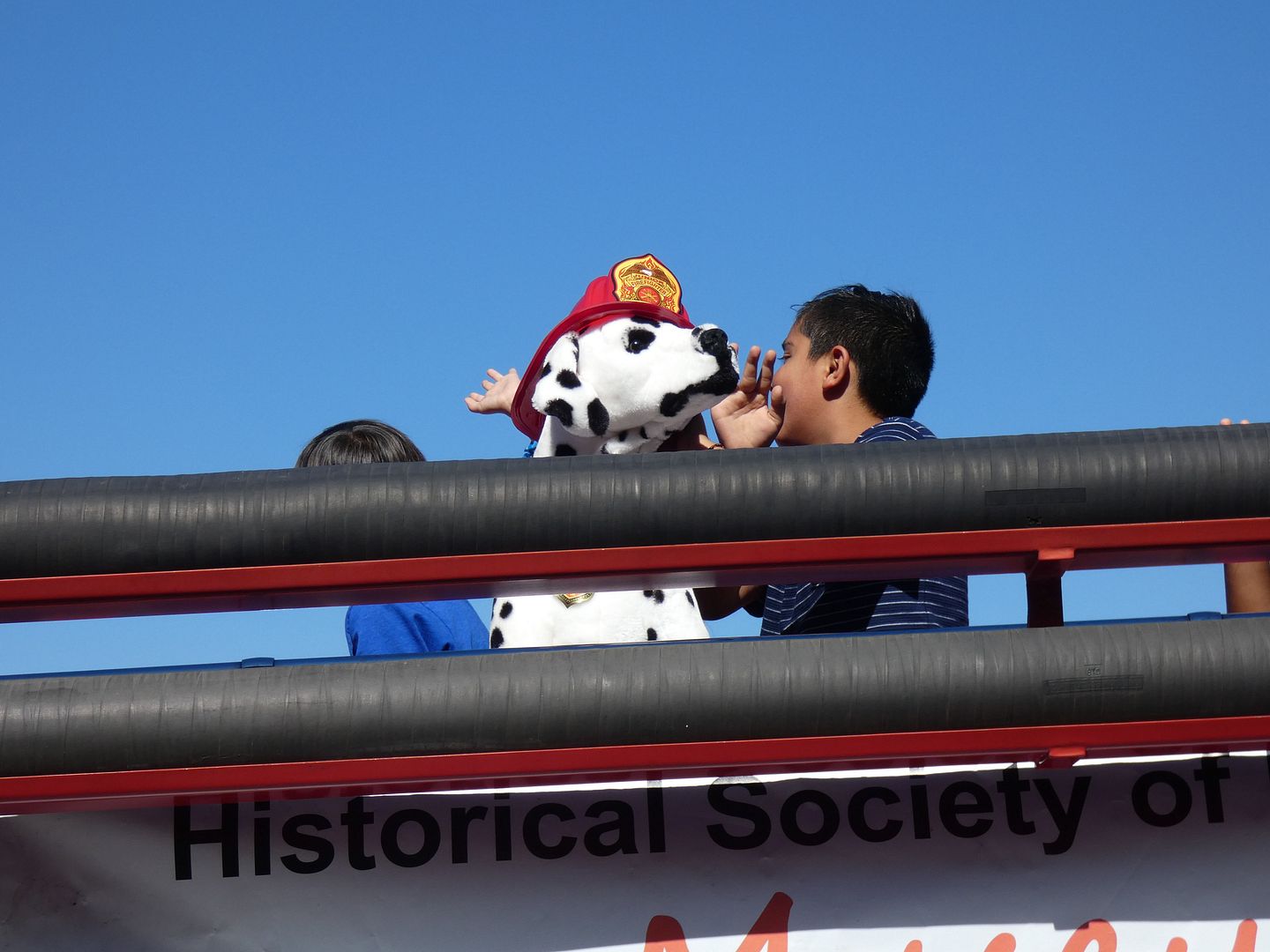 This was a triumphant return of the Palm Desert Golf Cart Parade, which hasn't taken place since 2019—when the theme was "Let the Good Times Roll"—because of the COVID-19 pandemic.
Seems a little ironic to theme the comeback parade with masks after two and a half years of covering our faces.
The canceled 2021 parade was supposed to be themed "Unmasked." Past themes have included "Golf Capital of the World," "Midsummer Madness," "Goin' Fishin'" and "Christmas in July"—when the parade took place in July. According to the
Desert Sun
, it's been held in October since 1973.
More recent themes have included "American Pride," "Carnival Style," and "Take a Ride on the Wild Side."
Next year's theme hasn't been announced yet, but save the date for Sunday, October 29, 2023.
Related Posts: