Once again, football season has rolled around—and although I took the tour of Allegiant Stadium in Las Vegas back in May 2022, I waited until now to post about it.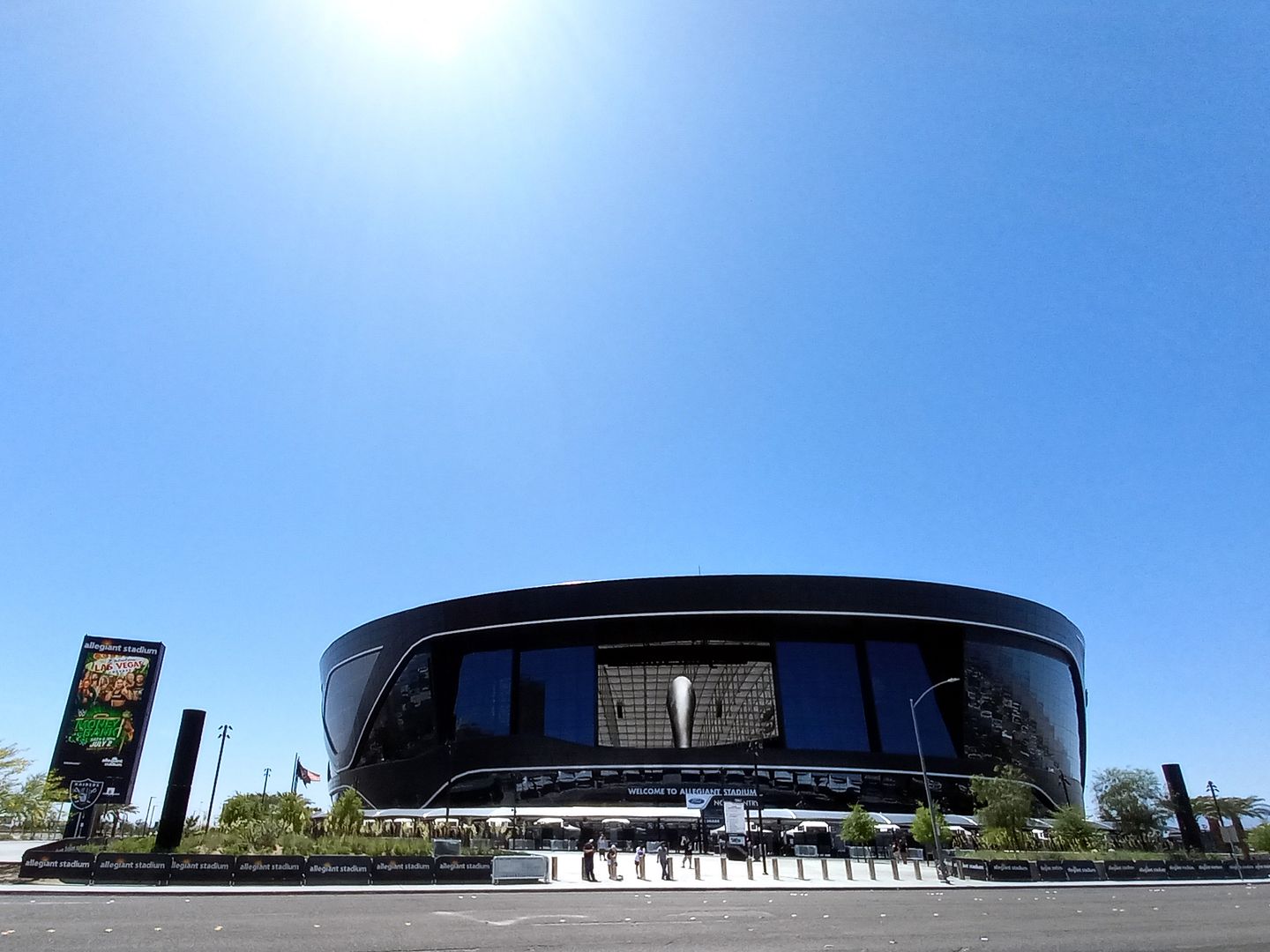 It was purpose-built (on land that's always been a vacant lot, according to HistoricAerials.com) as the National Football League stadium of the Las Vegas Raiders—formerly the Oakland Raiders (1960–1981 and 1995–2019) and, when I was growing up and watching American football with my dad, the LA Raiders (1982–1994). They relocated to Vegas in 2020, although that year they played to an empty stadium because of the COVID-19 pandemic.
Like the new home of the LA Rams,
SoFi Stadium
, it kind of looks like a spaceship. Designed by MANICA Architecture, it was expensive to build, too, ranking just behind SoFi in terms of the most expensive stadiums in the world (an estimated $2 billion).
But the Raiders are interwoven into every detail of Allegiant Stadium, whose 105,000 cubic yards of concrete appear to have poured with one purpose: to surround the 85-foot Al Davis Memorial Torch.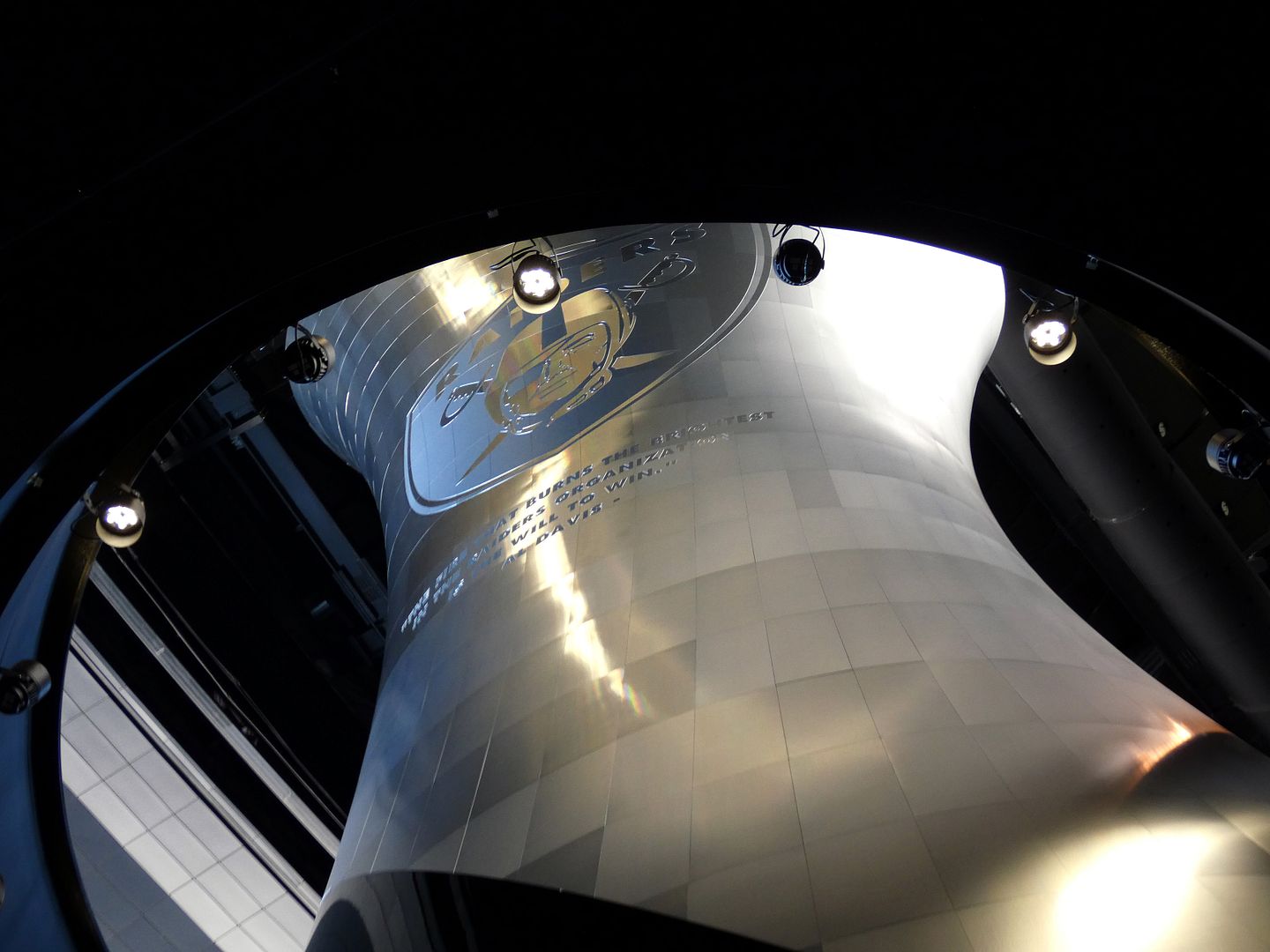 Its "flame" is actually an LED light show—and it honors former Raiders owner Al Davis, who managed the team from 1972 until he died in 2011. It bears his quote, "The fire that burns the brightest in the Raiders organization is the will to win."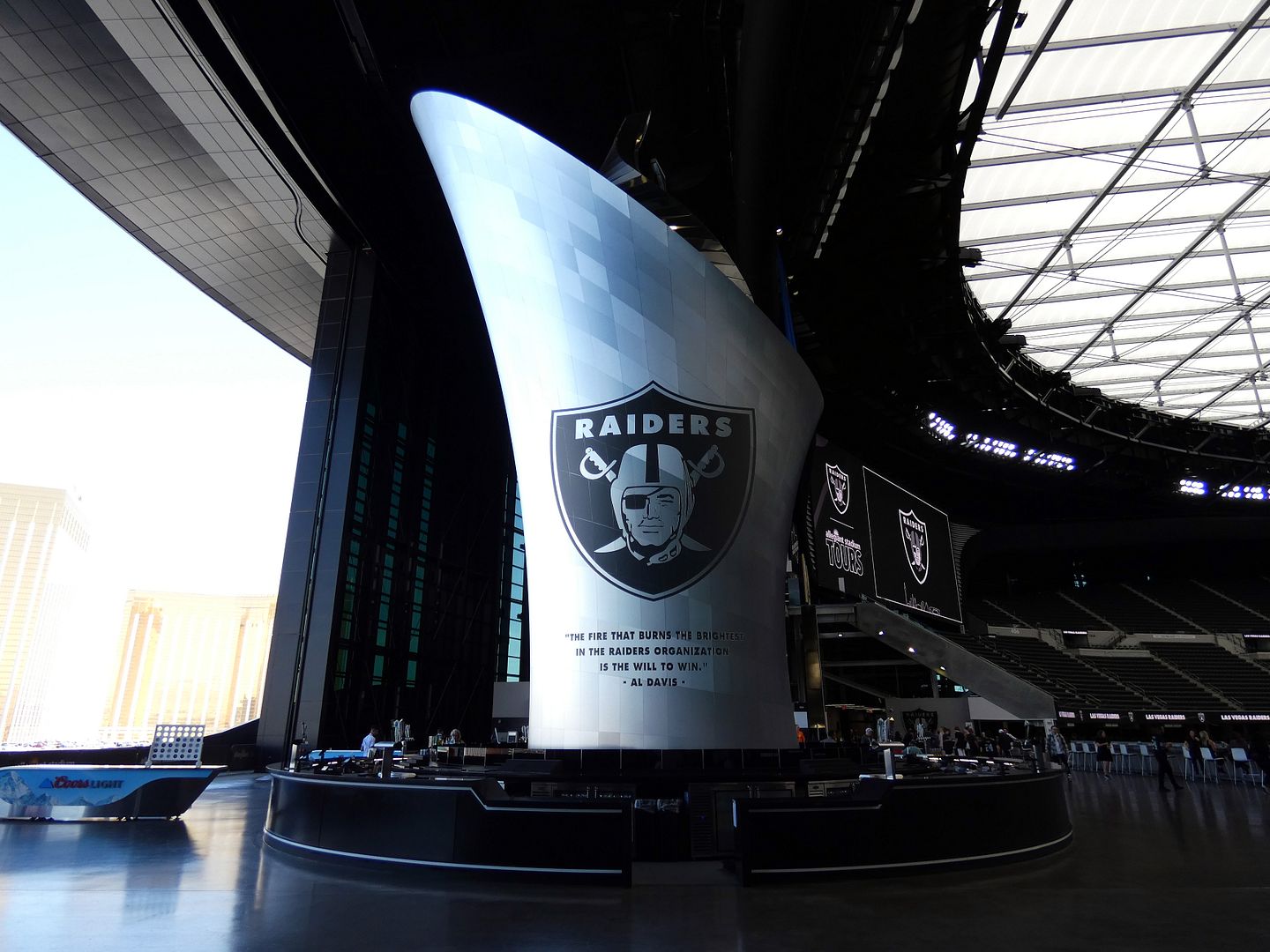 Located on the Allegiant Flight Deck North, it's the largest 3D-printed object in the world—and its light show fits right in with the nearby Strip.
But of course, most fans come to see the Raiders play (and win)—and today, they do so in a 10-level stadium outfitted nearly entirely in black and silver (the team's colors since 1963), with a natural turf of bermuda grass that retracts to the outside (where they can tend to it and make sure it keeps growing).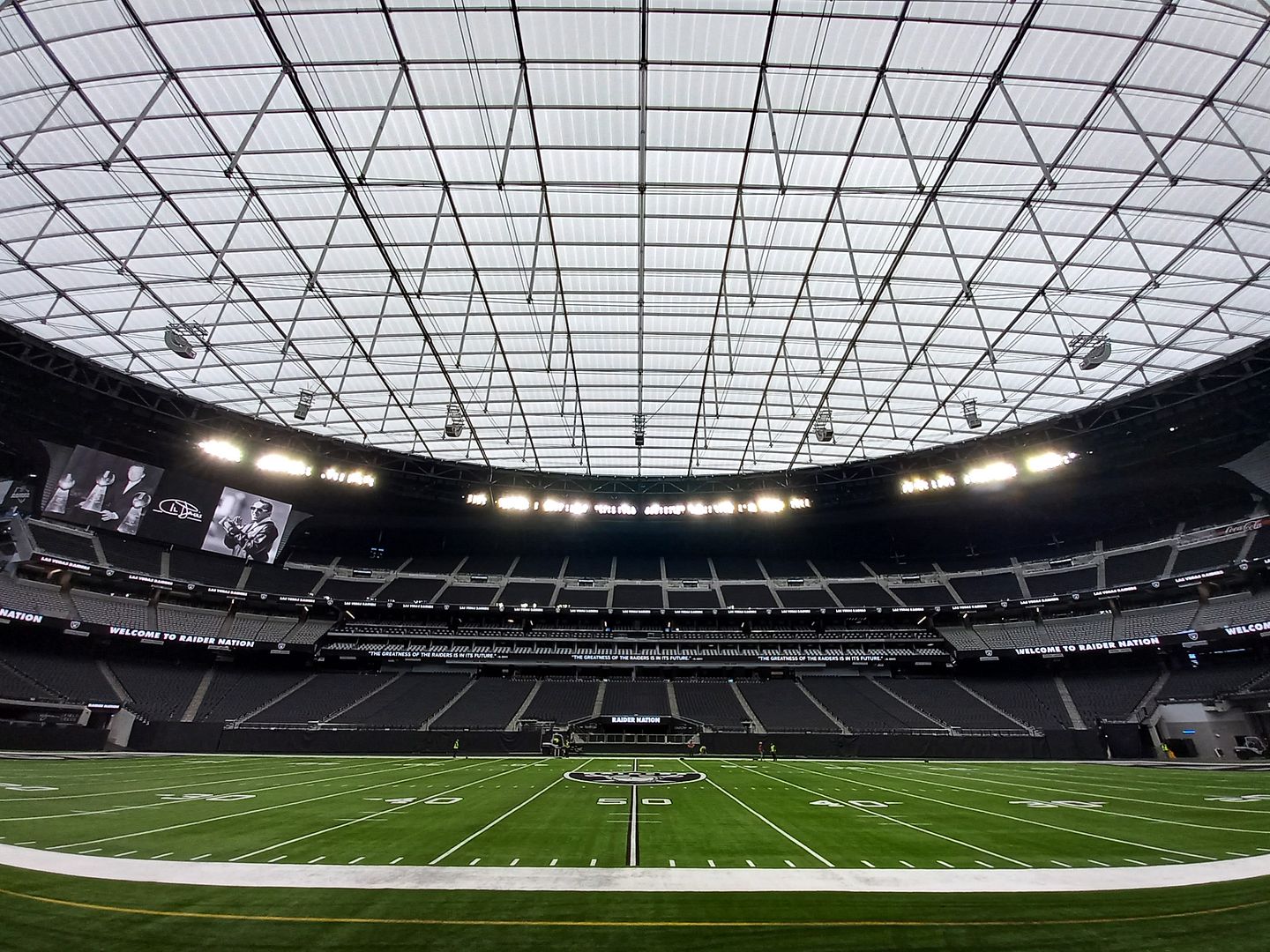 There are 75,000 square feet of video boards hovering over 95,000 square feet of field and 100 yards of turf.
The sliding tray used to roll it outside weighs 19 million pounds. (By comparison, the Eiffel Tower weighs just over 20 million pounds.) It takes 72 motors to move it.
The innovative domed roof, made of ethylene tetrafluoroethylene (ETFE), is transparent enough to let daylight in while shielding those inside from the hot desert sun.

There are also plenty of places for members of Raider Nation to hang out in the stadium besides the regular seats...
...and opportunities to peruse the team's history, like the display of Raiders in the Pro Football Hall of Fame...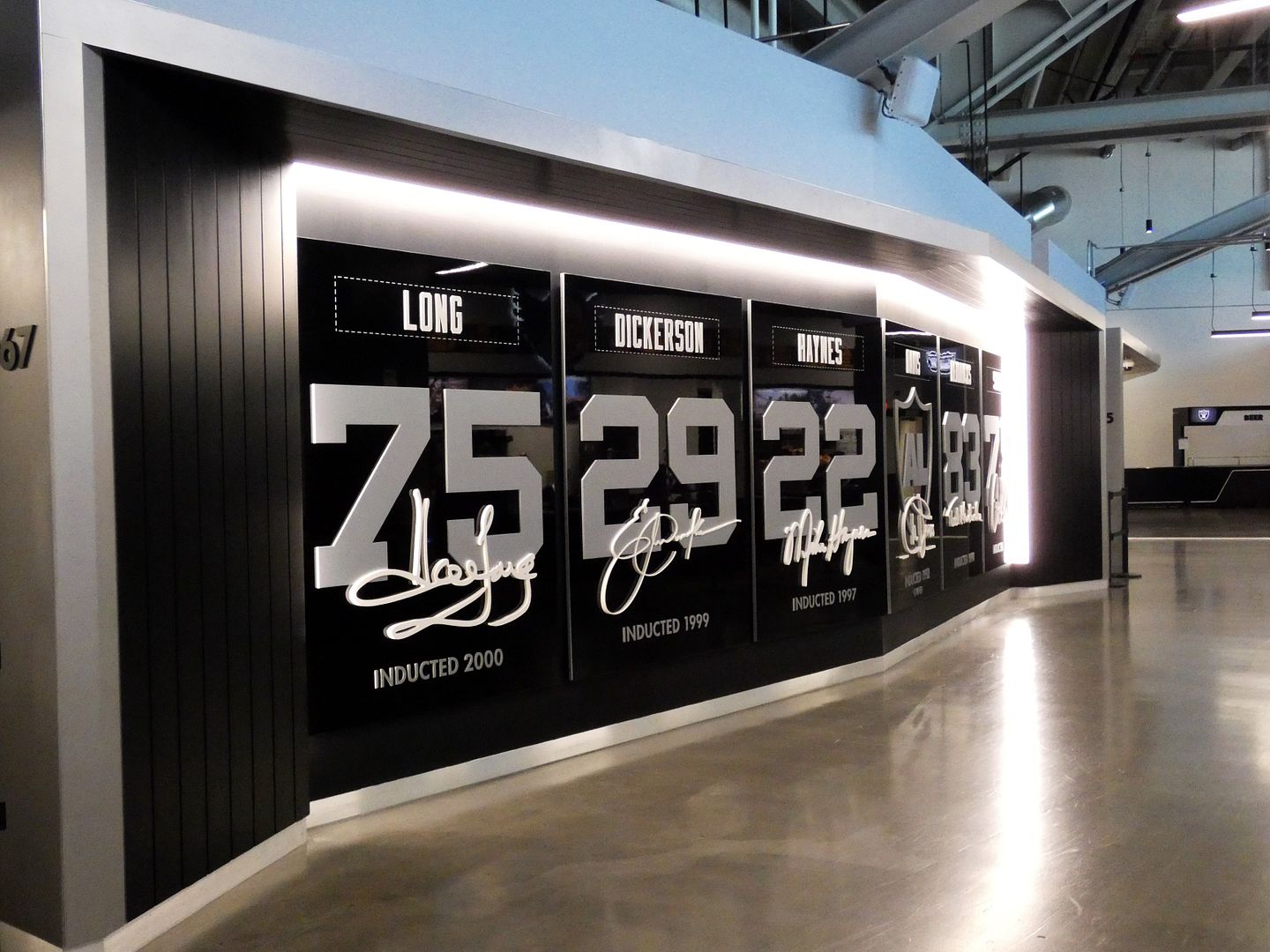 ...including household names like former Raiders coach John Madden, defensive player Howie Long...
...and of course Al Davis himself, who was inducted in 1992.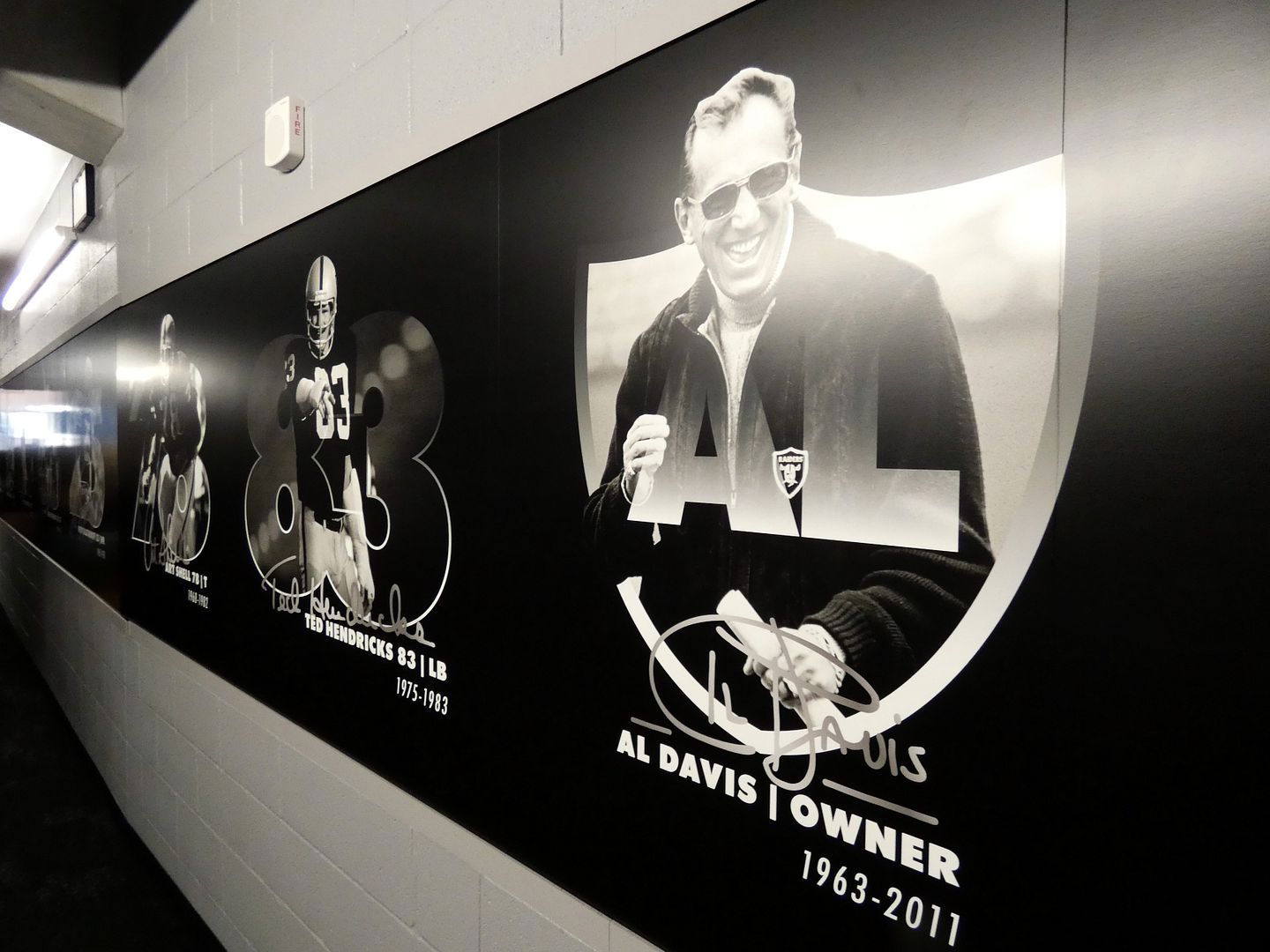 He also helped the team win three Super Bowl titles (1977, 1981, and 1984) and was known for his motto, "Just win, baby."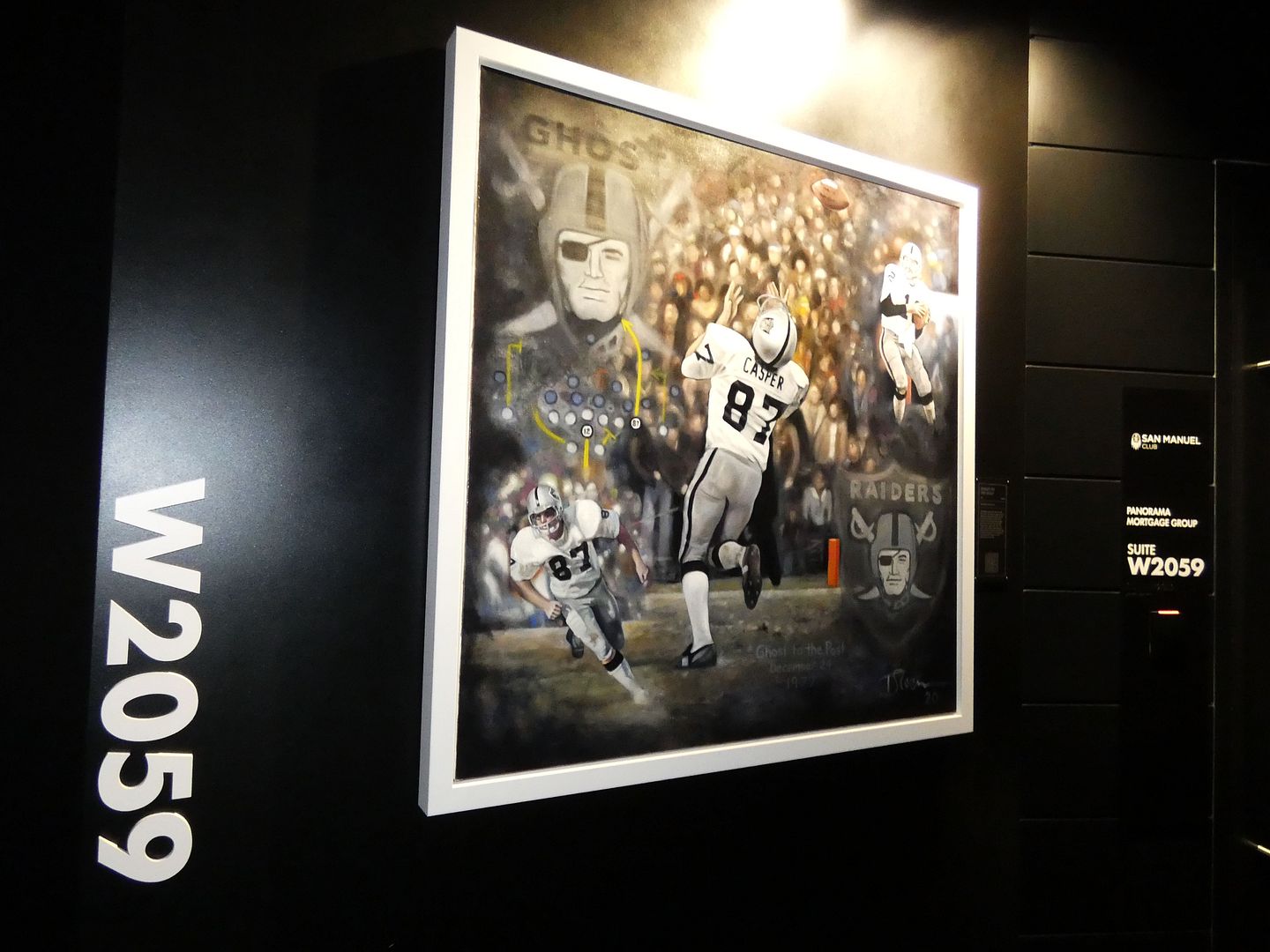 There's also the San Manuel Club, named after its founding partner, the San Manuel Band of Mission Indians...
...whose San Manuel Casino (now called Yaamava') is the stadium's official Southern California casino (I guess it needed one?).
Artwork throughout—some actually by former Raiders—pays tribute to both the team and their Vegas home.
That includes a monumental painting of Elvis as a Raider...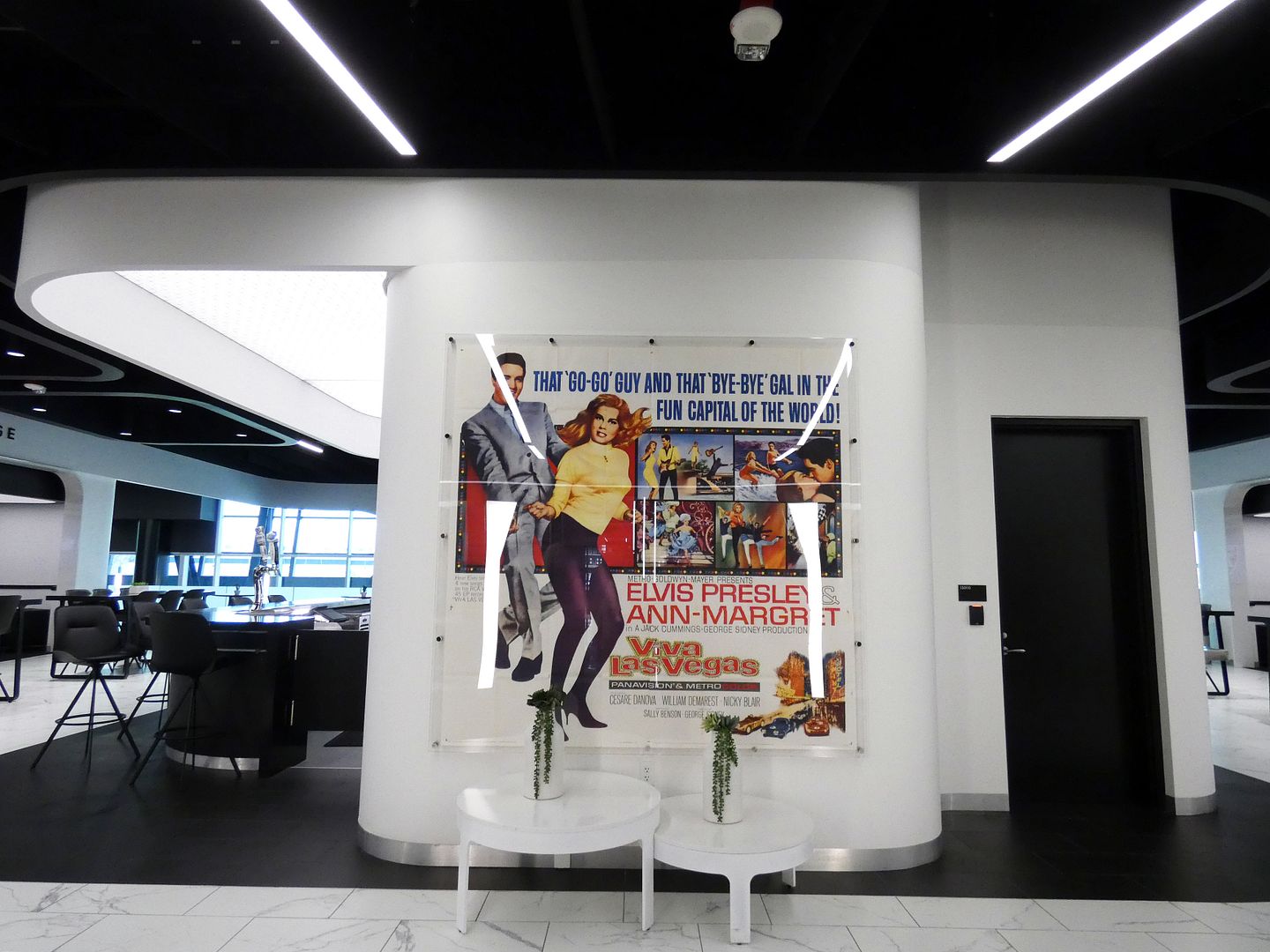 ...and of course a poster from the Elvis movie
Viva Las Vegas
.
Only a select few get to pass through certain doors...
...like those that lead to the Owners' Club Suites...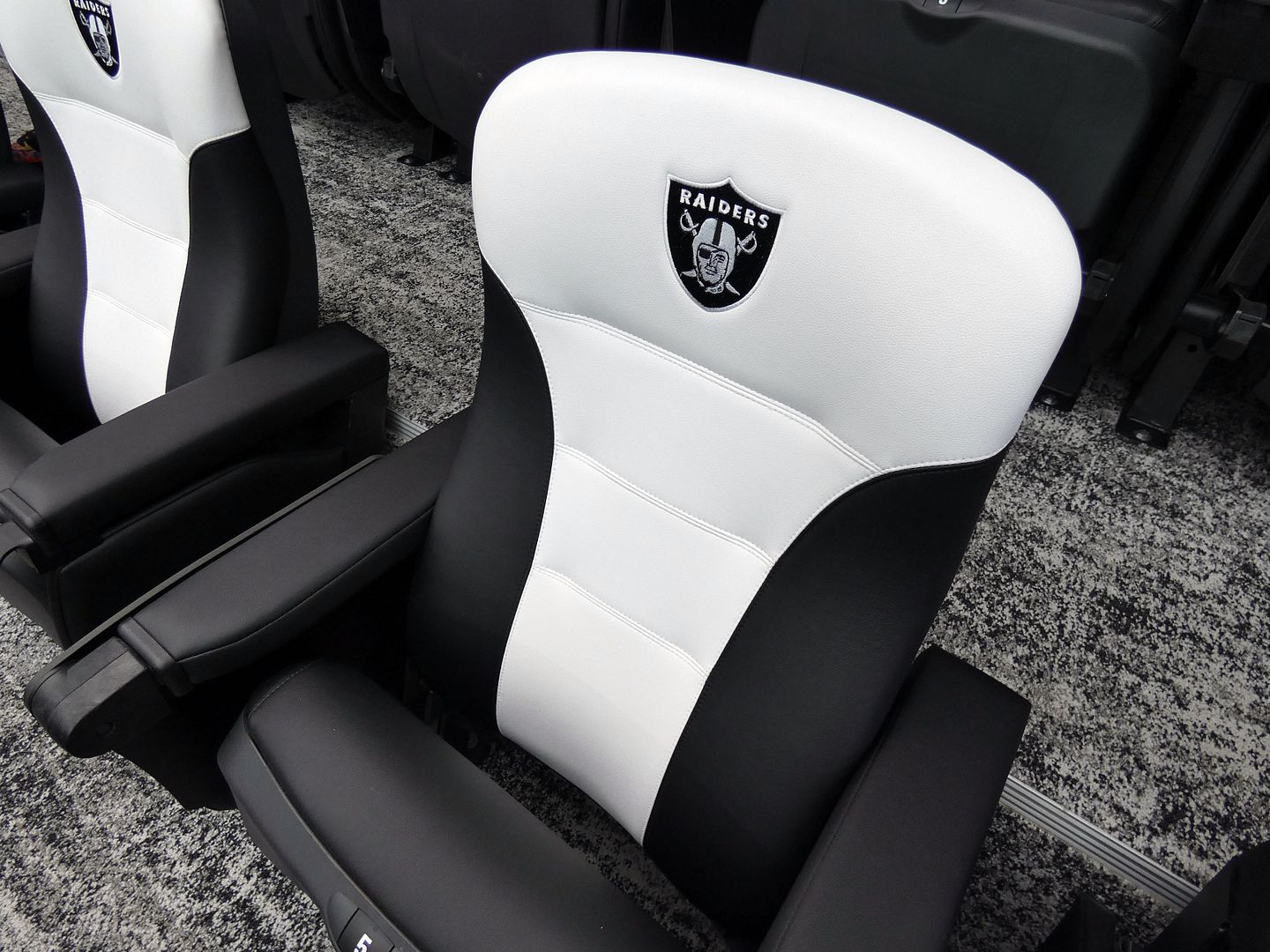 ...where current owner Mark Davis (yes, Al's son) watches every home game.
It's probably the best view in the stadium, which seats 65,000.
My favorite part of the tour was the Raiderette museum—the space dedicated to the Raiders' cheerleading squad.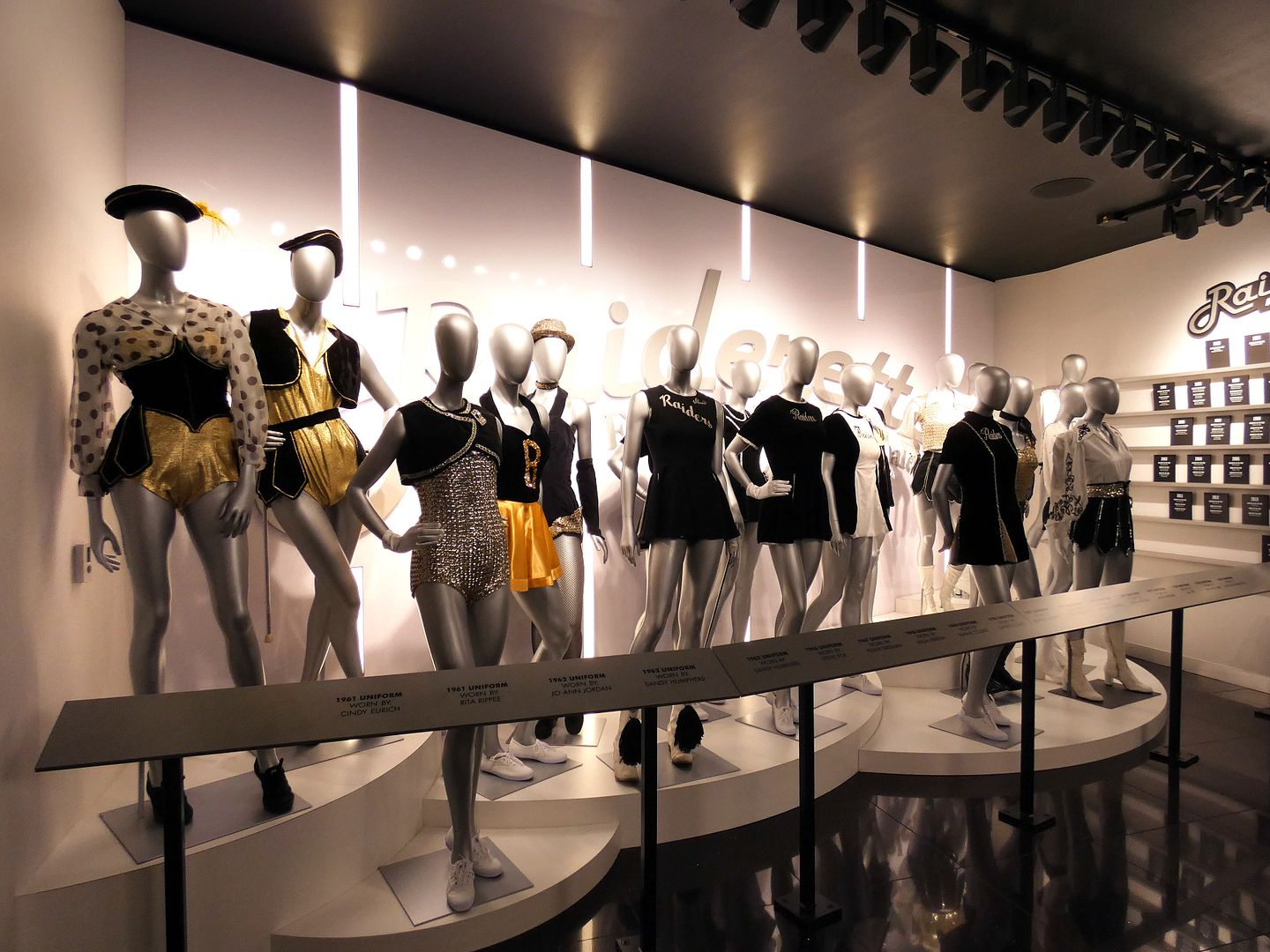 Besides their cringeworthy nickname "Football's Fabulous Females," the cheer team is actually quite iconic...
...not just for their chants and their moves, but also for their fashion.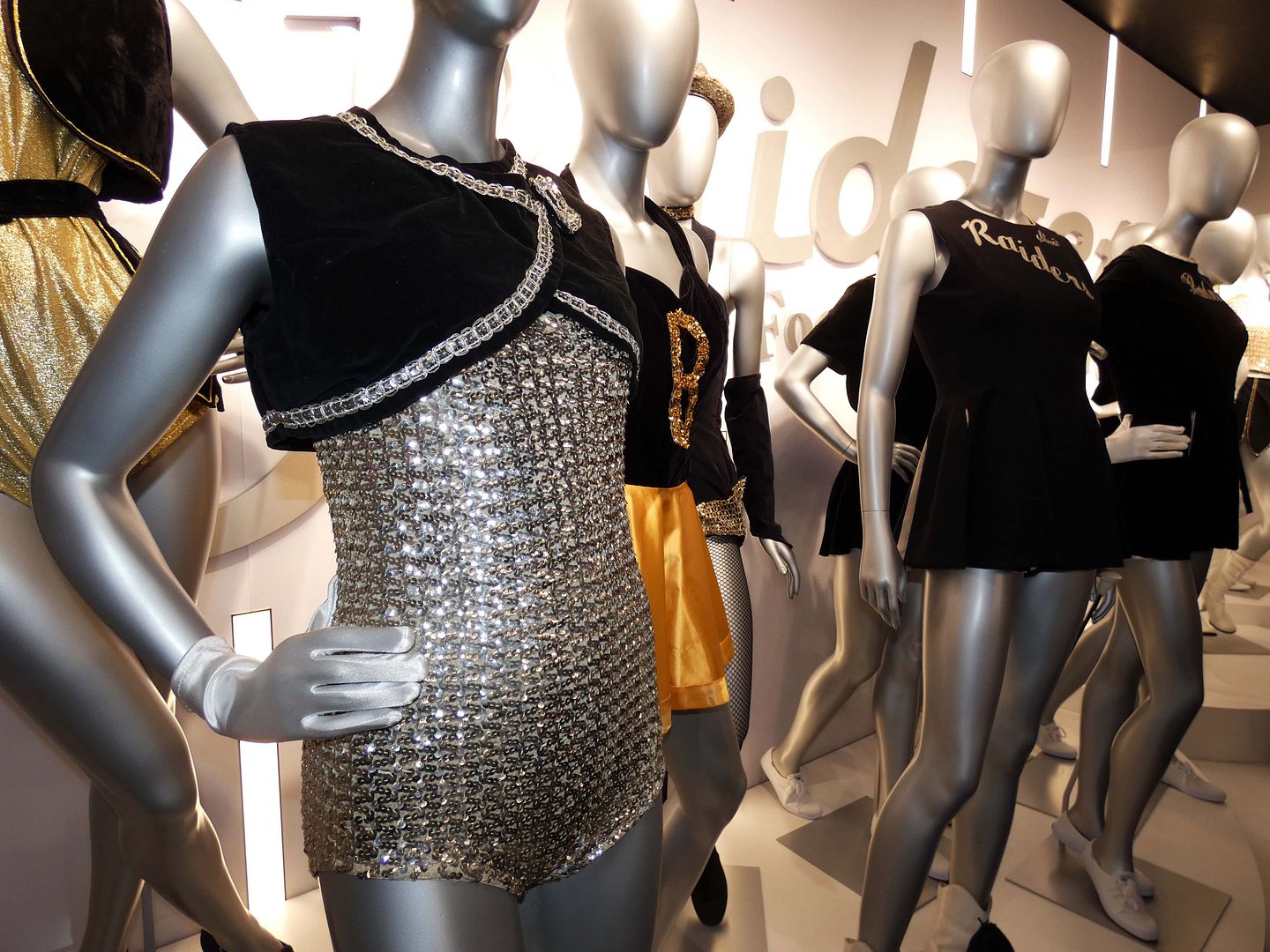 Uniforms dating back to their 1961 founding in Oakland are on display (mixing a little gold in with that black-and-silver motif)...
...showing how they changed with the times.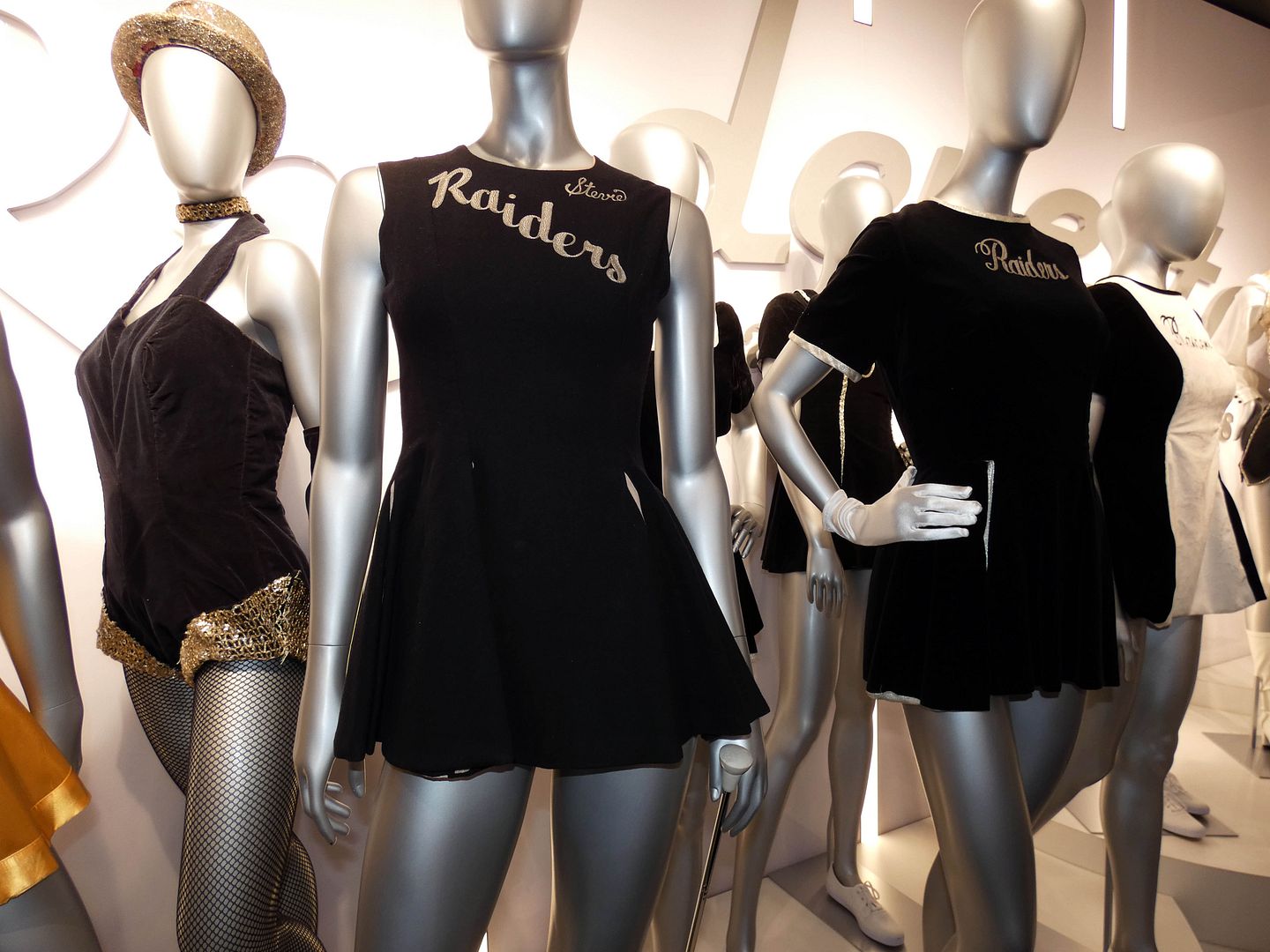 They used to be a little more, er, covered up.
In the 1960s, the squad started out with baton twirlers and majorettes. Their growing popularity made them the focus of increasing media coverage and attention to their dance moves.
In the 1970s, they were choreographed by Broadway dancer George Minami, Jr.
They're so integral to the Raiders team and their games, they've got their own locker room—with a big swoopy "R" inset in the ceiling.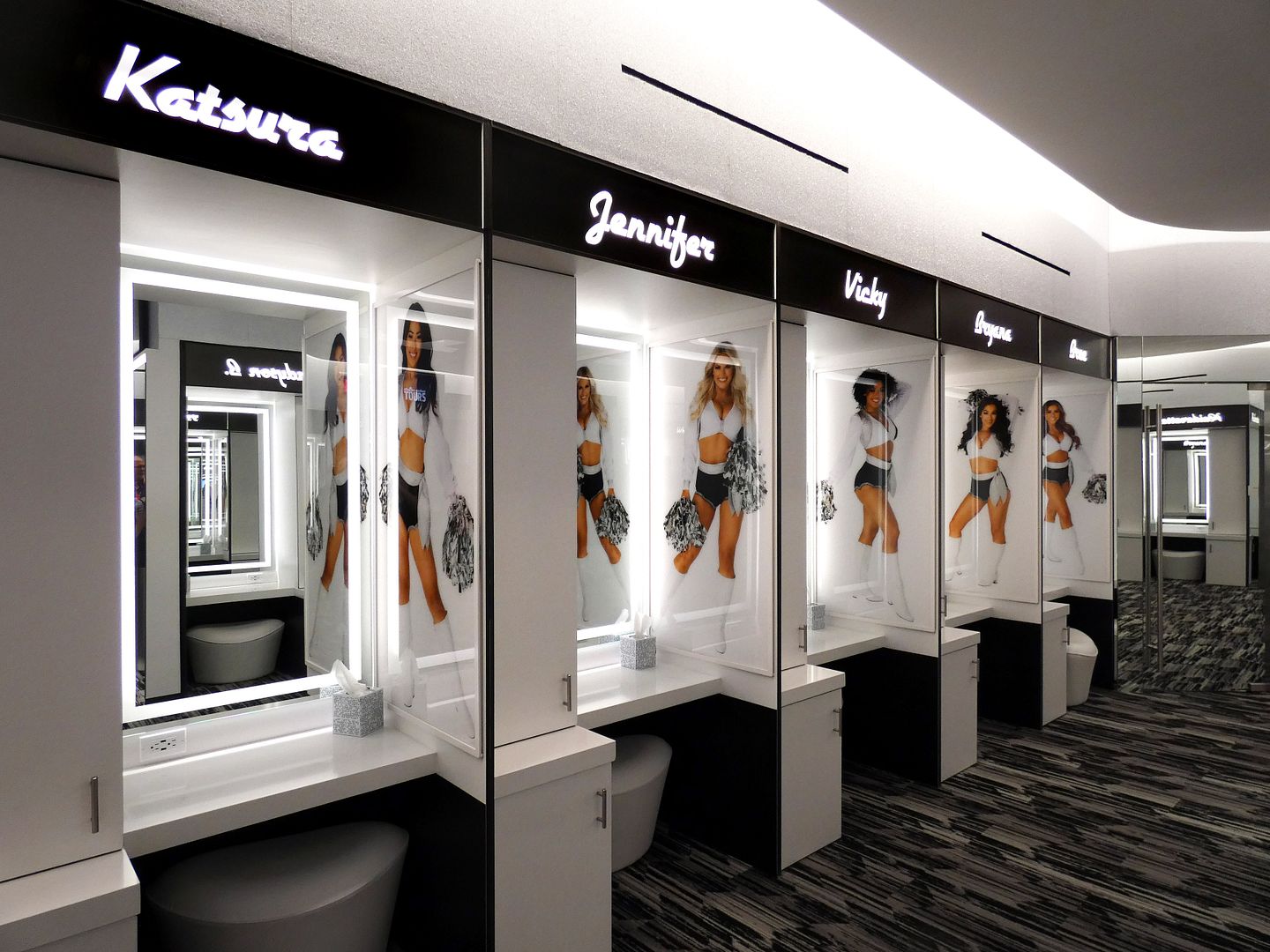 Current Raiderettes include Audrey, Katsura, Jennifer, Vicky, Bree...
Madyson B. appears to have left since I took the tour.
The mens' locker room—that is, for the players—features a roped-off Raiders shield in the center of the floor. (Don't you DARE step on it!)
You can see where players like reserve player Derek Waller, defensive lineman and 2022 Pro Bowl MVP Winner Maxx Crosby, and running back Josh Jacobs get ready before a game...
...and where they go once they come off the field.
And then for the afterparty, there's the Wynn Field Club—a nightclub collaboration with Wynn Nightlife, the Raiders' and Allegiant Stadium's Official Nightlife Partner and an Official Gaming Partner of the Raiders.
You can actually watch the game from there, as it's located on the field level in the end zone. But it's also got its own roster of DJ appearances, bottle service, and other nightlife amenities normally found on the Strip.
It's also open during Allegiant Stadium's concerts, performed by the likes of P!nk, Taylor Swift, Ed Sheeran, Elton John, Garth Brooks, and such.
Allegiant Stadium is located across the 15 Freeway from Mandalay Bay, at the former 5617 Dean Martin Drive—which has been renamed 3333 Al Davis Way. It's contracted to bear the name of Allegiant Travel Company for its first 30 years of operation.
It will host Super Bowl LVIII in February 2024.
Related Posts: