Anyone can visit the Oviatt Building and gawk at its ornate Art Deco cornice from across the street or examine the lovely Lalique glasswork from the front entrance.
But if you enter the building—probably through
Cicada
, the restaurant that now lays claim to the ground floor once occupied by Oviatt's men's clothing store—you lose nearly all sense of Art Deco.
That's because
the building itself
is Italian Romanesque, and the interior was designed in the style of English Jacobian.
However, perched atop the
roof
of the Oviatt Building, in the form of the penthouse where James Oviatt himself lived until his death, you'll find an Art Deco masterpiece.
All you have to do is figure out a way to take the one elevator that goes all the way up to the top.
I've been fortunate enough to take that elevator up multiple times—during a tour I took on a lark in 2012, during the annual Cicada Club Halloween party, and even once as a docent for a private party that leased out the space.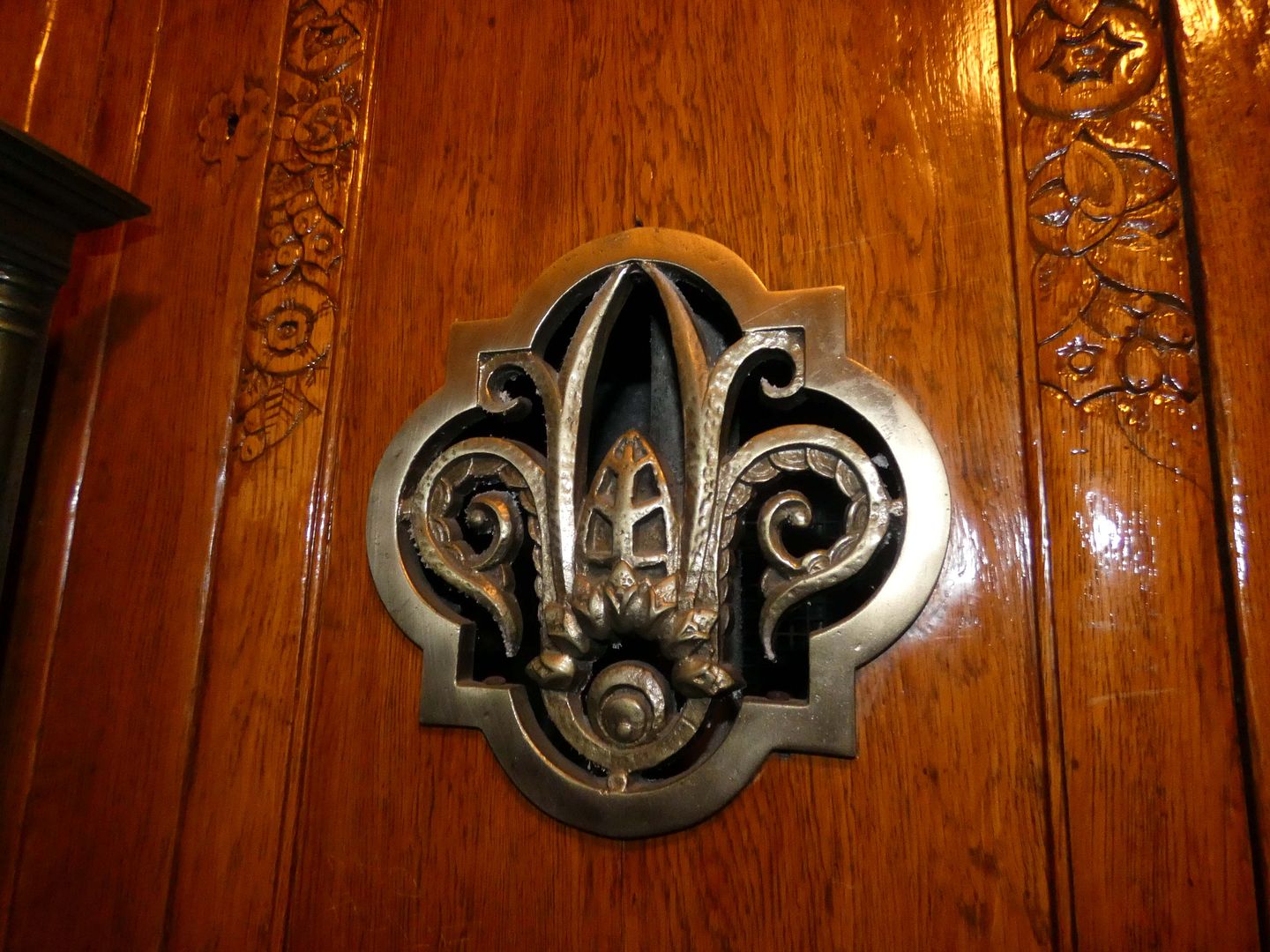 But it had been several years—and just before Halloween this year, I got the chance to go back.
I thought I'd seen it all—but I hadn't seen it in daylight.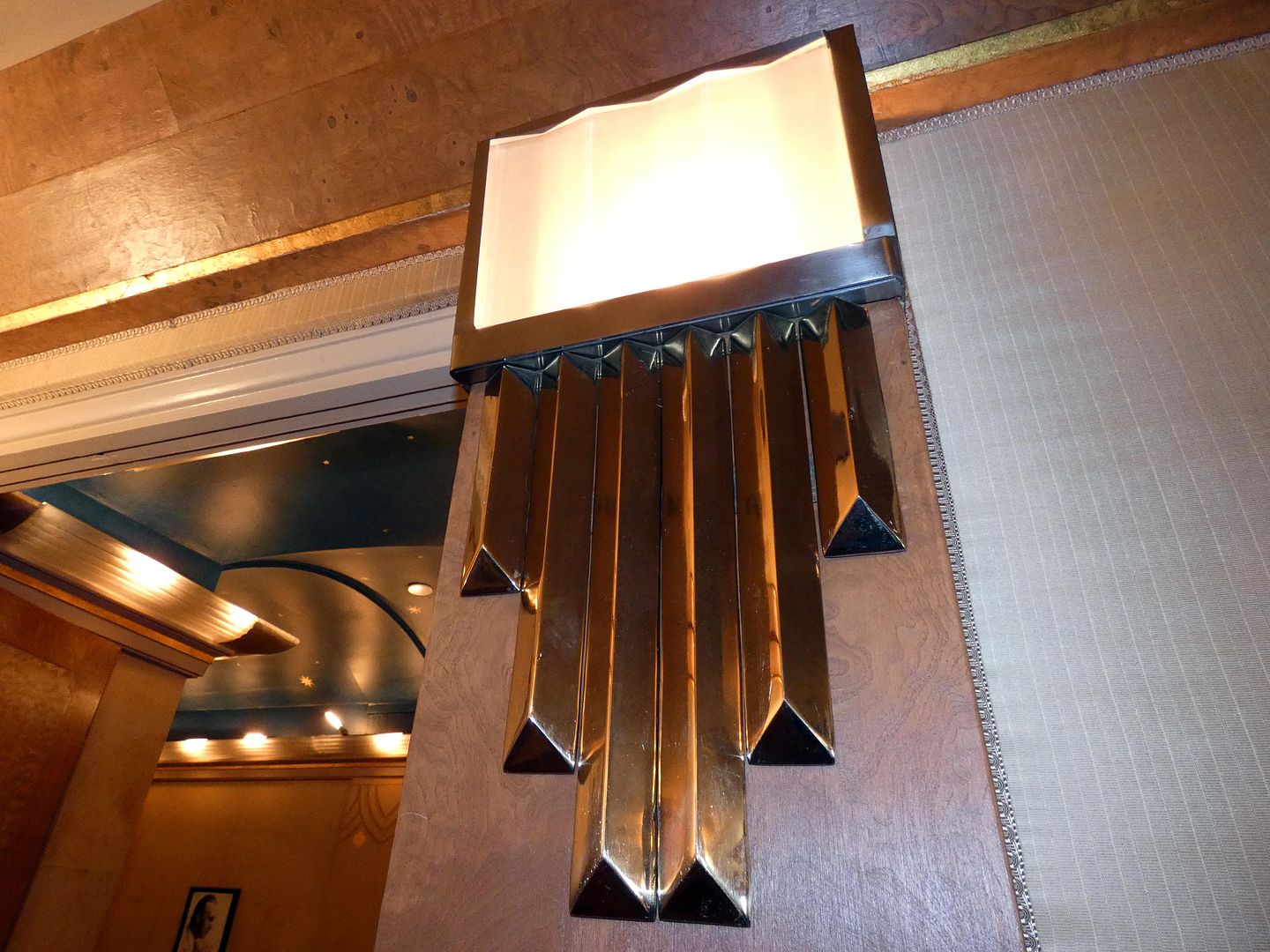 And this was an Art Deco-specific tour, hosted by the Art Deco Society of Los Angeles, while my past visits were more generally historical (or, in the case of the Halloween party, just social).
Plus, preeminent Oviatt expert and historian Marc Chevalier had customized this tour to focus on spooky ghost stories that aligned with some of the historical facts that he'd found in his research (which few other people would know). So I was happy to get caught in the spider's web—as Oviatt used to joke to his party guests—one more time.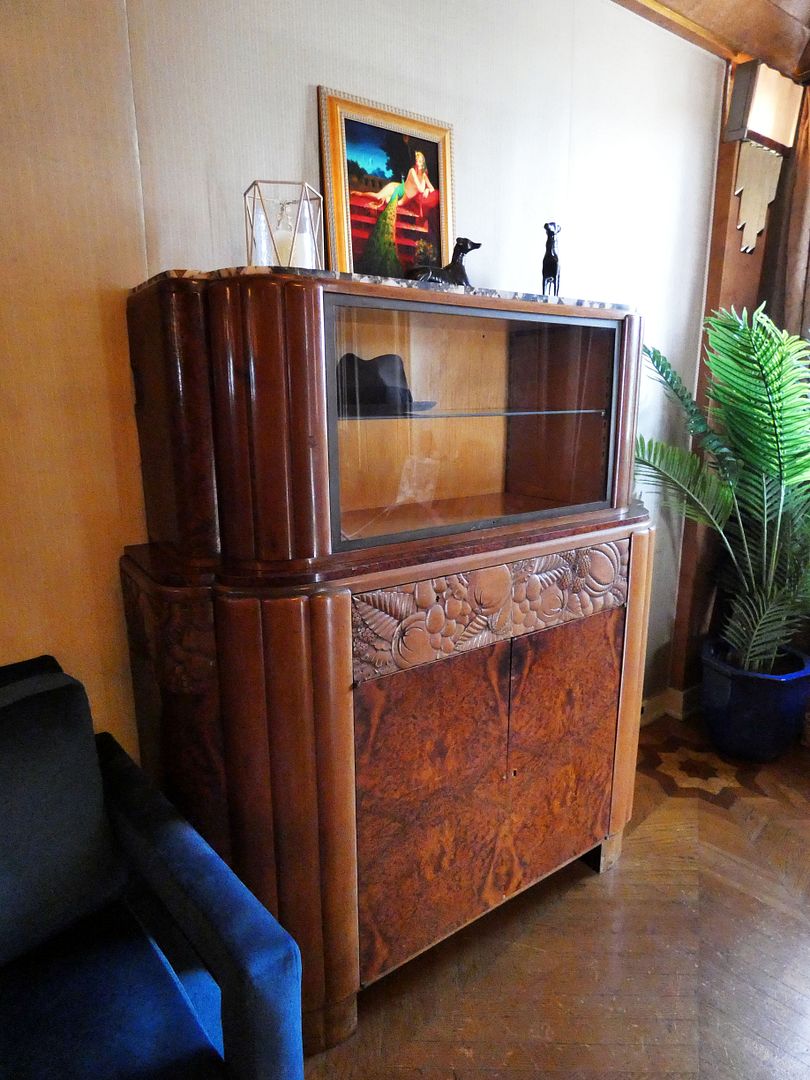 Nearly all of the penthouse's furnishings were sold off in 1974 after Oviatt died at the age of 85...
...but three matching pieces in the main room have been recently recovered (certainly since my last visit)...
...giving a more complete picture of what it was like in Oviatt's day.
The rest of the furniture, and many of the lighting fixtures, are contemporary...
...except the built-in bed (not the bedding), which reportedly had a kind of secret passage/trap door behind the headboard...
...and the call signal by the bedside table that Oviatt would use to alert his service staff (located on a floor below) that he was awake and ready for breakfast.
The view of Downtown LA is a bit different than in Oviatt's time—now surrounded by stark, corporate high-rises that dwarf the Oviatt Building's comparatively short stature.
But turn the other way, and head through the closet and into the bathroom...
...and you're transported back into the 1920s.
Below carved plaster walls that have been painted to look like wood (and feature "jungle" designs of tropical flora, a topless woman, and even a monkey)...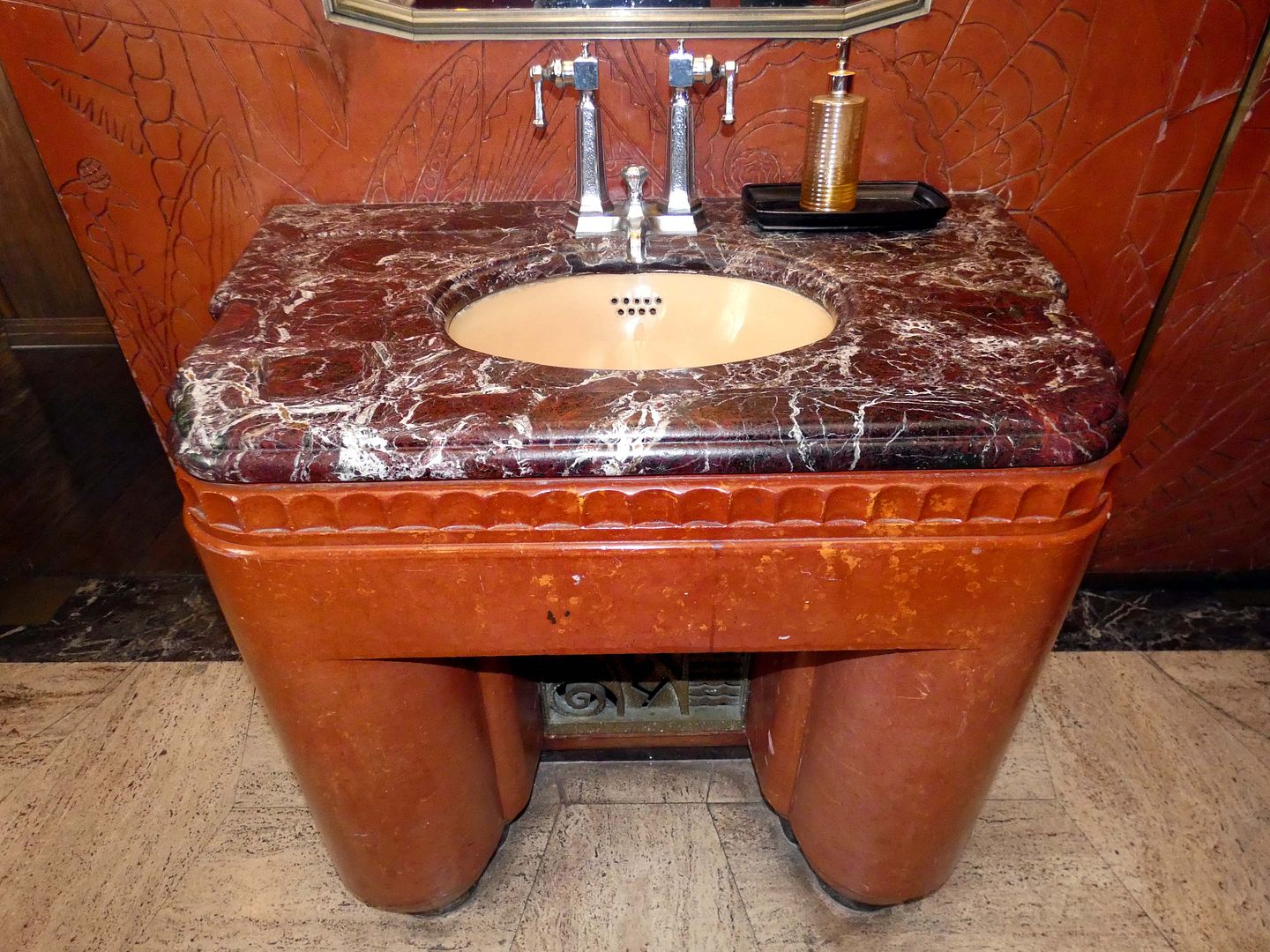 ...there are two marble sinks.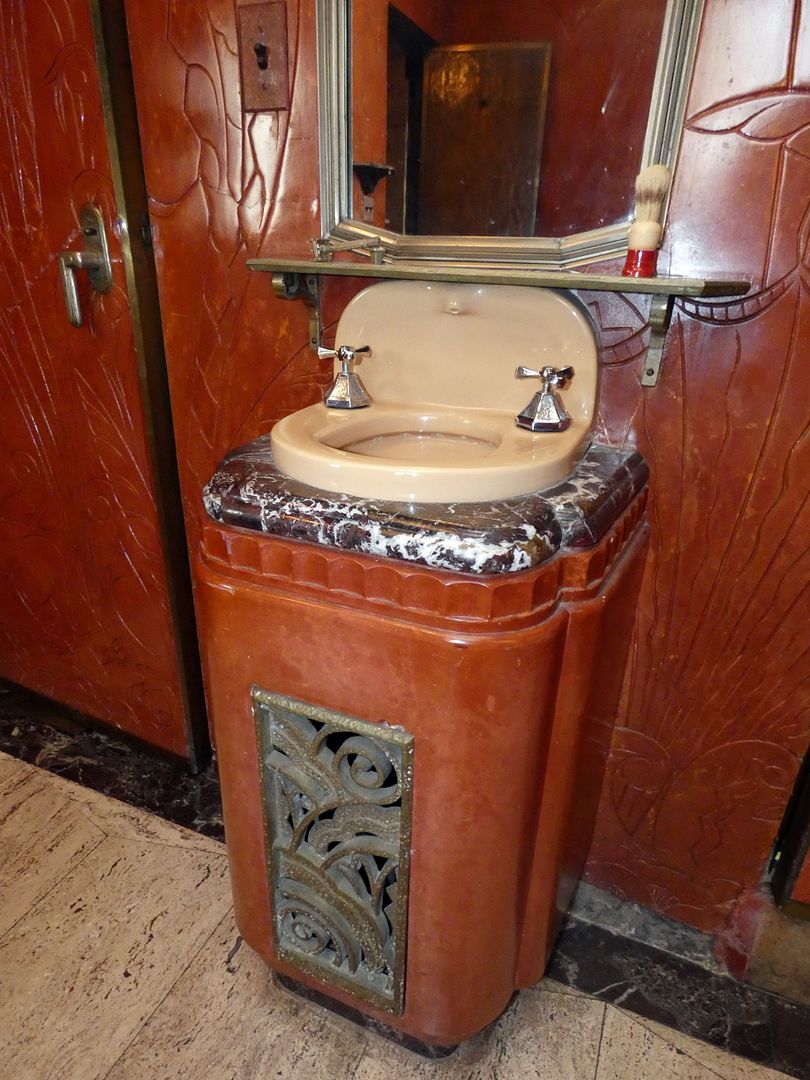 The second was for shaving.
There's a toilet hidden behind a mirrored closet door and, as our tour guide would reveal by opening yet another door...
...a tiled steam and massage room.
Don't forget the tiled bidet room. (The bidet, unfortunately, no longer works.)
Down an impossibly long, starry sky ceilinged hallway...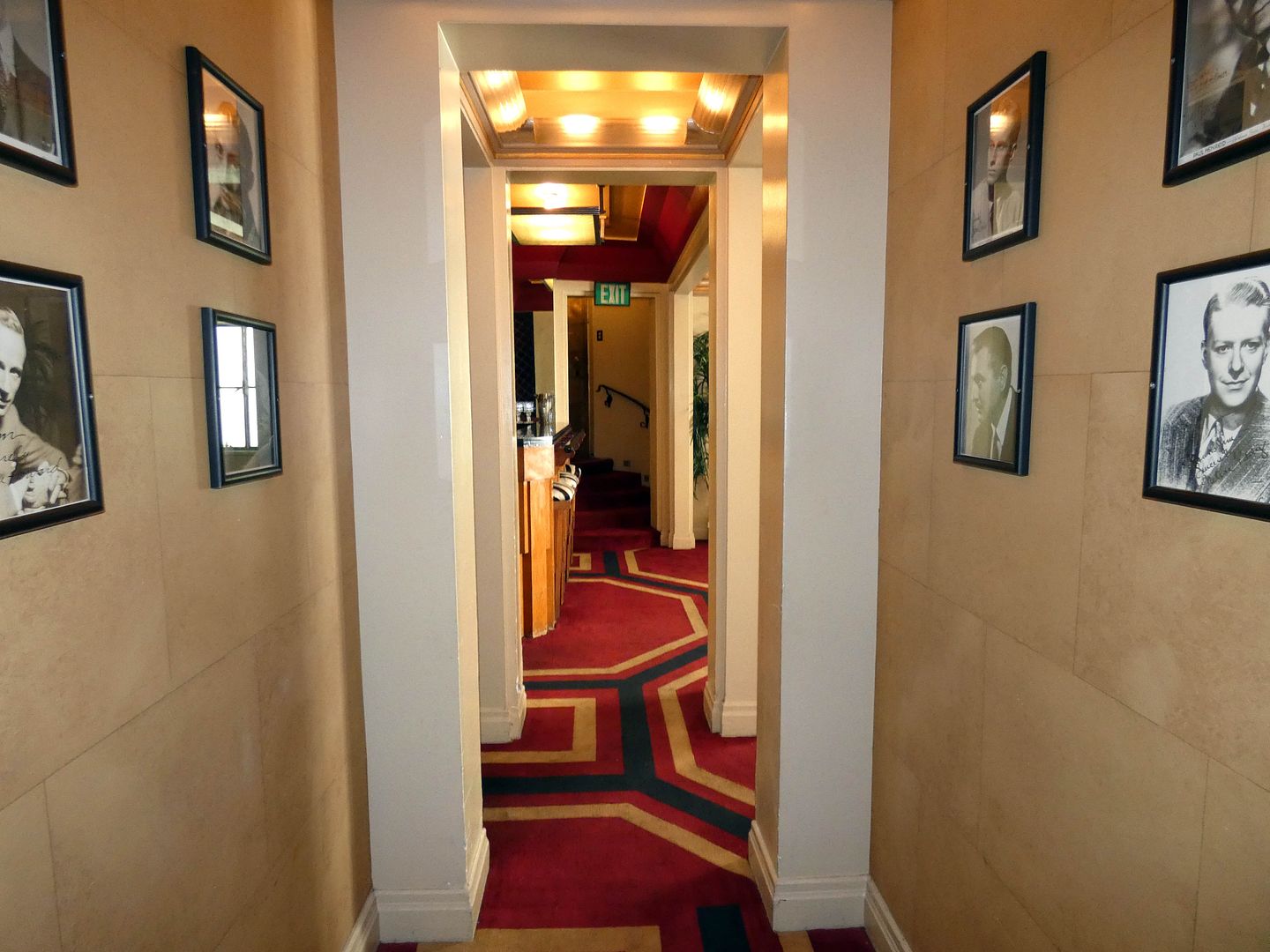 ...there lies another delightful surprise of the penthouse.
Though the building was completed in 1928 during Prohibition, Oviatt had commissioned an elaborate, custom bar to be built—and it still stands (restored) in excellent condition.
Oviatt had used his retail connections to import alcohol into the United States legally—and even during Prohibition, it was never illegal to consume the hooch. Only to buy or sell it.
So that certainly made Oviatt a popular party host—though I would imagine the crowds must've kept his wife Mary up at night, as her (separate) bedroom was just off the bar area.
Oviatt's parties were legendary—and long. Female guests would bring a change of clothes and would go from day to night in a tiny dressing room where, when pulled out, a sliding drawer offered cocaine-cutting mirror.
In the same room, there's also a hidden sink and a toilet tucked away under a cushioned seat.
The upholstery isn't original—it's maybe only 30 years old—but the interior designers chose the pattern well, and it's still in excellent condition.
Oviatt's penthouse also included a separate office area, where James would conduct some of his business as one of the top merchants in Los Angeles.
Unfortunately, this is also where he composed
some of his rantings
, which don't reflect very well on him now—and didn't then, either. (He was a longtime member of The John Birch Society, for starters.)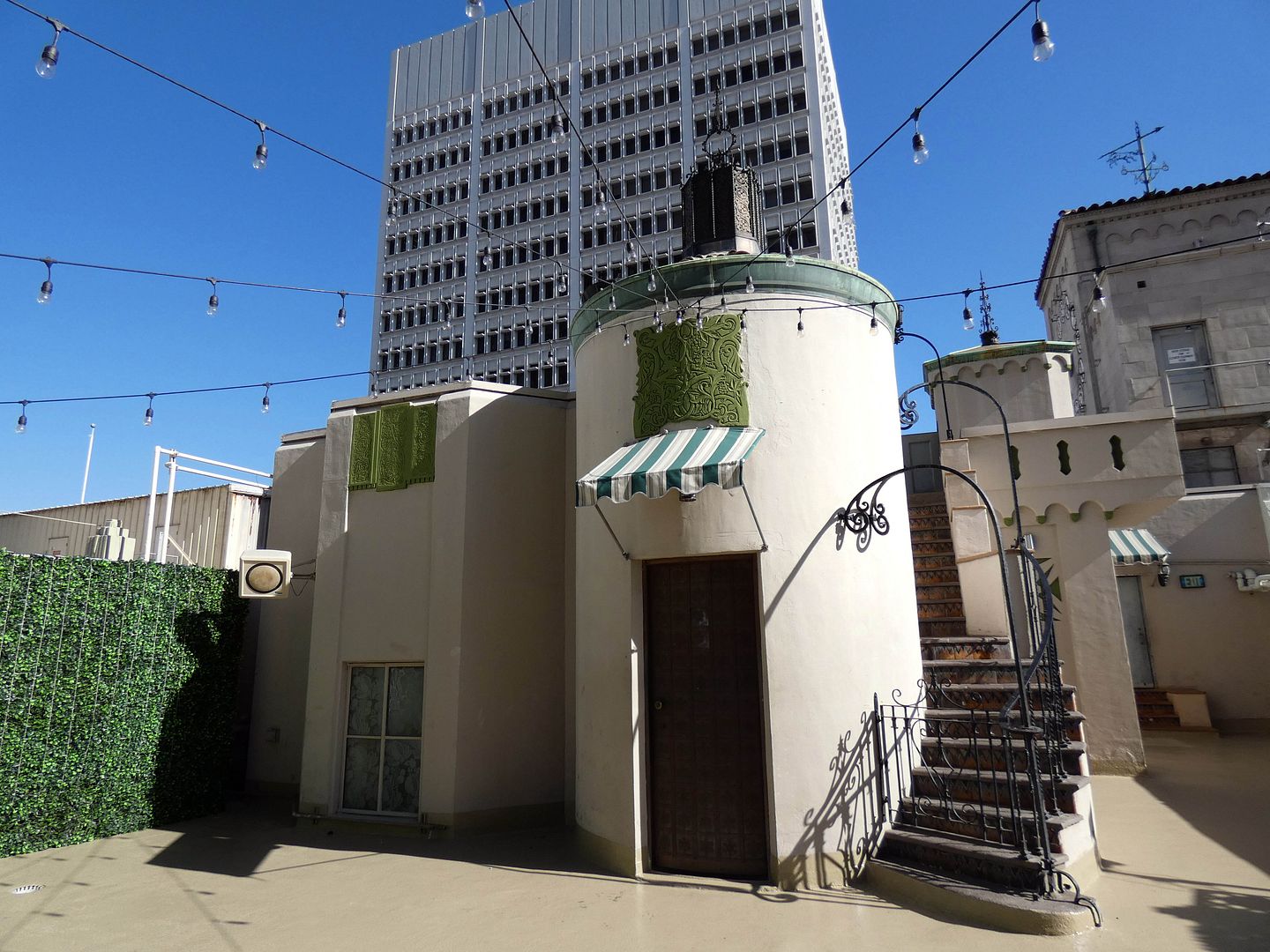 I think most people prefer to remember his legacy for his work as a clothier and thrower of epic parties...
...which used to spill out onto an outdoor patio.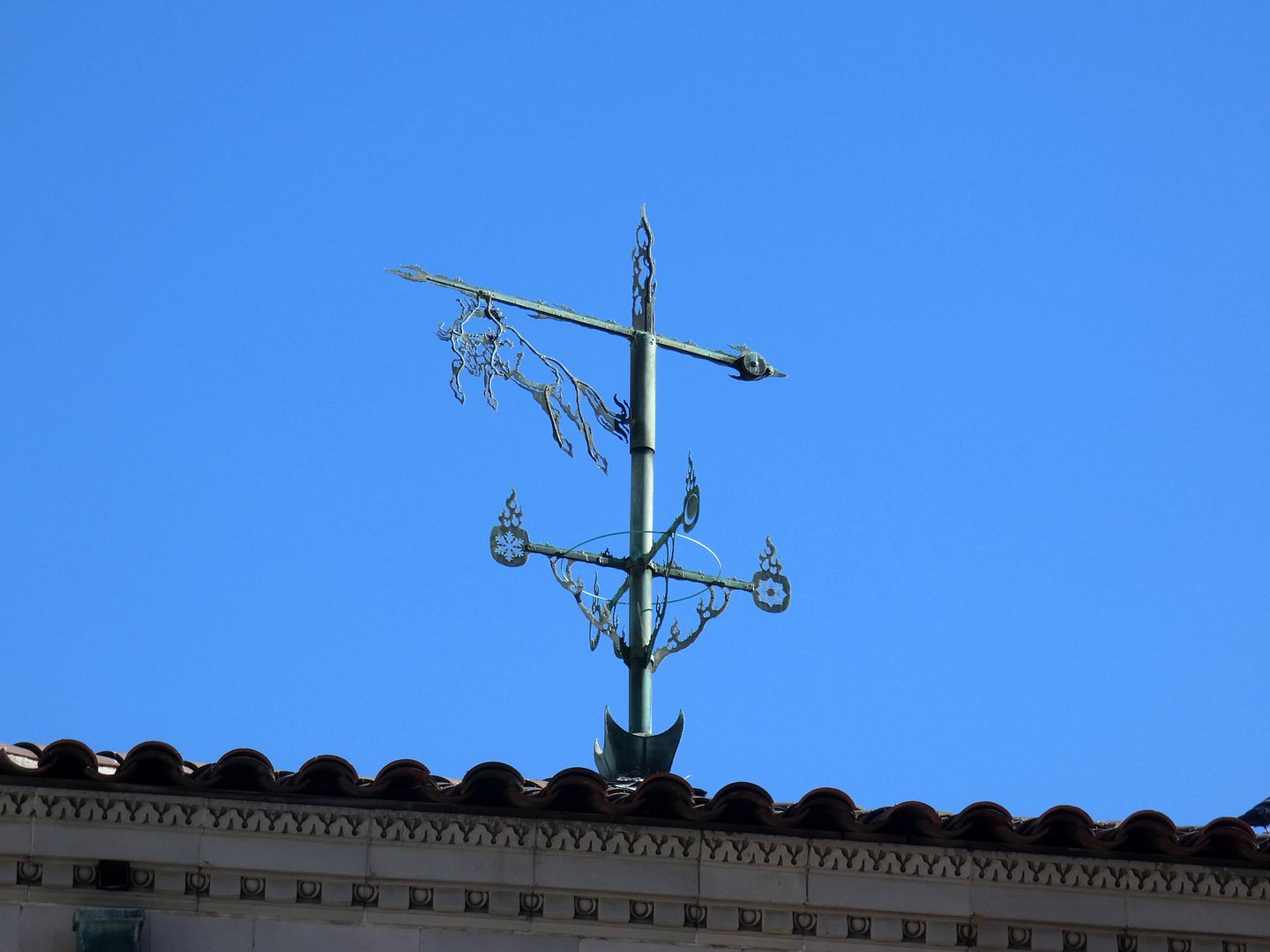 From up there, you can see why Oviatt used to call his penthouse his "castle in the air" (at least, according to the
Los Angeles Times
). You used to be able to see the ocean from up there.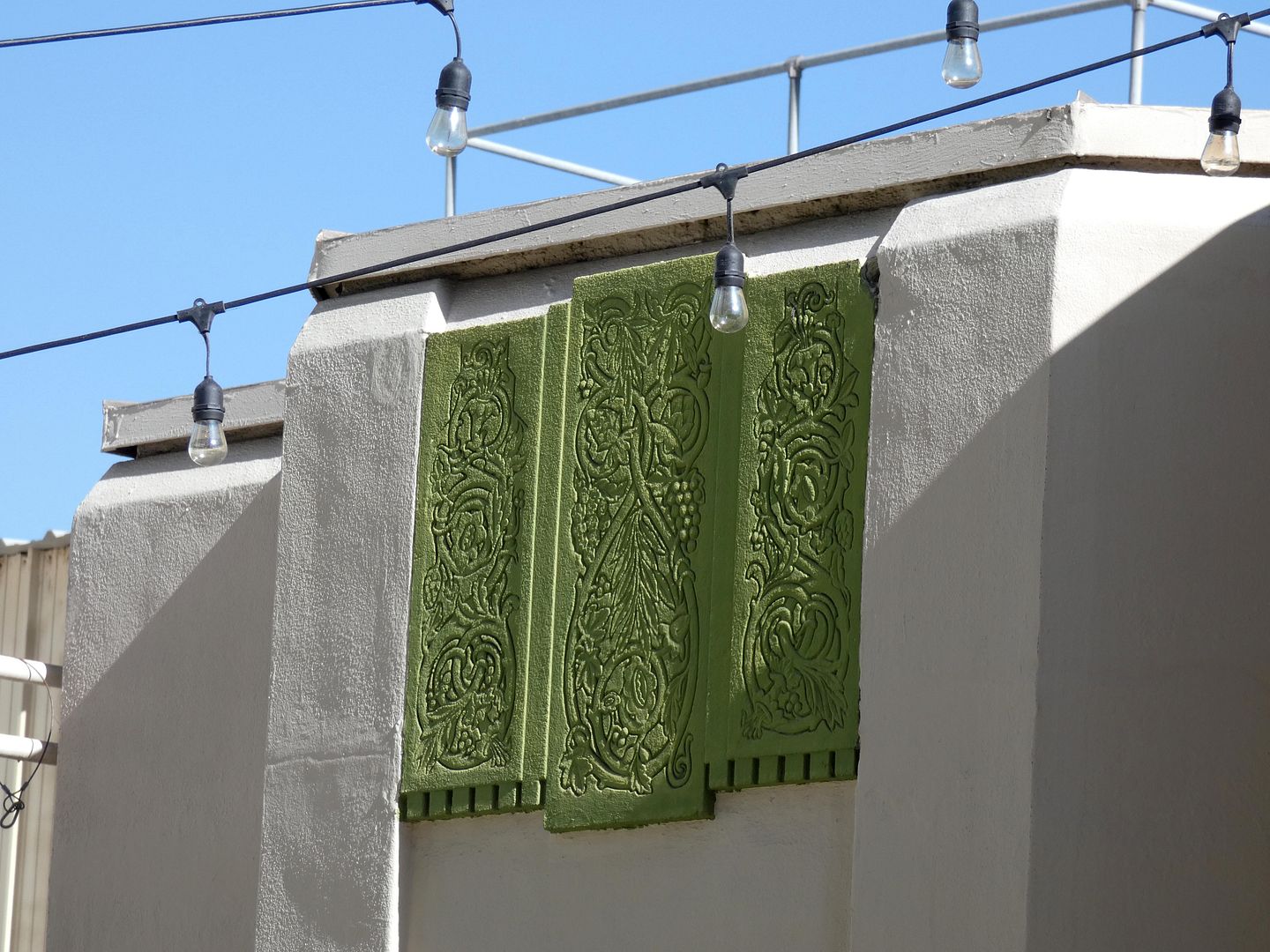 Back in 1983, they had enough information to add the Oviatt Building to the
National Register of Historic Places
. (It had been previously designated a Los Angeles landmark as well.) But as new information is learned, restoration efforts continue.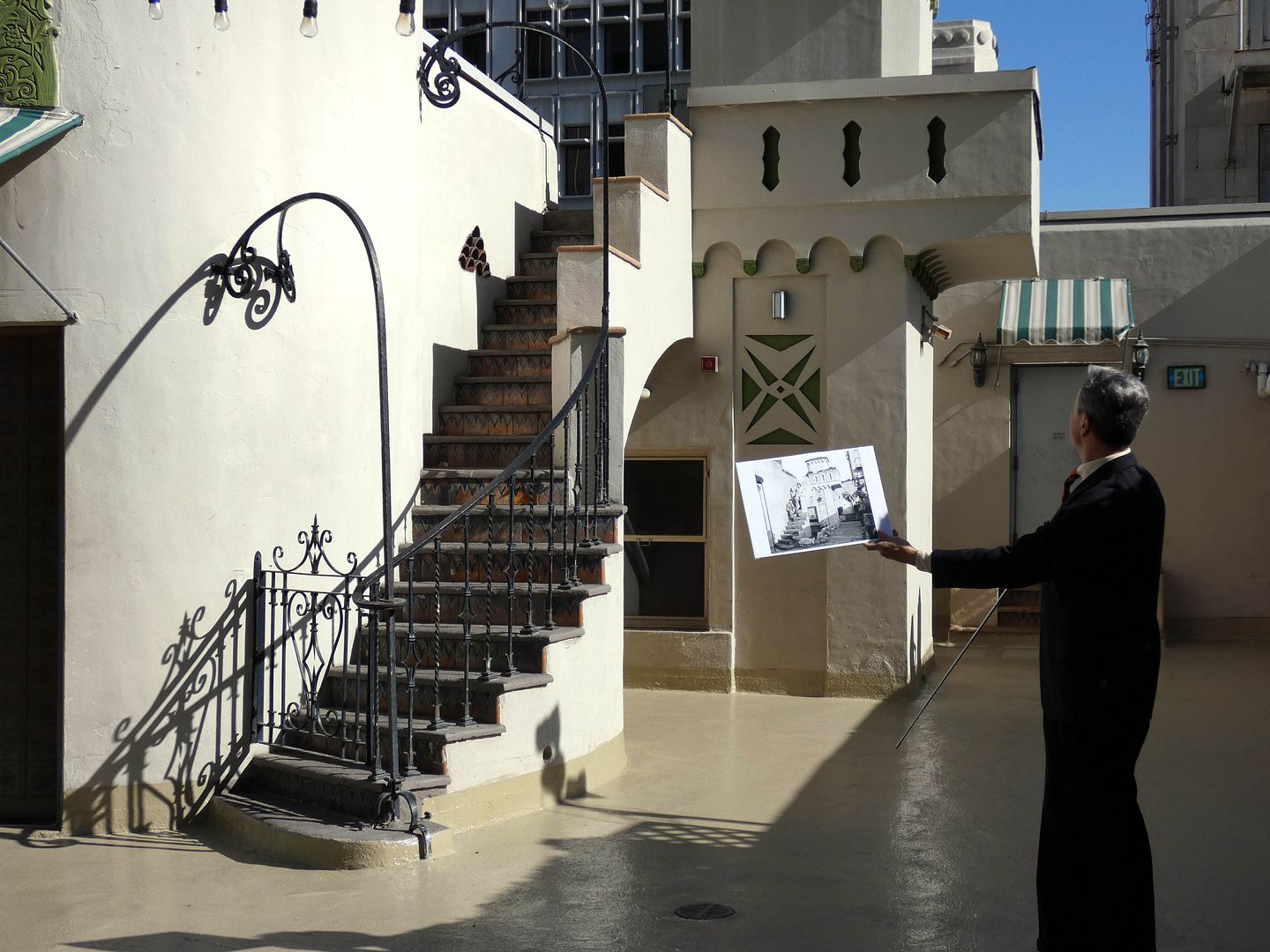 Historic
photographs
of the Penthouse have actually been hard to come by— emerging only as a result of extensive and arduous research.
I don't want to give away too much of the story—or the details of the architecture—because you really must
see it in person
if you can.
If you can't, check out the documentary The Oviatt Building, co-produced by Marc Chevalier (my tour guide). Preview is above.
Related Posts: