I'm almost always up for visiting any kind of car museum—and in Palm Springs last week, that meant making a stop to the National Museum of Golf Cars.
Originally established in 2018 and now located inside the La Quinta, CA location of Cart Mart (its sixth, open since 2020), the mini-museum chronicles the evolution of the "golf buggy" to the "golf cart" and today's "golf car."
The 1959 Turf Rider IV at the museum entrance once belonged to President Dwight D. Eisenhower...
...who kept several golf carts on his Pennsylvania farm (adjacent to the Gettysburg battlefield) to run inspections and to bring visitors on tours of the property.
That three-wheeled model—manufactured by Hawthorn-based Ride Around Manufacturing—was incredibly popular in 1950s- and 1960s-era Hollywood, appearing in several films and TV episodes, including Bewitched and I Love Lucy.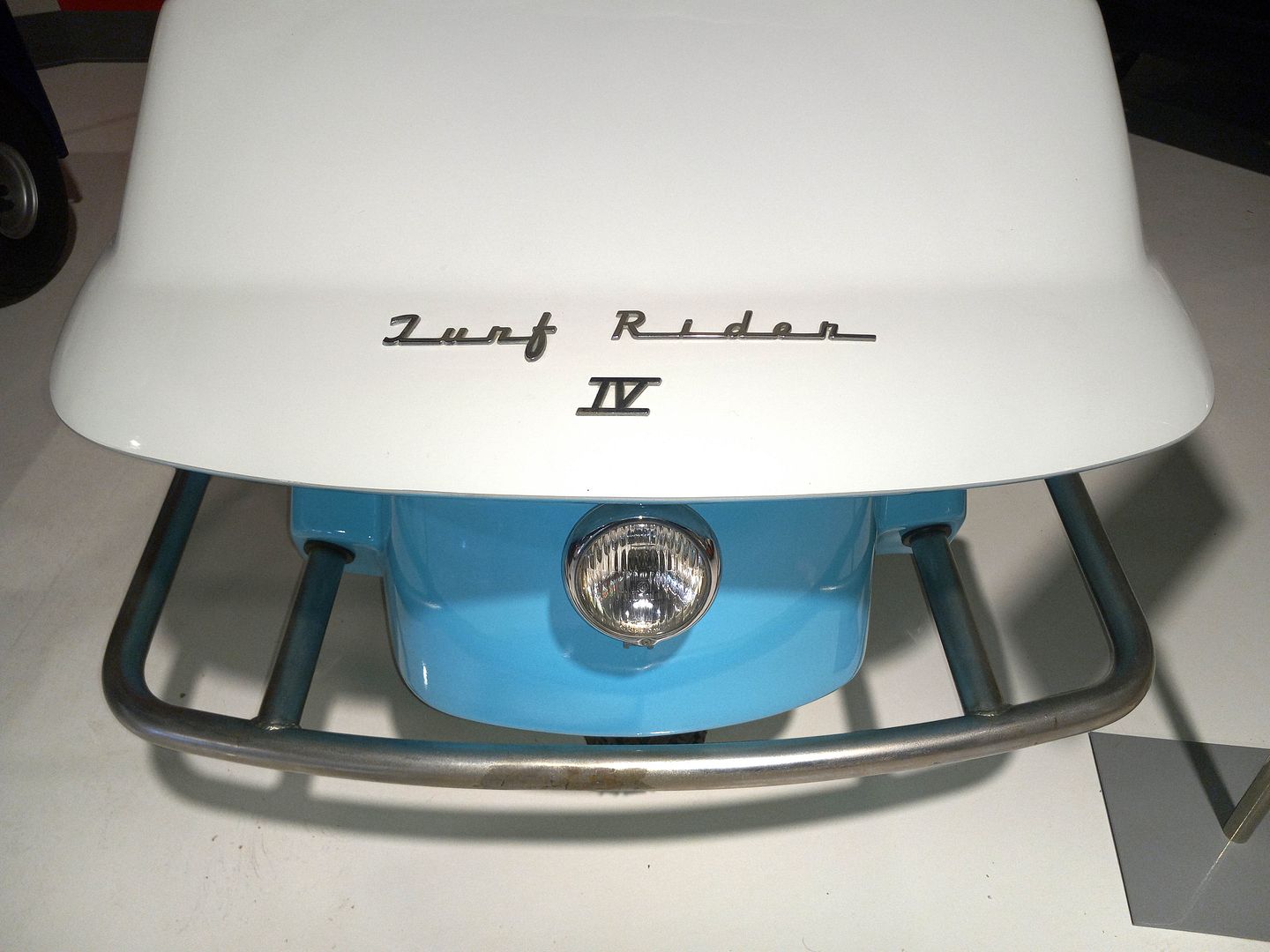 This baby blue-and-white golf cart has been featured in the Palm Desert Golf Cart Parade...
...and features tiller steering like you'd find in a boat, which means you steer in the opposite direction you want to go towards.
The 1982 Yamaha G1 36-volt golf car on display at the museum was the electric follow-up to a gas-powered version that had been originally released in 1979.
The Georgia-based Yamaha Golf-Carn Company is still making both gas and electric golf carts today...
...but discontinued its "Sun Classic" line of cars in 1995.
The Sun Classics had first debuted in 1986—and looked much more like a car than a cart.
The circa 1974 Electra King is a three-wheeled, two-seater micro-car designed for commuting in an era of gas rationing—and, at one point, was even allowed to be driven on sidewalks.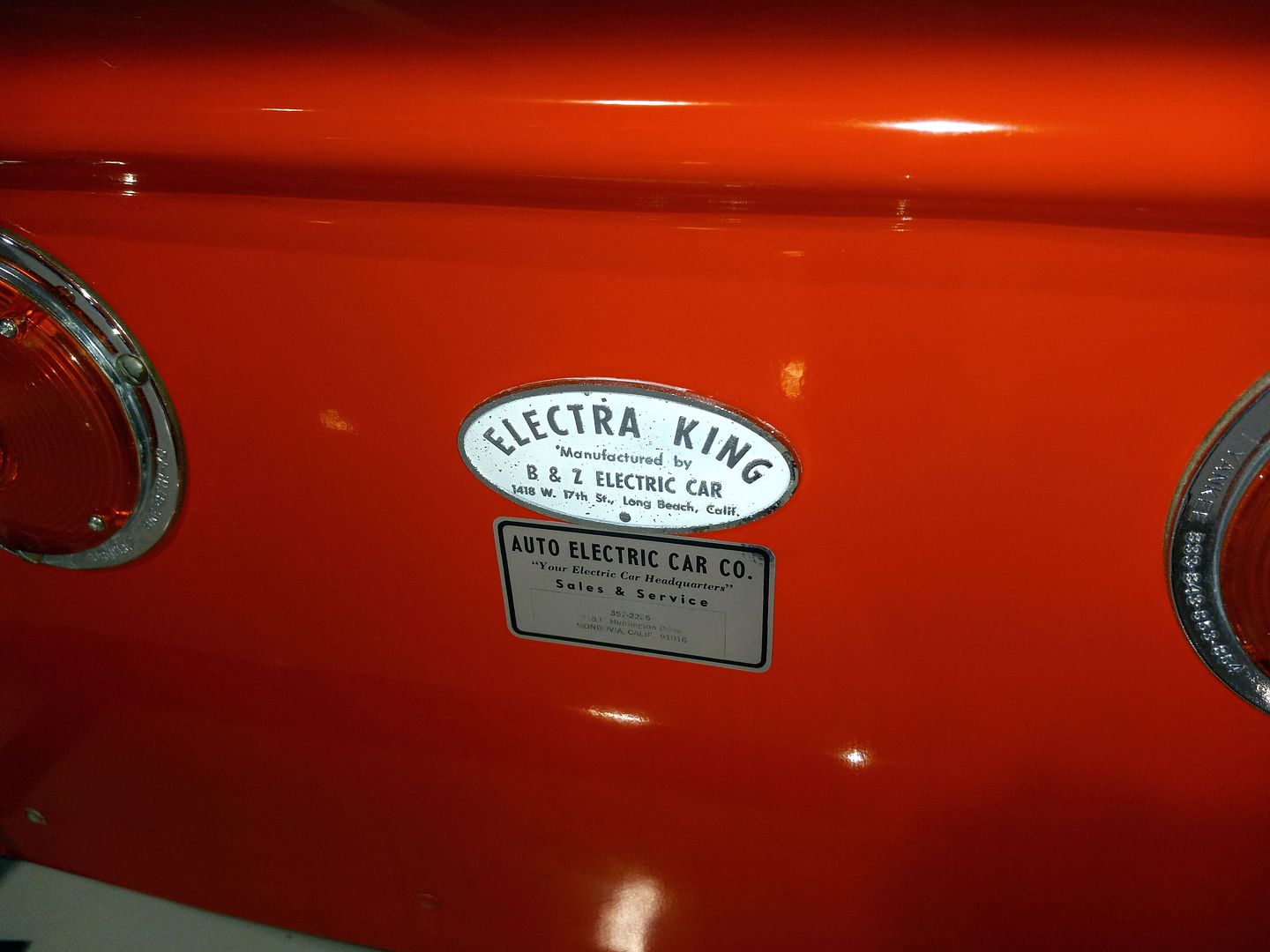 It was manufactured by B&Z Electric Car in Long Beach but was eventually replaced by four-wheel versions that could go a little faster than 30 mph and actually hit the highway.
Another early predecessor to today's electric car was the Trident, manufactured by the still-operating Taylor-Dunn in Anaheim, California in 1959 (and discontinued in 1963). This micro-car was originally designed for farm work and not city driving—but it offered the incredibly fashionable "Look of Tomorrow."
The museum's "Electric Shopper" (circa 1960, I think) by Long Beach's Electric Car Company of California has been completely restored and repainted in a red-and-black hot rod style—turning it into a pretty badass "grocery getter"! Designed as a "pleasure car" competitor to the Trident, this thing could travel 30 miles on a single battery charge, operating for just a penny a day.
The Royal Ride was the Rolls Royce of the golf course—with real automotive glass in its windshield and true automotive headlights, plus that classic luxury car style that would show all the other golfers how you're rolling deep.
It was made by the now-defunct Elmco, founded by Elmo Miener out of Illinois.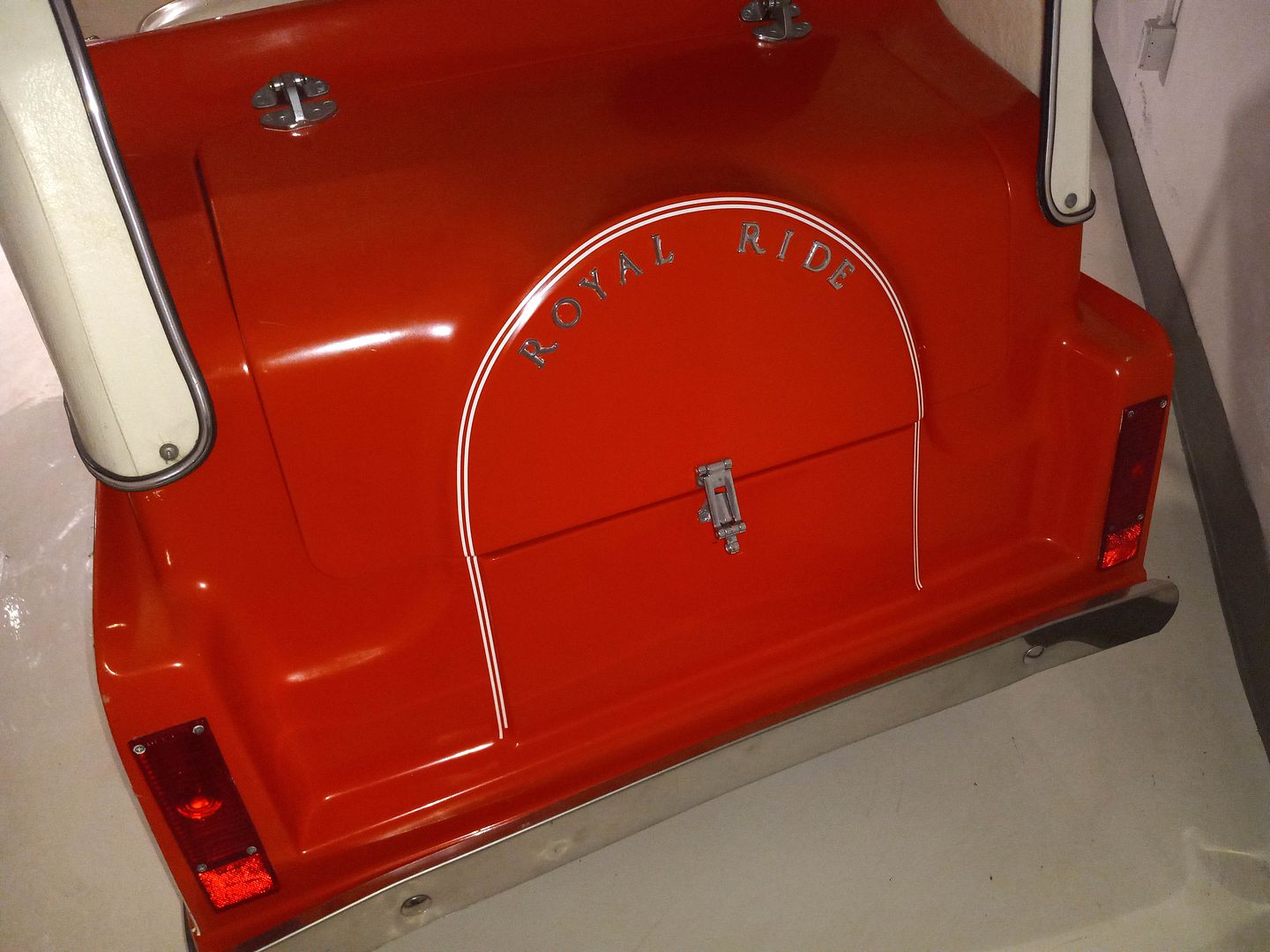 And it was widely considered the "King of Golf Carts."
The 1979 Tee Bird is an example of the last of Taylor-Dunn's golf carts, as it was discontinued in 1985.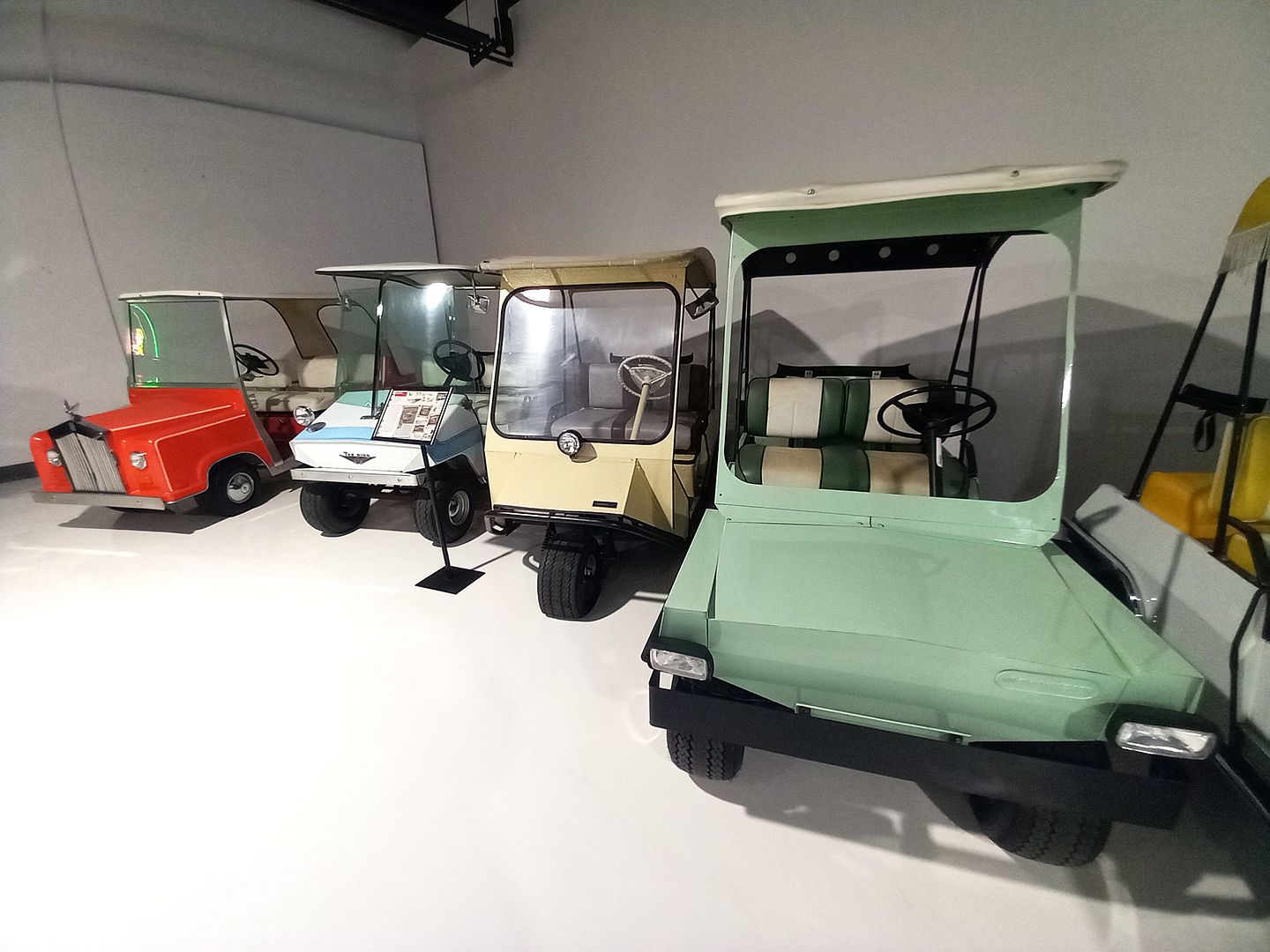 One of the most prominent early golf cart companies was the Long Beach-based Marketeer, which began as an errand vehicle (literally for making runs to the market) but expanded to other small-car uses, eventually moving to Redlands, CA and later being acquired by Westinghouse.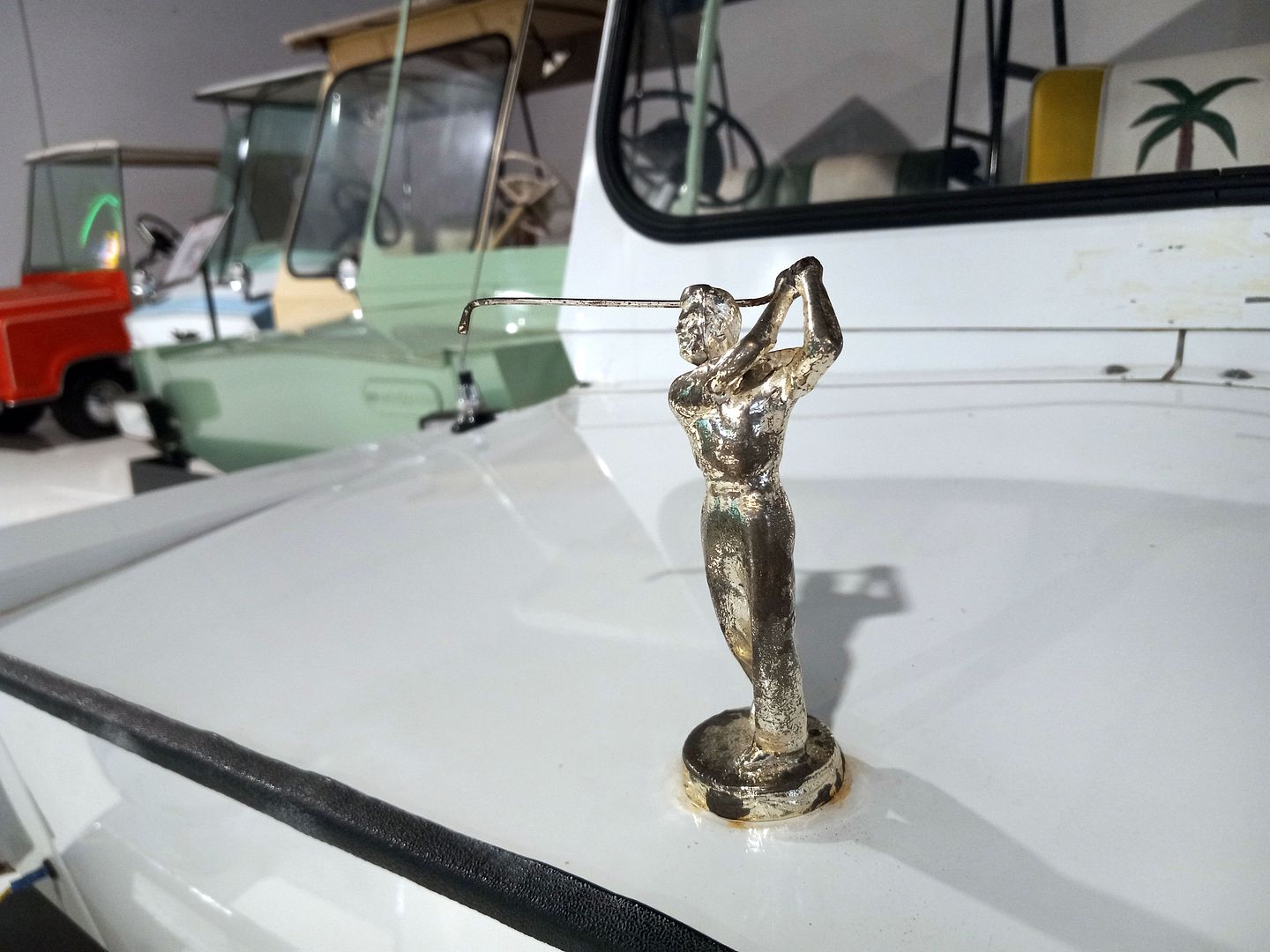 In fact, it was two Marketeers that helped begin the collection of the National Museum of Golf Cars...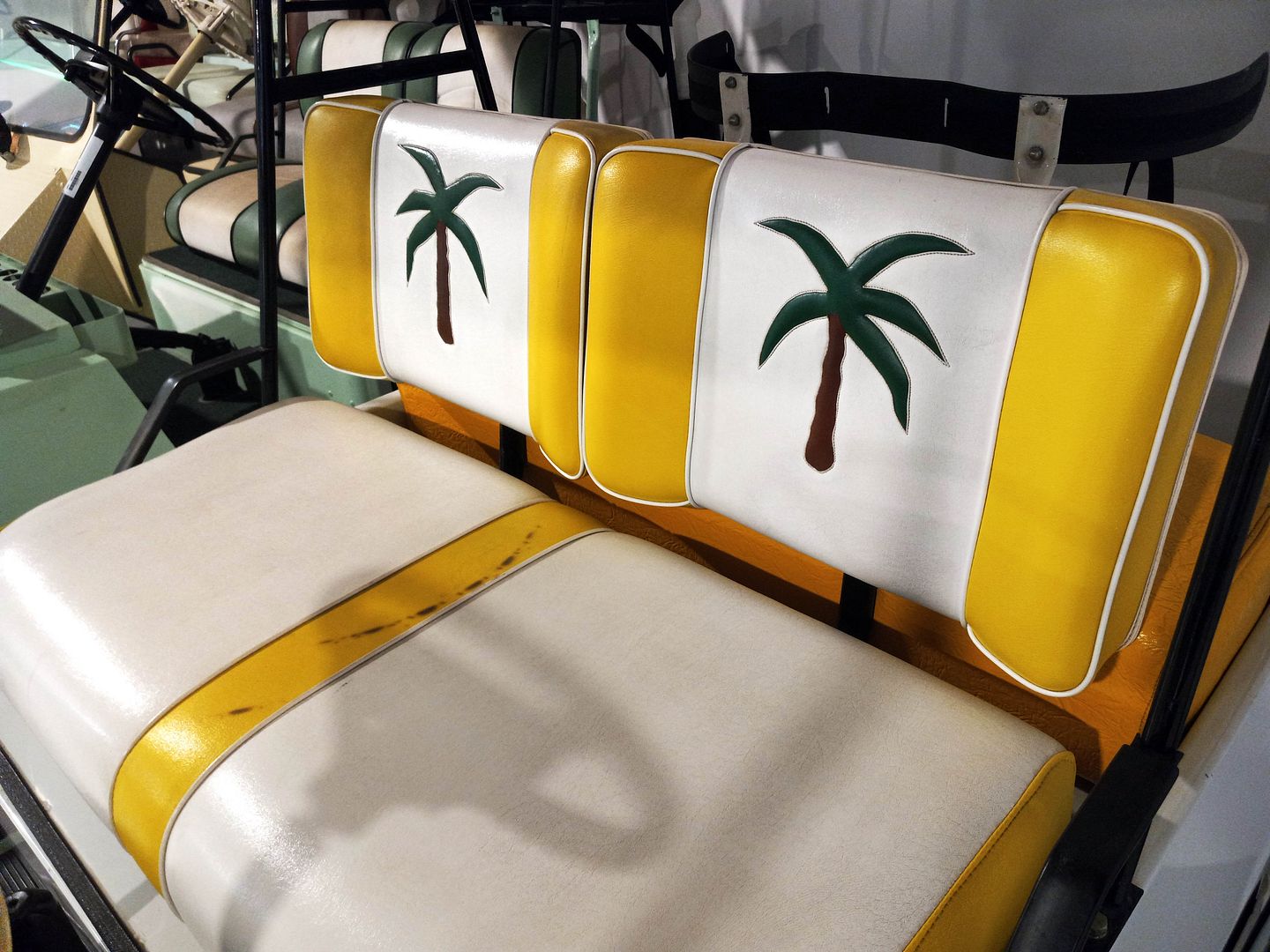 ...including the one with palm tree-embellished seats and a fringed canopy.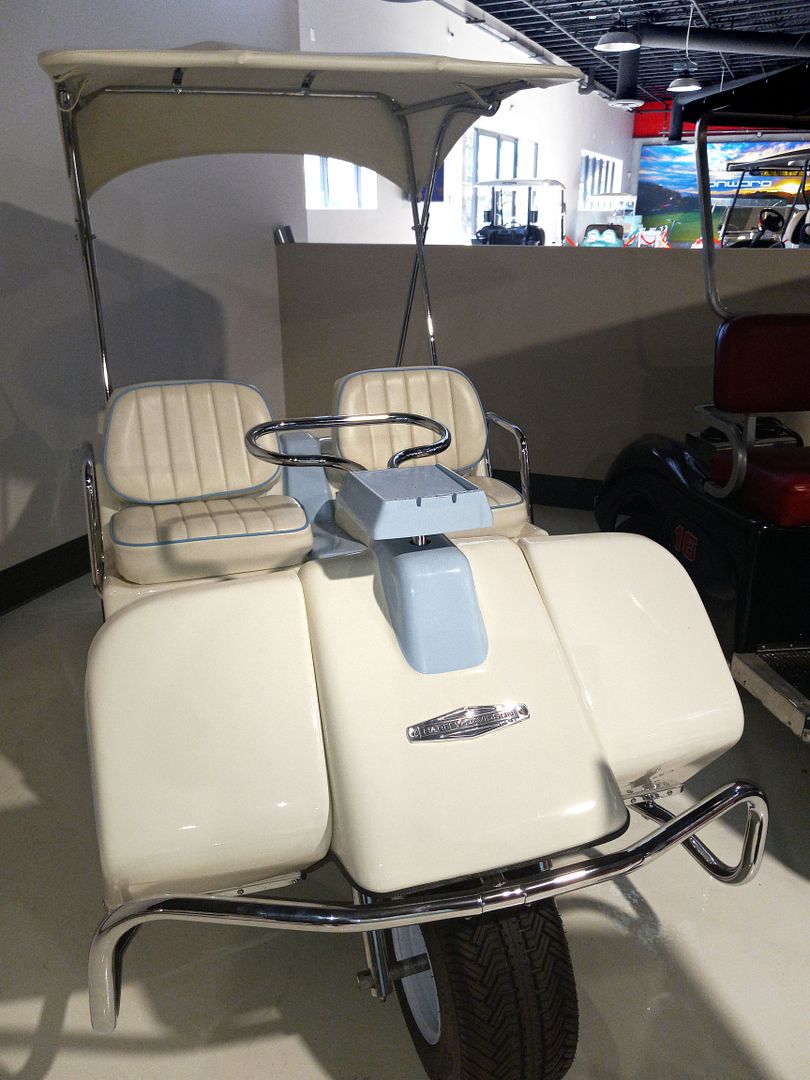 Believe it or not, motorcycle manufacturers even got into the golf cart game—including Harley Davidson, which entered the market in 1963 with gas-powered three-wheelers. The museum's 1971 Model D is fully restored with a replica canopy (which was an optional add-on at the time).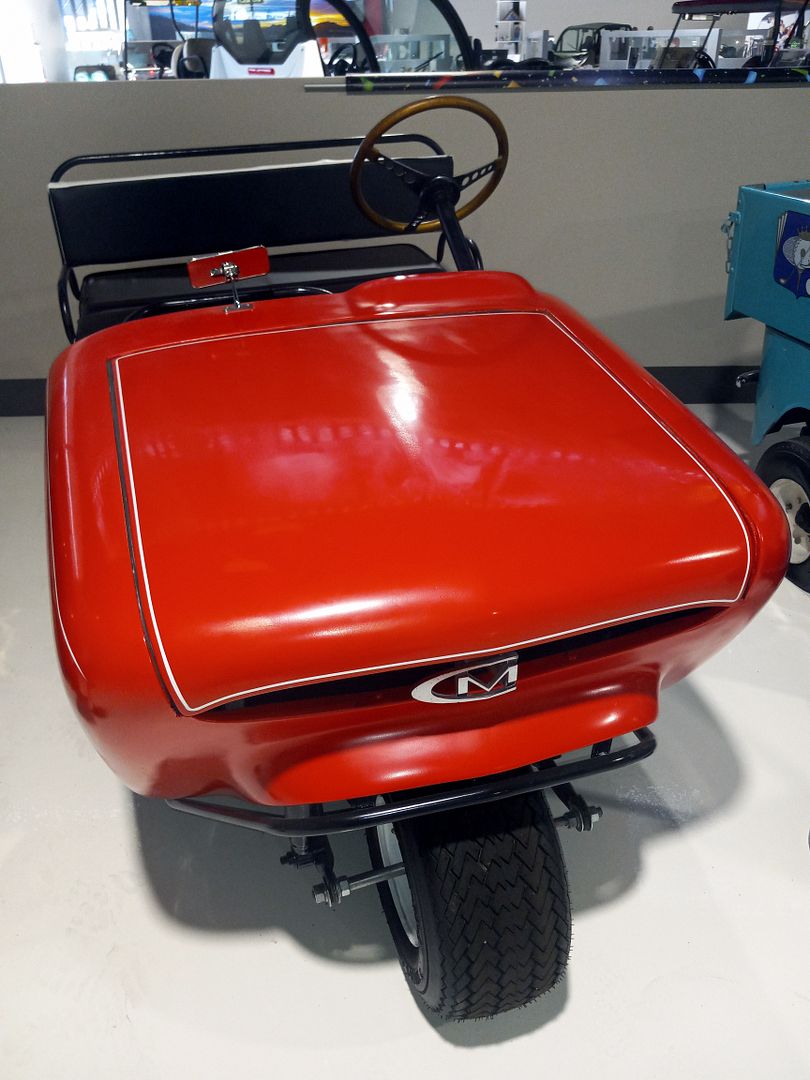 The 1961 electric Cushman "Sharknose" Golfster 735 joined the museum's collection in 2019. This style was only produced through 1965 and, with its 18HP engine, could only go about 10 mph. It was marketed as being very quiet.
The Georgia-based EZ-GO cart at the museum spent most of its life at the Indian Wells Country Club in nearby Indian Wells, CA...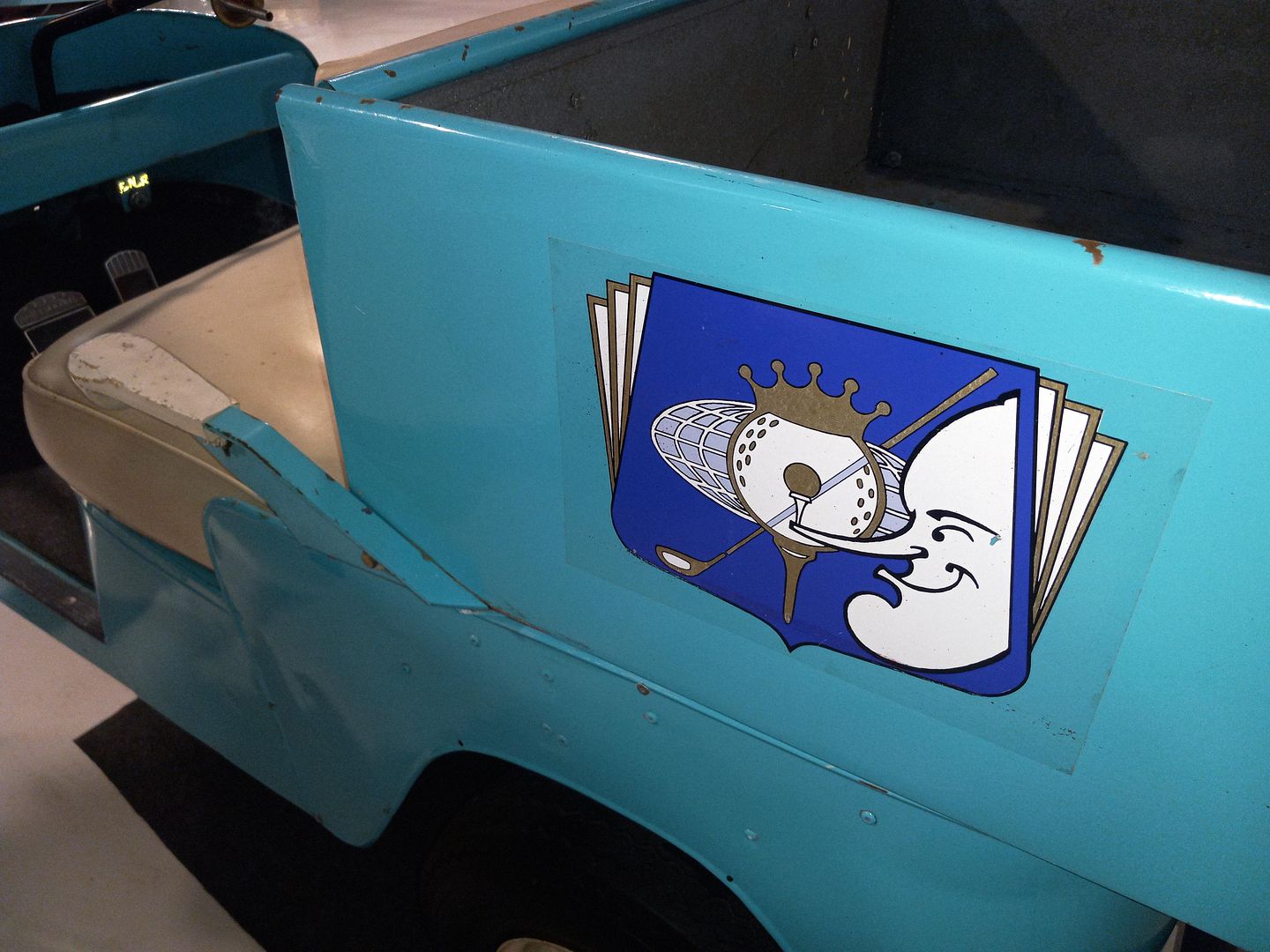 ...which helped launch the Bob Hope Desert Classic golf tournament in the 1960s.
Rounding out the museum's vintage collection is the orange and white Marketeer "Caddie Car," Model 419, from 1960.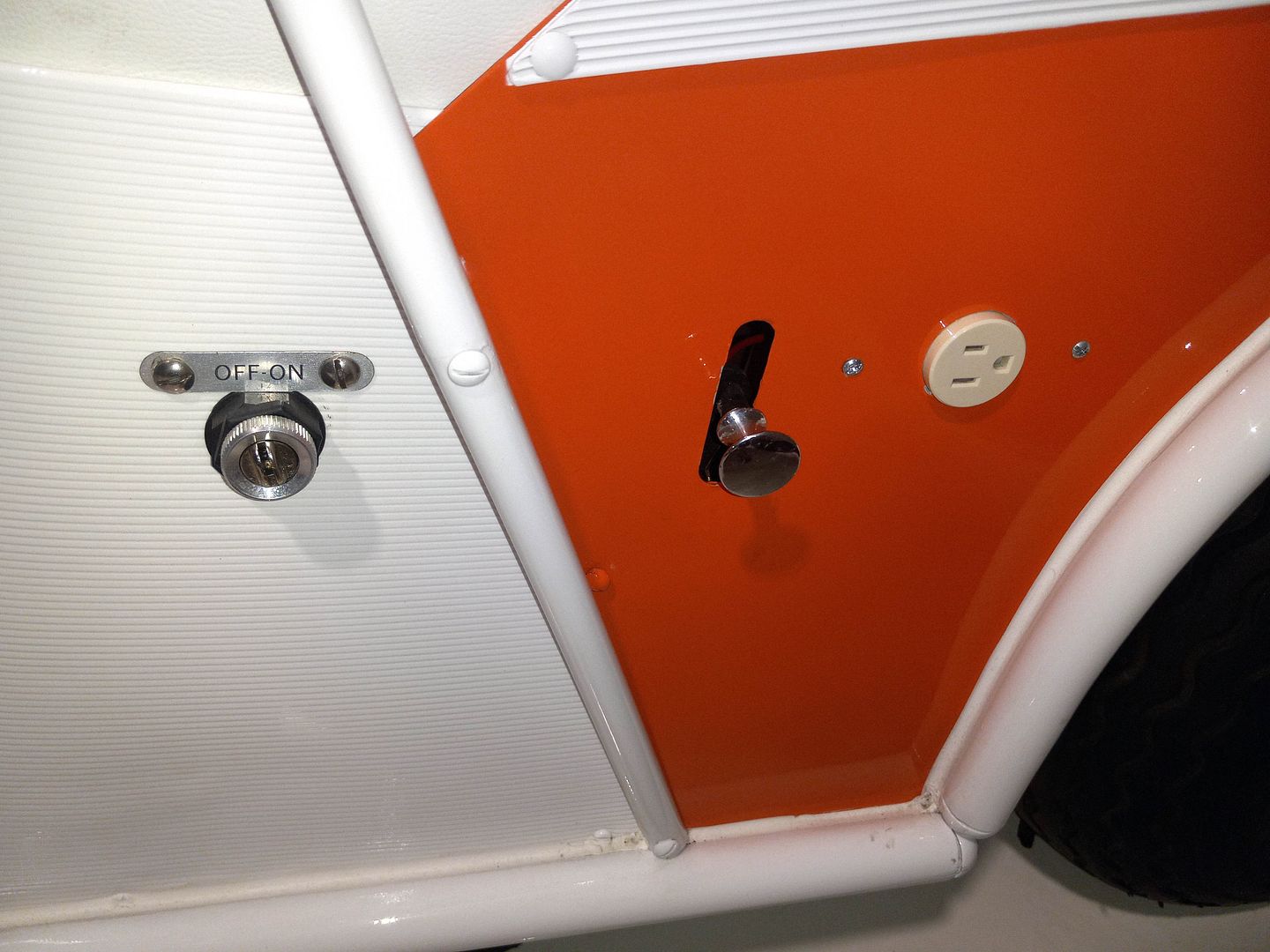 Its battery charge was powerful enough to last through 36 holes.
Cart Mart founder Ben Bellman worked at Electric Marketeer Manufacturing Company in Redlands before opening up the Southwest Marketeer dealership in El Paso, Texas in 1959.
In 1972, he moved operations to San Diego County and changed the company name to Cart Mart; in the years that followed, he expanded distribution to include many other major golf cart manufacturers and brands. So telling the history of golf carts is very much also telling the history of Cart Mart.
The La Quinta store has one more collectible golf cart on display—though it's not really an antique.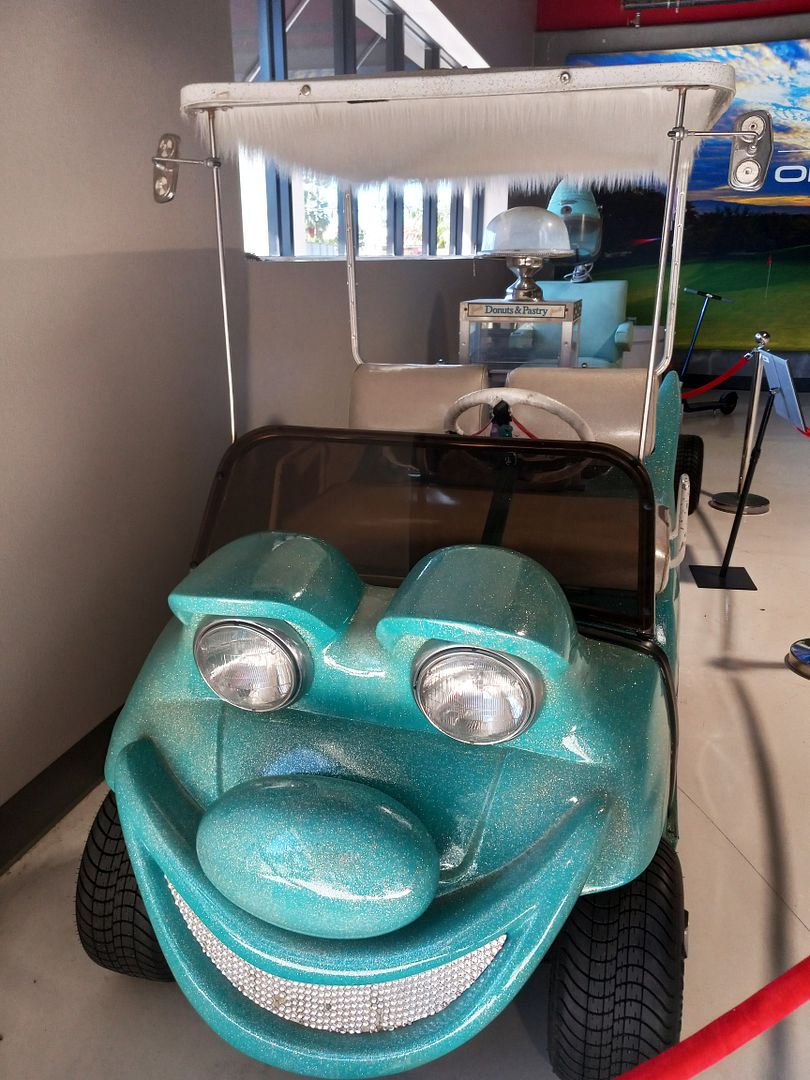 In 2007, a circa 2000 Yamaha G16 was customized by artist Kenny Scharf and transformed into "Carzy Roy-Al," a donut cart towing a hair salon chair. During his exhibition at the Paul Kasmin Gallery in NYC, Scharf would take the golf cart out on the streets on weekends and hand out free donuts.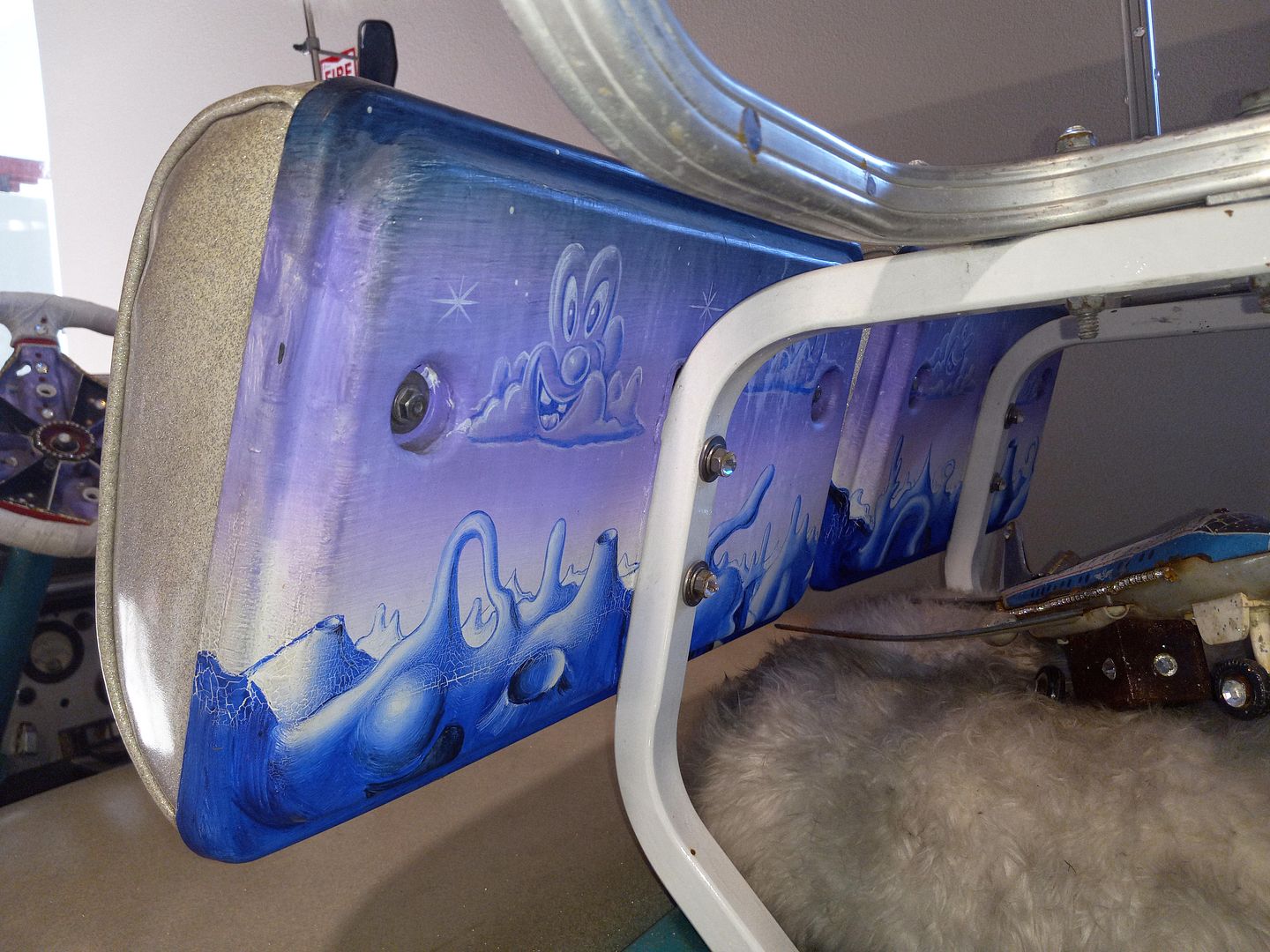 Various areas of the golf cart and trailer are tricked-out with Scharf's characteristic otherworldly landscapes and airbrush-style characters in motion.
As for me, my visit has got me wanting to live in a place where I can get around by golf cart (or, er, a "neighborhood electric vehicle")—which, as far as I know, limits my options to
Catalina Island
, the
Salton Sea
, and, of course,
Palm Springs
.