But this time around, I managed an early morning visit to the railroad museum (photo essay forthcoming)—with just enough time to visit Tom Devlin's Monster Museum before returning to Vegas.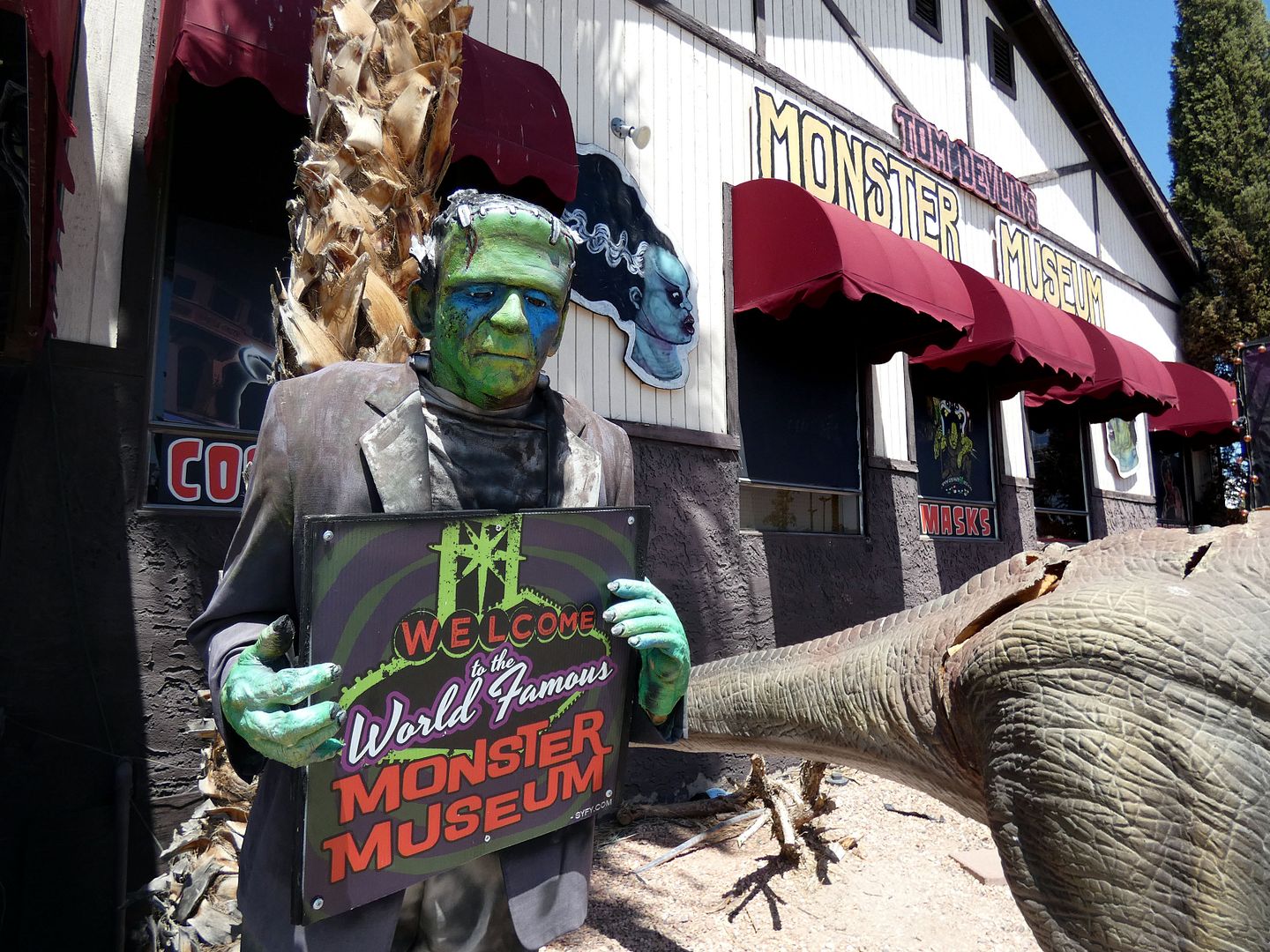 It's been open since 2017—and while Vegas has Zak Bagans' The Haunted Museum and a few haunted houses and mazes (some open all year), there's really nothing in Sin City like this.
It would be worth the 30-minute drive just to visit this museum.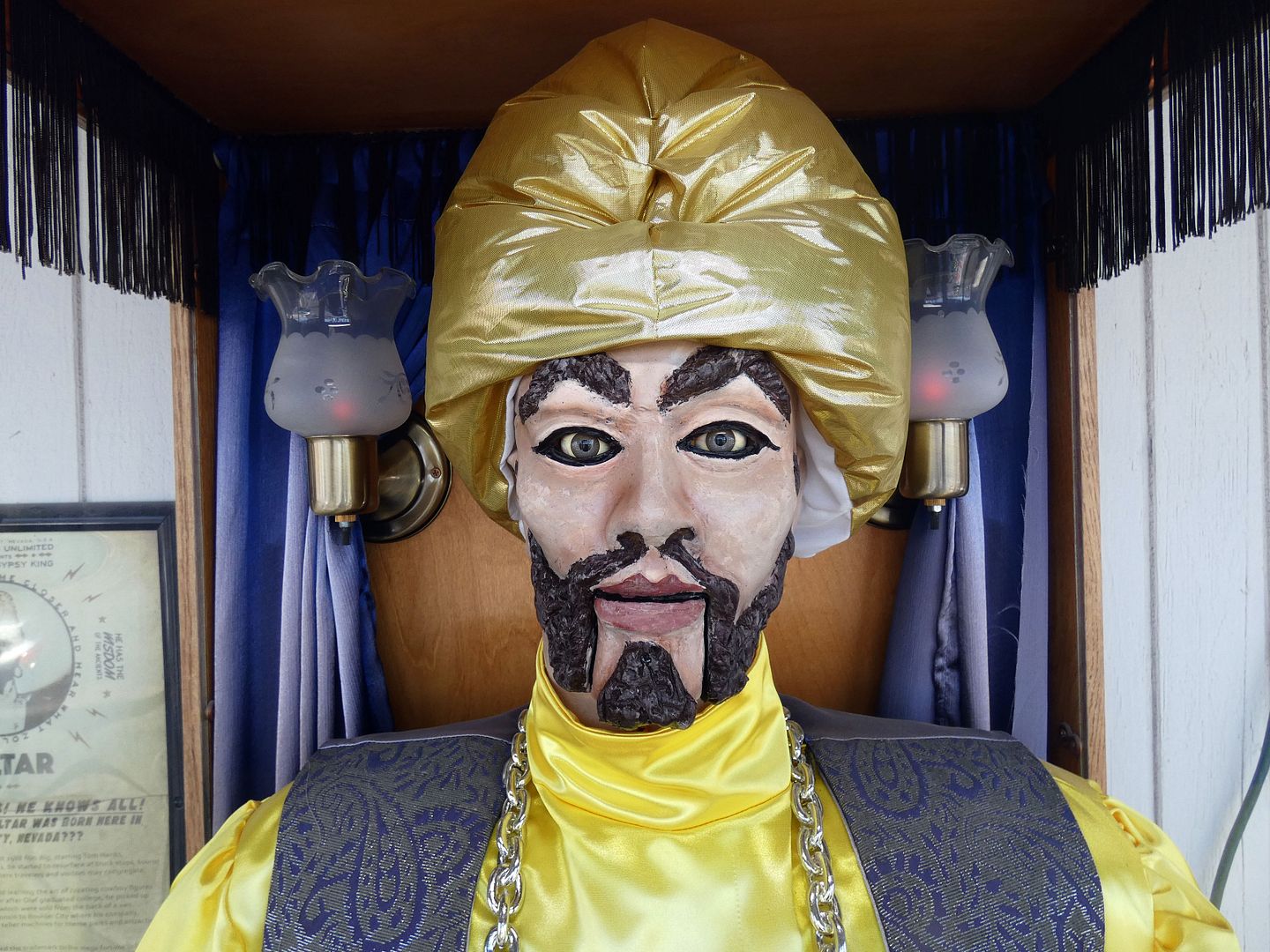 Starting on the porch, there's a particularly creepy version of a Zoltar machine (which doesn't look like one of the animatronic figures from the museum's Boulder City neighbor,
Characters Unlimited
)...
...and a zombie version of Captain America to greet you on your way in.
After you purchase your ticket, the attendant will welcome you to browse around the gift shop and outer lobby area, where you'll find the Rick Baker-designed original rod puppet of the "Spider Gremlin" from Gremlins 2: The New Batch, which is on loan from its owners (who didn't have room to store it, it's so big!).
There are a few other items of interest out there (as well as the entrance to a small screening room, where you can watch a documentary about Planet of the Apes)...
...but it's best to get to getting, and start hanging out with the creatures, cadavers, freaks, and creeps inside the museum.
While none of the monsters inside will touch you (especially if you don't touch them)...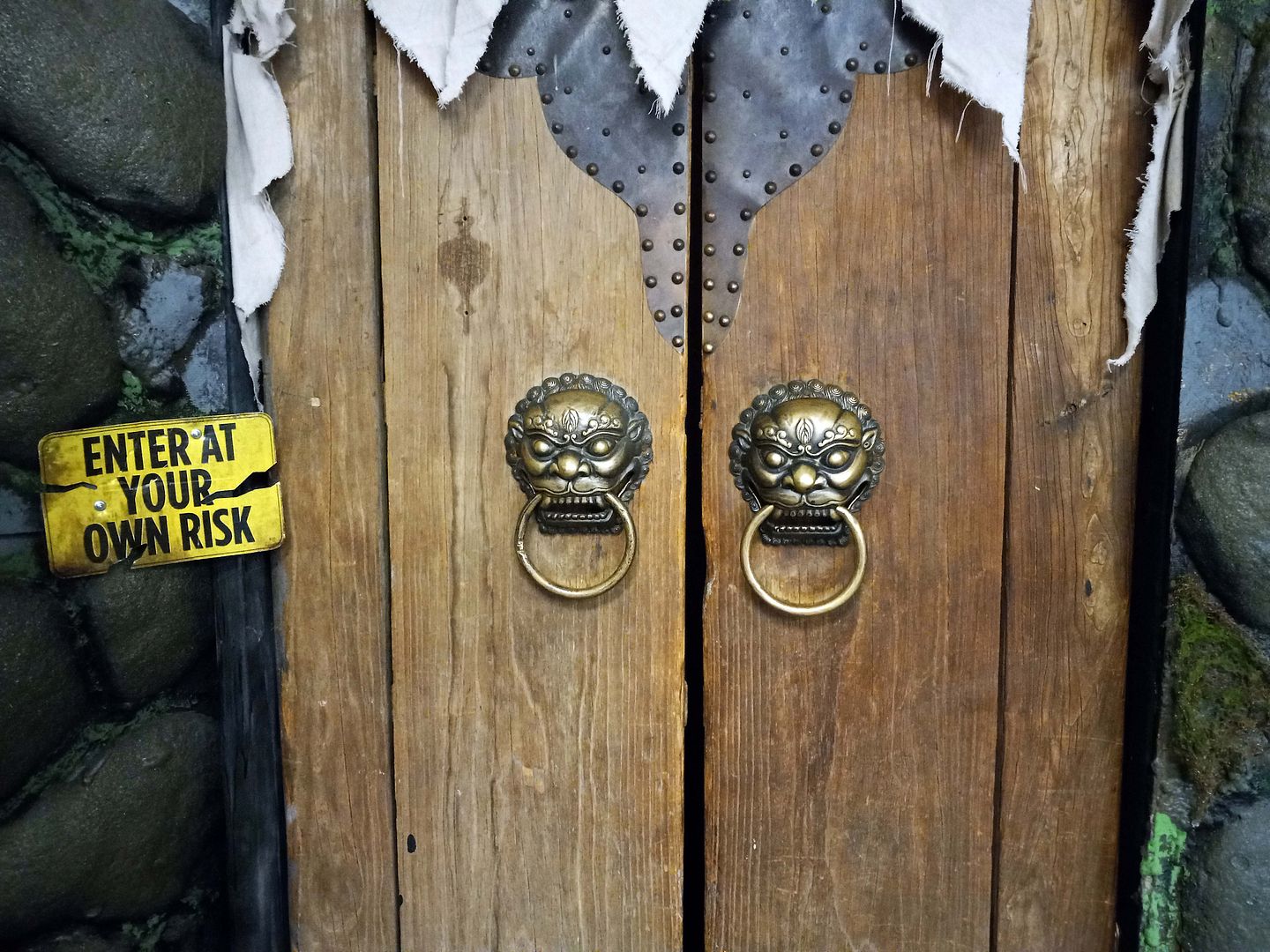 ...you still enter at your own risk.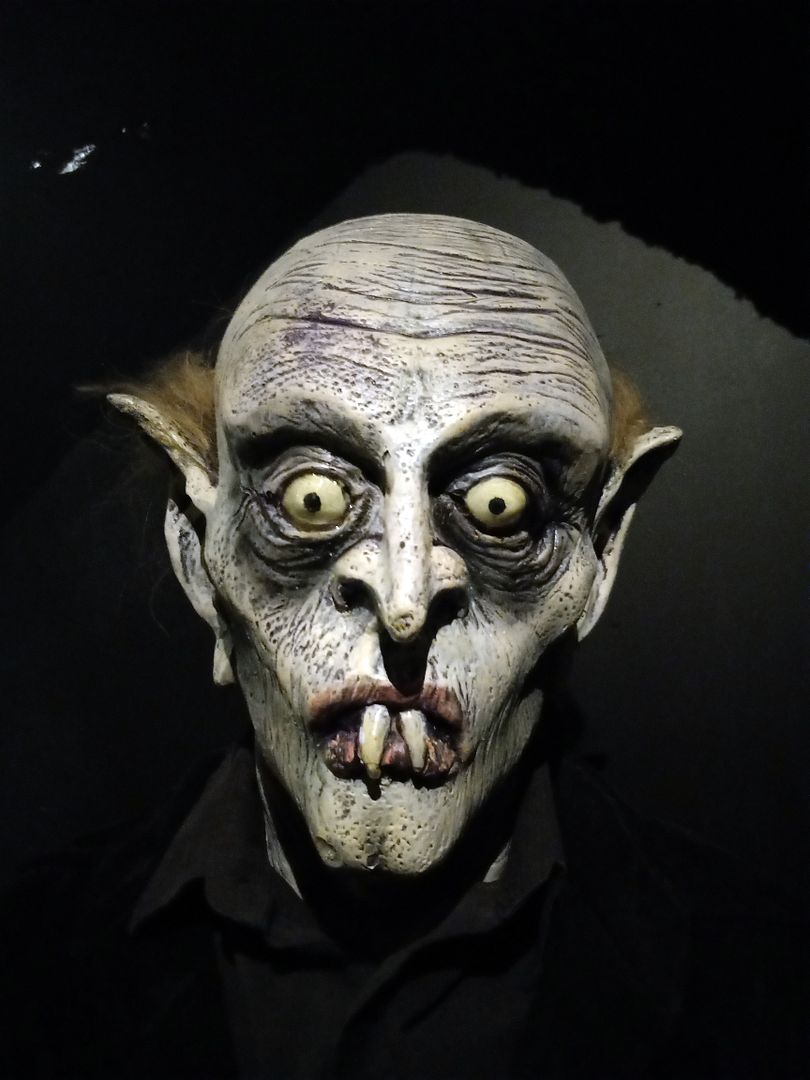 The museum begins with Tom Devlin's own tributes to horror film classics and movie monsters, like Max Schreck as Count Orlok in Nosferatu (1922)...
...and Lon Chaney as The Phantom of the Opera (1925).
There's also Devlin's version of Boris Karloff as Imhotep in The Mummy (1932), whose original look was created by legendary monster-maker Jack Pierce...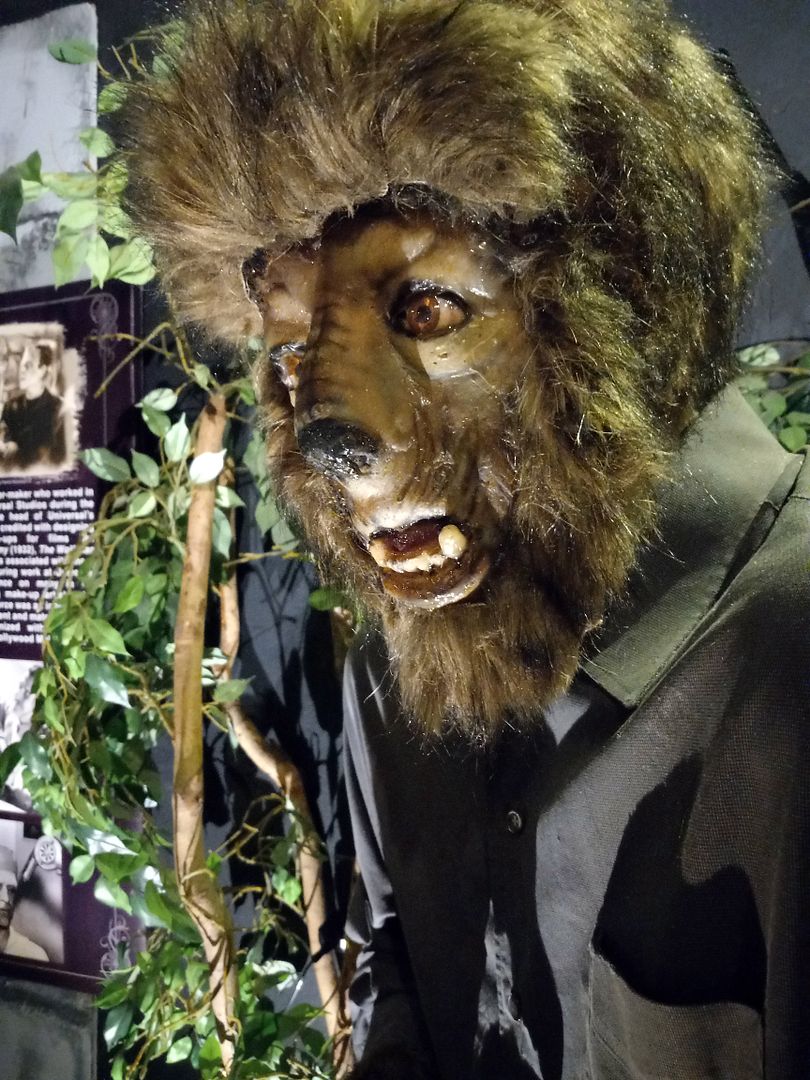 ...as was Lon Chaney Jr.'s look as Larry Talbot in The Wolf Man (1941).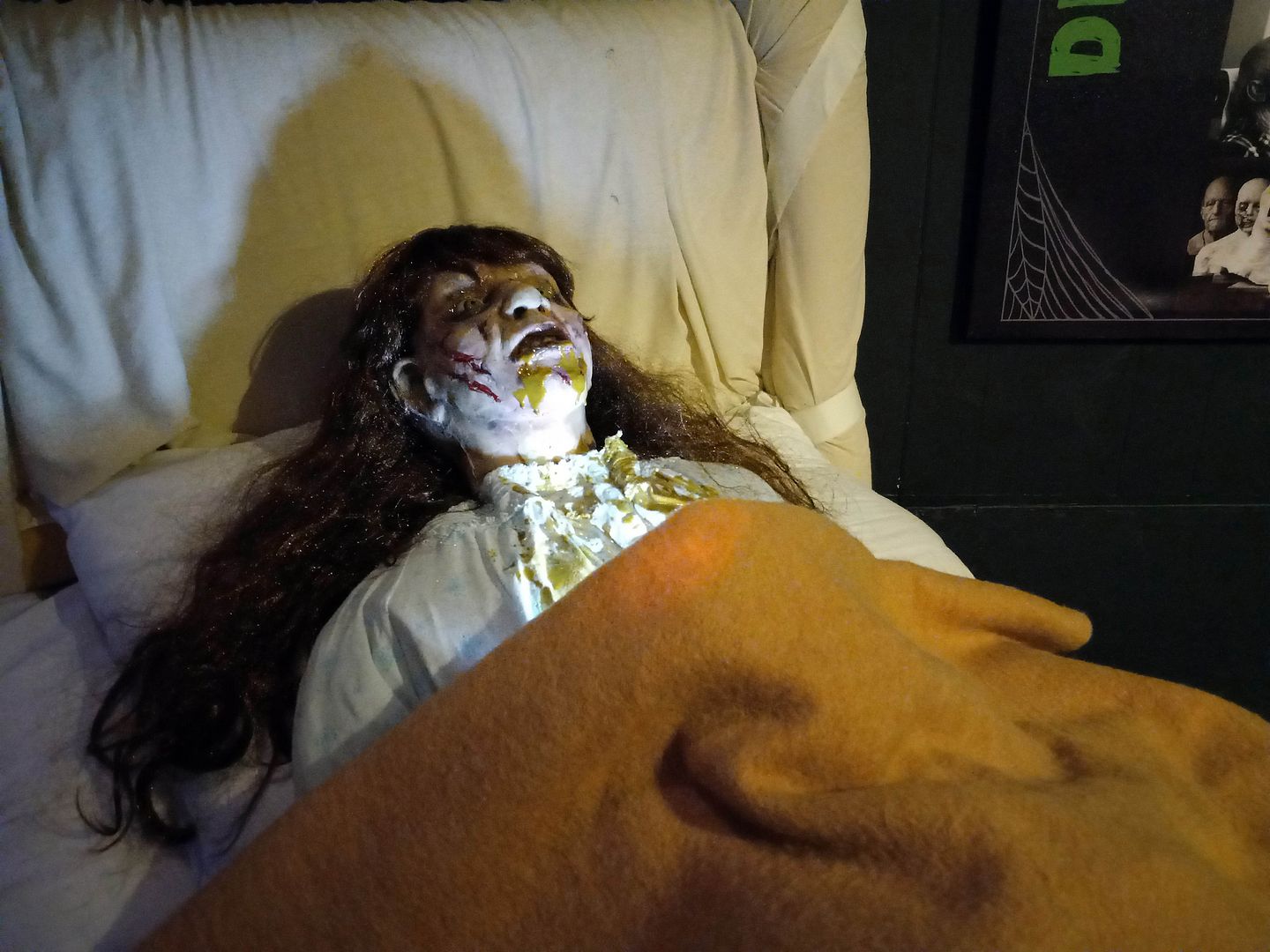 The possessed girl Regan from The Exorcist (1973) is also represented, with credit given to special makeup effects artist and "Godfather of Makeup" Dick Smith (a mentor to Rick Baker)—who, in 2012, became the first makeup artist to receive an Academy Honorary Award.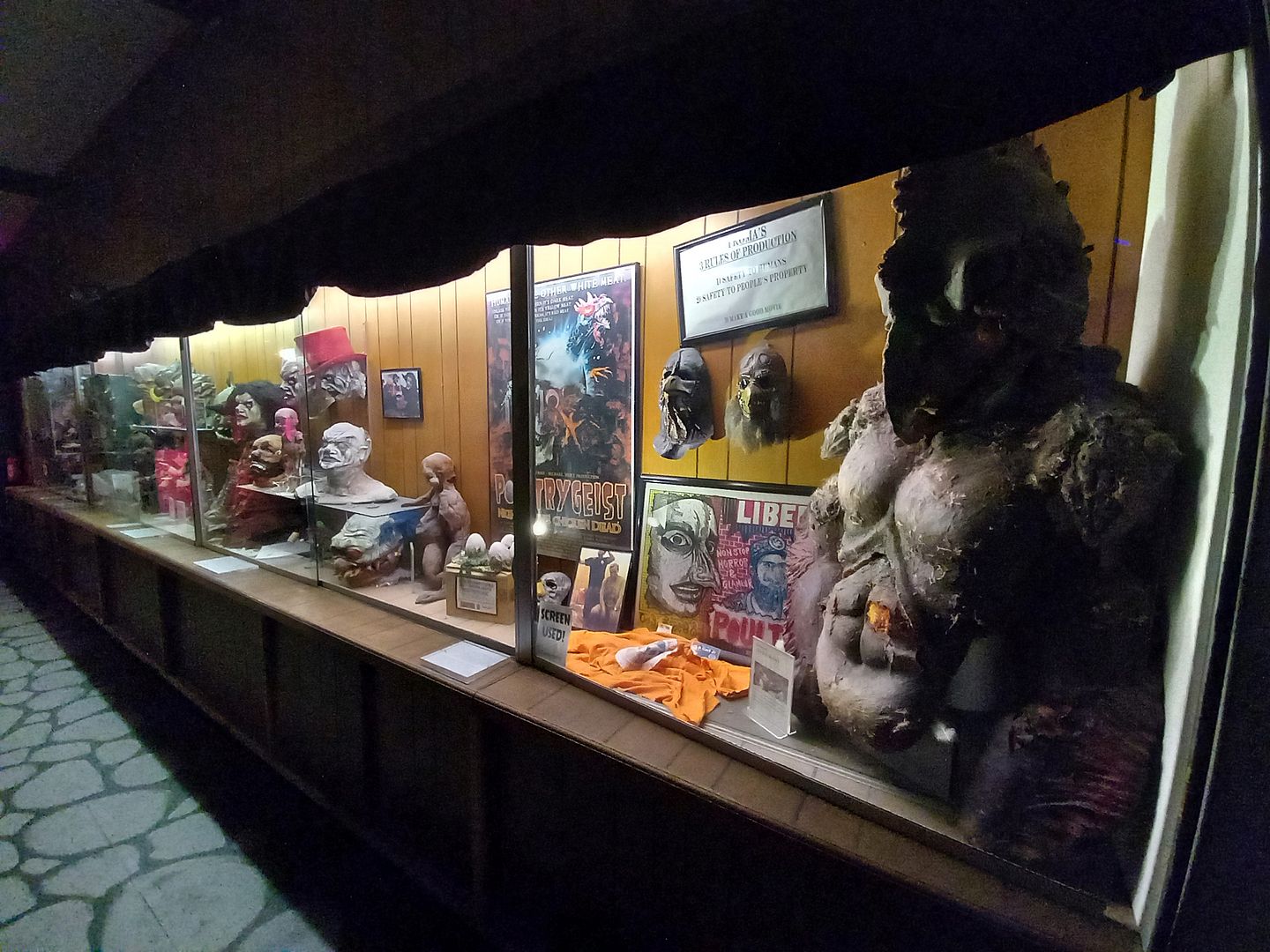 Of course, there's also a glass case devoted to Devlin's own work as a Hollywood special makeup effects artist, including the chicken zombie monster version of General Le Roy from Poultrygeist: Night of the Chicken Dead (2006)...
...as well as such hero chicken zombies as Mickey, Carl Jr., and Old Arbie...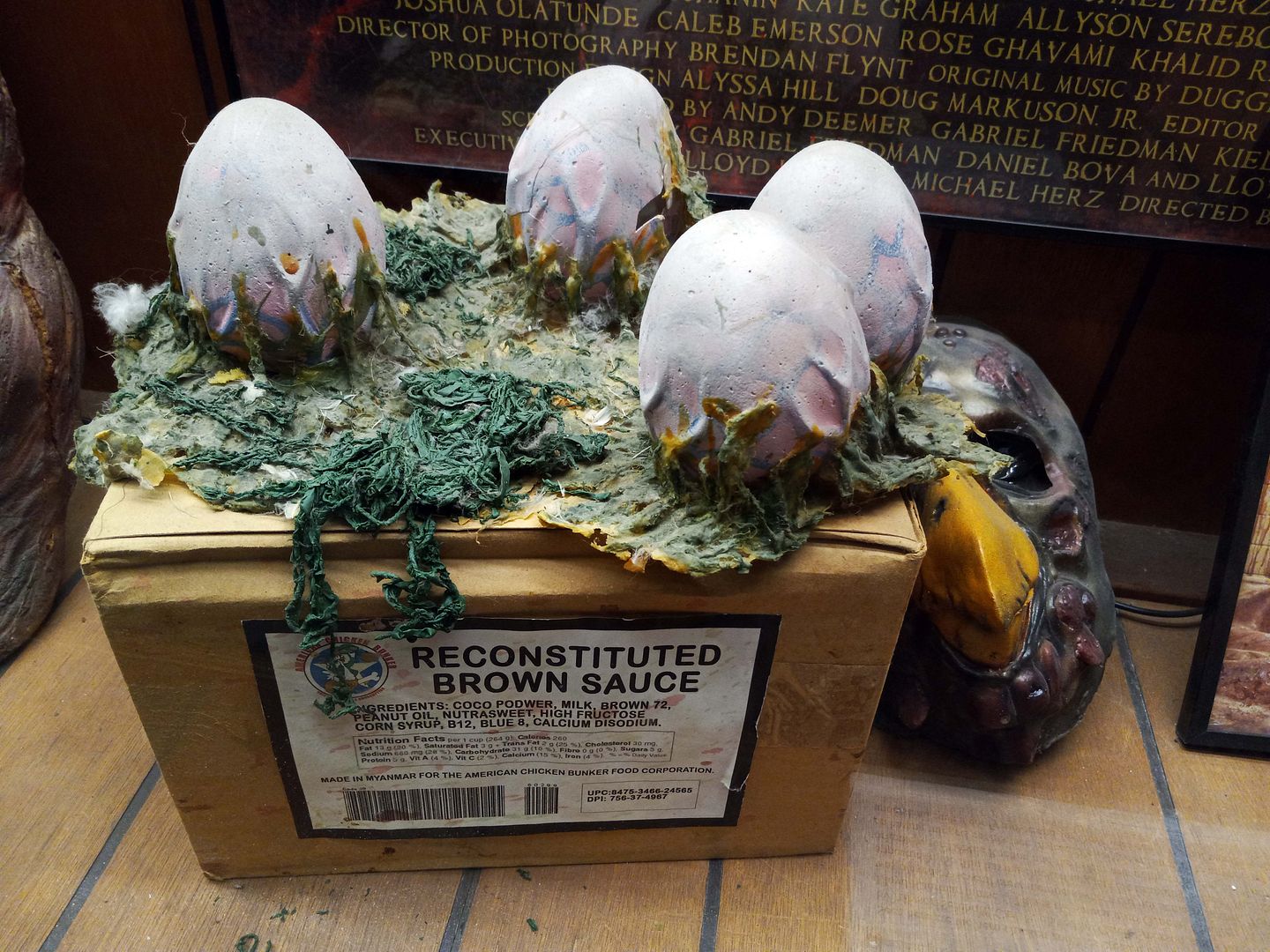 ...and the mysterious, vein-covered, pulsating eggs that spell doom for the American Chicken Bunker fast food restaurant built an on ancient Indian burial ground.
Next are the demonic clowns from Killjoy (2000) and its sequels, Killjoy 2: Deliverance from Evil (2002), Killjoy's Revenge (2010), Killjoy Goes to Hell (2012), and Killjoy's Psycho Circus (2016)...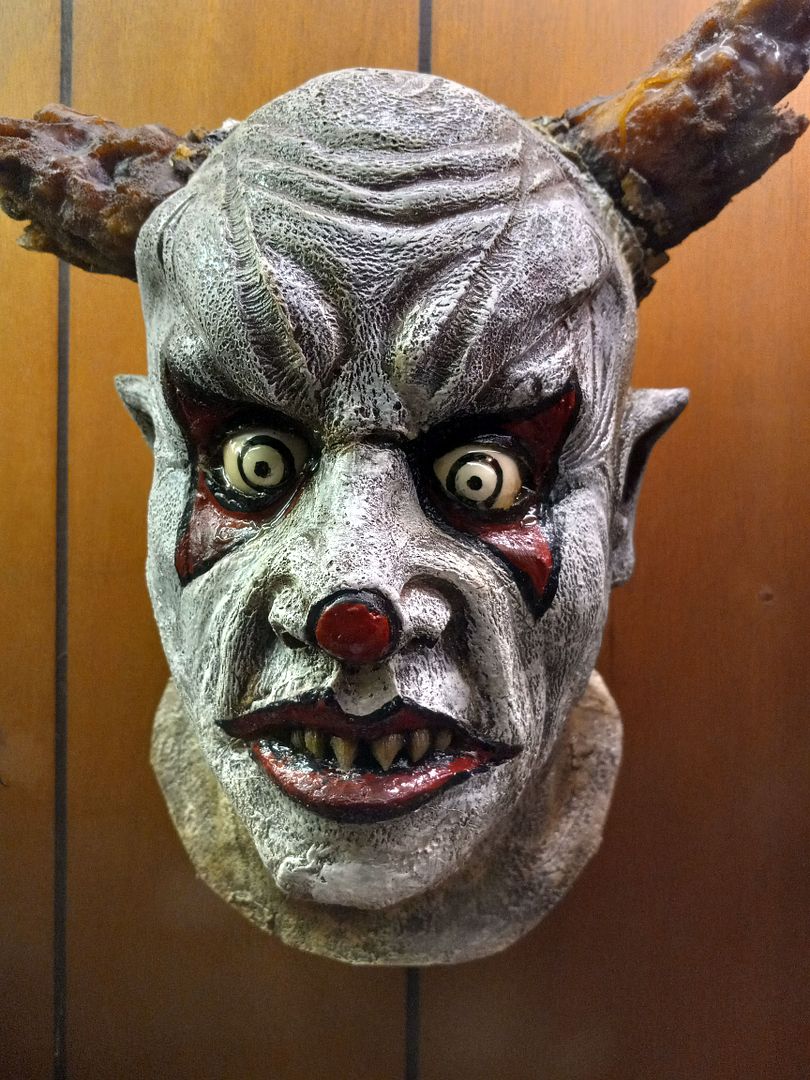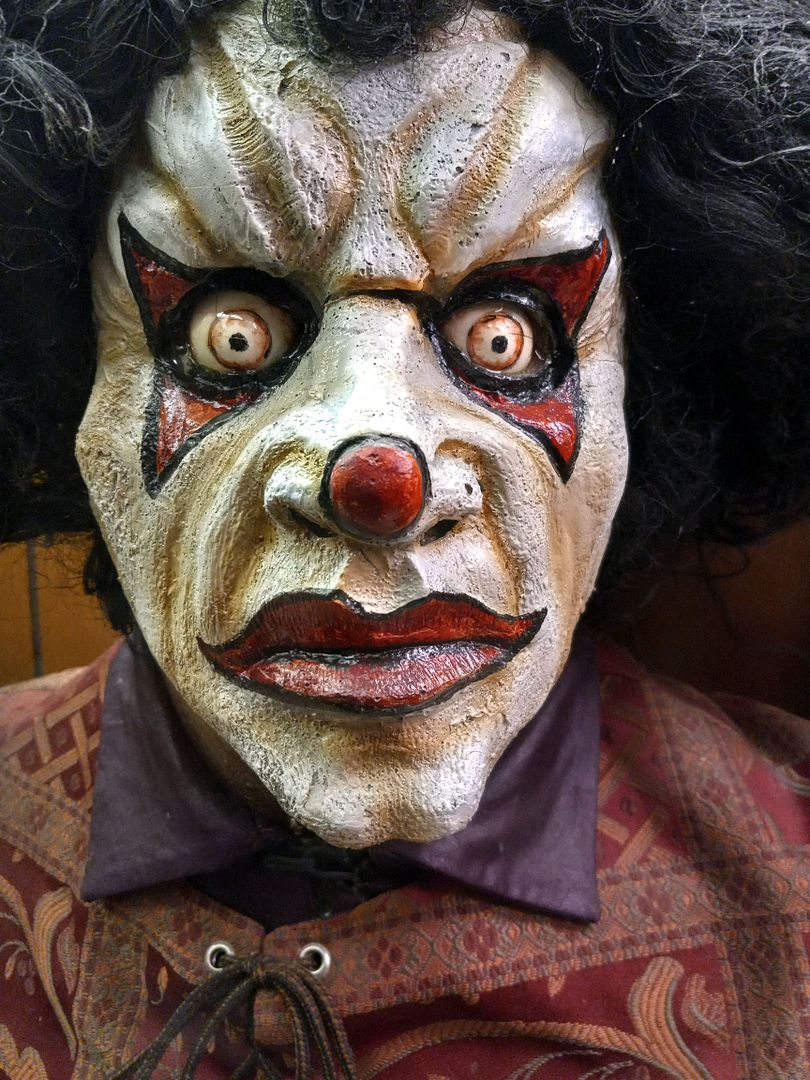 ...also created by Devlin through his company 1313FX.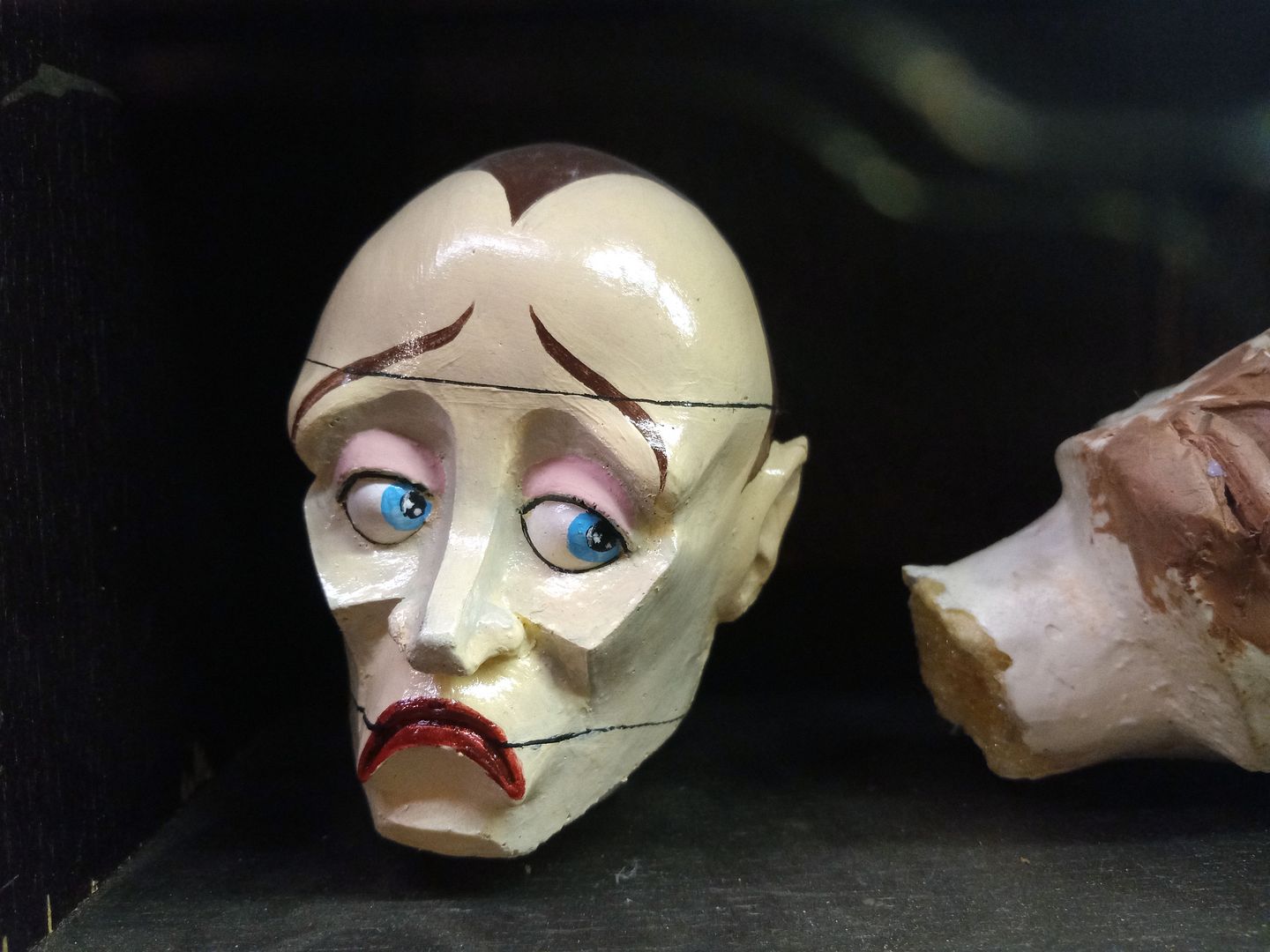 Devlin also got to work on Puppet Master: Axis Rising and Puppet Master: Axis Termination...
...and the museum display includes screen-used puppet heads of Blade (above), Pinhead, and more.
In 2019, Devlin had the opportunity to create monsters for the horror film
Weedjies: Halloweed Night
, which was inspired by the 1985 film
Ghoulies
...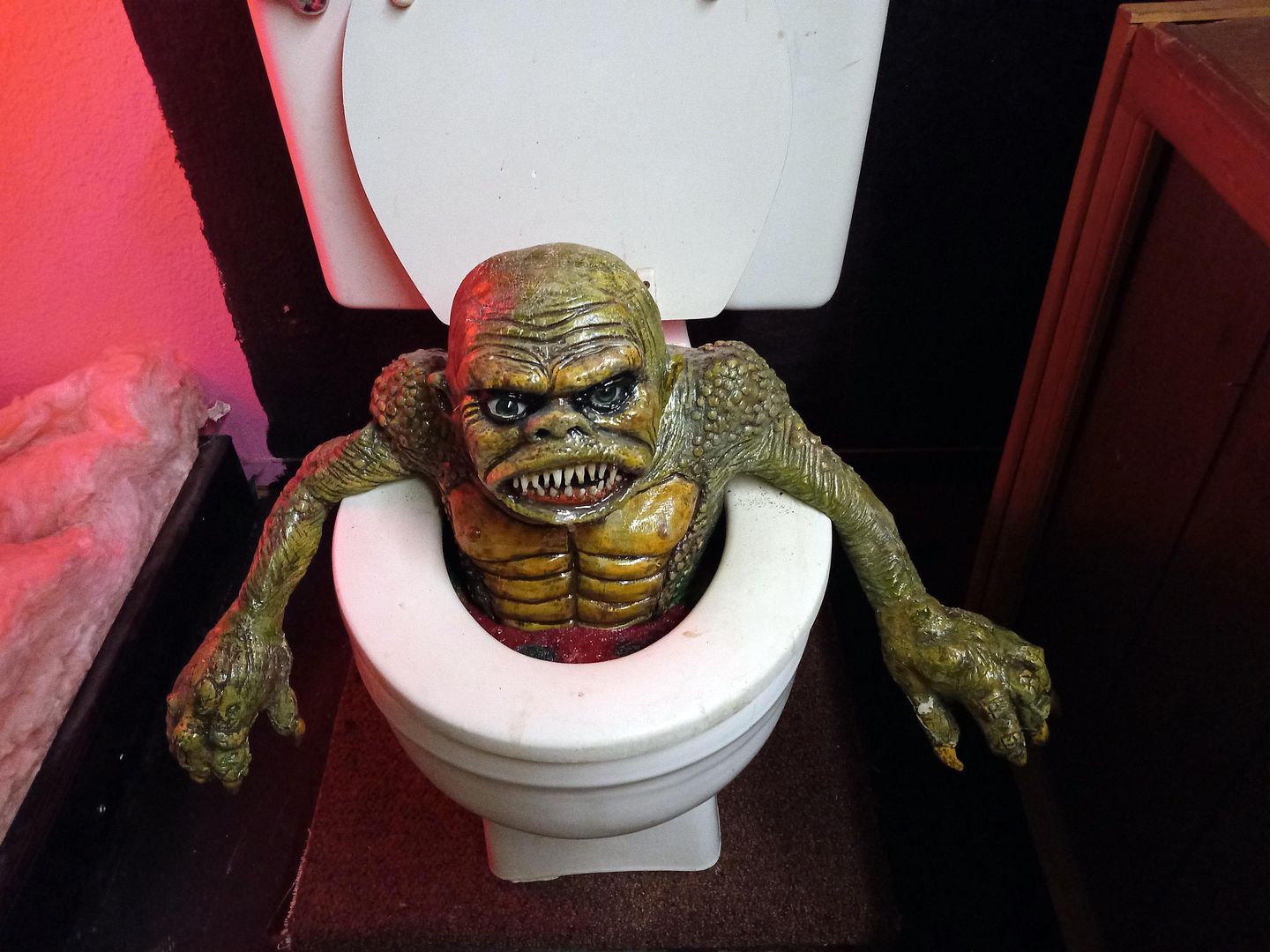 ...so it's not surprising to also see Devlin's rendition of a fish Ghoulie coming out of a toilet (as depicted on the Ghoulies II movie poster) at the museum.
Farther down the museum's one-way path are two humanoid aliens with skull-like faces from
They Live
(1988), recreated by Devlin...
...as well as his version of Michael Berryman as Pluto in Wes Craven's The Hills Have Eyes (1977)...
...Pinhead from Clive Barker's Hellraiser franchise...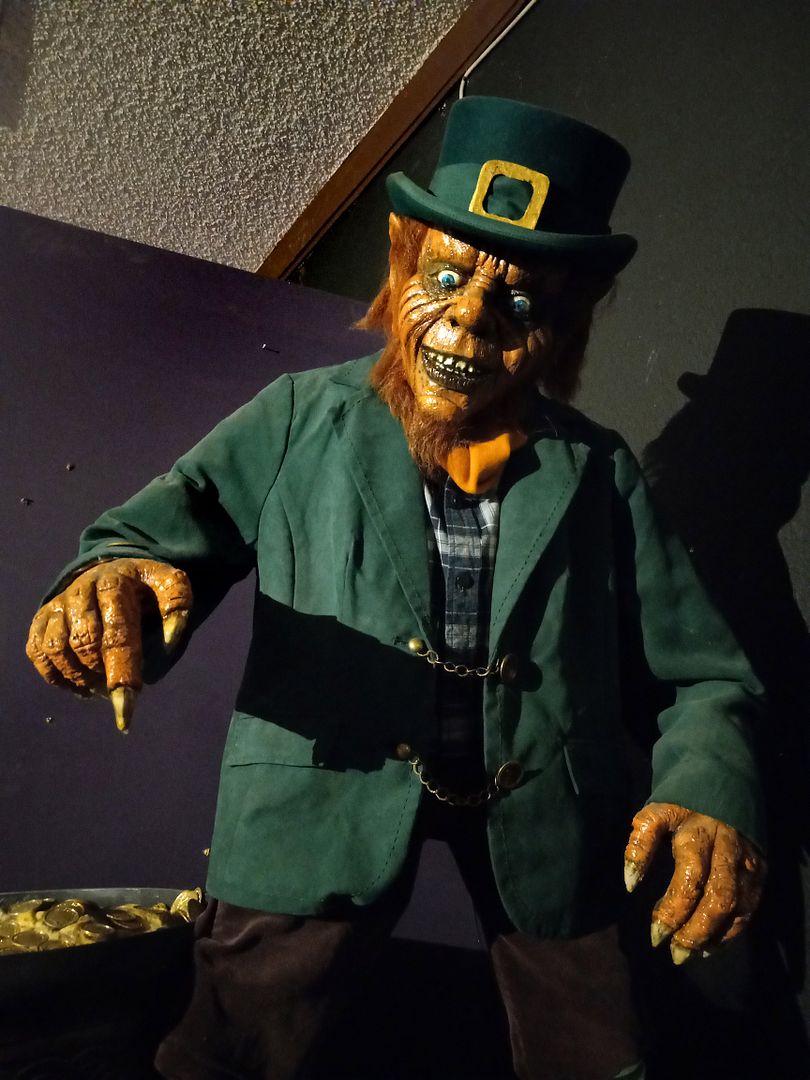 ...the leprechaun from one of Devlin's favorites, Leprechaun (1993)...
...Michael Myers from the Halloween franchise...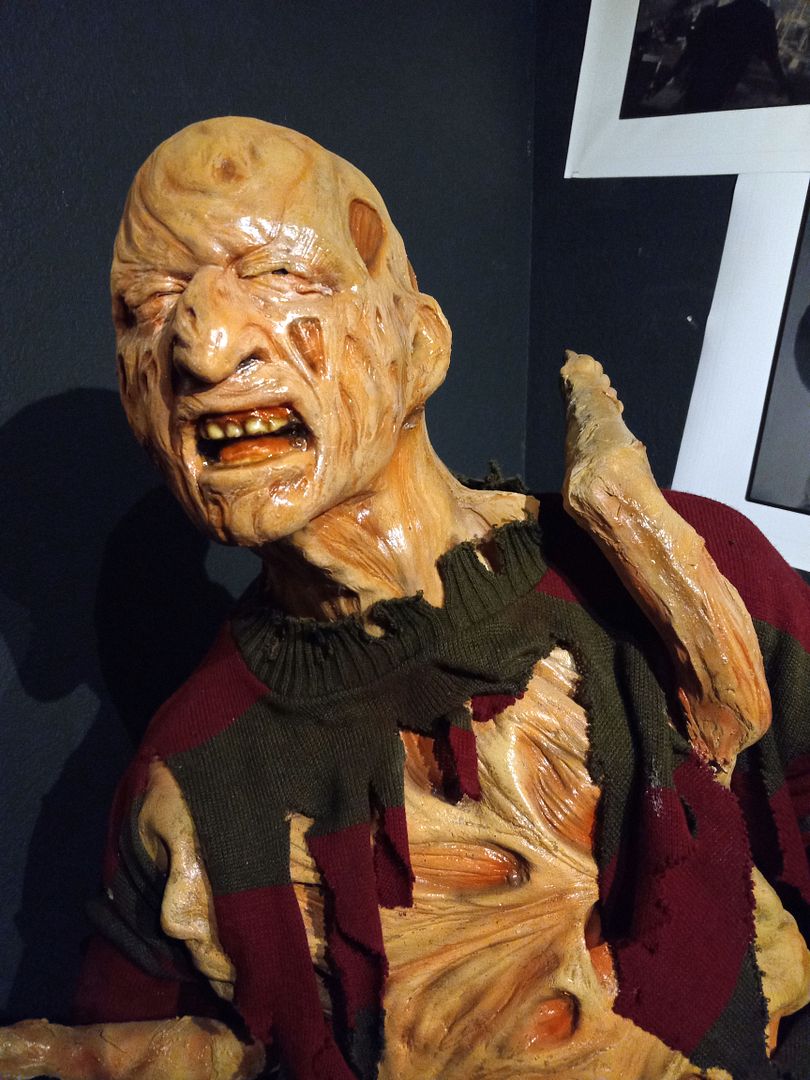 ...the "dream demon" Freddy Krueger from Wes Craven's A Nightmare on Elm Street franchise...
...and the William Munns-created Tarman from Return of the Living Dead (1985).
Devlin's horror movie work—and the museum's collection—focuses on practical effects ("rubber monsters") rather than CGI. And because of that, it's not really scary—just, at times, kinda gross.
But it's pretty cool, too.