Honestly, I hadn't thought much about John Steinbeck since I read Of Mice and Men and The Grapes of Wrath and saw East of Eden as a teenager.
I didn't know anything about the time he spent in Monterey, California at Cannery Row, yet I still felt drawn to the "Spirit of Monterey" wax museum that's often referred to by his name.
SFGate
calls the Spirit of Monterey one of the "weirdest museums in Northern California" (though
technically
Monterey is the northernmost portion of California's Central Coast).
So, instead of picking up the 101 Freeway in Prunedale after my train ride in the Santa Cruz Mountains (blog post forthcoming), I continued down the coast along Highway 1 to make it my first and only stop in Monterey on my way back to LA.
I was not disappointed. The so-called "Steinbeck Wax Museum" was definitely worth taking the long way home. (As were the other stops I made along the way.)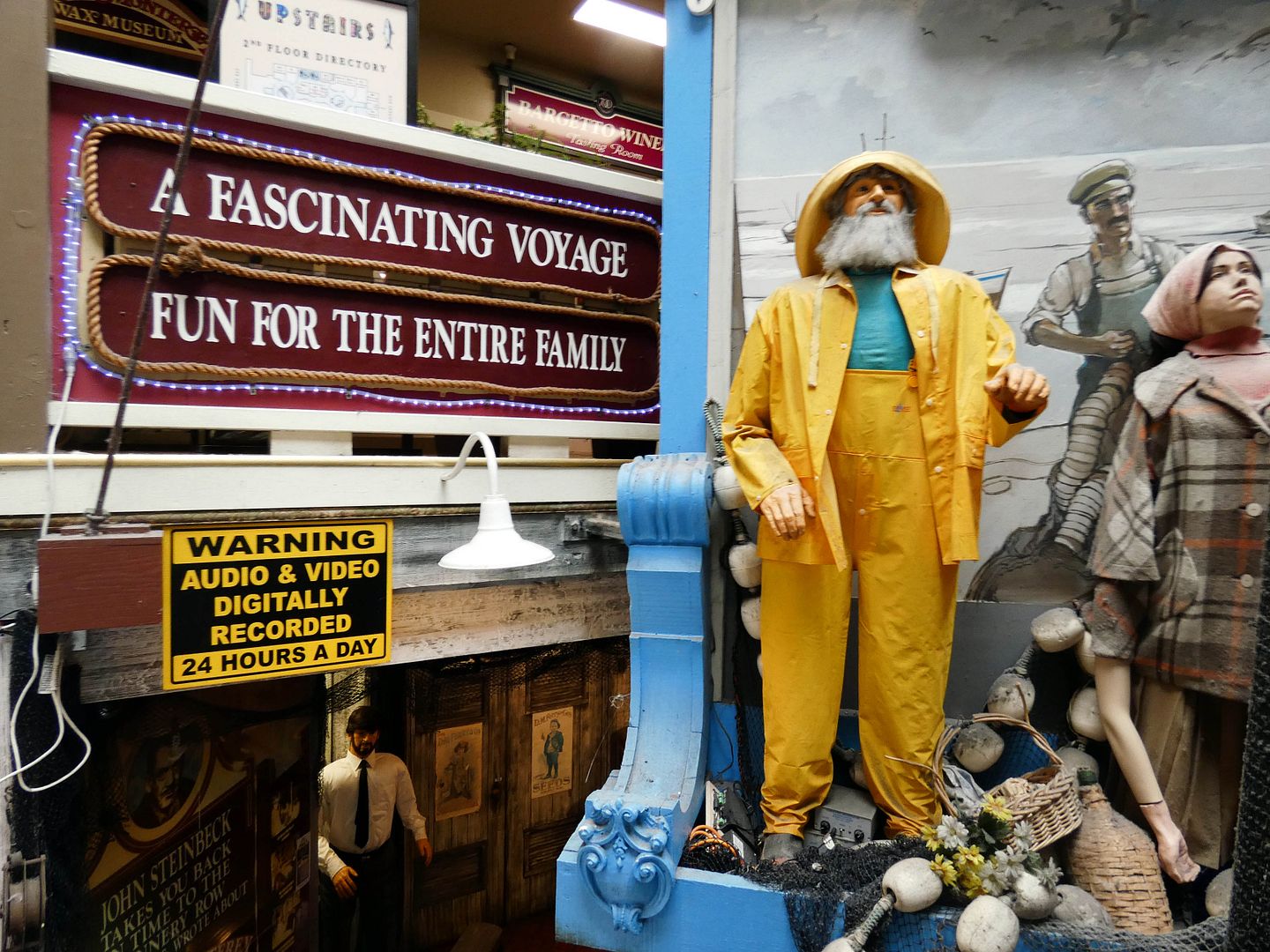 "Standing Old Salt Fisherman" figure from Characters Unlimited
The wax figures at the entrance seemed familiar to me. I was sure I'd already seen some of them in dioramas of miners or other "Old California" or "Old West" scenes at
other tourist attractions
.
But the guys at the entrance to the wax museum (in the basement of Cannery Row) offered just a glimpse of what was to come...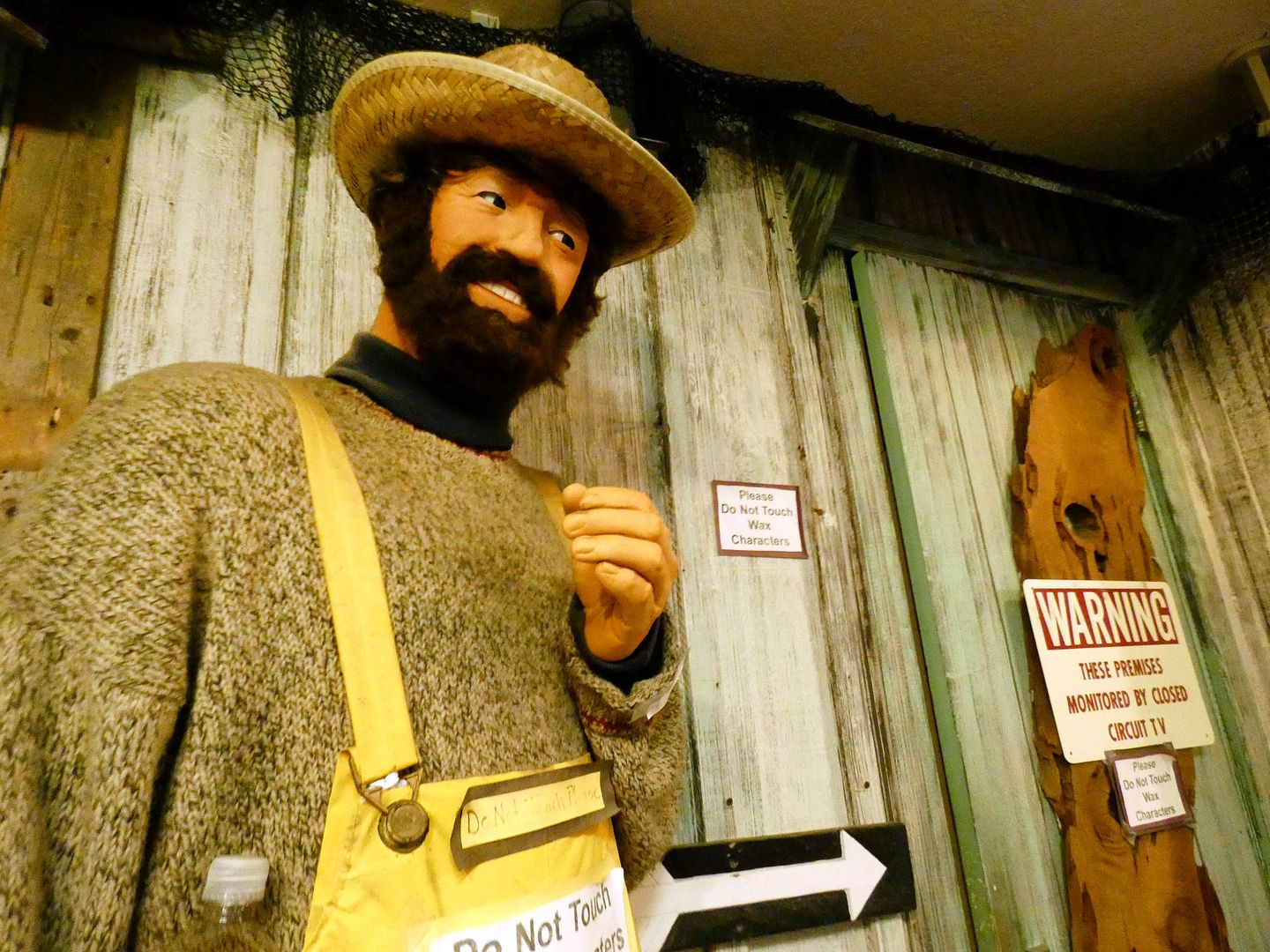 ...once you enter and the "show" begins.
There are multiple dioramas that tell the (outdated and not exactly culturally sensitive) story of the last 500 or so years of California at the push of the button, starting with the indigenous tribes that were living off the land when the Spanish colonists arrived...
...to the Mission Period, when the padres forced the "natives" to wear European clothing and obey or be beaten (their words, not mine).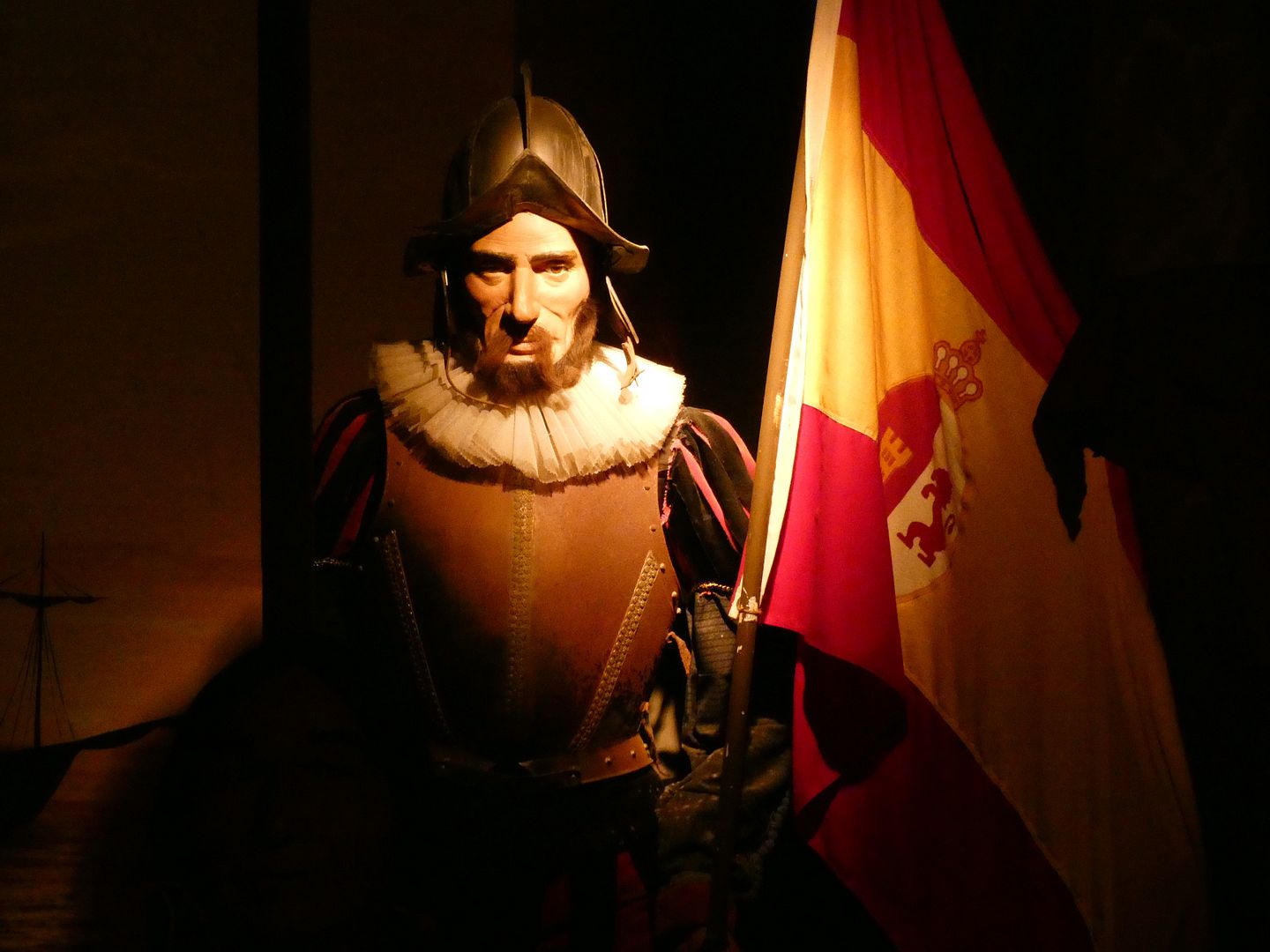 Here, some of the wax statues talk to you directly, one on one. And boy, is it unnerving.
At other scenes, the overhead voice tells a first person perspective on what it was like as an early Californio—especially as the then-Mexican territory began to see the infiltration of more and more "Americans."
Sometimes, the wax figures talk to each other—with downright hilarious results.
Sometimes it seems as though they're merely thinking out loud—and not talking to anybody in particular.
Monterey experienced some wild and crazy times in the early days of Alta California and new U.S. statehood.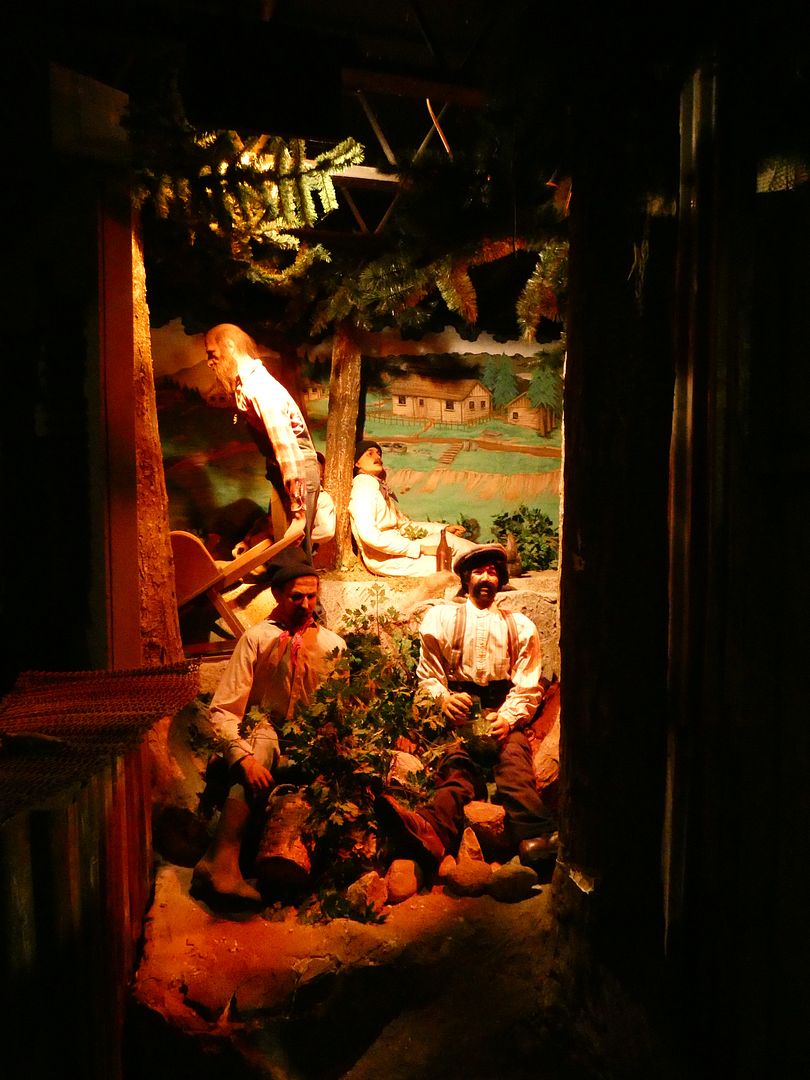 Steinbeck described post-WWI Monterey in some of his writings, like his novel Tortilla Flat (whose paisanos get a cameo at the wax museum).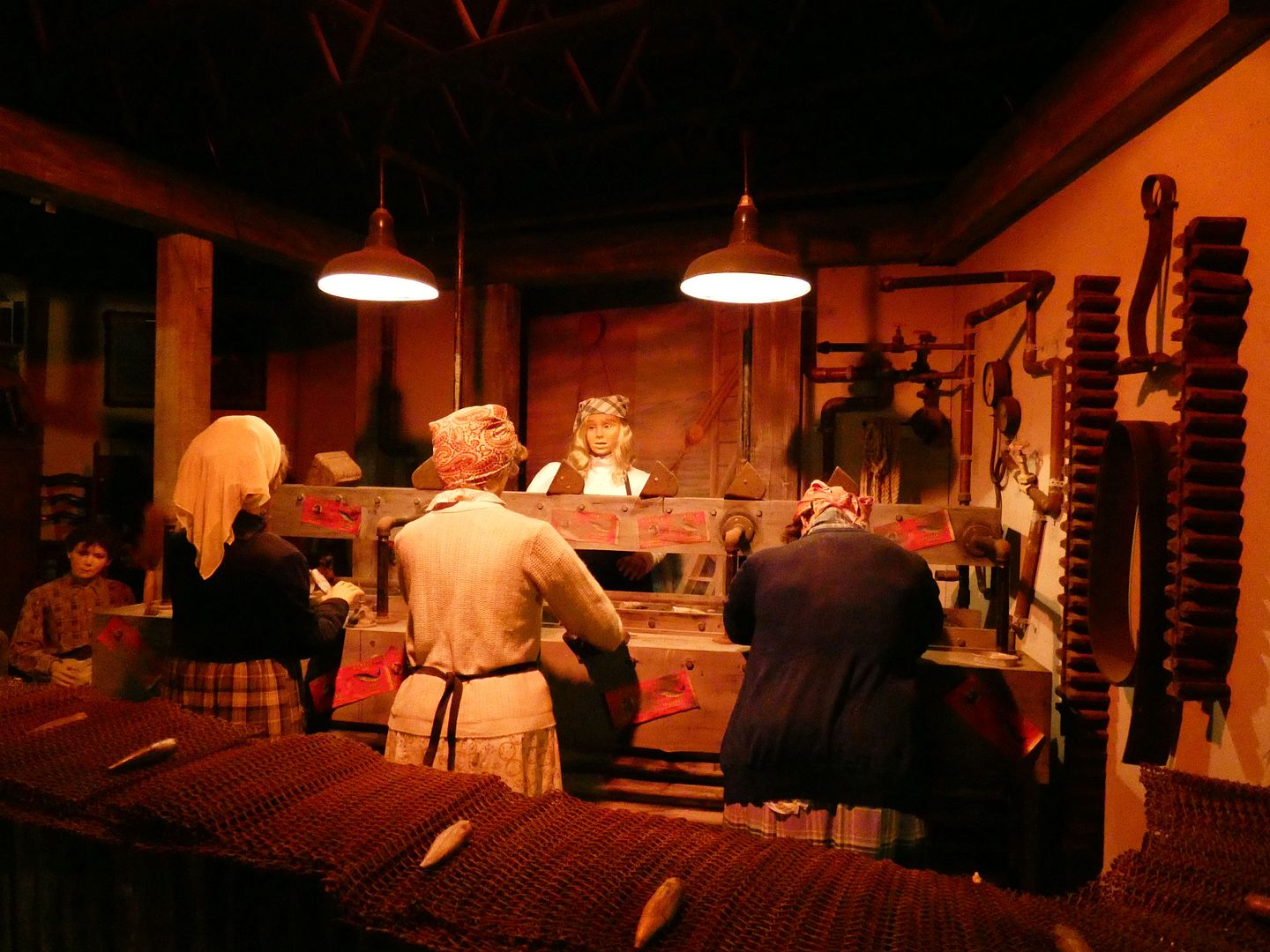 The sardine canneries that were situated along the waterfront street of Ocean View Avenue were the focal point of Steinbeck's 1944 novel
Cannery Row
(which was honored by the area's name change) and take up the latter half of the wax museum. One scene depicts a female foreperson verbally cracking the whip on the women who were kept off the fishing boats but nonetheless helped run the business of the incoming "silver river" of sardines (an industry that peaked in
1936
).
Another character from Cannery Row, Doc from Western Biological Laboratories, gets his own vignette at the wax museum...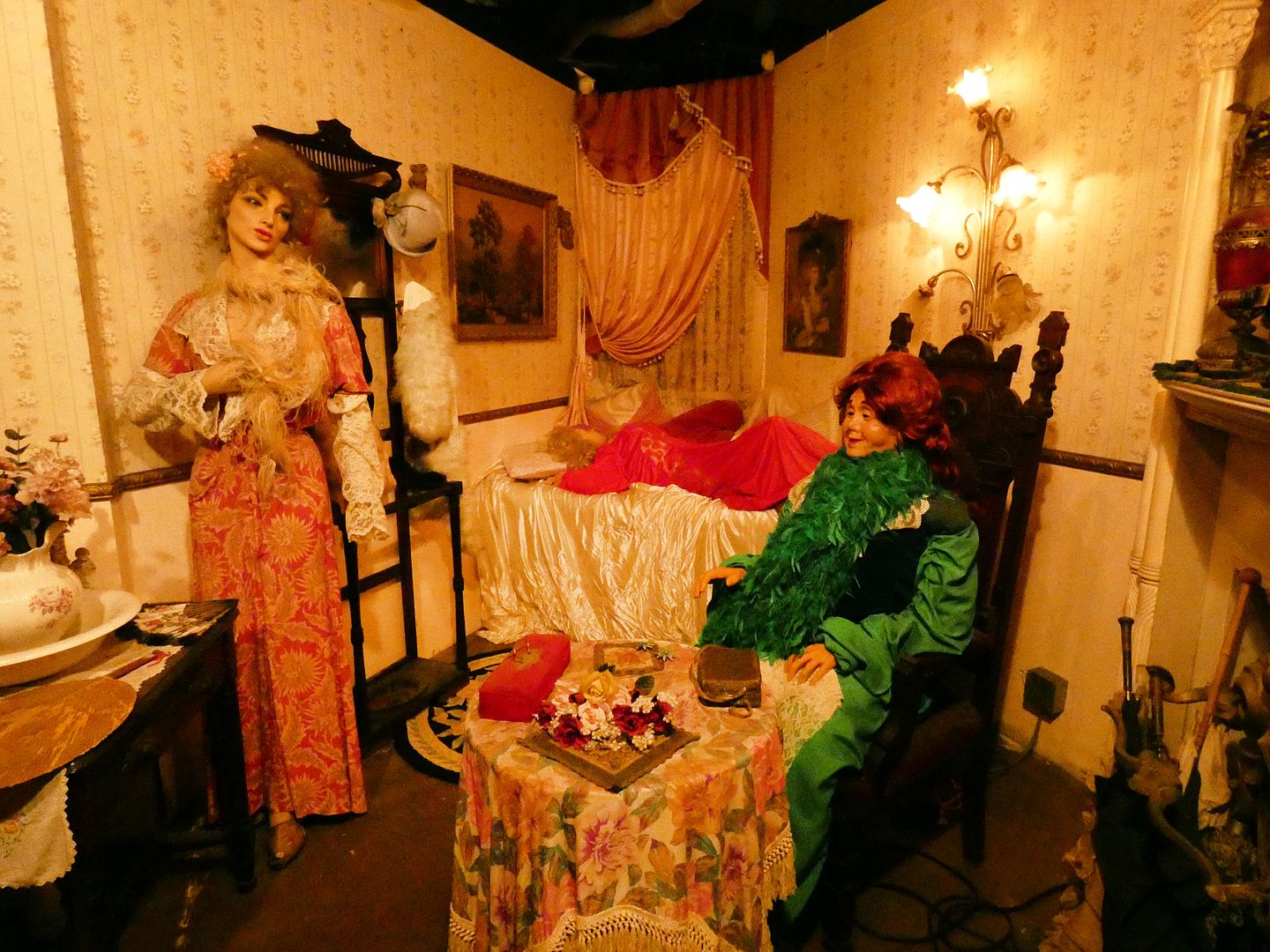 ...as does the successful restauranteur, brothel madam, and philanthropist Dora Flood and a few "
lovable bums
."
The museum worked for me, even though I've never read or seen an adaptation of Cannery Row—or, as I said, even been to Monterey.
It probably gets away with some questionable depictions (like a girl-for-hire lying on a bed with her animatronic chest heaving) because they seemingly come straight from literature and not from history books that have aged poorly.
Personally, I don't know what I'd think of a good wax museum. Is there such a thing? I love wax museums because they're creepy and, in some cases, just plain wrong.
Besides, what's better than a wax figure that creepily stares at you? One that also talks, shifts its eyes back and forth, and maybe even plays a musical instrument.
Many of the figures found at the Spirit of Monterey Wax Museum (which I'm pretty sure
aren't
wax) come out of the company that makes those Zoltar fortunetelling machines—Characters Unlimited, based in
Boulder City, Nevada
.
They've got one male figure named Ernie who can be dressed up as a cowboy, salty fisherman, Uncle Sam, and more. (Seems to me he's essentially interchangeable with "Pappy.")
Their female "Green Flapper" serves as
the wax museum's Dora herself
. The sardine gals are from the company's "Hard Working Women" collection. And the fabulously mustachioed male figures are from the "Cowboys" collection.
Now if only I can get into their headquarters next time I'm in Boulder City...