When I first experienced Universal Studios Hollywood in 2015, I considered it one of the best places in LA.
I know that sounds like sacrilege—especially coming from someone whose favorite LA places include the Los Angeles River, the abandoned Murphy Ranch, and the St. Francis Dam Disaster Site.
But when I returned for Halloween Horror Nights in 2019, and again for the studio tour in 2021, I was even more sure about it.
I wasn't crazy. Universal Studios is great.
Oh, it's no Disneyland or Knott's Berry Farm—but it's not meant to be. It's a uniquely Hollywood amusement park, with plenty of film history to offer.
And I couldn't wait to go back to its Halloween Horror Nights, after having a good time there
two years ago
and it being suspended last year during COVID-19 closures.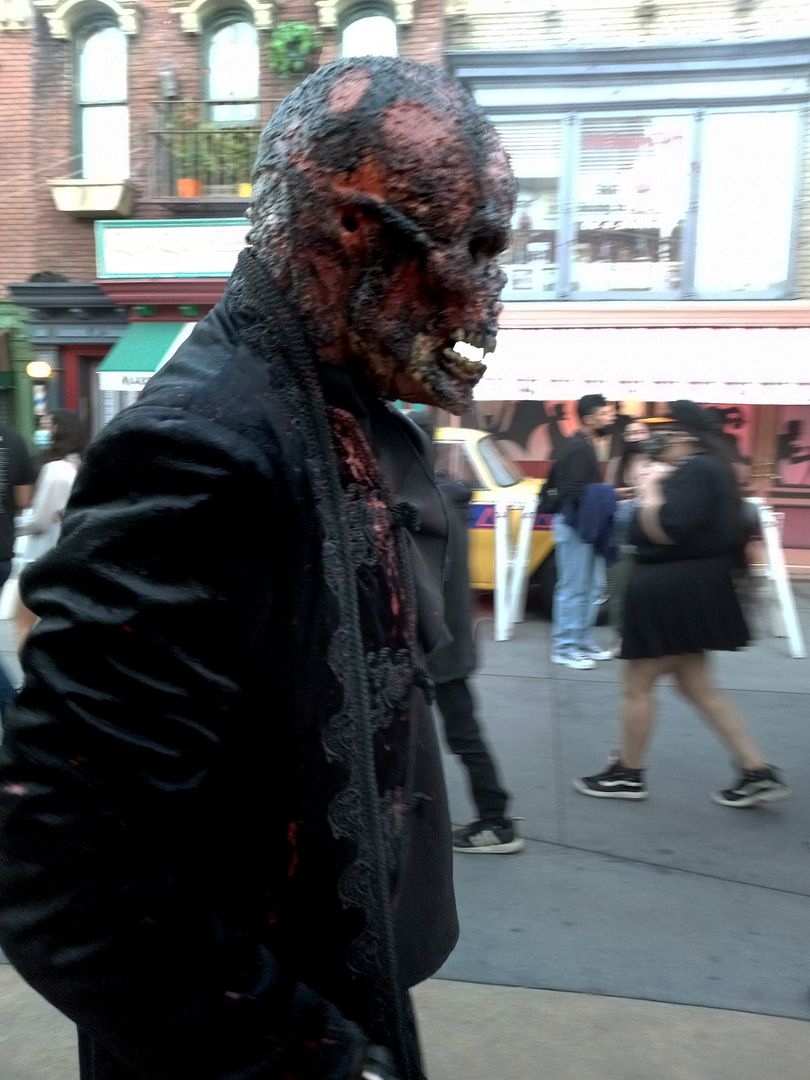 There were fewer scare actors there than what I experienced many years ago at Knott's Scary Farm—and fewer than I remembered being there in 2019. But their antics still filled the air with burned-off chainsaw fuel and fear.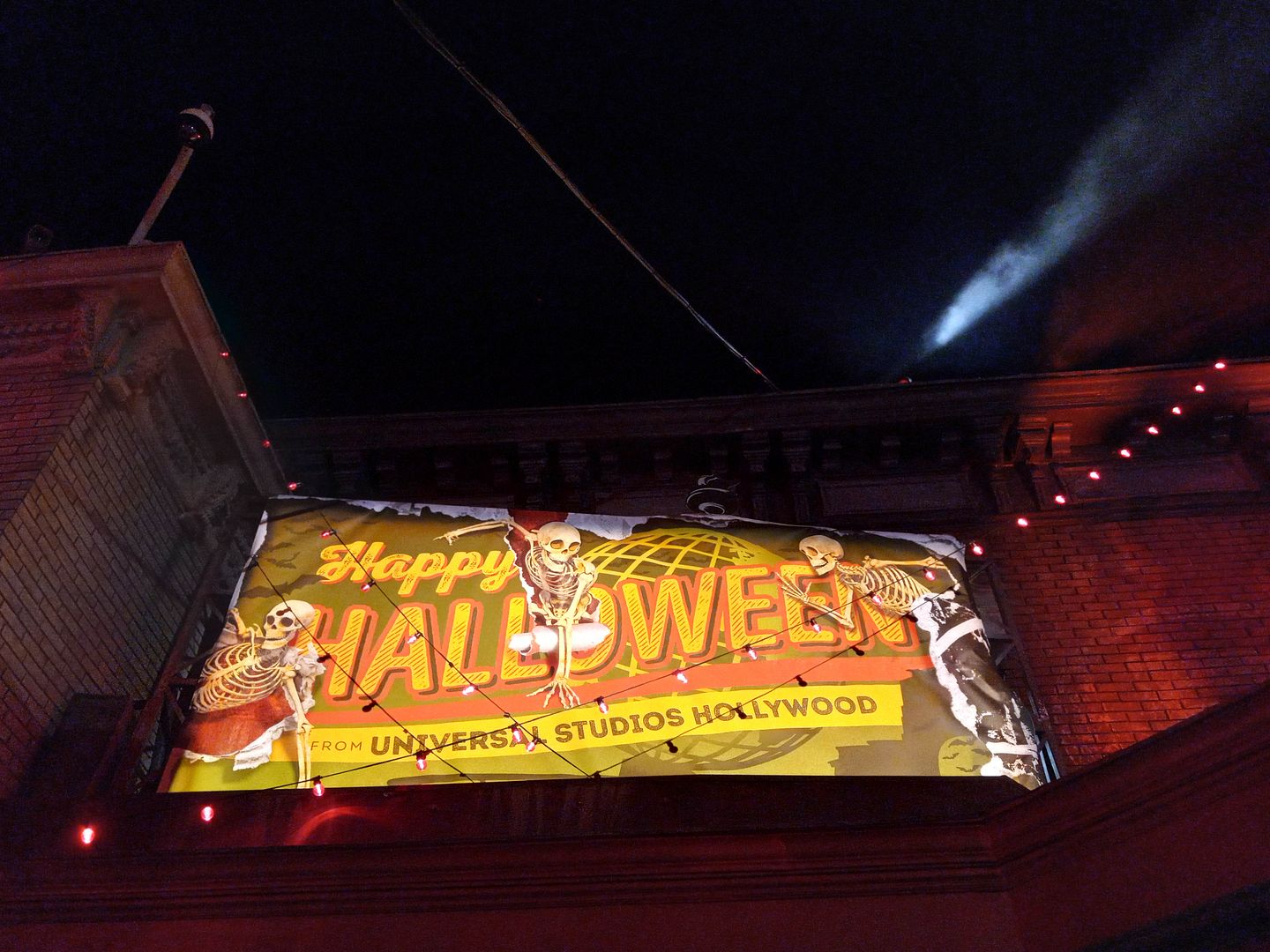 The Halloween overlay starts pretty much as soon as you enter the park, but especially at New York Street's "Demon City"...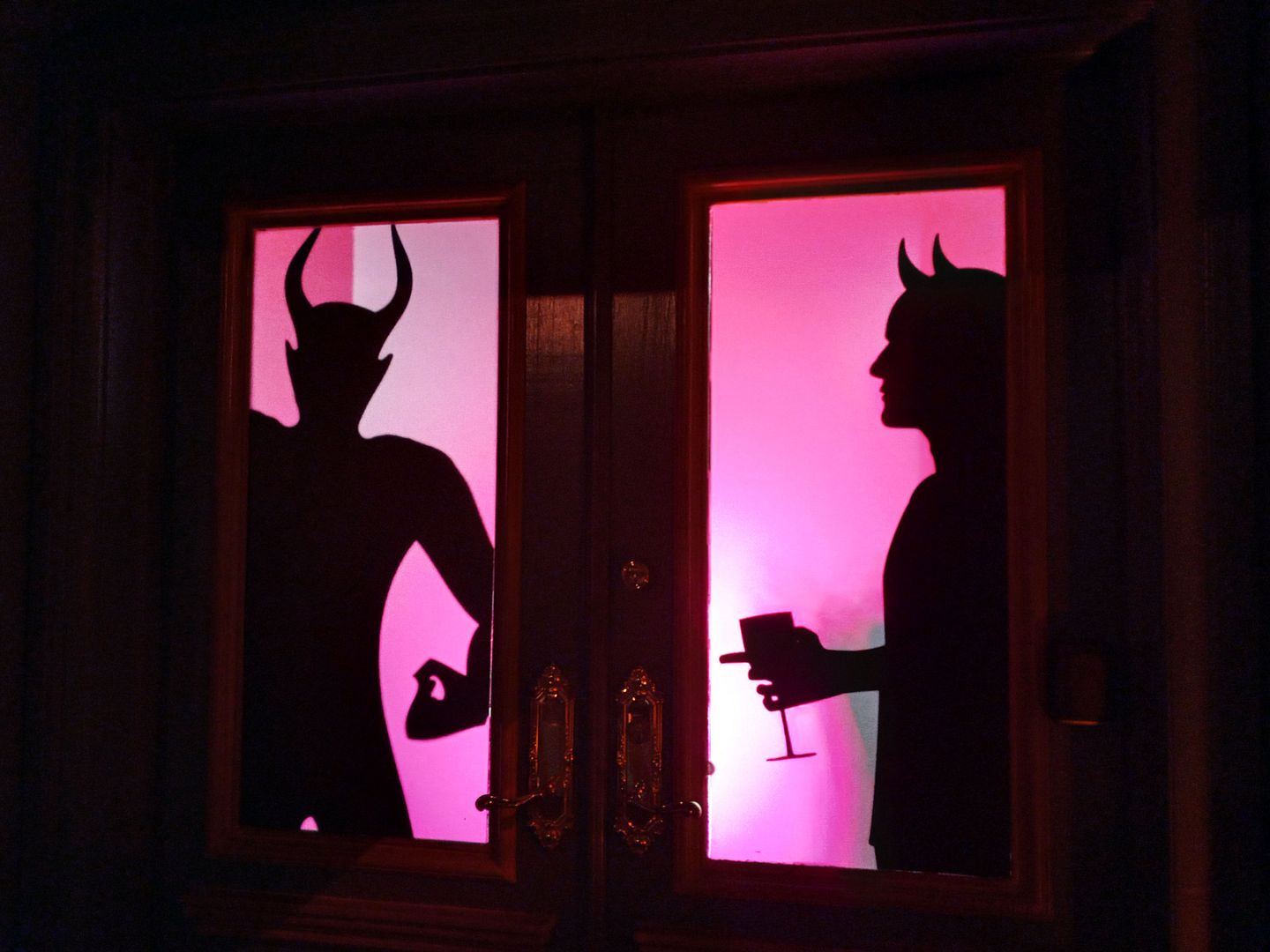 ...where shadowy figures beckon you to have a taste of their devilish drinks...
...and perhaps warn you of what evils lie ahead.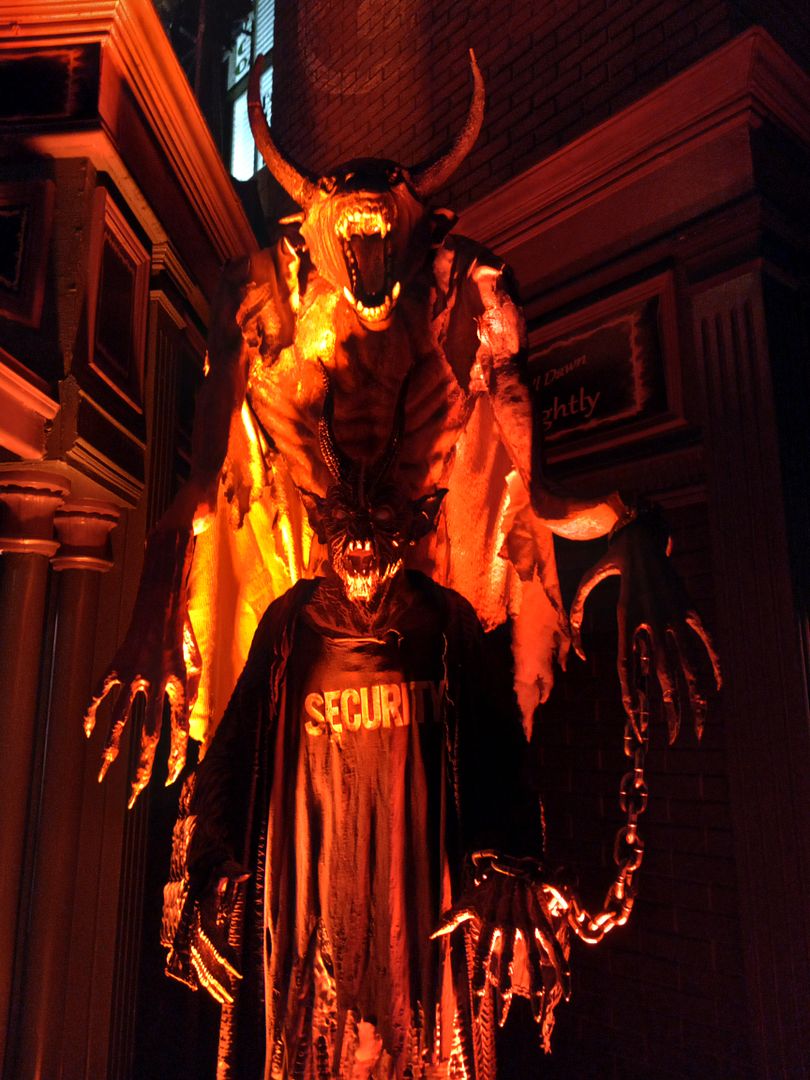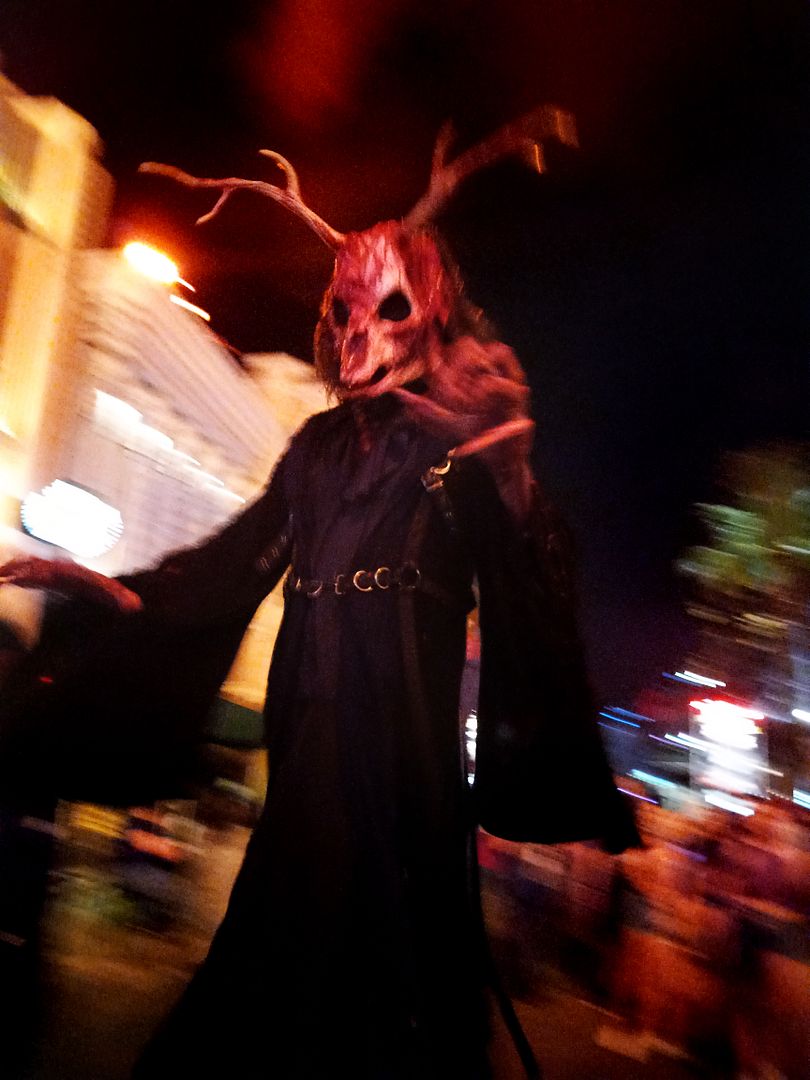 If those evils aren't ahead, they're above—preternaturally tall and towering over their unsuspecting victims.
The dead never seemed so alive.
Across the way in the Upper Lot, the "Universal Plaza" area has been converted into a Día de los Muertos celebration...
...but instead of ofrendas, there are dioramas of skeletons living their best Hollywood lives (deaths?)...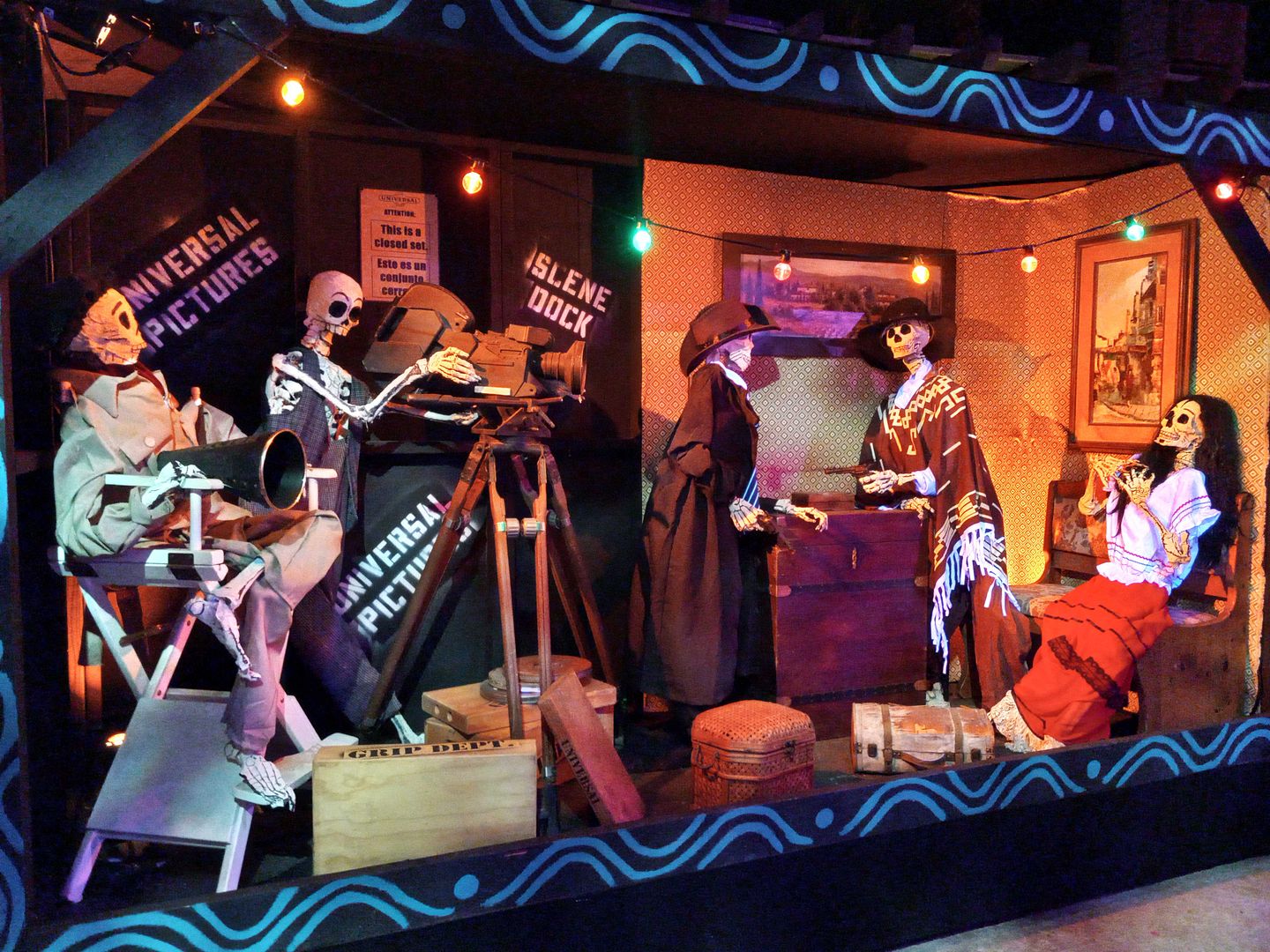 ...including, of course, making their own movies.
The dead never looked so beautiful.
The "neighborhood" streets of Universal Studios Hollywood—French Street, the Parisian Courtyard, the British-themed Baker Street—are also adorned, mostly with tributes to Universal Pictures horror films like She-Wolf of London (1946) and Dracula's Daughter (1936).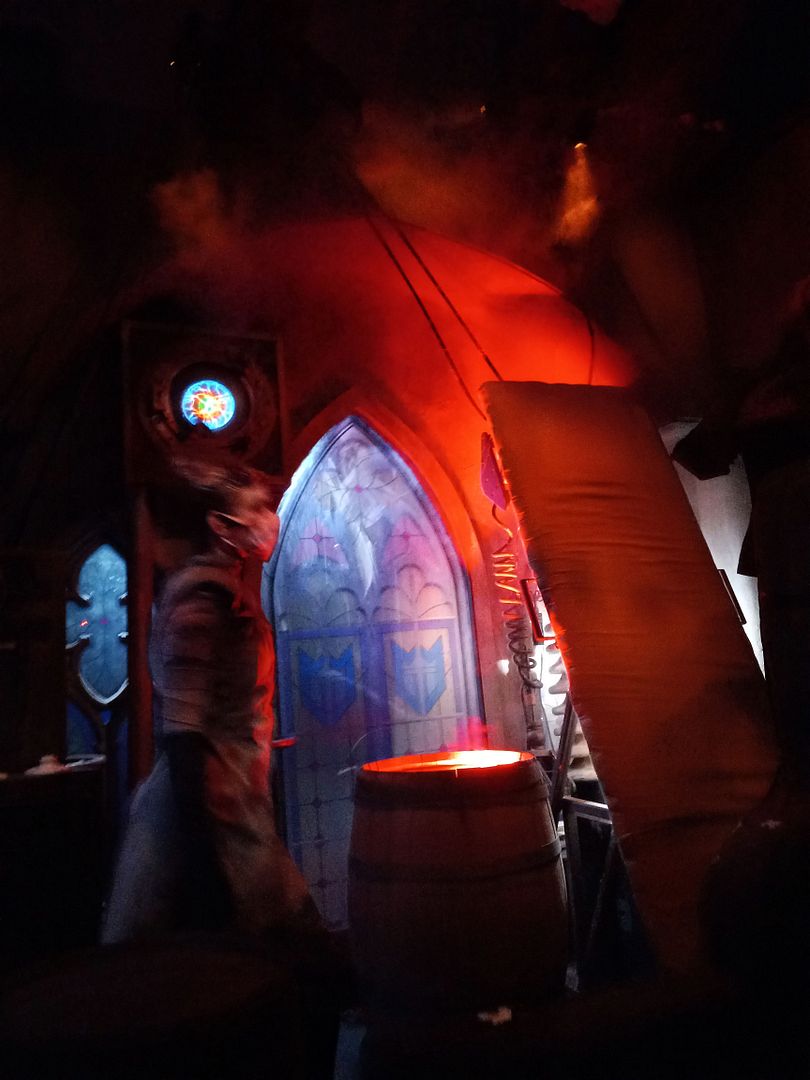 Fittingly, there's also a maze this year (next to the Palace Theatre Cafe) that incorporates one of the cannon characters of Universal Monsters...
..."The Bride of Frankenstein Lives," a kind of never-made sequel to The Bride of Frankenstein (1935), which itself was a sequel to Frankenstein (1931).
A real highlight for me lie ahead as I hopped on the almost-annual "Terror Tram" at the boarding station of the
Studio Lot tour
. (There actually was no Terror Tram in 2019 when I last went.)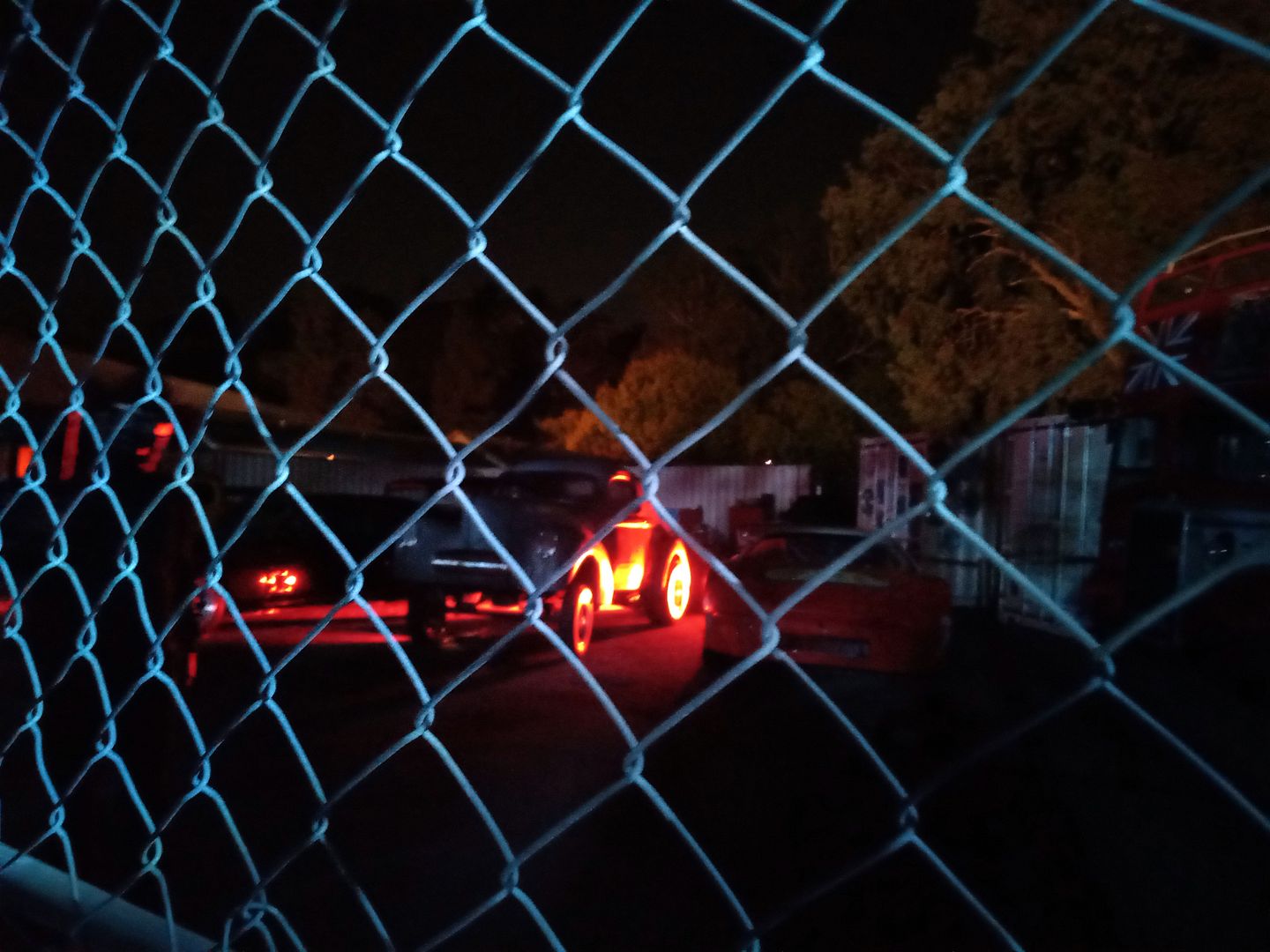 Unlike the regular Studio Tour, the Terror Tram simply drops you off in the backlot area of Universal Studios, letting you hop off and take a walk through a scare actor-filled bedlam...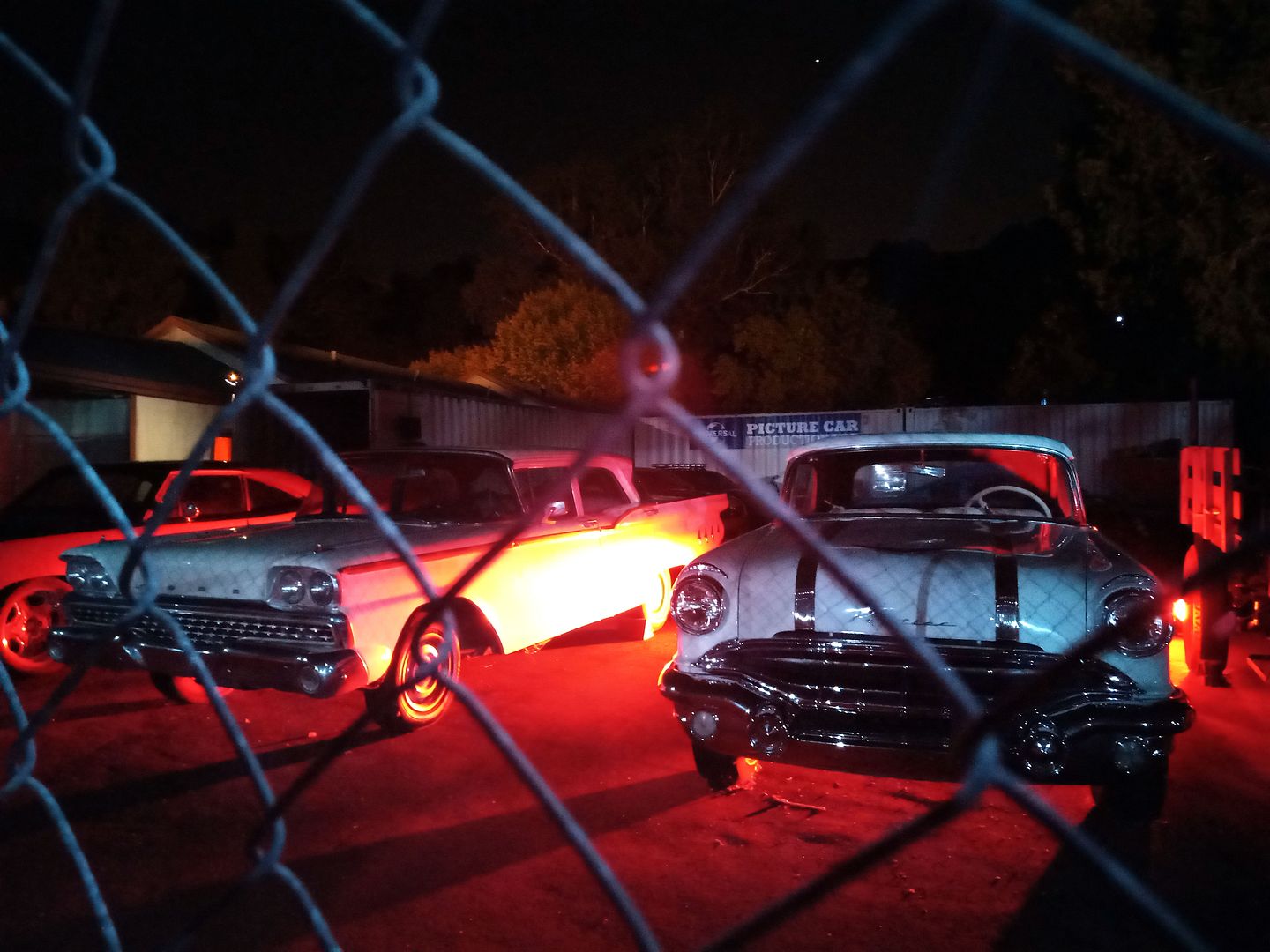 ...but also explore some of the areas of the studio tour, like the Picture Cars, on foot.
If you make it through "The Ultimate Purge" (featuring iconic characters from the various films of The Purge anthology) without getting, well, purged...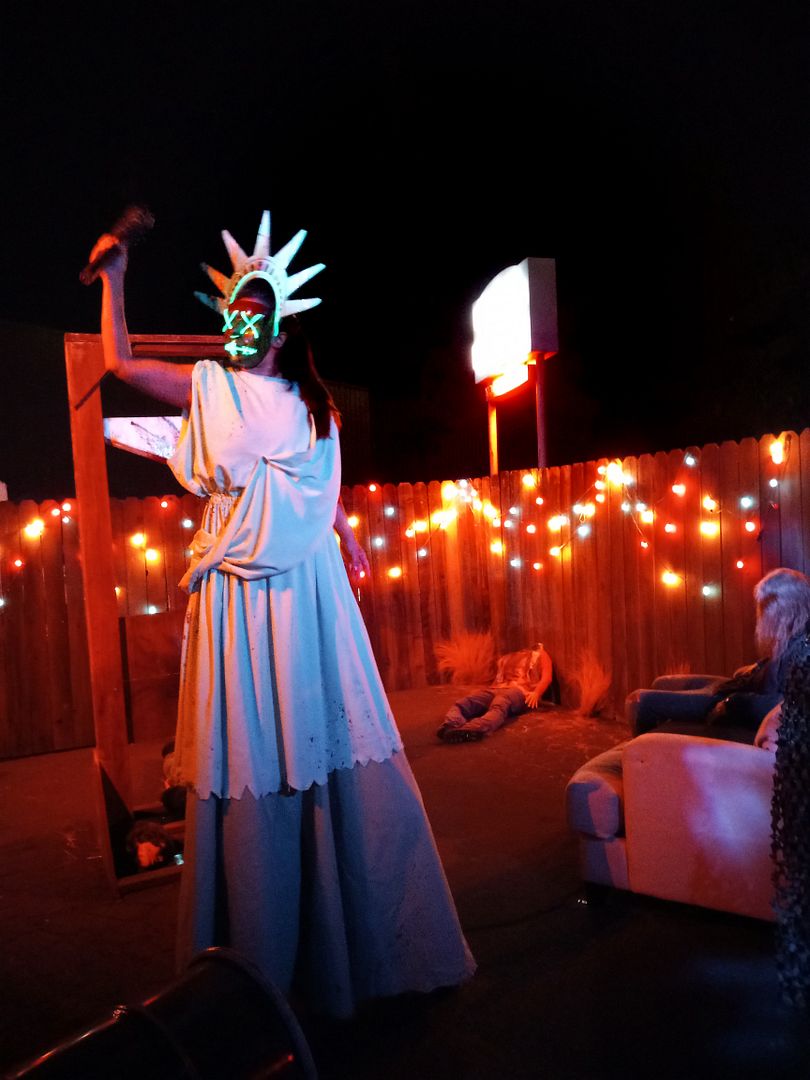 ...either by an anarchic Lady Liberty or some more chainsaw-wielding wackos...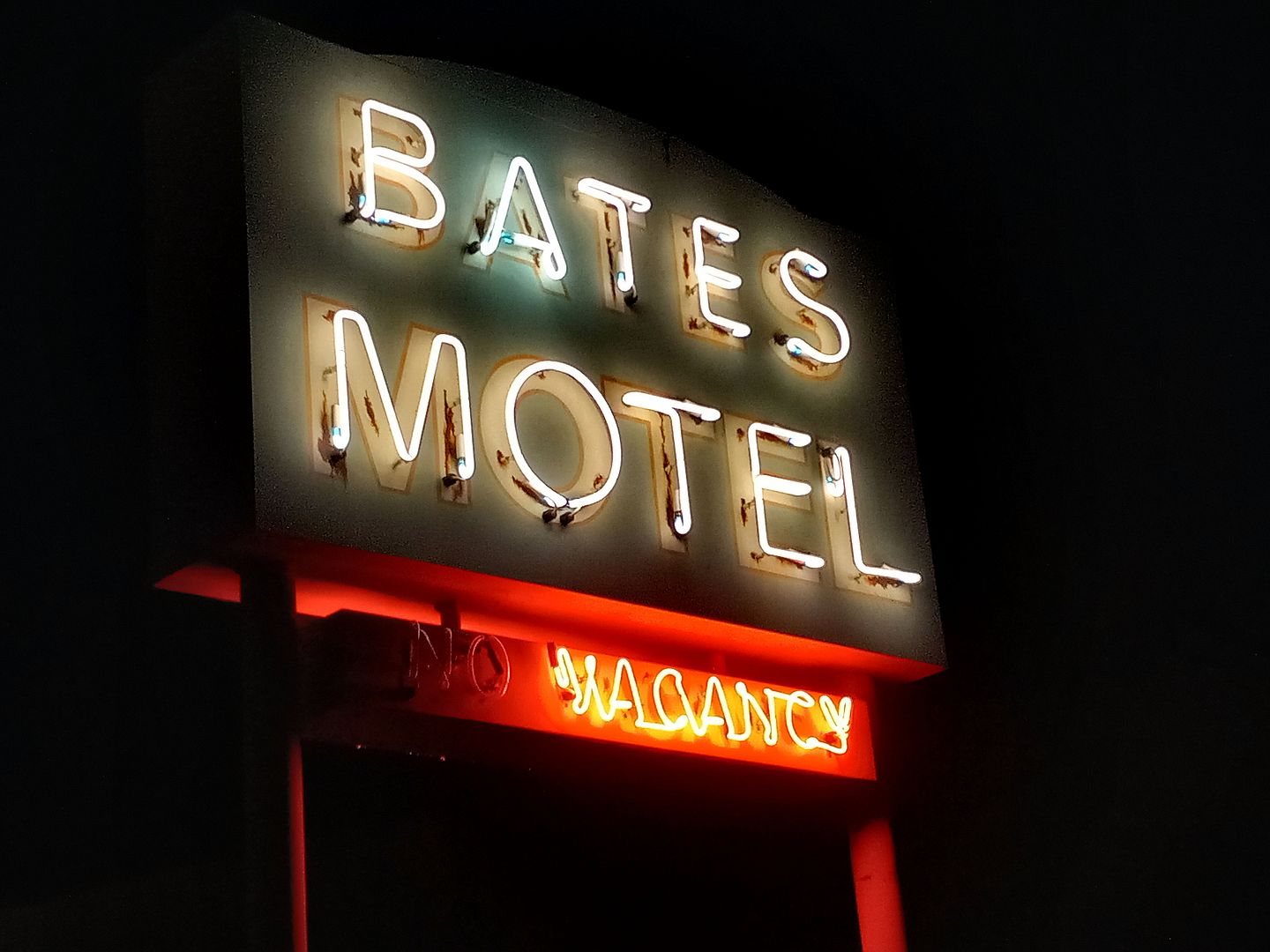 ...you'll reach the inviting neon glow of the Bates Motel...
...and line up to meet Norman Bates, who awaits you on the porch of the Bates Mansion...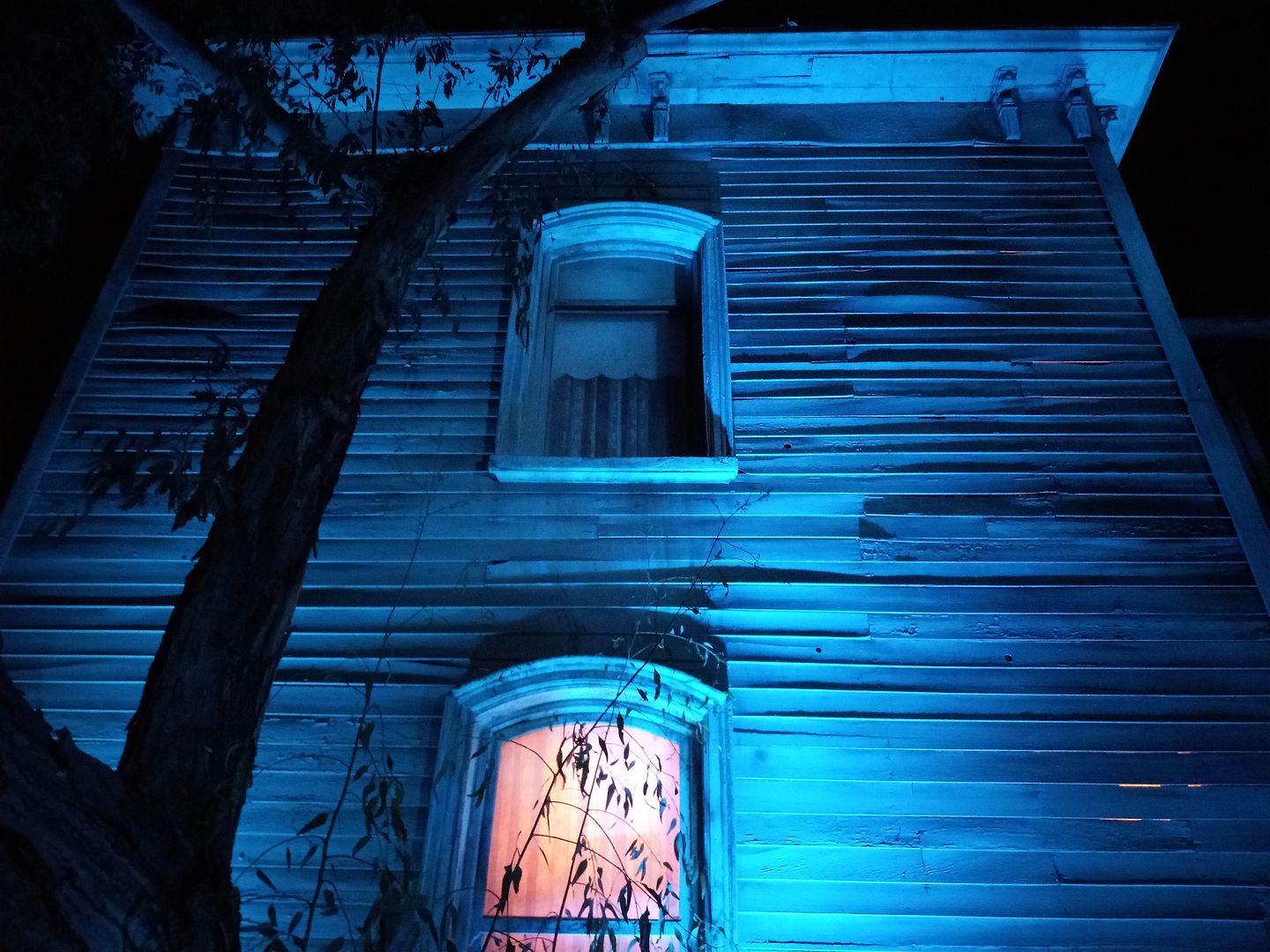 ...a.k.a. the Psycho house.
The regular studio tour tram merely drives past this house—so it's a real thrill to be able to walk right up to it and snap a selfie with Norman, who's a real cutie (but with a killer instinct).
There's one part of the Terror Tram, however, that really took my breath away...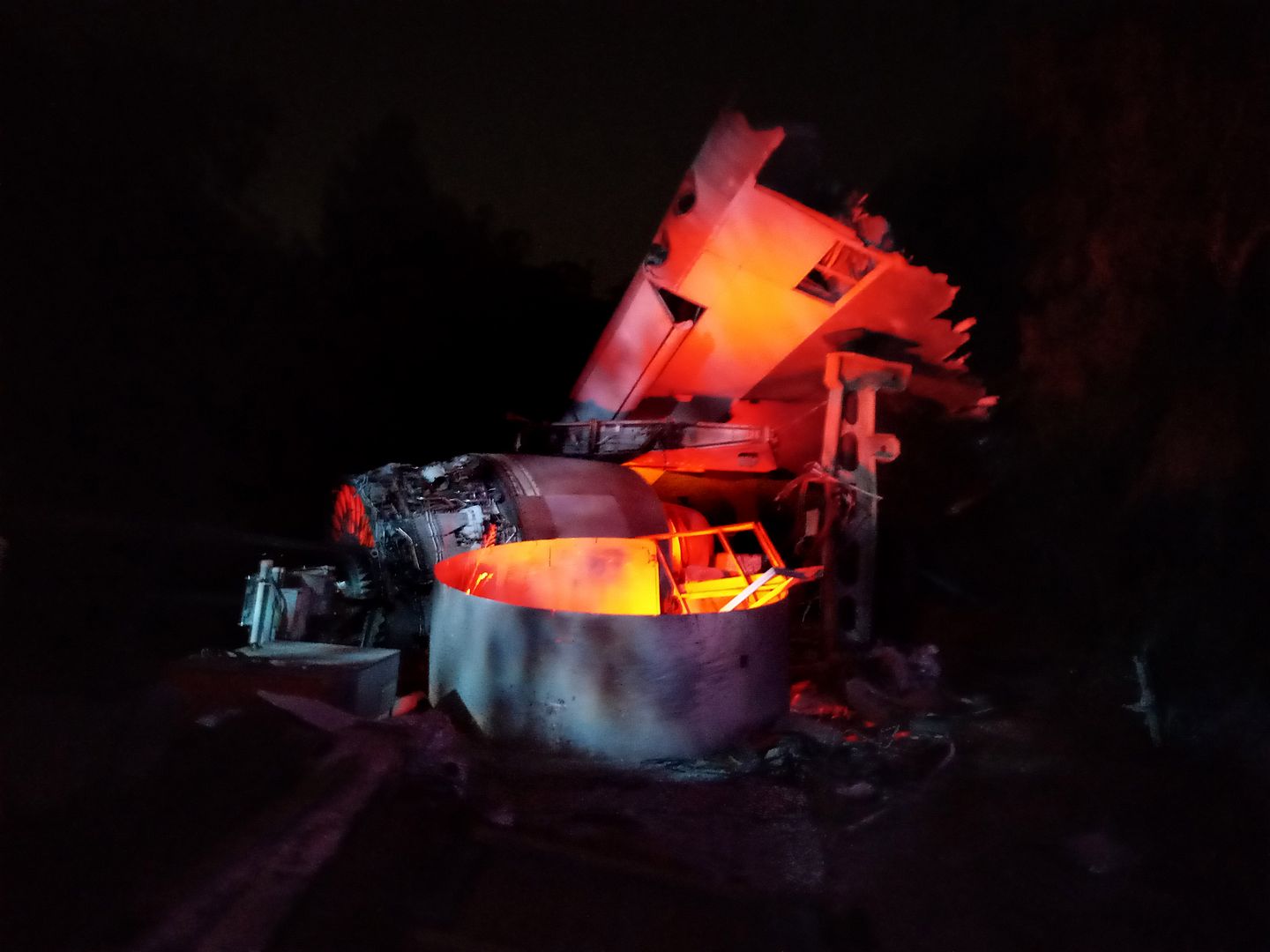 ...and that was the chance to walk through the 2005 set for Steven Spielberg's War Of The Worlds...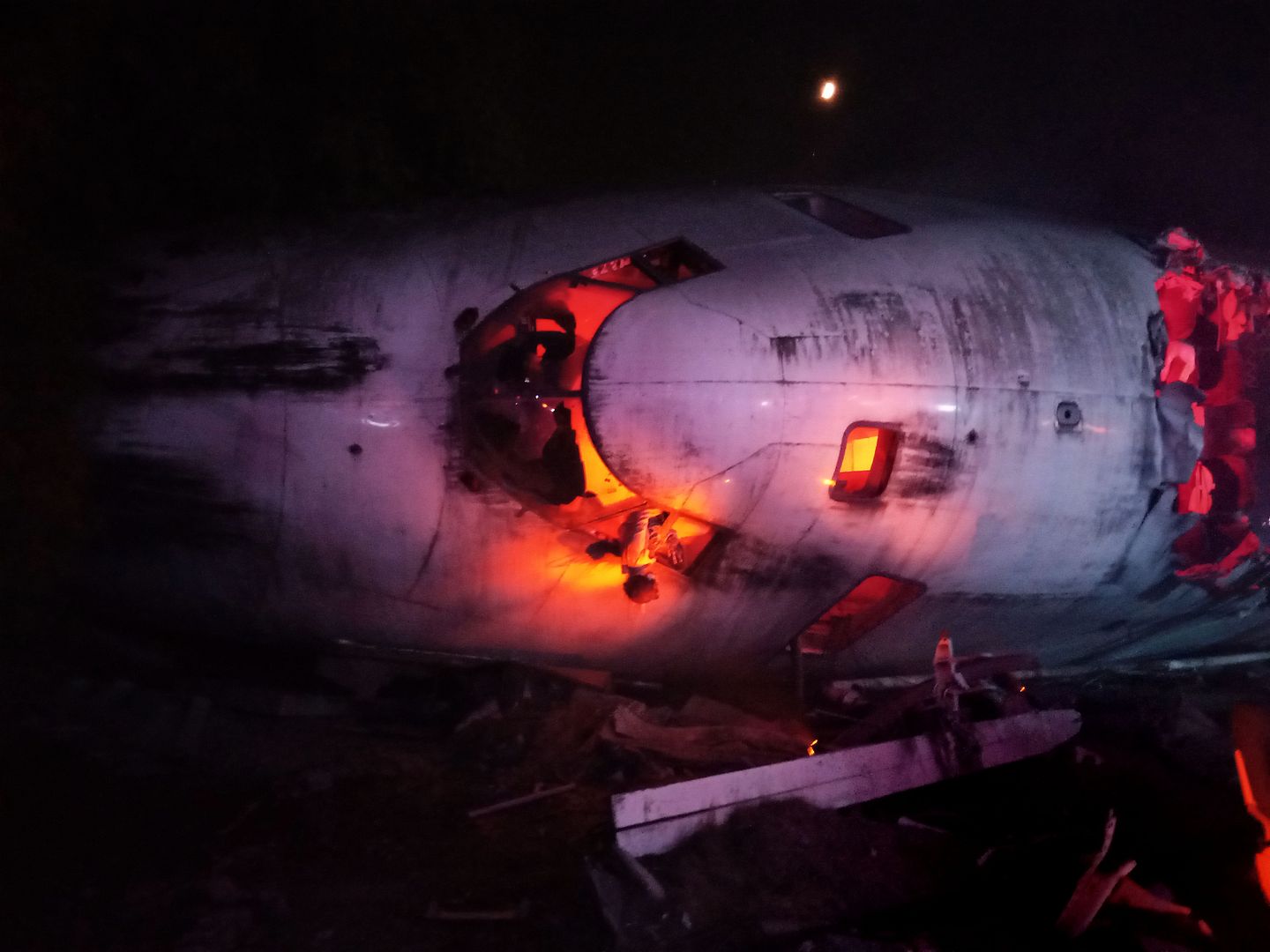 ...whose 747 plane crash is still remarkably intact.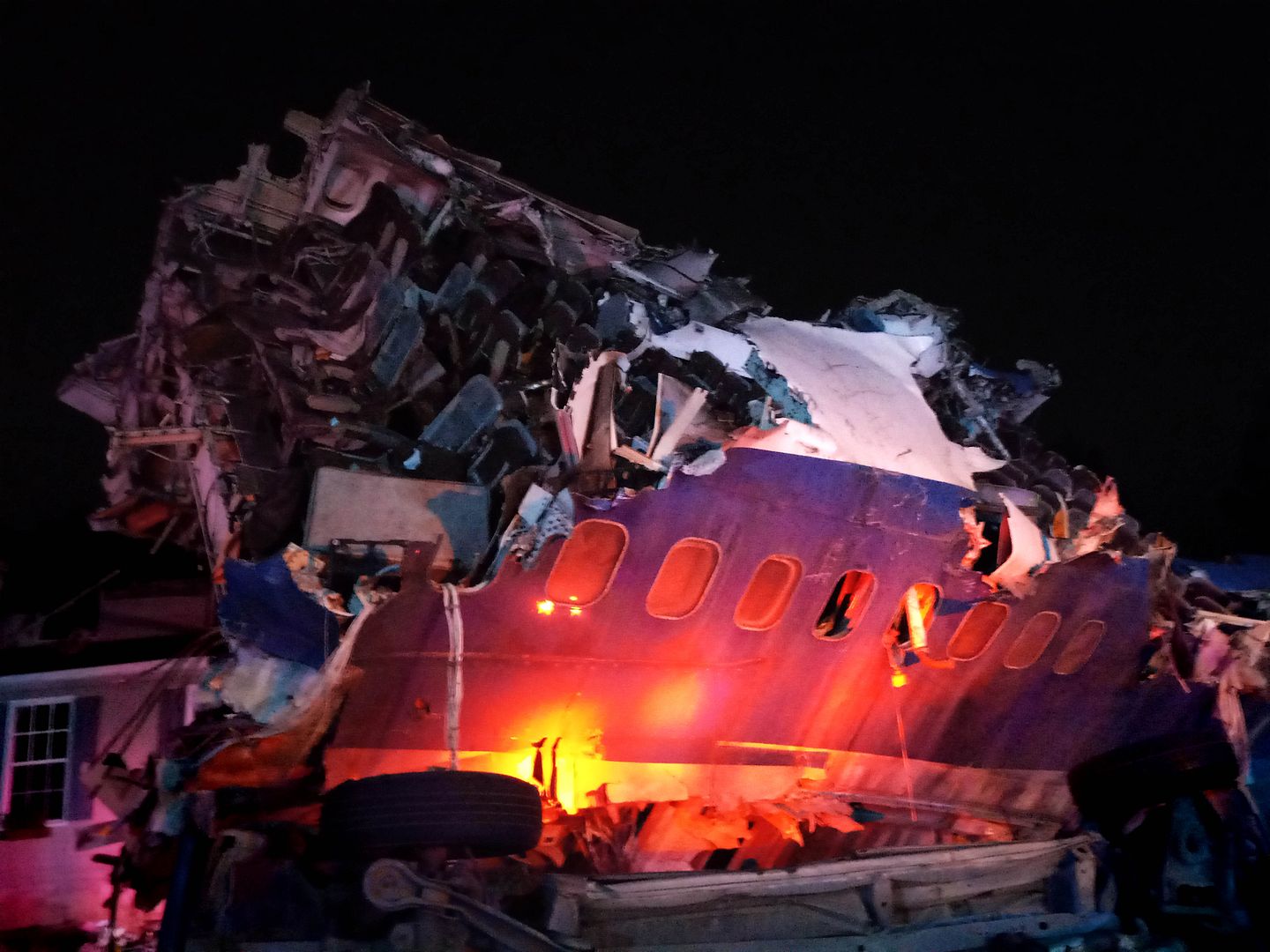 It's the perfect backdrop for more apocalyptic mayhem from The Purge—which you can escape simply by hopping back onto the tram.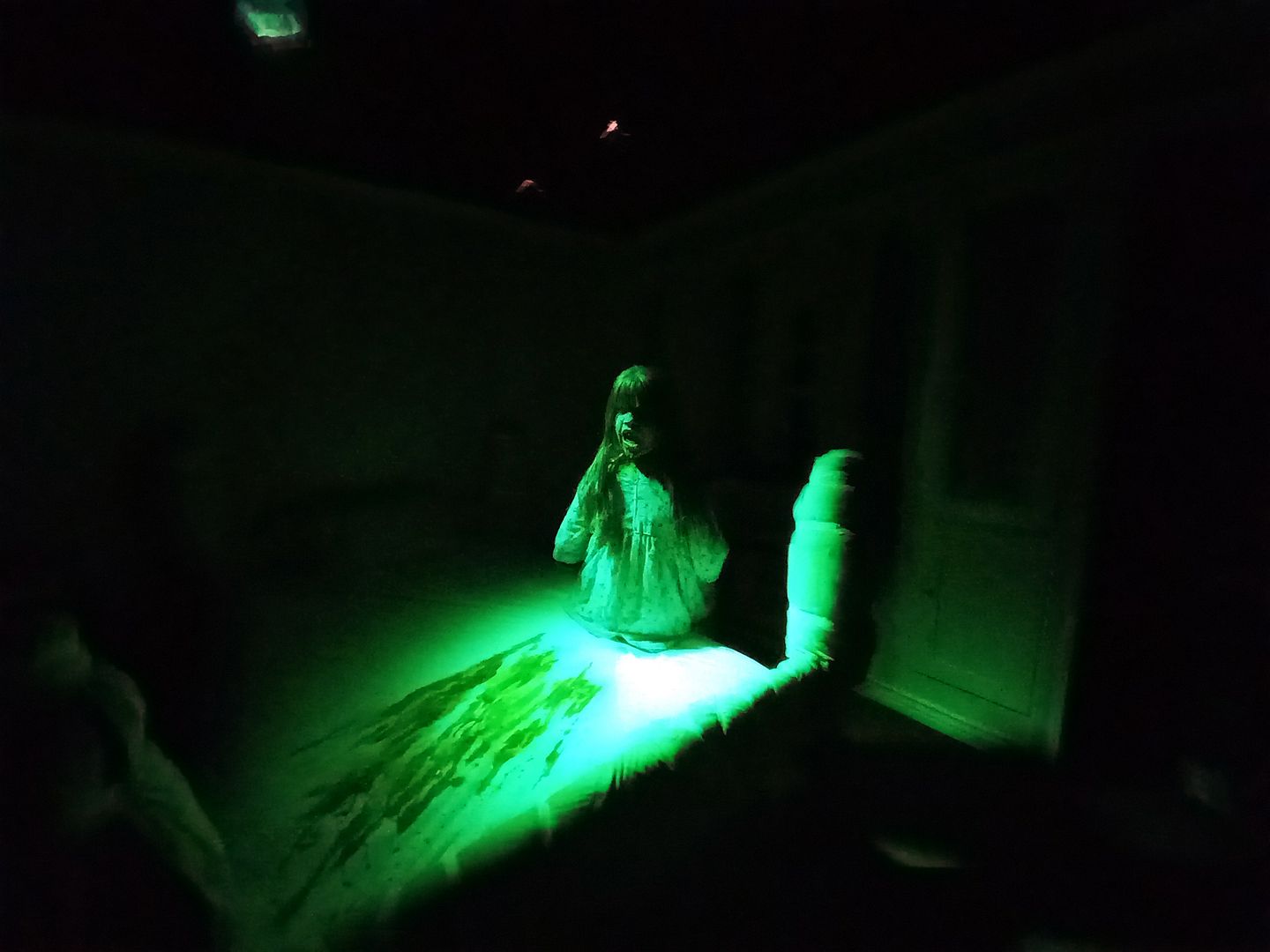 In the Lower Lot, getting to see the return of The Exorcist maze—which originally debuted at Universal's HHN in 2016—was worth the long wait at Soundstage 29.
It's a pretty straight-ahead, scene-by-scene retelling of the scariest and soupiest parts of the movie—and it works really well.
I was really hoping they'd revisit the Ghostbusters maze, whose line was too long for me to wait for two years ago—but instead, they brought back "The Curse of Pandora's Box," a non-movie-themed maze with really great blacklight effects.
I decided to skip the Texas Chainsaw Massacre and Halloween mazes in favor of taking my time to walk through the scare zones and really appreciate my surroundings.
I can't do 'em all in one night.
I also skipped The Walking Dead maze—which used to be a permanent attraction but was closed sometime after October 2019 (after I fortunately got to walk through). Looks like they kept it, though—and brought it back this Halloween.
Is it too early for Halloween, less than two weeks into September? If you ask me, it's too late! I've been dying for Halloween since at least August.
My next six weeks are pretty jam-packed with Halloween revelry, so I'll report back when there's something interesting to show and write about.
Happy hauntings!
Related Posts: