In 1857, Anaheim became the second-oldest colony experiment in California—nearly a century before the arrival of Disneyland.
Named "Ana" for the Santa Ana River and "heim" after the German word for home, this "Home by the Santa Ana River" was originally founded by a collective of 50 German families who had formed the Los Angeles Vineyard Society.
Although you might associate such a German community with biergartens, these German immigrants established Anaheim with 50 vineyard lots, 20 acres each, on 1,165 acres of the former Rancho San Juan Cajón de Santa Ana. They hoped to find wealth through wine, planting primarily Mission grapes in an attempt to create the largest vineyard in the world—despite being miles from markets, seaports, and railroad depots (at least until 1875).
And they succeeded, reigning for a time as the greatest wine-producing district in California, until 1885 when a blight wiped out their wine grapes.
That's when they quickly shifted their attention to other agricultural crops, like Valencia oranges and walnuts.
Anaheim is now the oldest town in Orange County (though it was LA County back when it was founded). And much of its history has been forgotten, or at least eclipsed, by haunted mansions, intergalactic adventures, and the smell of freshly baked churros.
But there are still traces of it to be found—if you know where to look.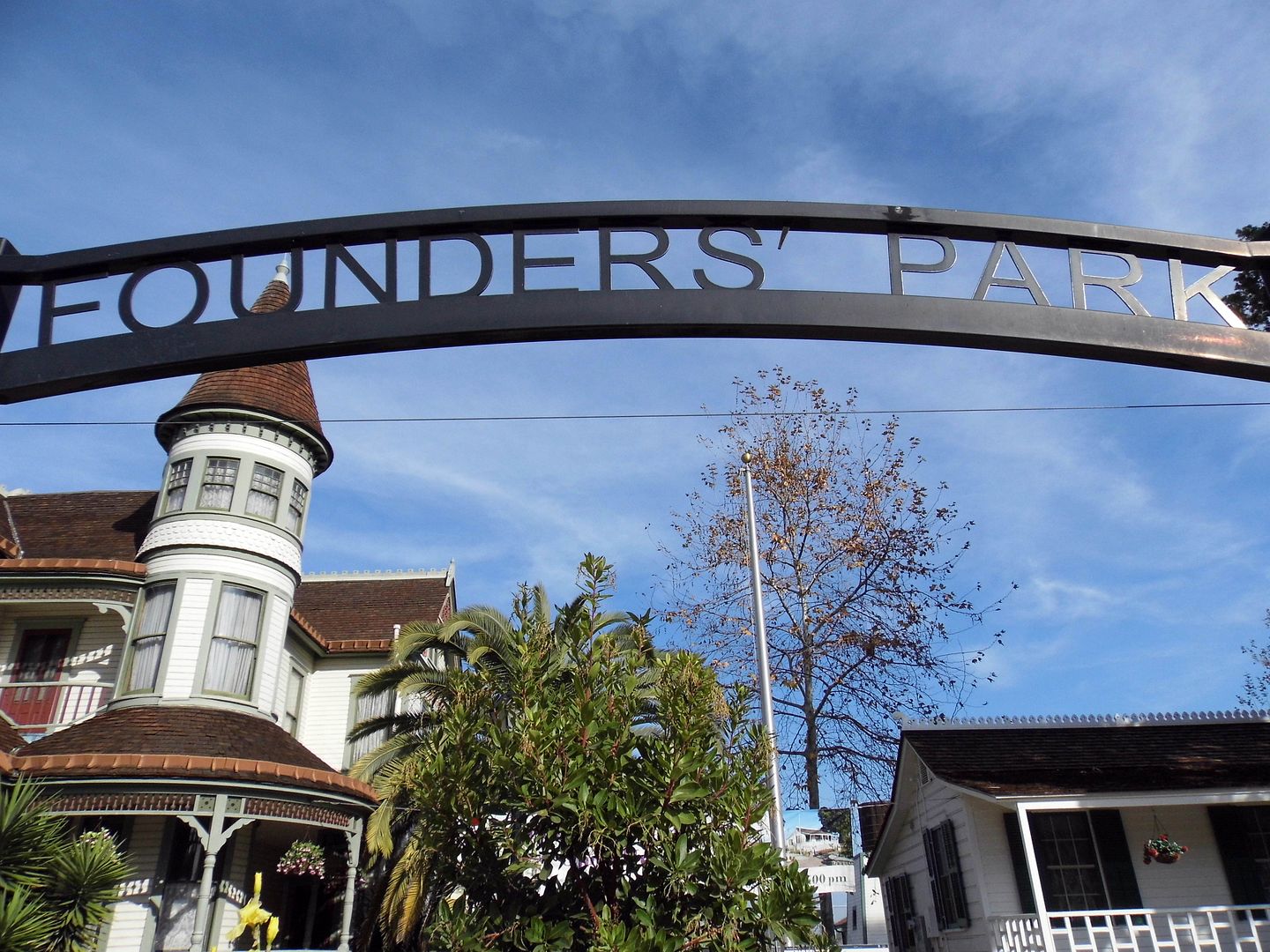 "Ground zero" of the original establishment of the Anaheim Colony is Anaheim Founders' Park—a one-stop shop for early Anaheim agricultural history located on an acre of the original Vineyard Lot C-7.
Located at the original colony's western boundary (literally on West Street) and dedicated in 2011, its main attractions here are two of the oldest homes of Anaheim—including a two-story Victorian mansion, the Woelke-Stoffel House (circa 1894).
It's named after its original occupant John Woelke, an Austrian immigrant, as well as Peter Stoffel, a citrus farmer who'd immigrated from Luxembourg and later moved into the home in 1907 (and resided there until his death in 1948).
From 1953 to 2006, the Anaheim chapter of the American Red Cross was headquartered there, too (although it only actively operated its service center out of the house until 1973).
It's a wood-framed and -shingled Queen Anne-style house from Anaheim's citrus era that features stained glass, decorative woodwork and spindlework, and ornate gingerbread details. George Franklin Barber's architectural plans were sold in a catalogue and constructed by contractor Armstrong Davis "A.D." Porter, possibly using some prefabricated parts.
Mostly, what you see today of is intact from the original, even after being relocated in 1949 (miraculously in one piece). It did, however, lose its basement and part of its wraparound porch, which didn't quite fit at the new parcel.
There are, of course, some changes that have been made—like adding a ceiling to the inside of the turret, which used to be open all the way up to its conical roof.
Through the high-ceilinged entry hall...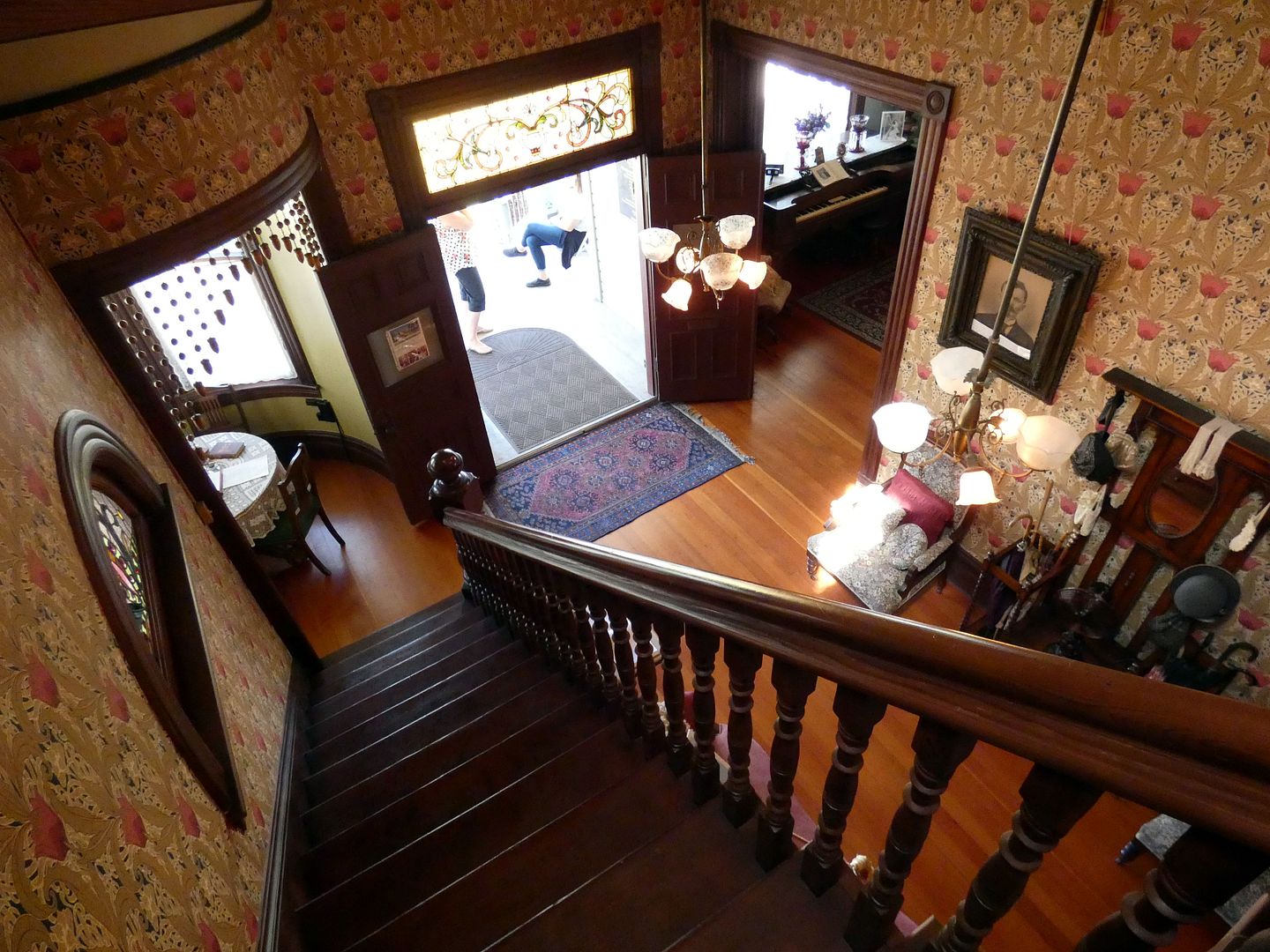 ...with its fir flooring and original lighting fixture...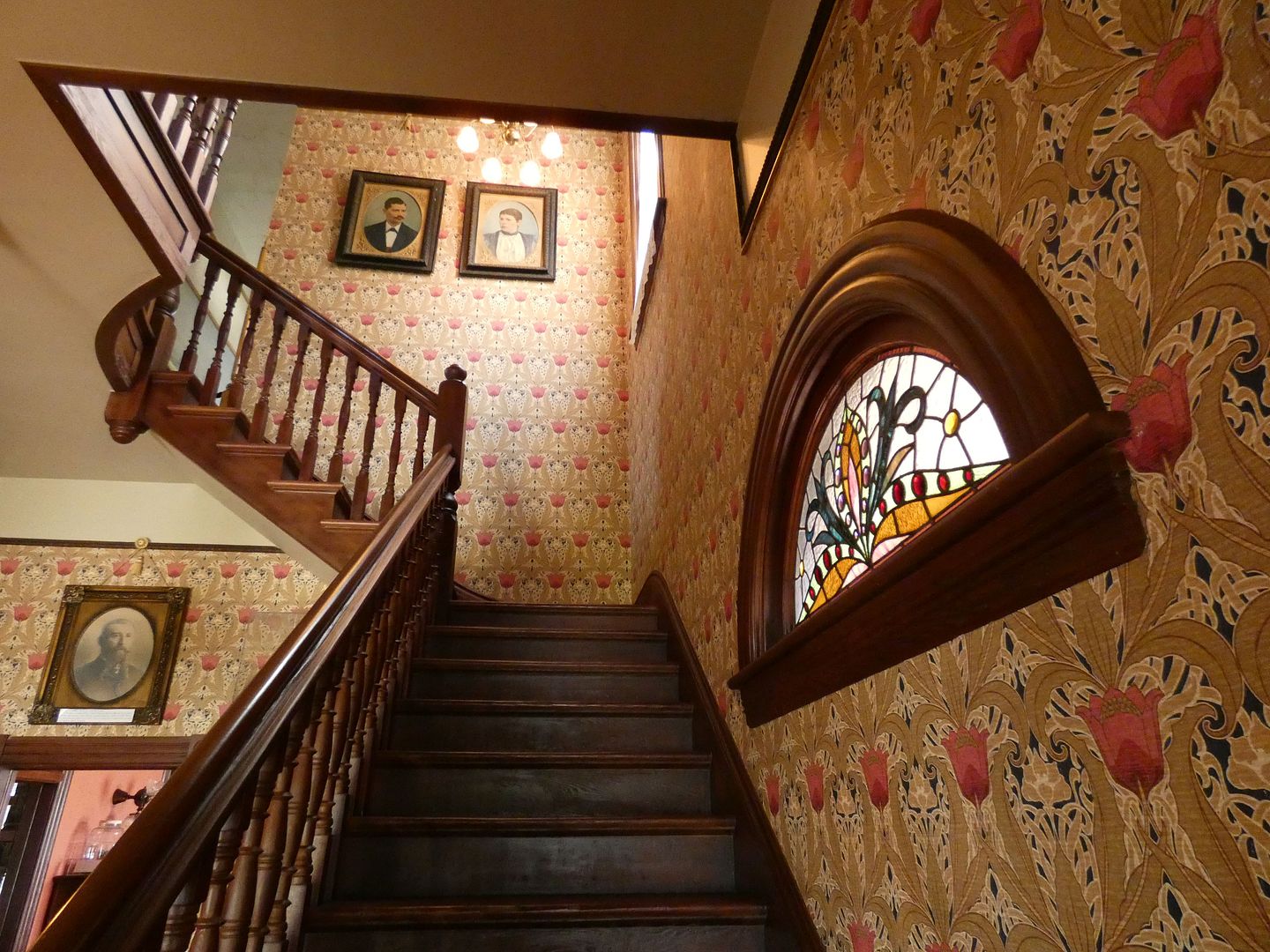 ...and up the prominent two-flight staircase...
...with its turned balusters and newel posts made of redwood...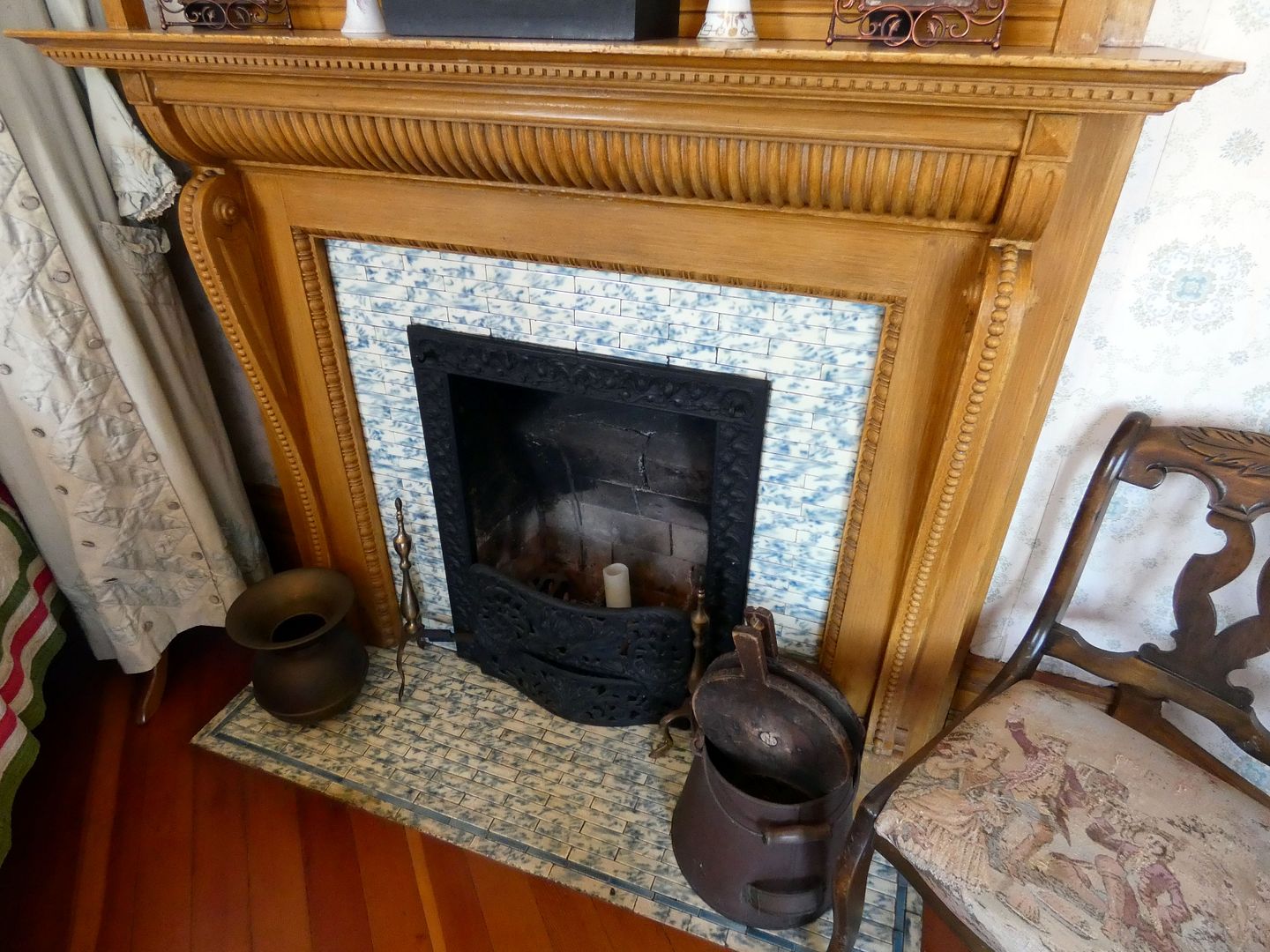 ...there's the second floor, whose front bedroom contains an original fireplace with blue and white glazed tile and its original metal screen.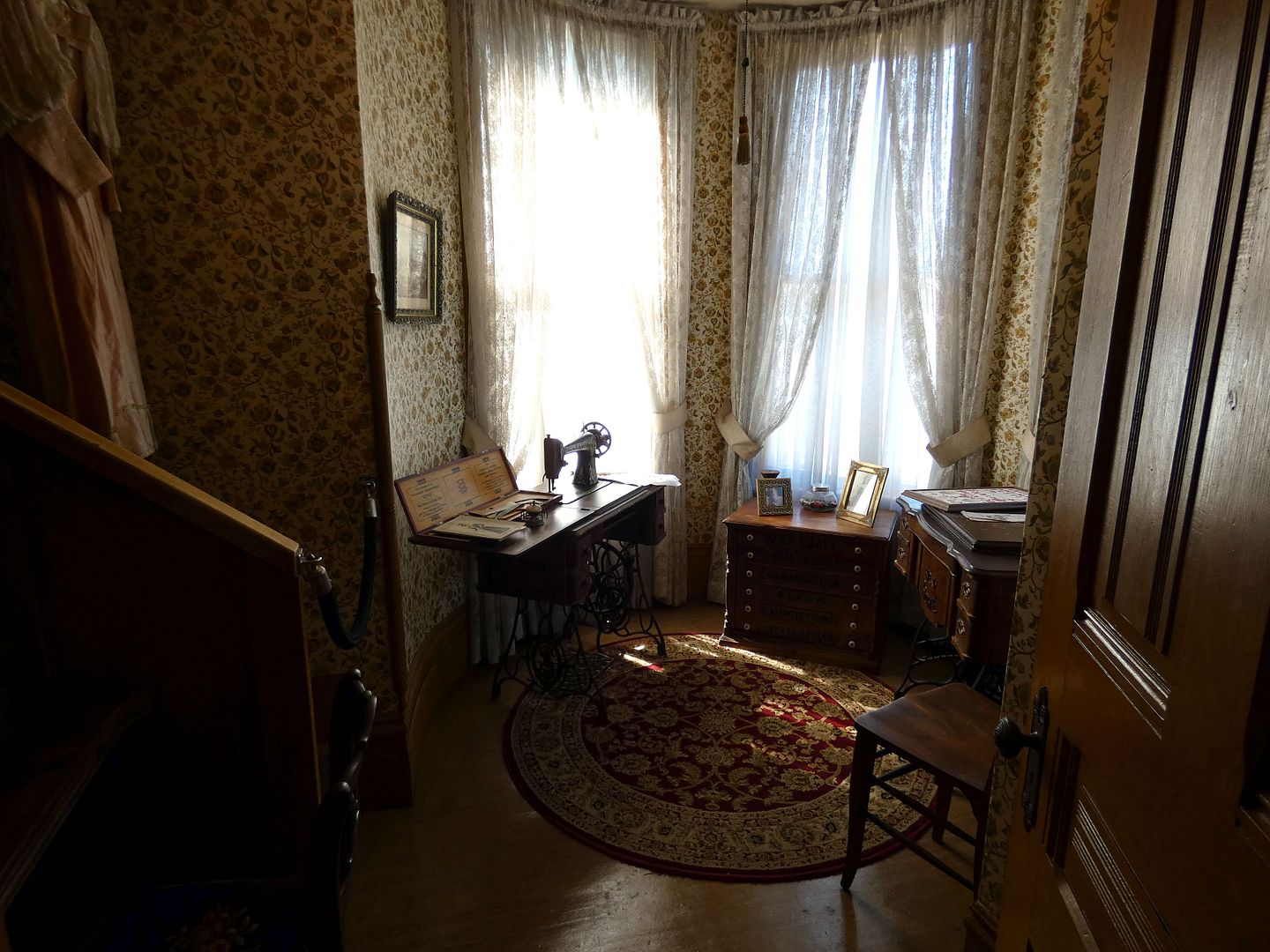 There's another bedroom up there, too—but interestingly, the house was built without any bathrooms (or even any indoor plumbing).
Back downstairs, the parlor's original fireplace displays intact brown and white glazed tile in a marbleized style.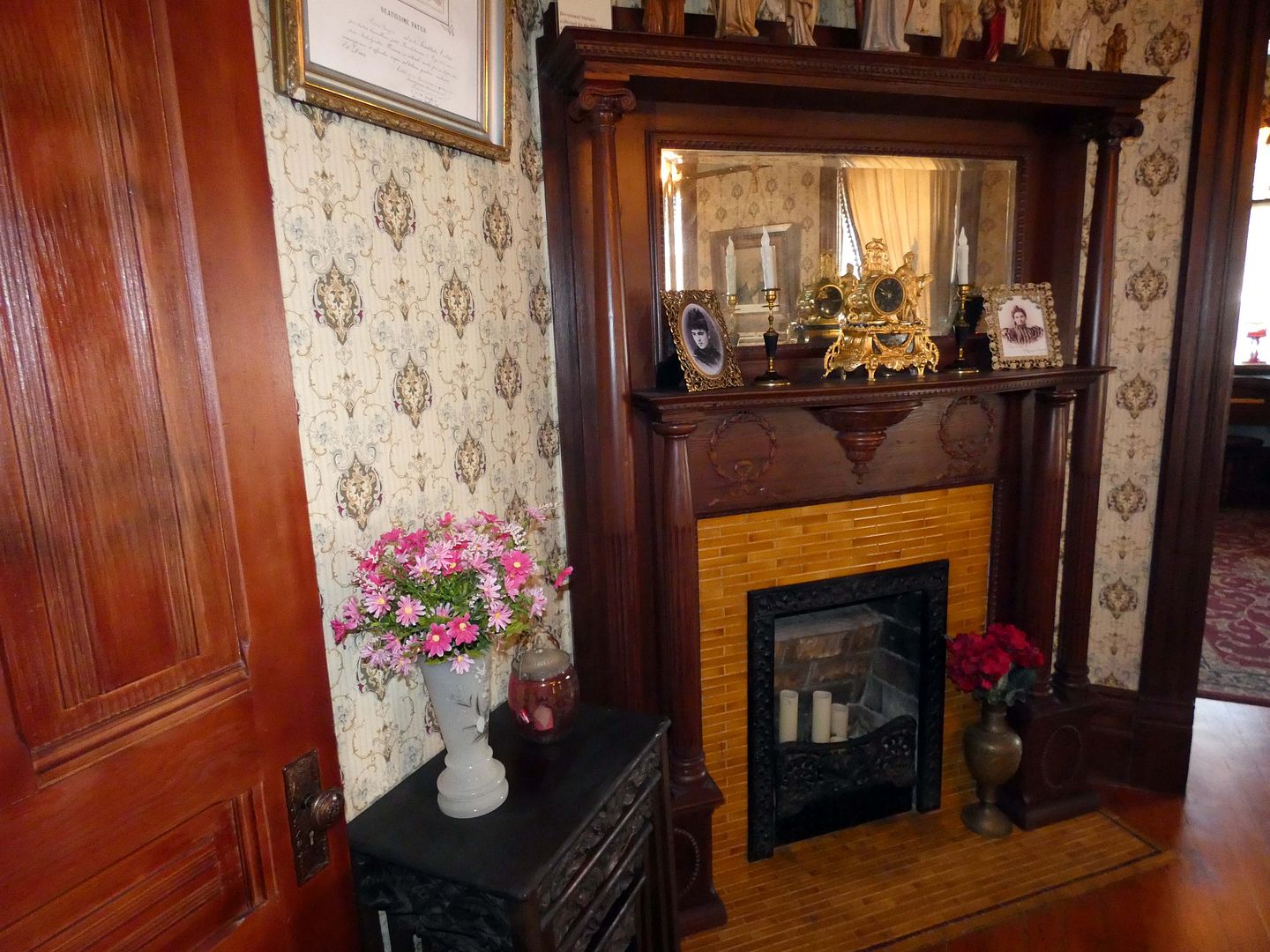 Likewise, the dining room's fireplace is also original—with carved garland and classical motif reliefs on its wood panel and more marbleized tiles (these a color described by
the National Register nomination
as "ochre").
Even the fixtures that aren't original are thought to be pretty darn old.
And although not much from the working kitchen is left from the late 1890s....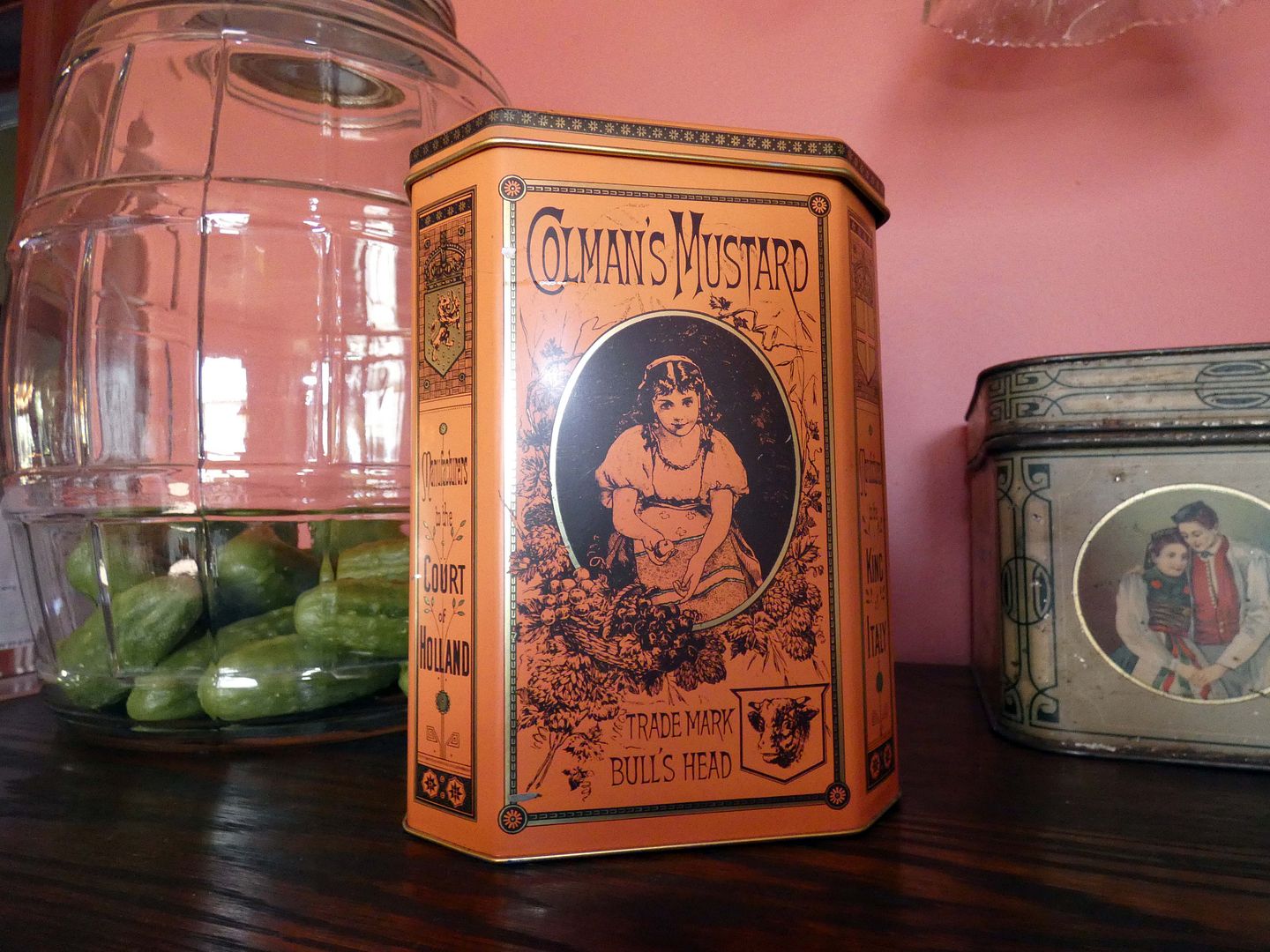 ...it's been "dressed" with some objects of interest of the time...
...and artifacts that might be found in a home of German immigrants around the turn of the last century.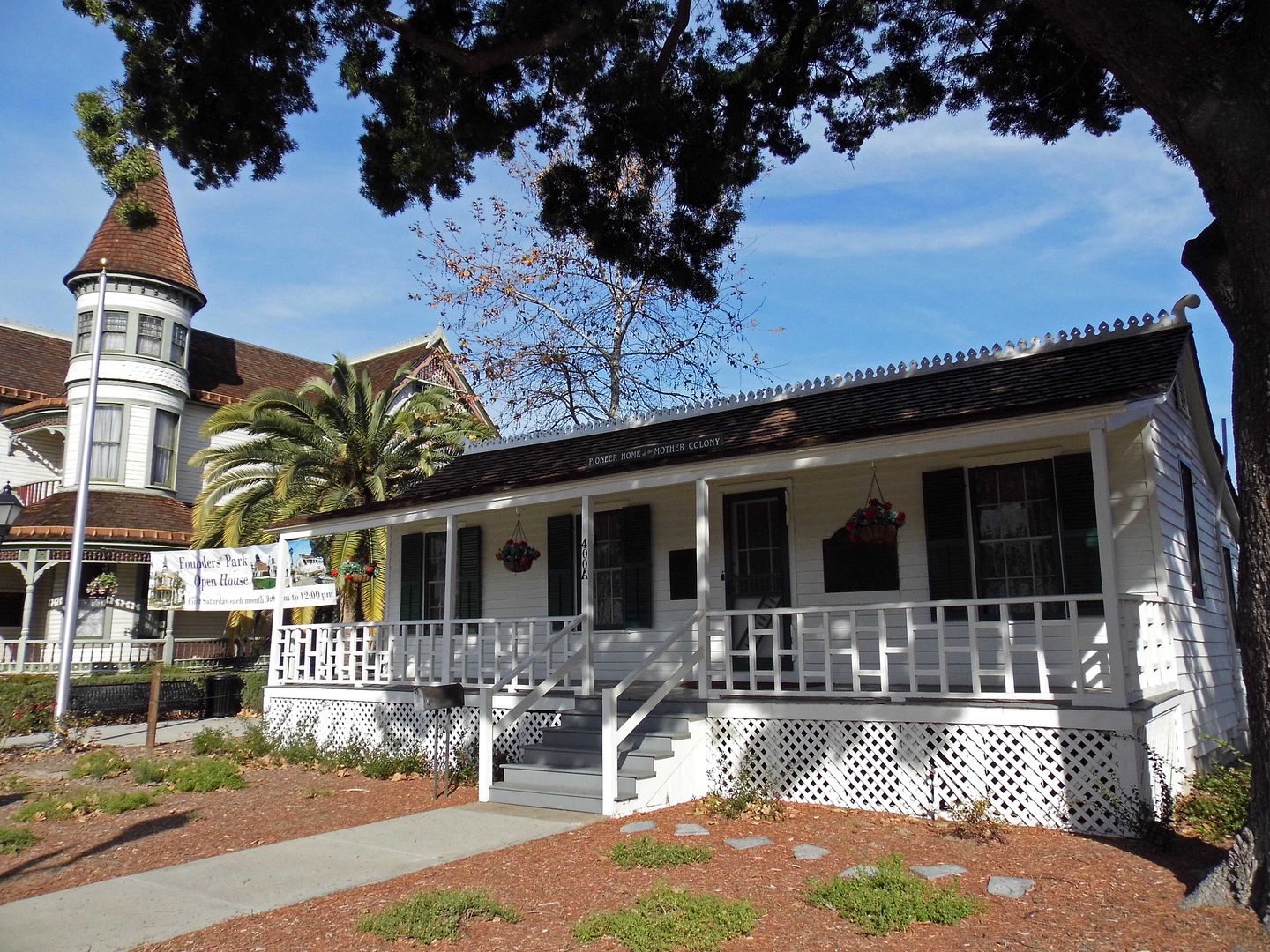 Now next door to the Woelke-Stoffel House (though also moved from its original location in 1928, and stood alone here until 1949), the one-story Mother Colony House was built in 1857...
...making it Orange County's oldest wood-frame structure.
It was built for and was once occupied by the colony's first superintendent and "Father of Anaheim," Austrian immigrant (and LA-based civil engineer) George Hansen. As surveyor, he's the guy who laid out the plots of land before the Anaheim Colony settlers actually arrived to the area from San Francisco.
It started out as a redwood cottage with just two official rooms—an architectural style known as
hall-and-parlor
(two rooms wide and one room deep).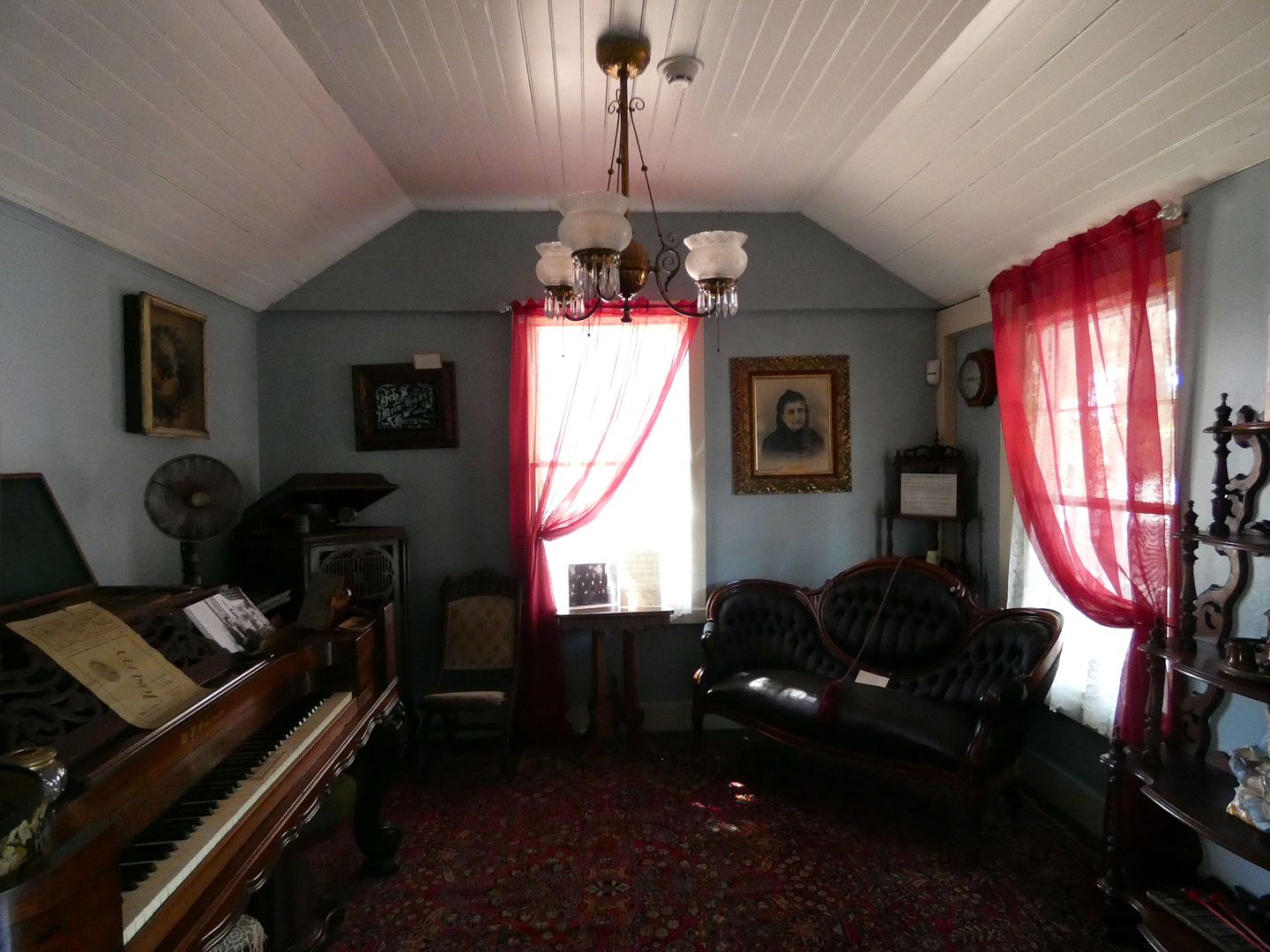 When the twice-windowed Doña Vicenta Sepúlveda de Yorba de Carrillo moved in some years later, in 1872, that wasn't enough room for her and her daughters...
original three-arm gas chandelier (converted to electric)
...so she added an annex for a kitchen and wash room, down two steps in the back.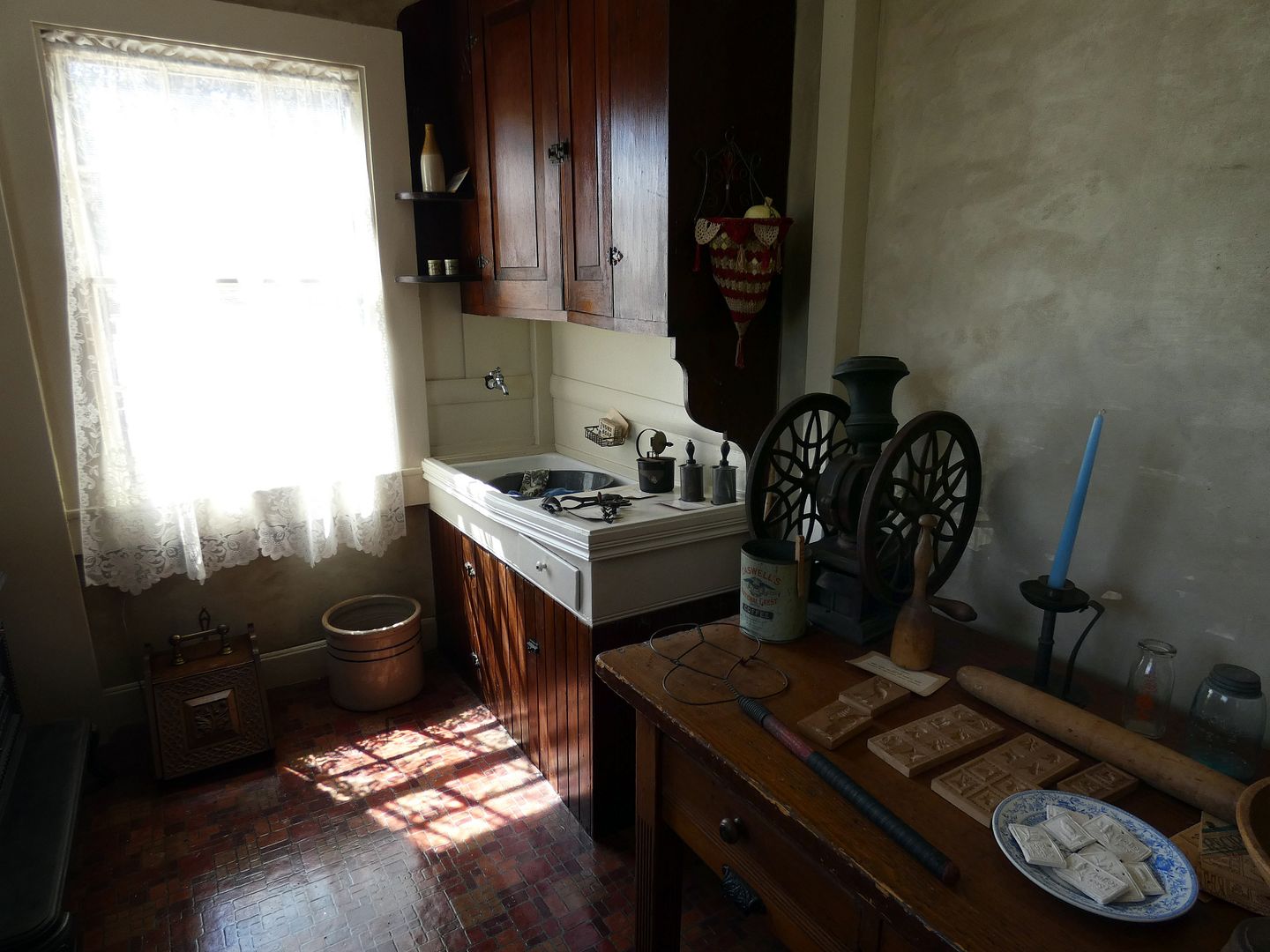 This was also once the rented home of renowned Shakespearean stage actress Helena Modjeska upon her arrival from Poland, when she established an artists' colony in Anaheim (as Helena Modrzejewski) in 1876. She was incredibly disappointed with its "commonplaceness"—and jumped at the chance to move to Santiago Canyon (now known as Modjeska Canyon, blog post forthcoming).
Some of Founders' Park's recently added outbuildings include a pump house, windmill, and a 19th-century-style carriage house, which serves as a little museum for genuine artifacts of the Colony...
...including an old postal carriage and original wooden grave markers with leather lettering (of Carl Schäfer and Adele Schäfer a.k.a. Adela Schafer or Schaeffer, both born in Germany and died in Anaheim).
They're from Anaheim Cemetery—the city's first graveyard, founded in 1866, and the oldest such burial ground in all of Orange County. It's the final resting place for thousands of early Orange County settlers and their families (though it's located just east of the eastern boundary of the original Colony).
It's worth noting that of this (except the park's Moreton Bay fig tree) would be here if it weren't for the donation of acreage by Marie Horstmann Dwyer, the first baby born in the Anaheim Colony (in 1860). Her parents were among the earliest landowners—of a ranch house located at 412 North West Street, just south of where the Mother Colony House is today (although their ranch, presumably 20 acres extended much farther than that).
There isn't much of any of this stuff left in Anaheim—certainly not from the citrus era, and definitely not from the original vineyard era.
As much as I love Disneyland, it's nice to see some of the area's history beyond the Mouse.
Related Posts: