It's easy to dismiss the tragic heiress and philanthropist Sarah Winchester as having gone crazy...
...and that being the reason why her 160-room home, now dubbed the "Winchester Mystery House" is so bizarre and, well,
mysterious
.
Sure, a lot of it doesn't make sense—like doors to nowhere (above) and windows to oblivion, all built over the course of 38 years (earning it a place in the Guinness Book of World Records as the longest continuous home construction).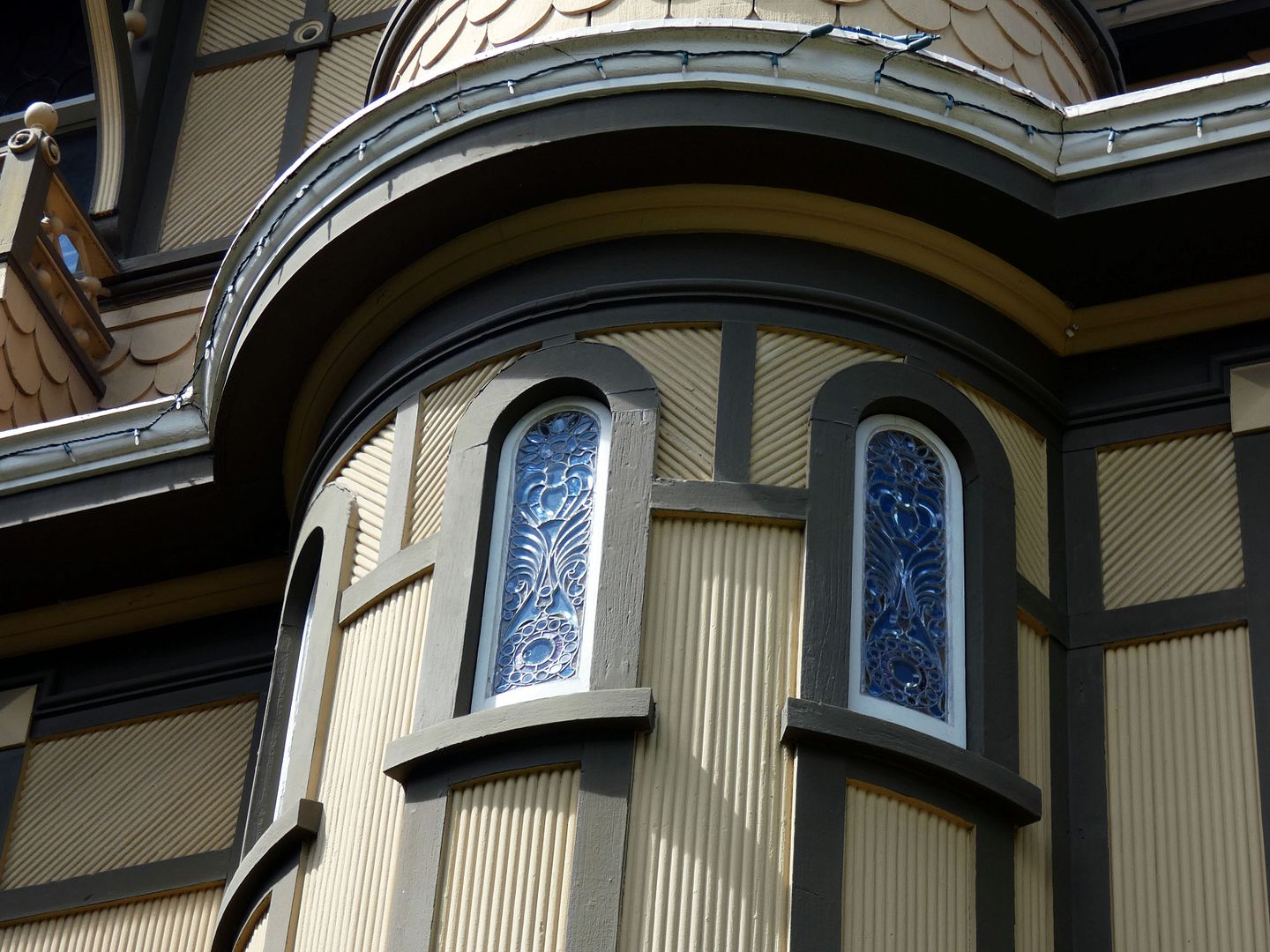 But that doesn't necessarily mean it was the work of a madwoman.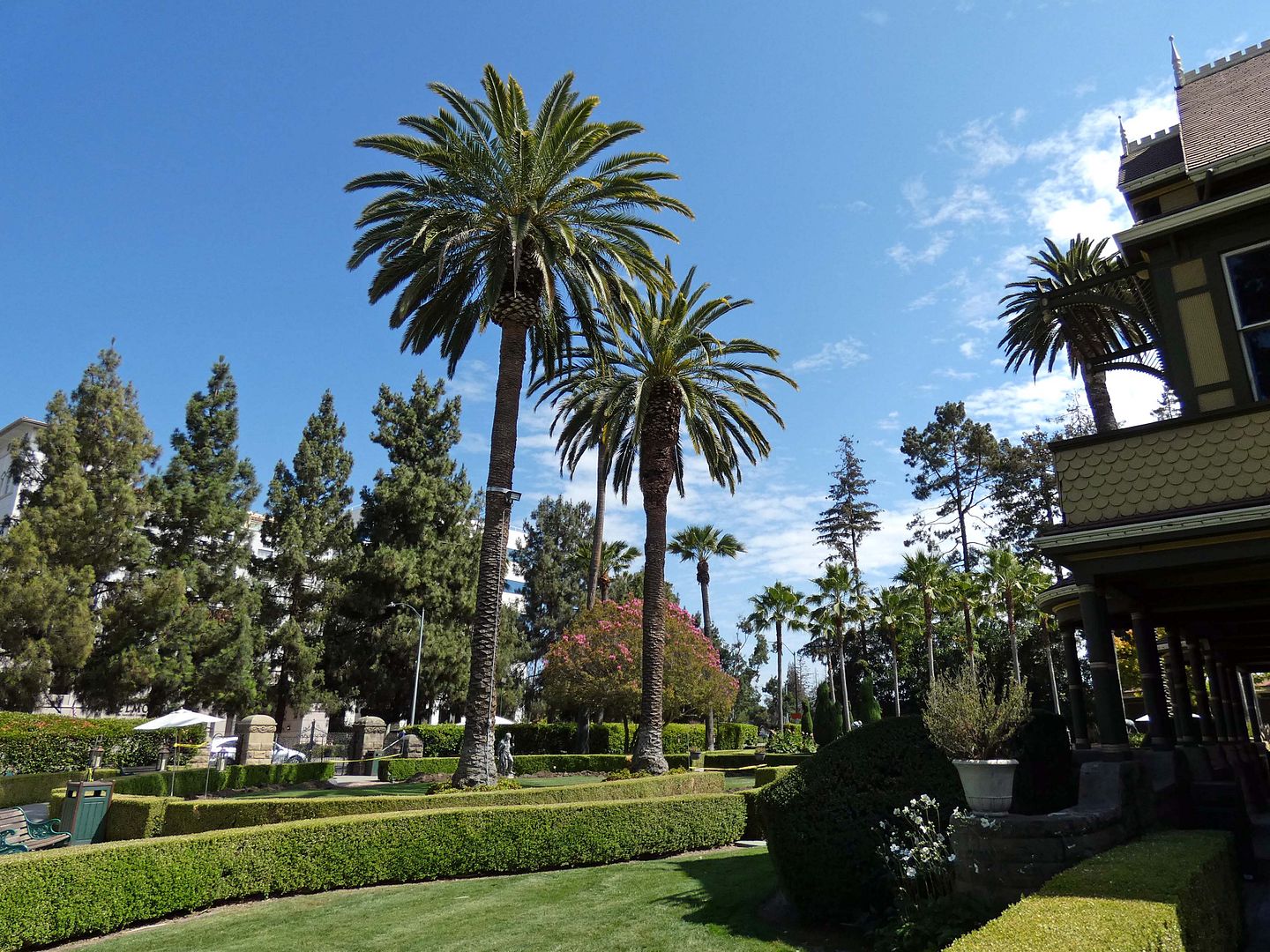 It's the unanswered questions that have captivated the imagination of so many visitors to the Winchester mansion and its 6-acre property—trying to guess what Mrs. Winchester must've been thinking.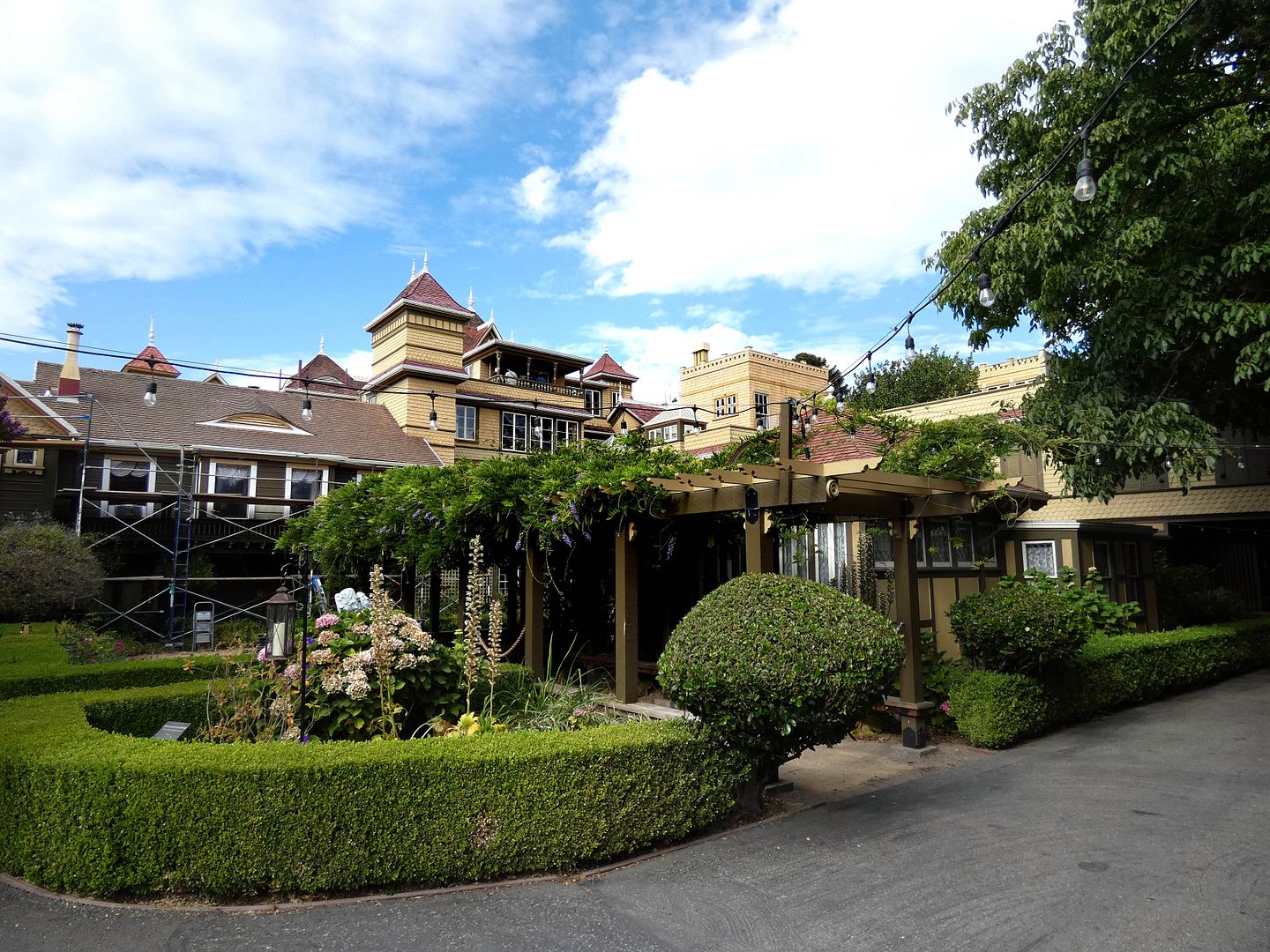 Or trying to intuit what her spirit guides must've been telling her. (Yes, she conducted seances and reportedly drew building plans based on instructions she "received.")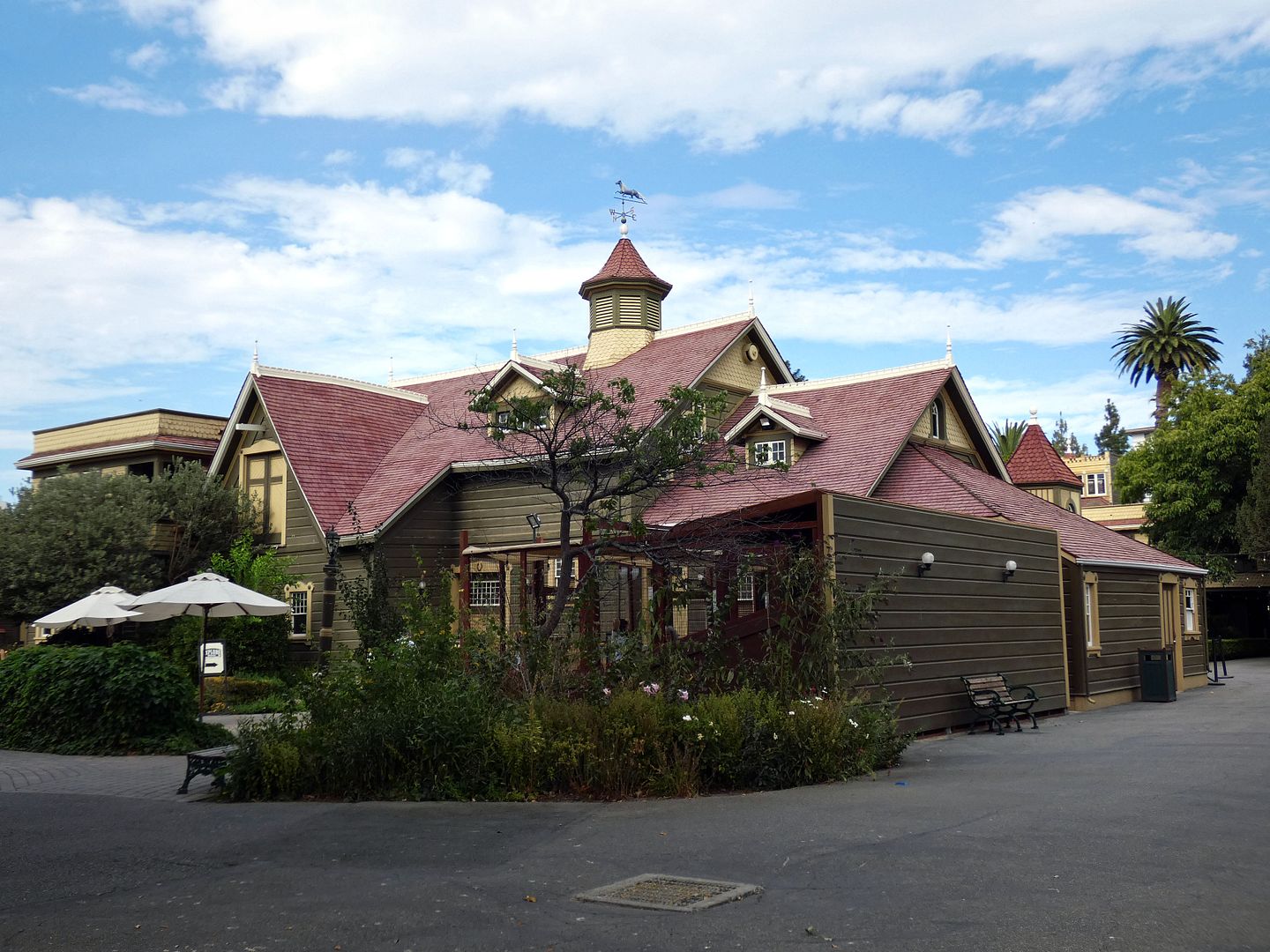 But we don't know. And we may never know.
So the Winchester Mystery House has become a repository of ghost stories and spooky suppositions.
There was even a horror movie based on the house, and how Sarah was so haunted by those who'd been killed by "the gun that won the West," the Winchester rifle—the best-selling weapon of the Winchester Repeating Arms Company, whose founding family Sarah had married into when she took her vows with her husband-to-be, William Wirt Winchester.
William died of tuberculosis in 1881, less than 20 years after their wedding. Their only daughter died as an infant in 1866.
So Sarah, widowed and alone at only 42 years old, moved from her New Haven, Connecticut home to California's Santa Clara Valley (then outside of the city of San Jose) for the superior weather and a fresh start—buying a humble, two-story farmhouse known originally as Llanada Villa.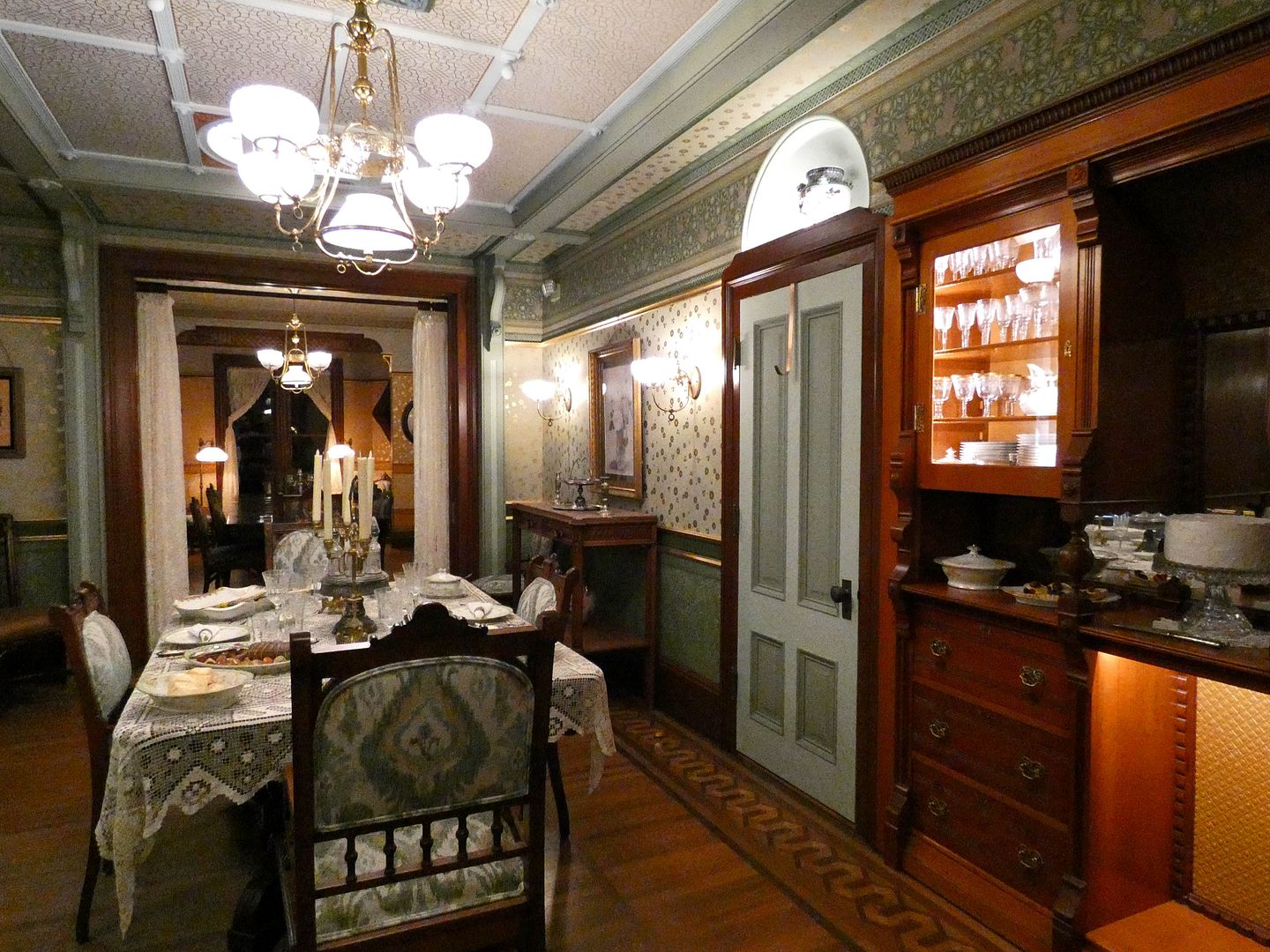 North dining room, recently restored
Having inherited a hefty portion of the Winchester fortune, Sarah began expanding her property in 1884—partially to accommodate her severe arthritis, partially to house her surviving relatives and entertain guests, and partially guided by supposed spirits.
But a more obvious explanation is that the switchbacks were installed to create very gradually stepped staircases (each "easy riser" stair just 2 inches above or below the next), as Sarah's physical pain wouldn't allow her to climb normally-sized steps.
But Sarah's interest in the occult—and the influence of a medium she'd visited back in Boston—is evident elsewhere in the house, even if just sprinkled throughout.
Some of her bizarre design choices might've been vetoed, had she worked with an actual architect (or based her work off of a master set of blueprints).
But some of the creepier design motifs might've stayed, as the Victorian Era embraced elements like spiderwebs.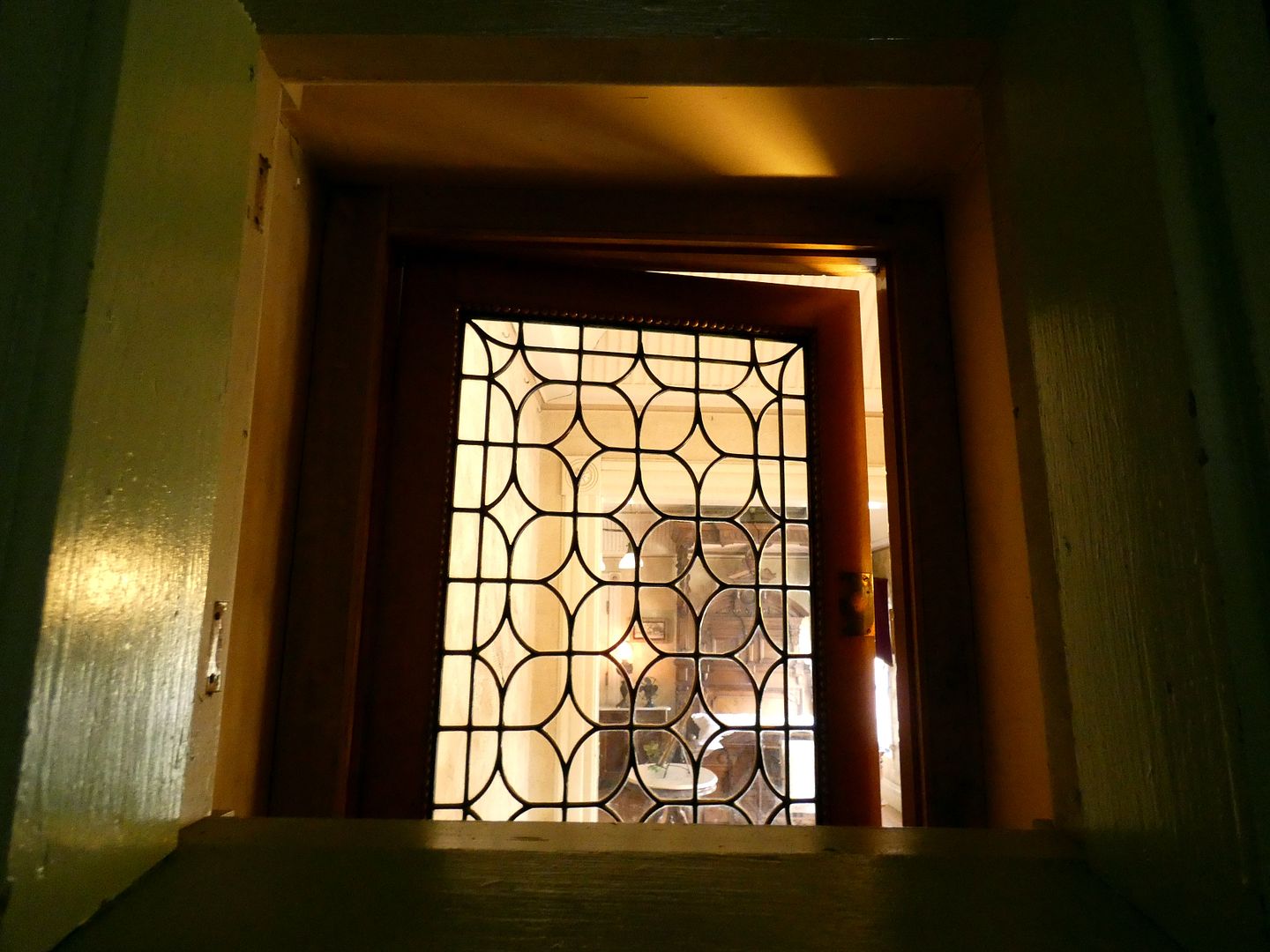 One of the overarching principles that seems to have influenced the construction of Winchester Mystery House is the number 13—incorporating 13 bathrooms (the 13th one is pictured above), the "13 Panel Room," and so on.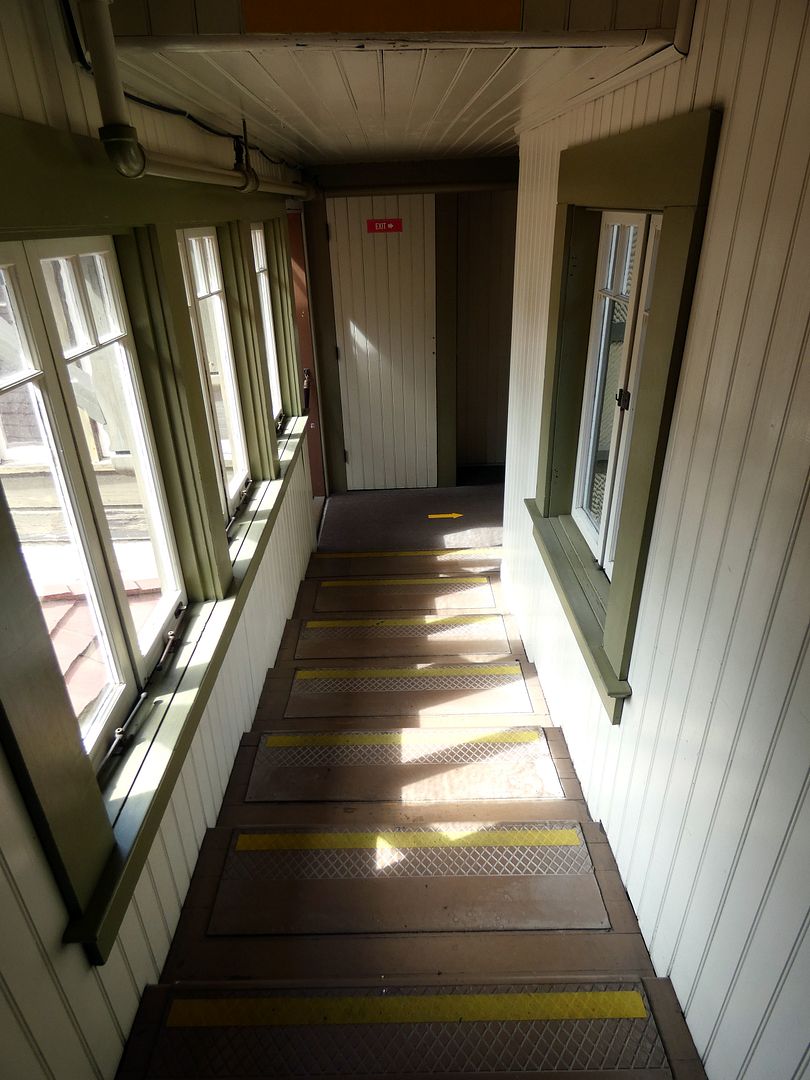 Before she died 99 years ago in 1922 (an occasion the Mystery House commemorates with the ringing of a bell 13 times), she'd written her last will and testament in 13 sections—one that she reportedly signed in no less than 13 places.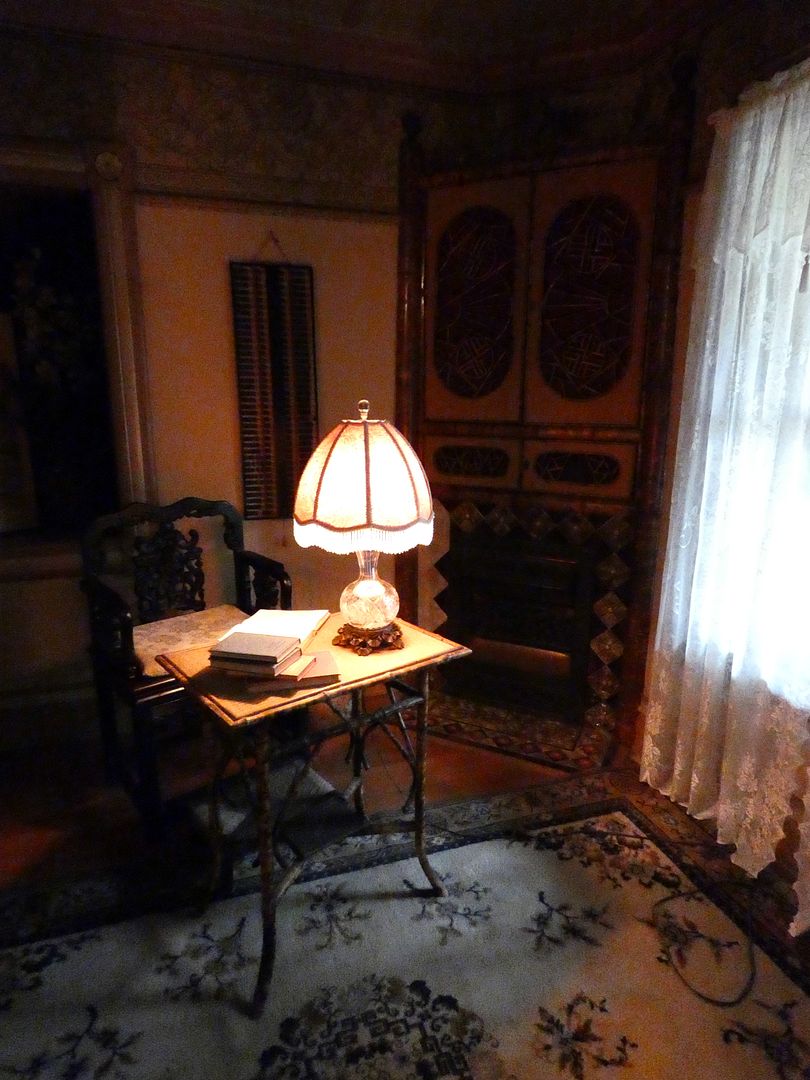 With no descendants of her own, Sarah left everything to her niece, Daisy (real name Marion Isabel Merriman, sometimes spelled "Marian"), who'd lived in the mansion for 15 years until getting married in 1903. Daisy took the belongings she wanted and auctioned off the rest. The house was sold at a separate auction—but it was such an architectural oddity, it wasn't deemed to be worth much.
The Winchester Mansion was turned into a tourist attraction by buyers John and Mayme Brown just months after Sarah's death—welcoming visitors into her private areas, like her bedroom. (Though in reality, she liked to keep evil spirits guessing by sleeping in a different room every night, like the Daisy Bedroom mentioned below.)
Sarah's bedroom
Although Sarah's personal possessions are gone, her stockpile of Lincrusta wallpaper survived—helping subsequent efforts to restore and repair the 20 different patterns found throughout the mansion (even some on the ceilings). Sometimes, as is the case with the front parlor, as many as 4 different types of Lincrusta were used in a single room.
And while there are only one or two photos of Sarah Winchester that have been discovered over the years, there is a photo of her beloved dog Zip—framed and hung in the very same bedroom in which Sarah` passed away.
Taking a guided tour of Winchester Mystery House is a baffling experience—one where you could easily get lost if you strayed from your tour group. In Sarah's constant renovation of her mansion, however, she seemed to always make sure spirits could find their way out—like in the Seance Room where one of those "doors to nowhere" actually leads to an open-air shaft that drops 8 feet down to one of the mansion's six kitchens.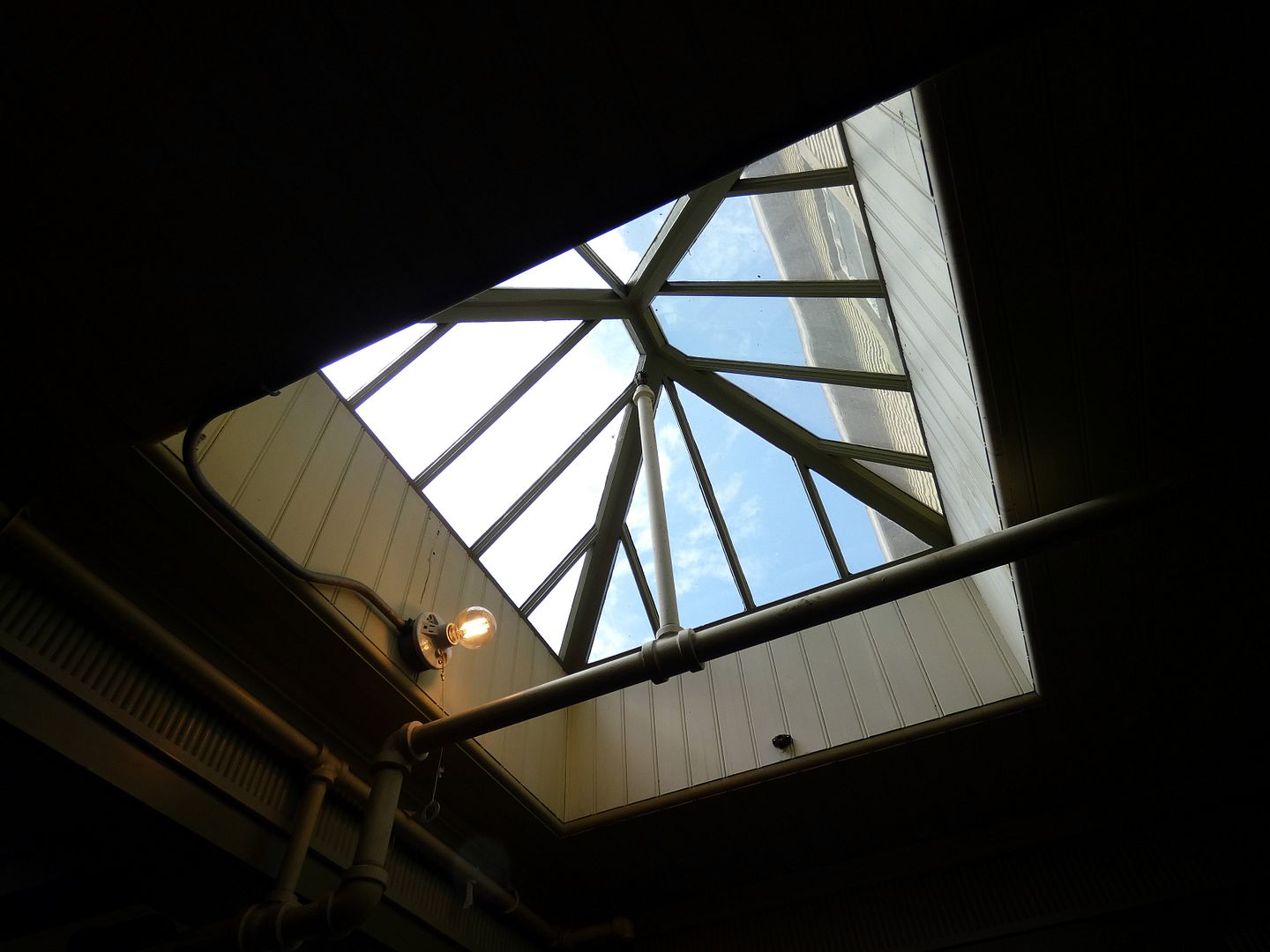 Some rooms only have one way in and one way out—and they're not the same way. Others have no windows, which makes you lose your bearings. And still others only have a skylight—one that may not reveal which floor of the mansion you've climbed up to.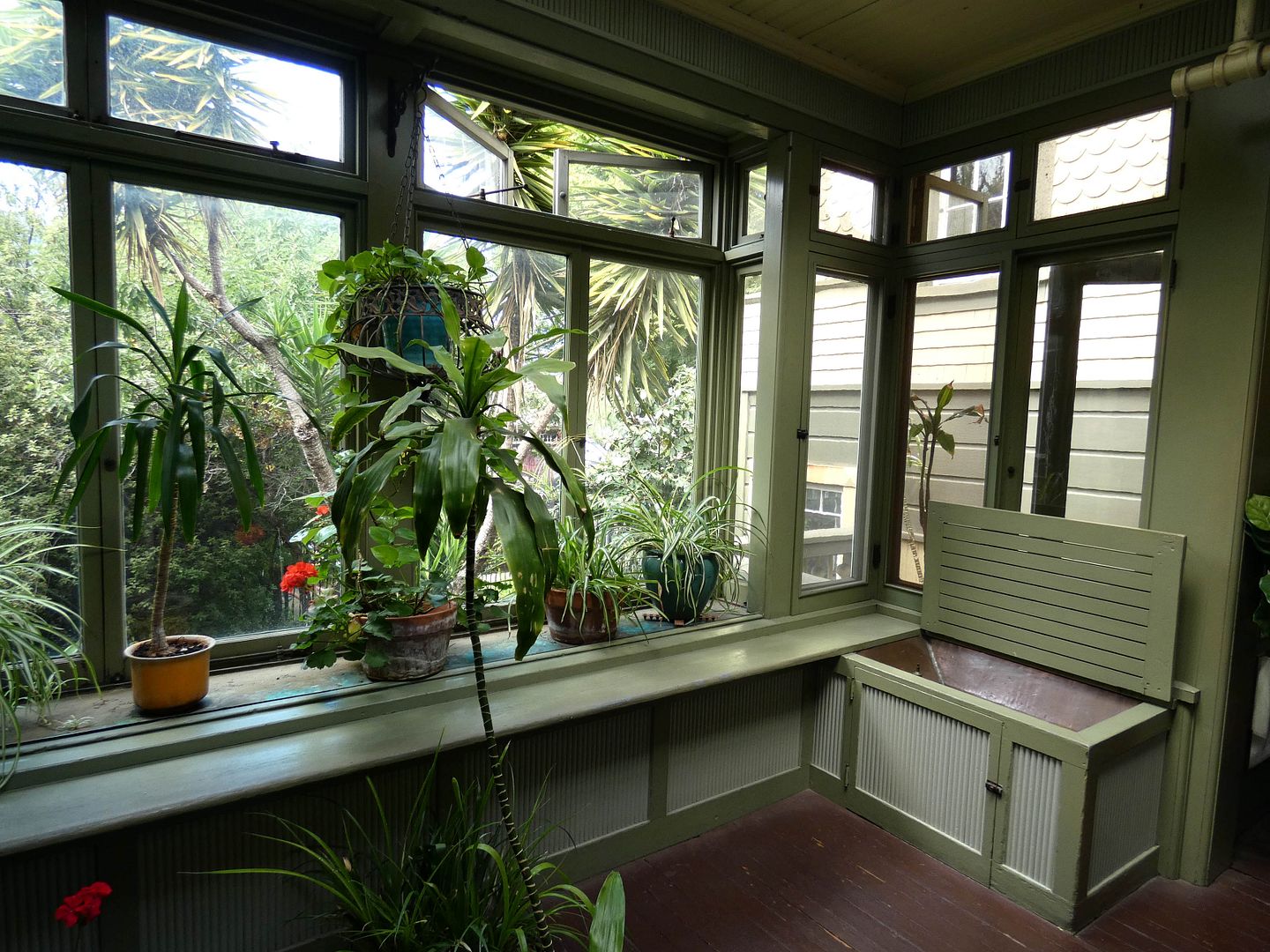 In stark contrast, the North Conservatory is one of the brightest areas of the mansion, which Sarah filled with plants—a kind of indoor garden to complement her vast acres of formal gardens outside.
The panels of the slanted floor could be pulled up to allow for proper drainage while her head gardener, "Tommie" Nishihara, watered the plants right there in the conservatory.
And, not happy with just one conservatory, Sarah also had the South Conservatory, the room with the most windows (with more than 200 panes of glass)...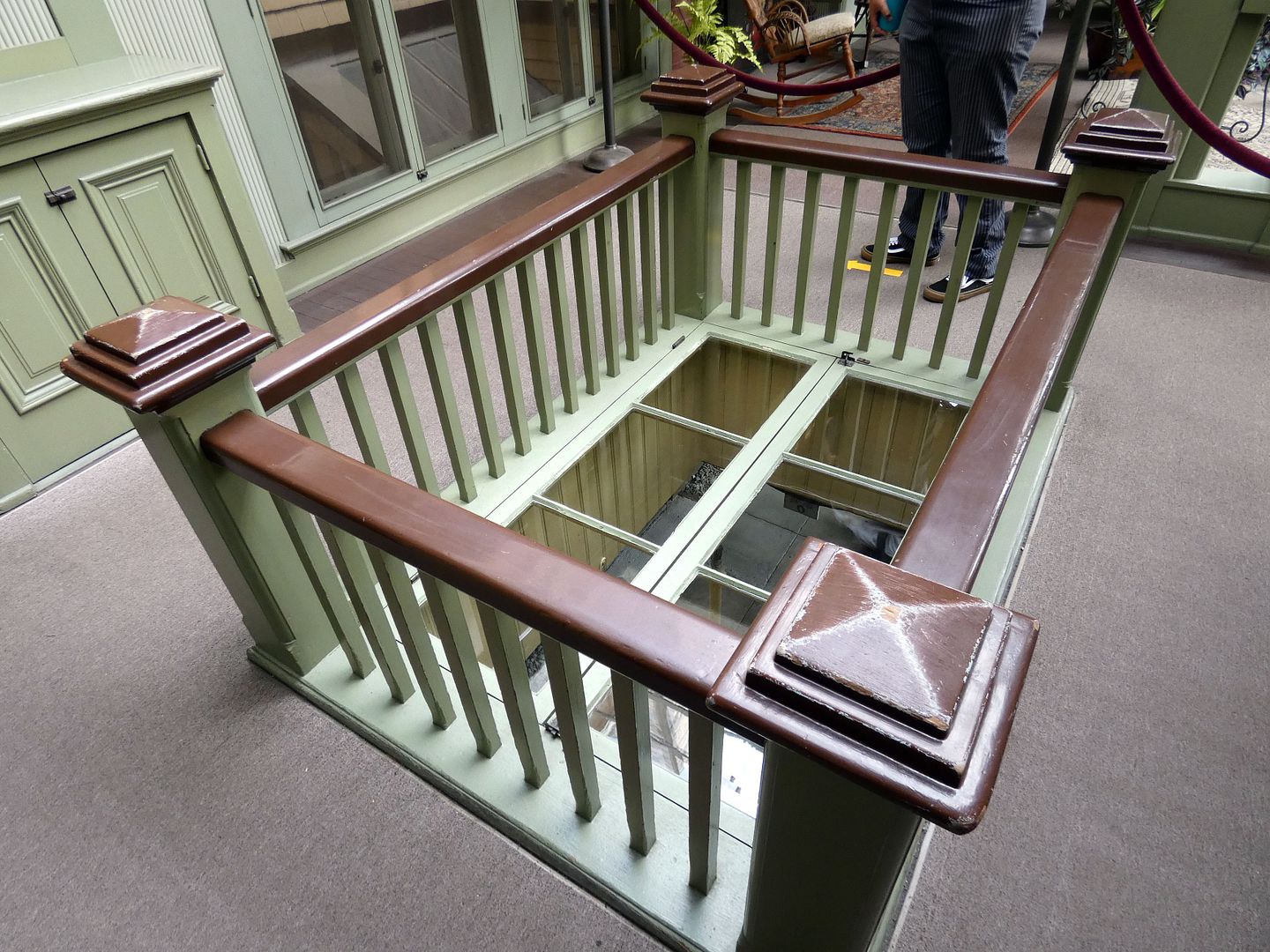 ...including one in the floor.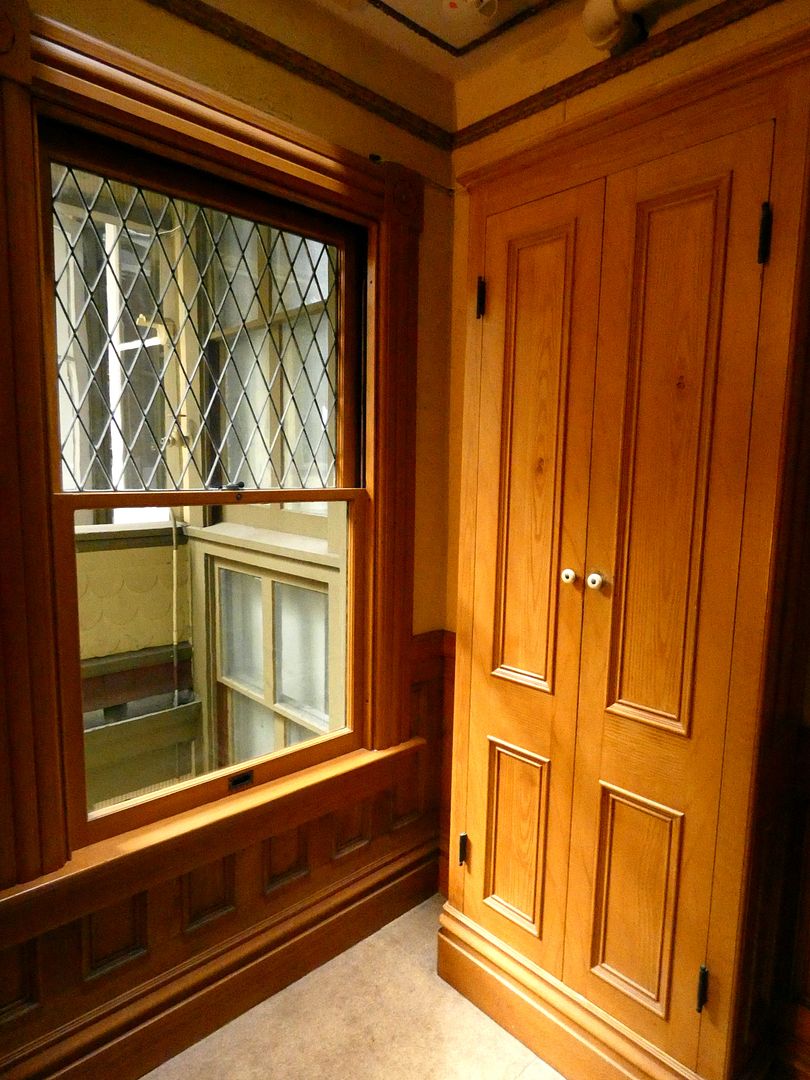 After walking through the fireplace-lined Hall of Fires and the linen rooms...
...past the one working toilet in the whole joint and the most expensive stained glass window (which was installed in an internal wall on the second floor, so it never sees the light of day)...
...yet another door to nowhere and the third-floor caretakers' quarters...
...you reach the highest point accessible in the current version of the mansion, the fourth-floor balcony.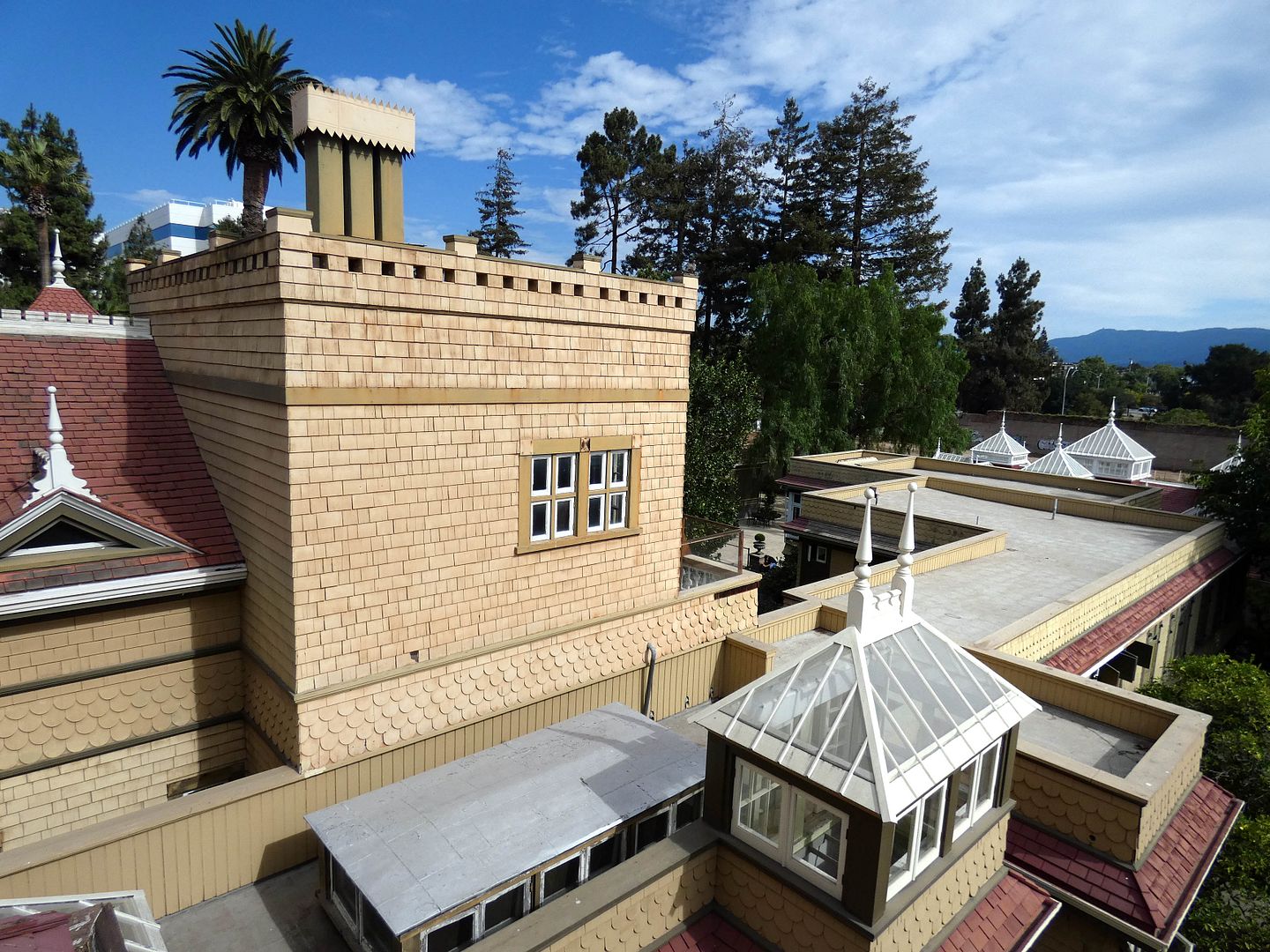 Those were my favorite views of Winchester Mystery House—because you could really see how cobbled together it was (and is).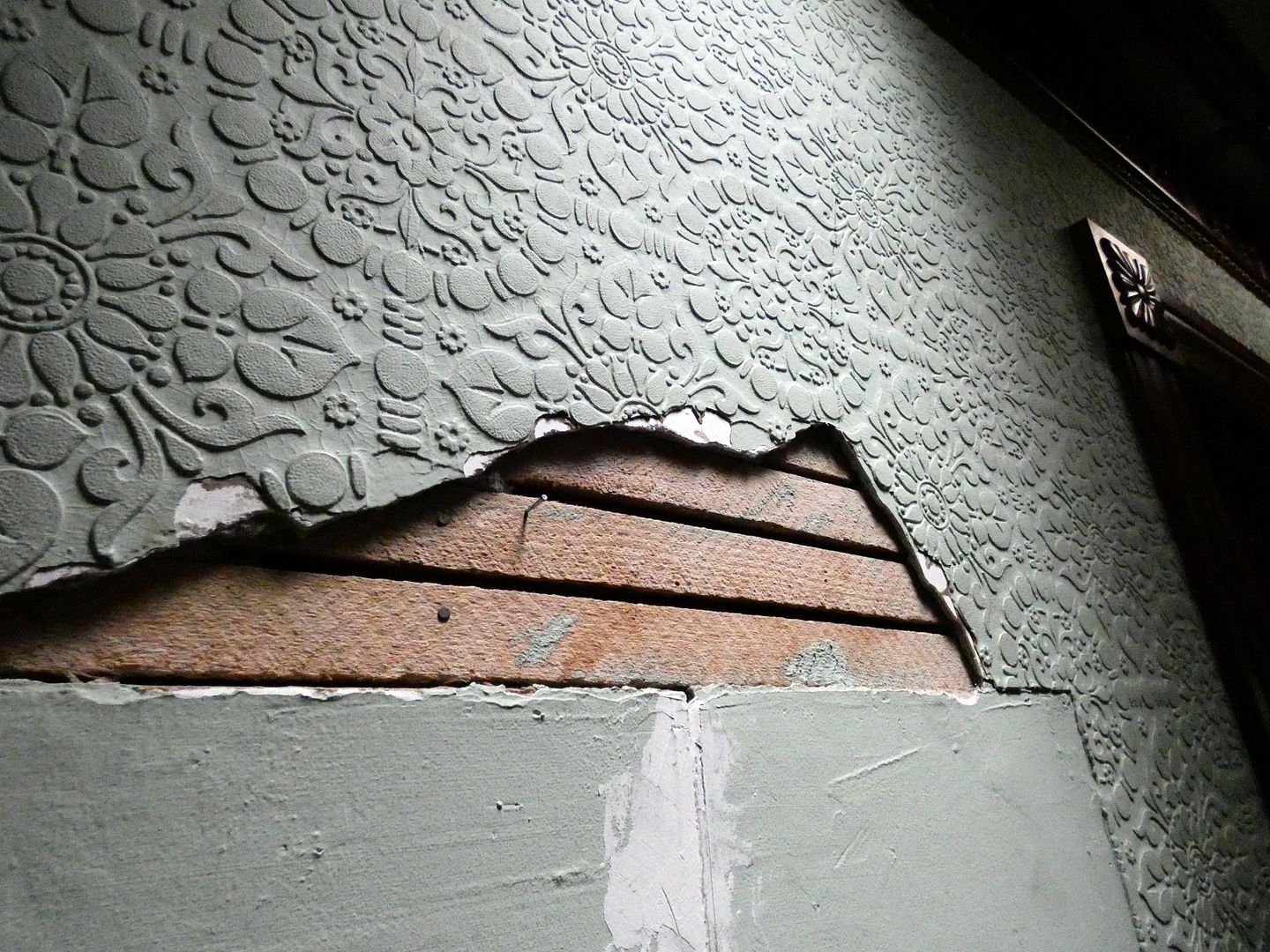 Then, the guided tour takes a dark turn through areas of the Winchester mansion that were damaged in the 7.8 magnitude San Francisco earthquake of 1906—and never repaired.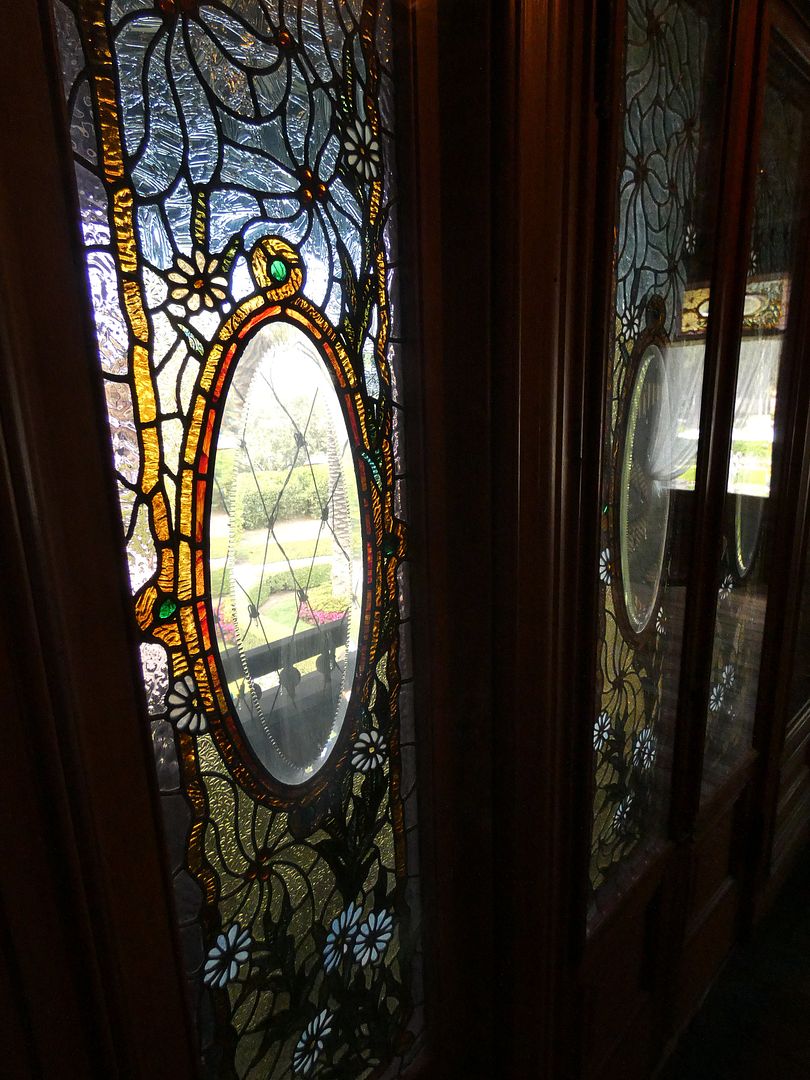 Most notable is the "Daisy Bedroom"—named after Sarah's favorite flower (which explains her niece's nickname), where Sarah and others were trapped for hours in the wake of the temblor.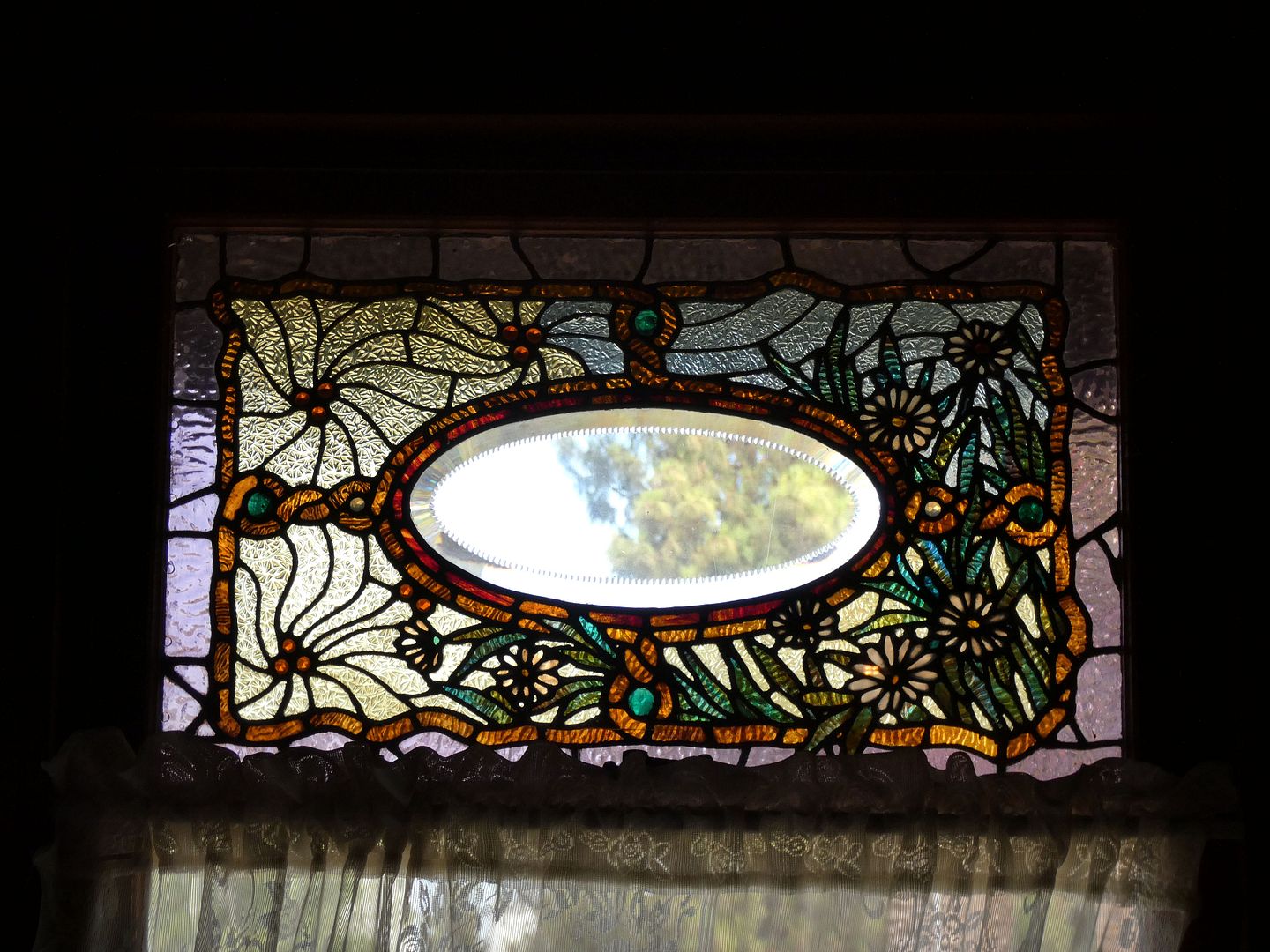 The daisy-themed stained glass windows by Pacific Glass Company of San Francisco (later known as Pacific American Decorative Company)—each flower sporting 13 petals, of course—has been miraculously preserved in the room.
And so has the damage to the now-exposed lath-and-plaster walls.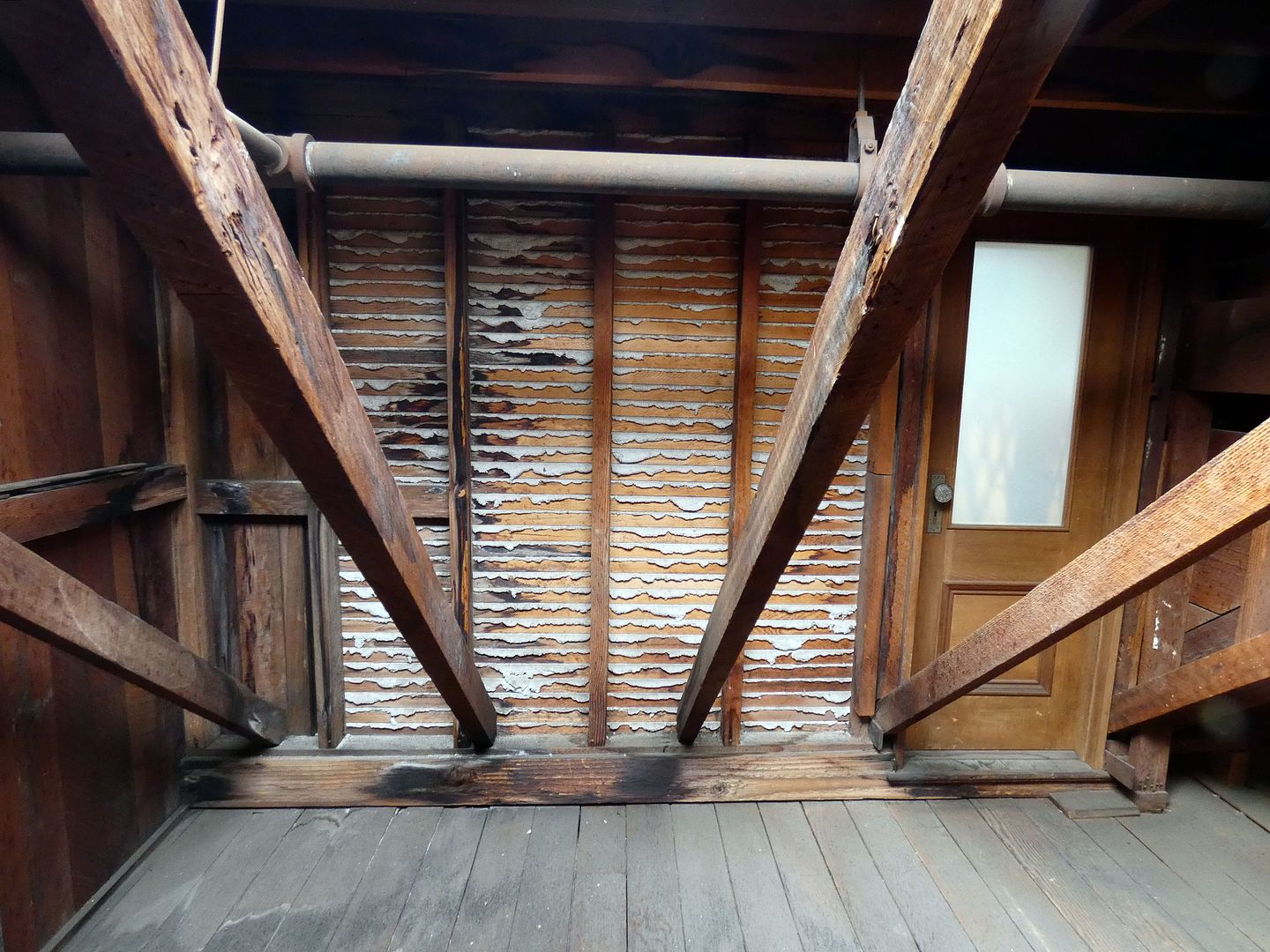 The San Francisco earthquake crumbled many parts of the Winchester mansion, sending the seven-story Observation Tower tumbling down—which is why the house is now only four stories tall, and which is what actually blocked the Daisy Bedroom exit (necessitating Sarah's rescue by her servants wielding a crowbar).
Not surprisingly, Sarah took the earthquake and the resulting damage as a sign from the spirits—that she'd focused too much on the front of the house. So, she boarded that part up, exactly as it was, leaving an unfinished ballroom and other North Wing rooms sealed until they were reopened years later, after she died.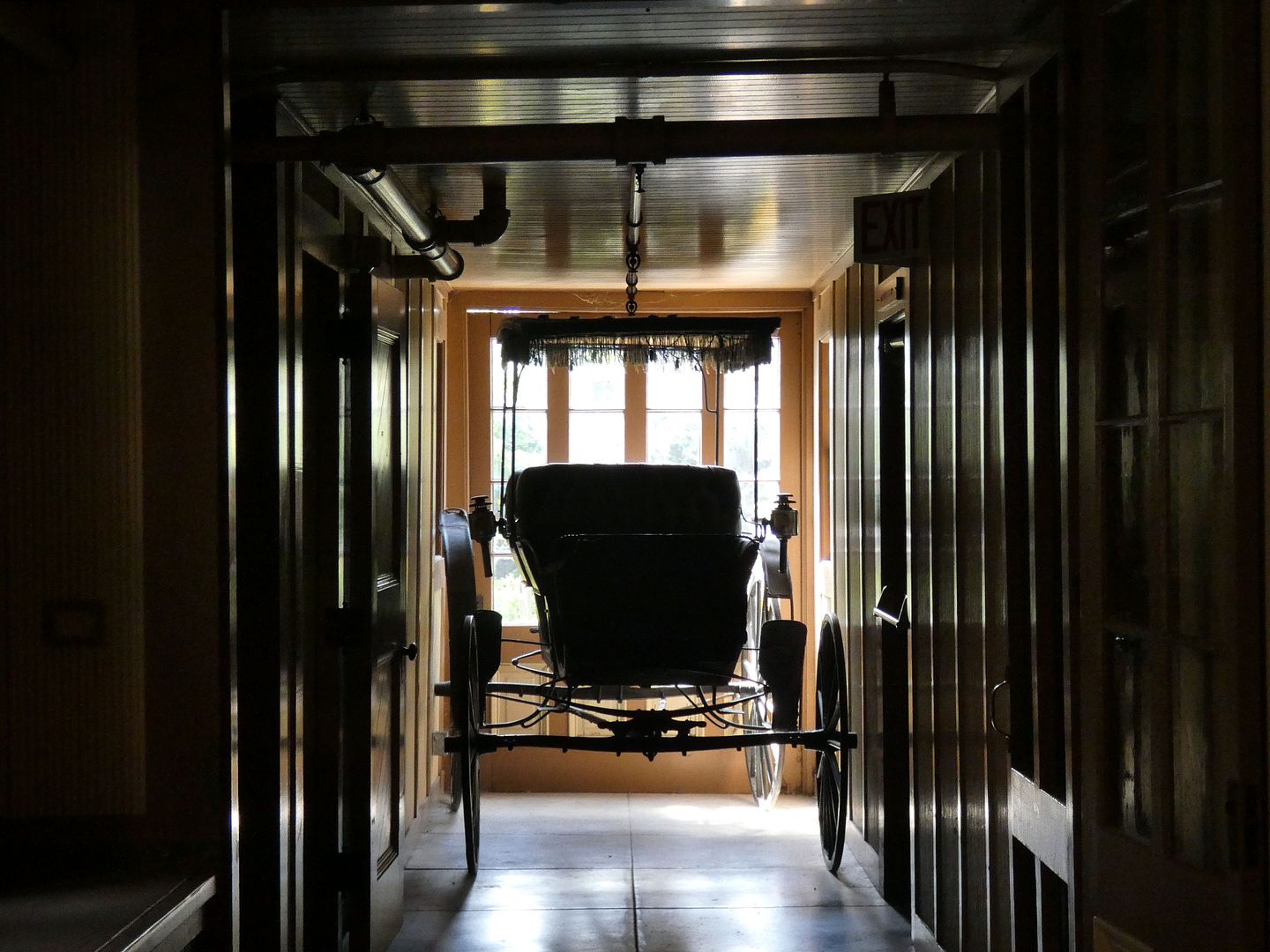 carriage barn
Those unfinished or un-repaired areas were just a little taste of what was to come in the "Explore More" tour, which I took next. (Stay tuned for a separate blog post on that.)
After all, it was Friday the 13th—the only one for the entire year of 2021. I'd waited years to visit the Winchester Mystery House, so I was going to get all the experience of it I could.
Related Posts: