[Last updated 12/26/22 11:07 PM PT—Info on Wienerschnitzel closure added.]
[Updated 2/24/22 8:08 PM PT—The Chili Bowl was approved for demolition and was disassembled this week. Its fate remains unclear, although preservationists hope its pieces could be relocated and reassembled elsewhere.]
Lately I've been retracing what I thought was a familiar route through LA—but finding new aspects of it that I'd never noticed before.
For me, this has been a blessing of the
pandemic
. It's like the city is new to me all over again.
When I first moved to LA, it was for a job on Main Street in Venice, California—and the easiest way to get there was to take Pico Boulevard all the way west down to Gateway, which would dump me off on Main in Ocean Park, just a stone's throw away from the office.
It was a drive that required low cognitive load—essential for my morning haze and preference to sing along to the radio rather than navigate.
I'd take in what I thought were the main sights of Pico—the Fox Studios, the Ranch Park Golf Course across the street, Westside Pavilion, and The Apple Pan.
Before I'd make my left turn, I'd let my gaze linger on the former location of Kelbo's
tiki
restaurant, whose current tenant at the time—Fantasy Island strip club—kept the lighthouse architectural motif and tropical signage. (It was unfortunately demolished a few years ago, before I got up the nerve to go inside).
And that was about it. I rarely took the same way back home, instead cutting down Venice through Culver City to catch a drink or a snack there before calling it a day.
That was my routine for three months in 2011—before
getting laid off
.
Even when I worked at a different job nearby in 2014, and would head one boulevard south to Pico for after-work happy hour, I didn't discover much more than Billingsley's steakhouse and the SF Saloon—not before
getting laid off after yet another three-month stint
.
But my recent treks t
o Santa Monica to go swimming
have brought me not only
back
down Pico, but
farther
down Pico, and even the
other way
down Pico to get back home.
And it has been a
pandemic
adventure!
Coming from Santa Monica, almost before hitting the city limits at the 10 freeway overpass and crossing over into West LA, I stumbled upon a Wienerschnitzel fast food stand that impressed me more than even the first location in
Wilmington, California
—thanks to an A-frame structure that you can
drive
through.
One of the silly items on my to-do list was to visit a Tastee Freeze—
any
Tastee Freeze, even one that's part of a Wienerschnitzel—so I would know what John Cougar (Mellencamp) was singing about in the song "Jack and Diane." I didn't order a chili dog, but maybe someday.
[Ed: This Wienerschnitzel has closed but the Go Get 'Em Tiger chain has announced it will take over the space.]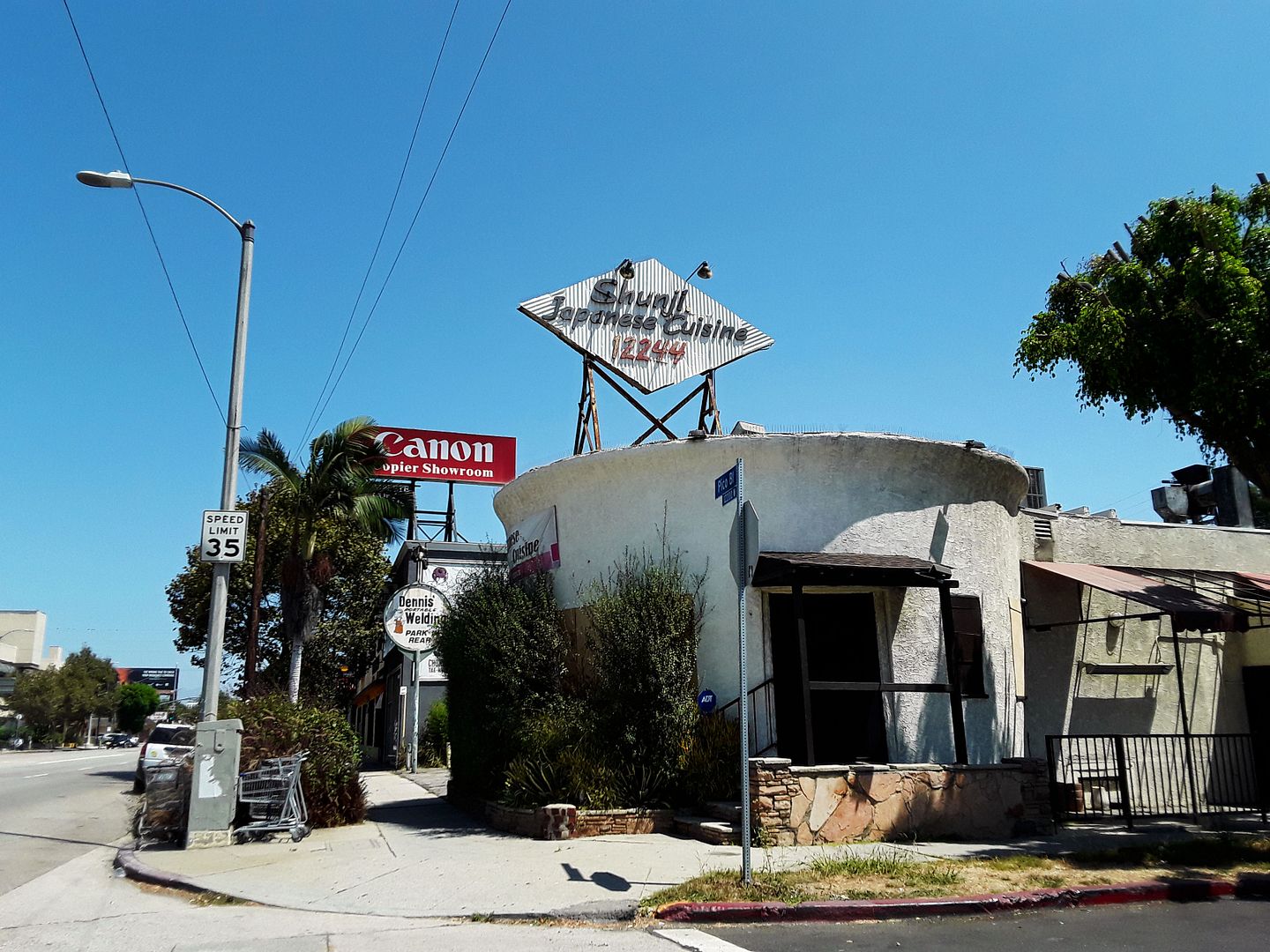 I can't get a bowl of chili anymore at
the former Chili Bowl
on Pico, just past the 10 overpass, but maybe I can get some Japanese food in the chili bowl-shaped restaurant when it reopens from the pandemic.
[Ed: It never did.]
Constructed in 1935, this "bowl" was relocated in 1939 from Silver Lake as part of Arthur Whizin's restaurant chain, all locations of which (18 at the time) closed by 1947.
I could've gotten a chili dog at Marty's Hamburger Stand on Pico—but after driving by umpteen times and actually having this place starred on my map, when I finally walked up I resisted the call of Chicago's own Vienna Beef and ordered a cheeseburger instead.
I've learned that when a place like this—which has been slinging burgers since 1959—asks if I want everything, I tell them to give me whatever they've got. And in this cade, they've got the formula down—with mayo, lettuce, and tomato on the bottom and onions and ketchup on the top. (I now have them add mustard and pickles for good measure.)
This seems to be a Los Angeles that locals say they long for but can't find anymore—roadside food with a single serving of a Mid-Century
car wash
(circa
1960
) on the side.
[Ed 12/26/22: The car wash has been fenced off for months for supposed renovations.]
I'm sure Pico has changed over time—and maybe it'll change even more once Google moves its offices into the old mall (which stands approximately where LA's first
drive-in movie theater
opened in 1934).
But right now, I'm
relishing
in the mom and pop shops, the low profiles, the weather-worn signage.
Take, for example, the exposed brick and peeling paint of a little box of a structure circa 1932, right next to Fox's front door—just 2,000 square feet of space that was built as a studio-adjacent cafeteria called
Johnson's Buffet
. It's the only existing example of this vintage of this type of vernacular architecture (besides the Chili Bowl, which is programmatic and not original) anywhere on this side of West Pico Boulevard.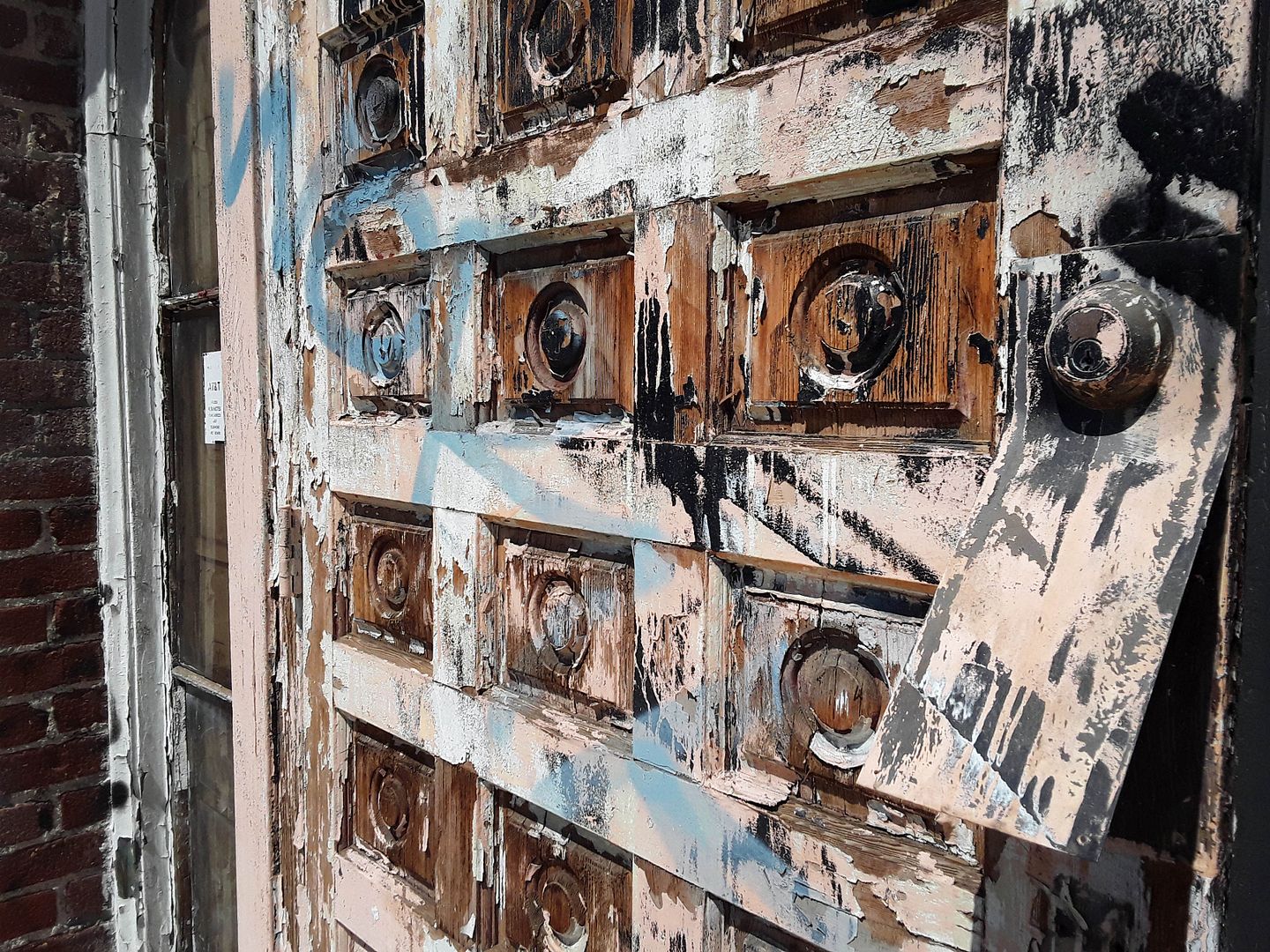 By the mid-1930s it had become
Russell's Studio Inn
(a.k.a. Russell's Cafe), which offered chicken and steak dinners and "special" dinners for just 50 cents. In the mid-1980s, it was Bruno's Chartreuse,
serving "continental cuisine"—but by the end of the 1980s, the business had relocated to Santa Monica under the new name "Chartreuse."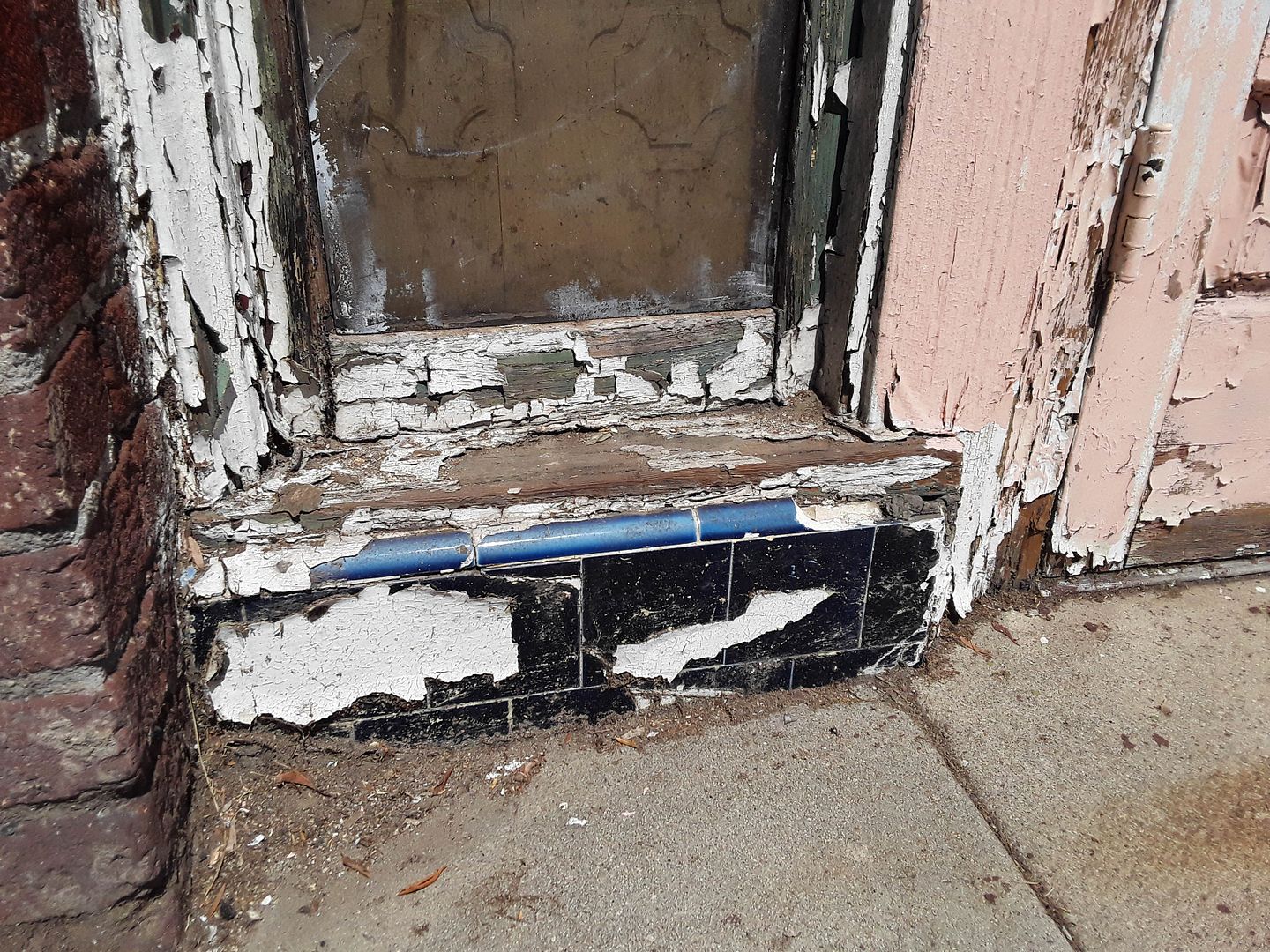 While the building also housed a Rams Restaurant from 1988 to 1992, it looks like it's been vacant a long time. Fox Hill Properties, which also owns the former LA Rams Football Club headquarters next door, has applied to reopen it as a tiny tavern with a patio in the back.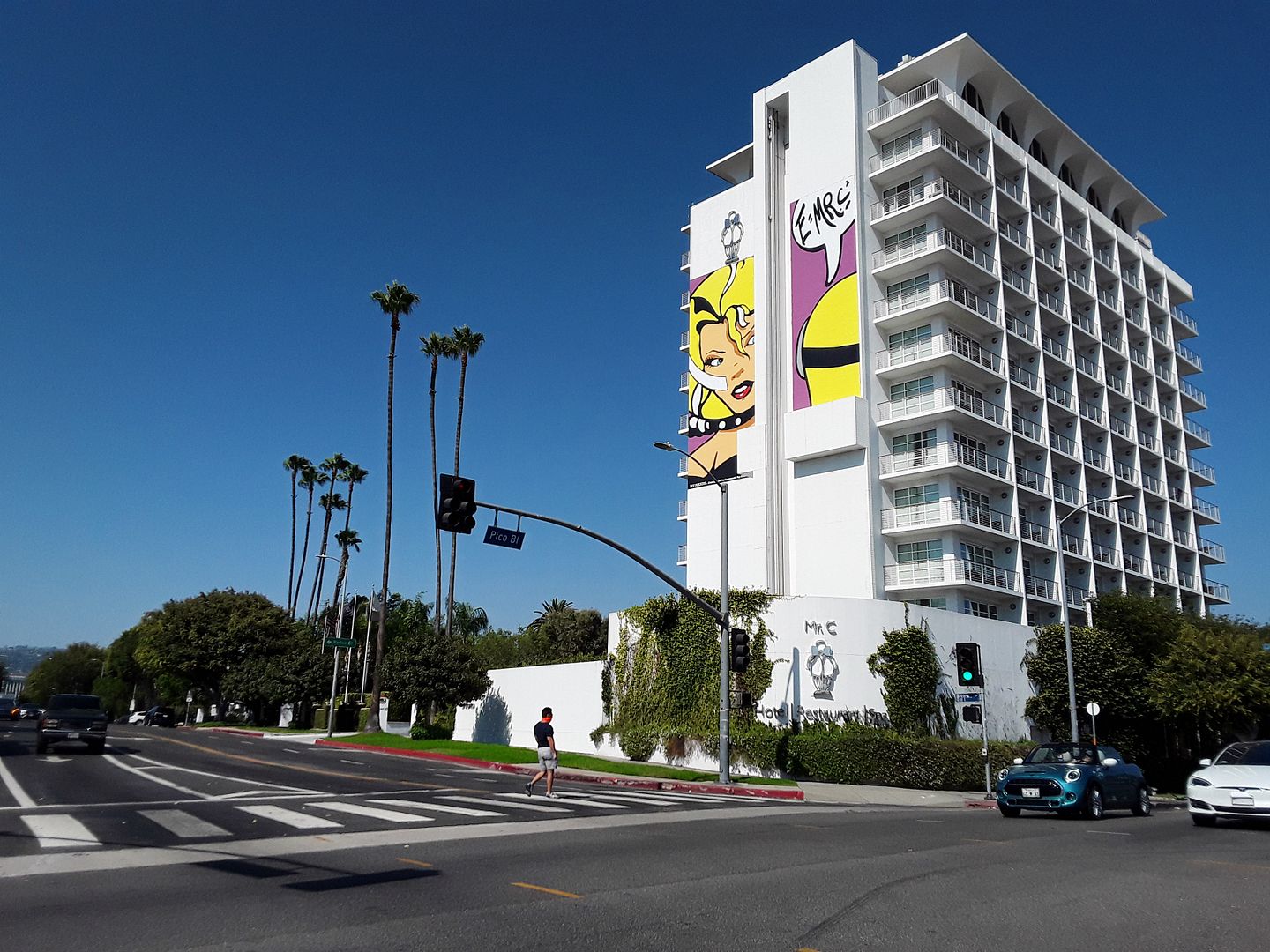 Even one of the more familiar sights to me—the Mr. C Hotel, operated by the Cipriani family, where I've actually had lunch—now looks brand new to me, even though the Kite and Overpeck-designed high-rise was was built in 1965 as the
Beverly Hillcrest Hotel
(which closed in 1991).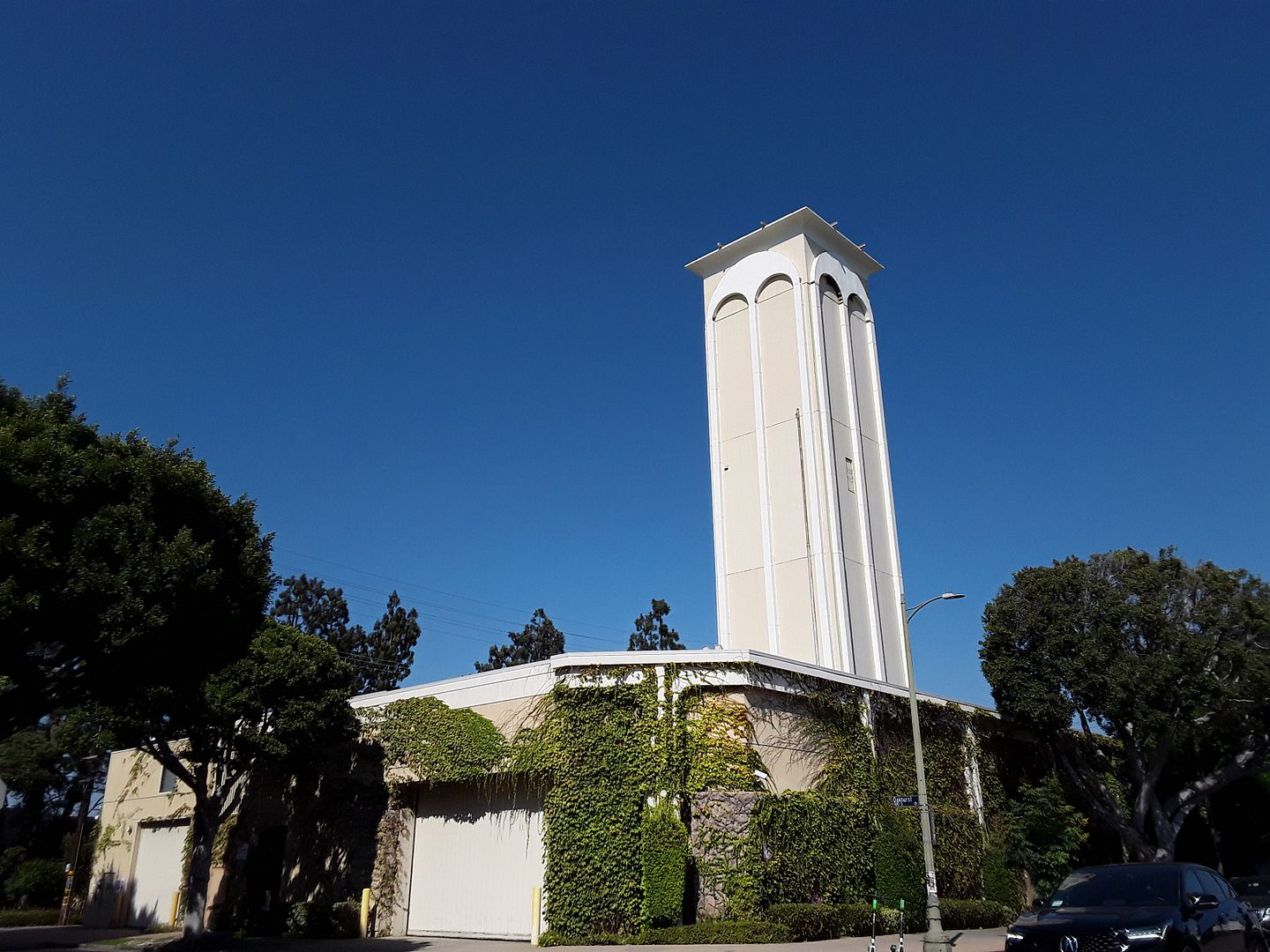 Driving back towards home, for the first time I began to wonder why everything seemed to be named "Hillcrest"—Hillcrest Locksmith, Hillcrest Country Club, but seemingly no connection to the Hillcrest Roads or Drives elsewhere in the Los Angeles area.
Maybe the names came simply from the area where the top hill of the Cheviot Hills neighborhood literally crests.
But my search for a real answer—one that's more than just a guess—led me to my last recent discovery along Pico.
Since the 1960s, Hillcrest Beverly Oil has been drilling on City of Los Angeles-owned property near the country club—part of the Cheviot Hills Oil Field.
And that's right next to the West Area of the Beverly Hills Oil Field, which is how an oil well got put on the grounds of
Beverly Hills High
.
That one is currently being dismantled—but while it was in operation, it was camouflaged to look like a condo tower? A windmill that had lost its blades?
But there was a similarly incognito oil pump and drilling site that preceded the high school's "Tower of Hope." And that was the first "architecturally designed oil derrick," built on Pico near Doheny by Occidental Petroleum in 1966—the Cardiff Tower.
Located in a traditionally Jewish neighborhood, people have literally mistaken it for a synagogue tower.
In 1988,
BreitBurn Energy
purchased a section of the Beverly Hills Oil Field and its successor, Pacific Coast Energy, now owns and operates the Cardiff Tower "drilling island."
Related Post:
Walking In LA