I had a three-day weekend for Labor Day, and I was puzzled as to how to spend it. I've been kind of maxing out my opportunities to explore the LA area from a safe distance; and I've been dying for a farther-flung adventure.
Especially because I've seen and heard about some friends traveling. And I'm just fine if we're
all
in the same lockdown boat. But I'm not fine if I'm missing out on stuff that others are experiencing.
Fortunately, I tend to thrive under restriction. Give me very few choices, and I'll make the absolute most out of them.
So, after deciding to cross
Forestiere Underground Gardens
in Fresno, California off my list, I honed in on the other bucket list item that was 1) in the same general direction and 2) open despite the
coronavirus pandemic
.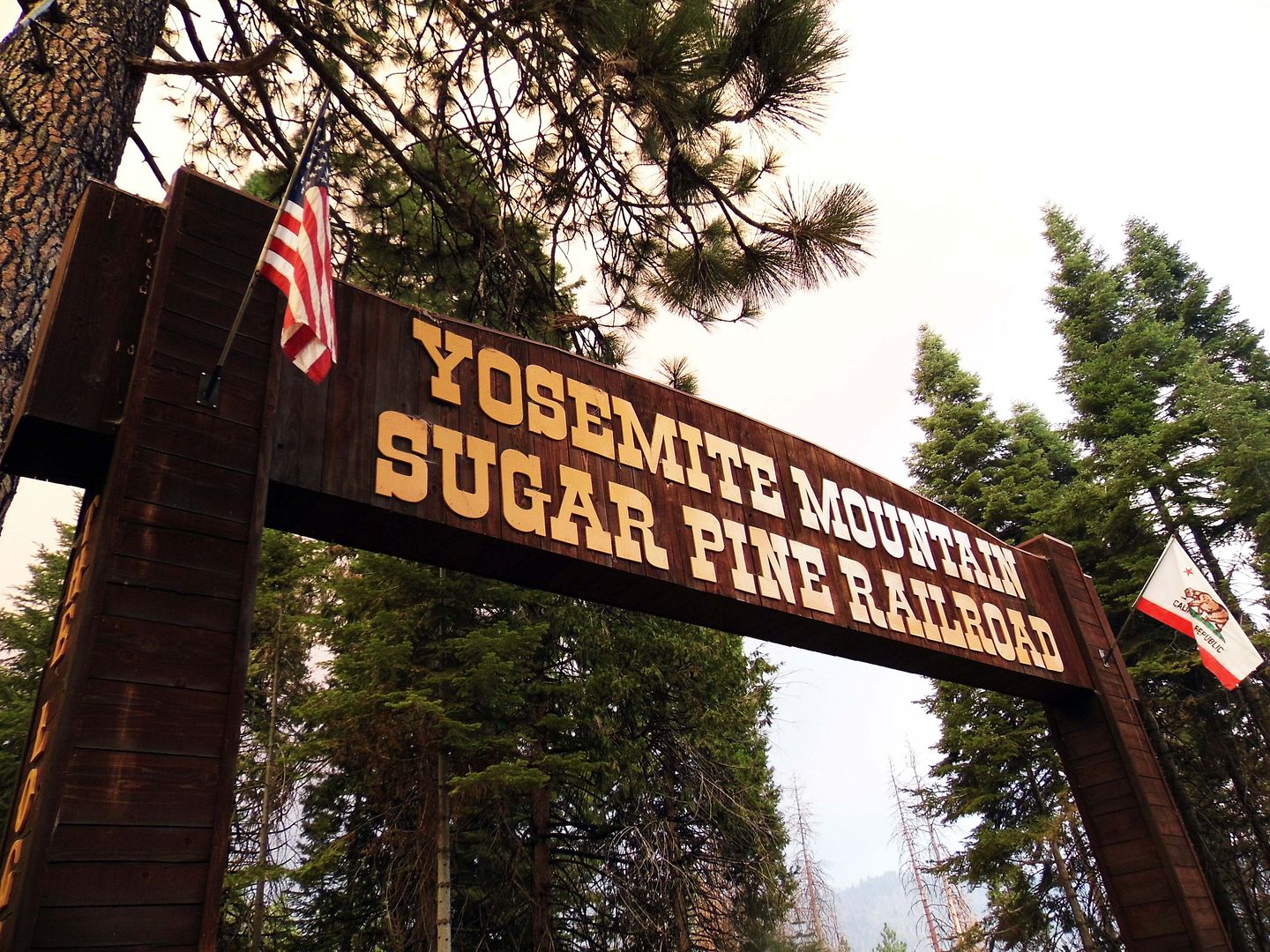 Less than an hour northeast of
Fresno
, I could ride the Sugar Pine Railroad! And, in fact, my timing was impeccable—because on the Saturday of Labor Day weekend, I could ride its narrow-gauge heritage rails
twice
, with the addition of the "Moonlight Special" evening train.
Located in Sierra National Forest near the town of Fish Camp, about 10 miles south of the Highway 41 entrance to Yosemite National Park, the Yosemite Mountain Sugar Pine Railroad has been running scenic passenger trains through federal land since 1965. It's still run by the same family that founded it.
It has restored and preserved the track and grade used from 1908 to 1924 in the logging operations of the former Madera Sugar Pine Lumber Company, which operated in the area from 1899 to 1931.
But now, instead of hauling logs...
...the railway hauls tourists sitting on benches carved out of logs.
The main rolling stock for the current railroad—known as "The Logger"—also features covered but open-air carriages, offering both comfort and safety. That's where I boarded my first train ride of the day.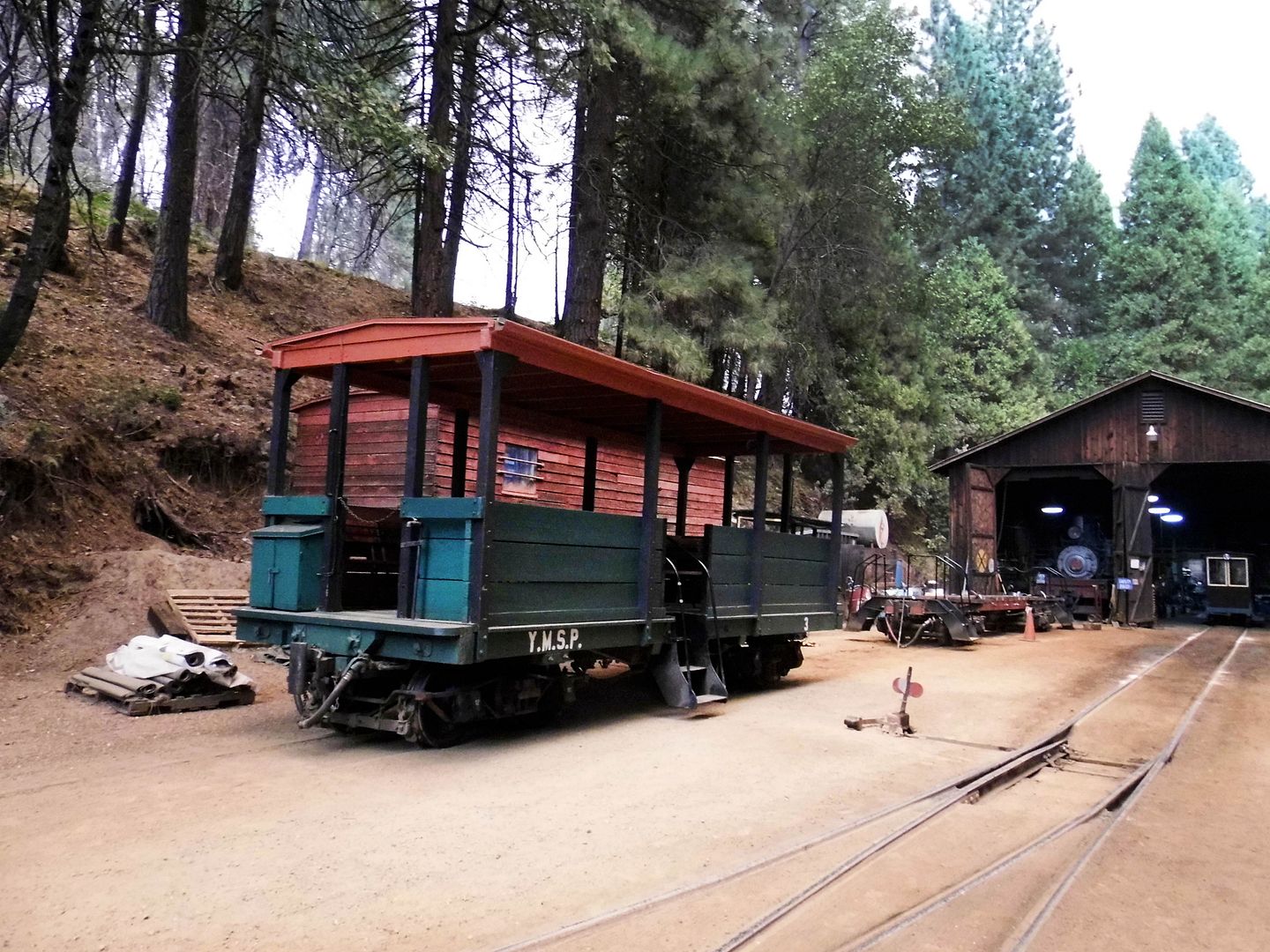 When I'd arrived in the area, I could see that there was smoke in the sky and an alien orange glow cast upon pretty much everything—but because I'd been driving since 9 a.m., I hadn't heard about the local wildfire that was causing it. I had no idea how close it was getting, either.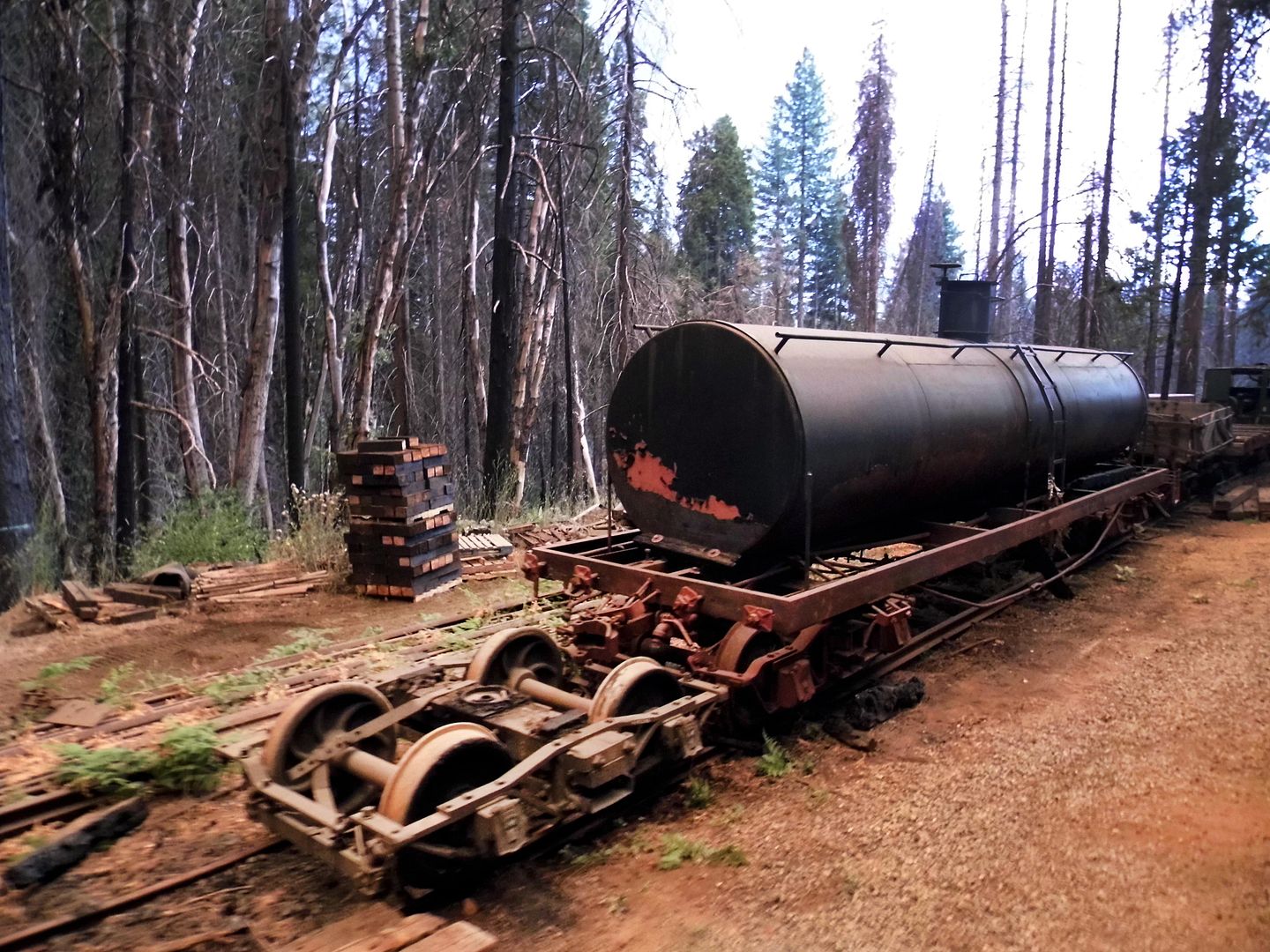 But as we rolled past some of the salvaged equipment and train cars relocated to California from the Durango & Silverton Narrow Gauge Railroad in Colorado...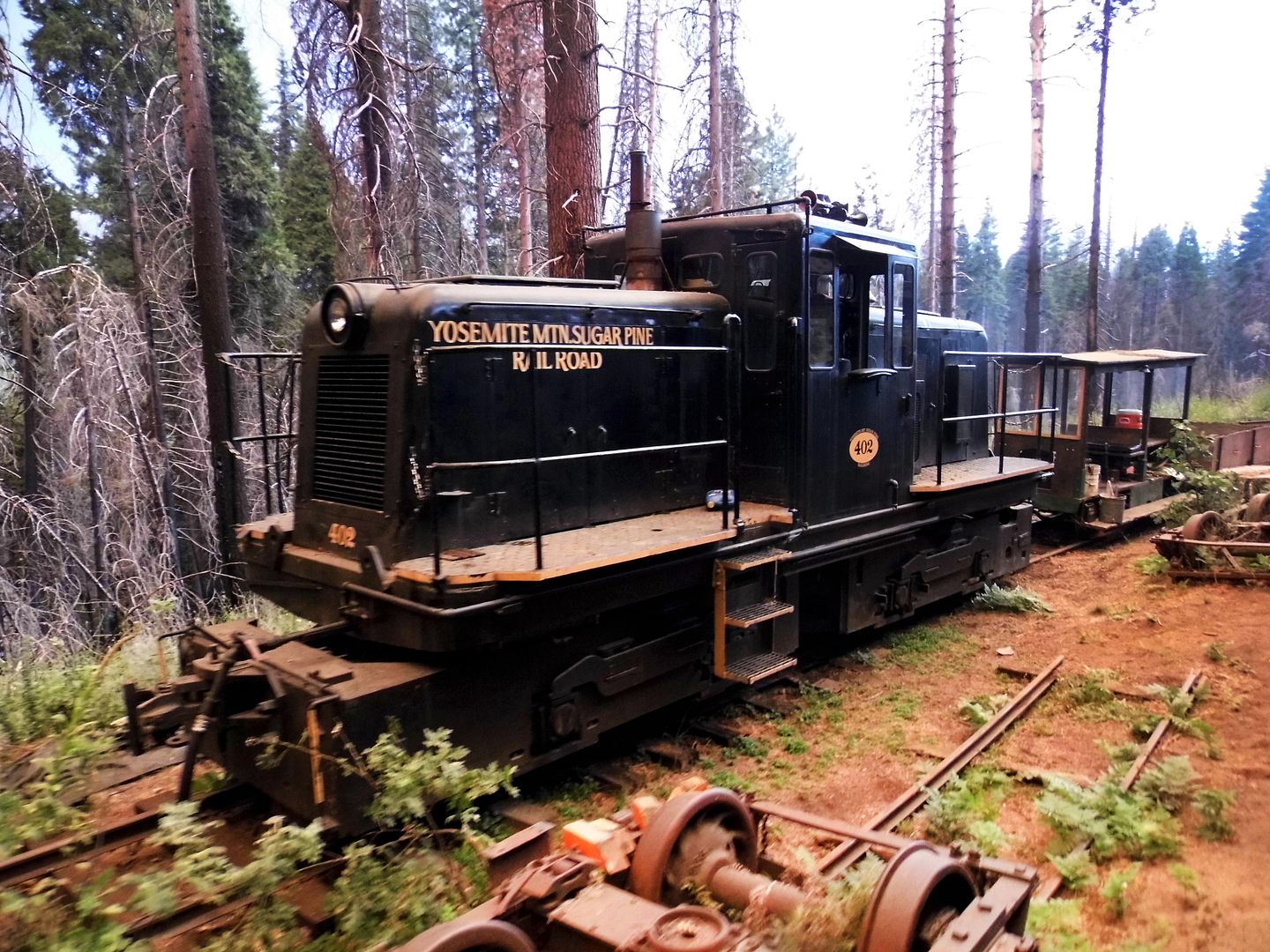 ...like the No. 5, a two-axle diesel switch engine built in 1935...
...it wasn't far into our 4-mile journey that I realized something was very wrong, very close by.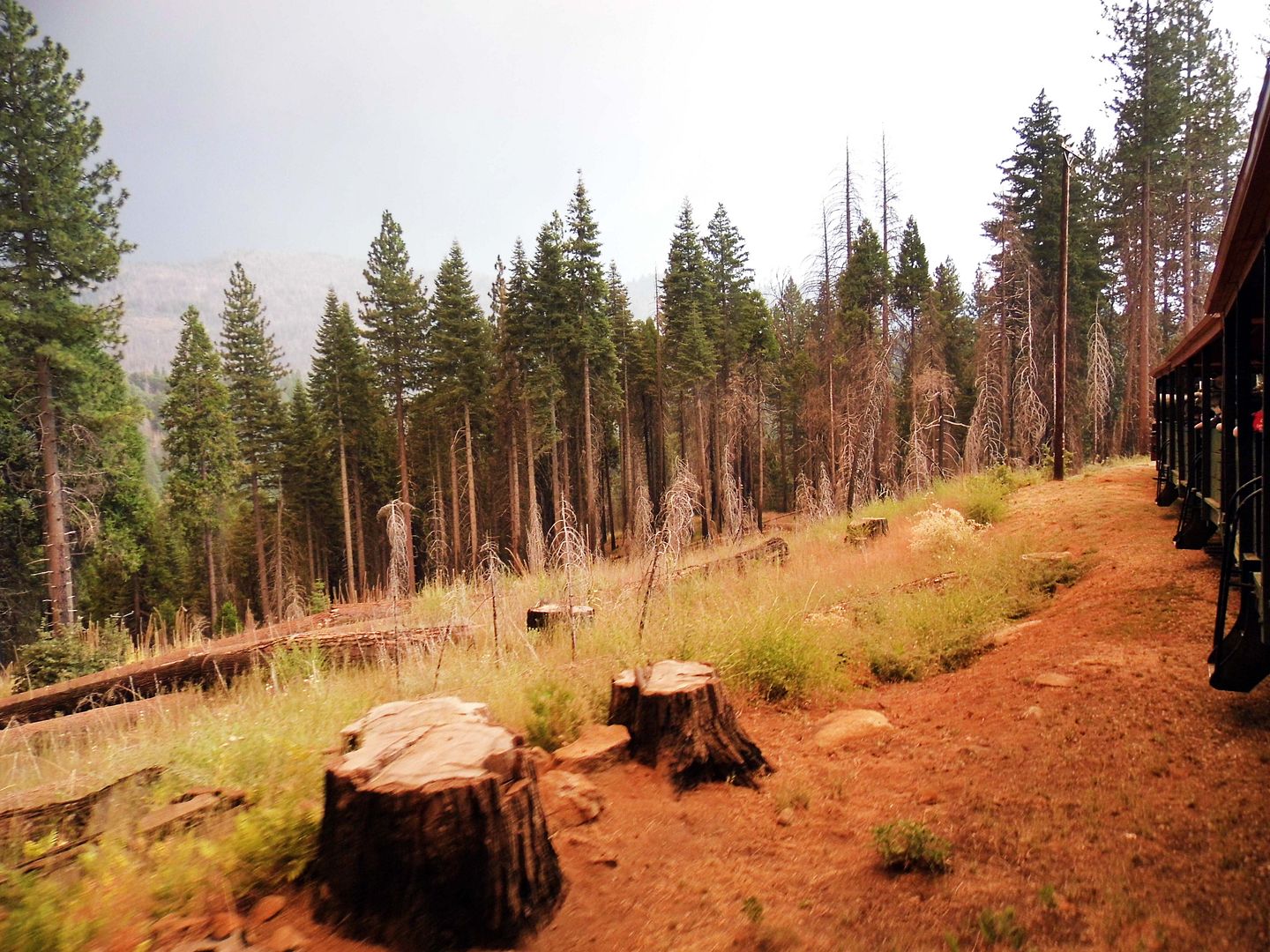 I tried to focus on the magic of the oil-burning, steam-puffing locomotive as it chugged along the rails—but I did notice that I couldn't smell any sugar pines through my mask and bandana.
The only smell that got through my face covering was that of a campfire.
Plus, the sky was getting more foreboding as we got deeper into the national forest—though, at the halfway point of the loop, still only about 2 miles in.
There was plenty of orange/amber sky to see out there, given the lack of "old growth" trees that would otherwise form a canopy above. That's because by the time the Madera Sugar Pine Lumber Company shut down operations, it had cleared about 30,000 acres of trees. And because the company never replanted any, what's growing along the rail route now is completely natural, "new" growth.
It's kind of amazing that wildfires haven't impeded this self-reforestation process—although the
2017 Railroad Fire
, which started across the highway from the YMSPRR station, did char some of its historic equipment.
Fast-forward a couple of hours to my second scenic ride of the day—the "Moonlight Special"—and that's when I chose to sit in a log right behind the No. 10 "Shay," completed in 1928. Lima Locomotive Works of Lima, Ohio constructed it for the Pickering Lumber Company, which used it for the West Side Lumber Company's operations in Tuolumne, California.
It didn't much matter to me if the locomotive drowned out the sound of our guide's voice coming through the speaker. I'd already heard the narration once that day. I just took all the sights in once again, for as long and as much as the remaining light would allow.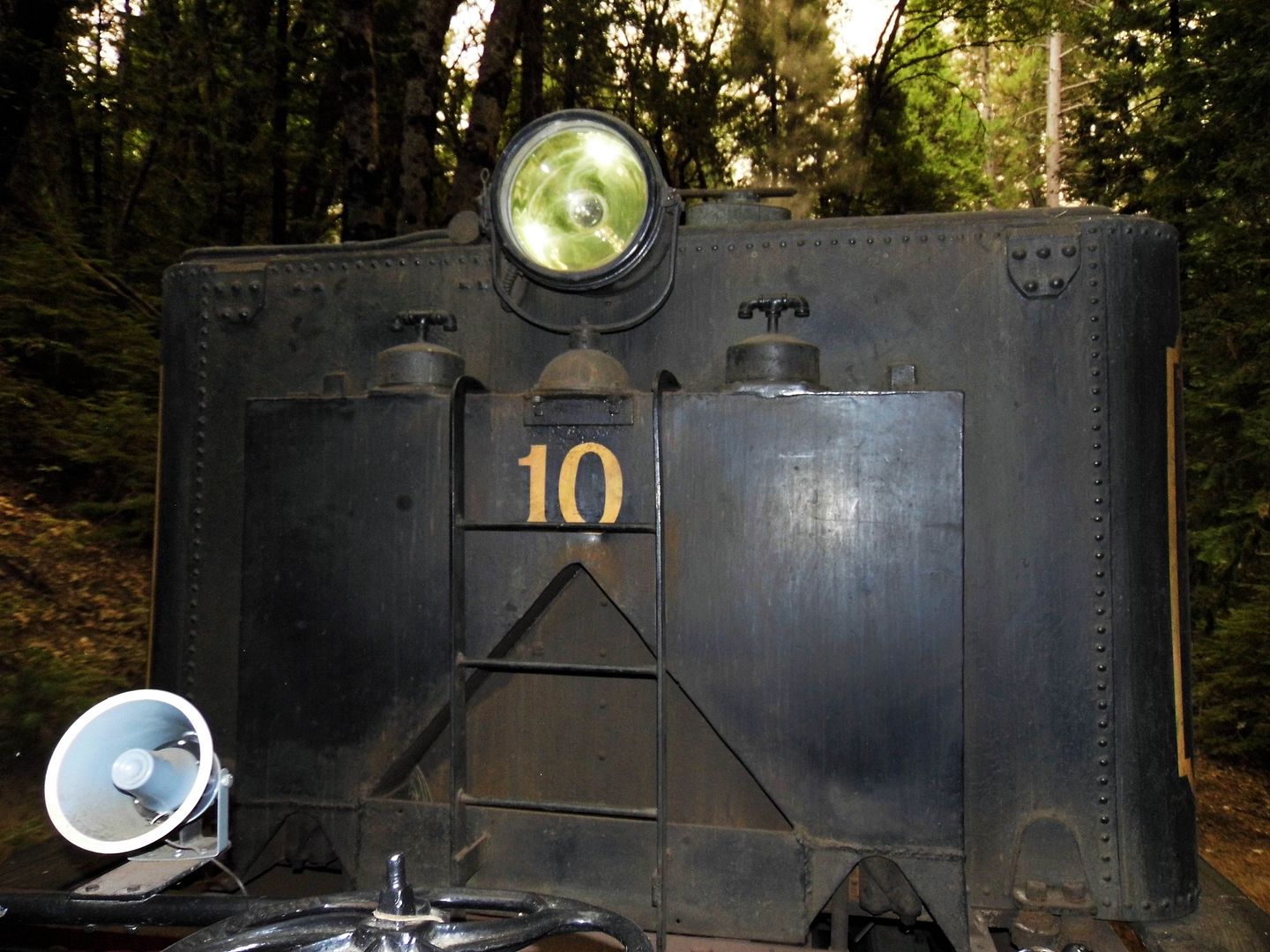 By the time we made our final 2-mile passage through Sierra National Forest at the end of the night, it was so pitch black out that I could see nothing ahead but trails of white steam and the flames from the firebox.
There was no moon to admire, no stars or constellations or planets or Milky Way. Smoke from the nearby Creek Fire—which was getting closer and closer as we progressed through the forest by rail—had formed a thick canopy above, blocking our view of any night sky and insulating us with the 100+ degree heat from earlier in the day.
On my drive back down the 41 to the gateway town of Oakhurst, where I'd planned to spend the night, I couldn't keep the red glow of the Creek Fire from invading my peripheral vision. Though I could see no actual flames, there was an unmistakable inferno blazing just down the way—how far or how fast, I wasn't sure.
Back at my hotel, and back with a cell phone signal, I discovered that what had begun as a small wildfire the night before had exploded into over 30,000 acres that afternoon. And nearby evacuations were underway.
I fortunately wasn't staying in backcountry, so I'd presumably have plenty of notice if I had to high-tail it out of there. I was prepared for a knock on the door or a phone call in the middle of the night to tell me to get out—though fortunately, those orders didn't come during my stay.
I woke up at 8:30 a.m. without an alarm, disoriented as to the time and place I was in—because it was a dark orange-gray outside, with every car using its headlights and every street light still on. I couldn't find the sun in the sky. And after getting myself ready to leave in 30 minutes flat, I found my car covered in fallen ash—ash that was continuing to fall, but now on top of my head.
The next day—that Sunday, the day before Labor Day—the Yosemite Mountain Sugar Pine Railroad closed for the safety of its staff and visitors, with the Creek Fire still expanding and advancing.
And as of today, the following Sunday, it hasn't yet reopened. The Creek Fire has grown to more than 200,000 acres and is still burning, although evacuation orders have been lifted for Oakhurst and relaxed to a warning for Fish Camp.
So, it looks like the YMSPRR will dodge another bullet this time around when it comes to fire season. But I sure am glad I got there just under the wire for this trip. And I hope they continue to ride the rails in Sierra National Forest for decades to come.
Related Posts:
Missing Out and Making Lists In the Time of Coronavirus (Steam Railfest Edition)