When the Balboa Theatre replaced the Gould Hotel at 4th and E in San Diego's Gaslamp Quarter, it was the Southern California city's first big downtown movie theatre.
And when the city government condemned it, evicted its current operator, and then purchased it in 1986, it became San Diego's longest-running empty stage at the time—closed for business for over 20 years.
That was four years before the nearby
California Theatre
shuttered in 1990. Now, that stage has been empty for 30 years—and all signs point to it never reopening again.
Fortunately, the Balboa found a way somehow to reopen on January 19, 2008, after a 3.5-year, $26.5-million renovation.
Under the hood, restoration architects Westlake, Reed and Leskowsky replaced all utilities with new and seismically retrofitted he entire structure, adding disabled access.
Outside, a historically accurate pumpkin-esque tone covers up the white of its non-historic exterior paint job. A replica hangs were the original marquee went missing sometime in the 1930s, though it's since been converted for digital display. The blade sign was faithfully reproduced according to the specs of the original.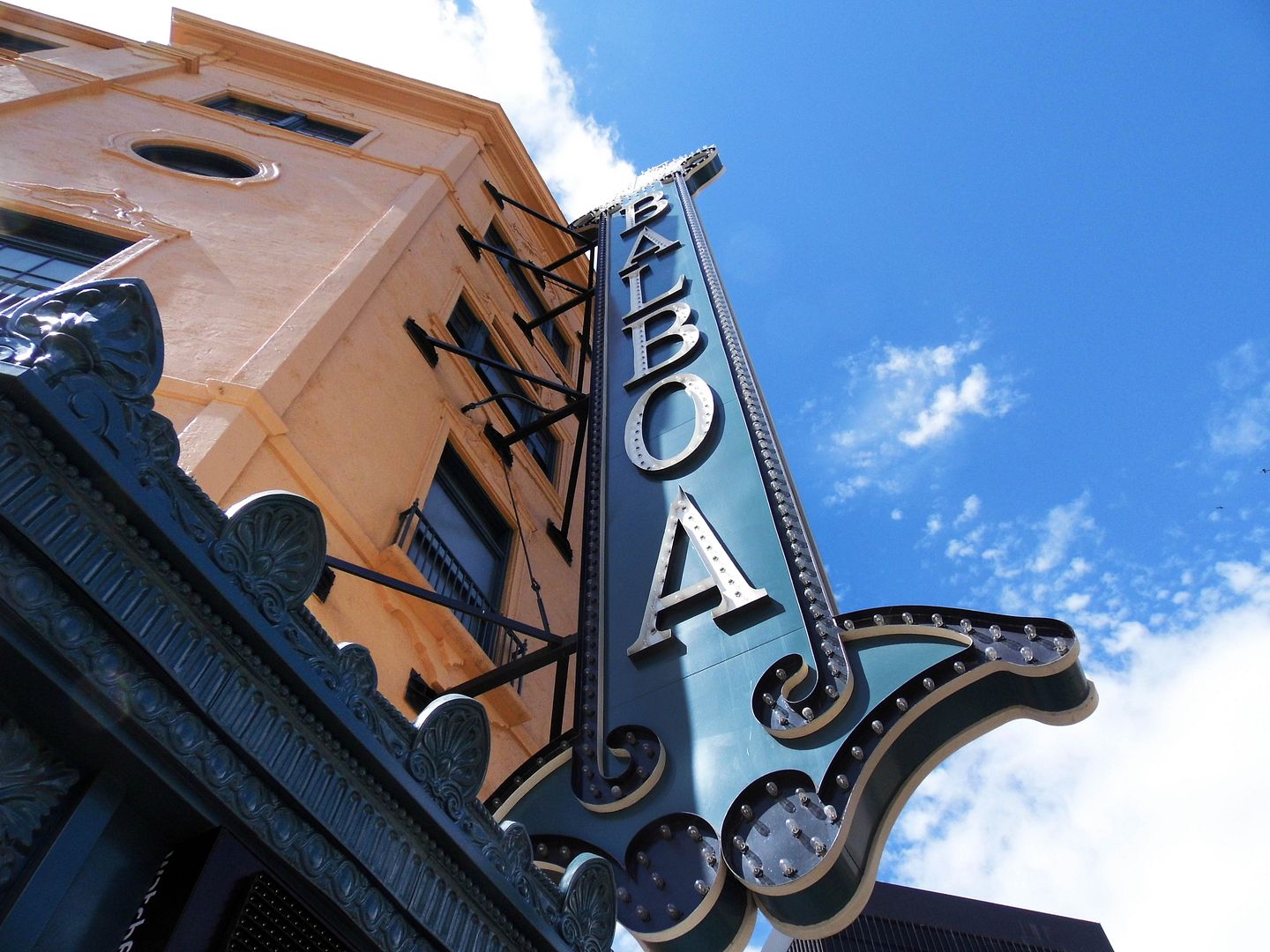 Originally designed in the Spanish Colonial Revival Style by architect (and former "stage man")
William H. Wheeler
and built by building contractor C. L. Wurster of Wurster Construction Company, the Balboa Theatre building's 4th Avenue side featured six ground-floor retail storefronts, with the floors above housing 34 offices.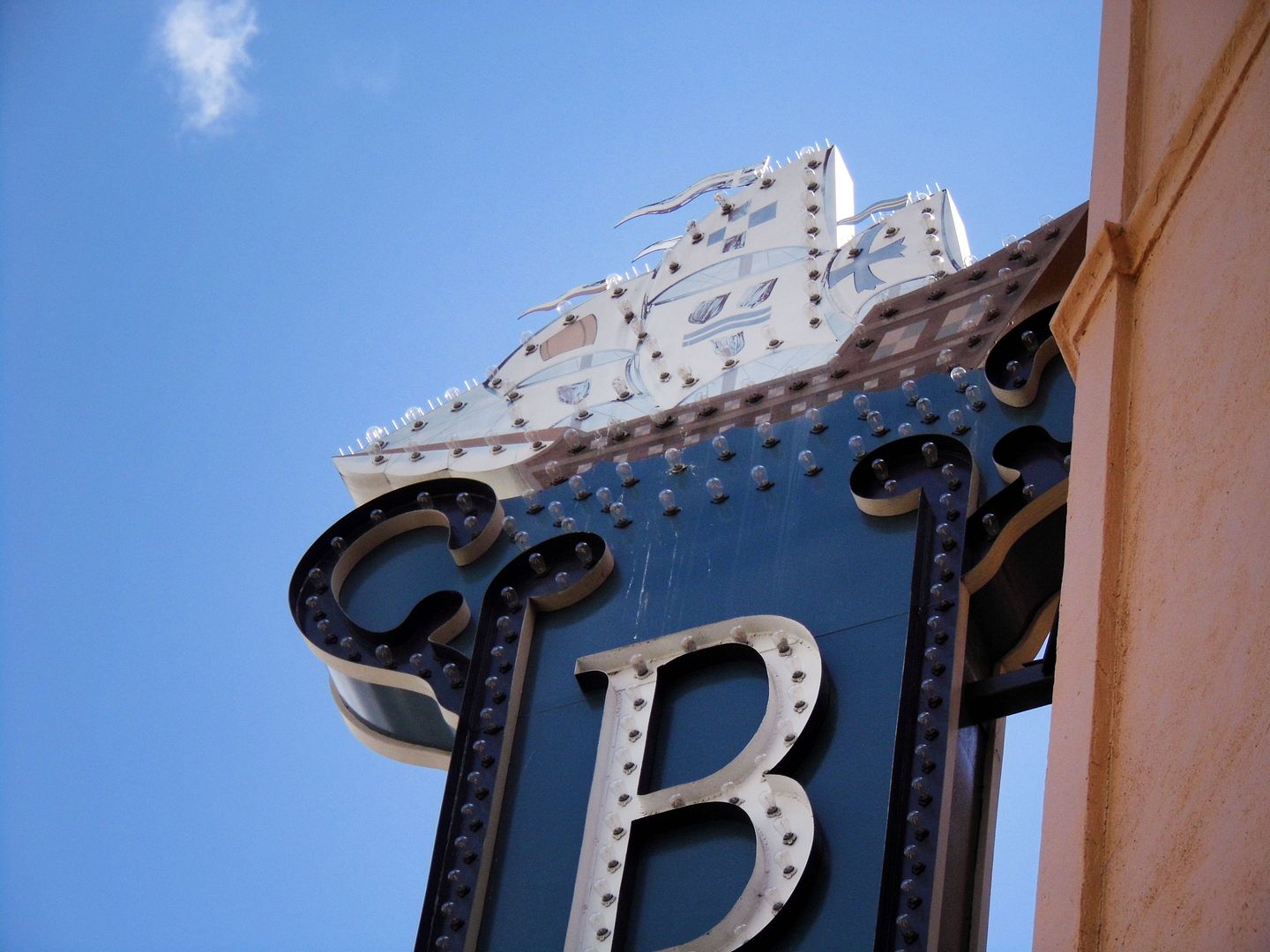 Reportedly completed at a cost of $800,000, the theatre opened on March 28, 1924 as both a vaudeville stage (with acts like the brother-sister duo Fanchon and Marco) and a movie house. Its initial owner Robert Ernest ("Bob") Hicks—a former Colorado newspaperman and
San Diego Union
editor—had been involved in exhibiting movies in San Diego since 1910 or so.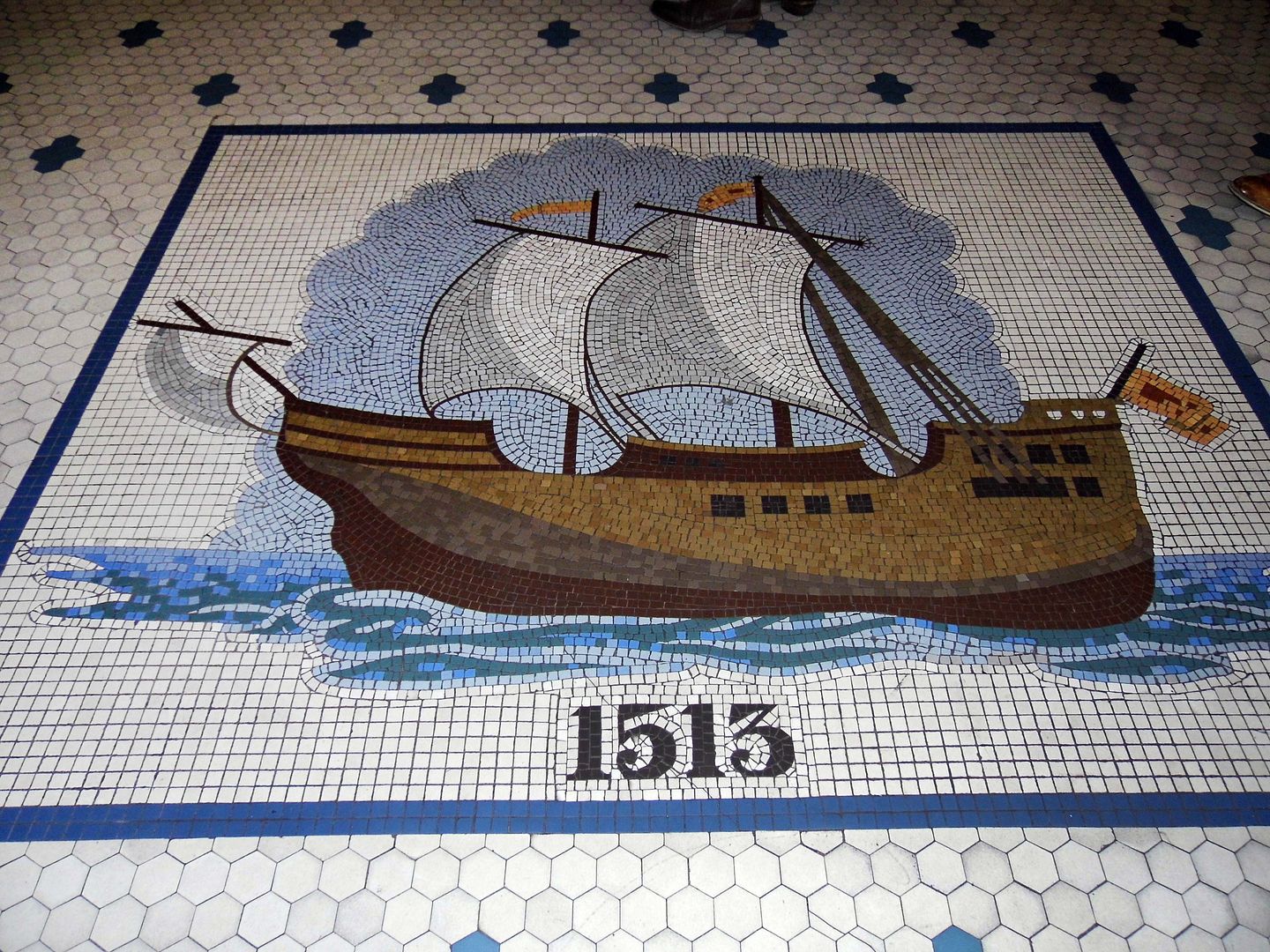 The theatre gets its name from Vasco Núñez de Balboa, first European explorer to reach the Pacific Ocean. His sailing ship is depicted on the exterior blade sign as well as on the historic mosaic tile floor in the entry rotunda.
While the theatre sat in limbo waiting for its fate to be determined, its foyer was actually open air—exposing it to all sorts of elements. The restoration enclosed it with new exterior doors and restored the deeply etched glass doors that bring guests into the lobby.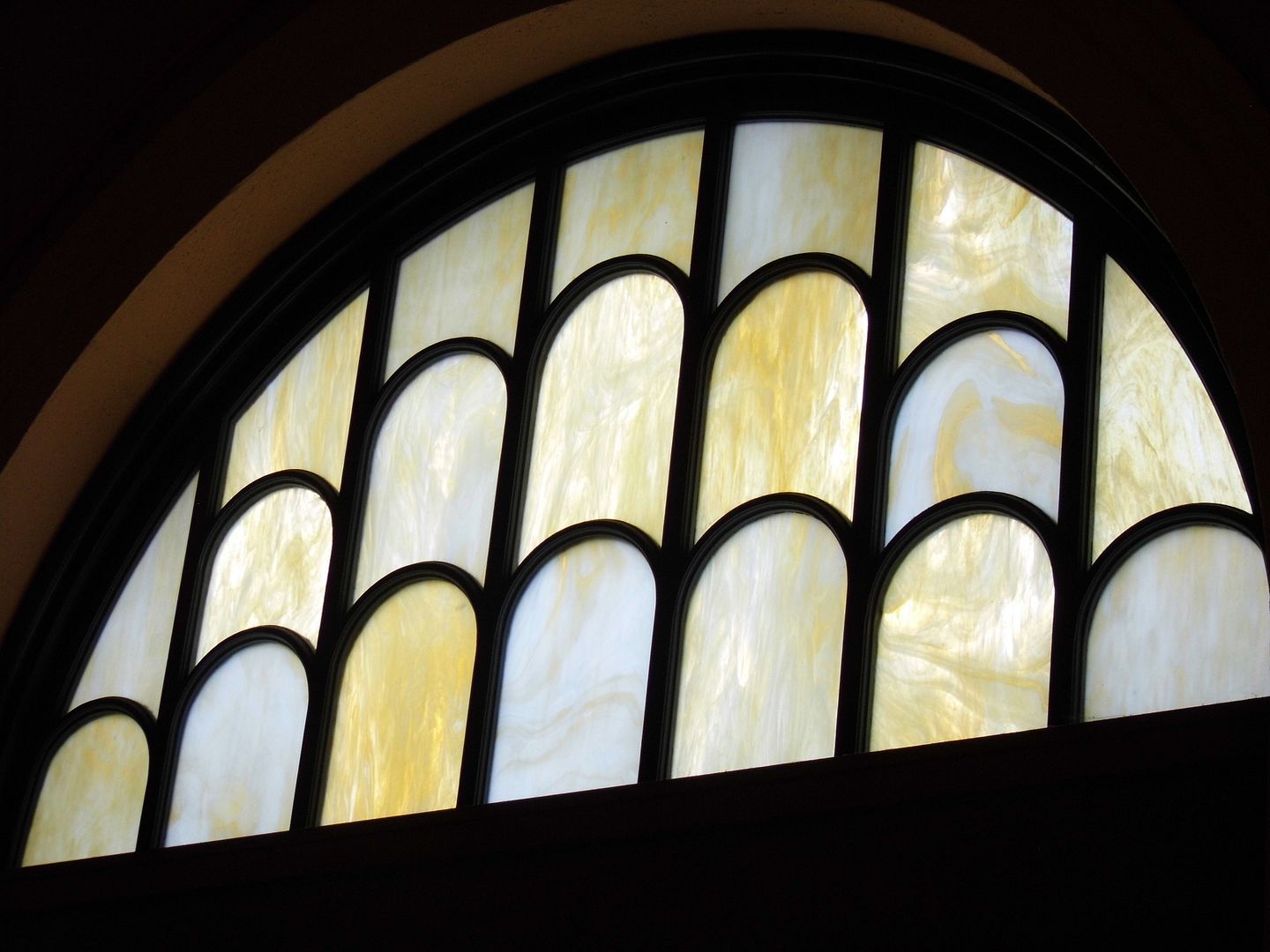 The historic clerestory windows facing the street above the marquee had suffered some damage, too—so they were also replaced by replicas.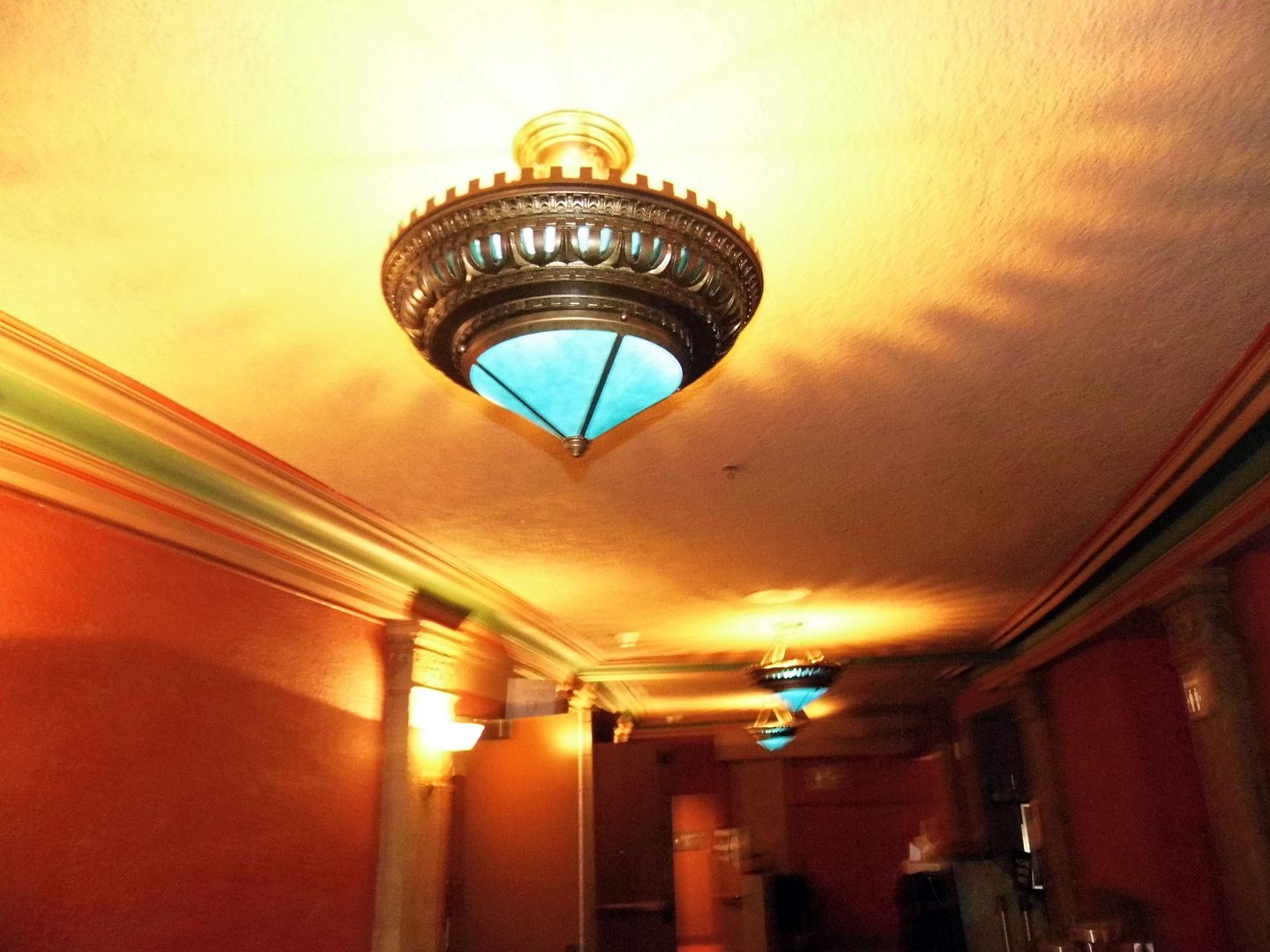 In 1930, the theatre's programming of silent films accompanied by orchestra and organ gave way to "talkies" with the new involvement of Fox West Coast Theatres—which later remodeled the Balboa Theatre into the
Teatro Balboa
cinema, screening Spanish-language films ("
todo en español
," like
El Dios del Mar
from 1930) starring primarily Mexican talent (like Ramón Pereda). Just a few years later, the Navy commandeered the upstairs offices to house its bachelor sailors waiting to ship out during WWII.
In 1959, the Balboa almost met the same fate of the hotel that once occupied that same corner—demolition. This time, the plan was to flatten the theatre to make way for a parking lot. But it was saved when San Diego's Russo family bought the building for around $100,000 and ran it as a action movie house (with a hotel upstairs) until 1976, when they leased it out to another operator. It was threatened again in 1983, with a proposed conversion into an art museum/arts center.
It's kind of amazing that after all that, the Balboa was able to reopen as a theatre—now promarily a performing arts stage. Audiences are now greeted by ornamental plaster in the second floor "Salon" lobby that's been restored by New York's Evergreene Studios, which sculpted new molds and cast new plaster elements to replace what had deteriorated or been lost.
The original murals by
Heinsbergen Decorating Company
on both sides of the salon had been painted over, so in order to return the walls to their original designs...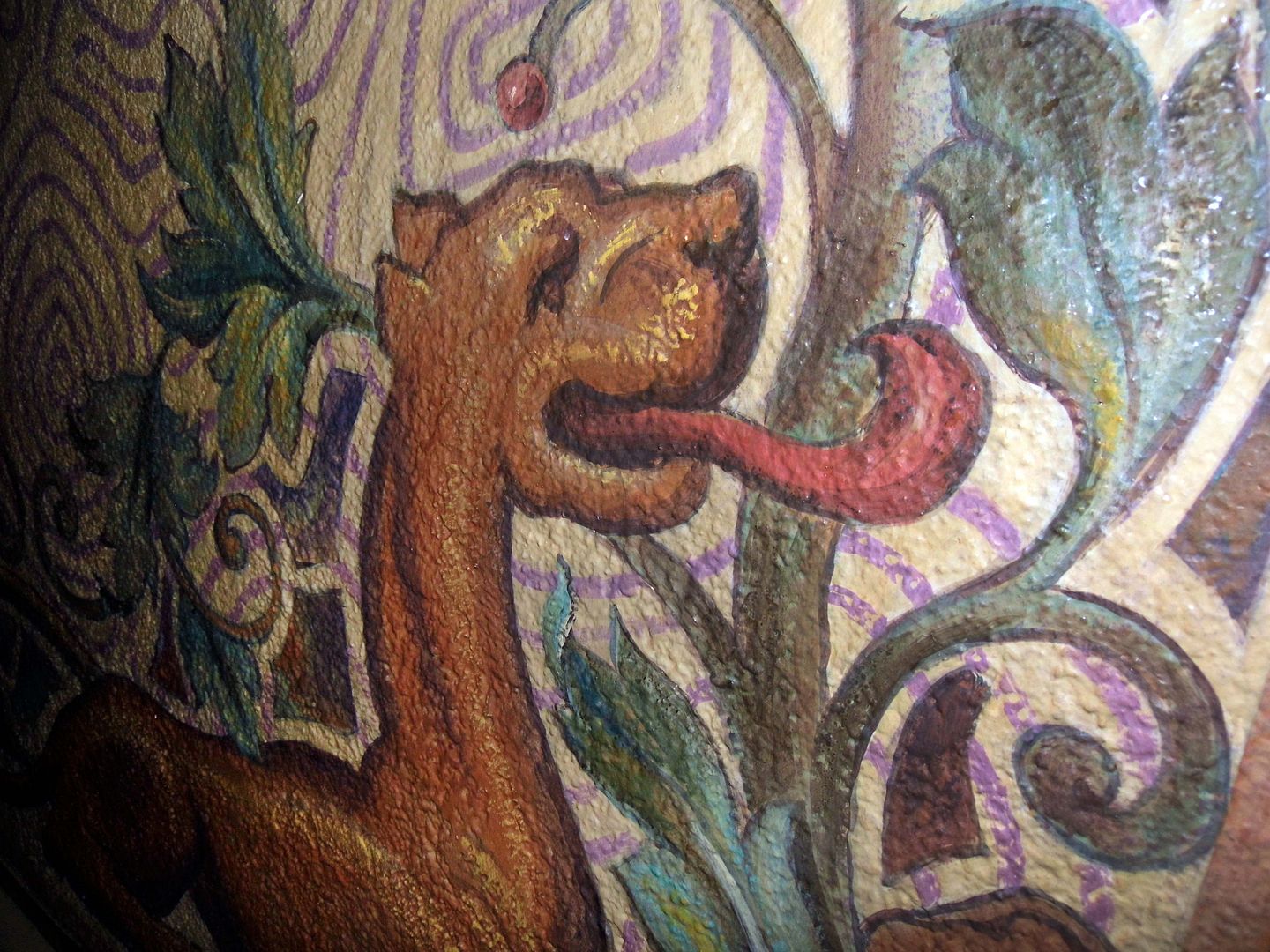 ...Evergreene recreated stencils from a single 1924 photograph and established the color palette from paint scrapings.
Inside the auditorium, the gilded historic appearance of the original bronze powder paint had lost its luster, having tarnished to a dark brown. In its paint restoration efforts, Evergreene recreated original color schemes using a bronze powder paint that supposedly won't tarnish.
The Balboa's Spanish "ship" theme continues on the stage, where the curtain's design features the Balboa family coat of arms and a 16th-century Spanish caravel. On either side of the proscenium, real water trickles down ornamental mountains set inside 28-foot-tall grottos—at first a functional feature, as the water helped cool the audience, but now just decorative.
Hanging from the ceiling above are historic light fixtures that were restored and rewired by Gibson and Gibson Antique Lighting of Chula Vista. Unfortunately, "usherettes" dressed as Spanish cavaliers in boleros and sashes are no longer in the theatre's employ and strolling the aisles!
Between the orchestra section and the single balcony, the Balboa has downsized its seating capacity from 1,513 (a hat tip to the date of the Pacific Ocean "discovery") to 1,339.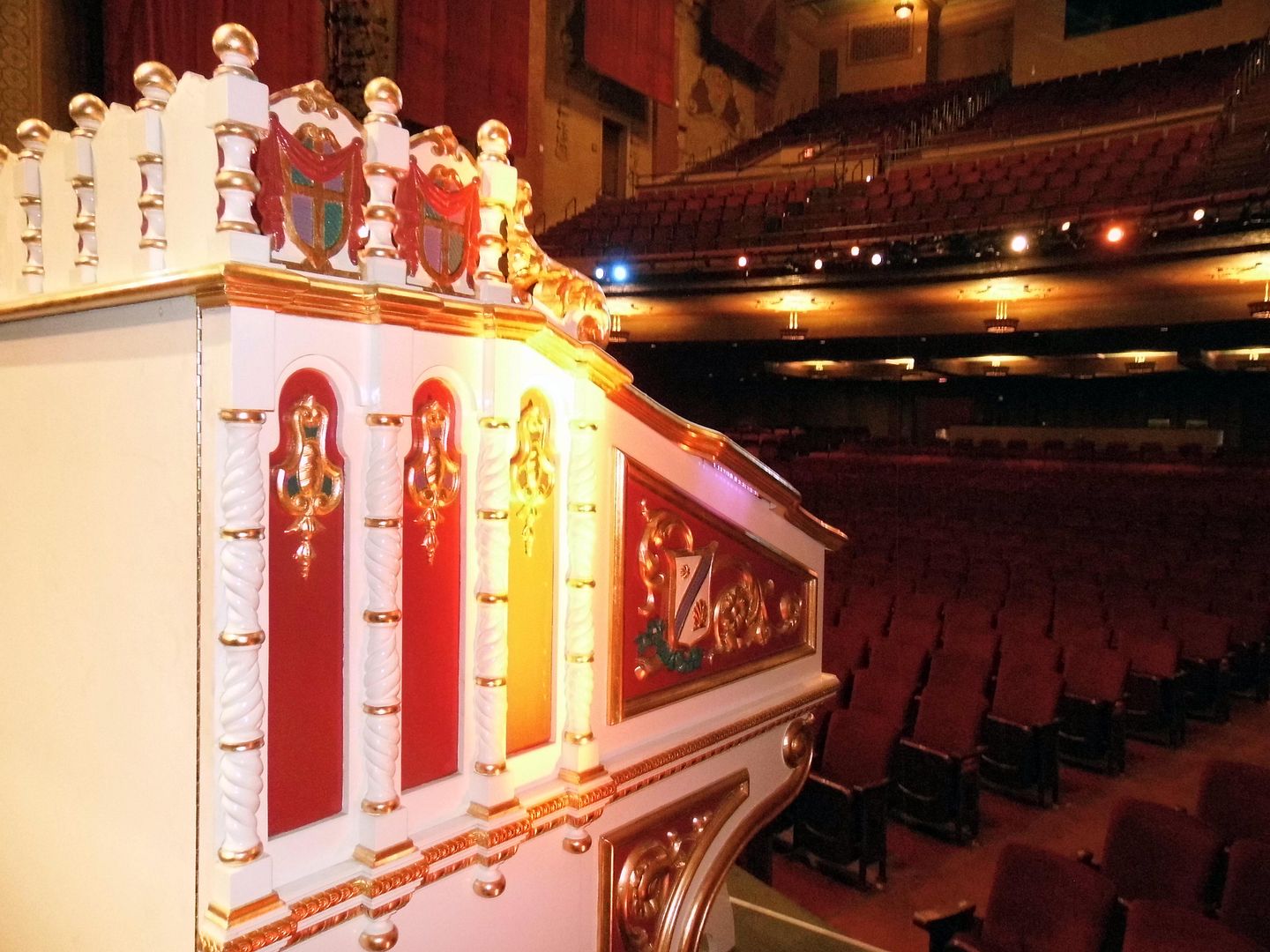 The original 426-pipe theatre organ (built by Robert Morgan in Van Nuys in 1922) was moved to the Fox Theatre (now
Copley Symphony Hall
) in 1929. Maker Robert Morton was second only to Wurlitzer in terms of volume of theatre organs—and the original's replacement is one of only four remaining "Wonder" models by the Morton Organ Company, now residing at the Balboa. Perhaps the first Wonder Morton to have been built, this Wonder Morton Organ's console contains more ornate carvings than the others in existence.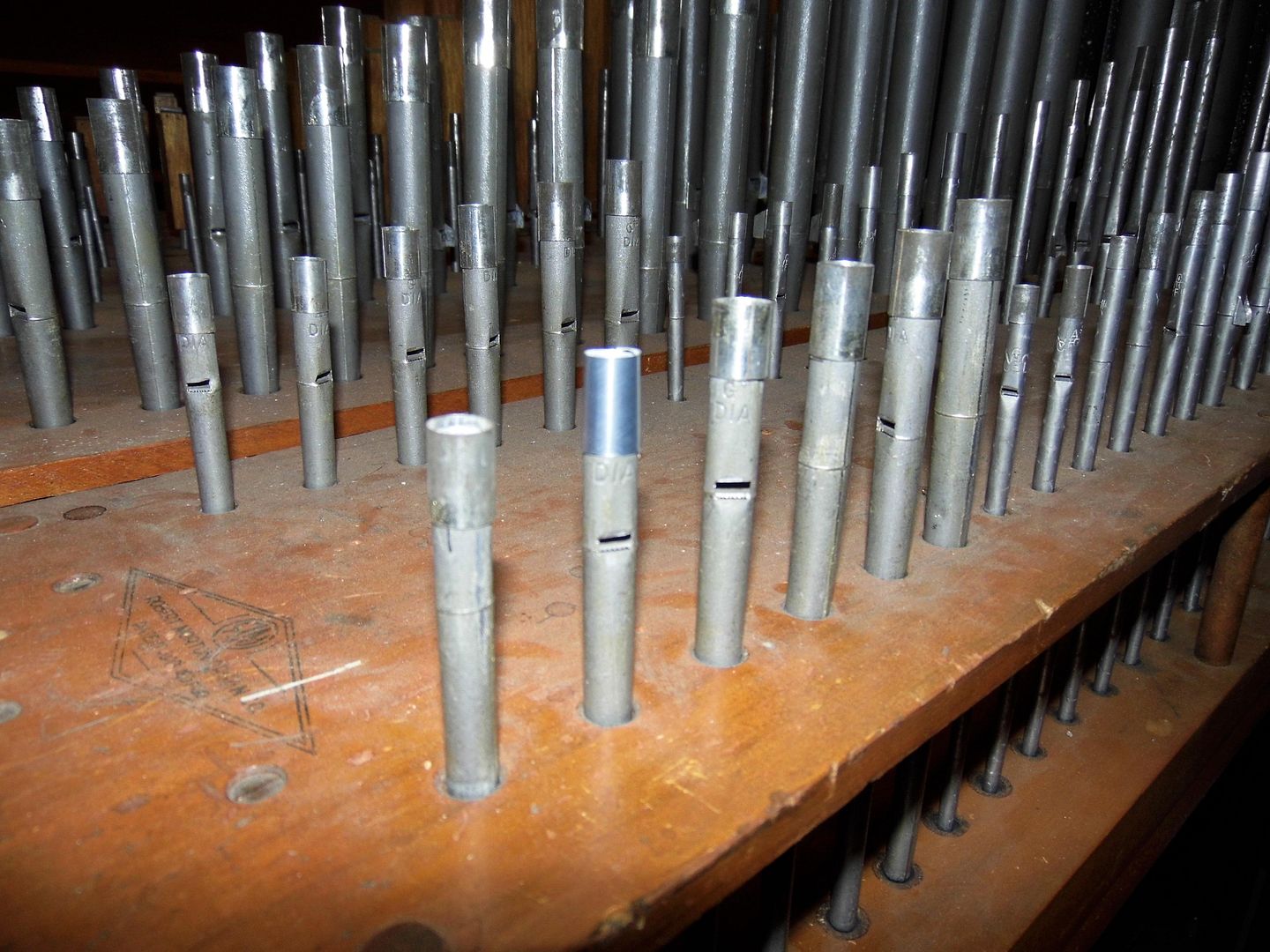 The 4-manual, 23-rank organ was originally placed in the Loew's Valencia Theatre on Jamaica Avenue in Queens (now The Tabernacle of Prayer for All People). At some point (probably after the church conversion in 1977), it moved to Pennsylvania.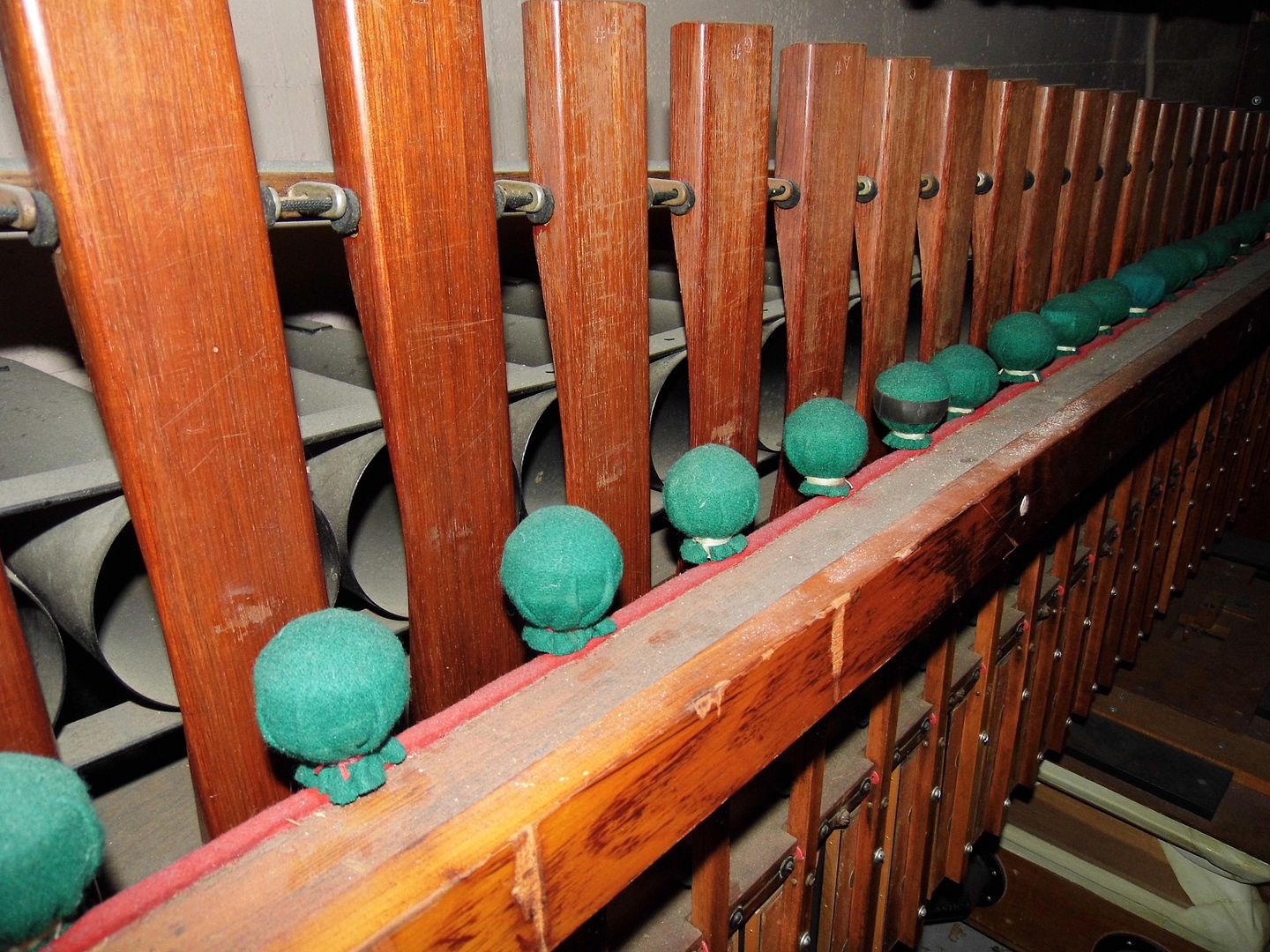 It then made its way all the way out to San Diego for a five-year rebuild by W.A. Shoberg and Company of Ramona. In September 2009, the rebuilt Wonder Organ debuted at the Balboa Theatre.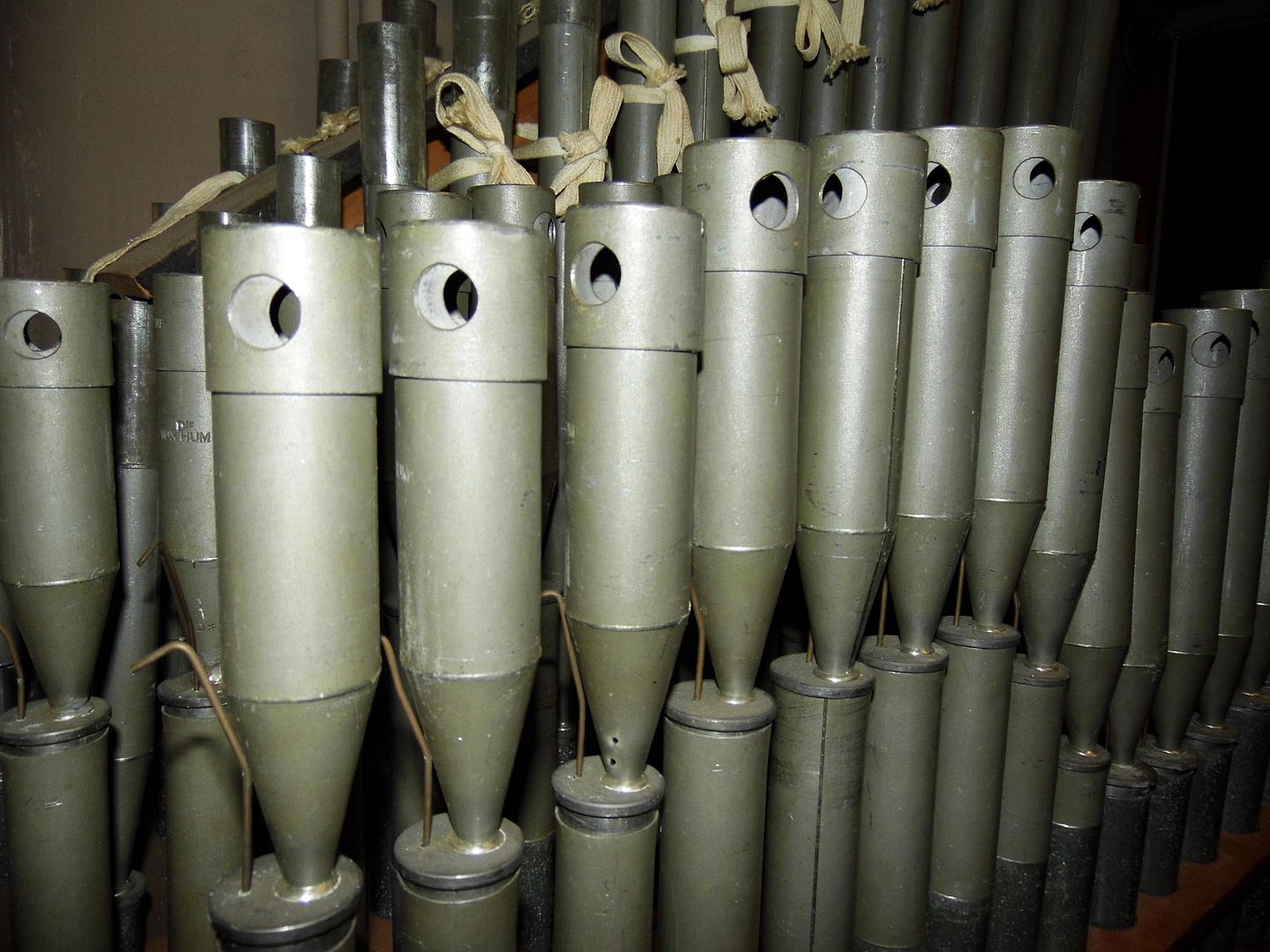 You've got to walk through the pipes a few levels up to get to the ladder that climbs up to the roof, timing it just right so they're not blasting sound while you're up there...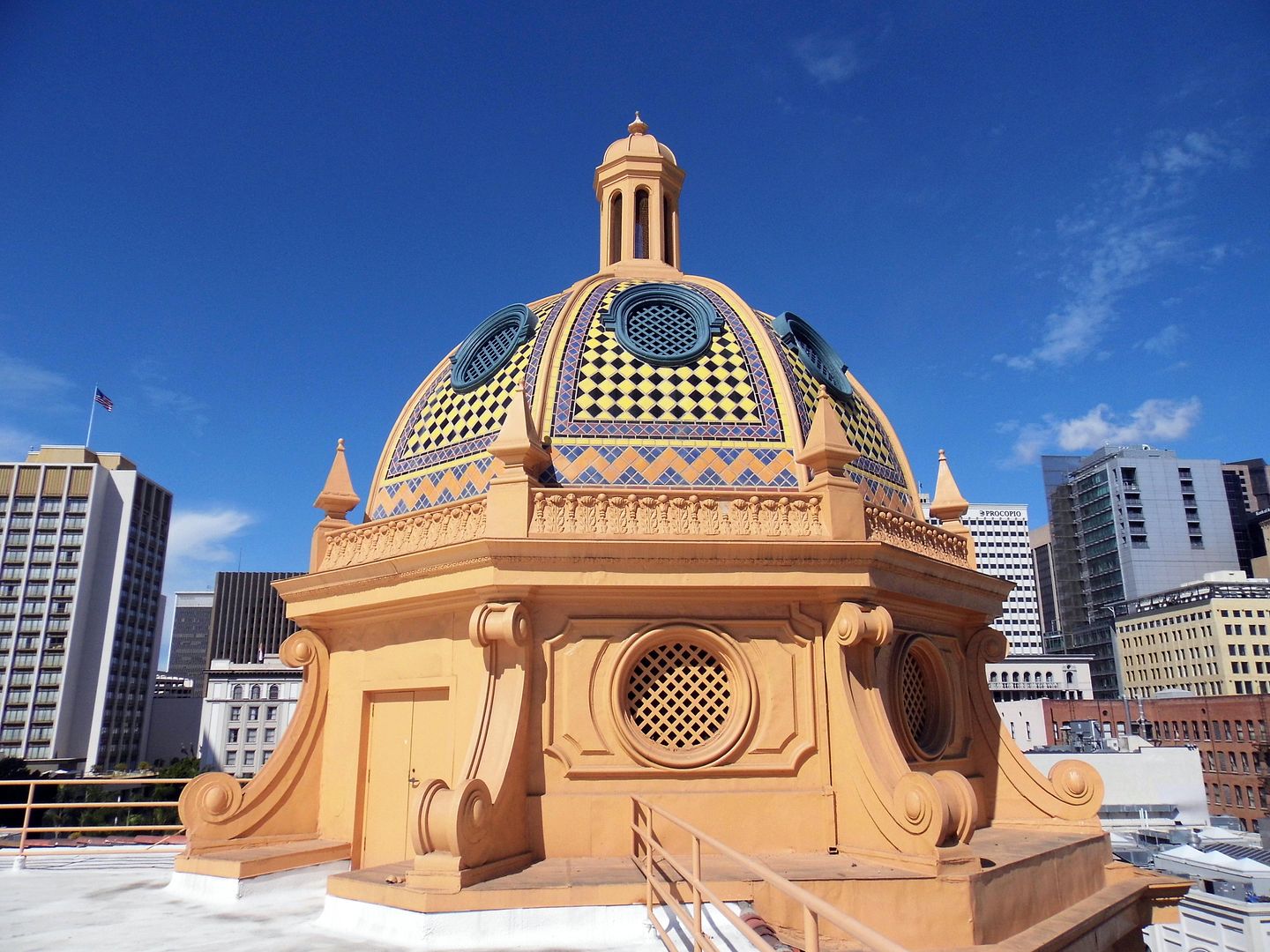 ...which I was lucky enough to do thanks to being in the right place at the right time in March (and
knowing the right people
).
Inside that tile-domed, octagonal tower—whose motif is similar to
the dome of the California Tower in Balboa Park
—there's a new exhaust fan that just replaced a rebuilt one circa 2004 about three weeks ago.
During "normal times," the Balboa Theatre is home to a number of local cultural institutions—including La Jolla Music Society, California Ballet Company and San Diego Ballet, San Diego Gay Men's Chorus, San Diego Opera, and the annual Mainly Mozart festival.
All that's on pause right now.
Designated a
national landmark
in 1996, the Balboa Theatre celebrated its 95th birthday a little over a year ago. It's survived every effort to tear it down and reuse it for some other purpose so far. It was steadfast during the 1973 Horton Plaza Redevelopment Project; and it's remaining strong through this year's $330-million redevelopment of Horton Plaza from a shopping mall into a tech office campus.
It wasn't easy to save the Balboa Theatre. It was
never,
in fact, easy. To read just a slice of the saga as reported in the
San Diego Reader
in 1987,
click here
.
But hopefully people now understand why it's important—and how it contributes to Downtown San Diego, even as the area that surrounds it changes with the times.
Related Posts:
San Diego's Abandoned 'Cathedral of the Motion Picture'... On Its 'Boulevard of Broken Dreams'