Lined up along the east side of Radford Avenue—just outside the
CBS Studio Center
gate—there's a series of sculptures by Studio City's own assemblage artist Karl Johnson (1945-2015).
Installed in 2012 as part of a collaboration with the Studio City Beautification Association, they're part of the Radford Art Walk. Although it extends for just 0.25 miles, each of the 15 sculptures is so intriguing that they command plenty of time to explore them.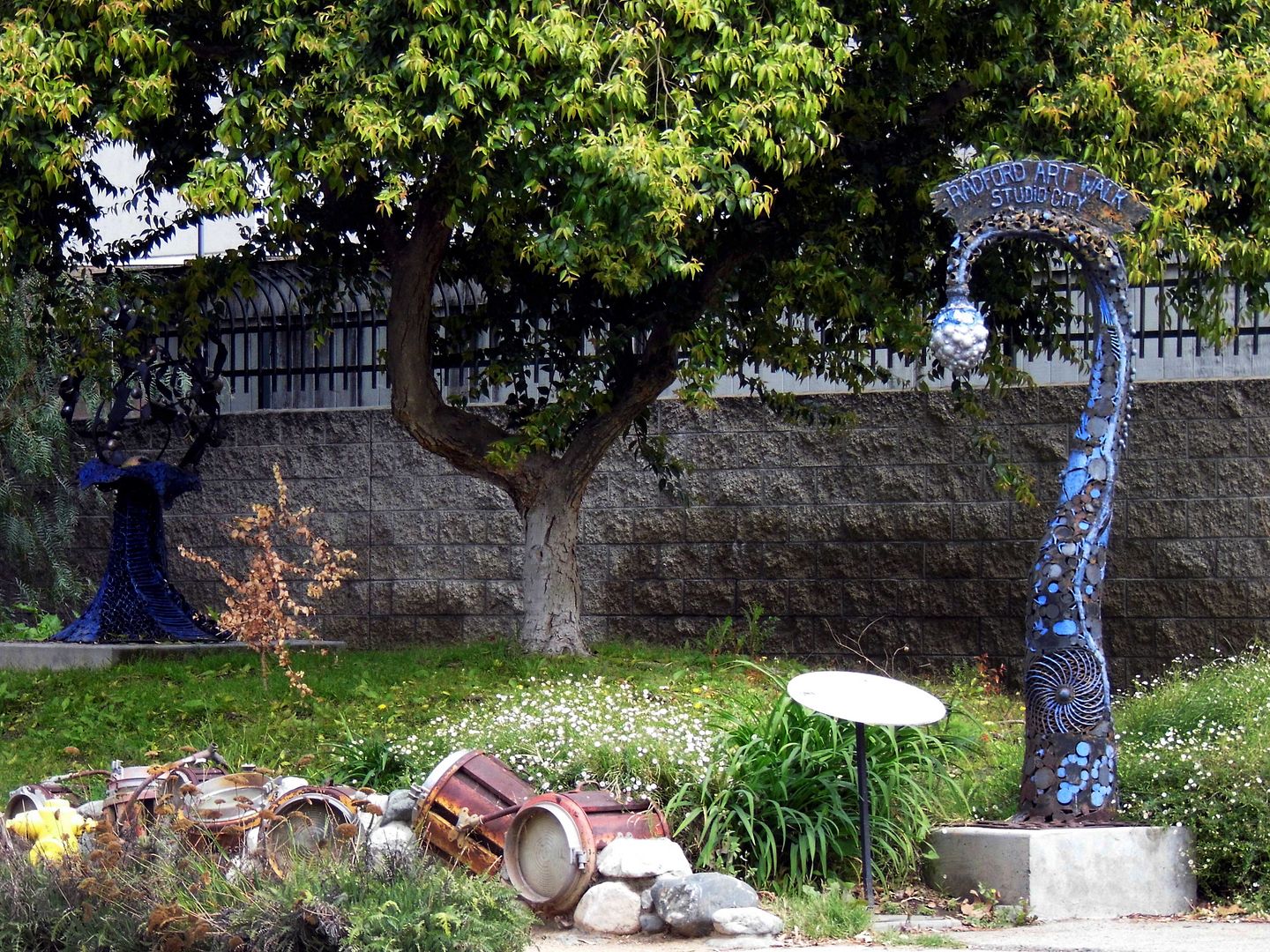 I discovered it completely by accident, while poking around the LA River...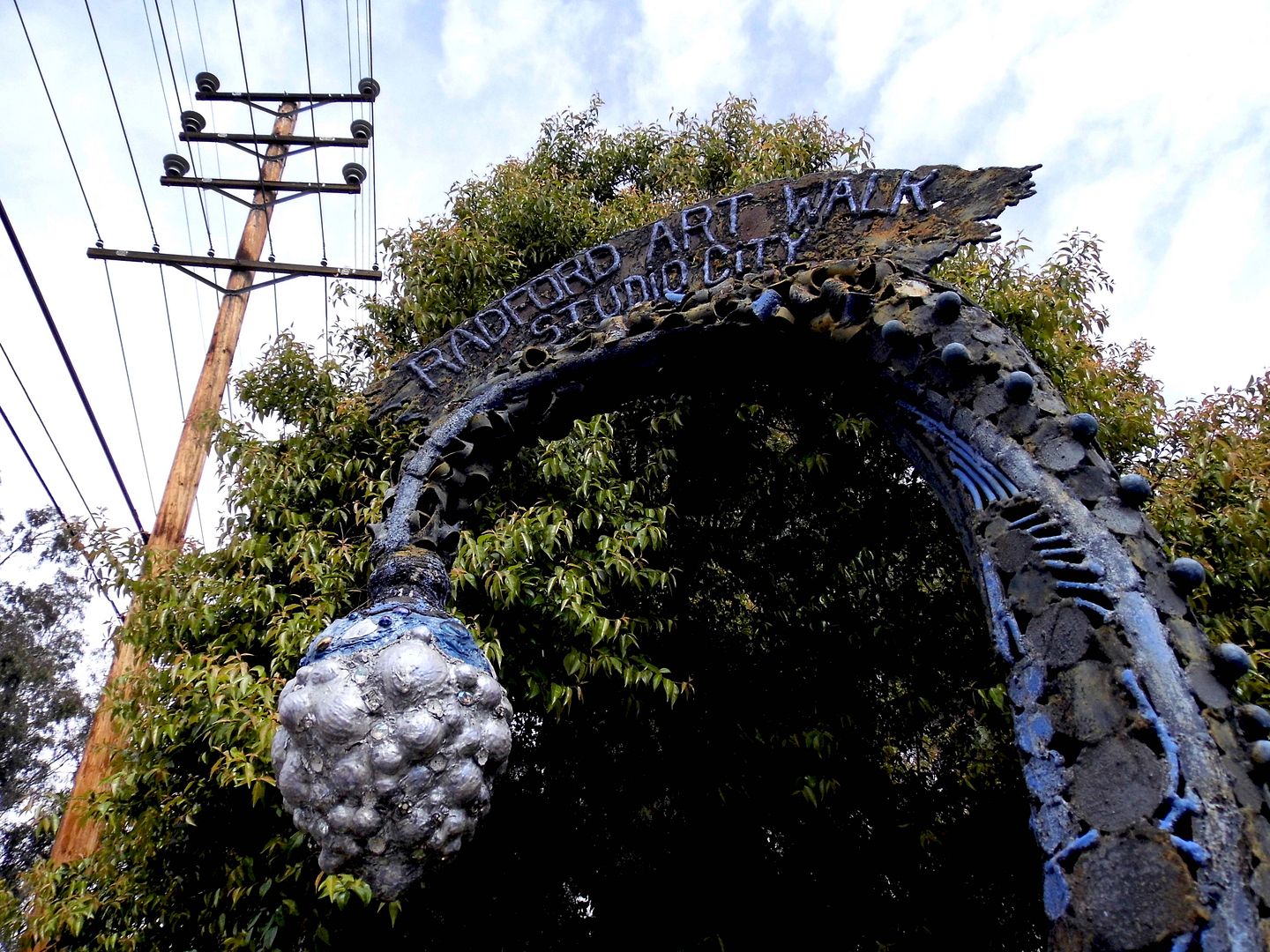 ...first spotting the "Welcoming Lamp," which lit my way to the rest of it.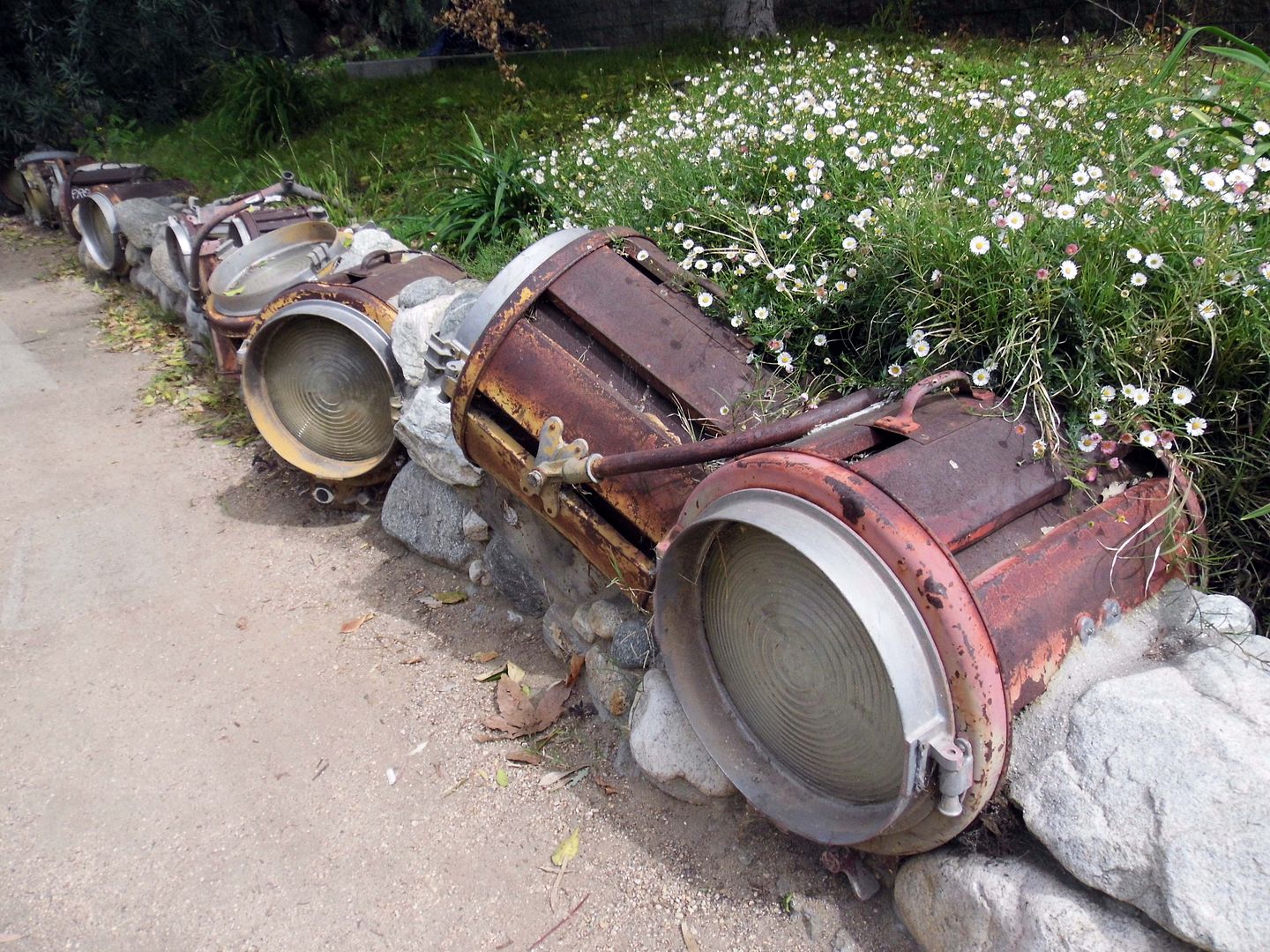 I then stumbled upon the retaining wall made of local rocks and, thrillingly...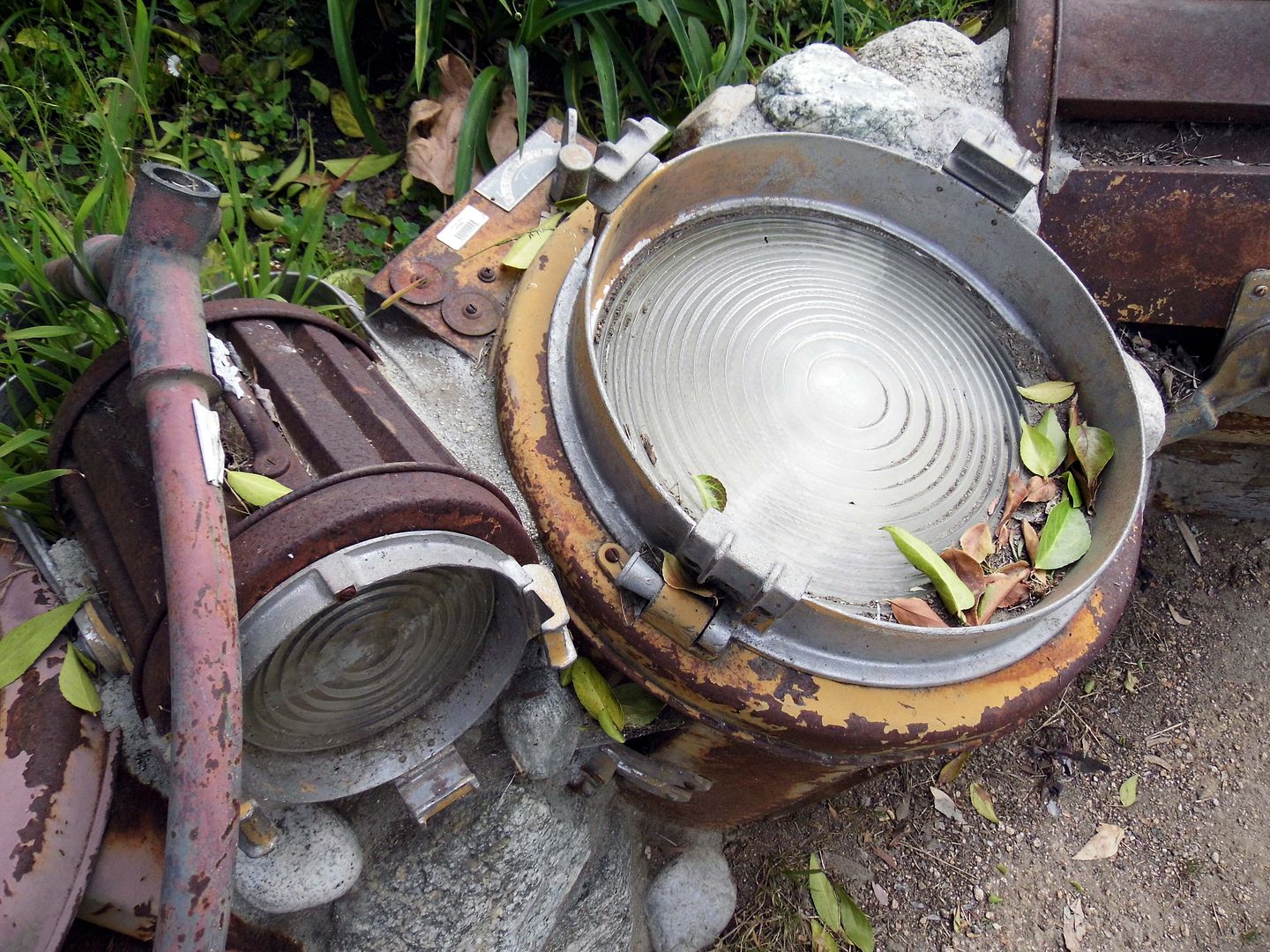 ...a surplus of old Mole-Richardson Co. studio lights from the CBS Studio Center's soundstages.
Beyond the somewhat overgrown California natives and other Mediterranean plantings, there are the mixed-media sculptures hiding in plain sight...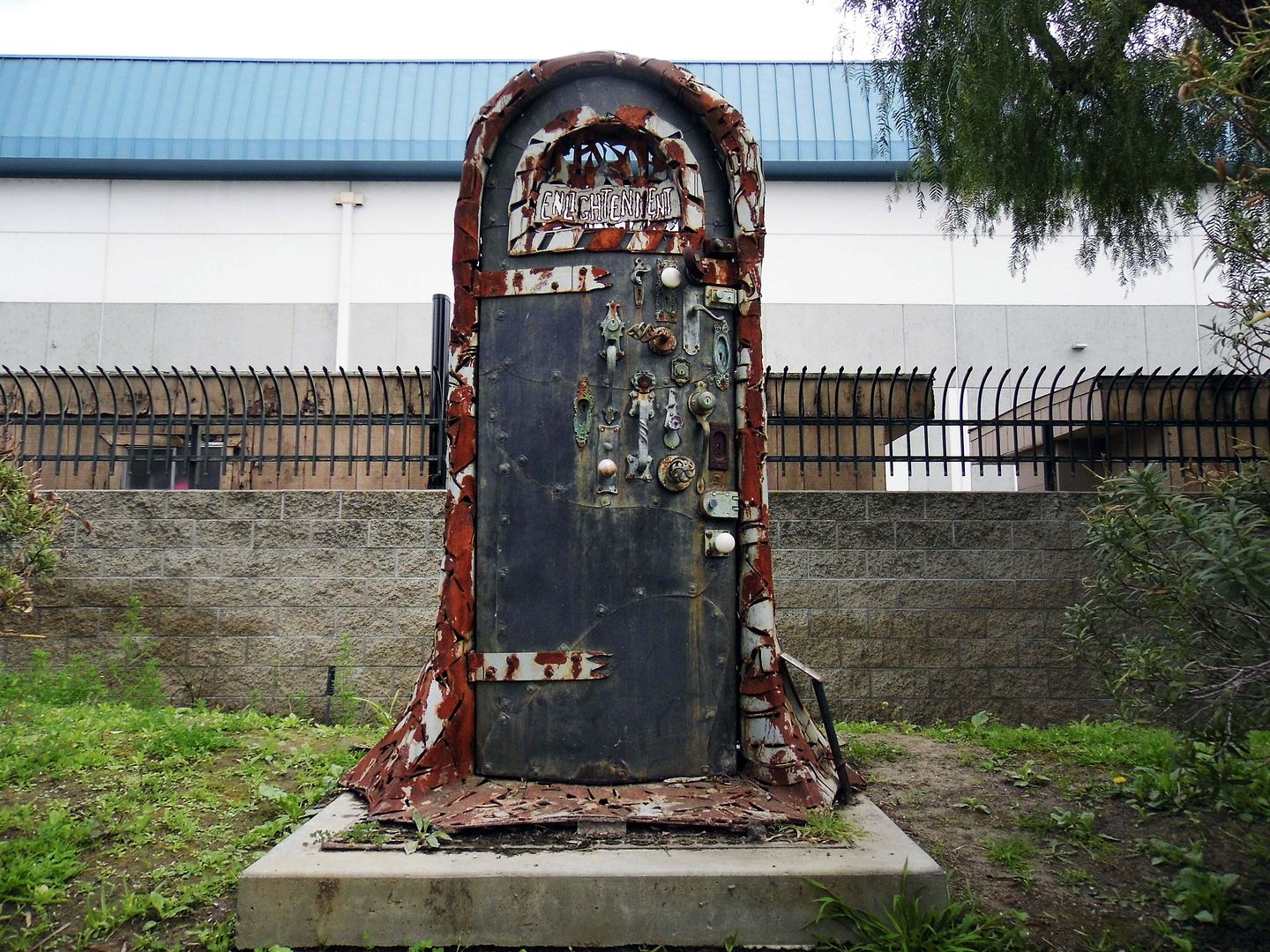 ...like the "Door to Enlightenment," representing ignorance as a prison...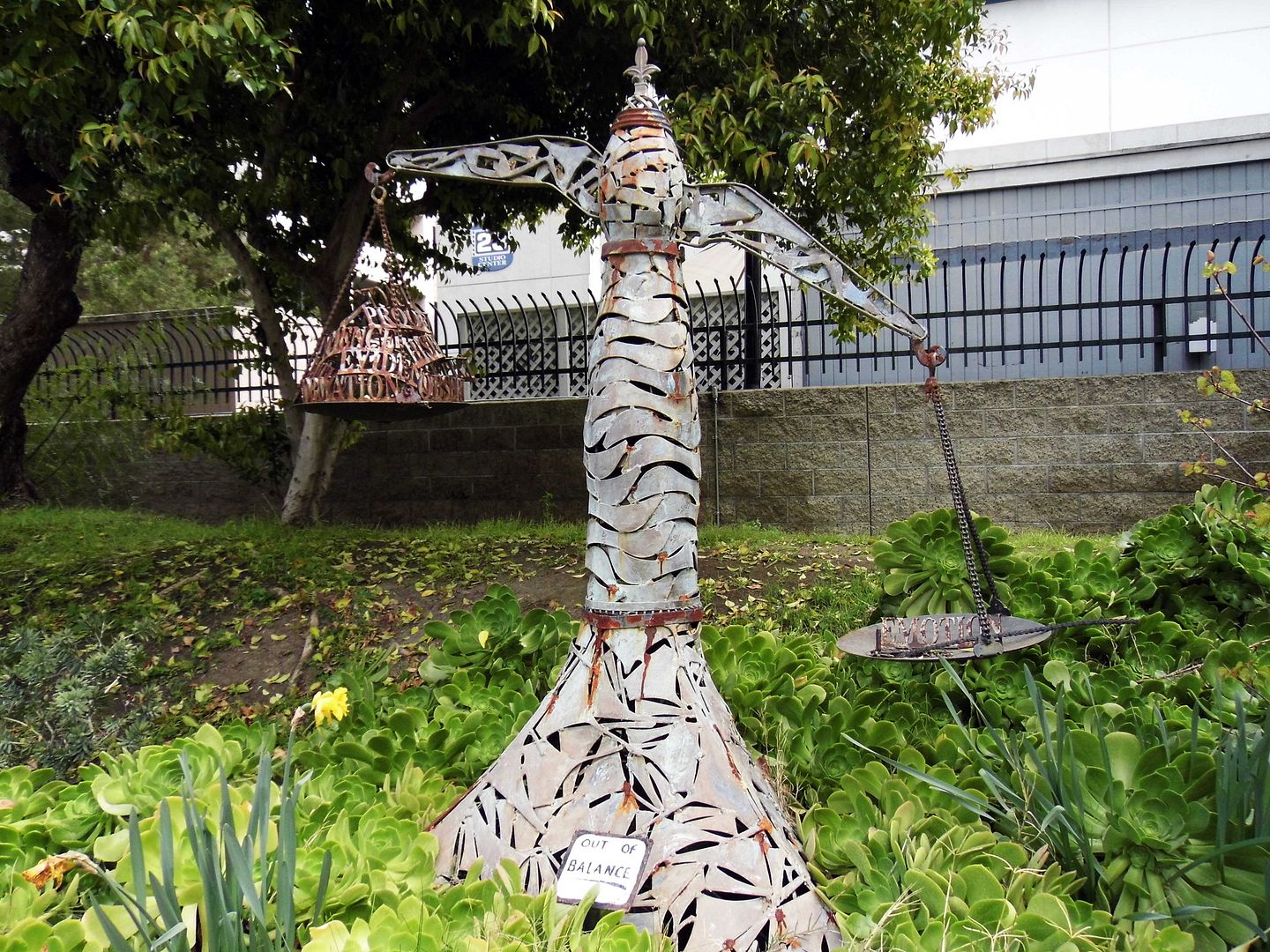 ...or the scales in "Out of Balance"...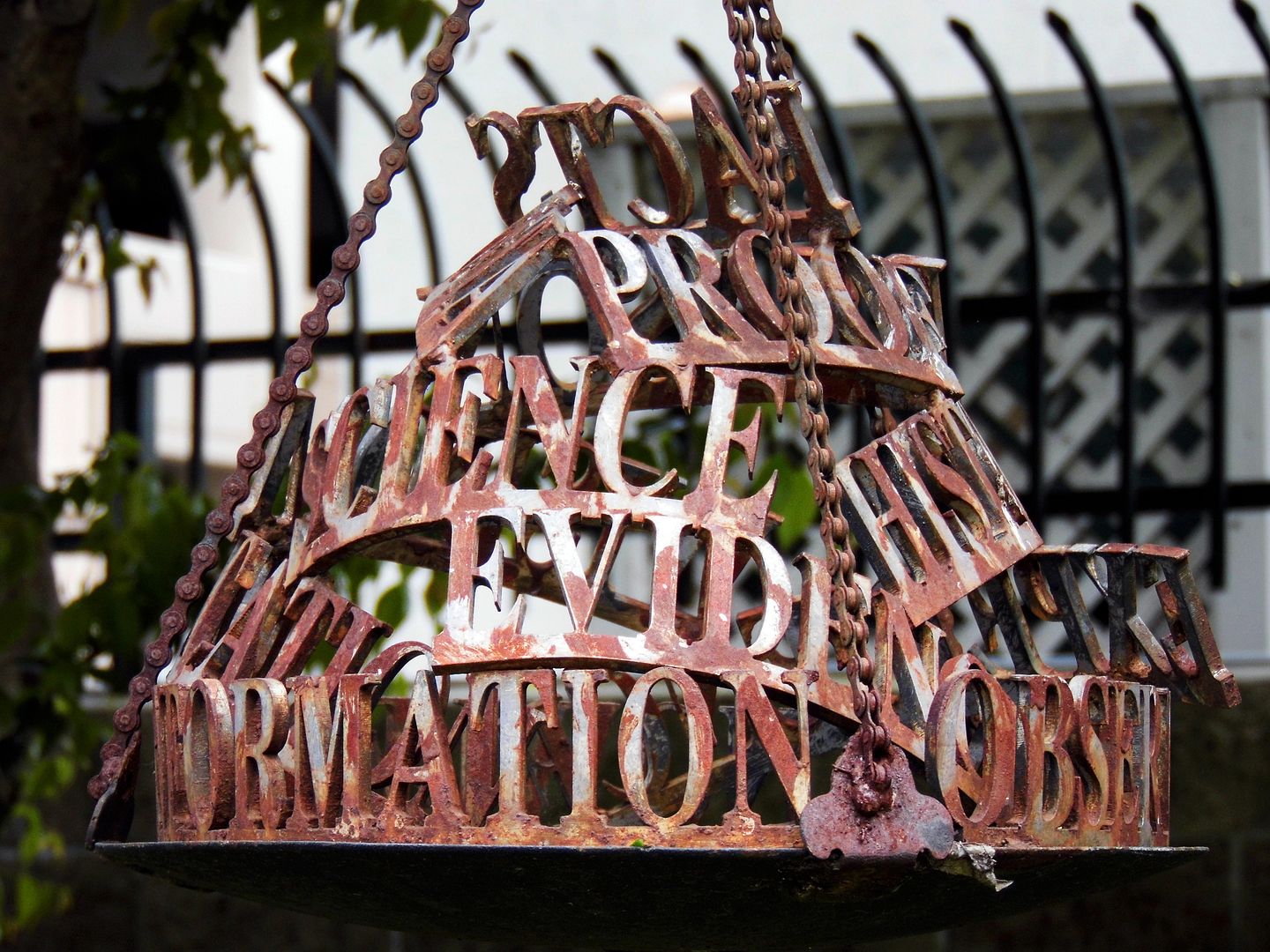 ...which show how emotion usually outweighs reason and rationality.
Johnson fabricated all these "resurrected" art pieces out of recycled and salvaged stone, welded steel, mosaic, wood, and more reclaimed materials.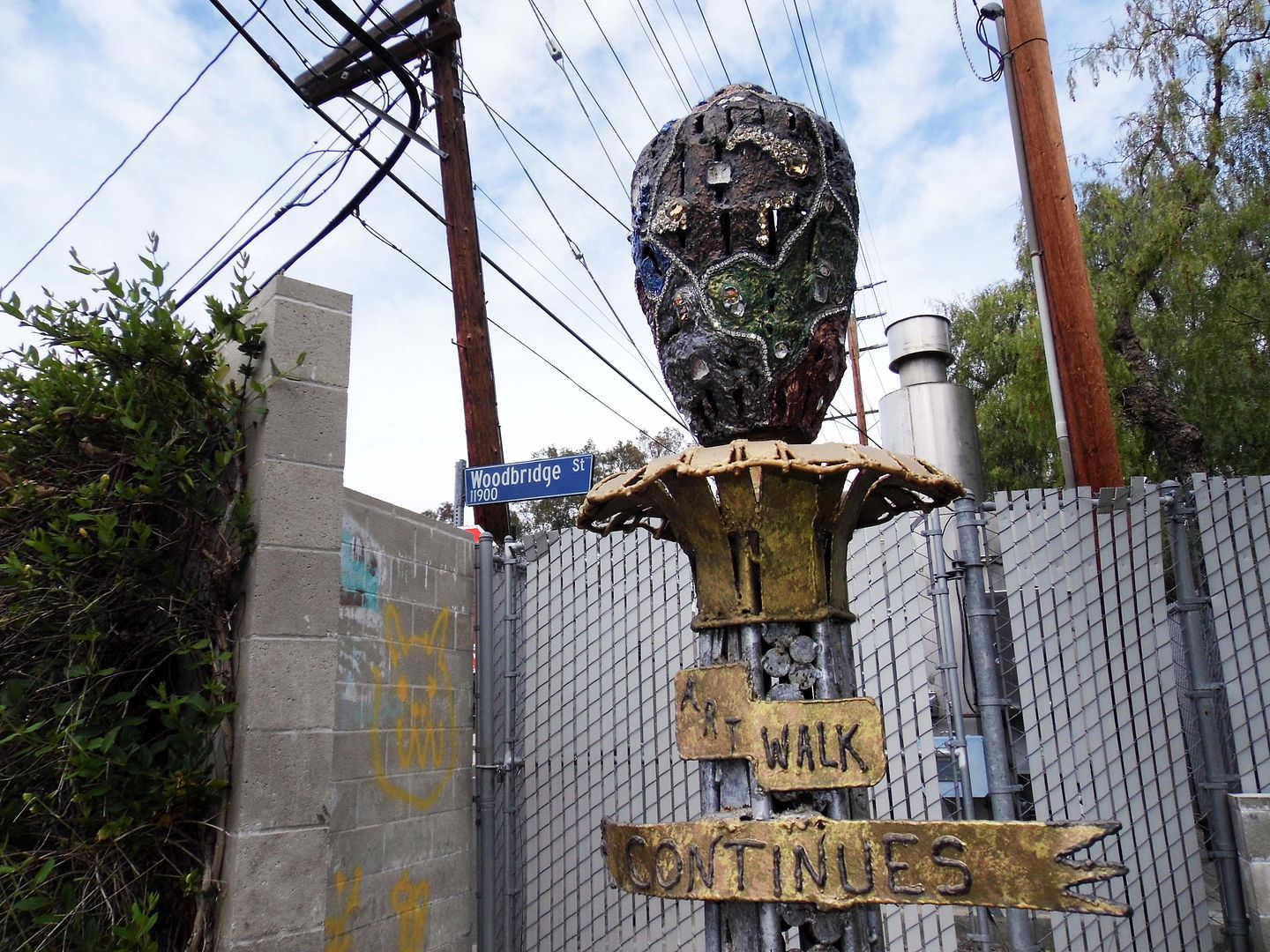 They're are open for viewing 24/7, rain or shine, free of charge.
But does anyone know about them? Or remember they're here?
Situated near where Radford Avenue ends at the Tujunga Wash (a tributary of the LA River), not many cars drive by. And only a few locals pass on foot, maybe with their dogs.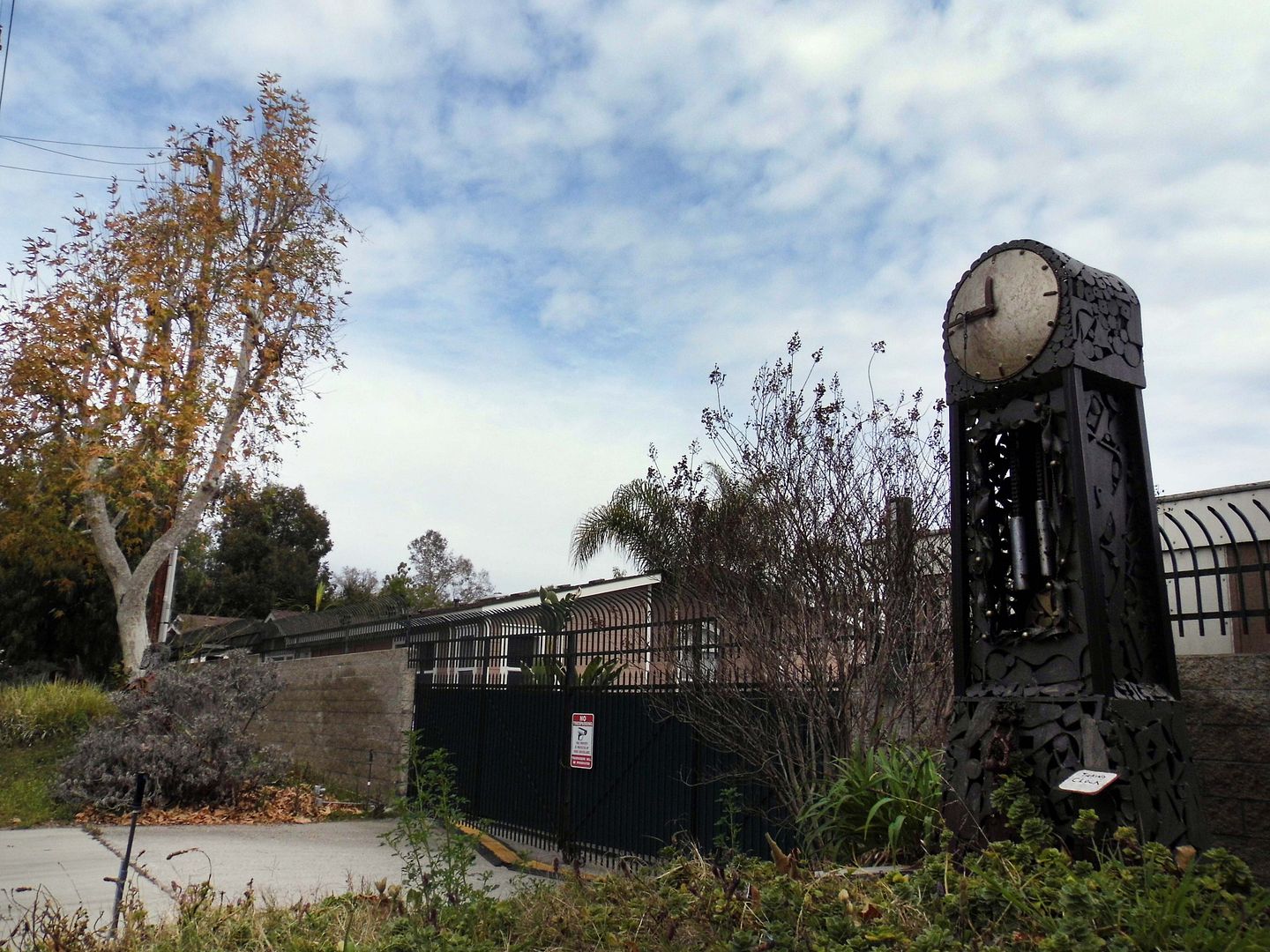 Just as the "Ticking Clock" sculpture reminds us of the relentless tug of war with time...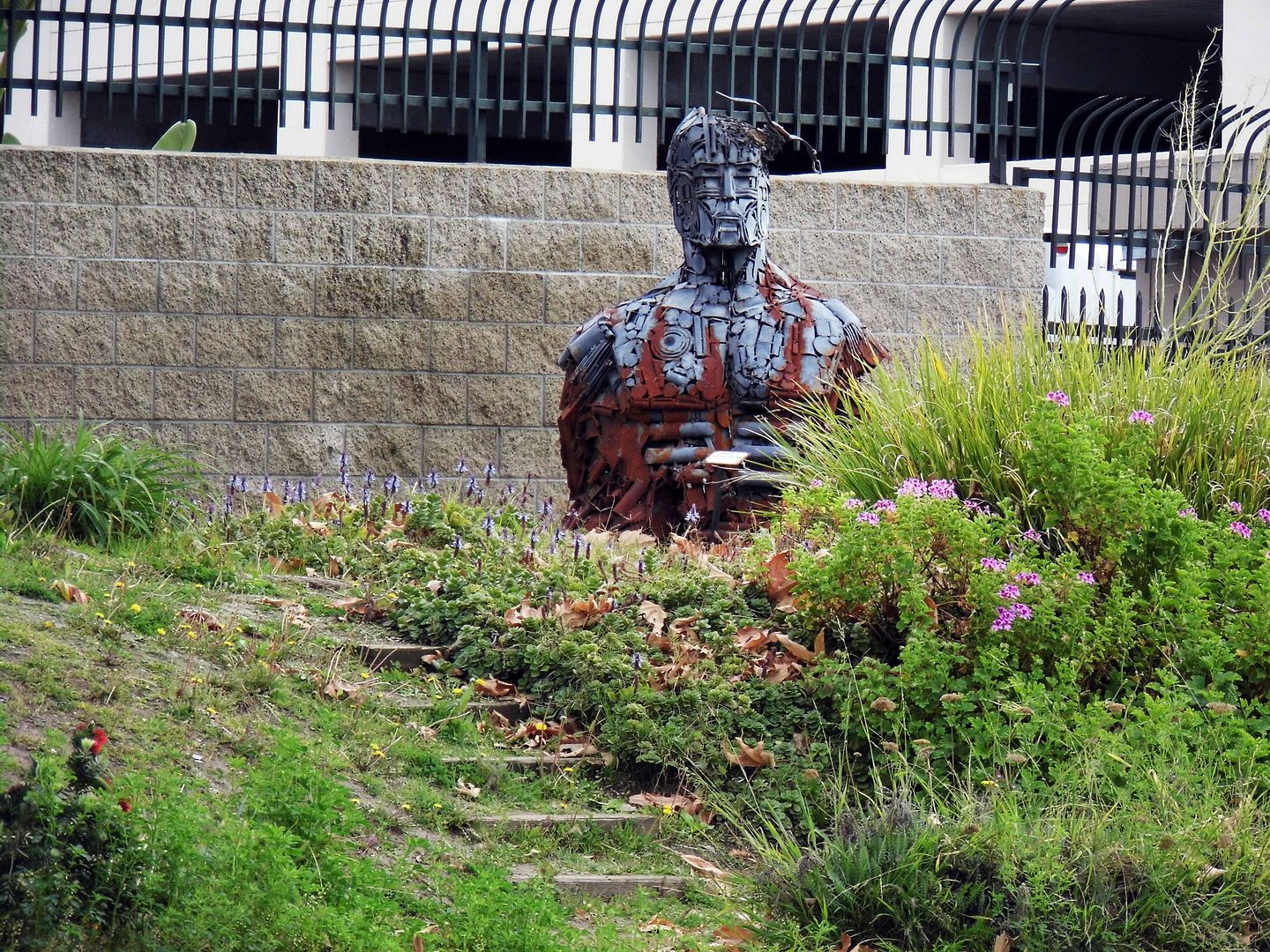 ...and how we must face our own mortality as we literally disintegrate before our very eyes, increasingly burdened by our past...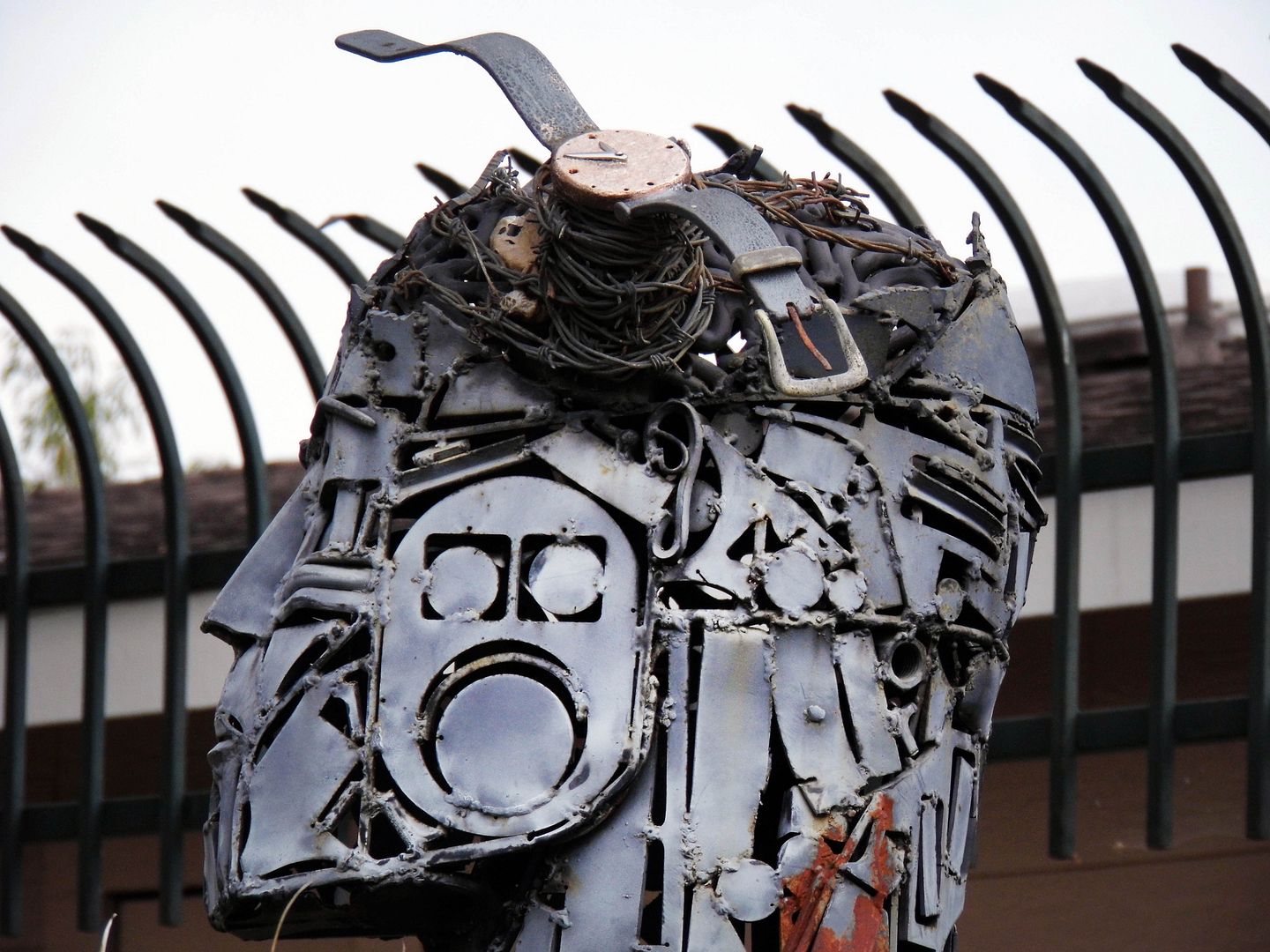 ...so too does the Radford Art Walk suffer from the passage of days, weeks, months, years.
Weeds grow and are not mown. The berm becomes unclimbable. The wooden stair slats sink or maybe submerge into the earth. And seating either goes missing or was never installed in the first place.
It's been less than 10 years since the Radford Art Walk was celebrated for beautifying Studio City. And yet its legacy feels a bit... anticlimactic.
After all, Karl Johnson's own Studio City house and front yard—the crown jewel of the artist's
oeuvre—
were unceremoniously dismantled upon his passing in 2015. (Unfortunately, I didn't know to go see it before it was summarily erased.)
Without him around to maintain these public works—or to advocate on their behalf—I worry what'll happen to them when they get in the way of some new urban plan (like, say, with the River).
I'm glad I found them when I did. But they make me sad.
I guess that's OK.
Related Posts:
Walking in the Footsteps of Mary Tyler Moore, Newhart, and Gilligan at CBS Radford