Last September, I saw that a house credited to architect
John Lautner
was on the market—and my compulsion for completionism set in.
Maybe I'm just tiding myself over until I can finally get into the Chemosphere, the biggest carrot of them all (and probably the hardest to get into), or any of the other Lautners on my
Bucket List
, for that matter.
I wasn't familiar with the namesake of the "Ub Iwerks House of the Future" in Sherman Oaks, built in 1958. Lautner was enough of a draw for me.
But it turns out that I
should've
known about the Kansas City-born Ubbe Eert Iwwerks, whose name of Dutch ancestry had been shortened to Ub Iwerks after he moved to Hollywood to join forces with none other than Walt Disney.
And the story of the house is much more about Iwerks and Disney than about Lautner.
Before they separately relocated to LA, the two Kansas City natives had already worked together at the Pesman-Rubin Commercial Art Studio in Kansas City and at their short-lived company, Iwwerks-Disney Commercial Artists.
Turns out the Missouri metropolis didn't have much of a demand for advertising art and such in the year 1920.
But in Hollywood circa 1927, Walt and Ub were able to create Oswald the Lucky Rabbit—a popular animated character that gave them steady work until they were swindled out of working with him and denied any ownership stake in him.
If it weren't for Oswald, though, there would've never been a Mickey Mouse. Walt and Ub dusted themselves off and started anew, this time ensuring their equity in their own creations.
Drawing Mickey Mouse—and animating him in multiple cartoons, as the so-called "hand behind the mouse"—led Ub to pioneer technical inventions in filmmaking, particularly in combining live action with animation.
His work on
Song of the South
in 1948 earned him an Academy Award in Technical Achievement in 1960; his special effects for Hitchcock's
The Birds
in 1963 earned him an Oscar nomination, though not a win. His contributions to
Mary Poppins
(1964)—the merry-go-round scene and the dancing penguins—are probably the most memorable scenes out of the whole movie.
But in 1958, while he was getting ready to build his dream house, his focus had shifted to
Disneyland
in Anaheim and its "Tomorrowland" attraction.
Futurism was on his mind—so it's no surprise that Ub commissioned his "House of the Future" to be designed by the hand behind "Googie's" coffee shop and, two years later, the Hollywood Hills spaceship known as the Chemosphere.
But while John Lautner
started
on the "House of the Future" for Ub and his wife Mildred, he didn't complete it. After butting heads with the Iwerks, Lautner handed the project off to a new lead architect from his practice—the Taliesin West-trained Jim Charlton.
Ub died in 1971, and Mildred—now widowed—continued to live in the house until her death in 1990, after which it was deeded to their sons Don and David.
Lautner was supposed to do some work on it in 1994, but he died before he could complete his original vision.
In total, five architects worked on the Iwerks house from its inception to its last major renovation, by Tracy Stone in 1999.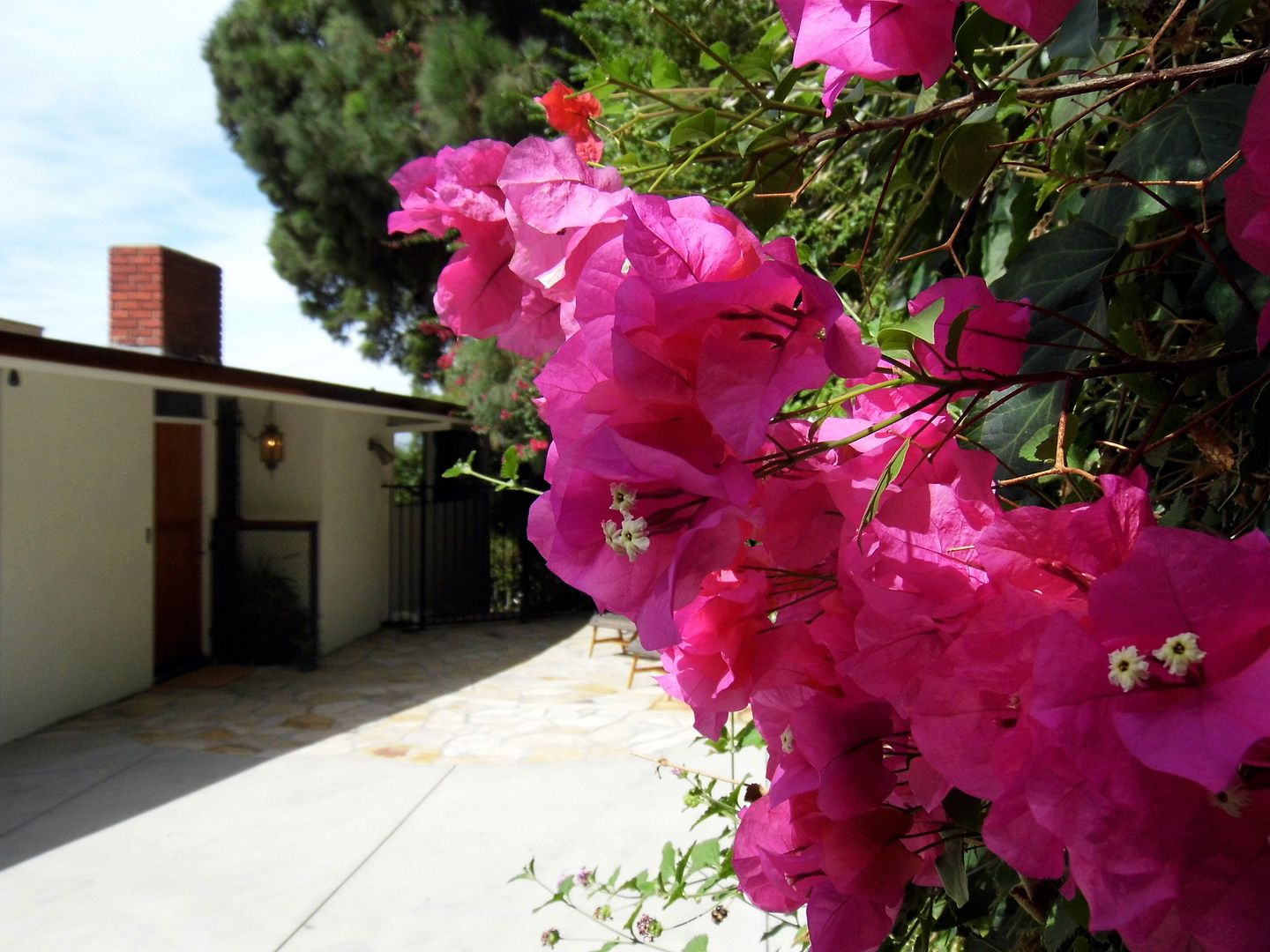 Occupying 3,132 square feet on a 10,800 square-foot lot, the house has been described as "football-shaped" (at least by the
LA Times
)...
...but it reminds me more of a
boat
.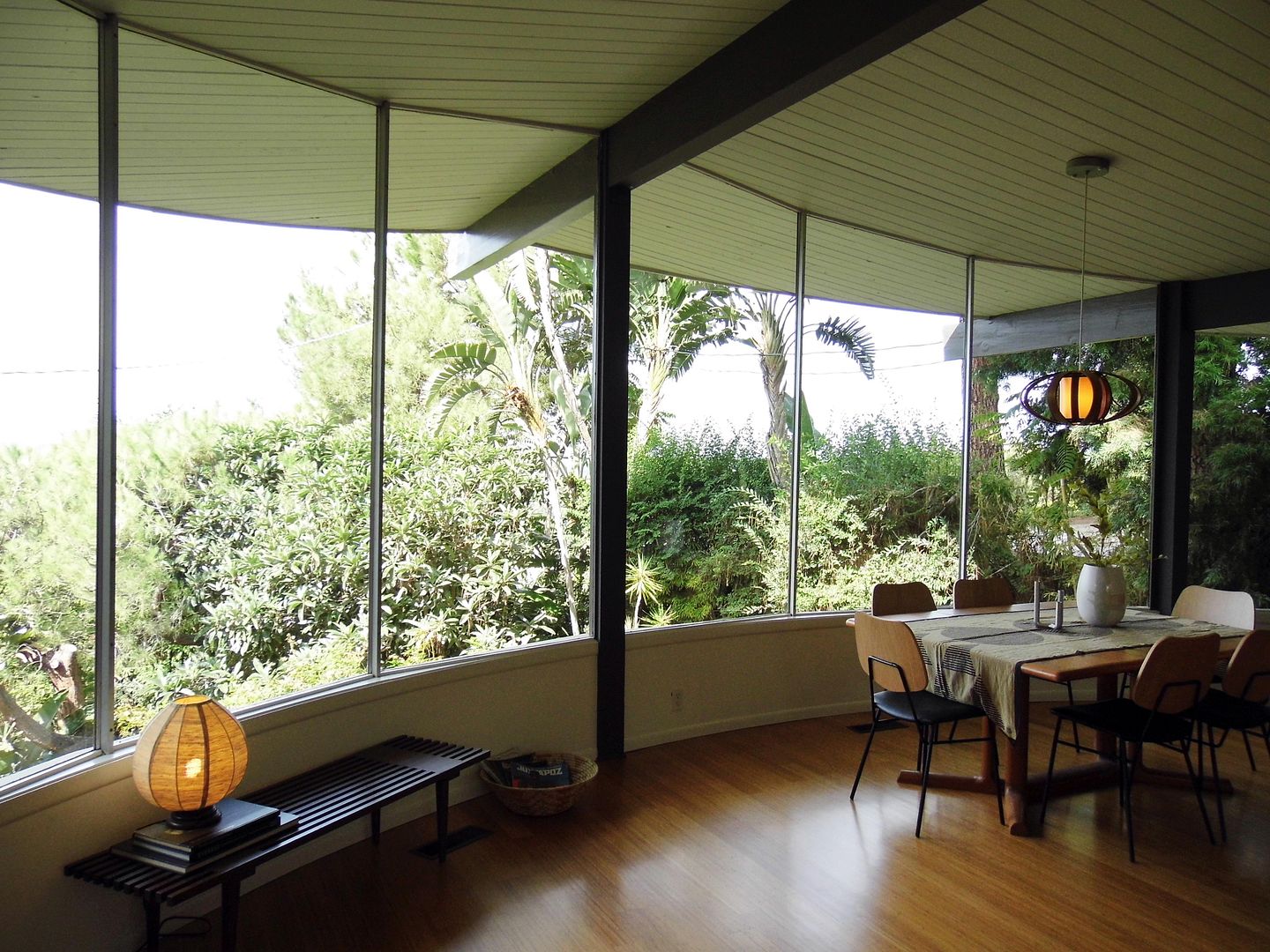 At least, a boat
seems
more appropriate—given it housed the man who helped create the animated "talkie"
Steamboat Willie
, starring Mickey Mouse in his first feature, in 1928.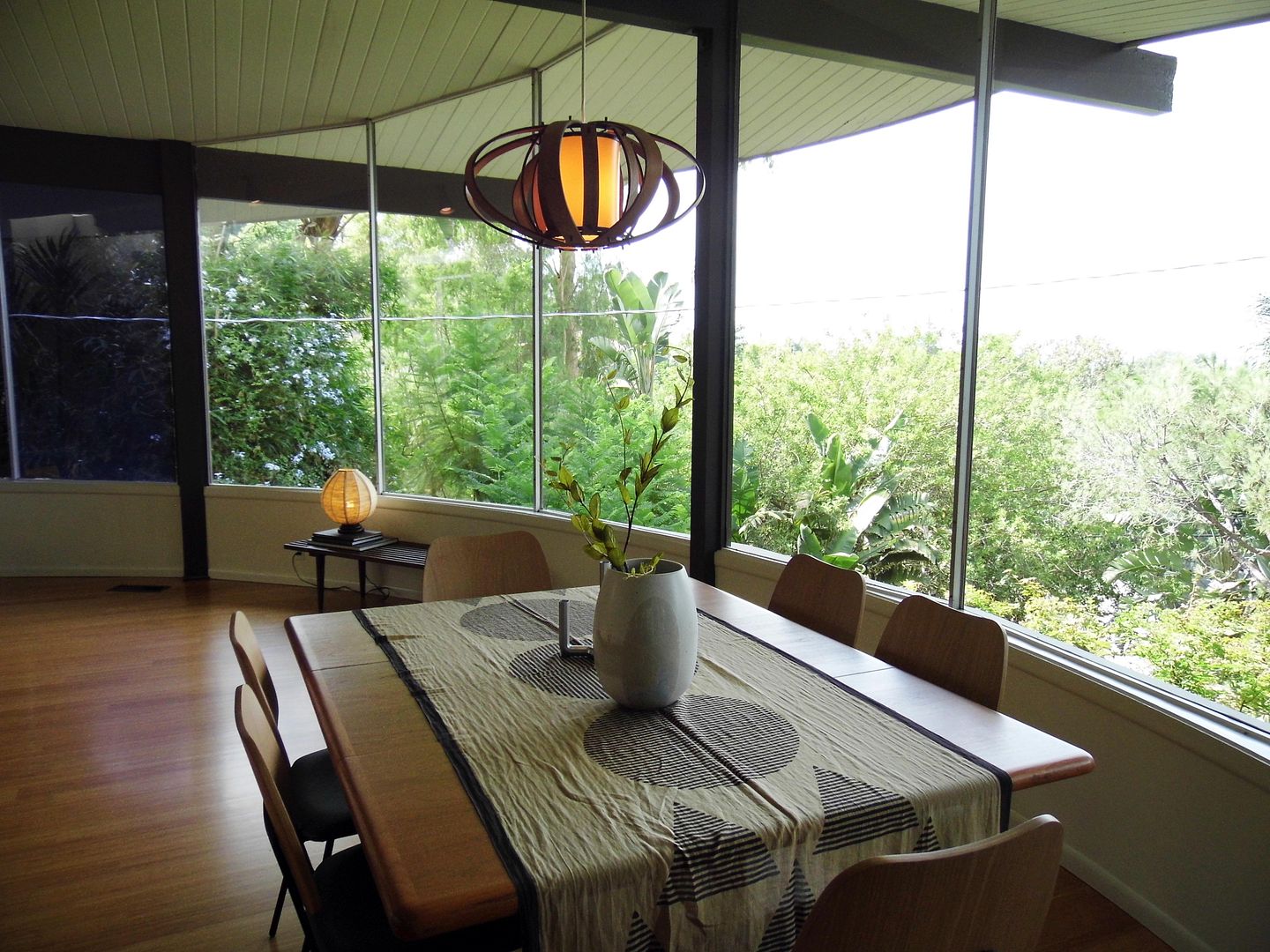 The wall of windows gives those who are inside the feeling of being in an aquarium—perhaps not looking into a tank but out from one.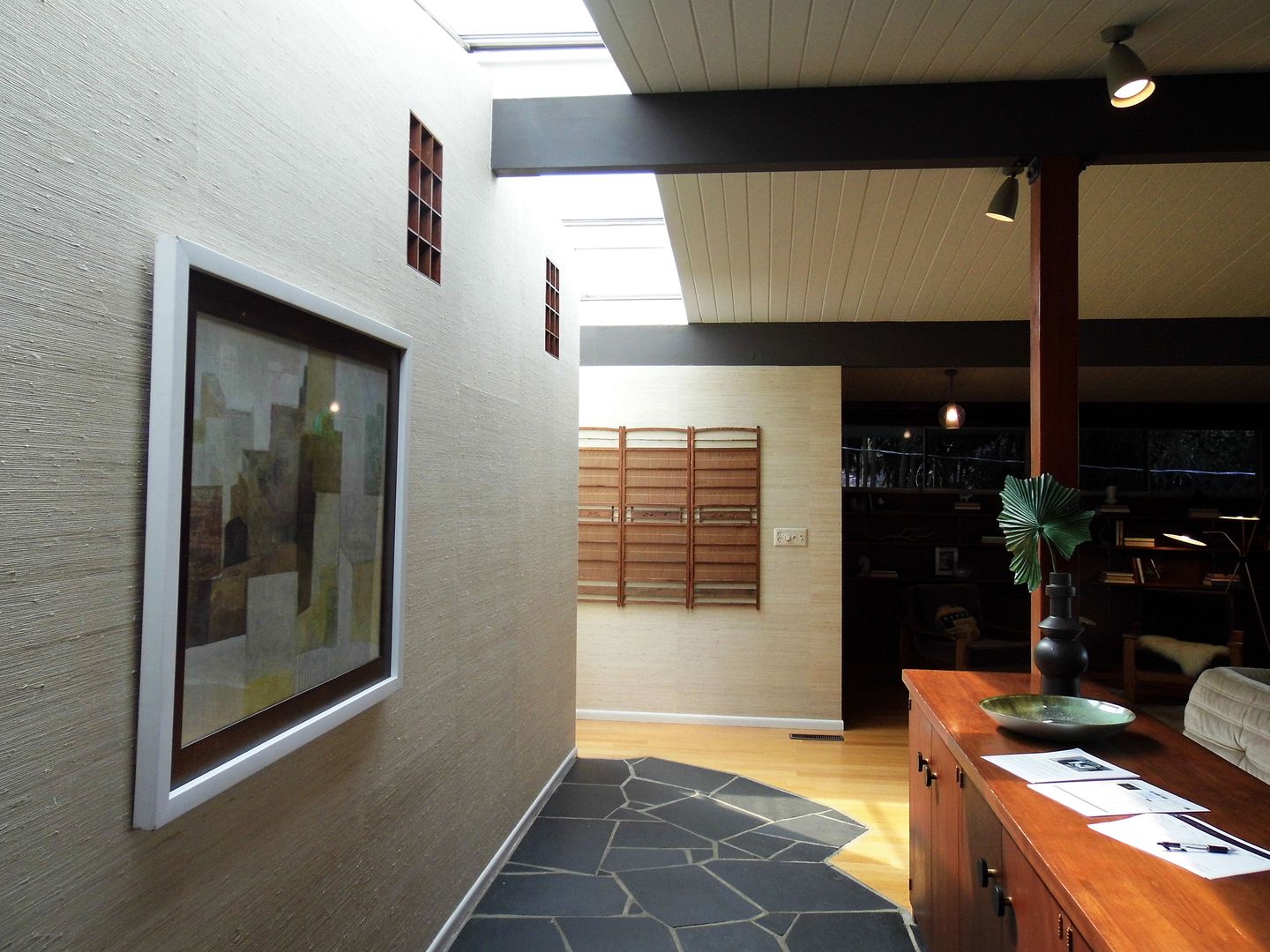 Skylights up above also illuminate the bamboo wood flooring underfoot...
...as you walk down a hallway under original lighting fixtures that have been miraculously preserved
in situ
...
...perhaps on your way to shower
al fresco
in one of the house's three bathrooms.
The "ground" floor is actually the upper level...
...and it's the downstairs that was built out over 20 years ago...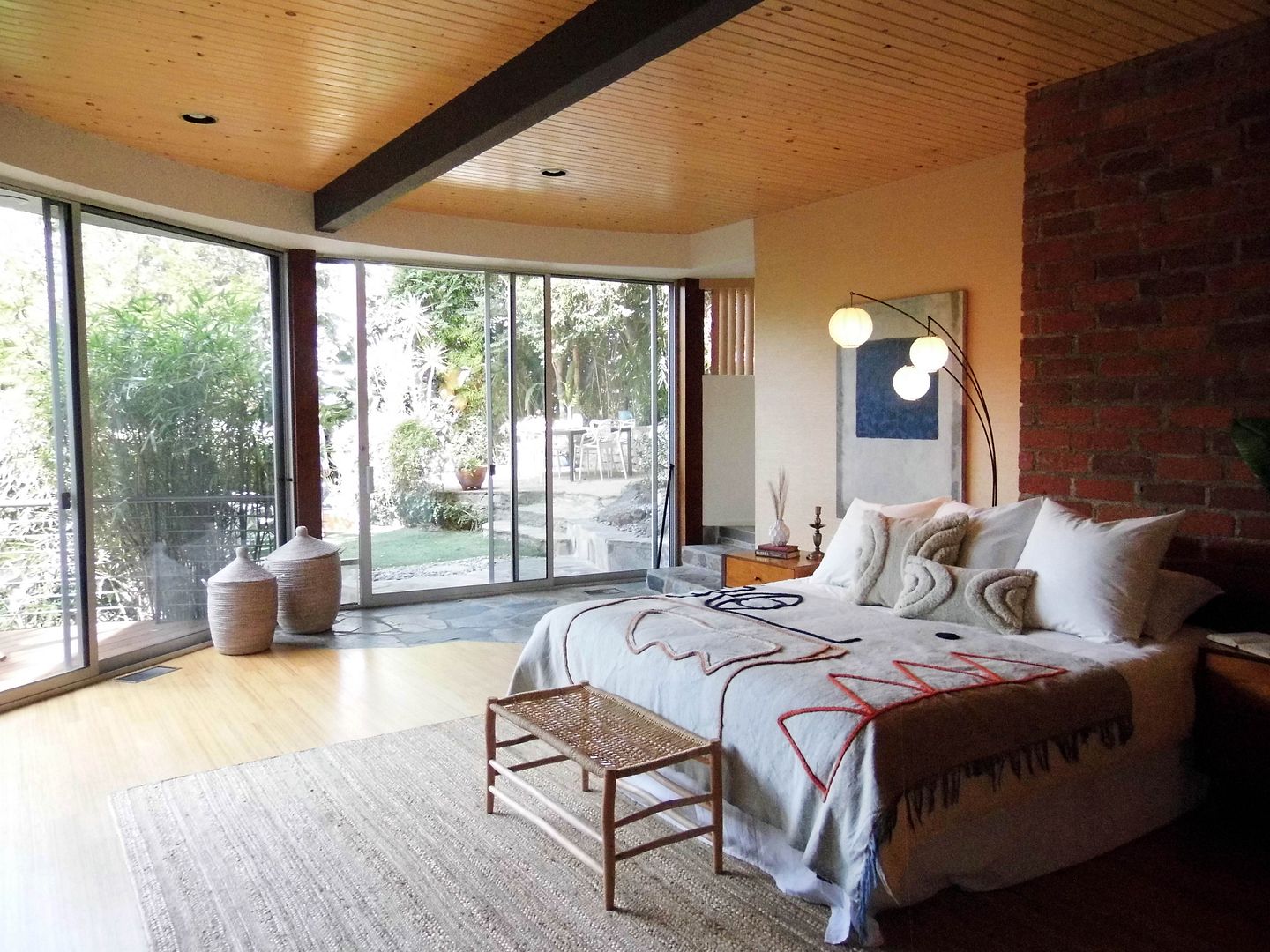 ...now with a master bedroom suite, one of three total bedrooms in the house.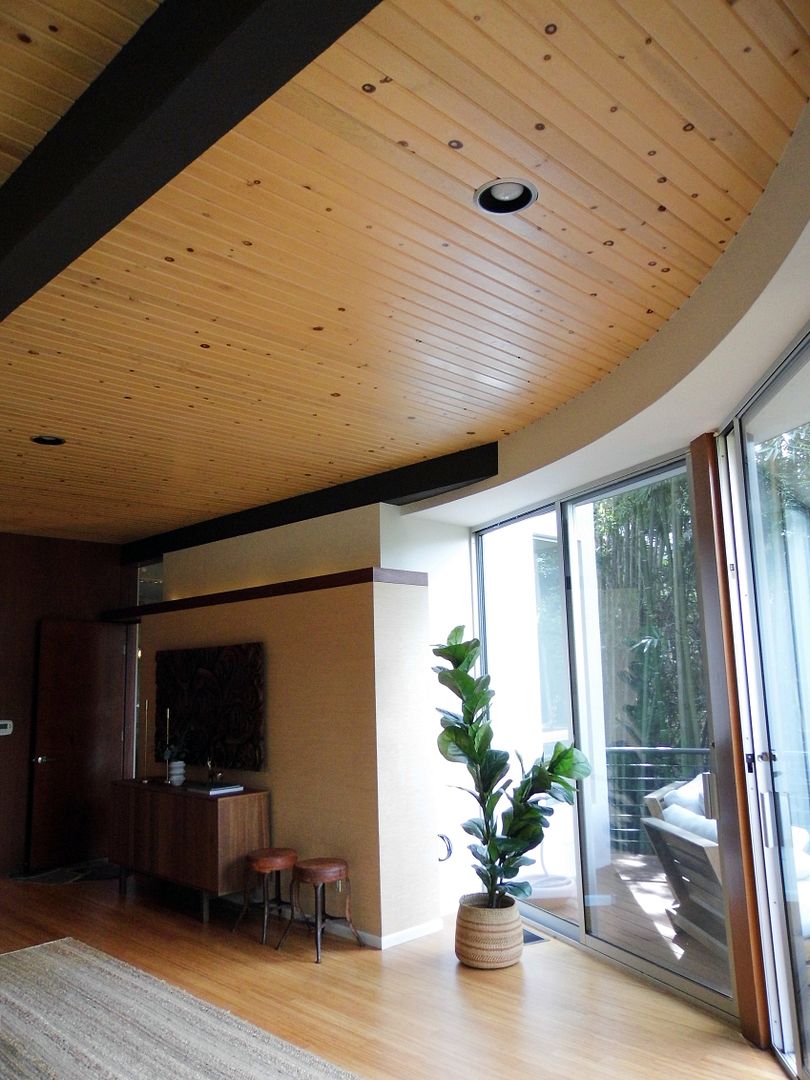 It didn't take long for the Ub Iwerks house to sell to a new owner, who'll hopefully become a good steward of this historic, Modernist home.
Located at the end of a long, curved driveway—and perched on a hillside, enveloped by old-growth landscaping—it's a lovely and private escape from rush-hour traffic on the 101 and the round-the-clock hubbub of Ventura Boulevard, from brunch to last call.
The Ub Iwerks House of the Future is a private residence and not open to the public. Please don't disturb the occupants!
Related Posts:
Photo Essay: Walt Disney's Snow White-Era Family Home