Walt Disney lived on Woking Way in Los Feliz, Los Angeles with his wife Lillian and his daughters Diane (born 1933) and Sharon (adopted 1936) until 1950.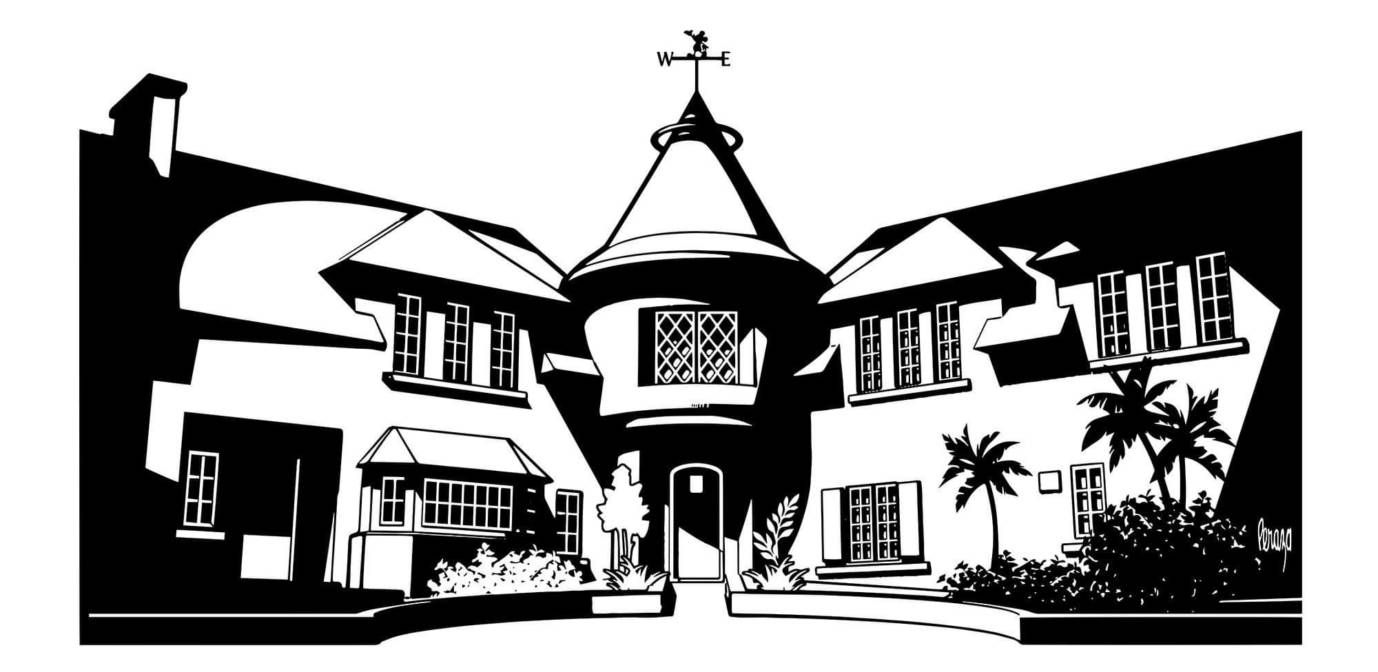 Illustration by Mike Peraza, via Micechat.com
During those years, The Walt Disney Company released such classics as
Snow White and the Seven Dwarfs
,
Pinocchio
,
Fantasia
,
Dumbo
,
Bambi
, and
Cinderella
.
Built in 1932, the 6400-square-foot storybook cottage had been the Disneys' second house and third home together—but they would eventually move on to their
Carolwood Estate
in Holmby Hills (since demolished).
Its current owner is Russian horror flick director Timur Bekmambetov...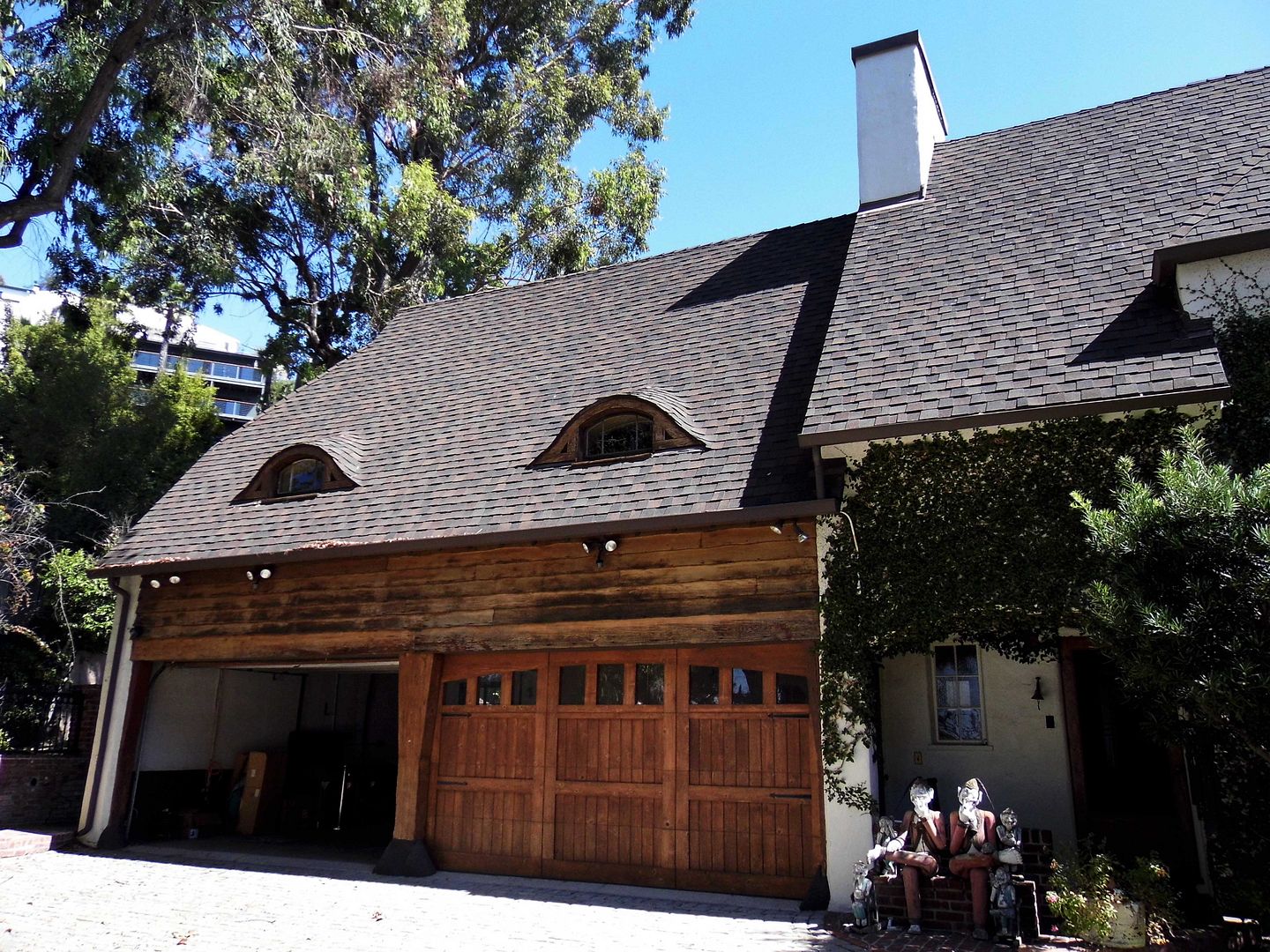 ...but the house is so haunted, people say, that he refuses to sleep there. (
Scroll all the way to the bottom to see why
.)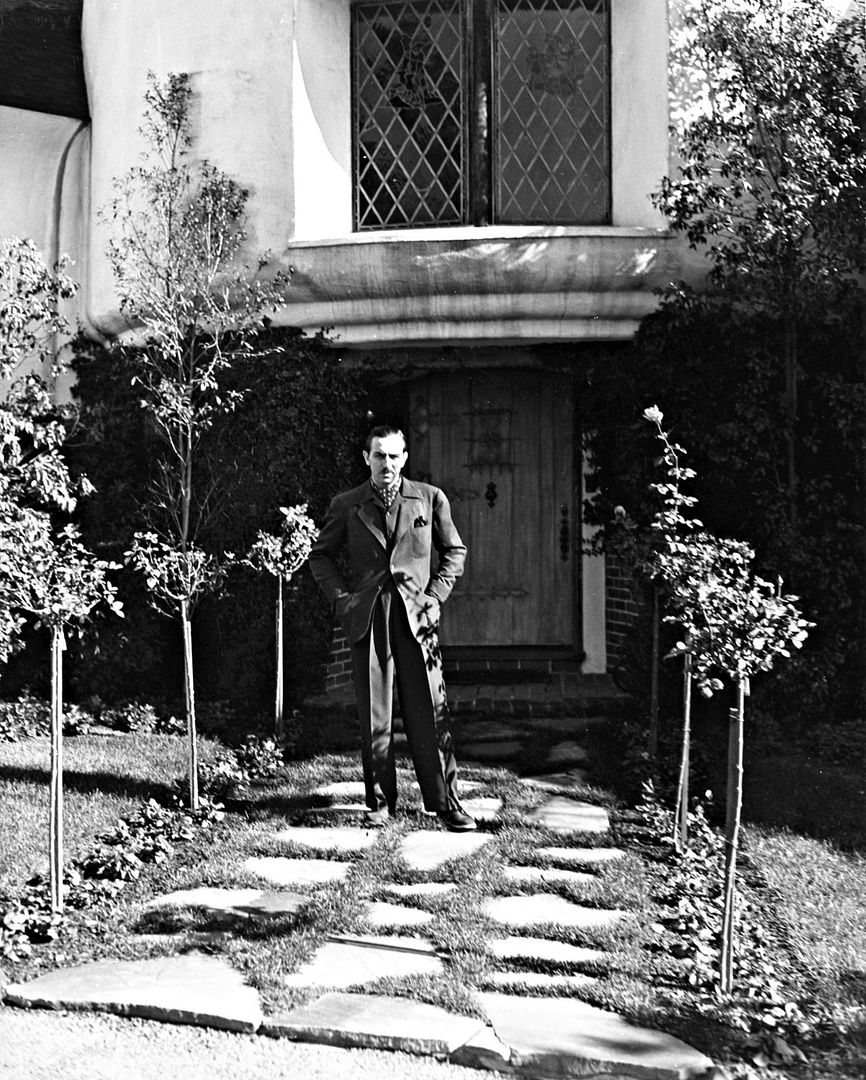 The
Tudor
-style home—with French Normandy elements and a Mediterranean entryway—was essentially designed by Disney himself, with the help of his Disney studio architect, Frank Crowhurst.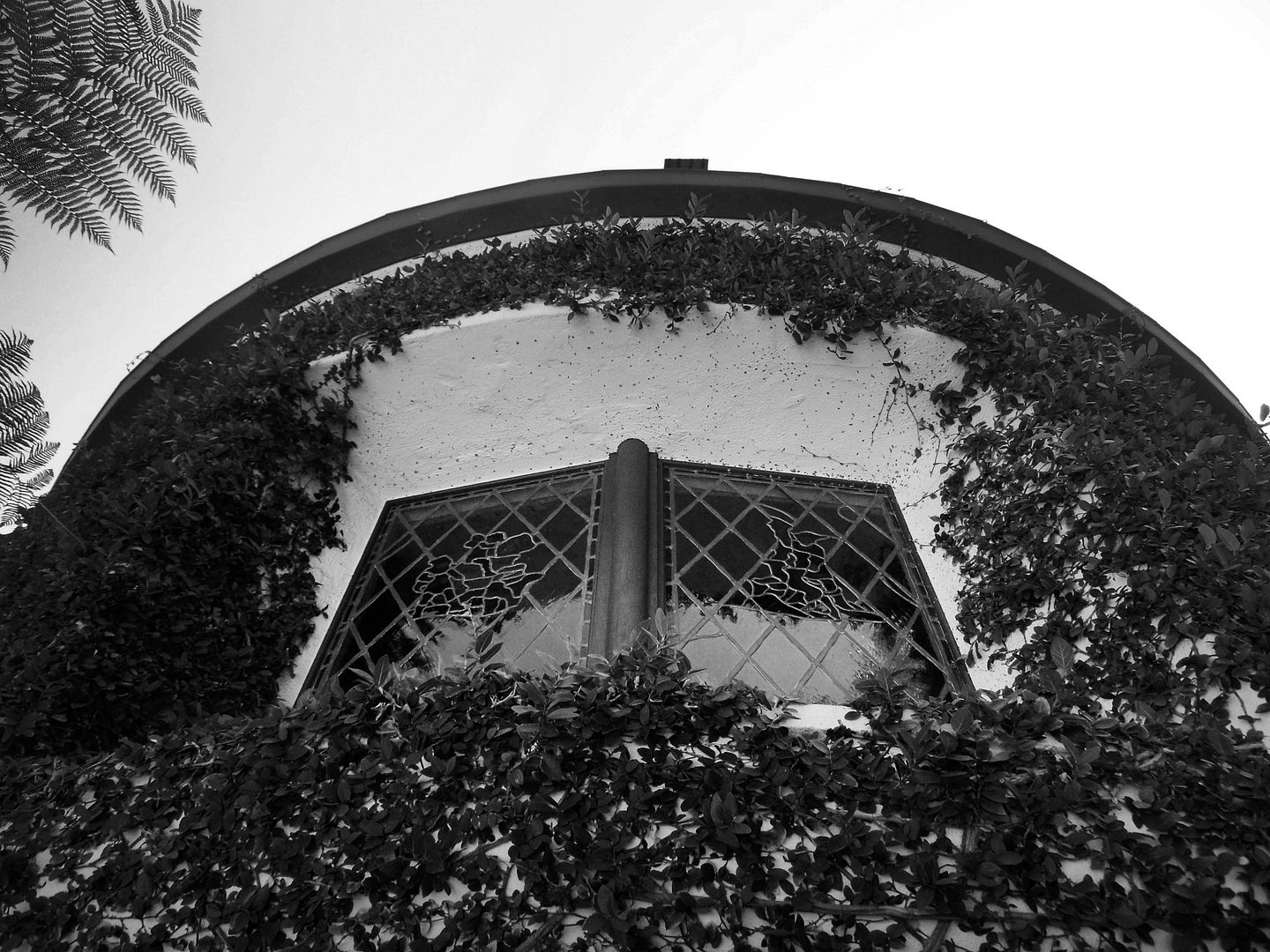 With a baby on the way, the home was completed in just two months.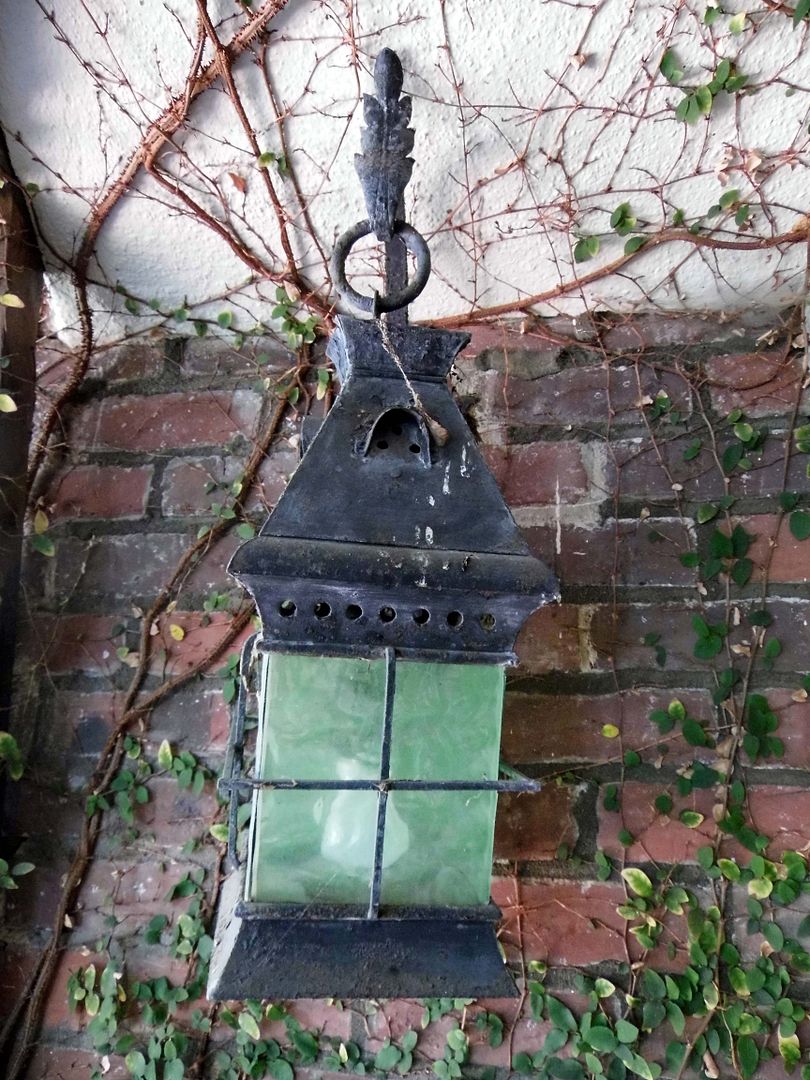 Unfortunately, Lillian miscarried.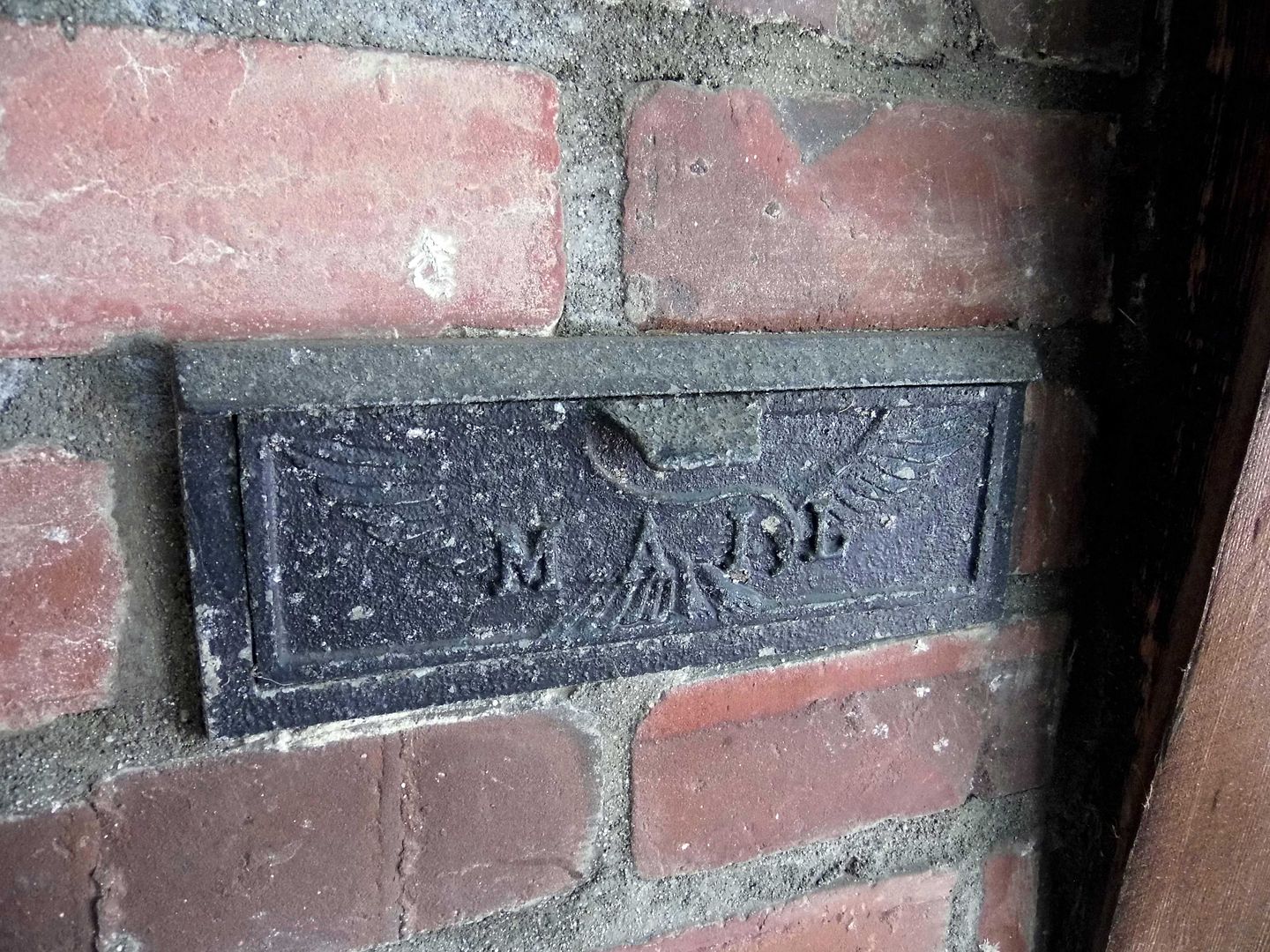 After that, the Disneys weren't so sure they'd need all 12 rooms of their new home after all.
But within a year after moving in, Lillian successfully gave birth after a surprise pregnancy (Diane).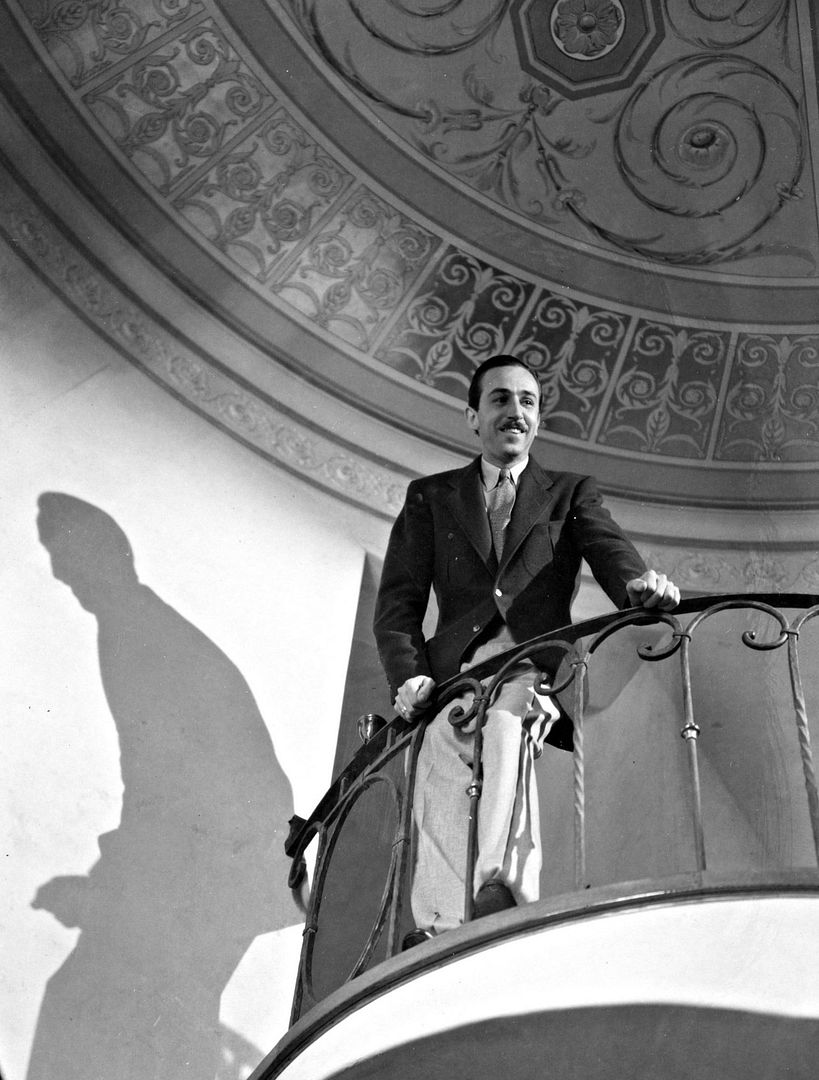 And this home was where Walt thrived as an artist—and became a dad.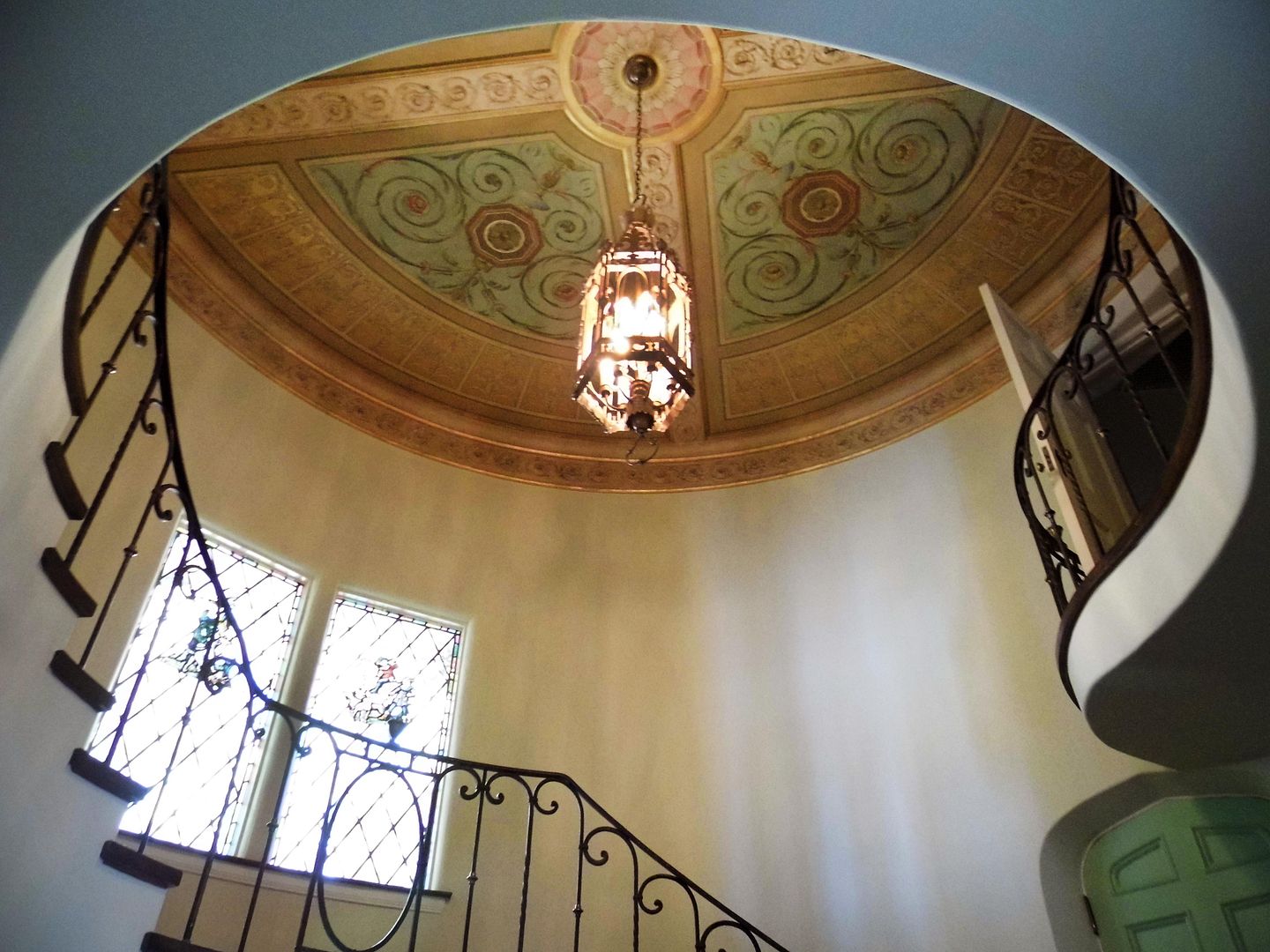 Although all the original furnishings are gone, many of the original architectural elements remain, including the circular rotunda with its wrought iron spandrels...
...and stained glass windows...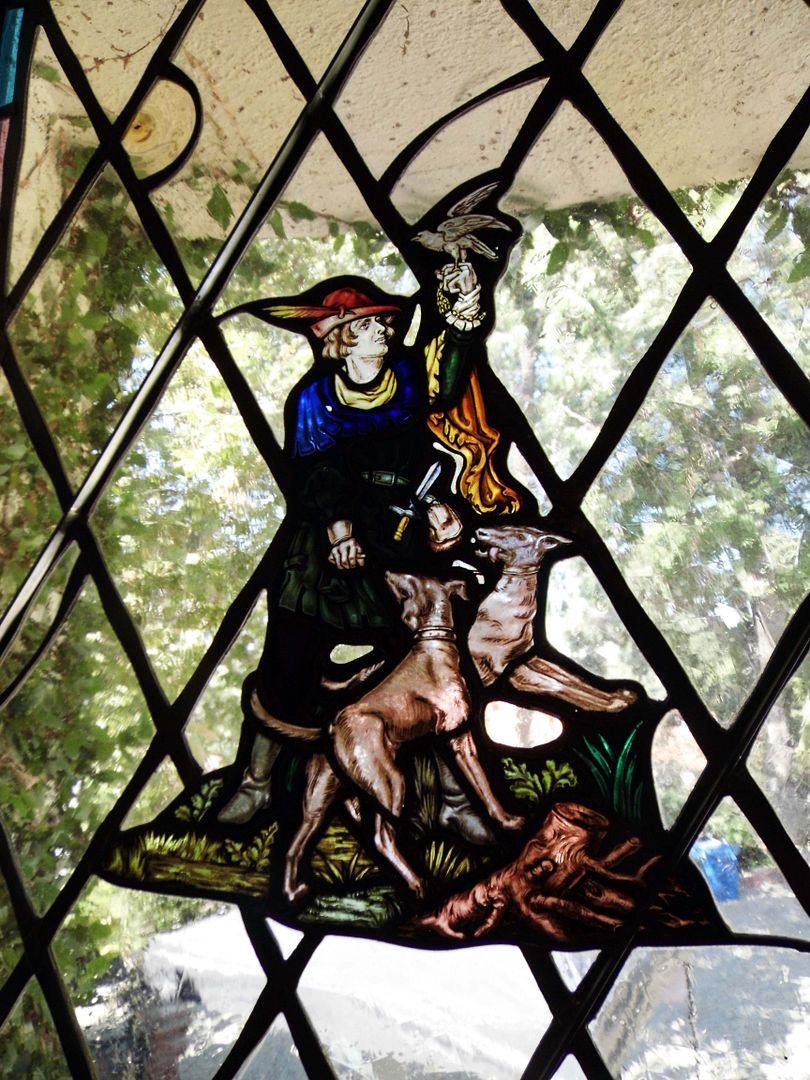 ...which feature scenes ripped right out of the pages of a fairy tale (e.g. what I think are depictions of Robin Hood and his bugle horn).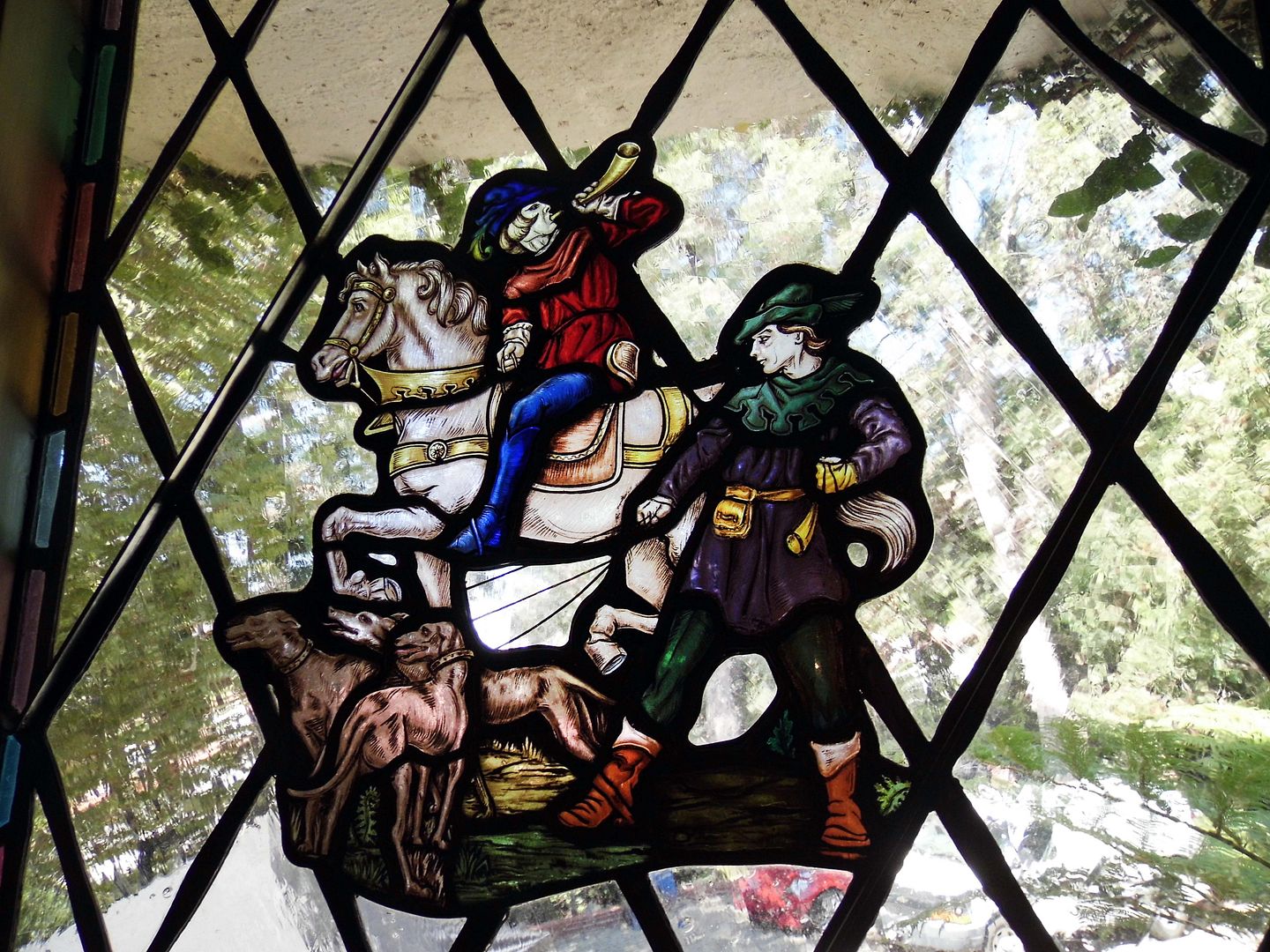 The art glass was reportedly fabricated by a local LA studio—but as they're not signed, no one's really sure
which
studio.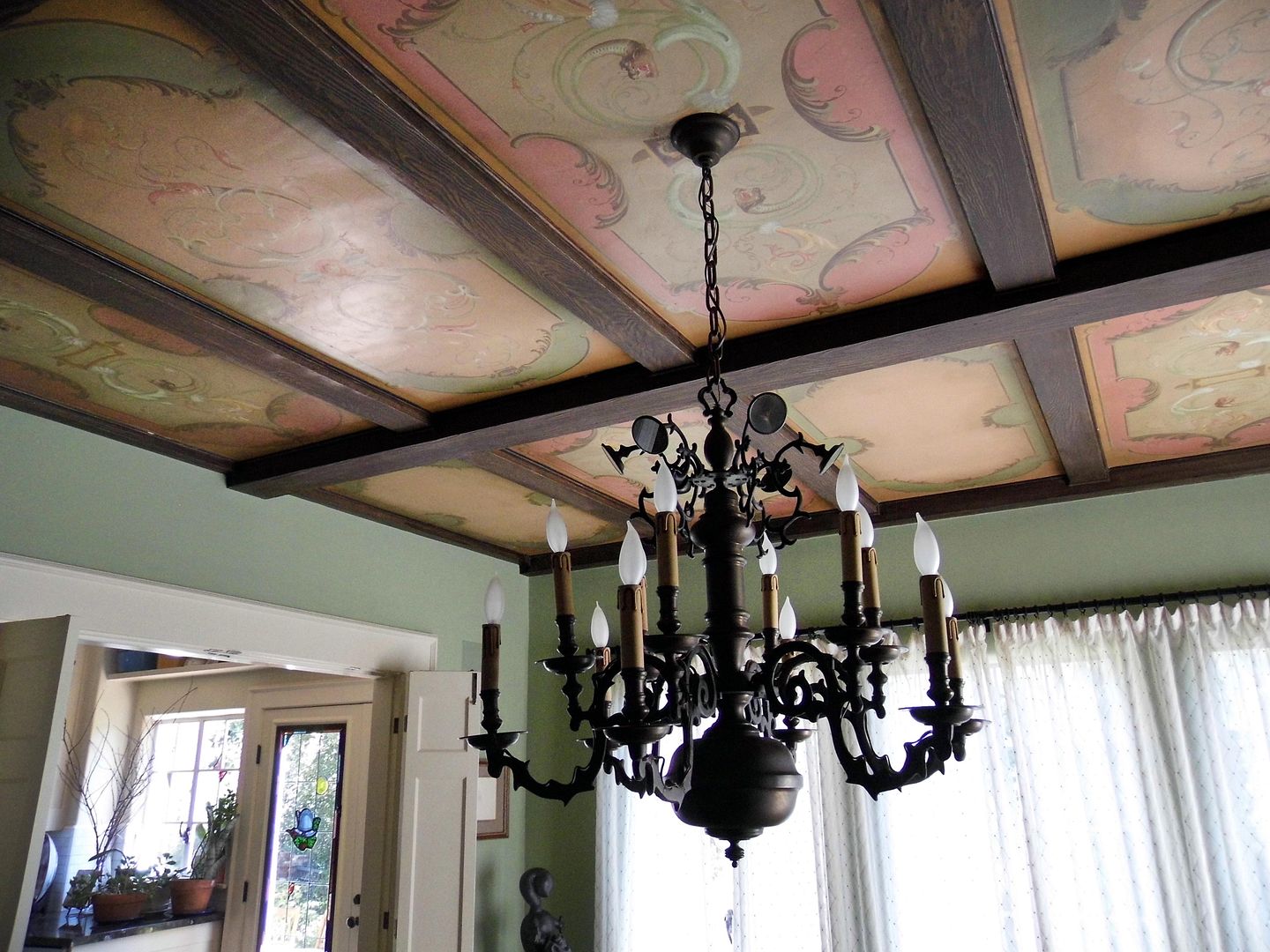 In both the rotunda and dining room, Walt commissioned the ceilings to be painted by a graduate of the Vienna Academy of Fine Arts.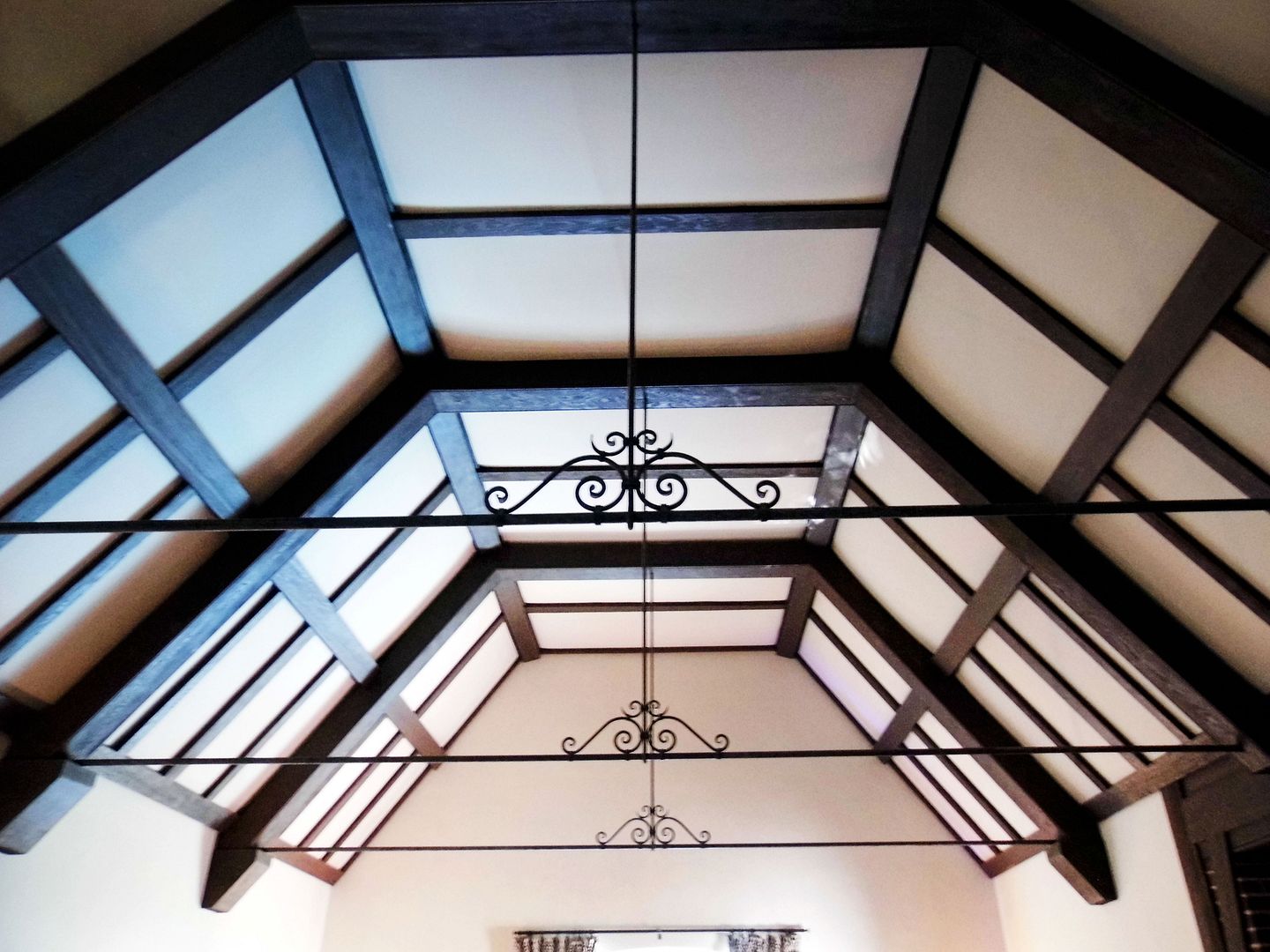 That is, unless the ceiling was vaulted with beams, as in the double-story living room (or "grand room") with the overlooking "Juliet balcony."
More leaded glass (this time, painted) gives a peek out to the back patio and yard...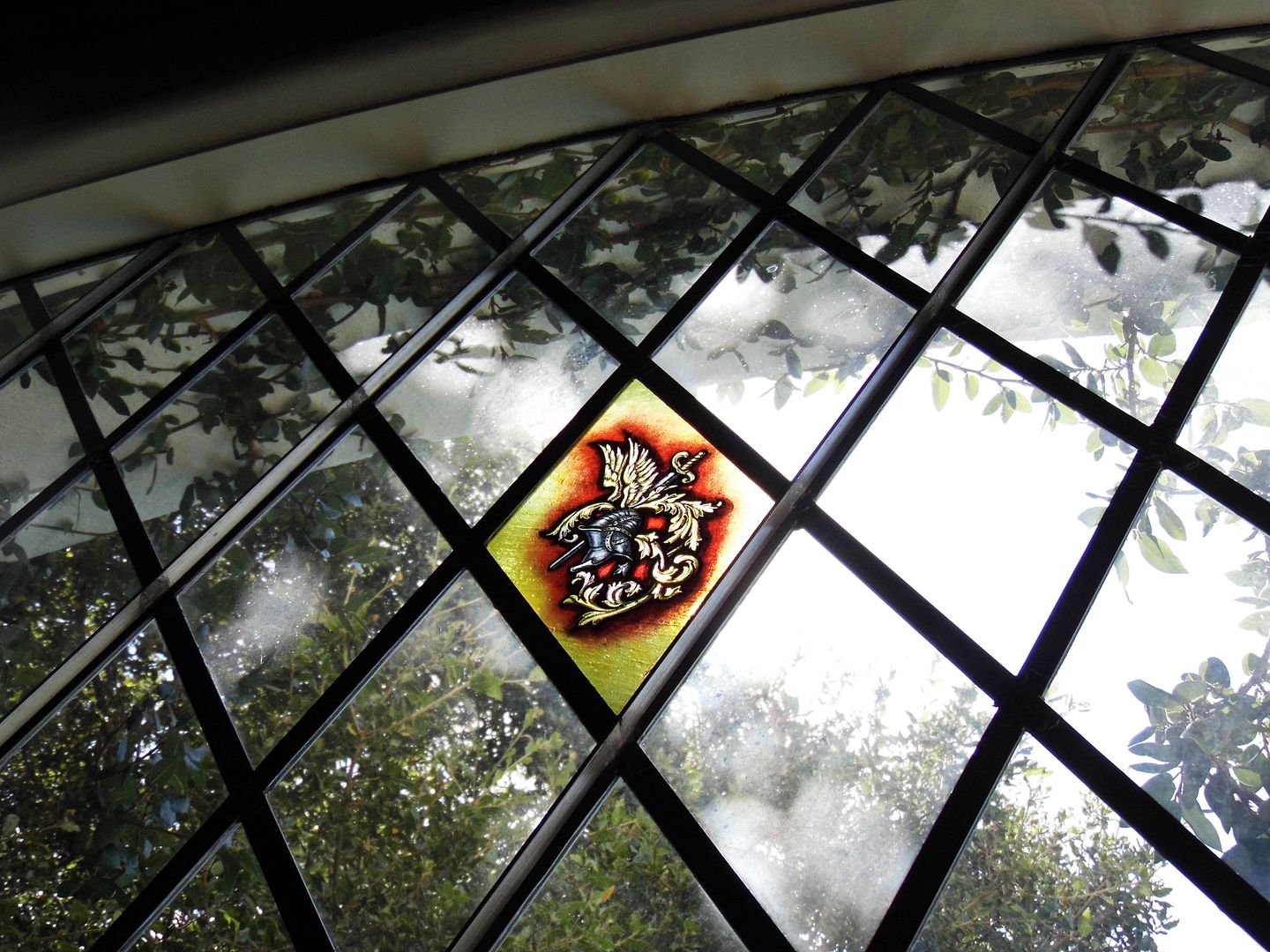 ...with its full sun exposure...
...creeping vines...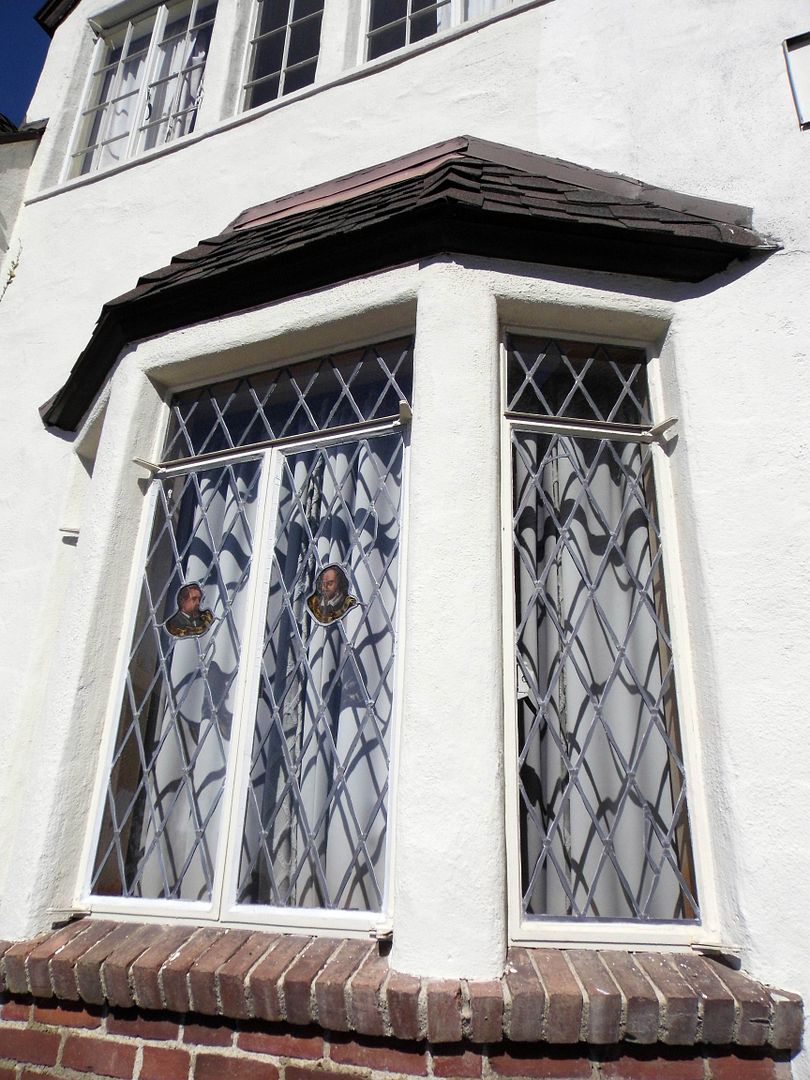 ...bay windows...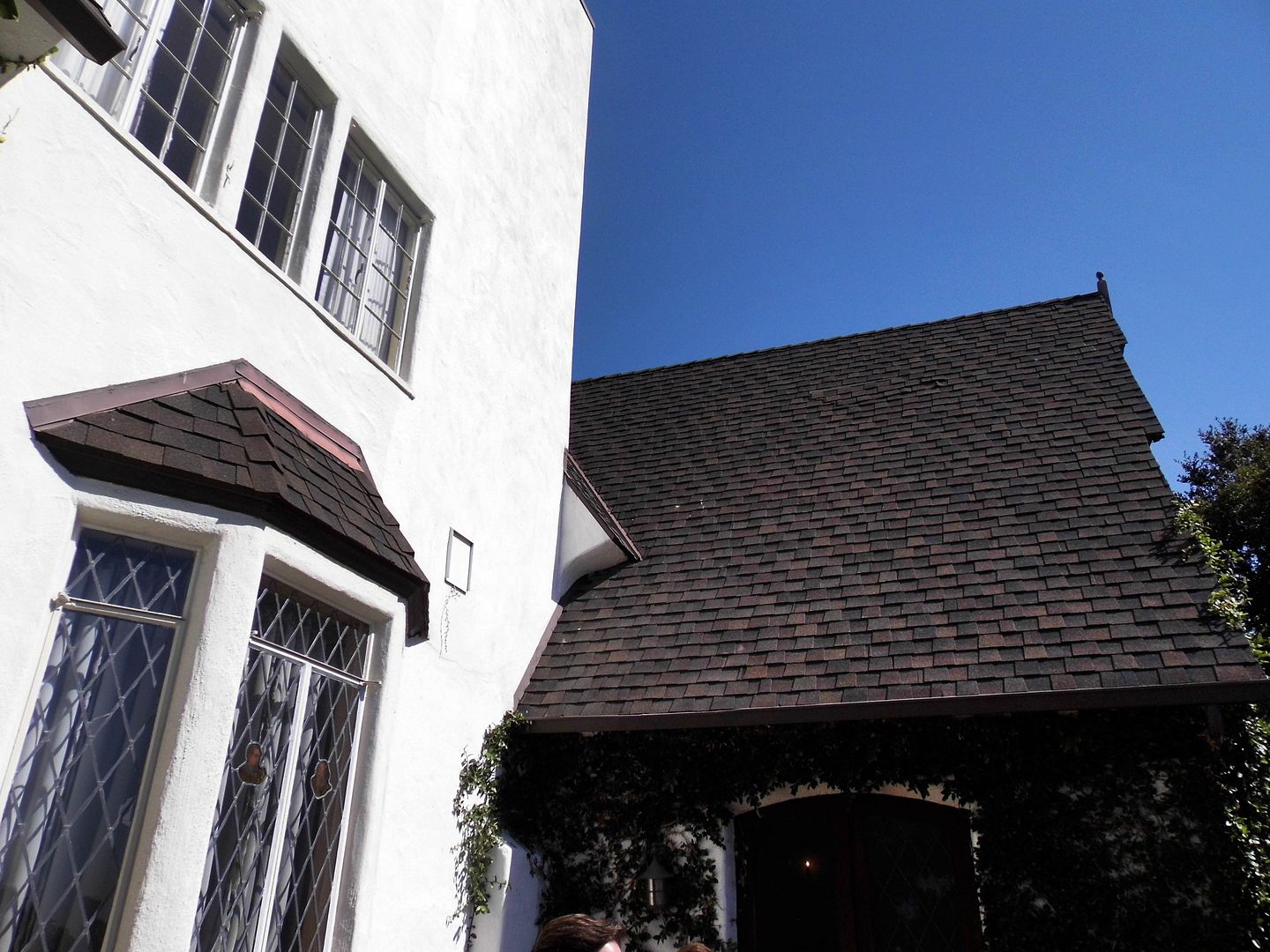 ...and steeply pitched (shingled) roof.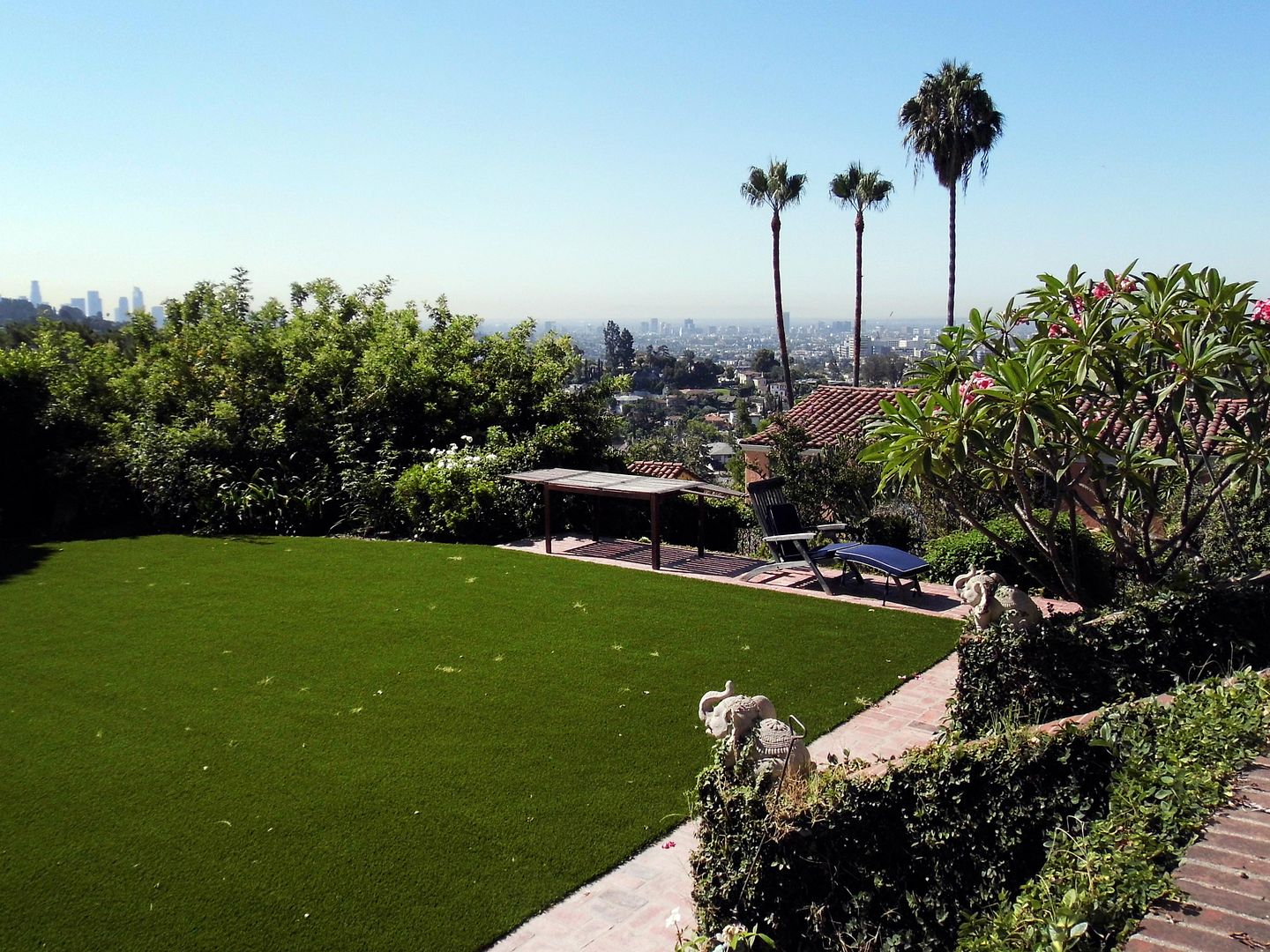 This is where you get the sweeping views of Downtown LA that are partially what make the house worth more than $3 million.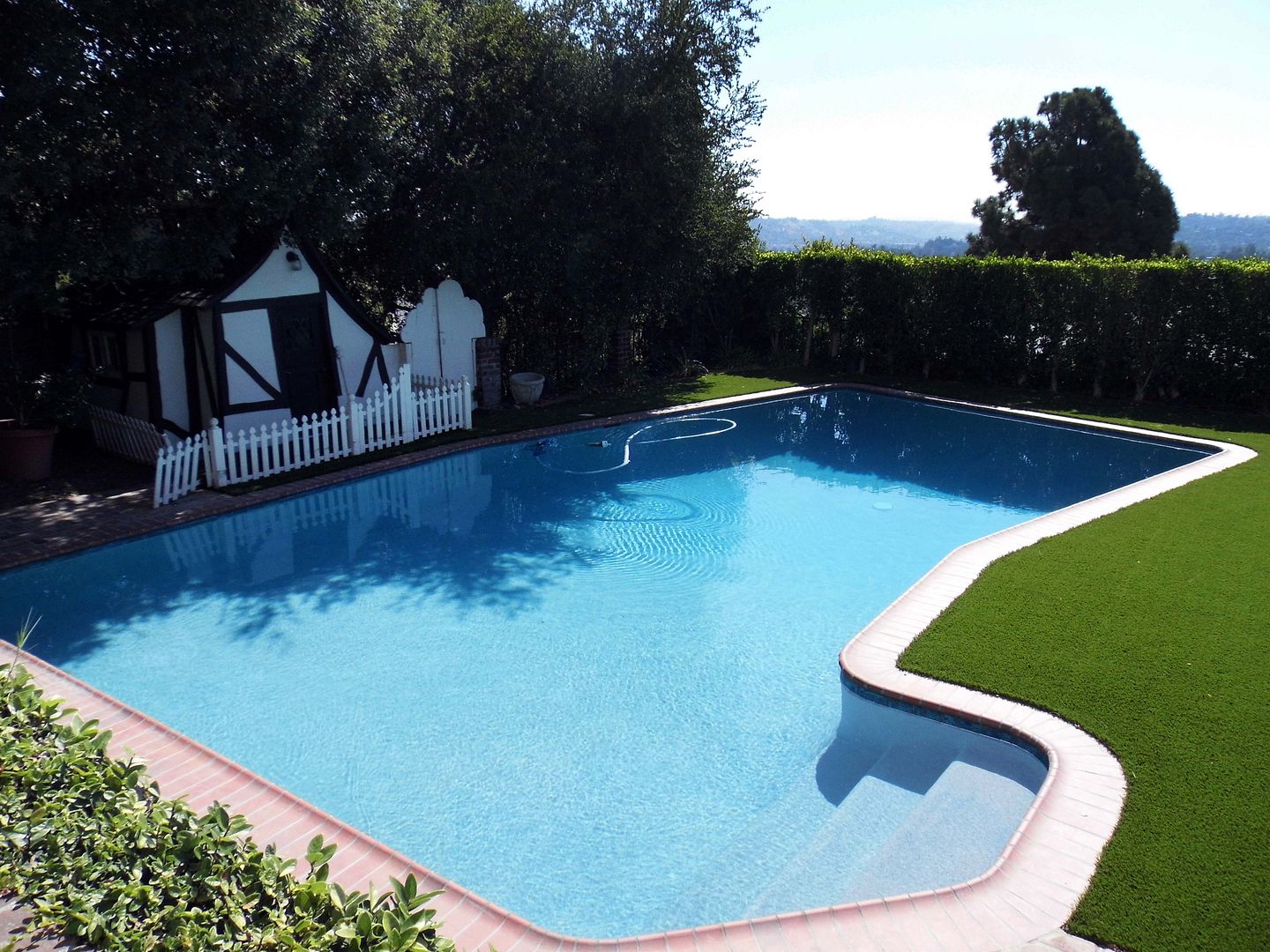 But this was once the Disney daughters' playground—anchored by the dwarf playhouse cottage Daddy Disney commissioned (now beside a pool that was added after the Disneys left, in 1963).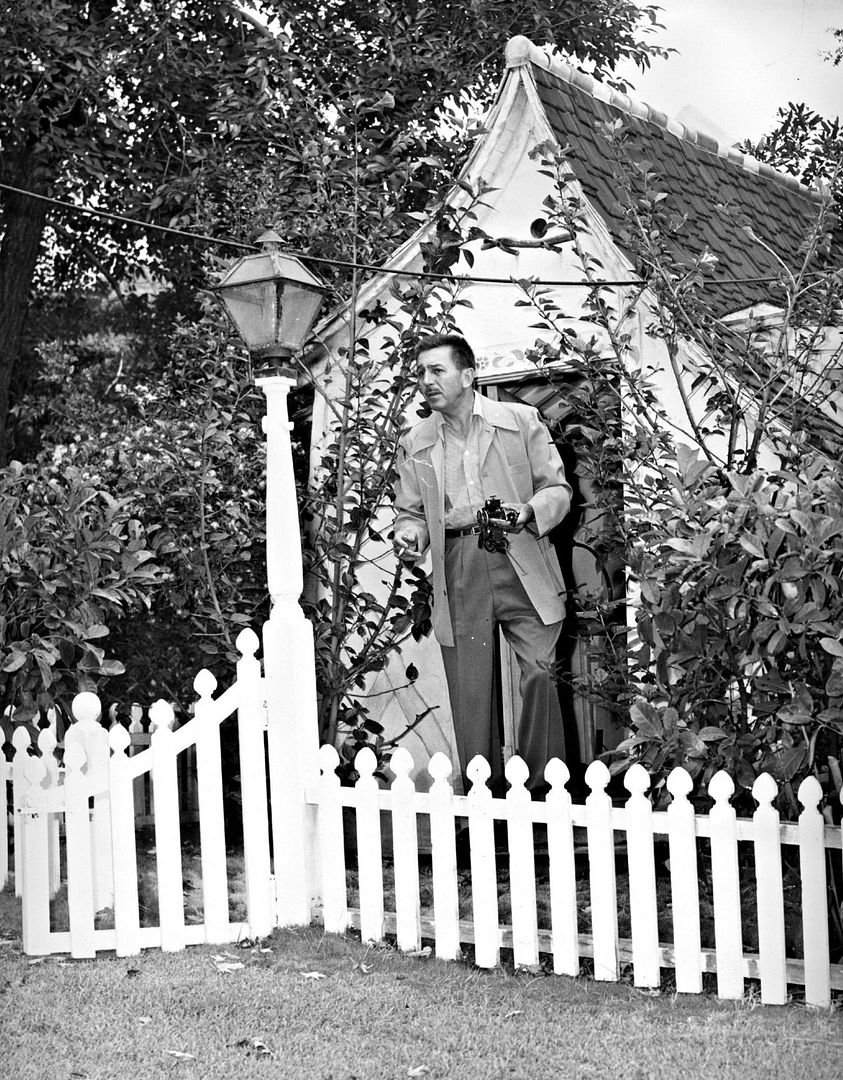 Walt used to phone the girls up while they were playing in there, sometimes posing as Santa Claus to get them to come out.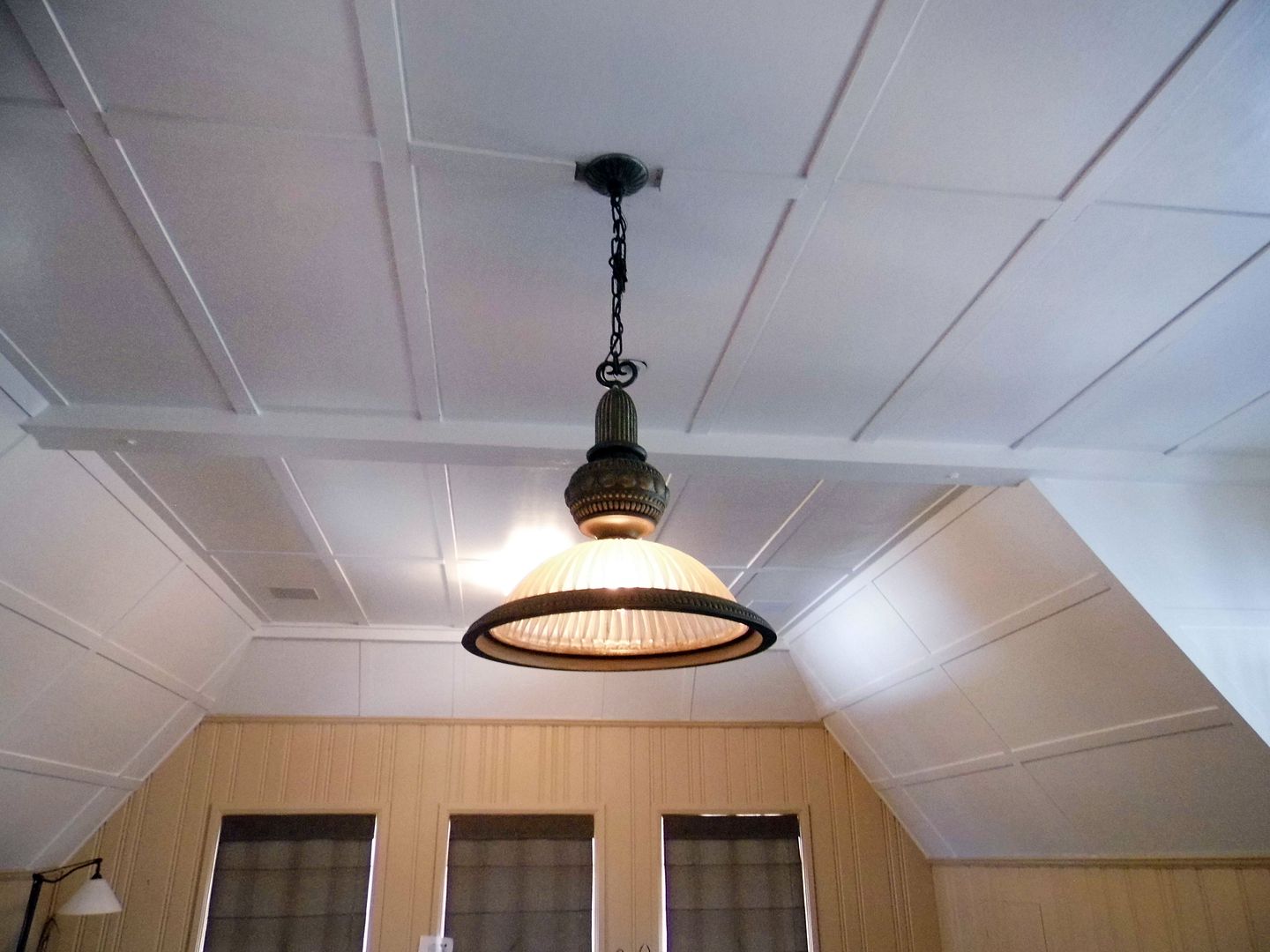 The billiard room above the garage—now an art studio with secret peek-a-boo bar—was once their playroom, too. Though some evidence indicates that Walt also used it as a home gym.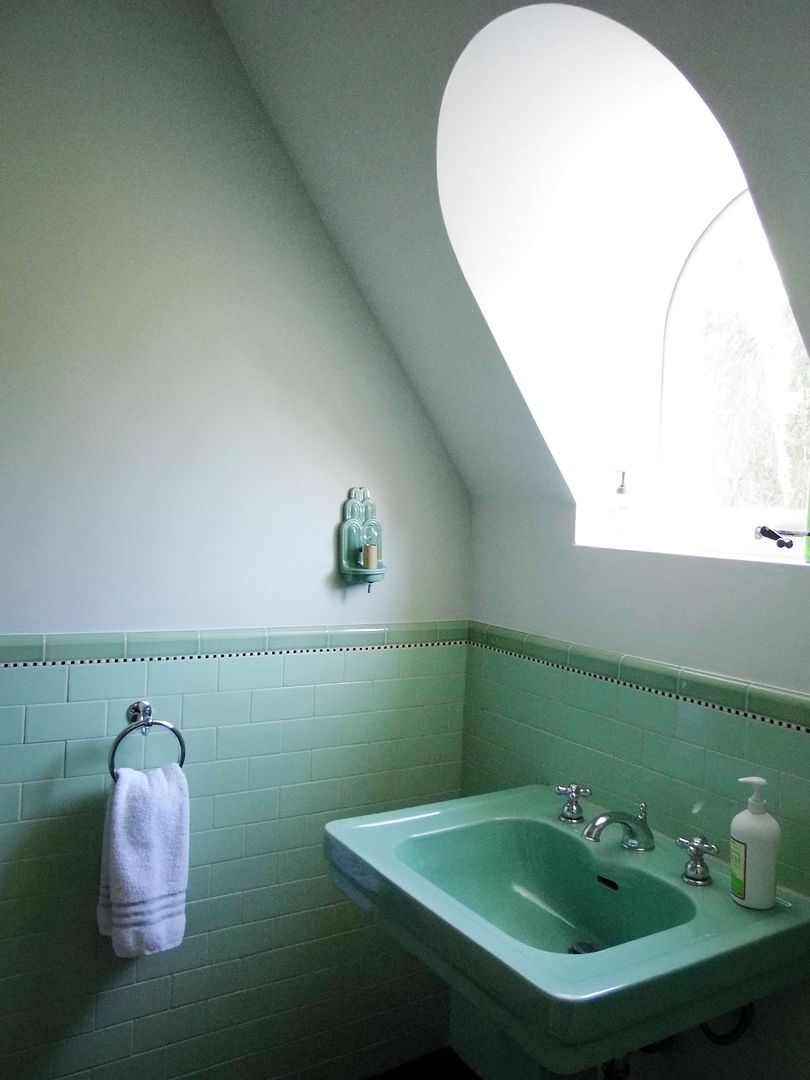 Upstairs are the little girls' former bedrooms and bathrooms, whose fixtures and porcelain I suspect are original.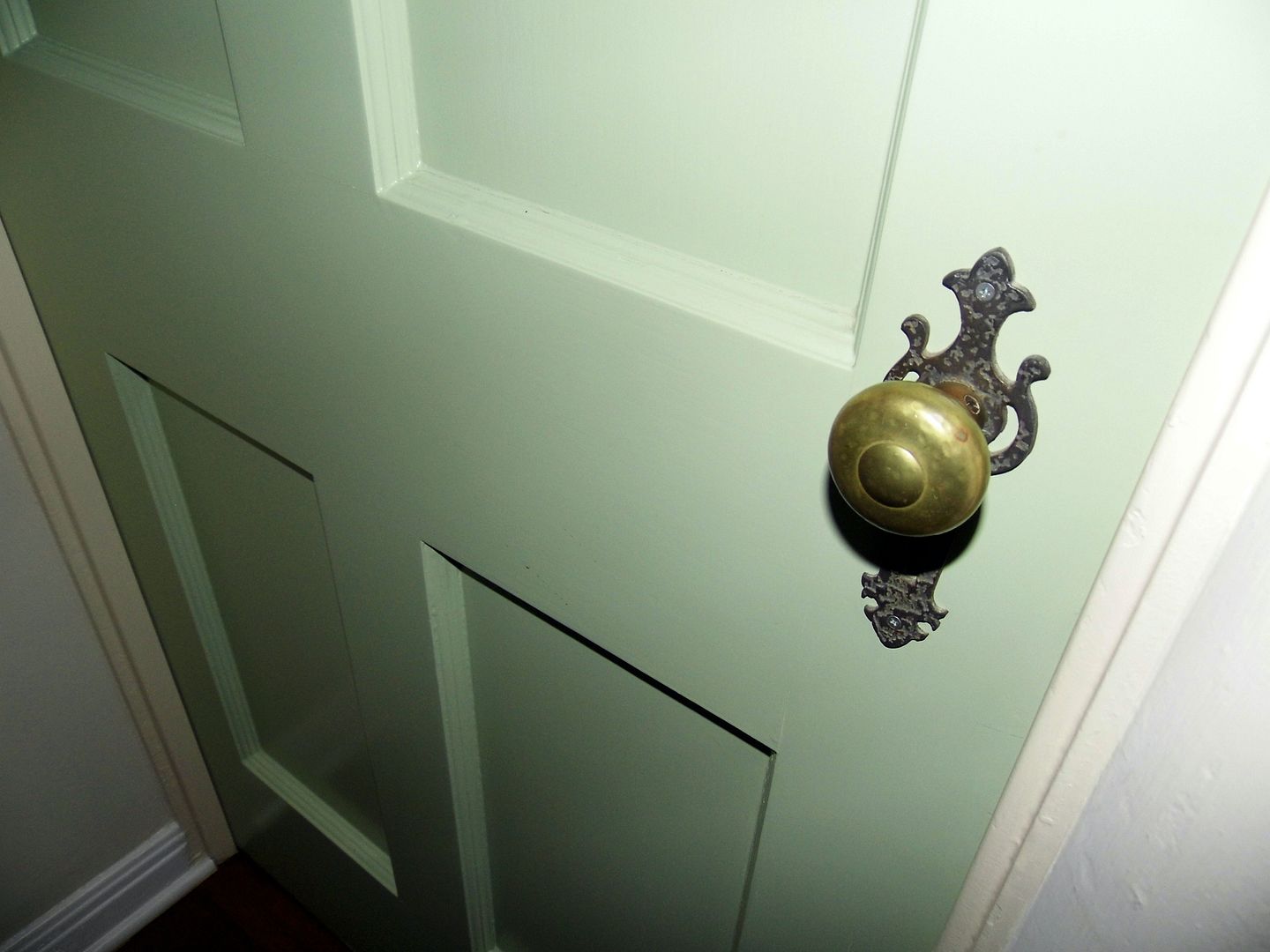 Some of the hardware is original too, though some doorknobs have been replaced with antiques or period-appropriate new fabrications.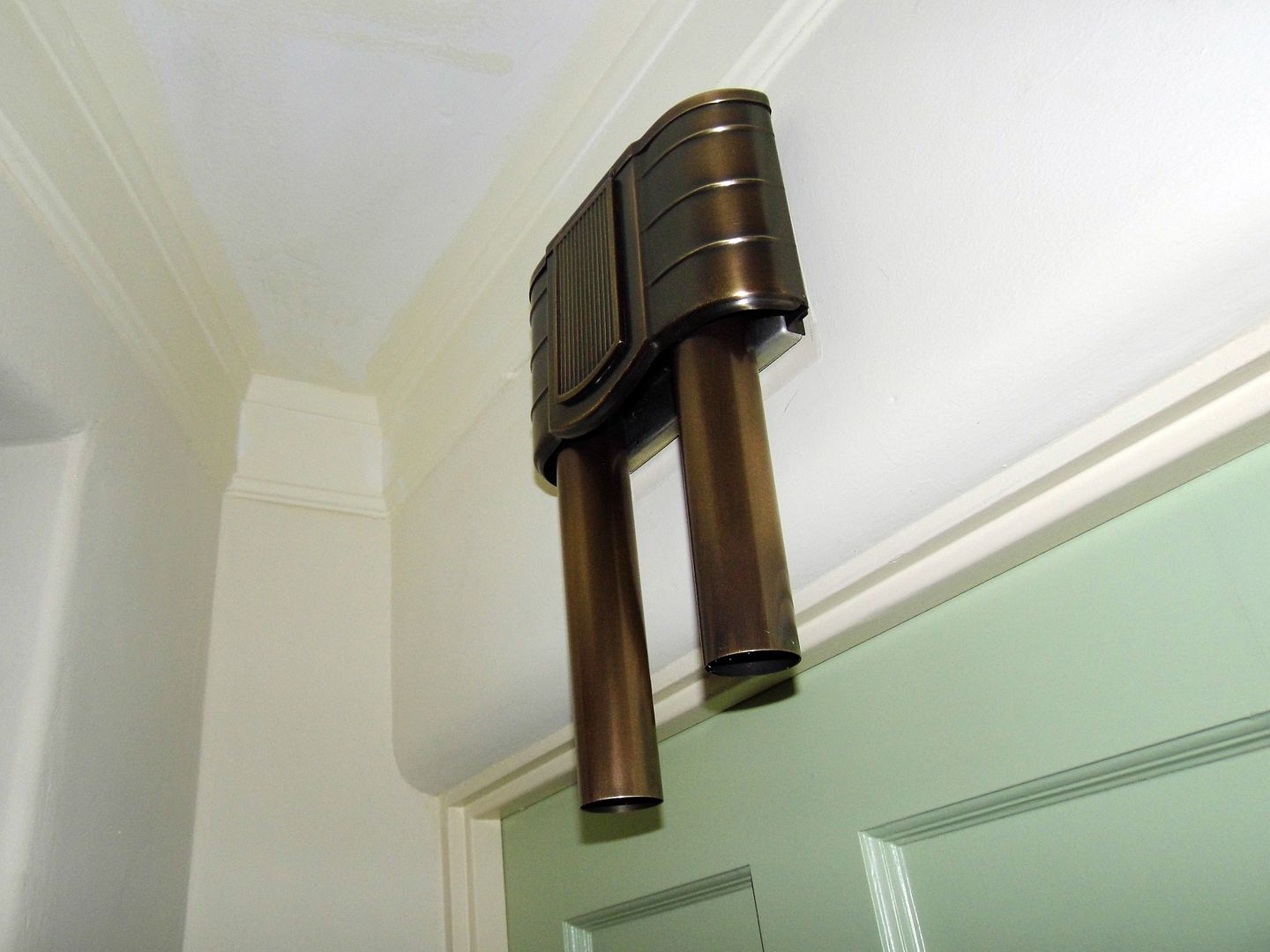 And the doorbell? I was too shy to ask.
You can probably feel Walt's presence the strongest in the private screening room, which was converted from one of the original bedrooms.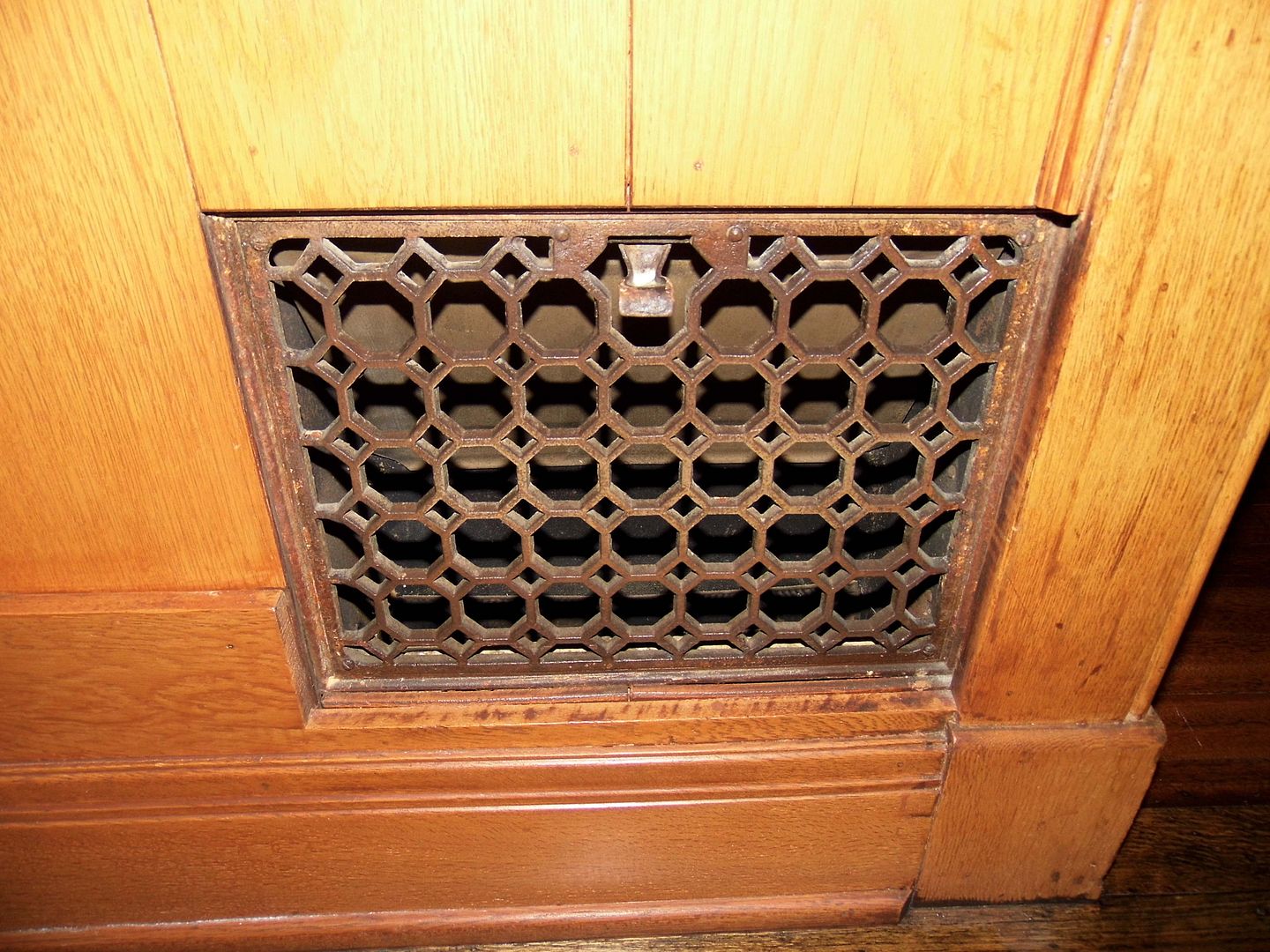 That's where he screened his dailies when he got into live-action features. And that's where the family would watch industry-provided reels of feature films, screened by a full-size projector.
Now, about the house's "haunted" reputation.
That may be because the neighboring
Griffith Park
is also notoriously haunted.
But it could be because of the
Manson
family murders of Leno and Rosemary LaBianca.
The couple was slain in a
different
house in 1969—but they'd been living at and owned the Woking Way house at the time.
No wonder this house tour came courtesy of a group called Haunted OC.
The Woking Way home is a
private residence
with a
locked, gated entry
. Please do your snooping from afar—or, sign up for an official tour like I did.
Related Posts:
The Ghost Train of Griffith Park
Photo Essay: Old Hollywood's Crossroads of the World, Before It Gets Swallowed Up By 'New' Hollywood
Photo Essay: The Dorothy Bembridge Murder Mansion