[Last updated 9/22/23 12:21 AM PT—Fixed inaccuracies about Blinn House Foundation and Frank Lloyd Wright]
When the Women's City Club of Pasadena dissolved in May 2020, it meant their clubhouse—the Blinn House—needed to go to a good caretaker.
The ladies gifted it to the preservation-oriented non-profit Pasadena Heritage—and now they've moved in, this historic home is once again bustling with events.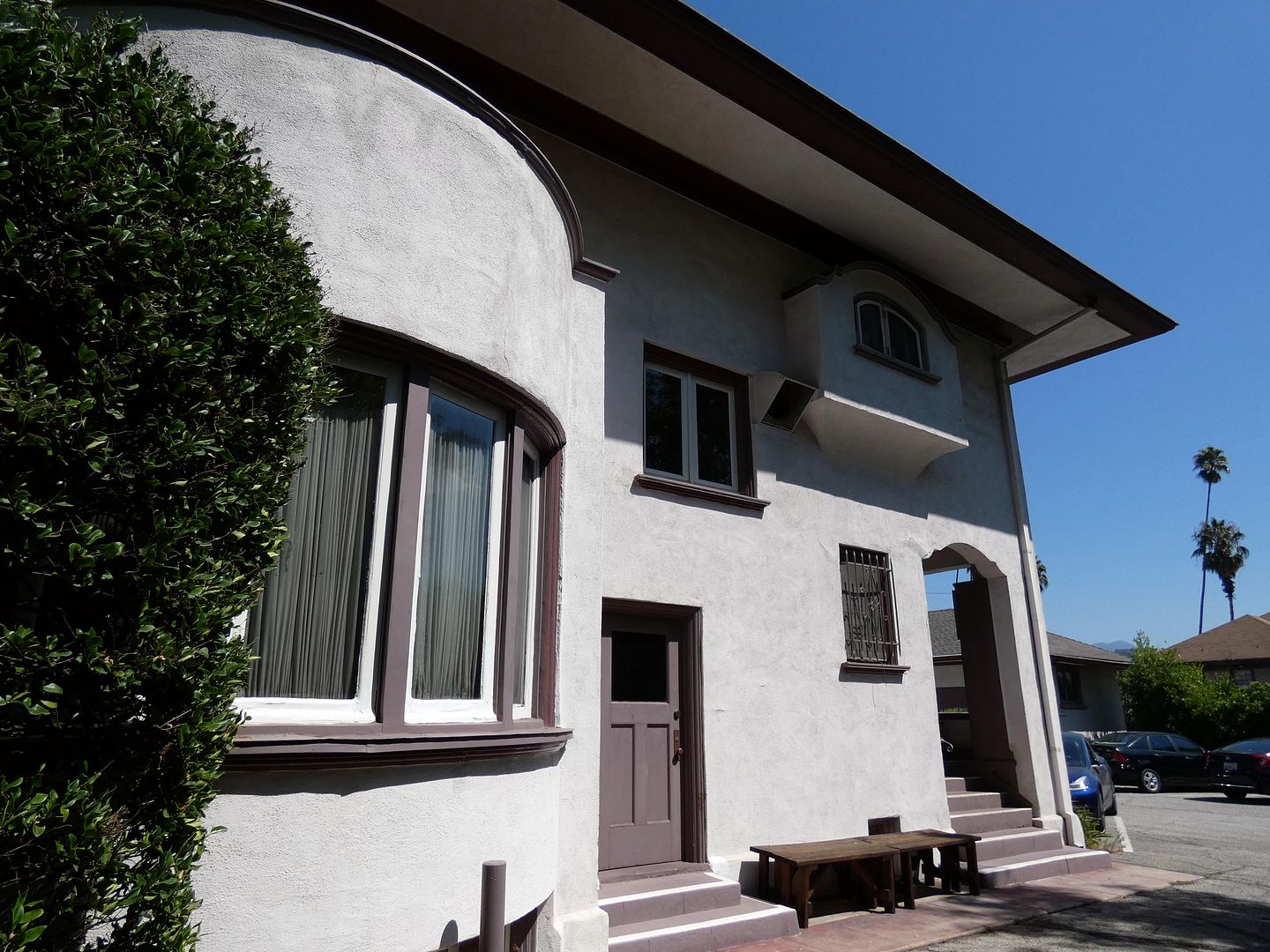 Fortunately, it was also open for tours during California Preservation Foundation's Doors Open California 2023.
I'd actually been trying for months to figure out how to tour it, having emailed the perhaps defunct Blinn House Foundation to no avail.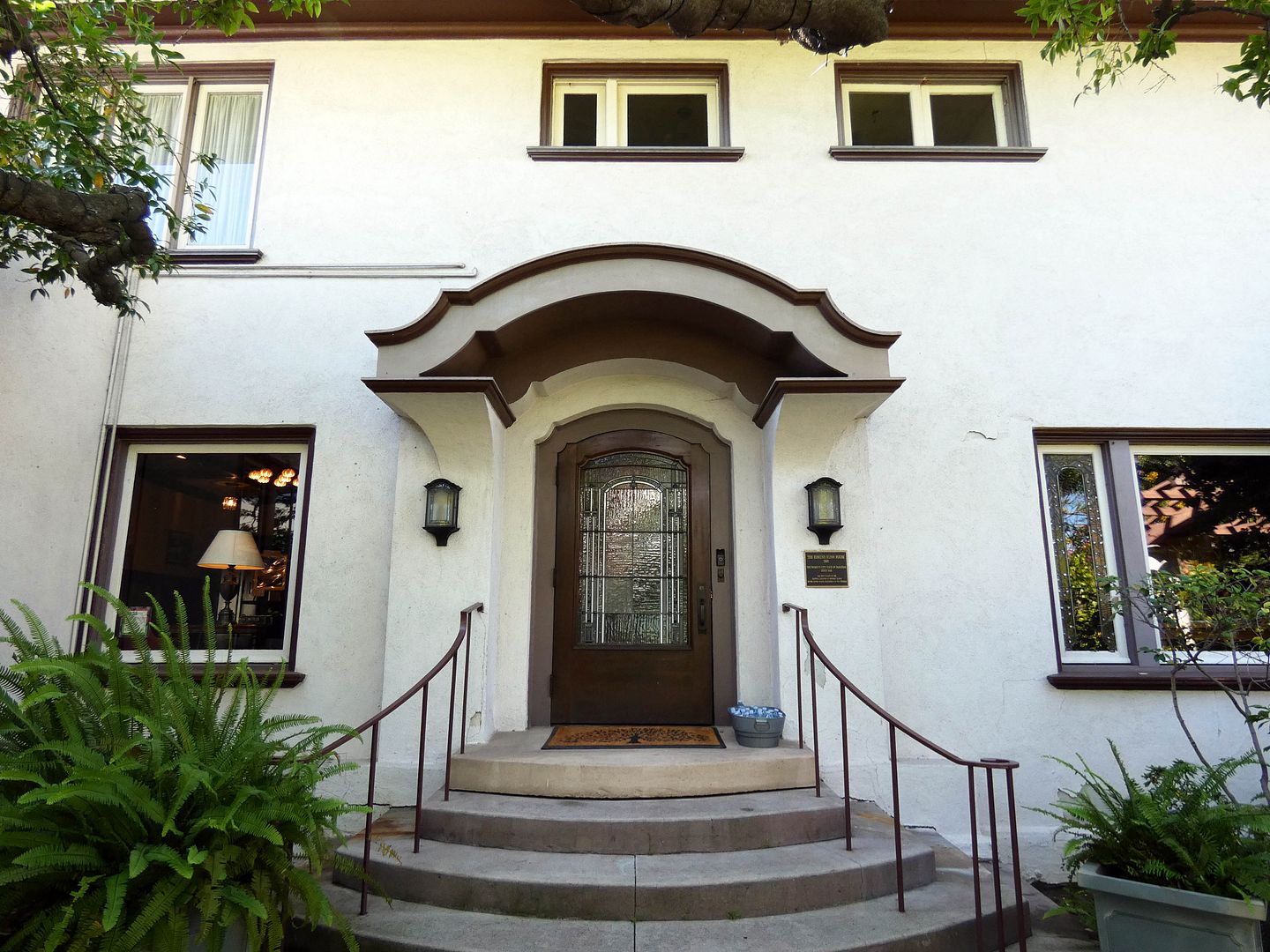 But in Southern California—and in life in general, I guess—I've learned to just keep trying. You never know when things are going to change.
The Blinn House—named after lumber baron Edmund Blinn—is located in the formerly gated, turn-of-the-last-century Pasadena historic district of Ford Place (now owned by Fuller Theological Seminary).
It was completed in 1905/6, designed by Frank Lloyd Wright-trained architect George Washington Maher—a contemporary and coworker of Frank Lloyd Wright—in the Prairie School style (perhaps most associated with FLW, but in the same universe of Arts & Crafts and Craftsman, which Pasadena is particularly known for).
The details are stunning, starting with a healthy dose of leaded glass—including some windows that include the "broken arch" architectural theme found throughout the rest of the house, exemplary of Maher's "Motif-Rhythm Theory."
The fireplace is tiled with a trailing wisteria design in mosaic by the Giannini and Hilgart Glass Company of Chicago, where the Blinn family resided before making a more permanent home out of their winters in Pasadena. (The studio also fabricated Prairie-style stained glass windows for FLW.)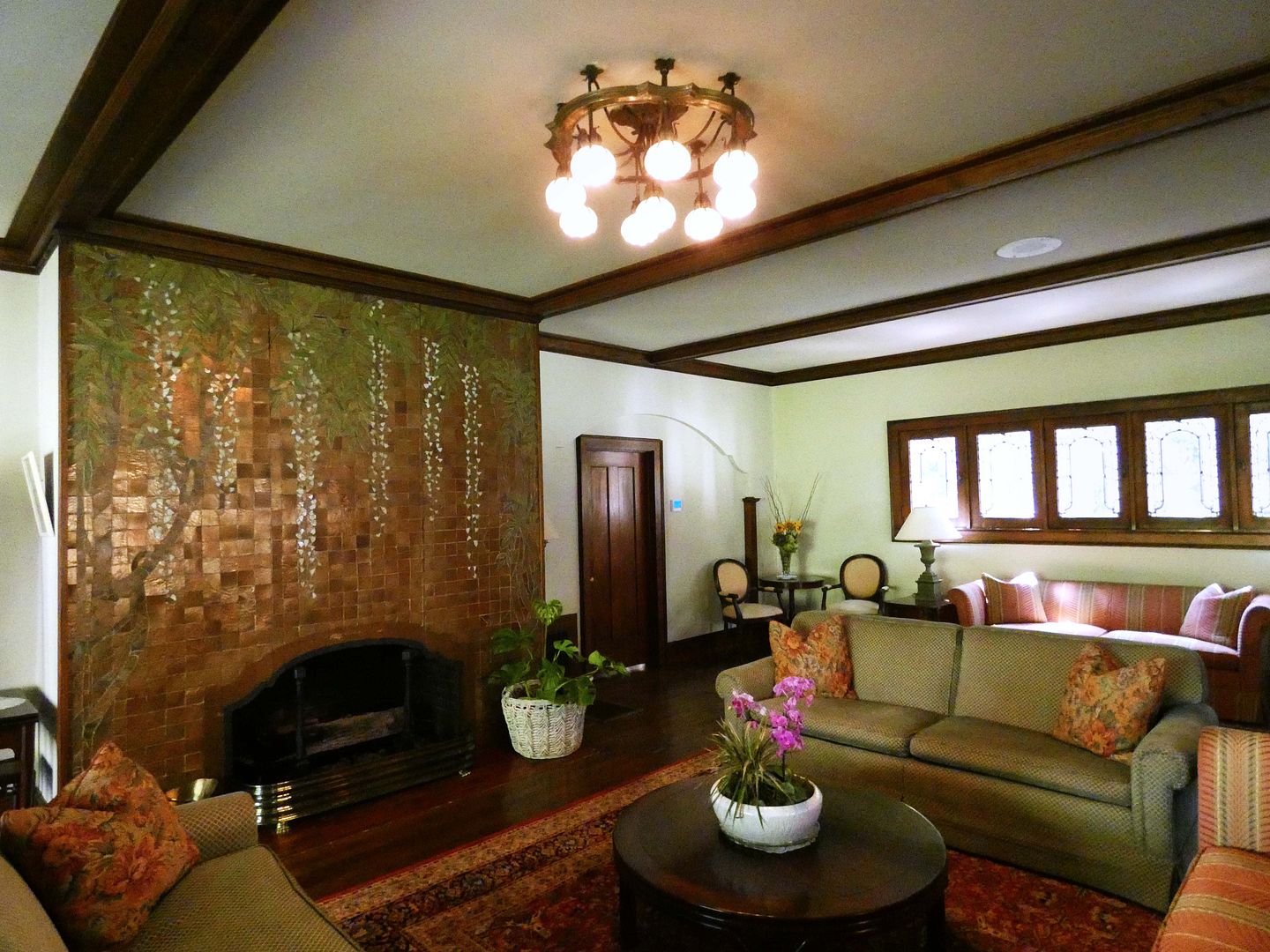 The Women's City Club clearly took impeccable care of the Blinn House since its founding in 1945—spending three quarters of a century there.
Pasadena Heritage also raised some money to refurbish it before moving in and opening it back up in May 2022.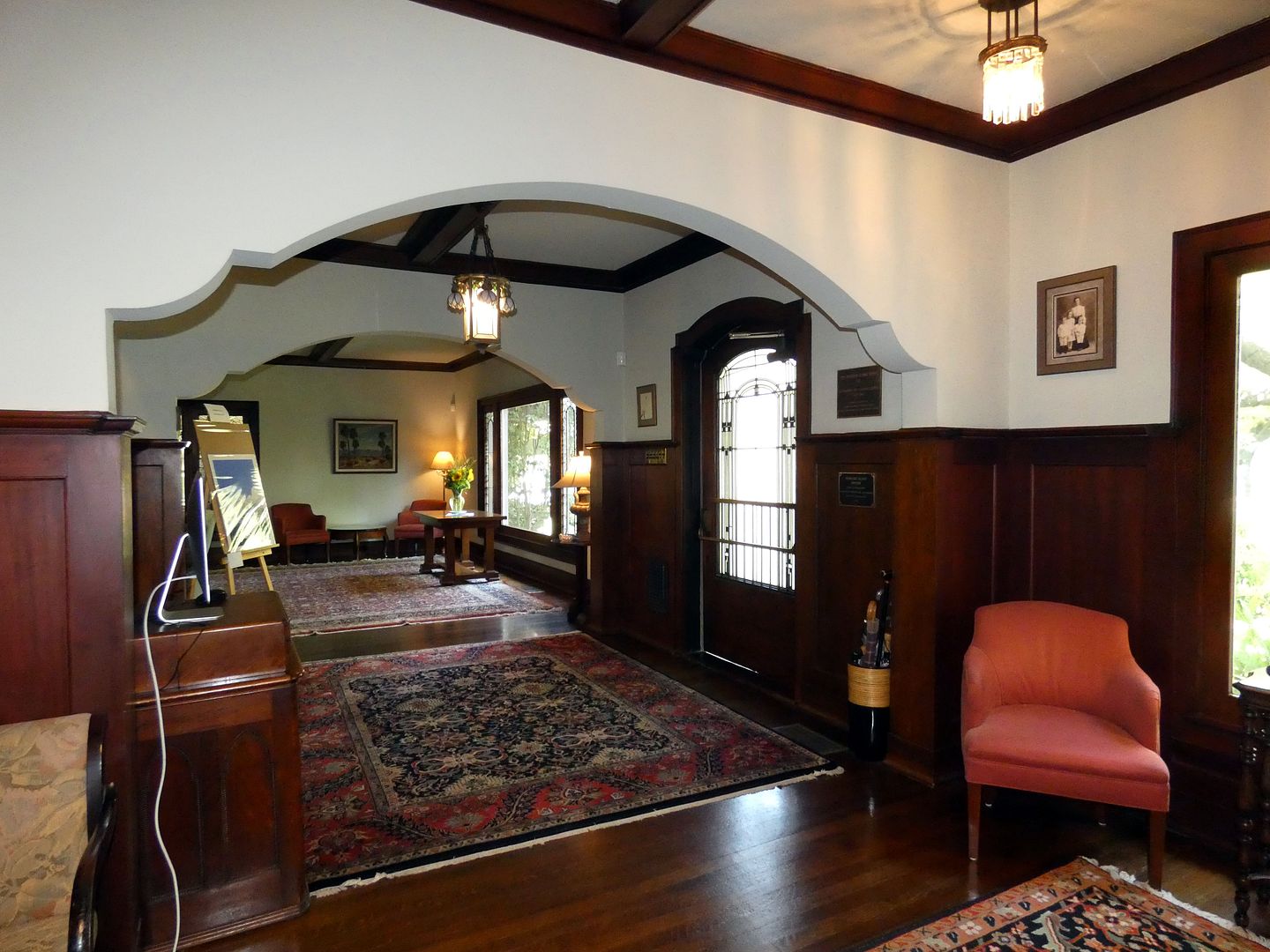 Because the man the house was built for was a lumber man, there's plenty of stained mahogany and oak to behold...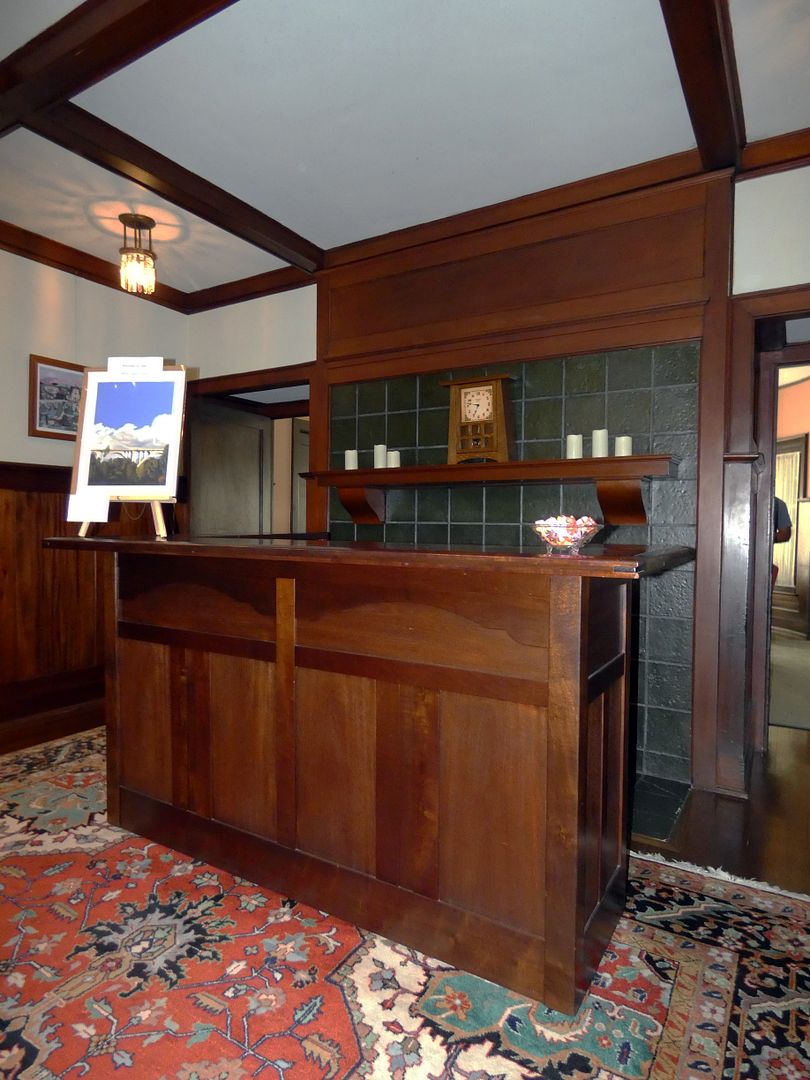 ...including in the former "lobby" of the Women's City Club front entryway, a.k.a the Blinns' former dining room...
...which is lit by "water lily" lighting fixtures and is now adjacent to an annex where various meetings and banquets are hosted.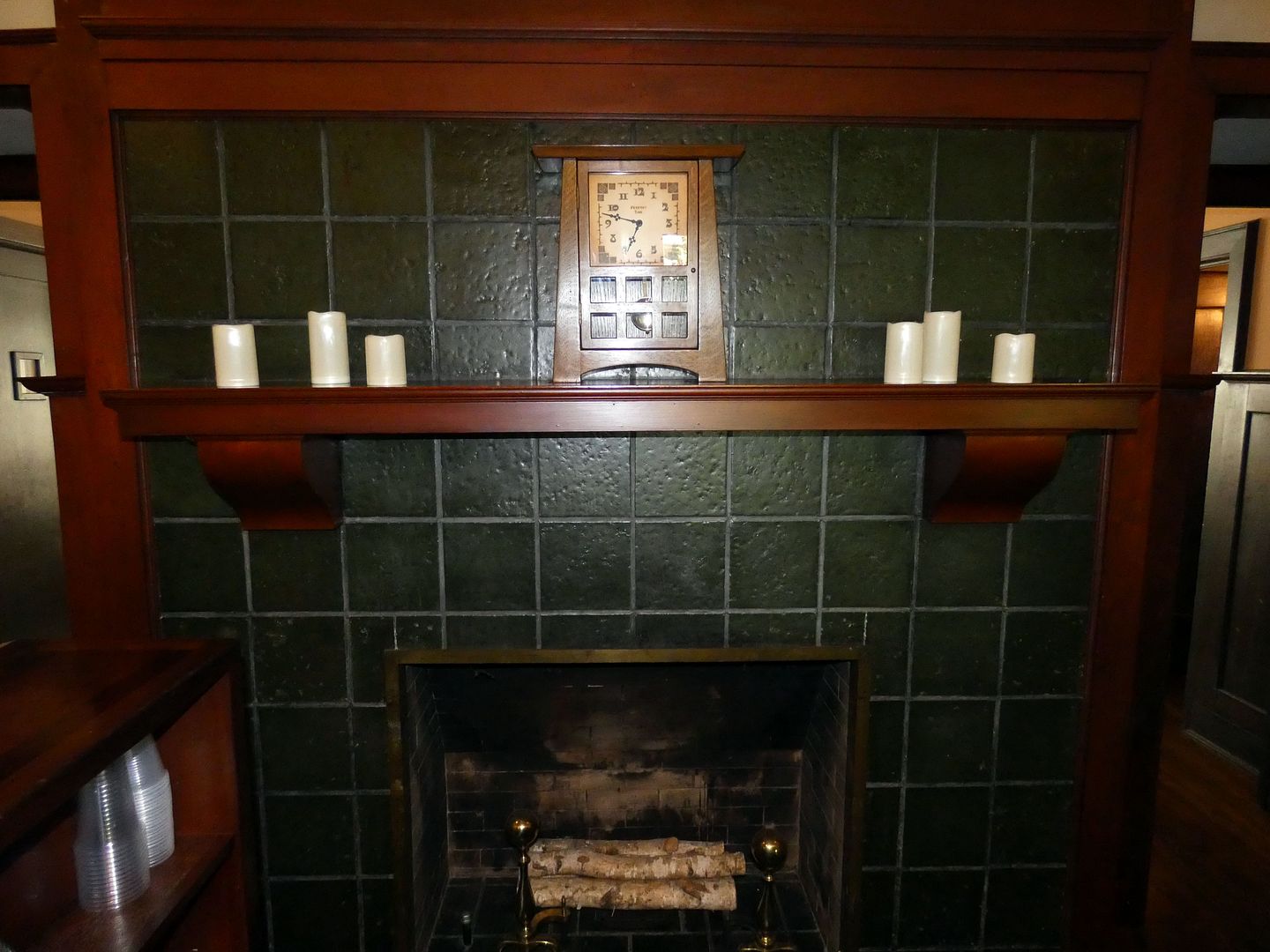 This fireplace is decidedly more monochromatic than the one in the living room...
...and it shares a wall with the former library, with its curved bay windows.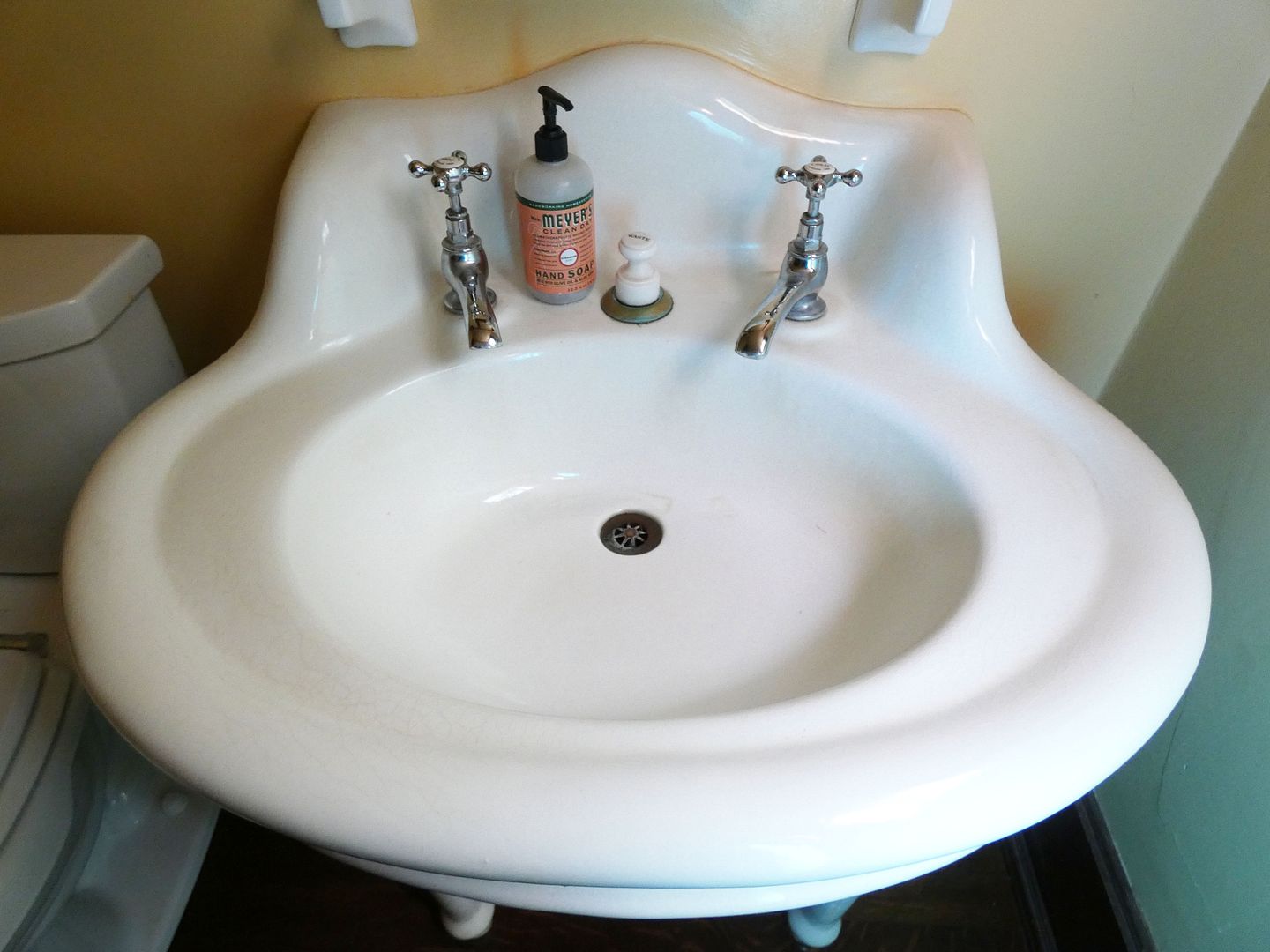 The bathroom fixtures are original, even in the public restrooms.
On the tour, we also got to explore upstairs, where five bedrooms and three bathrooms were once occupied by the Blinn Family.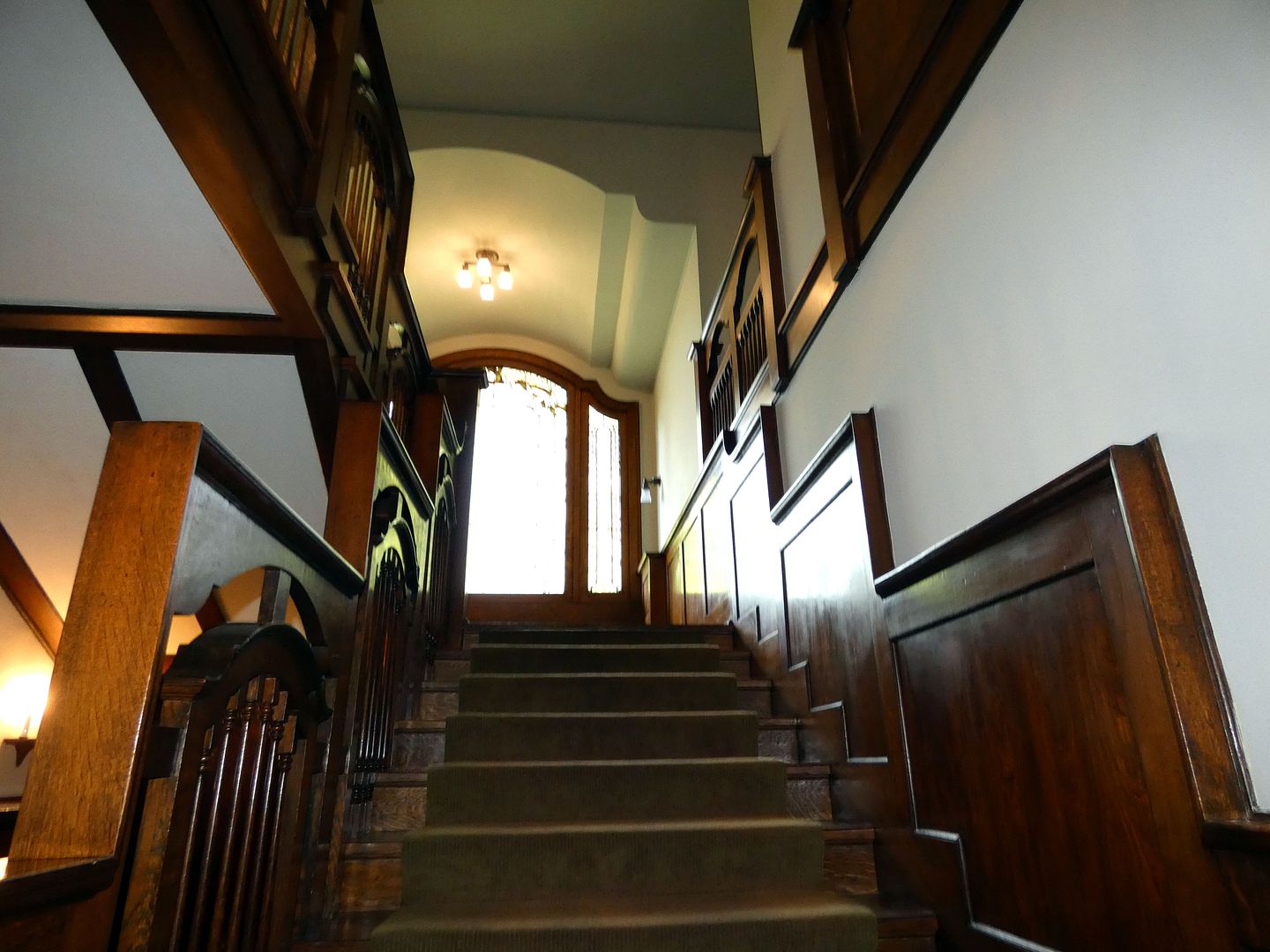 The woodworking on the railing repeats the "broken arch" theme...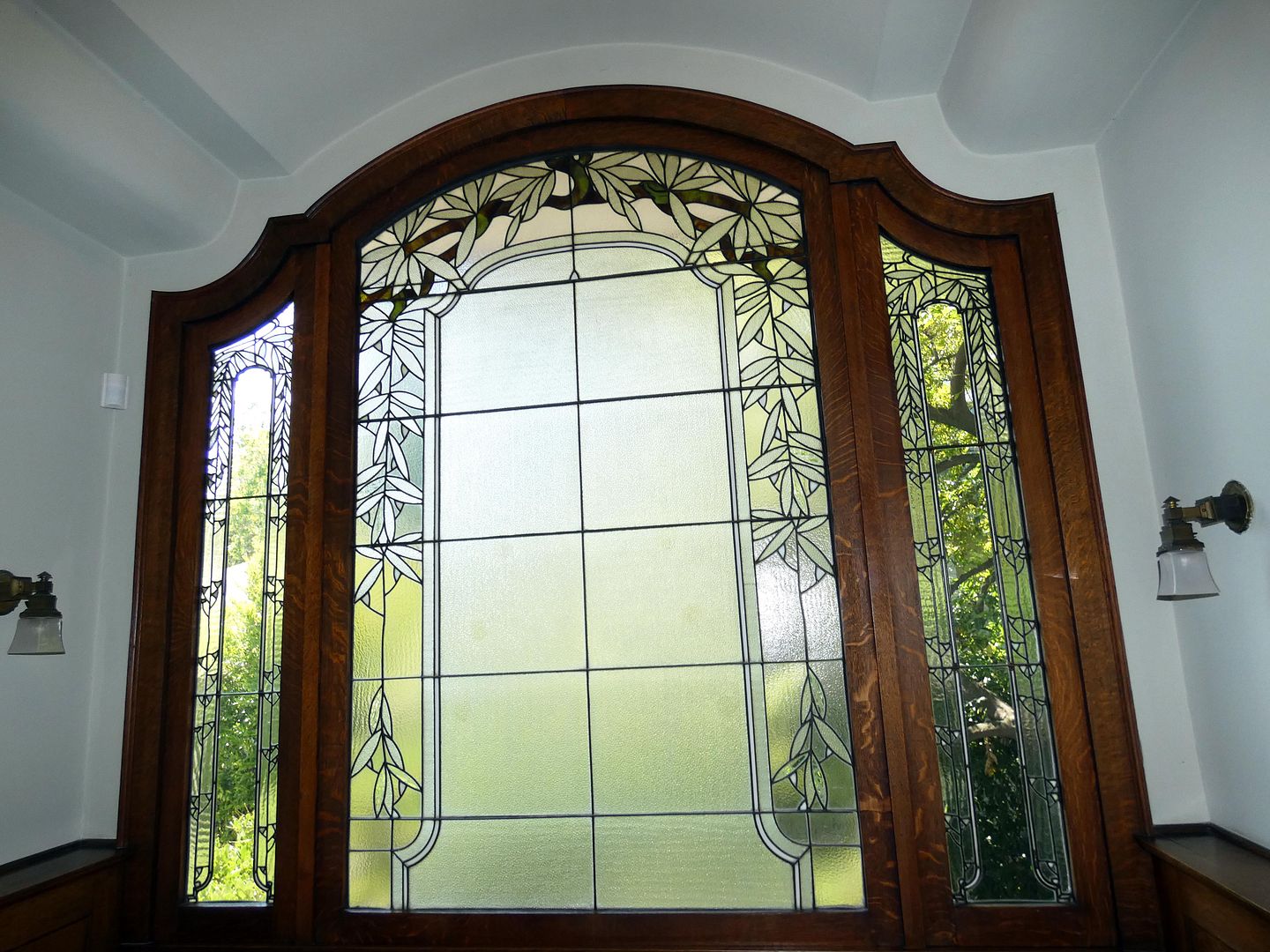 ...as does the art glass window at the stairwell landing.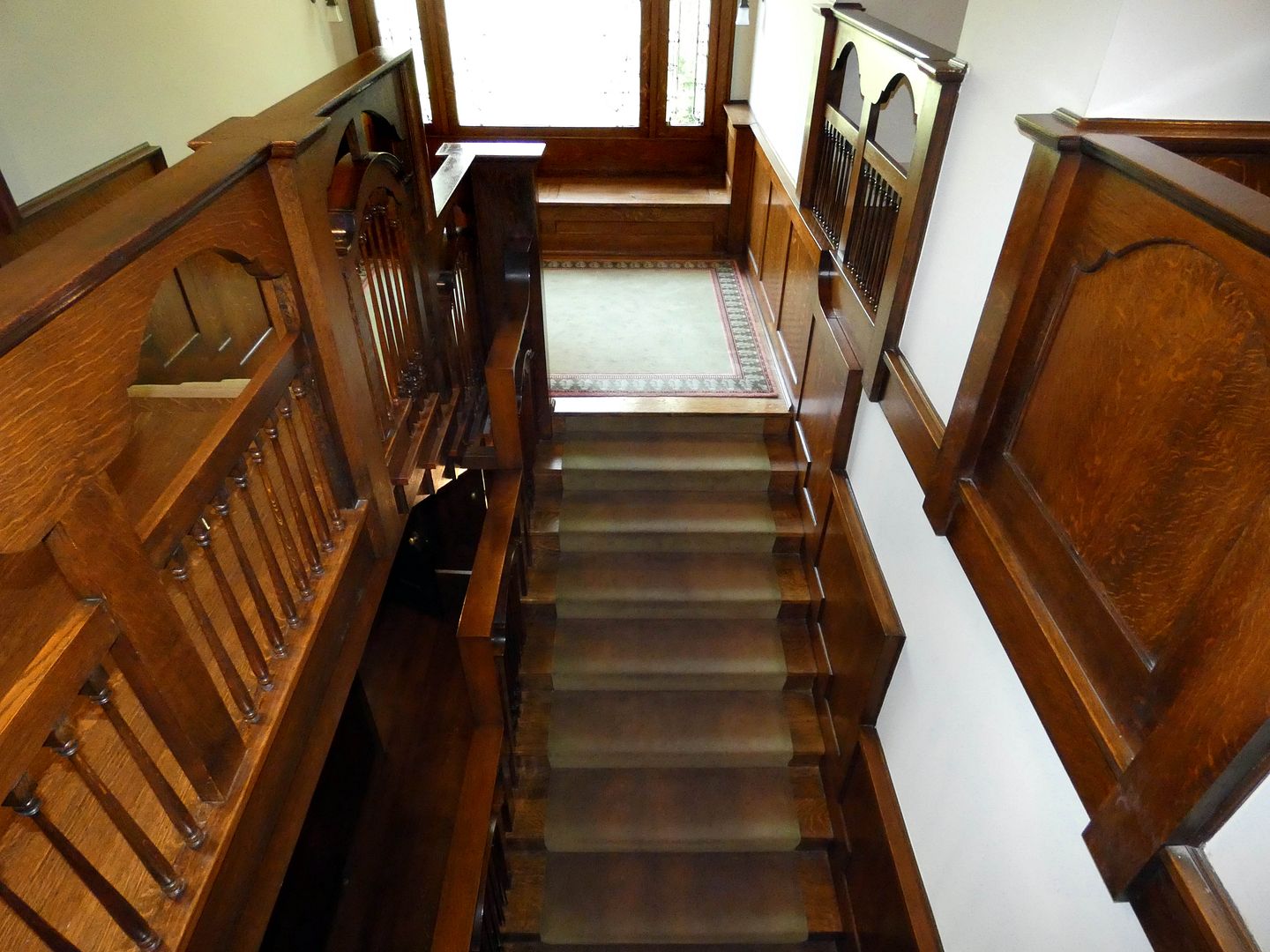 Upstairs, it feels a bit liturgical or ecclesiastical...
...including a storage bench facing a wall, which feels a bit like a pew.
The original circuit box has been replaced, though it stands exposed on the upstairs hallway wall...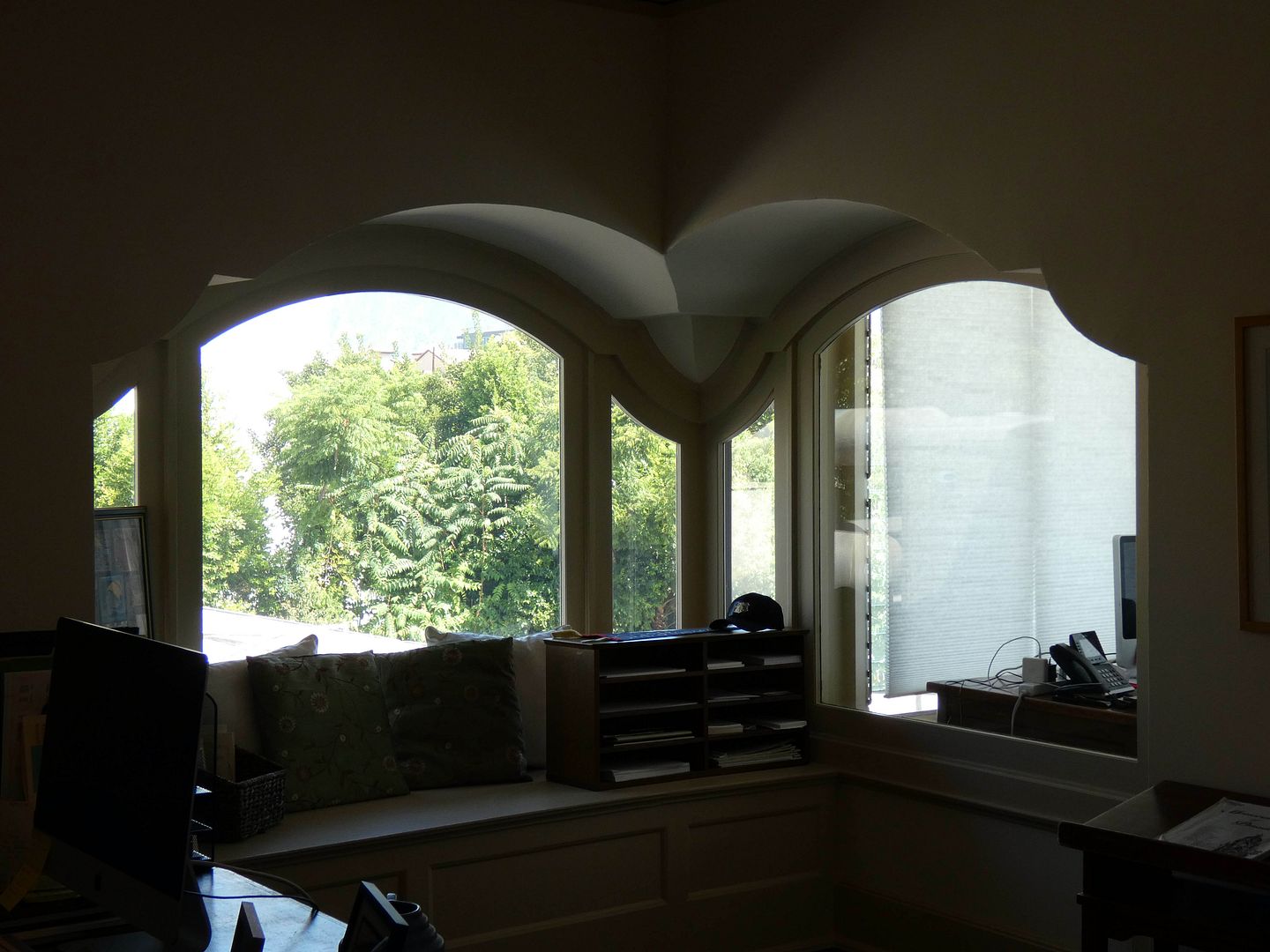 ...and one of the offices benefits from a lovely corner window arrangement.
Even the former sleeping porches have been converted into office space—but upstairs, like downstairs, features a relatively intact bathroom.
The Blinn House is now listed on the
National Register of Historic Places
and is a local landmark as well. Hopefully now that Pasadena Heritage has taken occupancy, lots more members of the public will get the chance to tour it.