During
pandemic
closures, it felt as though much of the world had stopped.
But it turned out to be a great time for construction projects—considered essential business, exempt from lockdowns—like the new SoFi Stadium in Inglewood, California.
Ground had been broken back in 2016—and the NFL's newest full-time stadium managed to get up and running in time for its grand opening in September 2020.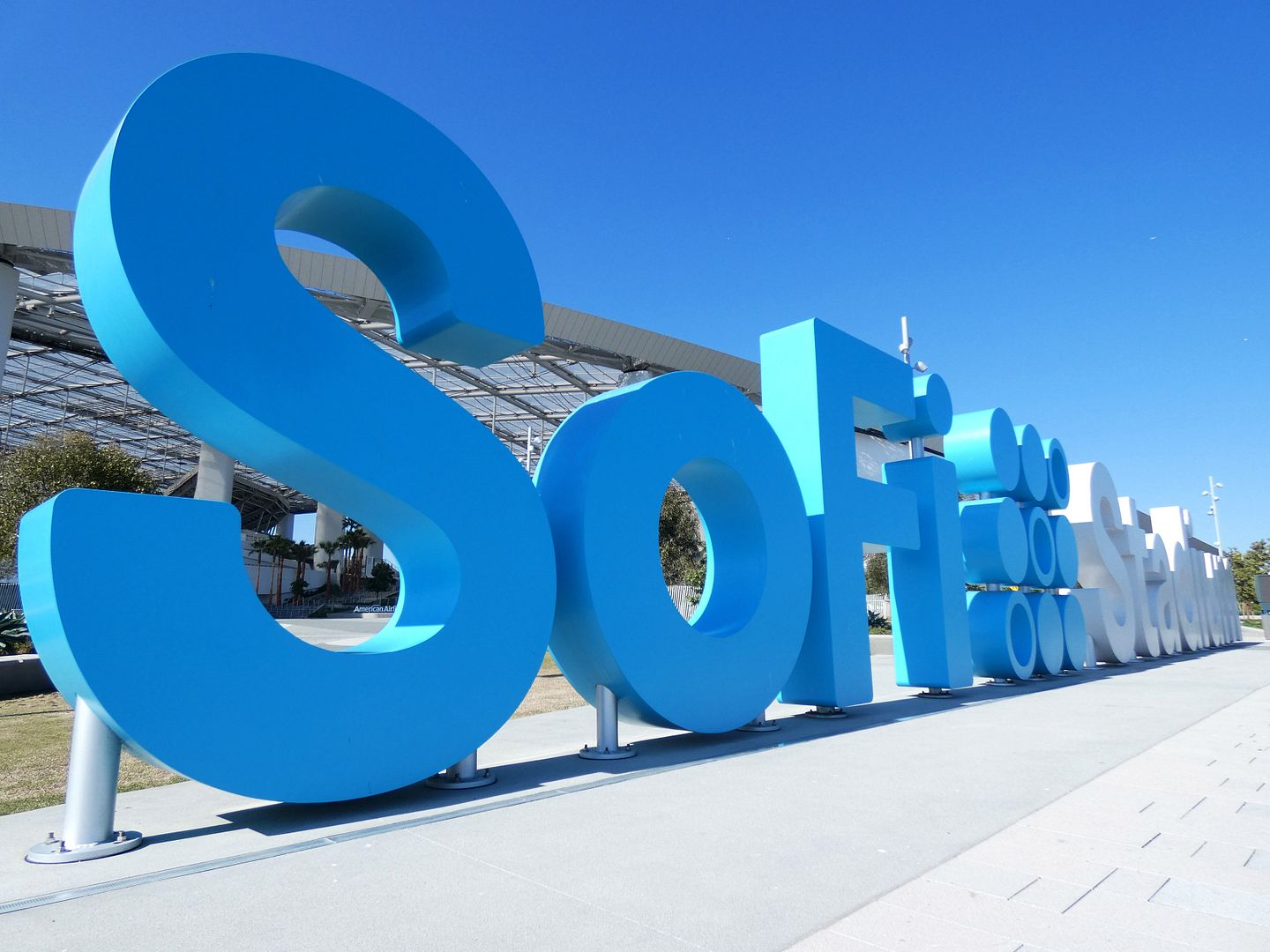 That was, however, without crowds—as I was waiting patiently for stadium tours to open up—which they did this spring.
So as SoFi Stadium prepares to welcome fans of two home football teams—the Rams and the Chargers—in the 2021 season, with seating at 100% capacity, a friend and I got a sneak preview of what's in store.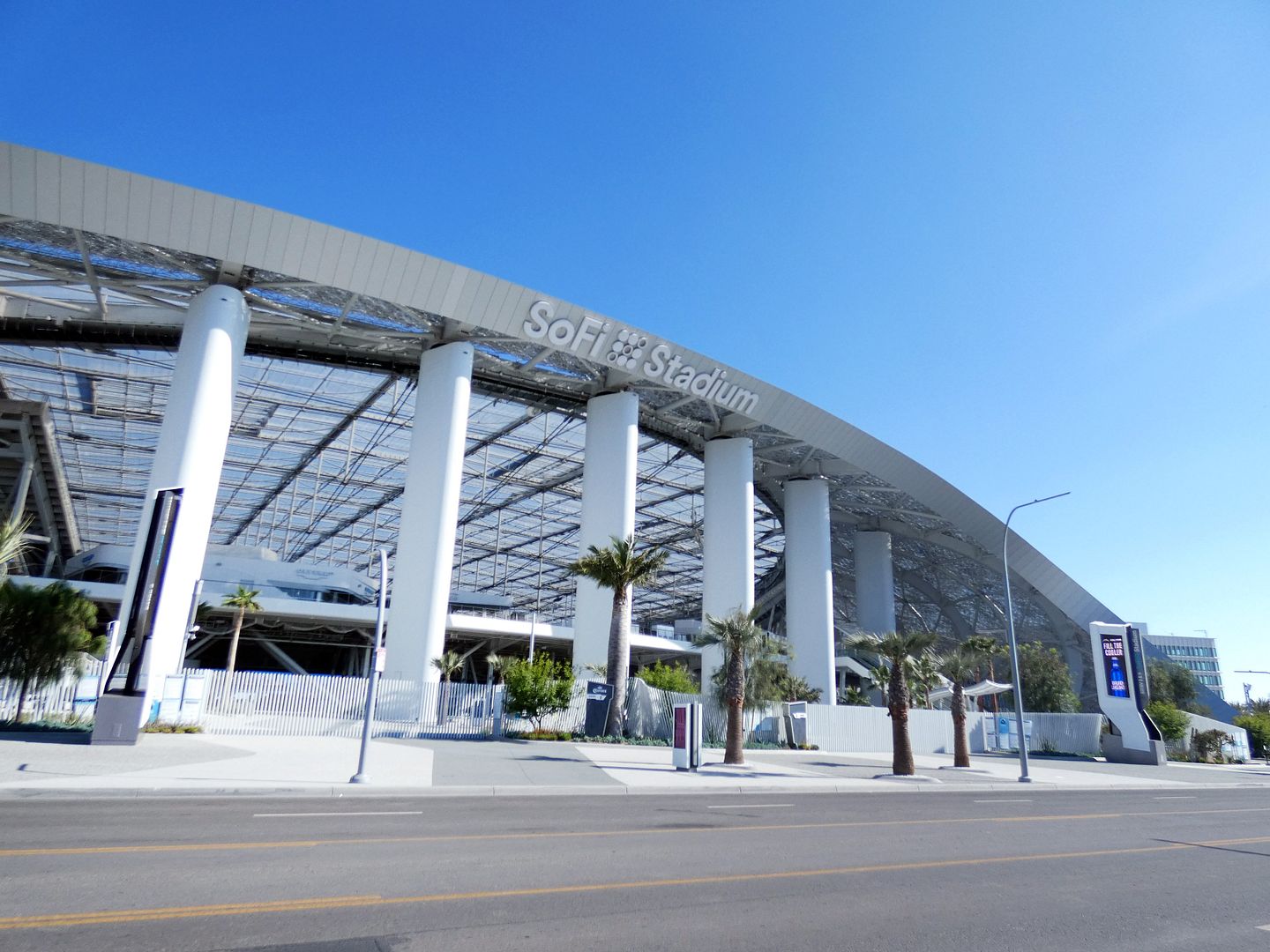 I'd spied on its construction from the Forum parking lot in May 2020 while looking for places to explore during the pandemic—and even back then, from afar, this new stadium looked like a spaceship.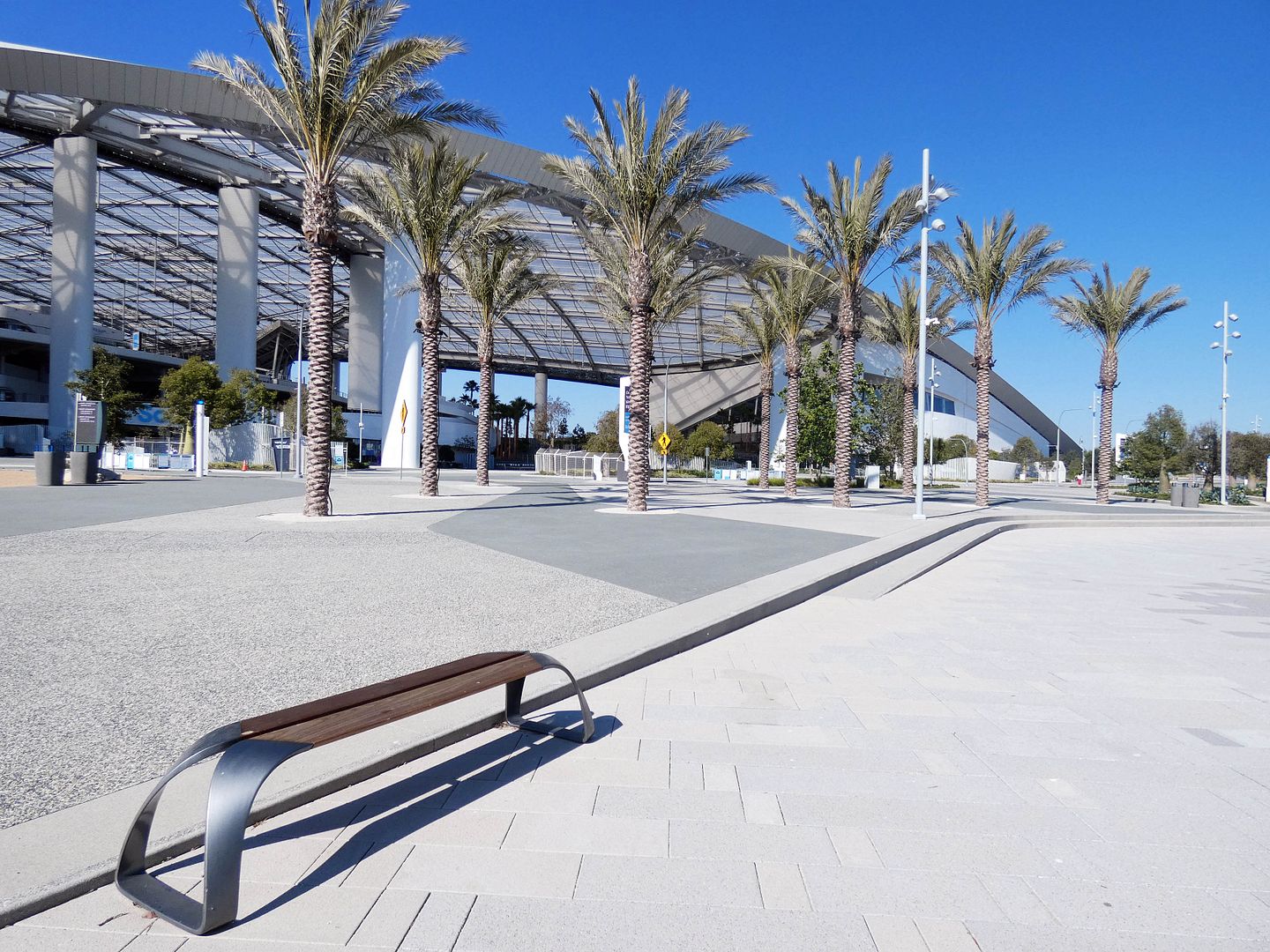 Maybe that's because its main architectural component—at least, the most visible one—is a steel support system called a "space frame."
It holds in place a series of anodized aluminum panels that have been perforated to let in sunshine and airflow—creating a kind of outer layer of "skin" (or scales) for the stadium's canopy, which appears to be hovering overhead.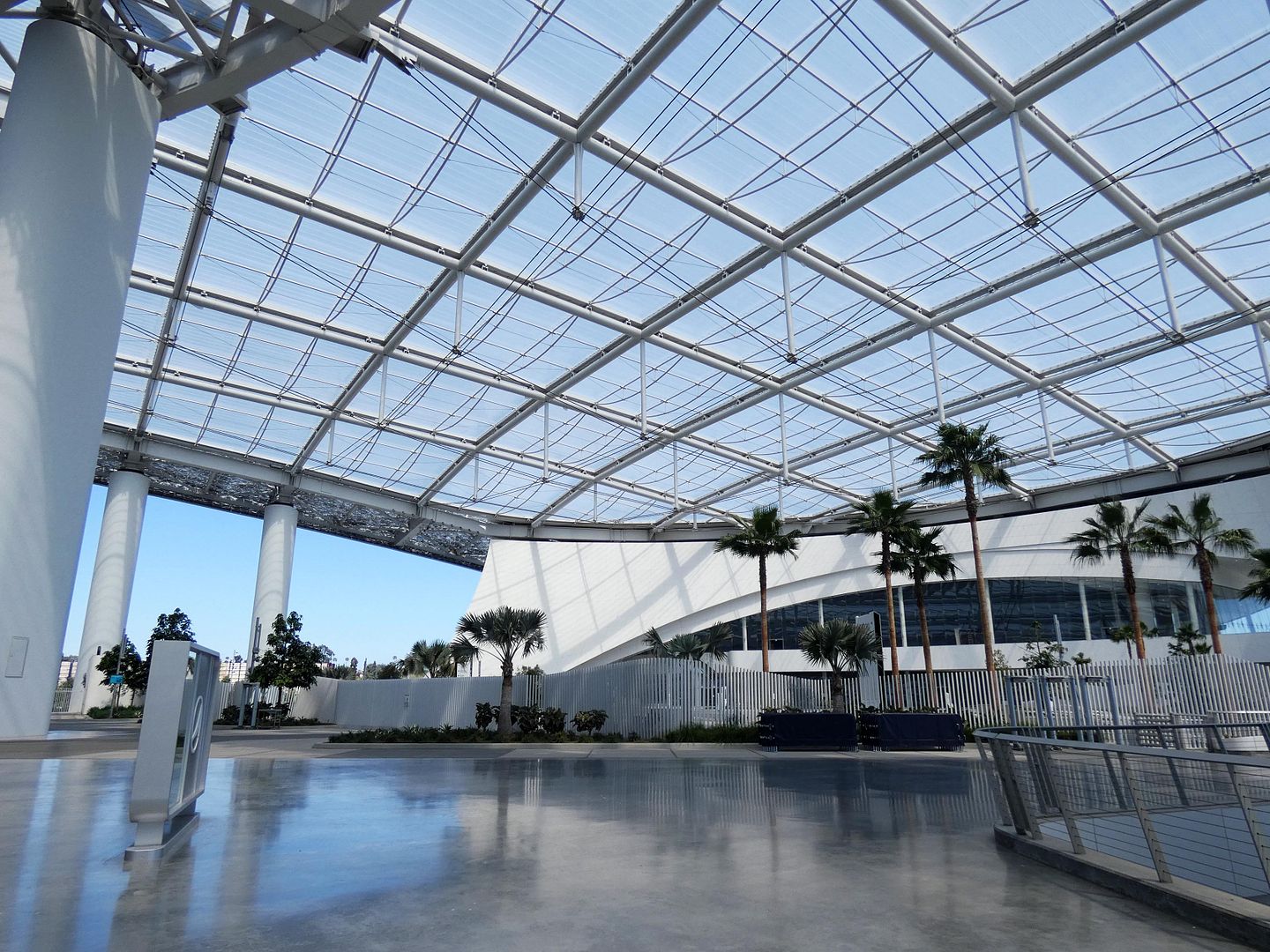 What kind of alien technology is this that creates a truly indoor/outdoor experience—where the sun is the main light source and the air is "conditioned" only by the wind? And where the roof simply floats, without the benefit of exterior walls to hold it up?
It feels very exciting to be inside of it. If I'm ever abducted during a "close encounter," I hope their UFO looks like this.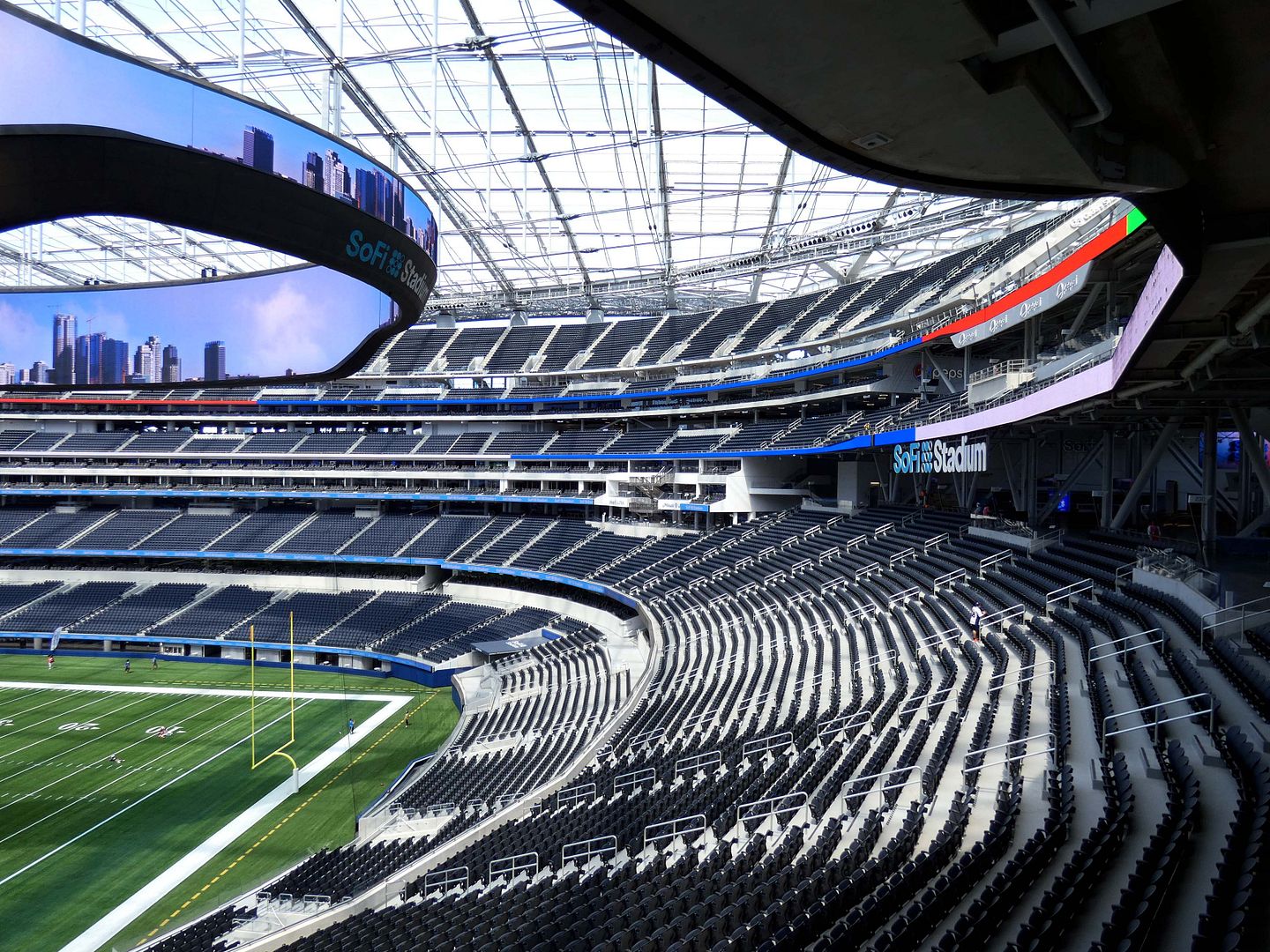 This "super stadium" is designed to hold 70,000 fans—but its proximity to LAX and FAA regulations restricted its height, which explains its low, sprawling profile.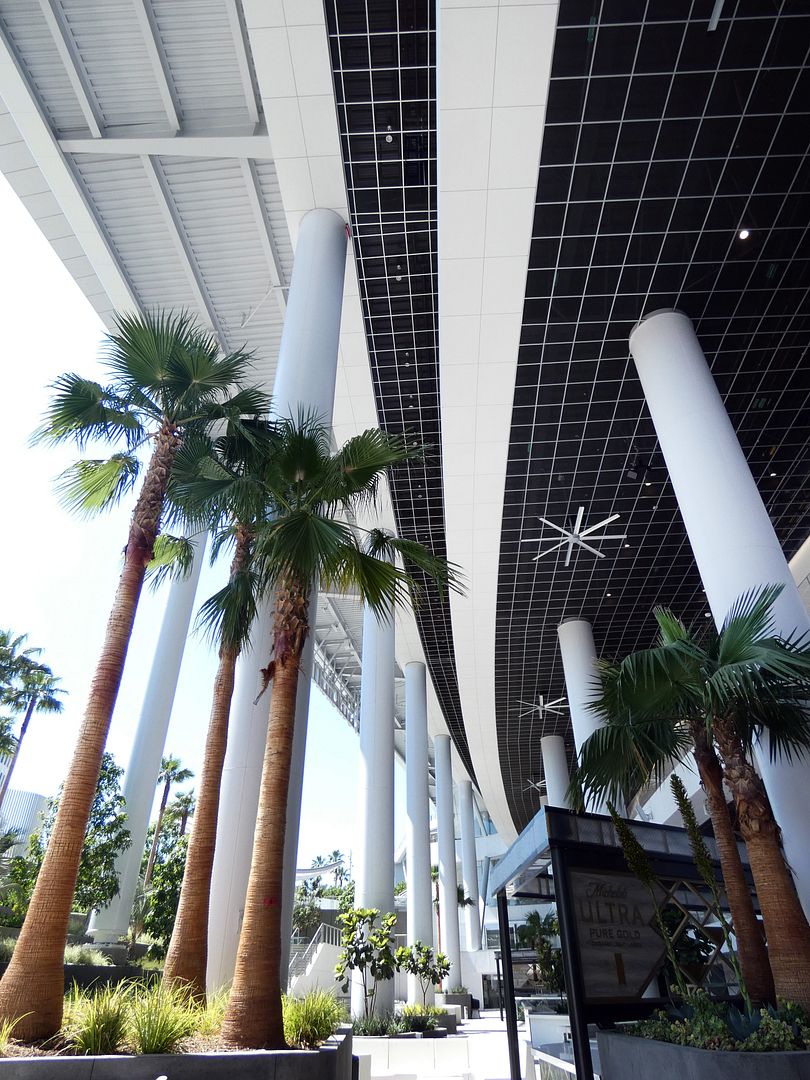 To make up for the loss of height, construction crews dug out enough soil for the stadium to sit in a bowl that's 100 feet lower than ground level.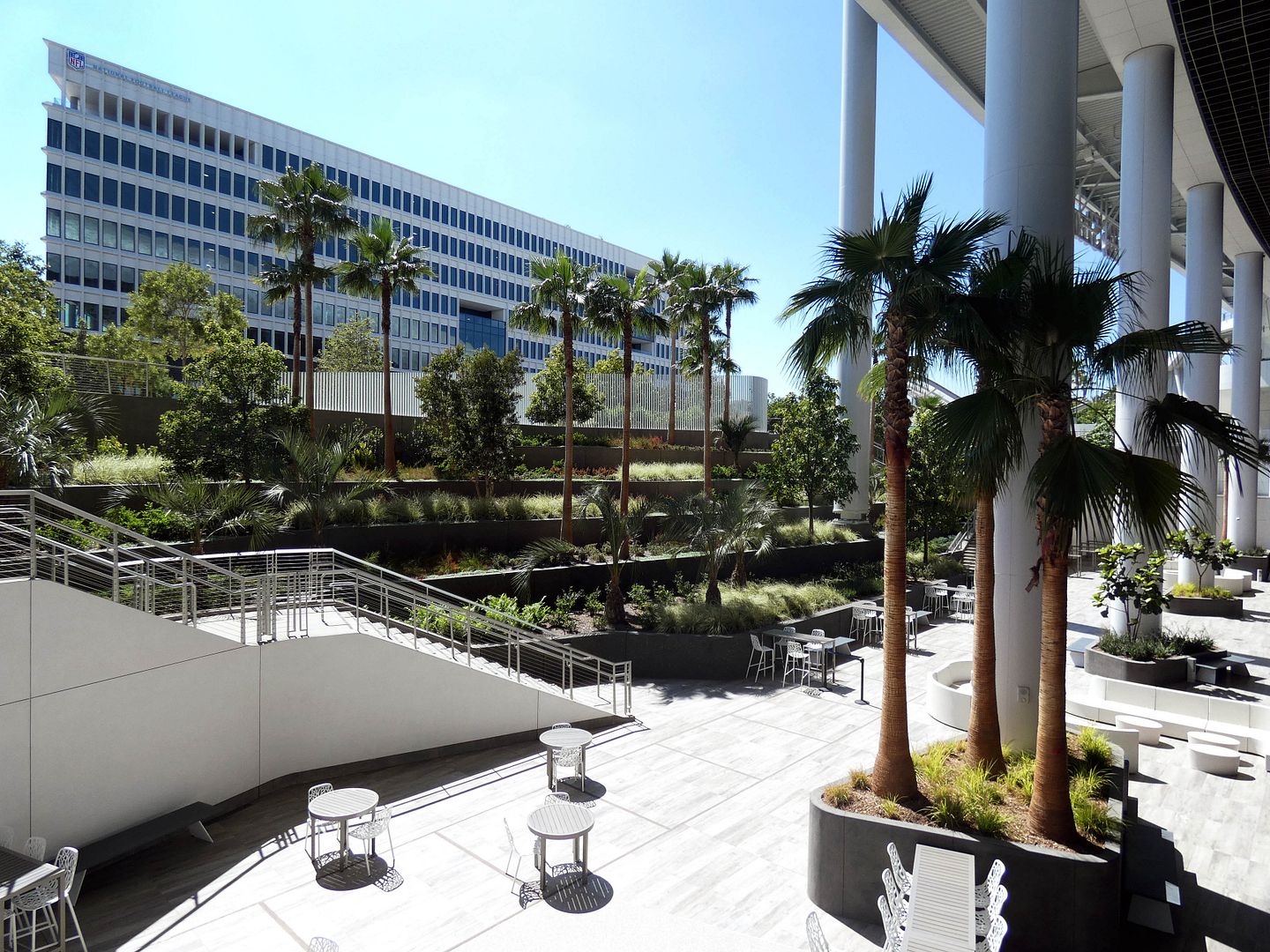 The displaced earth was used to create a canyon of landscaping around the perimeter, including various gardens in different themes.
The concessions areas look equally as spacey, their undulating curves inviting fans to belly up to the bar.
One of the unique features of this flying saucer stadium is its 2.2 million pound, two-sided video board, which hangs from the canopy and extends across all 360 feet of the length of the field, making it the largest of its kind at any sports stadium. Design firm HKS gave it the extraterrestrial-sounding name, "Oculus."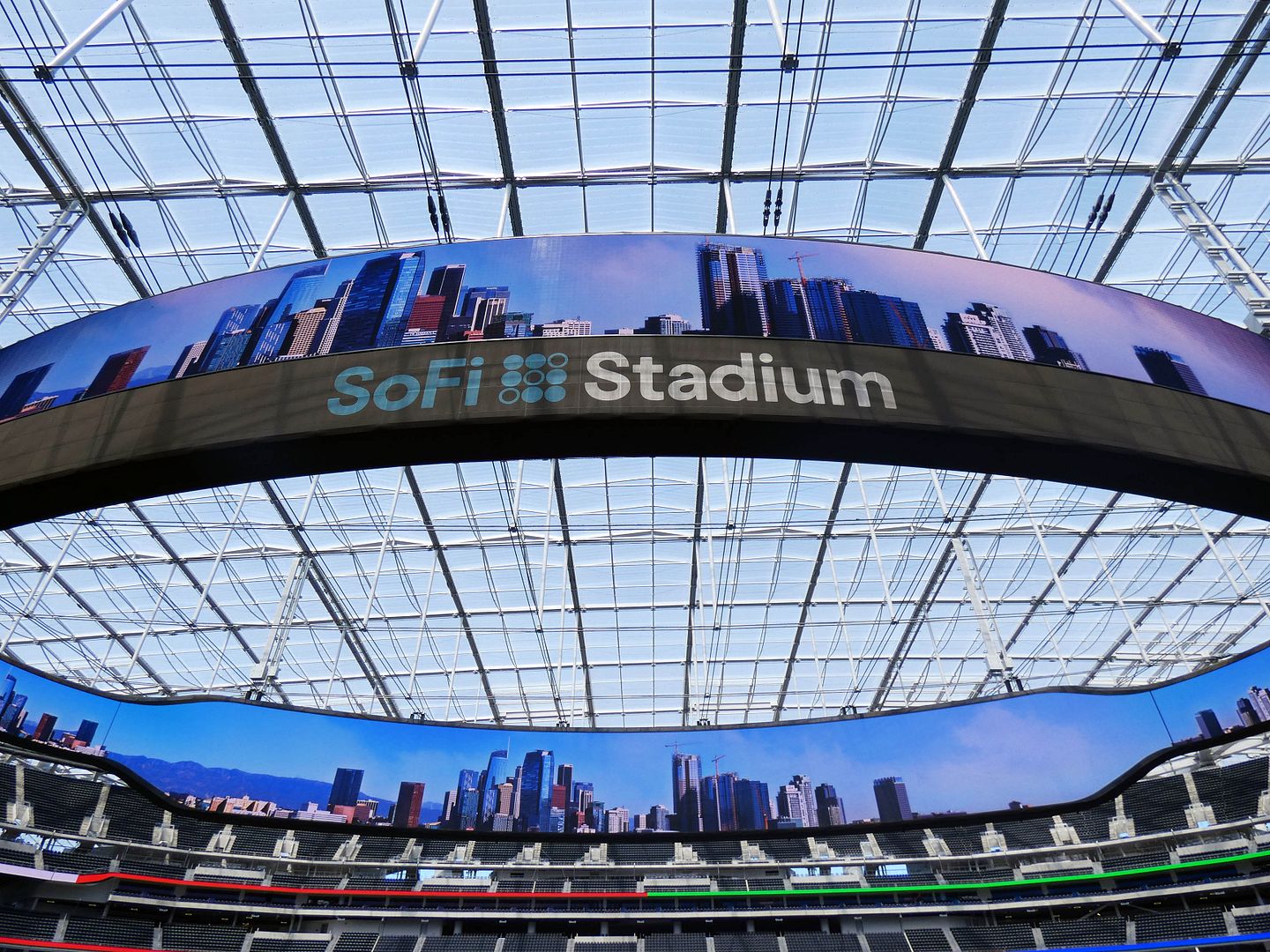 At a construction cost of $5.5 billion, it's the most expensive stadium in the world—by far.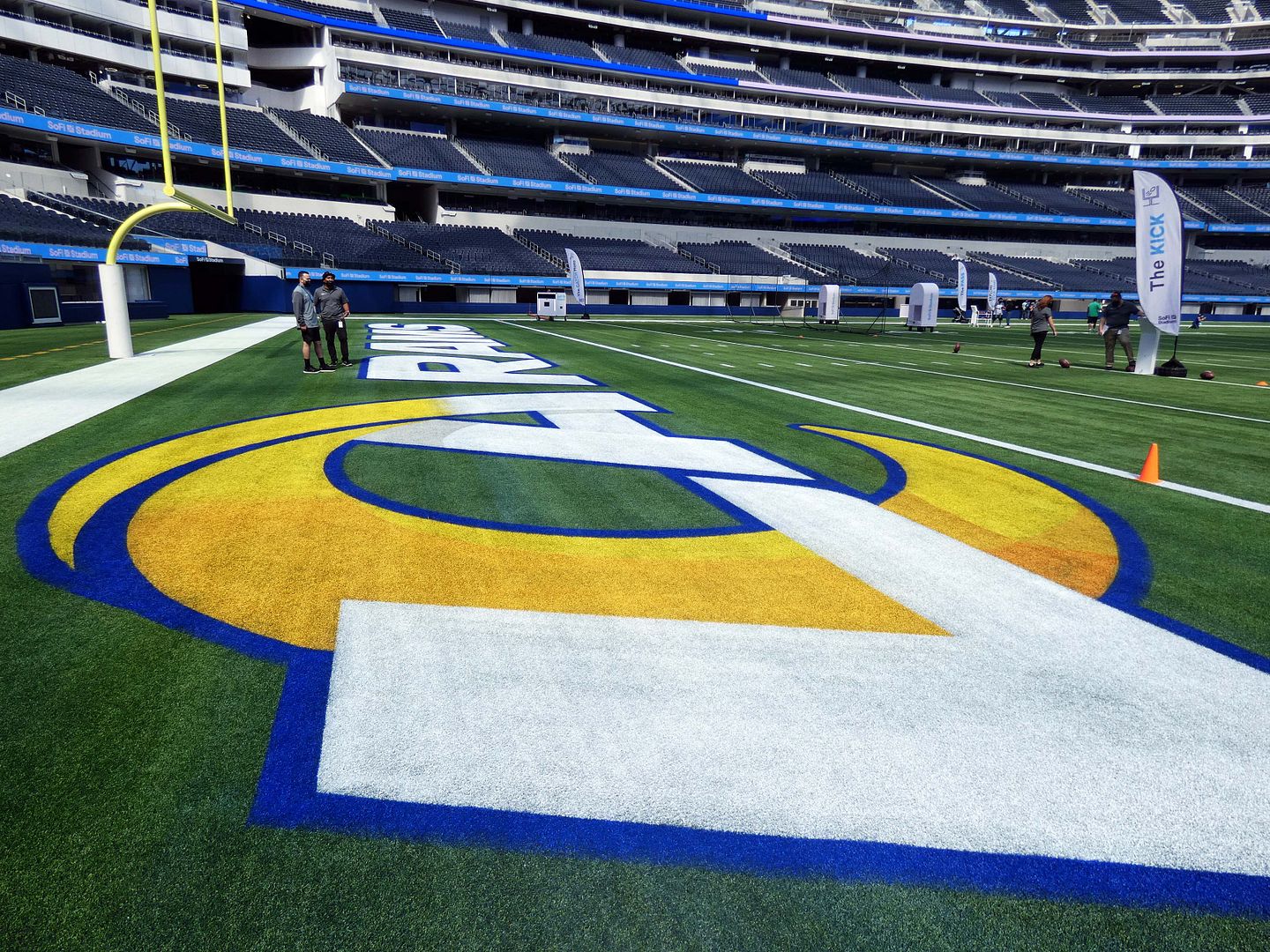 Then again, it doesn't seem so bad when you consider how it was built to accommodate two NFL teams.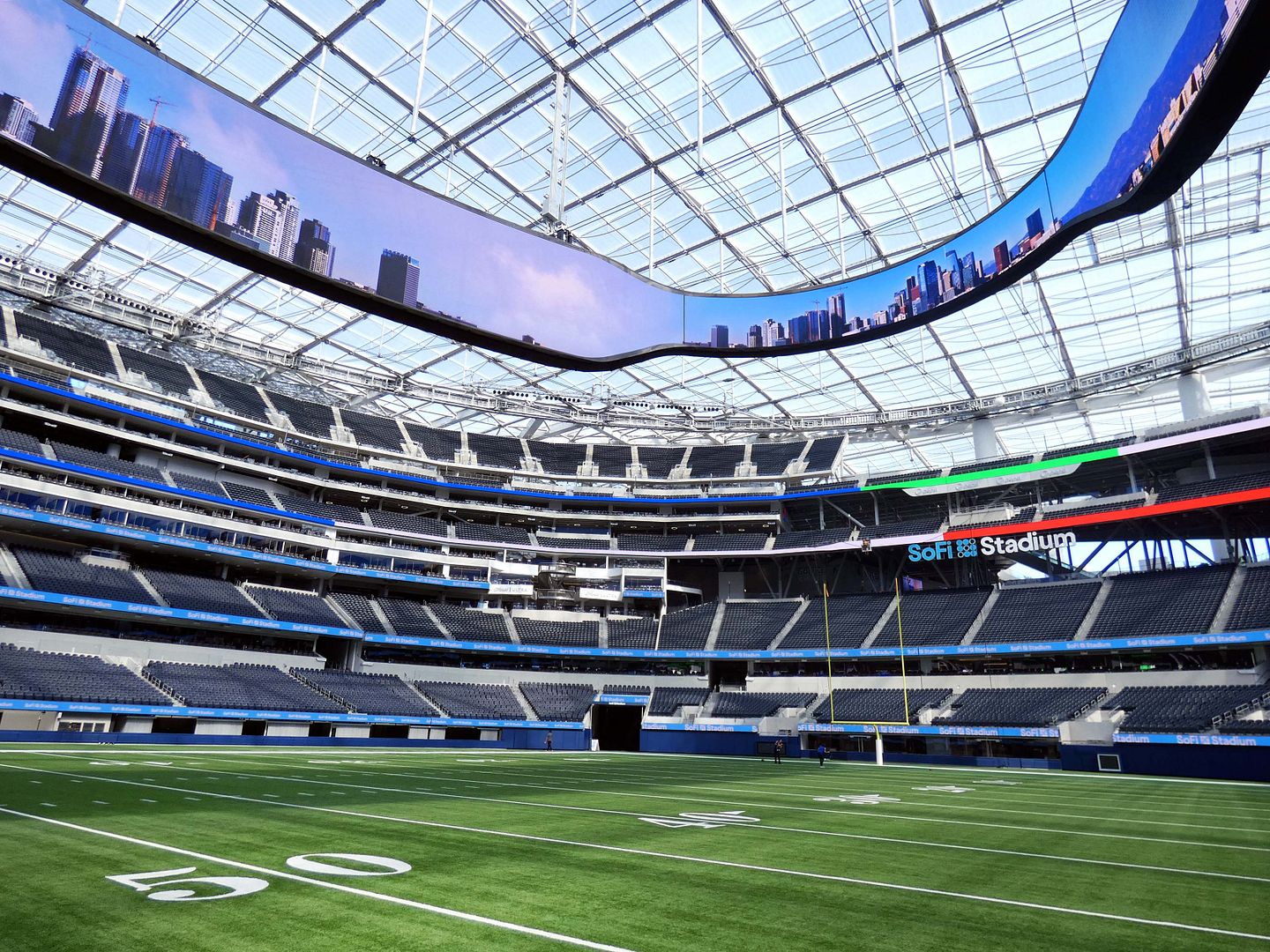 Hopefully, that'll help the city of Inglewood reclaim its title as "City of Champions"...
...which it hasn't lived up to ever since the Lakers and the Kings moved from The Forum to the
Staples Center
in 1999.
SoFi Stadium was built on 298 acres of the former Hollywood Park, where champion thoroughbreds once raced—until it closed in 2013 and was torn down in 2014-5.
So now, instead of horses, there are Rams...
...and bolts of electricity, each with their own dedicated locker rooms.
And maybe more champions to come, too—with Super Bowl LVI already scheduled to take place at SoFi Stadium in 2022 and, in 2028, the Opening and Closing Ceremonies of the Olympics.
To see a time-lapse of the stadium's construction, watch the video above.
Related Posts: