In East San Diego County, where the community of Spring Valley meets Rancho San Diego just southeast of Jamacha Junction, Campo Road runs along an old stagecoach road that was the primary east-west route between San Diego and
Yuma, Arizona
.
The Sweetwater River.
A stone bridge crossing had been washed out in 1927. So, in 1929, the County of San Diego commissioned a new bridge to be built.
In the 1930s, Campo Road was redesignated California State Route 94—and finally fully paved.
That meant increased traffic—which eventually became too much for the Sweetwater River Bridge to handle.
At just 22.5 feet wide, it was too narrow for what became the standard width for two traffic lanes (12 feet each, or 24 feet total). According to
Shirley Bowman Reider
in her book
History of Highway 94
, the bridge was the site of 13 accidents 1980 to 1983 alone.
It was decommissioned in 1986 and bypassed by a new, adjacent bridge (which is still in service) in 1987. But fortunately, they decided to leave the historic bridge up—and it now serves as an access point to the Sweetwater River Trail in the
San Diego National Wildlife Refuge
, in San Diego County's backcountry.
Now only open to pedestrians, bicyclists, and equestrians, the bridge is fascinating to examine...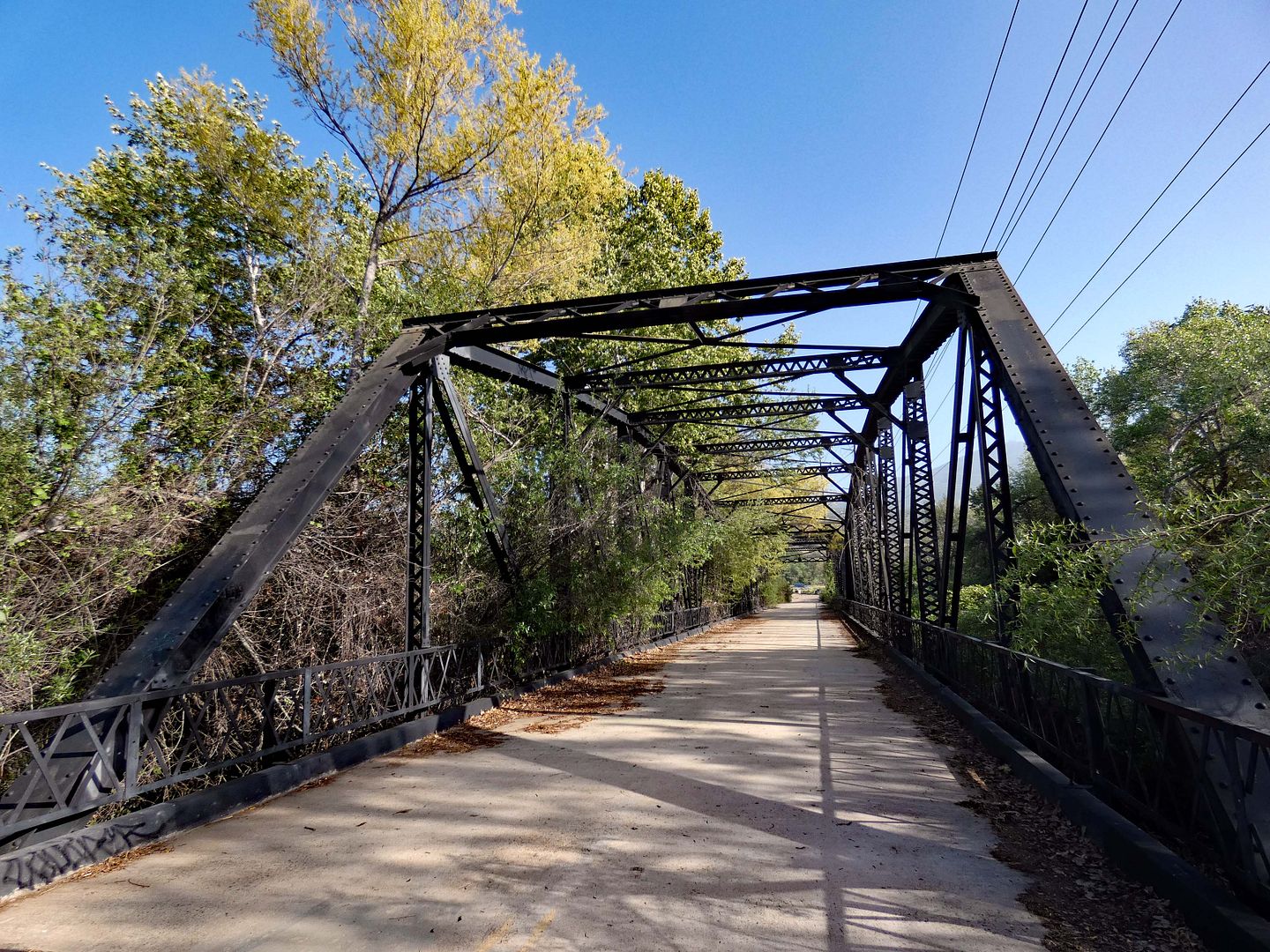 ...as it's the only Pratt through-truss style of bridge in all of San Diego County.
Named after inventors and engineers Thomas Pratt and his father Caleb (who patented the design in 1844), this type of through-truss bridge features steel girders arranged in triangular patterns—with diagonals that slope towards the center.
After about 460 feet from the north abutment, you reach the south abutment—where you can keep going deeper into the wildlife refuge, or turn around (as I did) and return the way you came.
It's nice to see the end caps still in place—though they've been painted and repainted many times over.
As have the girders.
Technically, this is a special type of Pratt through-truss bridge known as a Parker truss, named after engineer C.H. Parker, who patented it in 1884. Parker truss bridges are able to support a much longer expanse than a standard Pratt through-truss.
This riveted metal truss bridge features three "spans"...
...and along the way, you can catch a glimpse of the "new" SR-94 bridge, completed in 1987 with 44 feet in width for two lanes of traffic, a shoulder on either side, and a pedestrian walkway.
Reportedly, the Sweetwater River Bridge was constructed by Pacific Iron & Steel Company of Los Angeles—but you can see the word "Bethlehem" embossed in the girders, perhaps referring to where the building materials came from (a.k.a. Bethlehem Steel in Bethlehem, Pennsylvania).
This type of bridge was typically prefabricated and assembled onsite by unskilled laborers.
They must've done something right—because she still stands strong and proud.
The Sweetwater River Bridge may no longer connect vehicles to Campo Road—but it marks the beginning of the historic portion of SR-94, extending all the way to the town of Boulevard. And you might catch a glimpse of it while driving by (if you know where to look).